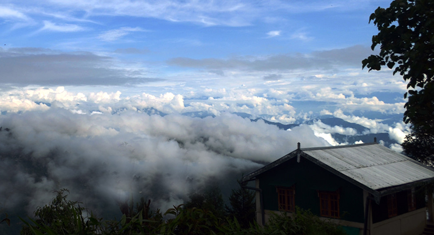 Dawaipani (literally means Medicated water) is an unexplored small rural hamlet of Darjeeling and presently it is treated as nature's very own health care center where you would definitely get rid of your physical stress and emotional trauma. Dawaipani is situated at just opposite of Darjeeling's pride Tiger hill and due to such location, the place is deprived of sun lights. Dwellers of this hamlet lead rigorous daily struggles to survive in such cold weather and it becomes harder to cope up the chilly winds when the temperature hits sub-zero level.
At an altitude of approx 6500 feet, Dawaipani is located at the center of the dense Himalayan forest. The hamlet is comprised of only 135 tiny households and Mt. Kanchenjunga is just in front of this hamlet. This small unpolluted neatly arranged hamlet is spaciously surrounded by elongated Pine series, Lamahatta, Takdah and Glenburn tea estates.
With an aim to explore our favourite 'Darjeeling' in a different way, I headed towards Dawaipani as per my pre-planned itinerary. On scheduled date I boarded on Darjeeling Mail to reach New Jalpaiguri station (NJP) from where I took a shared car to reach Darjeeling town. Dawaipani is at a distance of just 15 km from Darjeeling town. I hired a local private car from Darjeeling town and arrived to Dawaipani through a drive of 2-3 hours.
As I started by journey from Darjeeling around 12 pm, I made an entry in Dawaipani at around 3 pm. On my arrival at Dawaipani, I was heartily welcomed by the family and I quickly settled in my well-decorated room. Mrs. Rai made me refreshed with her freshly prepared welcome drink followed by delicious hill-style lunch. Spending some relaxing moments at my window pane with the chilly breeze I went outside to capture the evening beauty of the hamlet. A long walk through the village, interesting conversation with my guide (Mr. Rai- owner of the homestay) and local dwellers made me more acquainted with the rich cultural as well as traditional values of Dawaipani. On prior request of other guests, Mr. & Mrs. Rai arranged bonfire for us and a mouth-watering non-veg dinner awaited for the guests in their elegantly decked dining hall.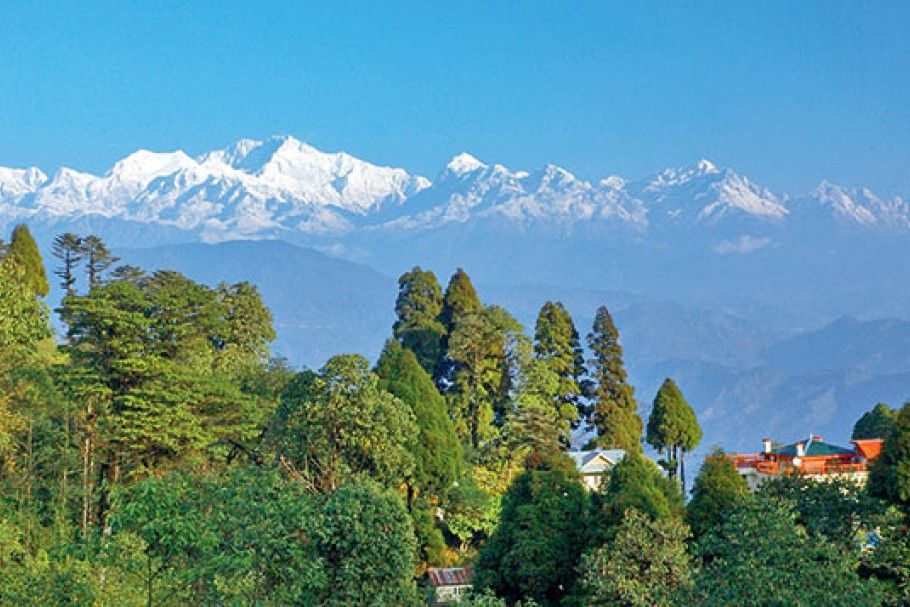 At Dawaipani my lazy morning was started with a cup of perfect coffee prepared by Mrs. Rai. Wrapping myself with the warmth of quilt, I was astonished to witness the unexpected reddish golden beauty of North Bengal's royal crown - Kanchendzonga from my window side bed. That glimpse was more than enough to worth my trip at Dawaipani. I got ready quickly as the owner already booked a car for sightseeing. Having a healthy breakfast (including yummy Aloo Paratha), I headed along with other guests to explore Dawaipani. Following the tricky slippery road we reached at the ridge and we were mesmerized by its serenity and tranquility. Then we moved towards the dense forest after completing a light trek of around 12 km. Being a bird lover, it was a great opportunity for me to be familiar with various unknown cute colourful birds (Liffers, Throated Shiva, Himalayan Vultures and lots more) while strolling around the forest. Taking a short tour around the surrounding tea estates- Takdah, Lamahatta, and Glenburn we returned back to our homestay. Our hosts were waiting for us with another thali of delicious lunch so we didn't waste much time to relish the taste. At late afternoon, I took my seat on a hired car which dropped me to Darjeeling. It was not easy to bid goodbye to such "peace of heaven" but exotic beauty, warm hospitality and spellbound clear view of snow-clad Mt. Kanchendzonga gave me an unforgettable memory for lifetime.