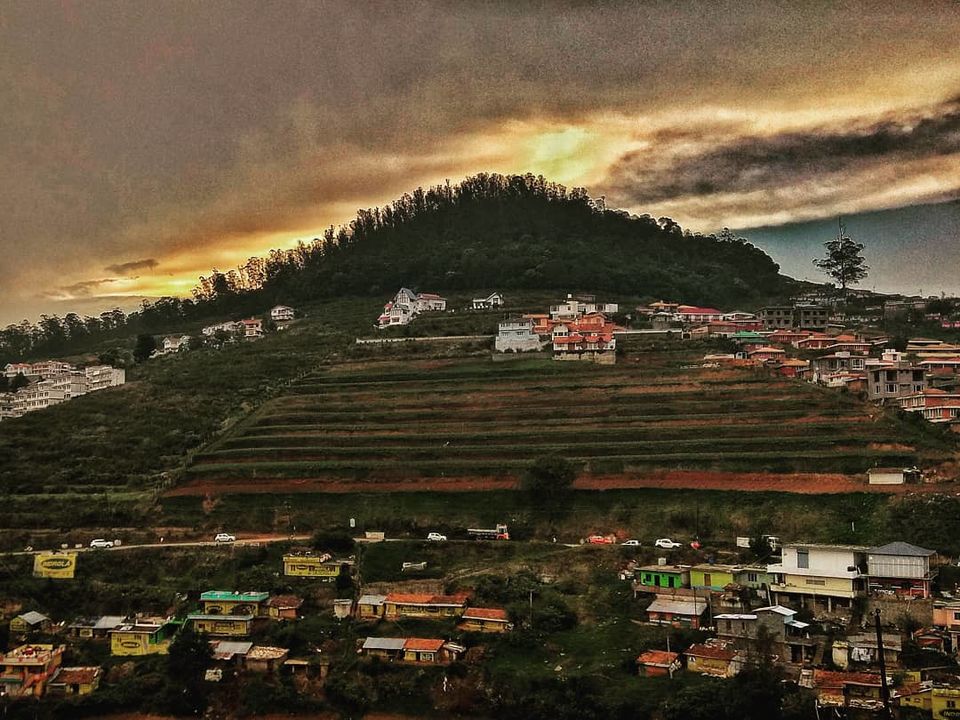 Before you start reading, please follow me on Instagram to checkout my latest activities: @gypsyonvoyage
Being a North Indian I am addicted to traveling to hills during holidays and this practice accounts for the prejudice that whenever I think of a vacation, the first thing that strikes me is a hill station. I was planning a road trip from Bengaluru, that's when I made my mind to drive to Ooty & Coonoor which also provides the thrilling experience of driving through 36 hairpin bends to reach the town. I proposed this plan to my friends and there were no ifs & buts and the plan got finalized.
Ooty, also known as Udhagamandalam, is a popular hill station located in the Nilgiri Hills. Ooty, the Queen of hill stations, is the headquarters of the Nilgiris district in the Indian State of Tamil Nadu. Coonoor, the second largest town, sits next to its superior and contributes equally to the charm of Nilgiris.
We started from Bengaluru on Friday evening and traveled to Mysuru by train which is about 3 hrs journey. We had already booked our stay at Shilpa Residency, Mysuru for the Friday night as we planned to drive therefrom on Saturday morning. We hired the self-drive car for 3 days from Zoomcar for the road trip.
The day started with a beautiful sunrise which was welcoming us with a clear sky to drive all the way to Ooty. We started early around 6 o'clock from Mysuru and drove nearly 125 km to reach Ooty. We took a small break on the way for breakfast and one can always find the relishing Idli-Vada in every region of South India.
The road from Mysuru to Bandipur National Park is wide and busy with many settlements. While from there on, there's a stretch of nearly 25 km which passes through Bandipur National Park and Madumalai National Park which remains closed from 9:00 PM to 6:00 AM in the call of saving wildlife from speeding vehicles. This stretch is a No Parking zone with a lot of speed breakers and offers the sight of wildlife in the dense green forest.
There are two routes to reach Ooty from Theppakadu Junction. One is through Masinagudi with a total distance of nearly 35 km. For this route, one has to take the left turn from the Theppakadu Junction, there's a narrow iron bridge at the entrance. This road passes through 36 hairpin bends which are very steep in some places, even though there are many steep curves, the road is neat and maintained. Still, I'll recommend only experienced drivers to take this route. Another route is a little bit longer, it passes through Gudalur with a total distance of nearly 67 km. Instead of taking a left turn from Theppakadu Junction, drive straight to Gudalur and take the left turn from there for Ooty-Coimbatore Highway. This route does not have any steep curves while it definitely offers many picturesque spots.
Being an experienced driver, I chose to take the Masinagudi route which offers the adventure of driving through hairpin bends. If you're traveling in a yellow number plate with black text vehicle or in a black number plate with yellow text vehicle, you have to get the visitor permit from RTO Check Post at Thalaikundha Junction. We paid a nominal fee of ₹175 for the permit of 7 days.
We reached Ooty by 10 o'clock in the morning, we directly headed to the scenic Ooty Lake as we planned to take the boat ride there. After spending a good time paddling the boat, we directly headed to A2B(Adyar Ananda Bhavan) for lunch which is situated in Upper Bazaar and has the facility of parking in the basement.
Post lunch, we left for Doddabetta Peak which is the highest in the Nilgiris Mountains at 2,637 meters (8,650 feet). It lies at the junction of the Western and Eastern Ghats surrounded by dense Sholas. The view from the top of the peak is absolutely mesmerizing, there is a telescope house at the peak with two telescopes presenting a captivating view of the valley around.
After relishing flora and fauna from the highest peak of Nilgiris, we headed to Tea Factory & Museum which is at a distance of 4 km from Doddabetta peak towards town. We saw the entire processing method right from the freshly plucked green leaves to its packaging at the factory. Tea Museum showcases different kinds of tea leaves that are used across the globe along with the history of tea in India and its evolution in the Nilgiris. A complimentary hot cup of tea is offered to all the visitors which is usually cardamom flavored that adds to the taste and keeps us warm in the cold weather.
After savoring the hot cup of tea, we drove to the famous Botanical Garden which was laid out in 1897 and is spread over 55 acres. The garden has a terraced layout and is divided into 5 sections. Lush green well maintained lawns, rare tree species (like the cork tree which is probably the only such tree in India, the paper bark tree and the monkey puzzle tree - monkeys cannot climb this tree), a 20 million-year-old fossilized tree, an Italian-style garden bordering a clear pool, a vast variety of flowering bushes and plants, fern house with a vast range of ferns and orchids are some of the many highlights of this garden.
After sunset, we headed to our rooms which we had already booked at Hotel Jaysanthi in advance for 2 nights. We checked into the hotel and freshened up before heading for the dinner. We searched for a place to dine and found a place called Place To Bee which is famous for Italian cuisine and surprisingly it was near to our hotel. After taking some rest, we walked to the restaurant and relished the taste of pizzas and pastas there.
Post dinner, we set out for a walk on a deserted road out of town and enjoyed the calm atmosphere away from the hustle & bustle of town while the cool breeze was giving us the chills. We came back to our hotel and called it a night earlier than expected as our overtired bodies needed some rest.
The sun rays were piercing through the window to wake us up. The morning seemed perfect as I sat in the balcony gazing at the beautiful town while sipping the hot cup of tea. After freshening up and having our breakfast by around 10 o'clock, we set forth for the Avalanche Lake which was formed by a huge landslide in 1823 somewhere near 25 km from Ooty. This stunning & untouched lake with its blue, clear water is a must visit for any nature lover.
Only forest vehicles are allowed beyond the Avalanche Lake checkpoint, so all the outside vehicles have to be parked at the checkpoint which is nearly 3 km from the lake. The charge for the forest vehicle is ₹150 per person which includes the journey both ways. After spending quality time at the lake, we drove to the Emerald Lake which is at a distance of 5 km by road.
The blue waters of Emerald Lake surrounded by lush green meadows and forest are simply mesmerizing. The lake is famous for a variety of fish and birds in the locale. One can even spend some time at the tea plantations as the surroundings give out the soothing aroma of tea leaves, which rapidly calms down your mind and soul.
We laid out a sheet on the green grass and set a delightful environment with music. It was already 2 o'clock in the noon, so we opened up the boxes which we had packed for lunch. We savored the delicious food under the warm sun and a mesmerizing view of the serene lake. This is a great place to enjoy the day with breathtaking views of the slopes of Nilgiris.
We left around 4 o'clock in the evening, took many small breaks on the way for photography and by the time we reached Ooty, the sun had started hiding behind the mountain and the bright lamps started glowing all over the town. Next, we headed to the market which is full of eateries and clothing stores. We parked our car and strolled around the market, we bought some homemade chocolates. Ooty chocolates, prepared in many varieties, are decadent, rich and abundantly tasty that anyone must try.
After exploring the market, we headed out for dinner at Earl's Secret, the restaurant at King's Cliff Hotel which used to be a colonial bungalow formerly owned by a British family. The restaurant serves a great variety of Continental, Mughlai & Chinese cuisines. It is located at a distance of nearly 3 km uphill from the main town and is totally worth it. Post dinner, we headed to our hotel and played some games before hitting the bed.
In the excitement of traveling through the Nilgiri Mountain Railway, a meter gauge railway, also known as Toy Train, we woke up early in the morning and got ready before time to board the train. Built by British in 1908, it is now a UNESCO World Heritage Site which passes through tunnels, curves, bridges & beautiful scenery. The tickets should be booked in advance through IRCTC or one has to wait in a long queue at the station which starts forming around 4:00 AM for the train which starts at 9:15 AM. All members of a group have to be there waiting with you. At about 5:30 AM, the station master arrives and makes everyone get into a single file line.
Since we had already booked our tickets in advance, we reached Udagamandalam Railway Station by 8:45 AM after having our breakfast at the hotel. The train started at 9:15 AM sharp and reached Coonoor Railway Station by 10:30 AM. We had never witnessed such a beautiful train journey which offers the view of deep valleys, dark tunnels & green hills.
After reaching Coonoor Railway Station, we joined our friend who drove there from Ooty as he had already enjoyed this adorable train journey in the past. Next, we headed to Dolphin's Nose View Point which gives the view of a beautiful green valley and a rock in the shape of dolphin's nose unsurprisingly. The way to this viewpoint, situated nearly 12 km away from Coonoor Railway Station, is very narrow and beautiful downhill surrounded by tea gardens on both sides.
Next, we headed to Lamb's Rock View Point which is on the way back to Coonoor. This viewpoint also gives a similar sight of the valley. We started back to Coonoor town uphill and pulled up to park when we gained some height. We sat on the roadside block barrier cherishing the sight of stunning green tea gardens all around, noticing the vehicles crawling on the curves uphill through the misty weather. We left after some time having a good laugh about the time we spent together.
It was around 1 o'clock in the noon and we reached near Sim's Park. We parked our car and had lunch at Eats Cafe which is a multi-cuisine restaurant. After lunch, we roamed inside the Sim's Park which is a park-cum-botanical garden, which was laid in 1874. There are some beautiful terraces with colorful flower beds, lawns & rockeries inside the park.
Around 3 o'clock, we left for Ooty and took the route through Wellington which is home to The Defence Services Staff College (DSSC), a premier tri-service training establishment that imparts training to middle-level officers of the three wings of the Indian Armed Forces, friendly foreign countries and various Indian Civil Service departments. There's a feeling of patriotism while passing through this town as you will witness the presence of Indian Army all around.
We reached Ooty by around 4 o'clock and continued to Mysuru without a halt. Masinagudi route was closed at that time due to some reasons, so we had to take the Gudalur route. Now that we had the opportunity of exploring the tourist spots on Gudalur route, we didn't let it go in vain. We parked our car at 9th Mile Shooting Point which is at a distance of nearly 15 km from Ooty on the way to Gudalur. We hiked uphill a little bit to reach the top and we were lucky to witness the stunning sunset amidst the moving clouds in the Nilgiris Hills.
After this halt, we bid goodbye to the Nilgiris and departed for Musyru as we had to enter the Madumalai National Park before 9:00 PM. We reached Mysuru by 10 o'clock and had dinner at Pakva Lounge which is one of my favorites there. We ordered North Indian food which was delicious as always and returned the car thereafter. Then, we took the train to Bengaluru and returned back to our work life.
From this excursion, I understood that such breaks are very important to load off the anxiety piled up from many dimensions of life. Go on such short tours every few months to feel refreshed and start the life back with a vibrant smile.
Please follow me on Instagram to checkout my latest activities: @gypsyonvoyage