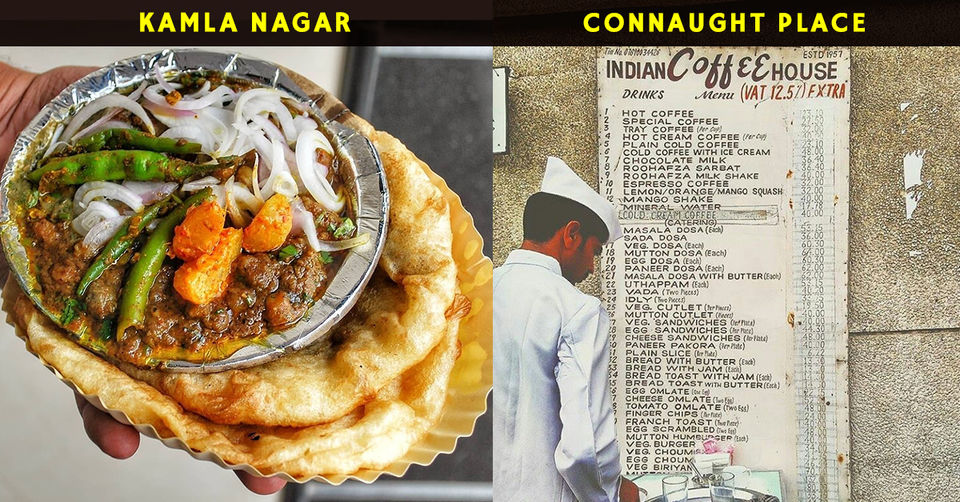 When you're in Delhi, eating gets a whole new meaning altogether – food is much more than a necessity, it's an emotion. The streets of Delhi are full of innumerable new and old joints that dish out everything from chaat to kebabs to paranthas and the oh-so-famous chhole bhature. With such a prevalent food scene, it comes as no surprise that Delhi also makes for a paradise for budget foodies.
Here are some of the best places in Delhi where you can feast on a complete meal, to your heart's content, for as low as ₹200!
Way before the likes of Burger King and Subway, there was Indian Coffee House. These vintage, state-run eateries somehow manage to always get it right and their Delhi branch is no different. Believe it or not, you can actually feast on a plate of biryani and have a milkshake to wash it down for less than ₹200!
Where: Mohan Singh Place, Connaught Place
Top picks: Cold coffee, cutlets, idli-sambhar, biryani
A paradise for budget eating, the winding lanes of Majnu ka Tila are lined with joints serving lip-smacking food at throwaway prices. AMA Restaurant serves authentic Tibetan food at prices that are just too good to be real. Satiate your meat cravings by digging into a plate of buff or pork curry with fried rice and I bet you'll still save some of your ₹200 budget!
Where: New Tibetan Camp, Majnu ka Tila
Top picks: Devil momos, shredded buff with hot garlic sauce, pork chilli, thukpas
If you think that happiness cannot be served on a plate, head to Kamla Nagar's Chache Di Hatti right away! The legendary eatery serves what is arguably the best chhole bhature you will ever find in Delhi and it is to die for, to say the least. Pair it with a glass of sweet lassi and you're guaranteed to be floating about in glee!
Where: Kamla Nagar
Top picks: Chhole bhature
Looking to indulge in some delicious comfort food without shelling out a bomb? Located right in the heart of Connaught Place, Wenger's Deli is just the place you need to hit right away. Despite being a legend in its own right, Wenger's Deli continues to maintain a fair price model, offering a delicious pizza and milk shake for less than ₹200!
Where: Radial Road, Connaught Place
Top picks: Mutton burger, chicken salad, margherita pizza, mango milkshake
For all those who swear by unlimited thalis, Andhra Bhavan's State Canteen is nothing less than a pilgrimage in itself. I know it is just too unreal but one can still get an authentic, all you can eat Andhra thali for just ₹120 per person! The skilled team of chefs also dishes out a delectable range of 'side delicacies' which only take the entire experience a notch higher.
Where: Ashoka Road, Near India Gate
Top picks: Vegetarian thali, Hyderabadi chicken biryani, mutton fry
Owing to the fact that non-vegetarian food in Delhi is usually equated with Delhi 6, most people don't even have a clue of all that Jamia Nagar holds in its by-lanes. The entire area surrounding Jamia Milia Islamia is lined with hidden gems and Javed Famous Nahari is easily the flag-bearer of them all. Feast on to a plate of sumptuous nahari and roti for less than a ₹100 bucks here!
Where: Zakir Nagar, Okhla
Top picks: Nahari, chicken biryani
Ask any true dilli wallah what their favourite comfort food is and nine out of ten times, you'll get one common response – 'rajma chawal'. Located in the busy Connaught Place area, Jain Chawal Wale is the ultimate place you can head to grab a plate of this one dish that unites people from all walks of life. In addition to the main crowd puller, this famous eatery also dishes out lip-smacking kadhi chawal, chhole bhature and tandoori paranthas.
Where: Connaught Circus, Connaught Place
Top picks: Rajma chawal, kadhi chawal, veg thali, chhole bhature
We Indians are experts when it comes to jugaad and the very fact that desi Chinese is enjoyed pretty much all around the country proves just that. Delhi takes it a step further – the city has some of the most iconic food vans that dish out tangy ChinJabi delicacies. Hot Pot, located right outside NDTV's office in Greater Kailash is one such old-school Chinese van where you can still have a hearty meal in less than ₹150 per head!
Where: Near Archana Shopping Complex, Greater Kailash 1
Top picks: Chilli potato, chicken garlic chowmein, vegetable spring rolls, chicken momos
No matter which plush South Delhi club you're partying in, no night out in Delhi, by default, has to end with a sinful chur chur naan at Moolchand metro station. For years, Sanjay Chur Chur Naan has been dishing out its signature tandoori naans, serving them with piping out curries and a tangy curd on the side. Go the extra mile and fetch yourself a glass of sweet lassi to experience the ultimate foodgasm – and of course, it's all
Where: Moolchand metro station, Lajpat Nagar 4
Top picks: Aloo naan, cheese and onion naan, chhole rice, sweet lassi
One of the most underrated players in Delhi's food scene, Kerala Hotel impeccably brings the delicate flavours of Kerala right on to the streets of Delhi. This small eatery in INA market is ahidden gem by all means – difficult to spot but when you do, its a pandora's box! If you're someone who doesn't mind buff, just walk in and ask for a plate of Kerala style buff fry with a porotta – I personally guarantee, it'll be unlike anything you've ever had.
Where: INA Market, INA
Top picks: Chicken biryani, buff fry, prawn curry, ghee roast dosa
Know of any other places that deserve a spot in this list? Click here and start sharing your favourites with the Tripoto Community. Don't forget to check out Tripoto's YouTube channel for some kickass travel videos that will make you want to pack your bags and set off!