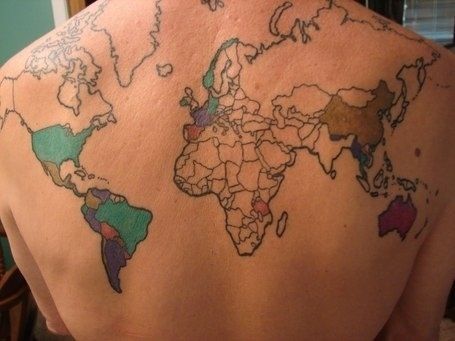 Getting a tattoo on your body these days is symbolic to expressing what/who you are. These travel tattoos did just that, beautifully! If you are the type of person who likes getting tattoos, you might get inspired. If you are not, these tattoos are beautiful to look at anyway and will make anyone who believes in travel, nostalgic. Enjoy!
1. Mad world

www.tattooideascentral.com 
2. Choose your direction

www.piccsy.com 
3. Are the mountains calling?

www.beauty.allwomenstalk.com 
4. Or is it the water?

www.littlebirdlitdownonme.com
5. Always move forward

www.blog.freepeople.com
6. Fuel your paper planes with a little bit of imagination!

www.pinterest.com
7. Pack your bags

www.rodeo.net
8. You have miles and miles to go!

www.pinterest.com


The woods are lovely, dark and deep,But I have promises to keep, And miles to go before I sleep, 
And miles to go before I sleep.- Robert Frost