We've all heard the 'big rule' of not to get any tattoos abroad, but why not? I love my travel tattoos and will definitely continue adding to the collection. They may not all be the greatest but they all have a story behind them. I'm not one to think that every tattoo needs to have a meaning as such, but if you like something, then go for it! (I wouldn't advise getting anything offensive of course!) Tattoos are a way of expressing yourself, the things you love, your passion, your family, your thoughts etc so I'm sharing with you my 4 travel inspired tattoos and the random stories behind them!
I got this tattoo in Thailand and absolutely love it! It is completely unique to me as the amazing artist did this whole tattoo completely freehand. I had shown him a picture of a Mandala tattoo that I liked, and his simple response to me was 'yes, but I do with more detail!' I didn't know that was possible but he sure proved himself! He also asked me 'do you trust me?' again I'm not sure I can trust this man I've just met, but sure I went along with it! And I'm so glad I did, the tattoo turned out fantastic and he really captured exactly what I wanted from this tattoo.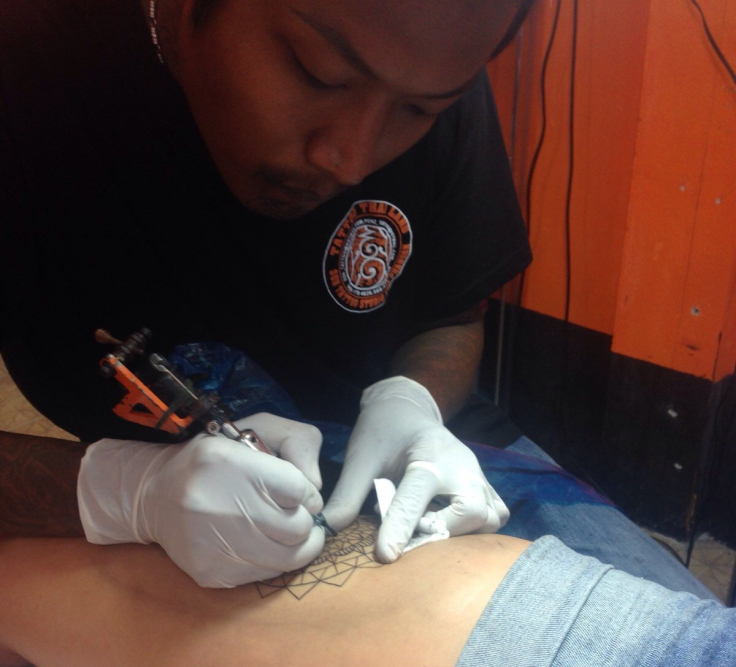 This was another Thai treat. As I was already getting one tattoo, why not get one with the bamboo stick too. This is by far, the most painless tattoo experience I've had, and healed much quicker than any other tattoo. Everyone always looks at this and asks me what it means, thinking it will be something deep and meaningful, but being honest, that's just not me! So in English it means 'here for a good time, not a long time'! And that is certainly how I travelled Thailand, I threw myself into every activity and had the time of my life!
There's always the risk that getting a tattoo in a foreign language doesn't quite translate to what you think it is. Having zero knowledge of the Thai language I hit the streets to check with the locals! I had the stencil on my arm, and asked four or five locals to translate this to me - they all said the same thing so I was confident to go ahead with it!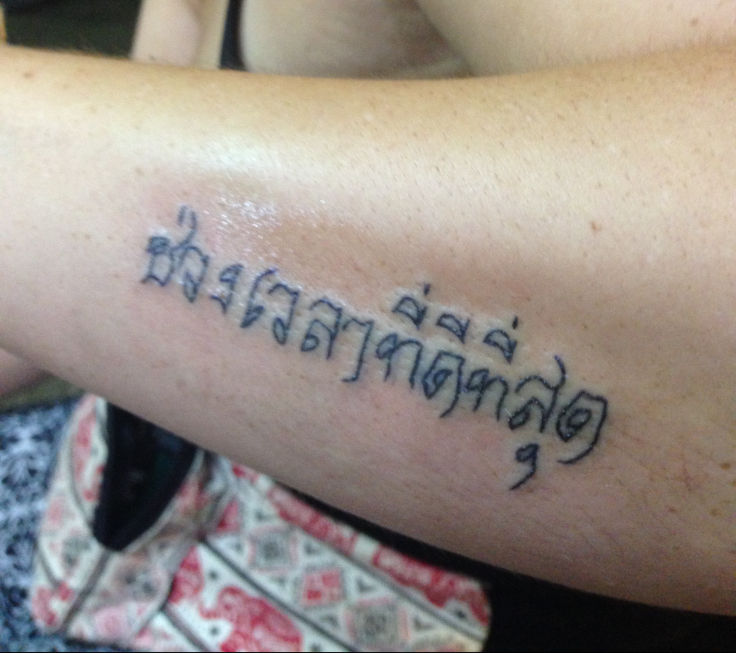 Perhaps the most foolish tattoo of mine, but I have no regrets. I was on a night out in Nashville, and three of us thought it would be an excellent idea to get a tattoo the next day. On waking up, definitely hungover (and possible still a little drunk) the idea was still as great as the night before. We googled a tattoo shop, found one fairly close and popped in. Great, they could get us in right there and then - although they did send us to get a McDonalds first! Sat in McDonalds, I still had no idea what I wanted to get done. The only thing I could think of in my current state, was that I was in the 'Music City' so I should get a music note. I ended up with a treble clef - close enough!
This one didn't heal too well, so definitely can't claim this as my smartest move, but it still makes me chuckle when I see it - so I see that as a positive!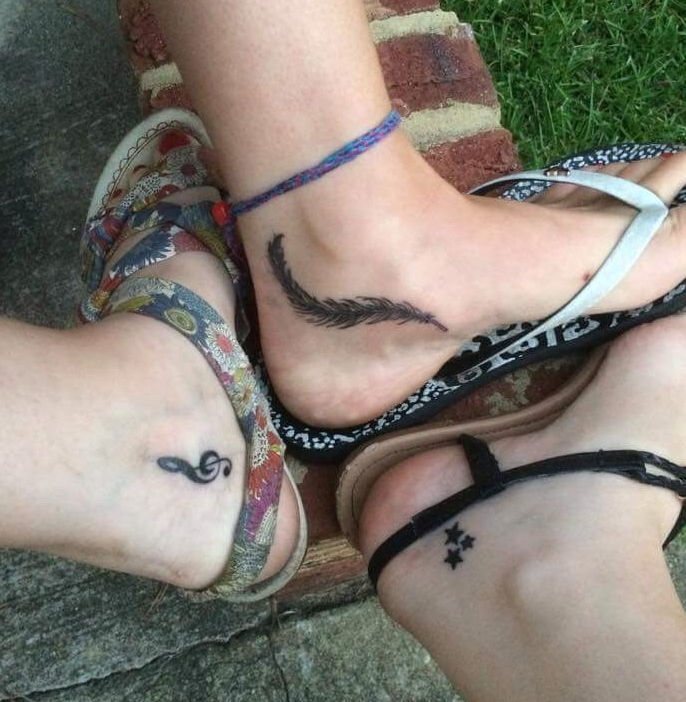 This is my favourite tattoo - I don't think I'll ever be able to top this one! The detail is incredible, and Sophie really impressed me when she came back to me with this design! I had sent her some random pictures of an old school camera, a vintage suitcase, a compass and a locket. I told her I wanted a travel inspired tattoo and to work off these images - I never thought it was possible to incorporate all of these things together!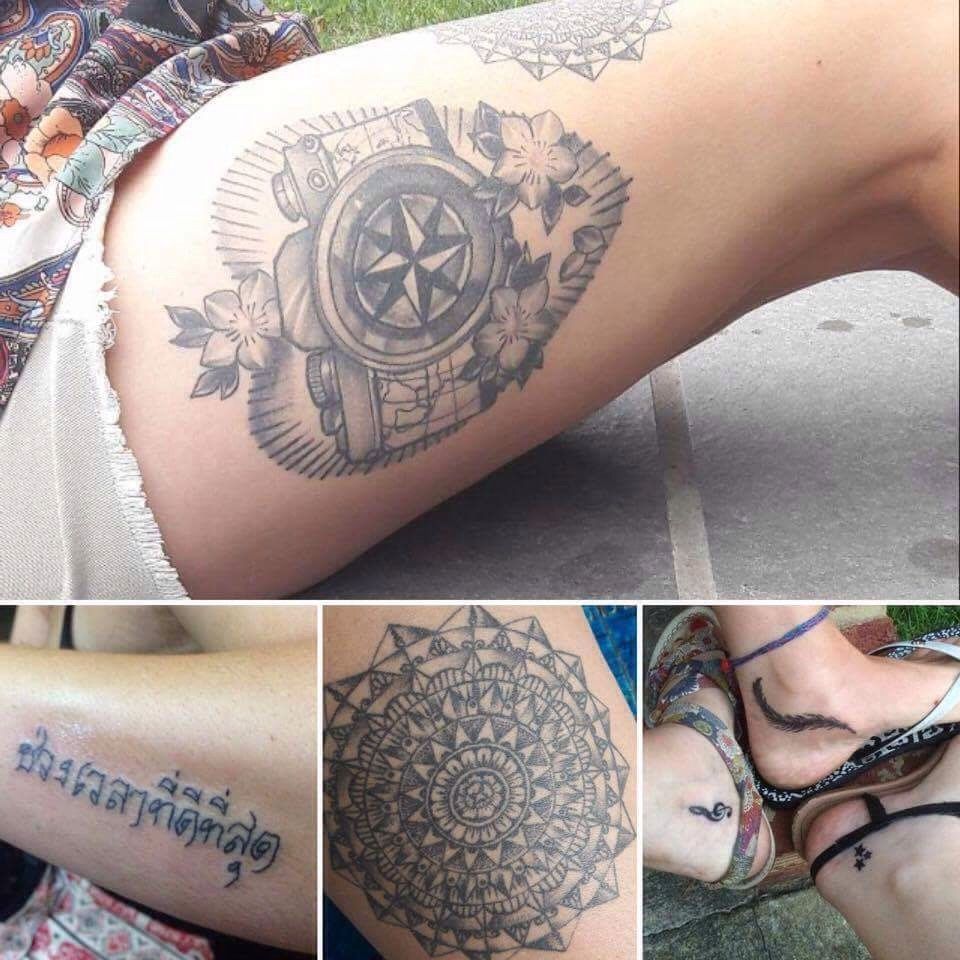 It is absolutely perfect! Even the subtle design in the camera having the world map on it amazes me!
So if you're wanting to take the plunge in getting a travel tattoo, here are a few suggestions:
Ask a local for recommendations on where to go to get a decent tattoo (don't rely on google reviews!)
If you can, hang around the studio for a little while and check out the work they are doing on other customers
Try not to get a tattoo when you're drunk/hangover!
Thanks for reading, and send me a link to your travel inspired tattoos - I would love to see them!
Gnome x
This post was originally published on Gnome On The Globe.