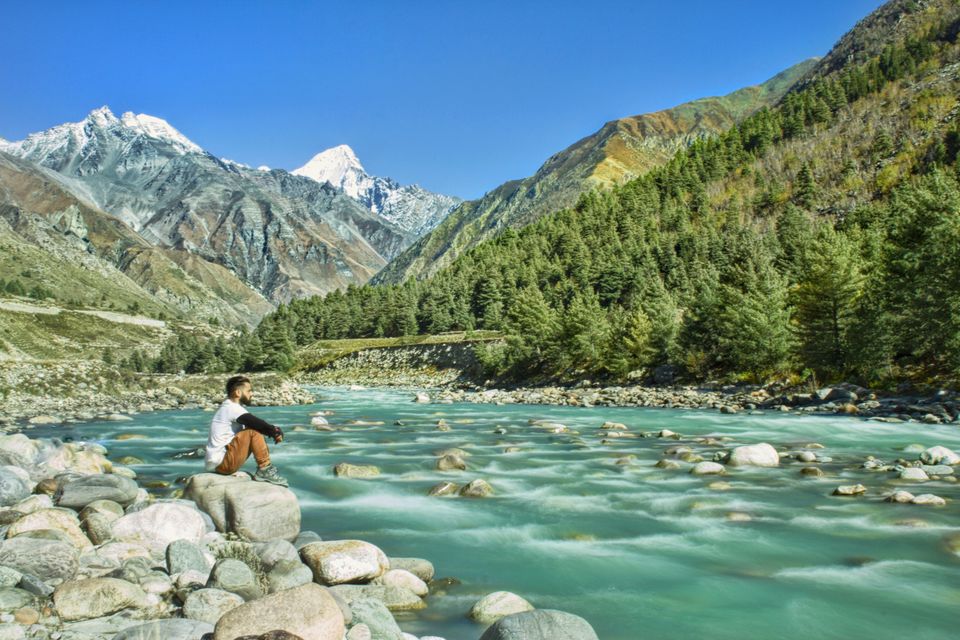 Battered men and damned souls
Wreaking havoc as they go
Their minds have shattered
Splinters strewn at places unknown
Oh poor men, I'll take them home
I'll rest their weary heads
I'll give them hope
I'll take their filthy hearts
And I'll make them my own
Ah poor men, aren't they lost?
Aren't they fearful of what lies beyond?
I'll rest their weary heads
I'll give them hope
I'll guide them to the mountains
I'll take them home…
"THE WAY TO A MAN'S HEART GOES THROUGH CHITKUL"
1. The day we bid farewell without sorrow
"She leaned in
I glimpsed a smile
Are you going to miss me?
I'll try"
Farewells are seldom devoid of sorrow.The only times they provide reassurance is when you know where you are headed hides what you cannot hope to achieve here.
Tranquility.Solitude.A piece of my heart.
The city life is indeed charming and compelling.A man arrives on the doorstep with a baggage of big dreams and high hopes.It offers you a roof until the plain white ceiling begins to gnaw at your mind.It offers you luxuries until your hearts longs to acquire something real.
It offers you freedom until in freedom, you discover sin.
Farewells can be devoid of sorrow.
Mine certainly was.
Bidding farewell to the capital was considerably natural and bore no ill-feelings on my heart.Delhi resonates with a part of my existence that is chaotic and mis-led.
A part that is lost.
I had to pick my friend Danish up from Okhla and I completely and solely blame myself for expecting him to be on time.The only good that came out of it was , we had amazing biryani in Okhla before we hit the road.
…
The first day of our journey comprised majorly of on-road travelling on the Himalayan Royal Enfield.I find it amusing how on trips like these, you sincerely start sensing the preciousness of life and begin to resonate with nature.Everybody's inner Rumi suddenly decides to make a guest entrance.
Feeling at peace with myself, I looked up at the sky as I always do before making my prayers for a sound journey and for the well-being of the people I leave behind and noted that it was a clear blue, the sun harshly piercing into my eyes.
Taking the NH1 highway , we made our initial pitstop at Murthal to reconcile with the second love of my life-chai.Being a free man bounded by restrictions of my heart, I had to pull myself away and keep moving on.
Further on, we took the route through Panipat, Kurukshetra and Ambala. A blind man could have intuited a change in scenery because the air you gulp in feels so much more sacred as you keep on going.Sensing the wind rush past your face and having absolutely no distresses in the world.The journeys are definitely more fulfilling than the actual destination.
Panchkulla reasoned to be the stop to refill our bikes. Touring through Parwanj, Kandaghat accepted us with open arms at around 8:00 pm.
My most preferred means of travelling to the mountains is biking, obviously because of the cool and nomadic factor. One little detail I always overlook is how low my endurance levels are.
Riding the whole day on a bike through rocky roads, slopes and plains, my back and my neck heave their last breath.
Also, my very good friend Danish you see is one of the most proficient pillions I have come across.Yet, to cover up for that, his navigation skills saved the day for us quite a few times.
Even through the helmet, my face had layers and layers of caked sand and I have to give it to the people of Kandaghat for quite respectfully offering me an affordable place at 500 rupees
to lay my head in at night even when I looked like an uglier, human version of "Groot".
2. The day I rode with a group of bikers
"The hearts rode aside
To nowhere, we ran
The mountains sighed
Here ye come again
Thy crazy men"
The sun did not fail to rise once again and a new day began.Up to my feet in a jiffy, life finally felt alive.
Noon dragged in and Kandaghat waved it's goodbyes.These trips bring out the child in me and it's really a fascinating process to observe. I feel young enough to pounce upon the secrets of the world.Displaying uncanny similarity to an obsessed, snotty child on her first trip to Disneyland, I proceeded towards Shimla.
Shimla reflected the serene and cluttered units of my character.Holding a low elevation, the scenery was still a sight to behold yet the traces of commercialisation had left it's imprints.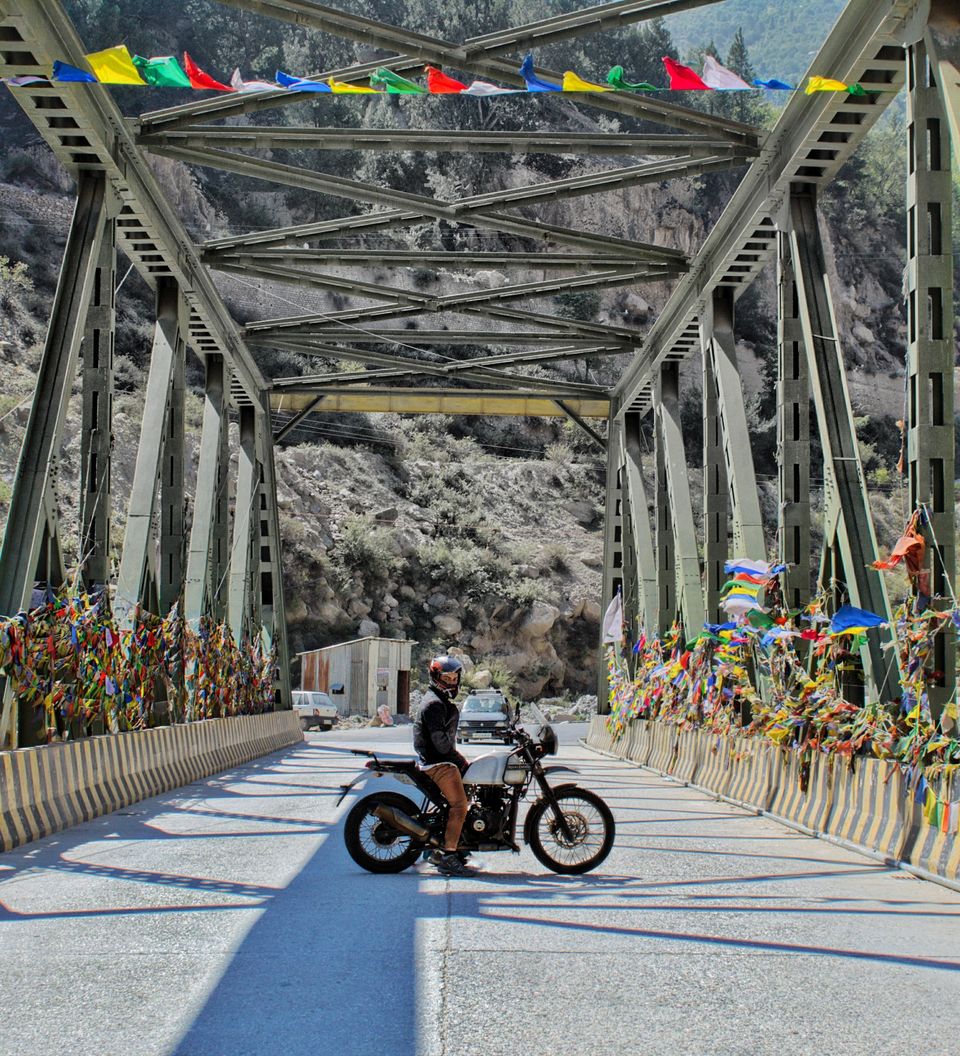 The air quality comparatively degraded and tourists spammed the region.
Crossing Shimla, our first stop of the day was Kufri. Living up to the reputation of an outsider, the first thought that clicked in our minds after seeing hoards of yaks was "pictures!".After a successful photoshoot (or so we thought) along with our models , us being the masochist souls that we are , we strapped ourselves to the bikes once again.
The beautiful climate of Kufri had left us feeling light-headed. The day got dimmer and we rode on and on.A little before Rampur, we came across a group of youngsters riding super-bikes and following a classic example of moving with the herd, we joined in. The few times in my life I proceeded with making the right decision.
I felt life run through my veins as the sound of 15-20 bikes moving together rushed past the silent roads.If everybody talked to each other like strangers meeting on the road do, the world would be a much better place.
We were hoping to hit the bed at Jeori and moving through Rampur, all of us made a classic Roadies entry into Jeori and stripping off the leather jackets and the thick gloves, settled for the night.
3. The day I slept in a dining hall
"No journey is fulfilled without a situational comedy, a drunk encounter and a failed attempt at
bargaining"
If we had been slightly aware of what the following night would bring us, I doubt we would have made the sensible decision of choosing to stay in Jeori. The bikers gang (sounds cool, huh?) met up for breakfast and then afterwards, all of us rode towards Tapri.
"Pappu bhai ka Dhaba" was one reputed dhaba at Tapri. Hearing the name quite a few times from the locals, we decided to ignore the widening hole in our pockets and make a stop.
Pappu Bhai ka Dhaba in contrast to it's name actually was the perfect place for a pitstop in Tapri.
The food was great and the people even more so.
Tapri proved to be that new, evil friend who broke us up. Proceeded by a few quick hugs and fizz bumps, we parted ways at Tapri. Danish and I went ahead and encountered Karcham Damn and further on , Kalpa.Kalpa proved to be quite a spur.Two roads diverged in a yellow wood and we took the one most travelled by.
Kalpa goes right towards Sangla Chitkul and leads straight to Spiti.
No man is free. One who claims to be is bounded by the restrictions of his heart. Time restrained our endeavour hence resulting in us choosing to proceed towards Chitkul.
The road to Chitkul was a pain in the arse (quite literally).With every sudden jerk, I cursed my existence. Chitkul though made up for it.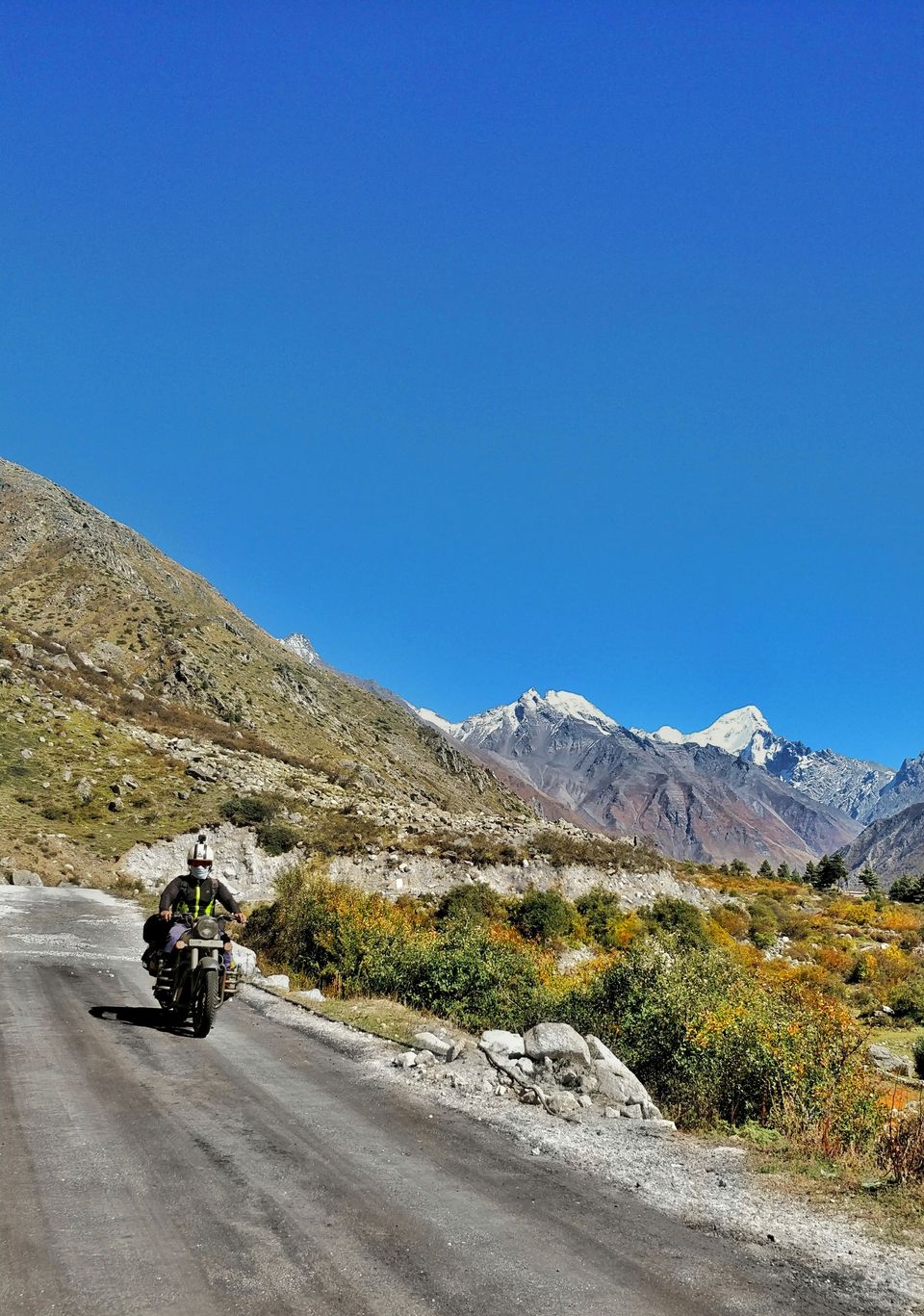 The first word that comes to my mind when I hear about Chitkul is "Colourful".The place was strewn with shades of red, green and orange.It was like a different, vibrant world of it's own.
The scenery was indeed a luxury.It offered a 360 degree view which was breathtaking.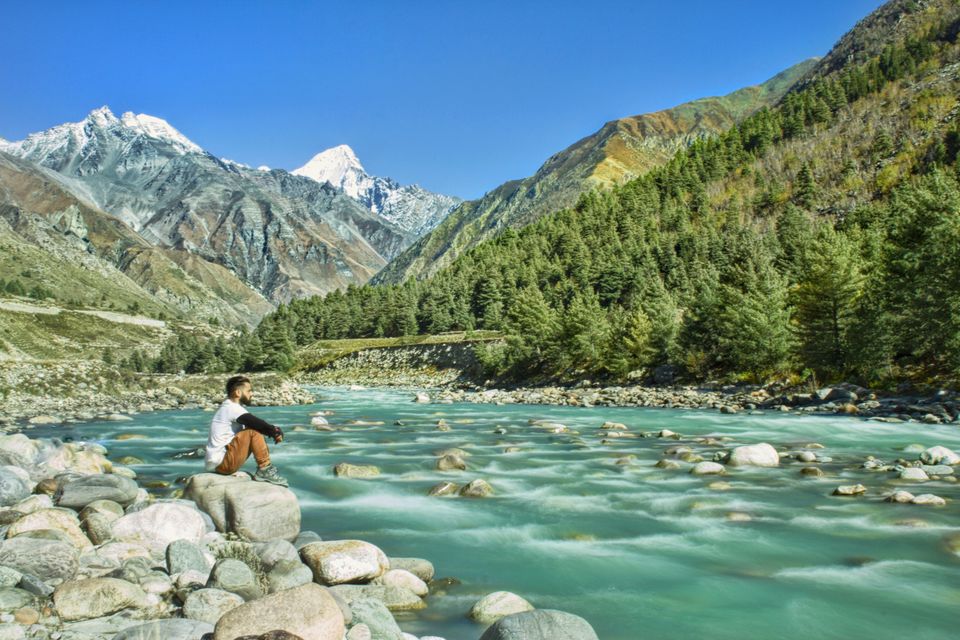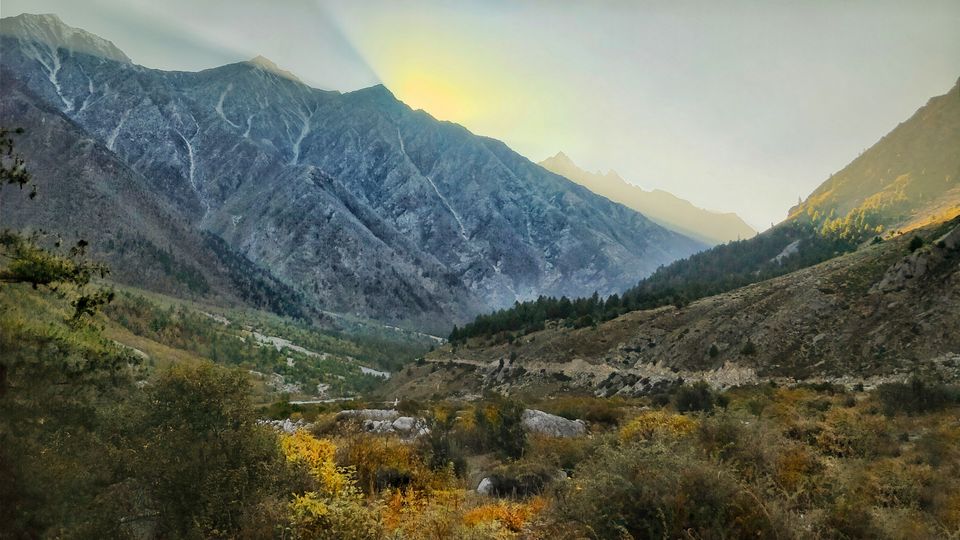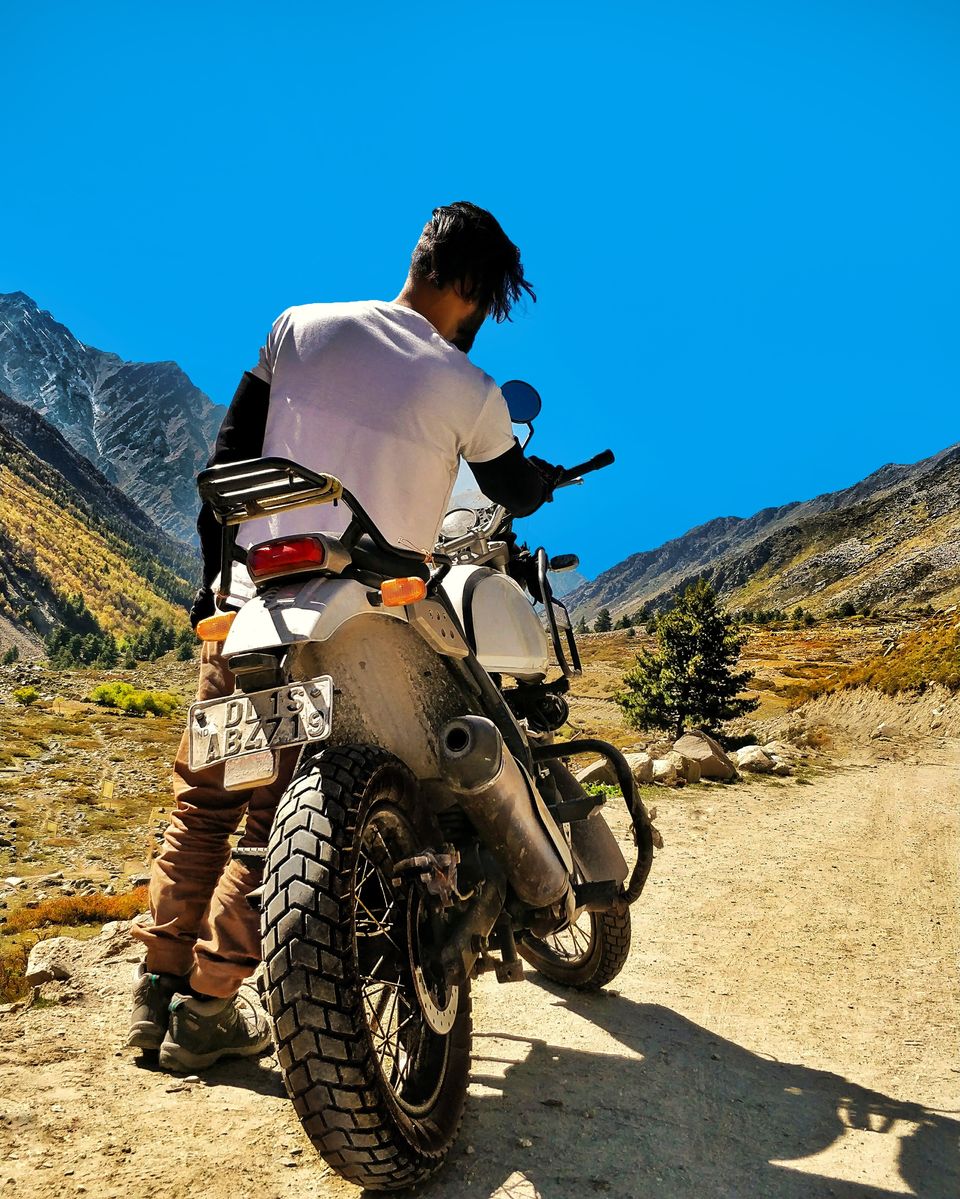 As a genuine attempt at getting one decent picture clicked by the Basant River and life's sadistic plot of embarrassing me at every point, I somehow managed to get my shoe completely soaked.
"Jugaadu" as us Indians are , one plastic bag, two quick knots and we were all good as new.
The night was turning chilly and we had planned to stay the night at Chitkul but as time staying in our favour was in abundance, we decided to go back to Kalpa and visit the suicide point the next day.
As you would have it, Kalpa had a surprise in store for us.
The Dura Puja season was on and the place was flooded with Bengali tourism.Strained after the long day, we went to search for a hotel.
NO PLACE WAS VACANT.
Do you believe that? Oh, you do.I didn't
You wouldn't want to believe it too after desperately searching for a roof to stay under for hours.
Like a classic example from "Three Men in a Boat", yet contrastingly by no fault of our own, there was no inn , no hotel and no home willing to take us in for the night.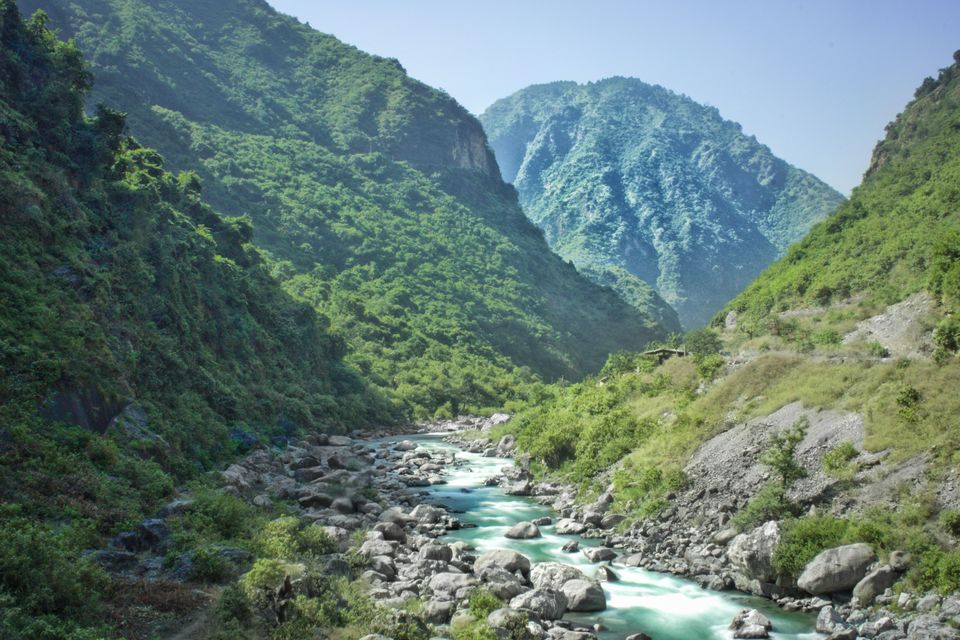 After a series of rejections and us losing whatever little self-respect we had , we marched into our last hotel aka personification of hope for the day and demanded (or begged a little maybe) a floor to sleep on.
One more rejection and I swear we would've carried out Farhan Qureshi's emergency code red situation.Anyway, the heavenly soul cleared the Dining hall and laid out two mattresses for us and we slept like we were dead.
4. The day I didn't kill myself at the suicide point
"The void widens
Off the cliff
I see an escape
From the labyrinth of pain"
As it turned out, the heavenly soul wasn't quite the divine messenger of God we took him to be after all.
Up to our feet in the morning and the first voice we hear is calling for 1500 bucks for the two worn-out mattresses.The miserly , crouching ninety year olds in us ignited and we fought for every penny's worth.Well, you know guys and bargaining are a hopeless case.Left off at 1000 bucks, we walked out like we had conquered the world .
We had planned to do sunrise photography early in the morning but when do things really go as planned on a trip? Or you can blame it on the laziness, yes.That can be one reason too.
So , today we decided we'd take the route straight from Kalpa to Roghi in particular to see the "suicide point".
On arriving at our location, we spotted a lot of punjabi people and as it goes, we had become best buddies in a matter of a few minutes.Suicide point was a sight beyond the normal human cognizance.It was heart-wrenching scary and thrilling at the same time.It was like a visual adrenaline rush.The special feature of suicide point is that there are absolutely no barriers , so the more daring young fellows could actually go and take a peep below.
My heart was in my throat when I actually glanced below and there was absolutely nothing visible.It was a compelling , dark, huge void.
Note:The suicide point was simply named so after the accidental death of a visitor a long time back.Don't get yourself killed. Your life is more important than the social media pictures, a little.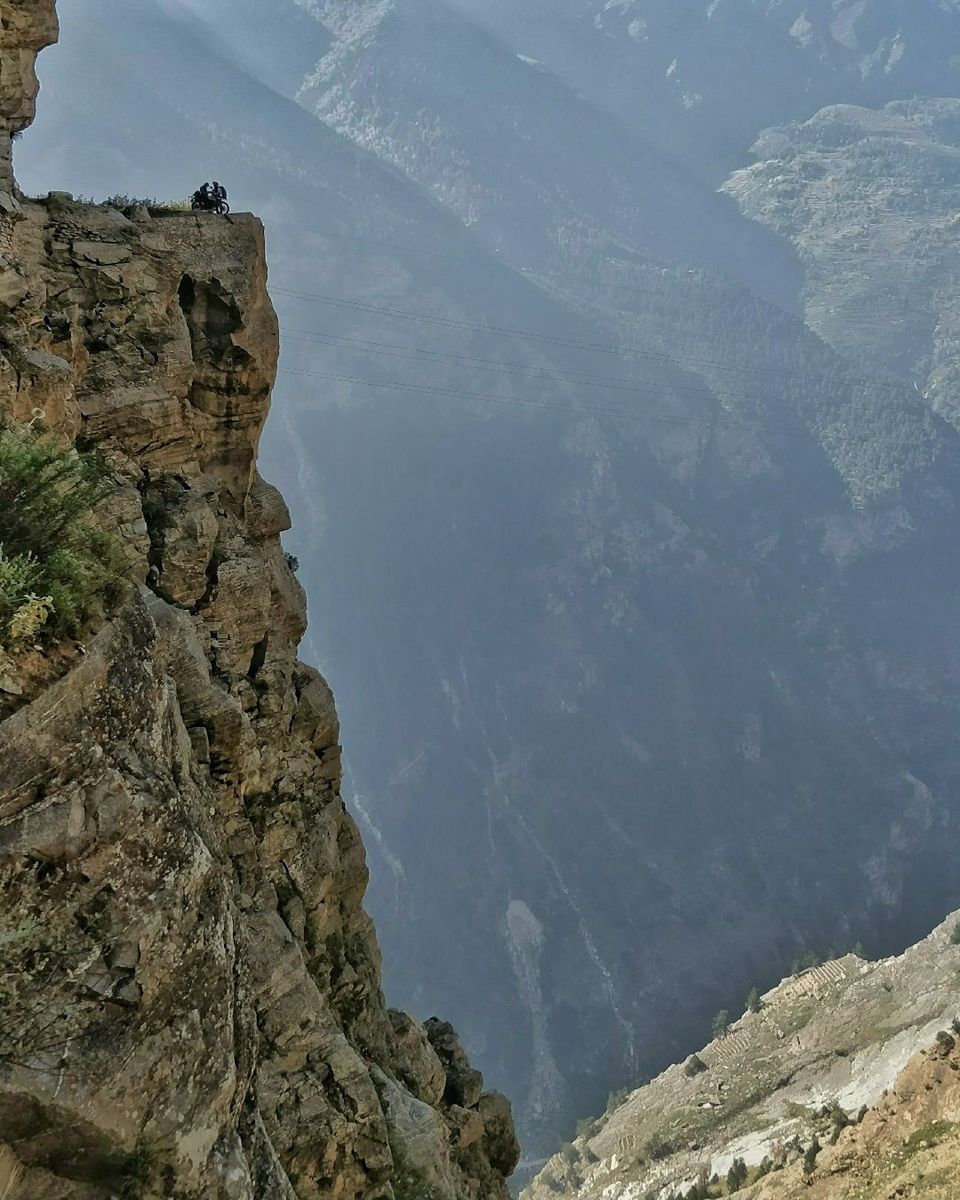 The visit to suicide point was our major highlight of the day and we spent the rest of the evening left biking to Rohru to stay for the night.The next day was the day of departure and with contented, heavy hearts we closed our eyes.
5. The day I bid farewell with sorrow
"I looked back one last time
At the mountains above me and sighed
My soul felt so heavy
I had to return to the night
The dream had ended
My eyes gleamed with tears
I looked back one last time
Returned the familiar fear"
Drawing back, we chose a different route.Riding continuously for 22 hours, we moved through Hatkoti, Vikashagar, Sohanpur and Shimla to arrive at Delhi with heavy hearts but light souls at the prospect of reuniting with family on arriving "home".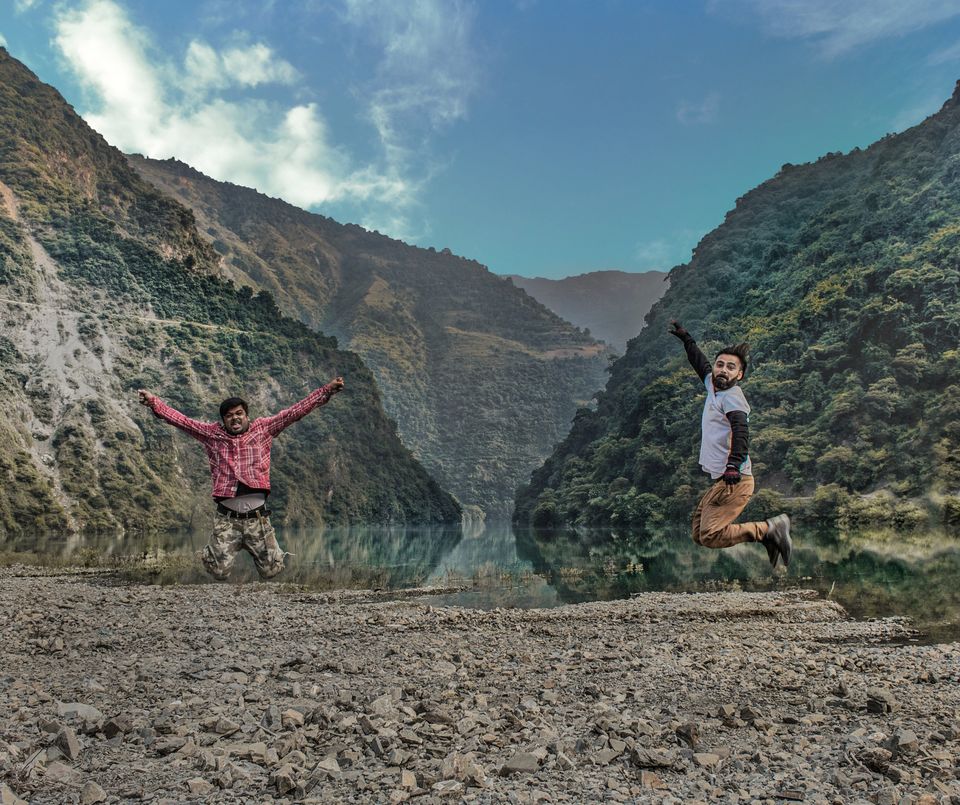 Highlights Of The Trip
. Travelled 1402 km in 102 hours
. Rode the last day for 20 hours continuously (450 km) with 6 pitstops.
. The whole trip lasted for 102 hours out of which, 50 hours were utilised on the road.
. Day 1 -Rode 530 km
. Day 2 - Rode 200 km
. Day 3- Rode 200 km
. Day 4- Rode 450 km
*Show your love by liking, sharing and commenting on the blog.