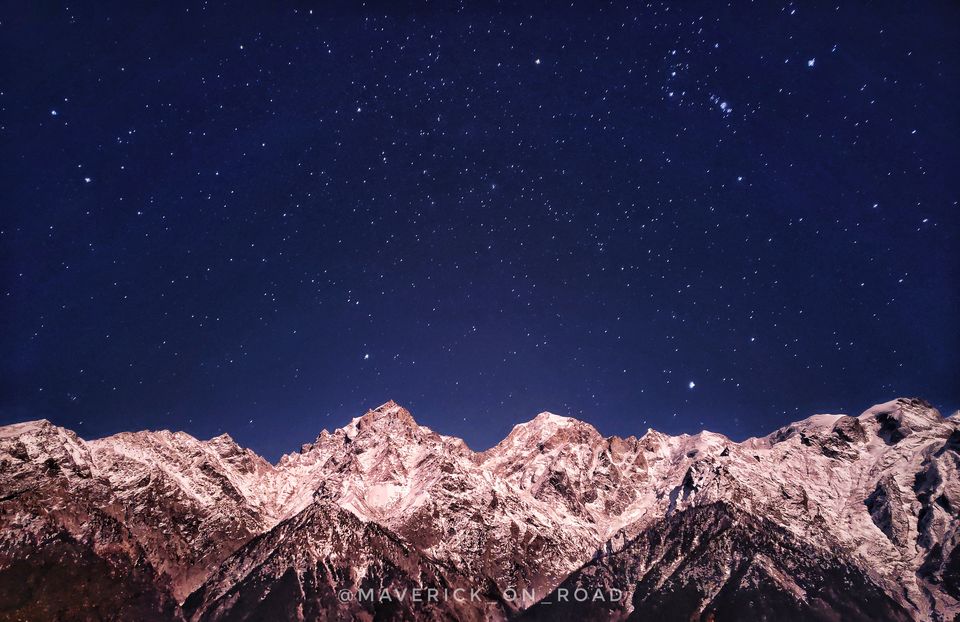 It was October and we started our journey from Delhi on two Royal Enfield Himalayans. The first day, we reached Shimla till the sunset and checked in. It rained heavily during the night and we were worried about the weather next day. When we woke up, it was drizzling and we were wondering how will we ride to our next destination. Fortunately it almost stopped after few hours and we started from Shimla around 9 am.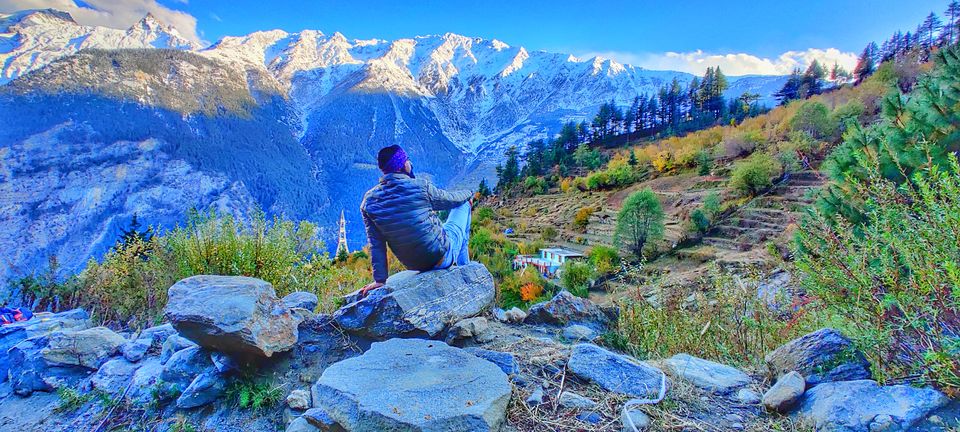 It was too cold and my hands were freezing. Nonetheless we rode approx 160 KMs and reached Sarahan after the sunset. Next morning, when I woke up and stepped out of the room; I saw the very first snowcapped mountain of this trip. I was too excited and motivated at the same time for the further ride. These two days were exhausting to some extent because I was riding almost after 7 months. But the moment I witnessed those mountains; I believed that the pain was worth.
After a warm shower and our usual road trip breakfast (Aloo Pyaz paratha, Sunny Side Up Omlettes and Tea); we departed from Sarahan around 9 O' Clock in the morning for Kalpa.
When we started, I found the mountains quite different and huge. Then we reached the Pangi Road, which is considered to be one of the most treacherous roads in the world. To be honest, in the beginning it got me a bit nervous riding on it; but then after few minutes I was flying with confidence and happiness. I think it was just a side effect of not riding for a long time. I was proud of myself to be able to ride on this road fearlessly.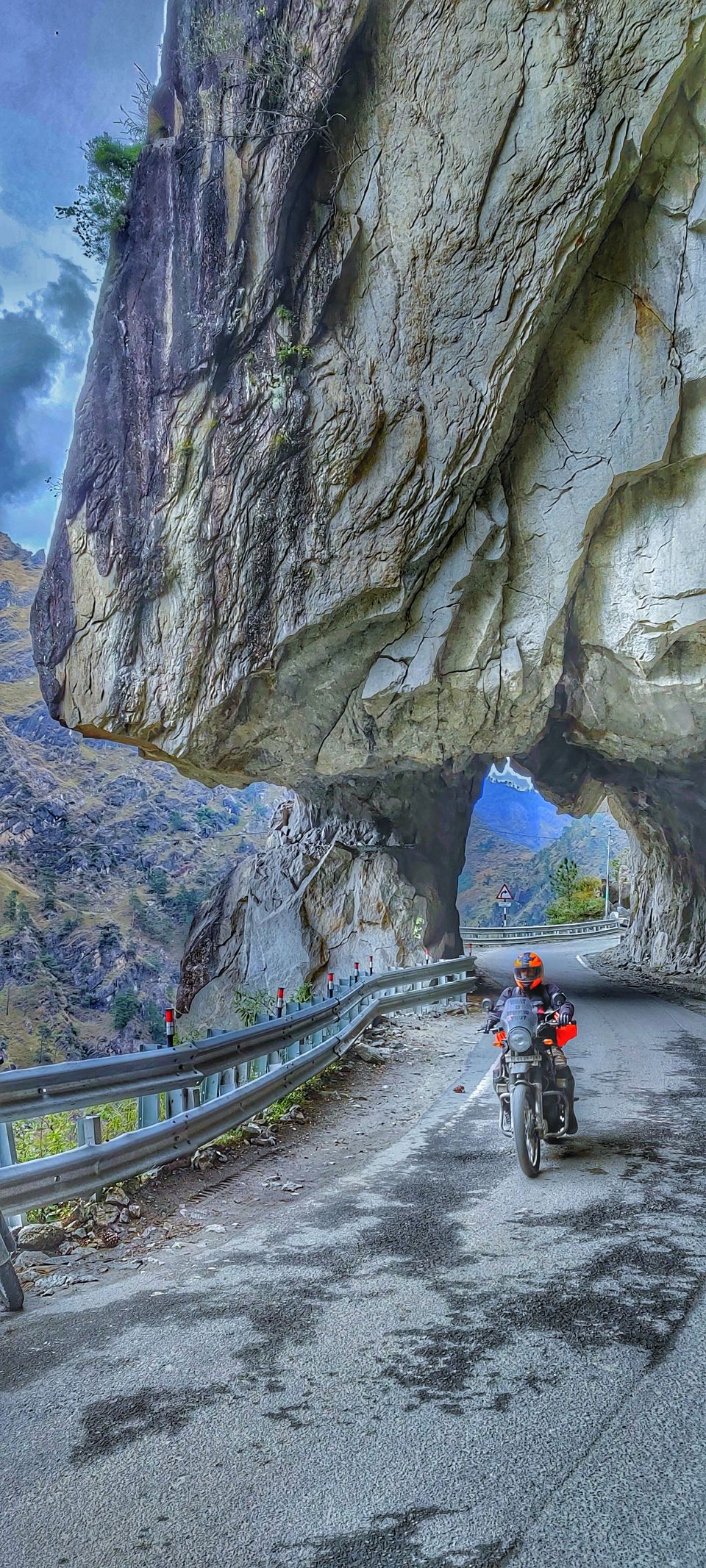 Before I reach Kalpa; let me tell you that just for making our trip a budget one; we had booked most of our stays with OYO; but almost during our all the stays we faced issues in checking in. The hotels had some unknown disagreement with OYO and hence they did not want accept the OYO Bookings. Needless to say that OYO people did not turn up for any kind of help.
Same kind of incident happened, when we arrived at our hotel in Kalpa, which was booked through OYO Rooms. The manager of this hotel also denied our admission and ultimately we had to persuade him to allow us on the basis of a separate booking directly with the hotel. We got a room with a magnificent view of the gigantic mountain range.
We rushed into the room, got ourselves freshen up and desperately went out in the village for a stroll. We asked the hotelier as well as few locals about the possible places where we can go and see before it gets dark and we were advised to see the village only that evening. Actually we wanted to visit the Suicide point, but they said that in the evening time it becomes a bit risky to visit that place. Reason, the shooting stones from the cliffs; as the cattle descend during that time. Therefore, we decided to explore the village. Now, since we had been riding for all day, we were starving. We started hunting for a non vegetarian meal. Finally we found a very small mess like hotel and the guy agreed to prepare the dinner for us. We bought chicken from the market and asked him to cook for us. We waited for almost half an hour and it was ready. While eating, it started raining. It was a kind of icy rain and hence resulted into a further dip in the temperature. We were literally shivering and were not carrying an umbrella. We had no other option to walk or run towards our hotel room. We managed to reach the hotel and rushed into the blanket.
We had plans to try our hands in astro photography, but my co rider was already asleep. Since I had gotten myself a new mobile phone, I could not resist myself and ventured out to click few pictures. It was a moonlit night and the mountain covered with snow was shining. In the balcony, I stood and gazed upon it for two minutes. Trust me, it scared the shit out of me. I don't know what had gotten into me that very moment. I felt too small, too insignificant and too vulnerable. I decided not to act heroic and be an ordinary person; so I went to the bed.
Next morning was sunny, I woke up early; okay at least before my co rider. I went to the terrace for a better view and the terrace was slippery. I realized that there was a thin layer of ice on it; probably the result of that icy rain last night. There is a Shivling on the Kinnaur Kailash, which is a natural monolithic pillar of 79 foot at an altitude of 4500 meters. I tried locating that for my eyes from the terrace itself and found out that it looks like a small match stick from there.
It was time for the breakfast, the same breakfast; Aloo Pyaz Paratha, Sunny Side Up Omelettes and Tea.
Our day plan was to cover suicide point and Roghi (a small and beautiful hamlet near Kalpa). Suicide point is a famous picture point in Kalpa. Lot of people come here to click pictures, basically it has become an Instagram spot. Off course we also clicked several pictures there and moved ahead to Roghi.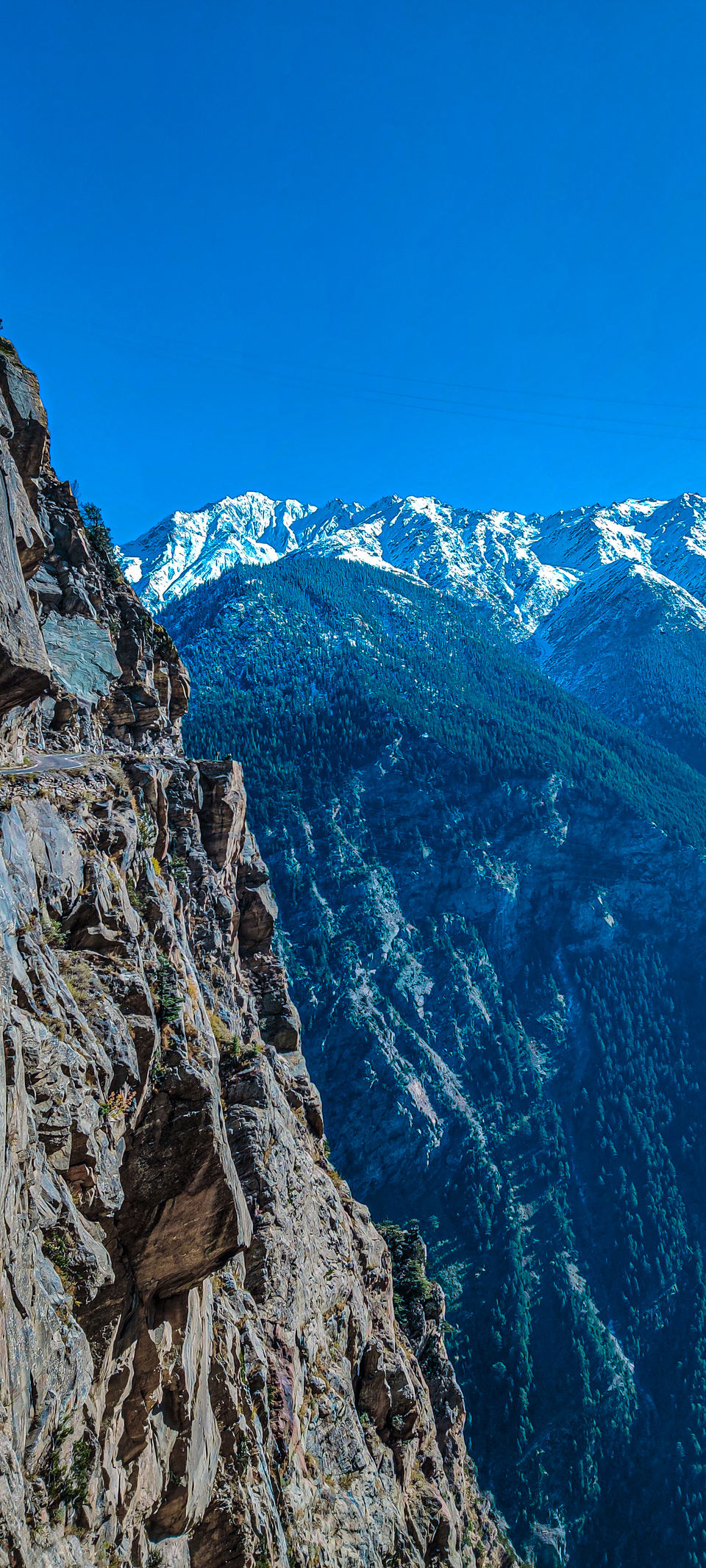 There were no roads to this place but trails. We took one of our motorcycles there and spent some time. We walked further to click few more pictures and it was a dense forest. I could not see a single person there. It might sound foolish to you; although it was pure, it was serene but it was scary to me as well.
After taking a full advantage of the huge storage in our phones, we headed back to our hotel. We ordered mutton for the dinner. Tonight we both were very determined to do astro photography. It was 9 pm and we were starving to death. Finally a kind voice came from the kitchen and called us. I personally was too excited for the mutton, that too in the mountains and I must tell you, it was horrible. They did not even boiled it properly and when I complained about it to the cook; he did not care. Hence, we managed to chew it and swallow it somehow just for keeping ourselves alive.
It was after 10 pm and there was no human activity seen in the neighborhood. We armored ourselves sufficiently for the freezing cold and tried our hands and lucks for at least one hour. We got few good pictures; at least for an amateur like me.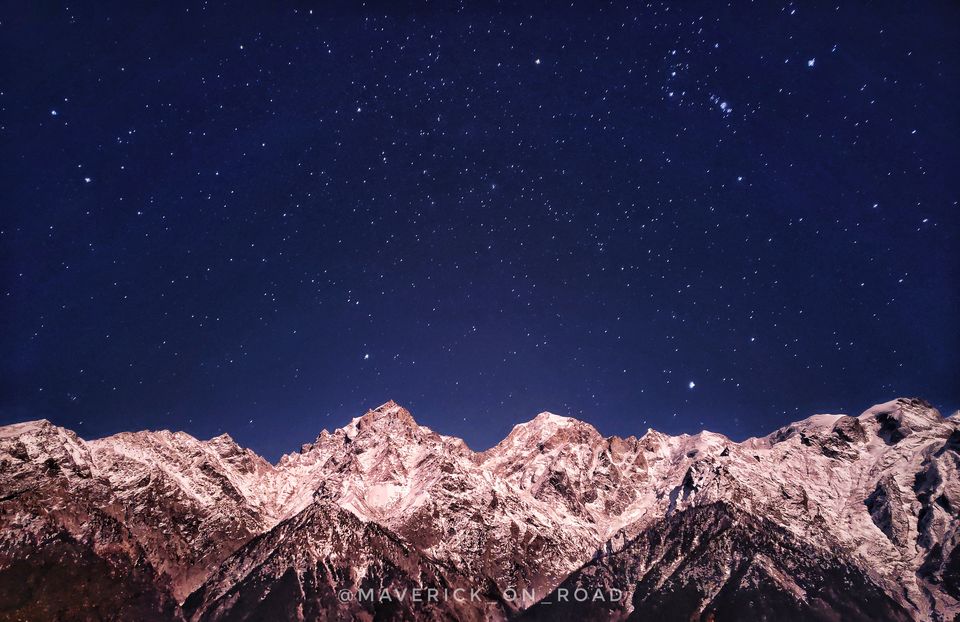 Finally after successfully clicking a starry night's picture and writing three poems; I slept in self contentment. The next morning we had to head towards Chitkul; the last village of India near Indo Tibet Border. I will write about it in the next part.
#himachal #himachalpradesh #incredibleindia
Follow me on Instagram- @maverick_on_road