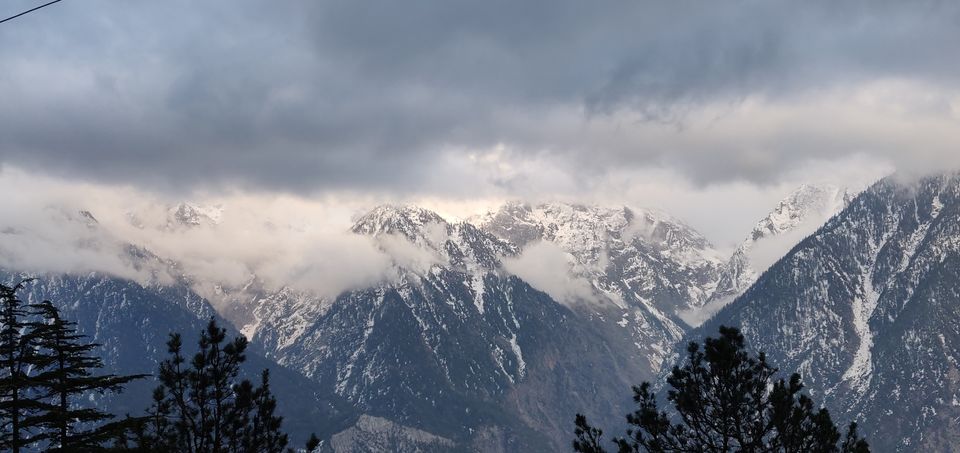 Started at 7 am crossed Theog ,Narkanda and cruising at enviable altitudes along side the banks of the stunning Sutlej River and passing innumerable natural waterfalls, cave roads, majestic mountains it was a sight to behold. Every single suspension bridge crossing was a sight to behold. We took a detour from Narkanda via State Highway 15 to witness live snow fall en route. Then we joint the NH5 and reached Rampur Bushsr which is one town where you can refuel your car, eat decent food and get going. One will stop at Tranda for darshan of Tranda Mata to seek blessings for a smooth journey forward. Crossing small stations like Wangtu where we witnessed the majestic Wangtu dam being constructed and managed, Tapti,Chooling we reached Karcham. Baspa Hydraulic power dam is a sight to watch out for. We drive further to Powari,Rekong Peo and venturing forward to witness the mesmerizing Kinnaur kailsah ranges from Kalpa and still going forward via very adventurous roads to reach Rohgi cliff point. Also called the suicide point Rohgi is one place one must not miss for anything in the world. It's too beautiful to be true.
Came back to Kalpa and saw Narayan Nagini temple, Bramha vishnu temple and Lochawlakhang monastery. All this can be done by foot in just 1 hr.
Kalpa is a beauty beyond words.
We effectively travelled 230 Km covering all major places which we were excited about. It was hectic beyond a point but the views more than made up for it. After witnessing Kinnaur kailash views we came down and stayed in Rekong Peo.
Early morning we again woke up early for the life changing views of Kinnaur Kailsah mountains right in front of us. Luck favoured us and as the clouds cleared a little we had the fortune of witnessing the grandeur of Kinnaur Kailsah shivling and Jokarden ranges.We checked out of Rekong Peo and went to see Kothi mata temple( chandi ka mandir). Then proceeded further towards Karcham , Sangla and then reaching Batseri village and Rakcham and enjoyed the other worldly views of Baspa River. We ended up playing in the thick sheet of snow that had accumulated on the roads and banks of Baspa river. At 2900 mt we could see a storm forming and as orange alert was issued we returned back without touching the last Indian village in Tibet border in Chitkul.
Return way was Rakcham-Sangla-Karcham-Rampur Bushahr-Narkanda-Theog-Kufri-Shimla-Solan-chandigarh.
Chitkul and Jeori temple with hot spring are 2 things which we missed in this trip. From Rakcham it was Tokyo drift Fast and Furious back to our base camp , Chandigarh. It was raining cats and dogs and there was so much fog in Solan that we could not see the road. Boulders had also fallen on the way and JCB was clearing snow everywhere. But if it wasn't this risky it wouldn't be this memorable.
How we wish we could sleep in the lap of those majestic Himalayan ranges everyday. Mountains speak a different language every time we see them. Sometimes they soothe, sometimes they scare. Whatever may be the case they definitely don't let you forget them...
As unplanned it could get we started an impromptu road trip all the way from Chandigarh till Rakcham and back lasting for all of 54 hrs. Roughly covering 1100 km,scaling peaks at 3000 mt. elevation and experiencing the zenith of ecstasy in the lap of nature.
Escaping from the dreary schedule of repeated internal audit meeting our road trip started at 6 pm from Chandigarh. Our first feast to the eyes moment was Shimla at night. As we drove up and up the city of Shimla twinkled like the milky way in the galaxy. Why go see lighting in Burj khalifa when you can see an entire town come to life after 7pm. Jhakoo temple from NH5 was also a sight to behold. Passing Chandigarh, heading forward in NH5 crossing Shimla ,Kufri and finally reaching Fagu point we halted our journey for day 1 at a simple and comfortable resort with a brilliant view of snow clad mountains from our hotel. We crossed 130 km from Chandigarh to Fagu point within 4 hrs.
There was snow fall in the night and our car was covered with glistening snow.