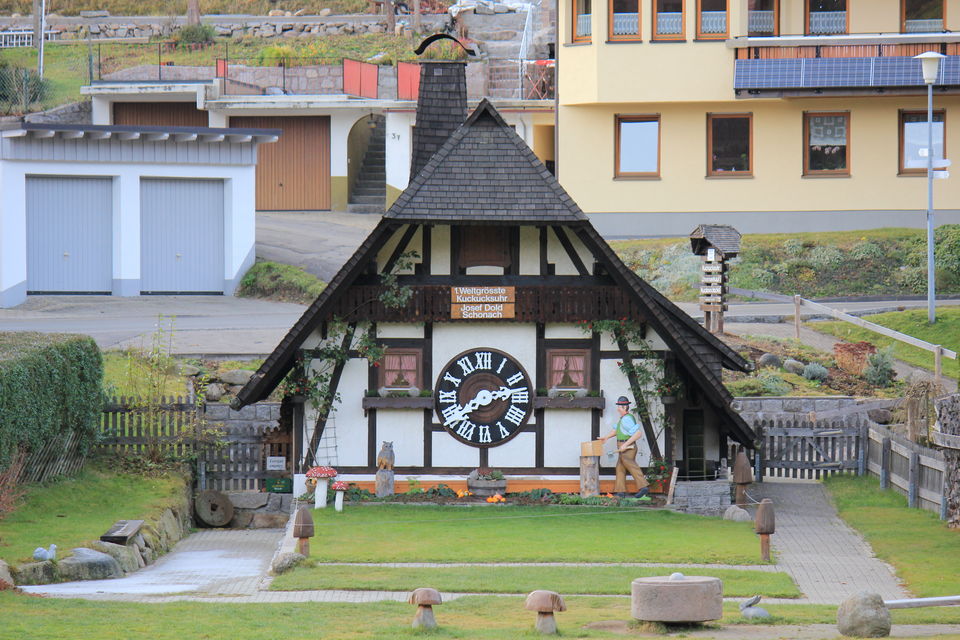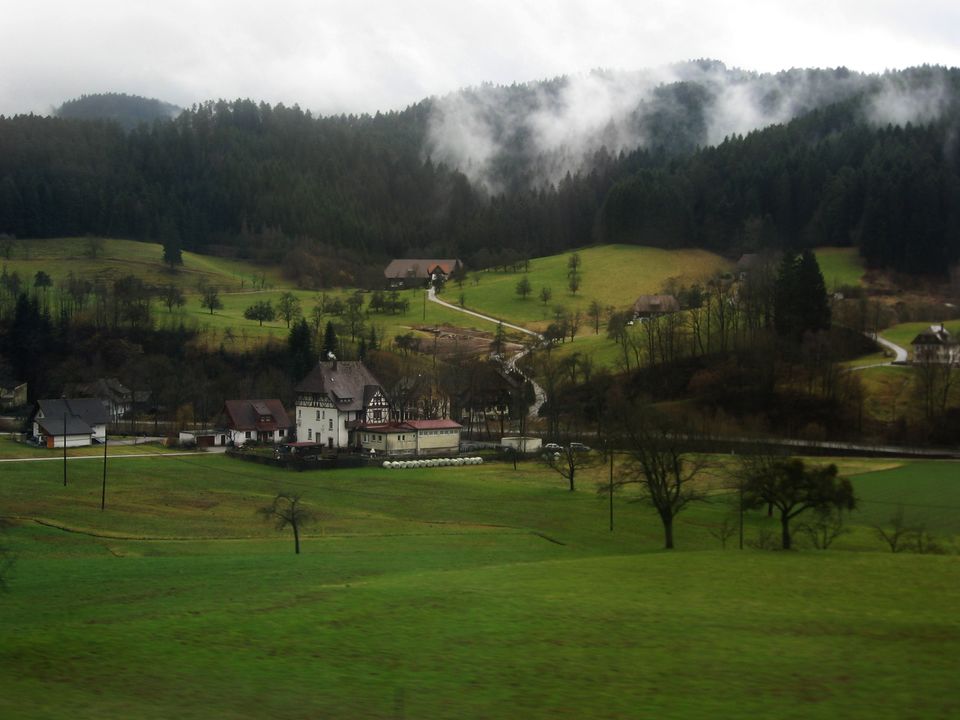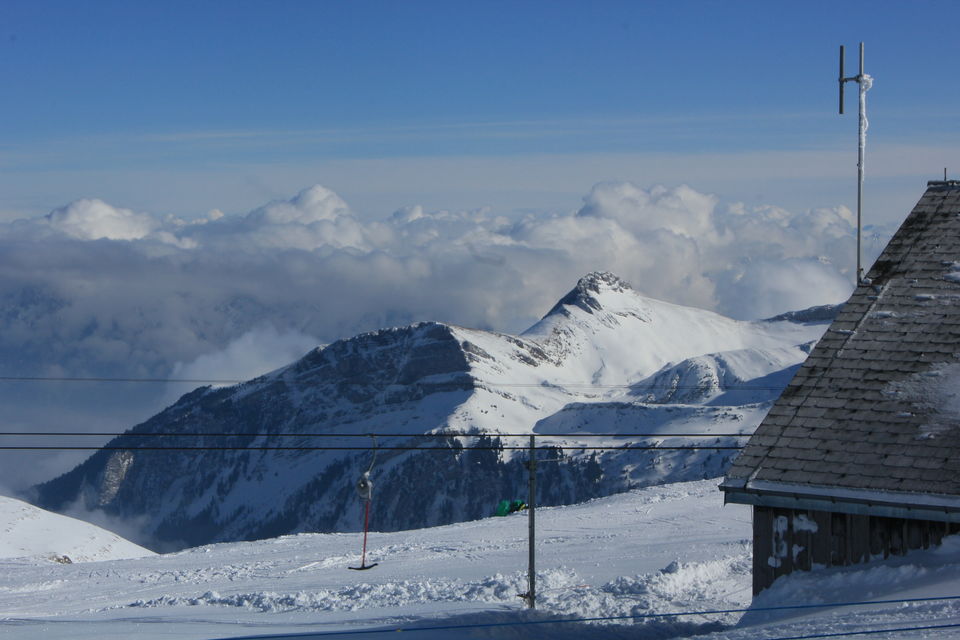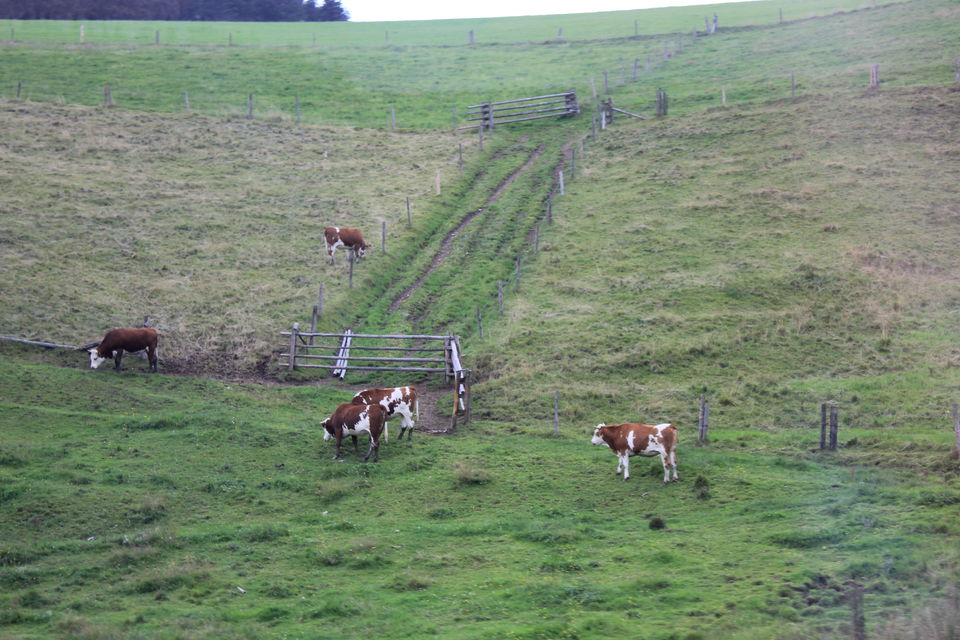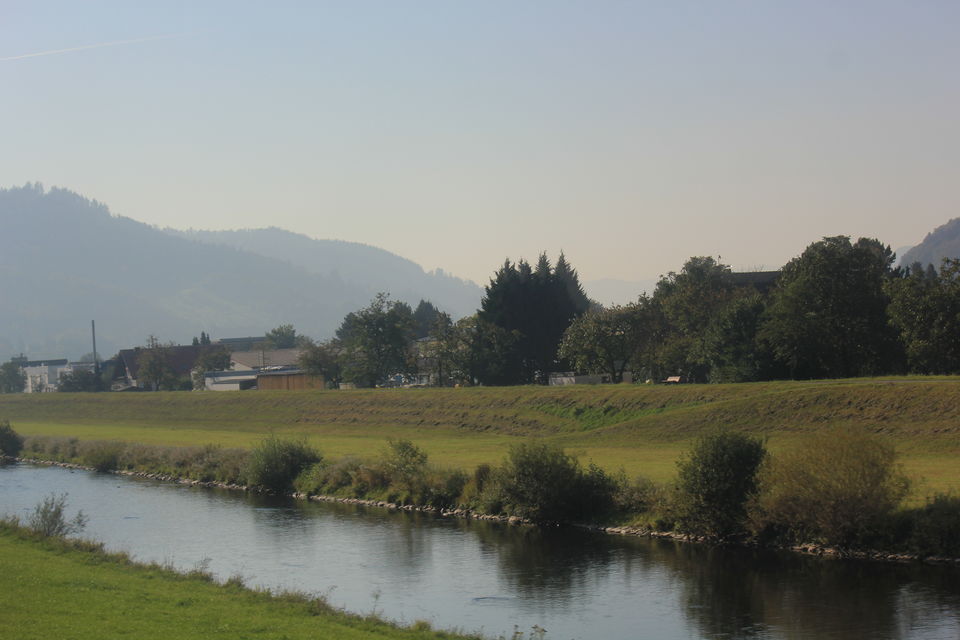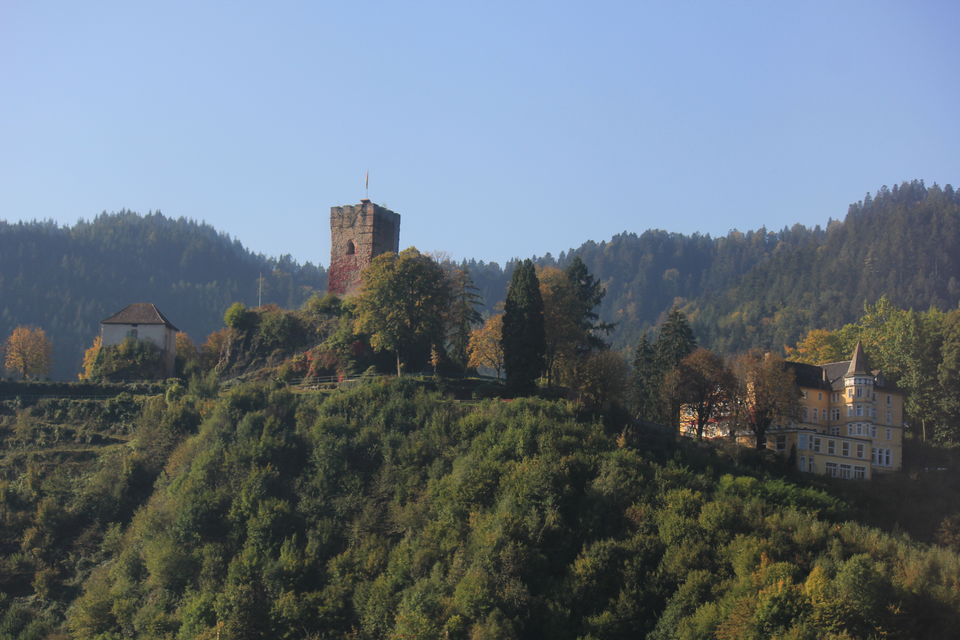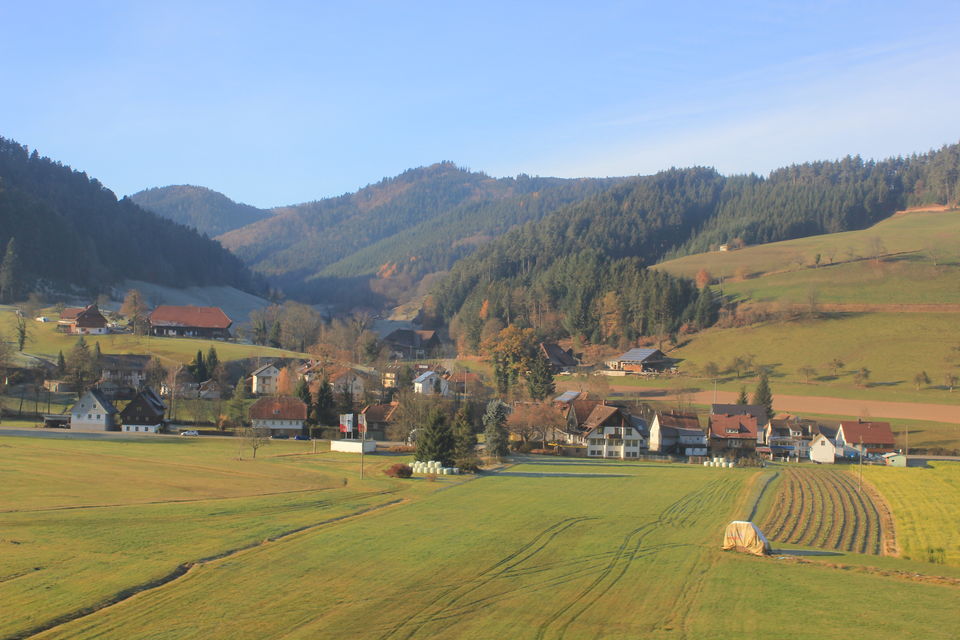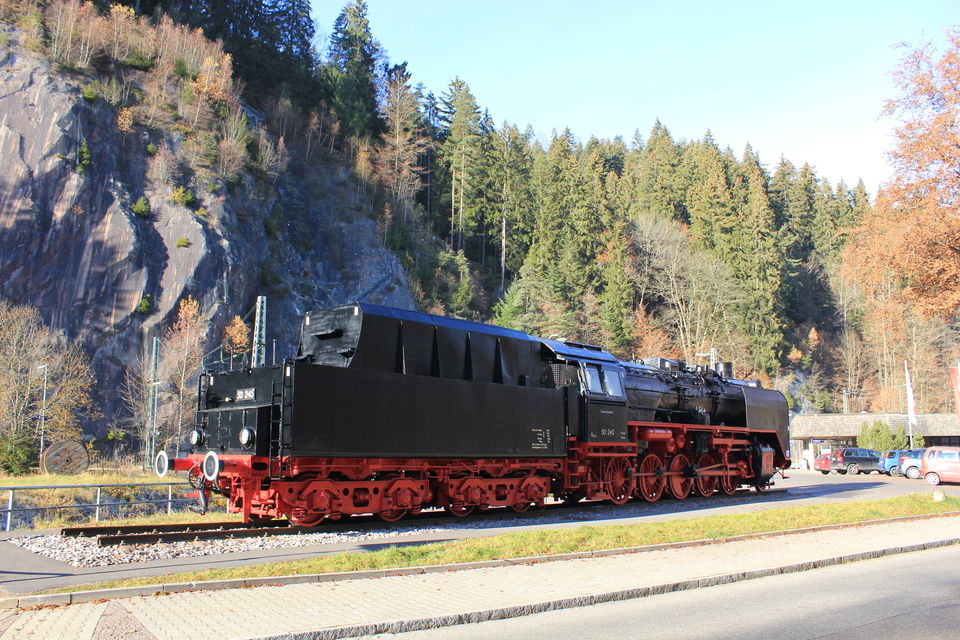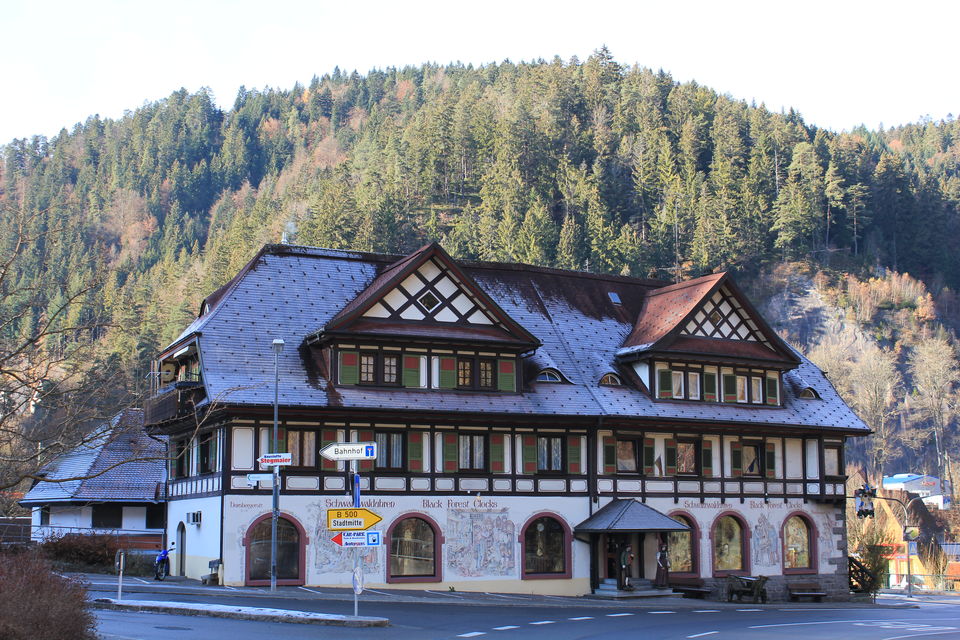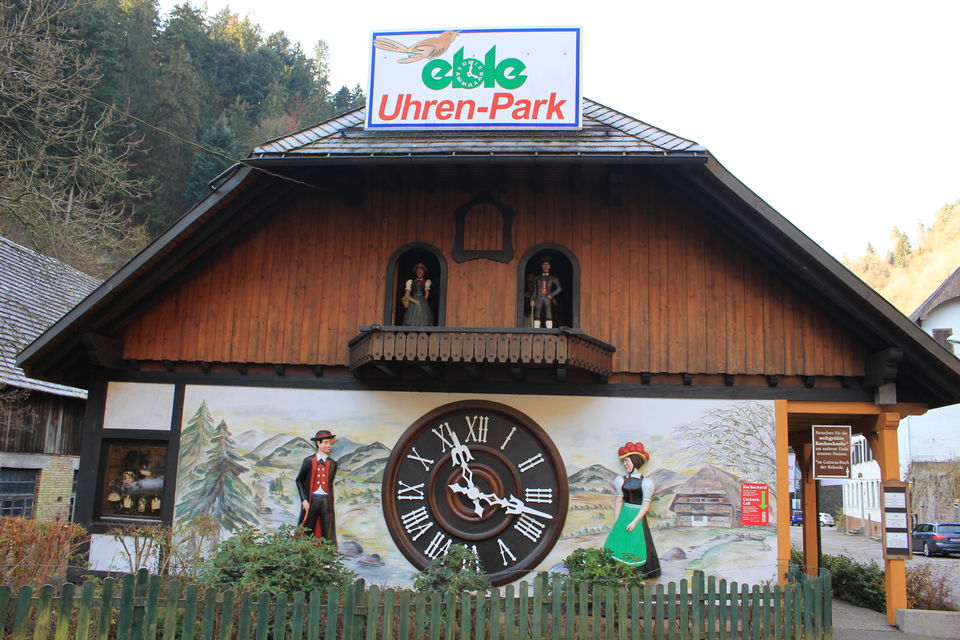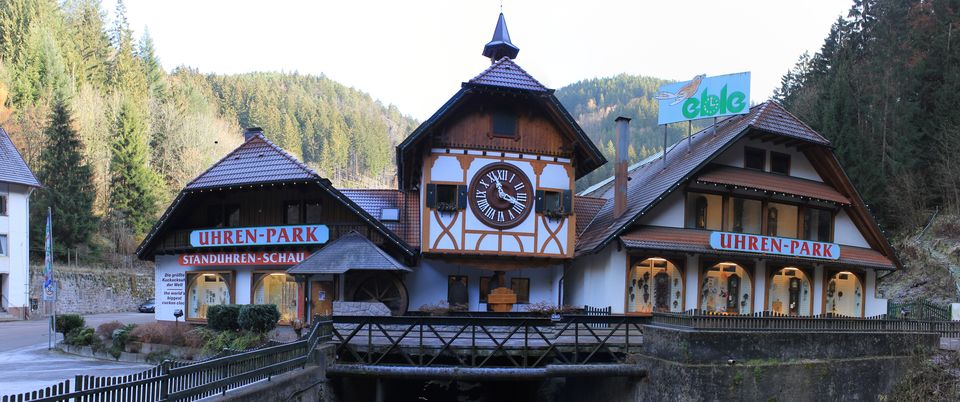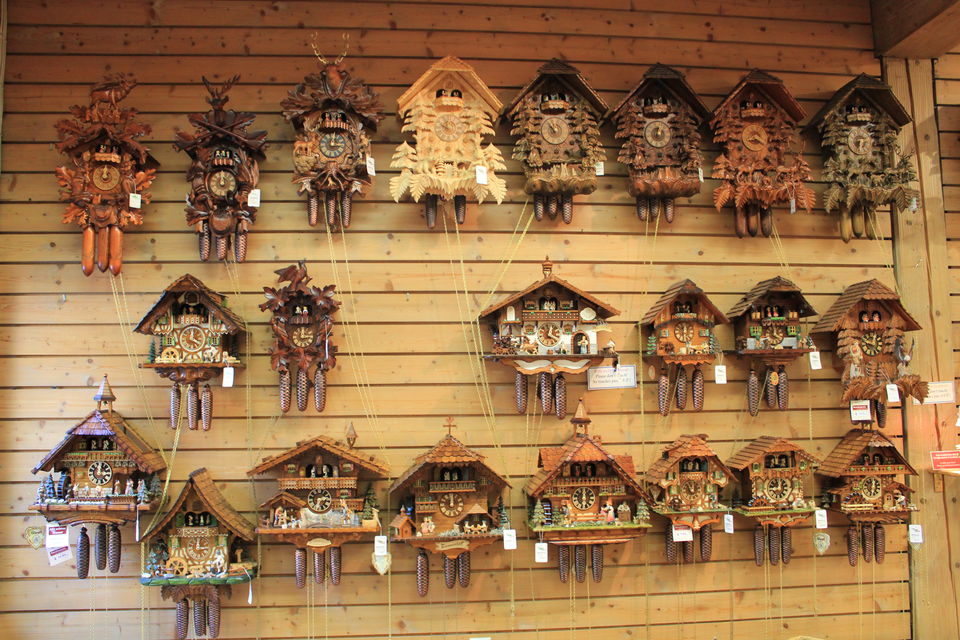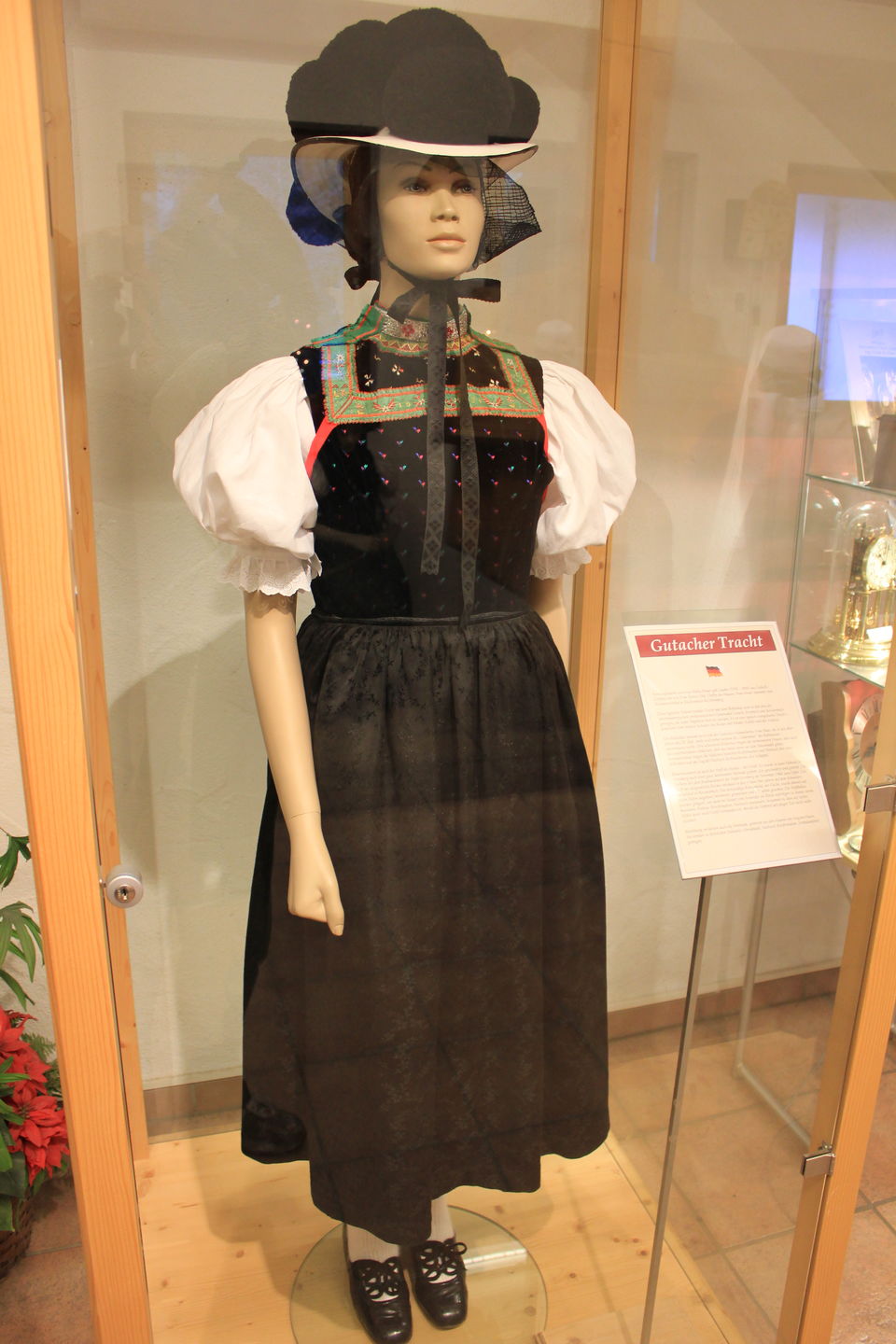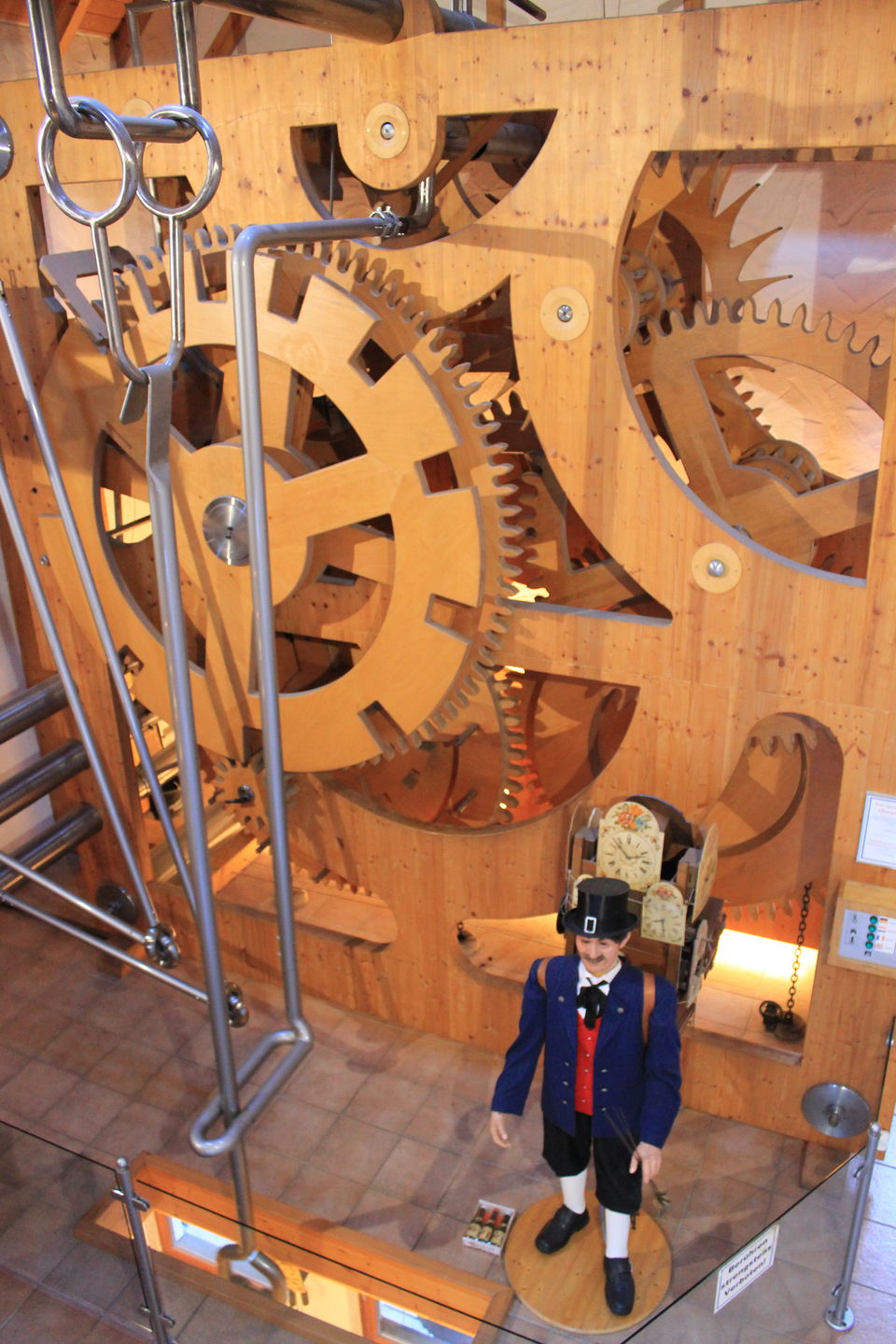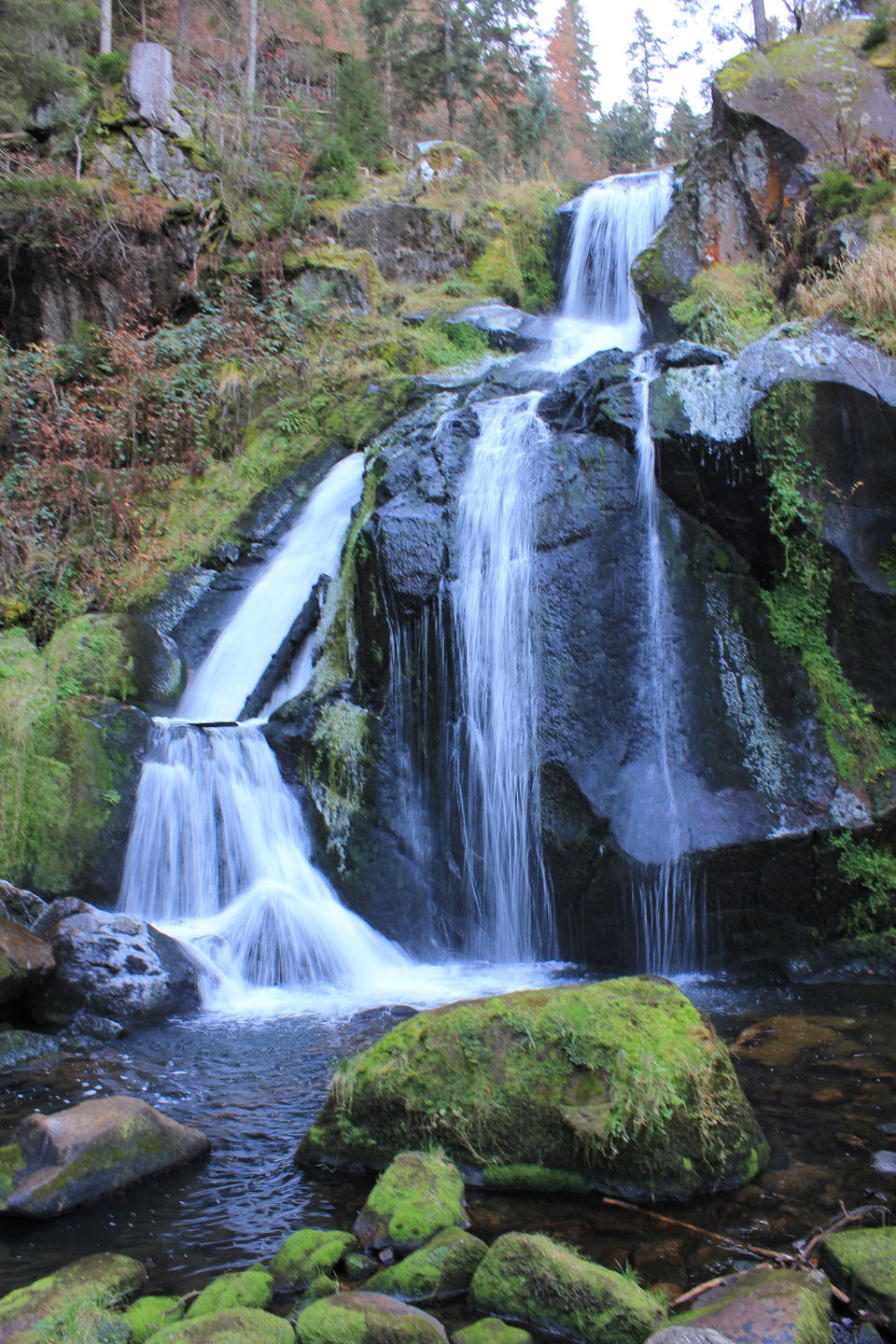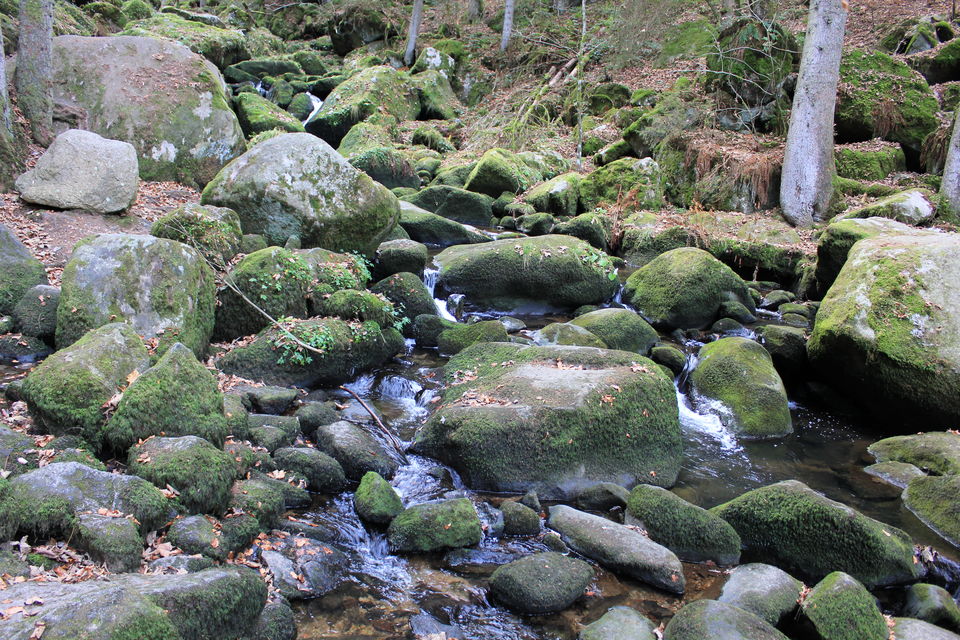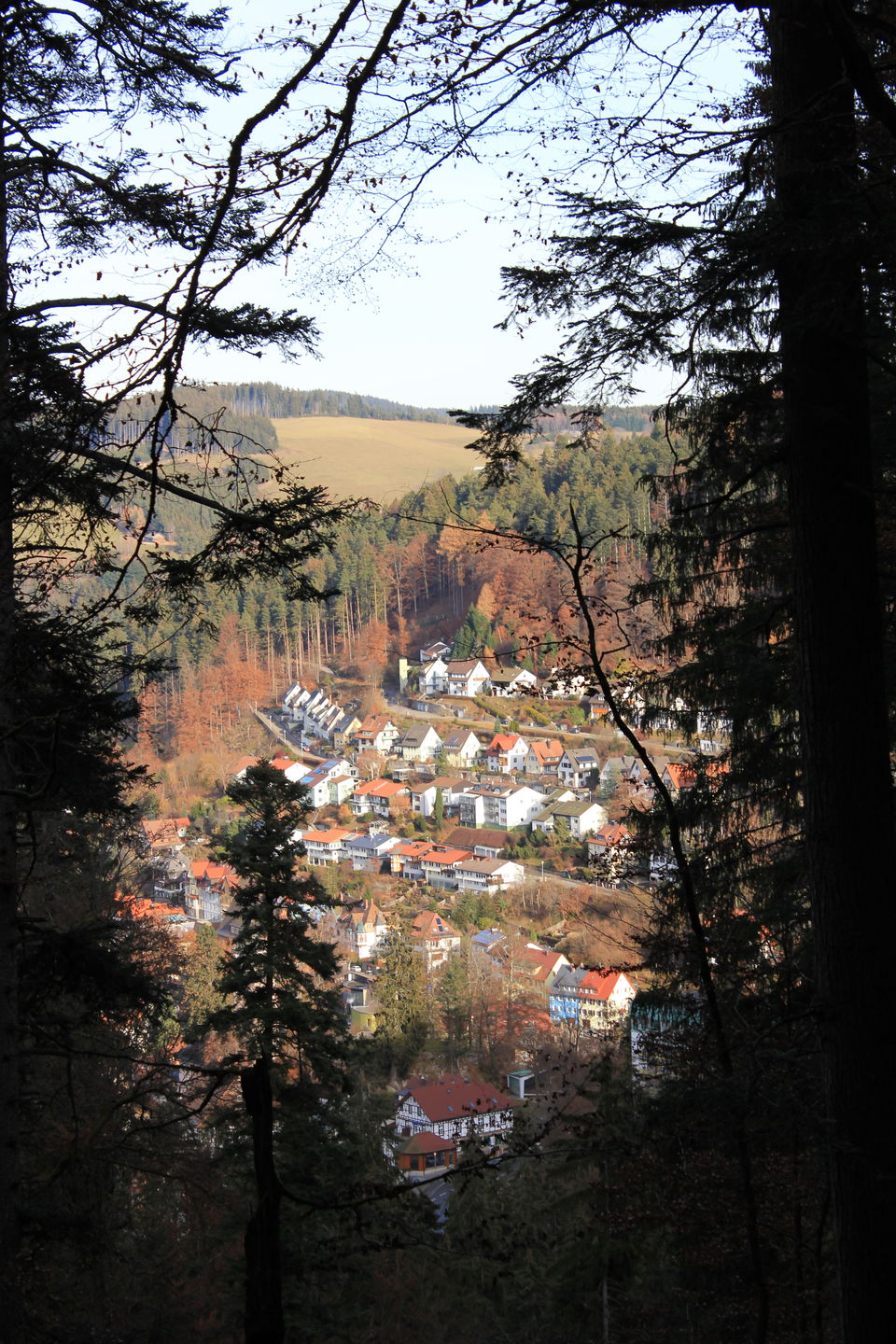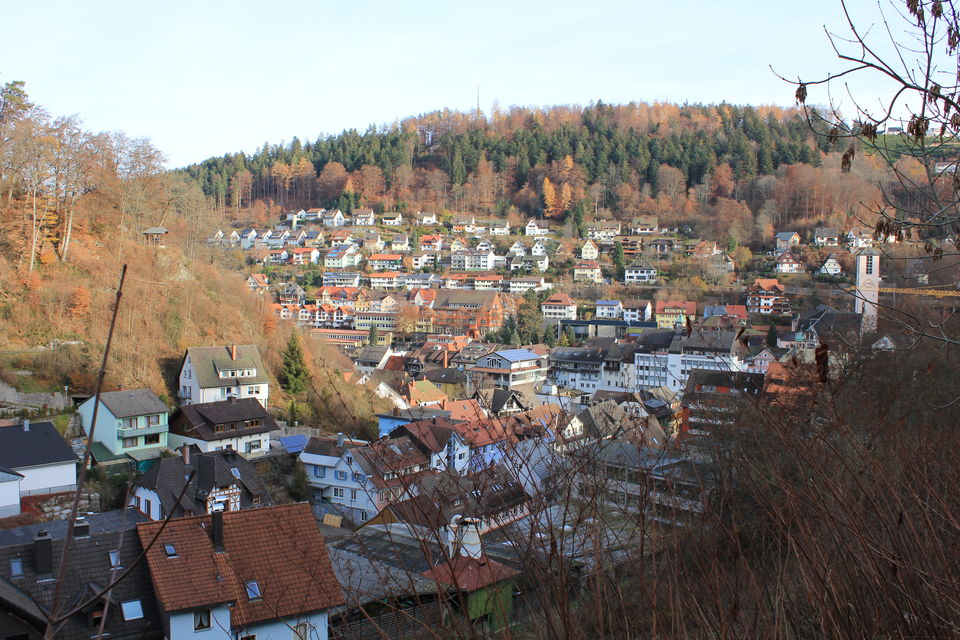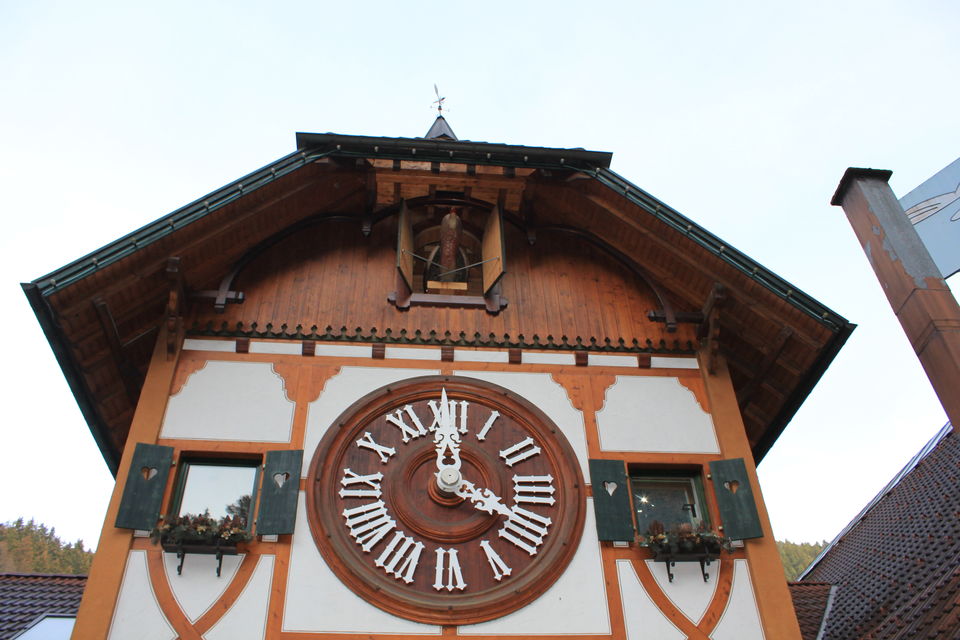 So this was another solo daytrips of mine – from west to south of Germany. It was the winter of 2011, when I was moving to Konstanz, a small German-Swiss town in the border of Switzerland, Austria and France. I took a high speed train from Cologne to Offenburg and was mesmerized to note that a double dekker train, that was supposed to bring me to Konstanz, ain't an ordinary local train but called "Schwarzwaldbahn" (or Black Forest train). That sounded pretty interesting and puzzling to me, so I asked a co-traveller whether there are other train with the same number. He only smiled. :) 
Offenburg means opening of castles (thanks to my German skills), so I thought it might be that a series of castles will be visible en-route. The prediction wasn't incorrect though, while I could see small stations passing by with many small and beautiful castles (e.g. at Gengenbach, Hausach etc), but the landscape was changing fast. I could easily sense that mountains are all around. A small canal paralleled our train, as it progressed towards the hilly region of Black Forest. When I first crossed Triberg, a station up in the mountain, it was snowing heavily there and I wished I could get down at that moment (which of course I couldn't). So, I decided to come to this place in some part of time in next year. Later while googling, I found that this is a great place to explore, especially to visit the World's biggest Cuckoo clock (that also has a Guinness book entry) and utterly delicious "Schwarzwalder Kirschtorte" (that's pretty much tongue-twisting, teeth-breaking word which means Black Forest cake). So one fine morning in Autumn, I boarded the same Black Forest train, now from Konstanz to arrive at Triberg.
A model steam-engine train is kept at Triberg station. As a matter of fact for a purely historic reason, these trains are functional even today, that gives pretty much picturesque moments - black smoke coming out in snow-capped trees in winter, like a Harry potter movie :) The city of Triberg is small and one can easily walk around the city on a sunny day. A river named Gutach flows by the side of the town making several waterfalls while coming downstream, that is a photographer's paradise! There were many Souvenir shops around, that sell Cuckoo clocks. Also the local restaurants were decent, I quite enjoyed the food, specially the cake with the cherry. Outside of the station, one can walk (alternatively take a bus) to Schonachbach's Eble-Uhren-Park. While it was the time of Fall-colours, it was a nice walk for me within the colourful trees of the region. The road paralleled the Gutach river, finally to bring me in between small hills where there is a big chalet. This is the largest clock they had built with a giant cuckoo (it weighed 150 Kgs) that comes out of a rear window and chirps according to the time, for instance 5 times at 5'o'clock and so forth. Gutach river flows beneath the clock. Because of the hills and the river, one can hear the reverberation of the kuck-kuck mixed with the sound of flowing river, that creates a moment to cherish. In the opposite side of the chalet (read clock), some music plays at every hour with a few handmade puppets rotating outside the window. They had romanticized the situation, depicting a maiden girl in the hills who falls in for a man visiting her dynasty - I forgot the whole story which a narrator was describing to a bunch of visitors. By spending 2 Euros, one can go inside the clock and look at the giant wheels and gears, which was pretty interesting to note. A wooden mascot cum descriptor used to speak about the history of the clock. Other thing, that I found really nice about this chalet, is their souvenir shop in one part of the clock house. I bought a cuckoo clock in 80 Euros and with the quality and construction within that much price is hard to find in any place outside Triberg. 
After coming back to the Triberg city & having lunch, I went to a small museum and witnessed how they make a clock. Someone told me that I shouldn't miss the Schonach's cuckoo clock, which is the oldest and cutest clock in this region, though it's not overhyped as the one at Eble-Uhren-Park. One can get a bus to go there, but it's all in walkable distance. The house really was quite beautiful, but it was an unfortunate day that they kept the clock-house closed for renovation. However, it was quite cute from appearance. In the later part of the day, I went uphill to see the waterfalls in Gutach river. It wasn't like Niagara or even our Jogfalls, but with the stones in green moss, the wooden bridges and a scenic hiking trail is really something to walk and watch. The surrondings were also calm with the only sound existing was of the water flowing by and chirping of a few beautiful birds. I spend some time in witnessing a few birds, while I'm interested in them. From the top, the Triberg city can be seen like a bird's eye view.
That was quite a contained time with many experiences I had in that day. After the sunset, I took the return train back to Konstanz with the new bought clock. The station was full of small and cute kids (kids are always beautiful and from this region they looked like dolls). With a heavy heart I bed good bye to this place. Whenever I go home and hear the cuckoo's chirp from my clock, with closed eyes, I time travel to South Germany to that moment where I can listen to the reverberation of Triberg's cuckoo chirping at Black Forest mixed with the sound of Gutach rivers flowing stream.