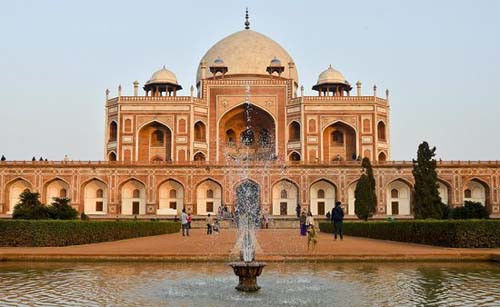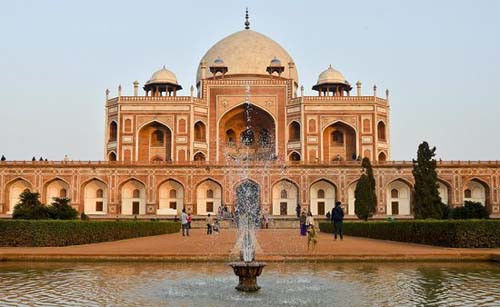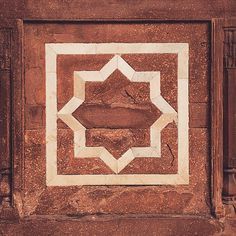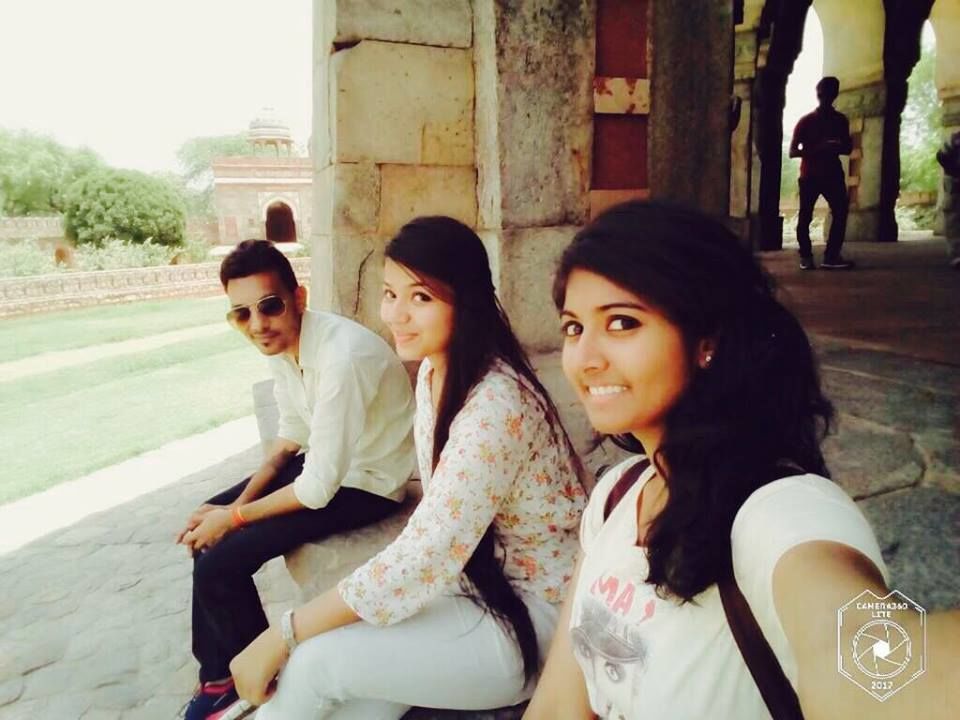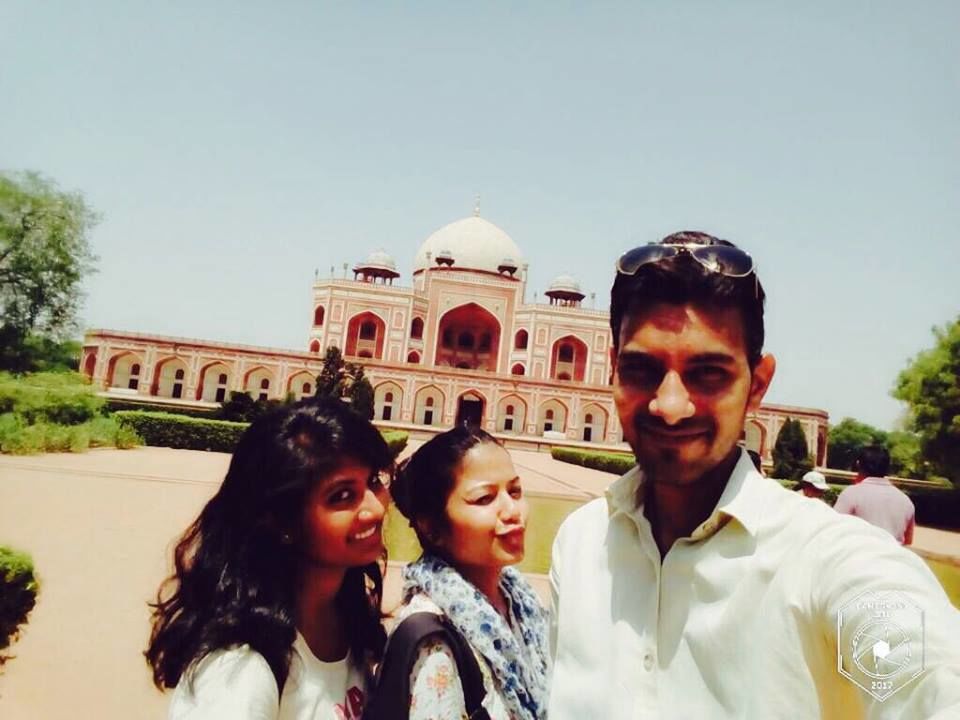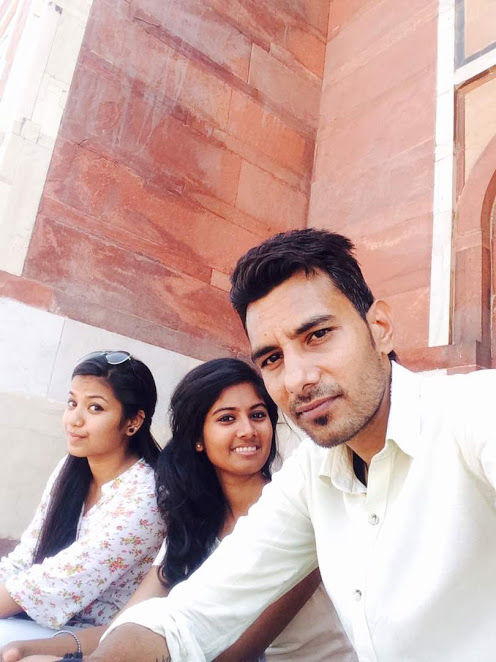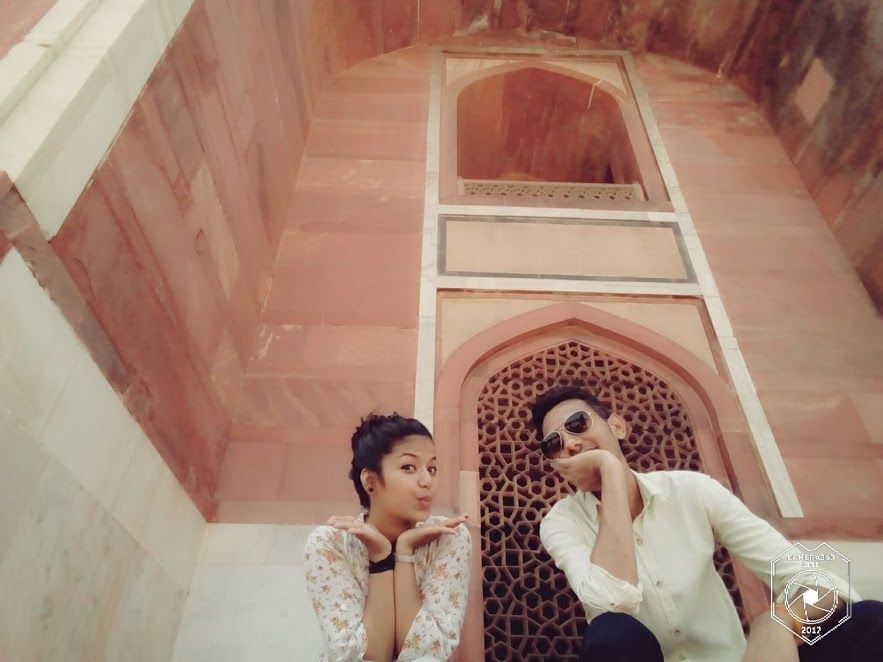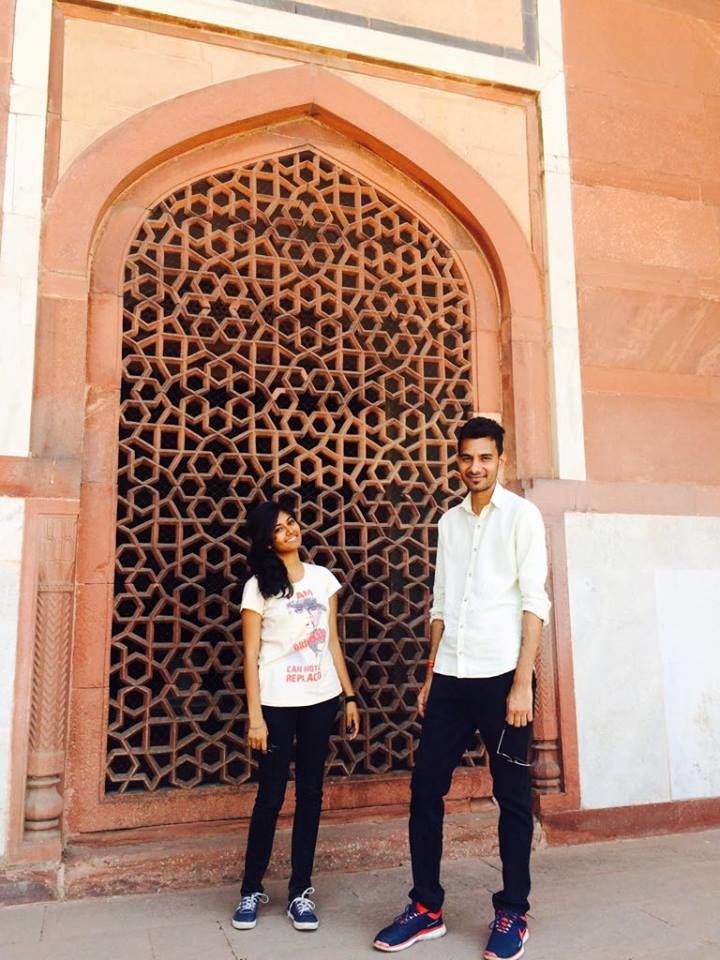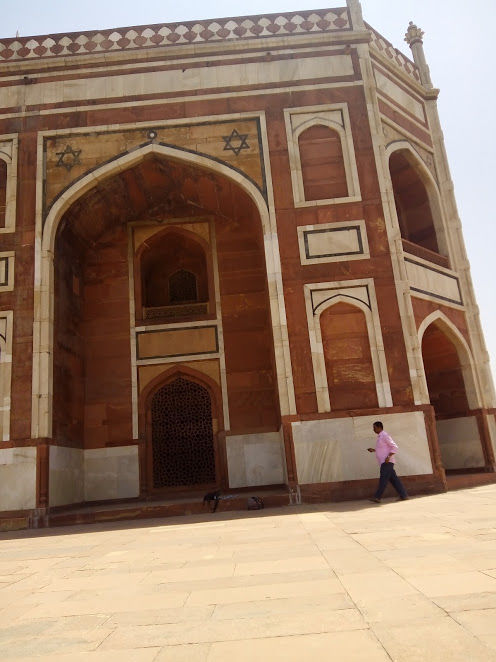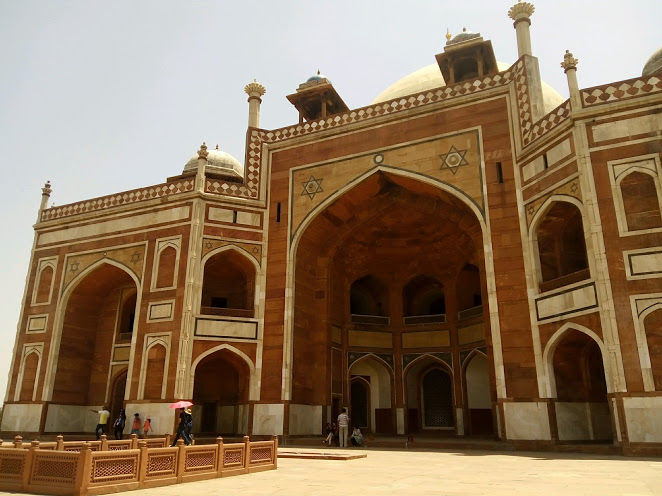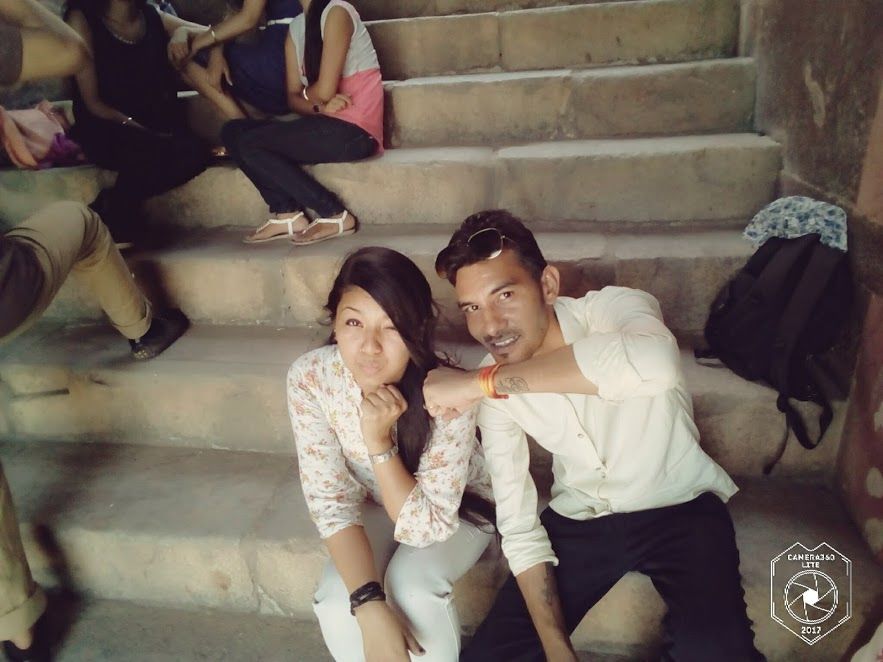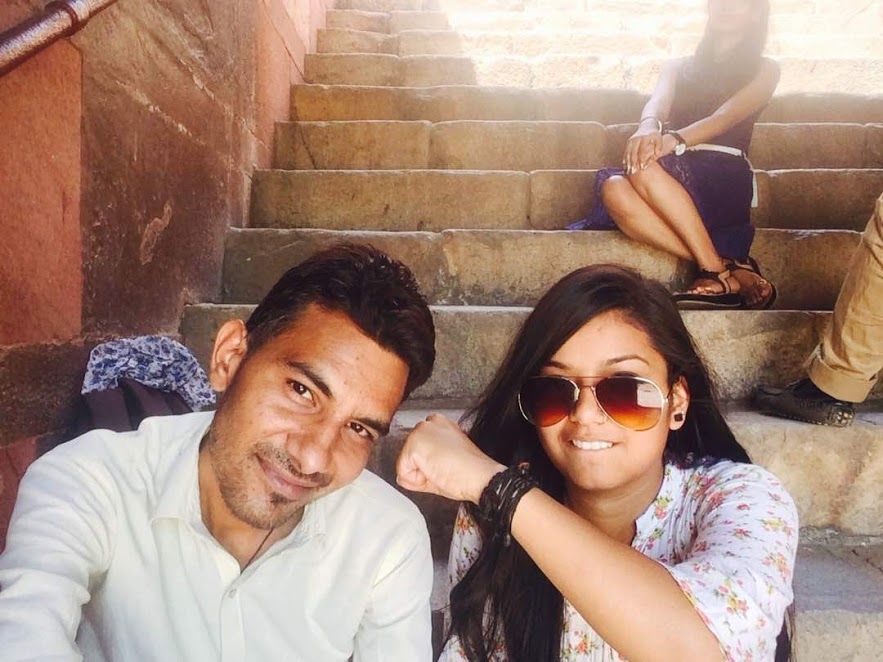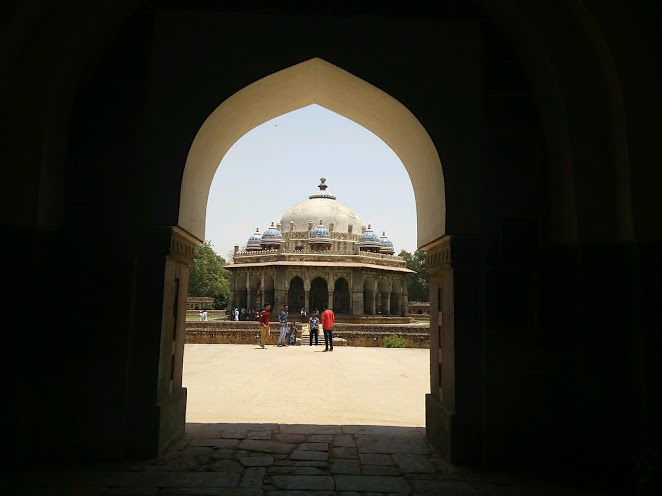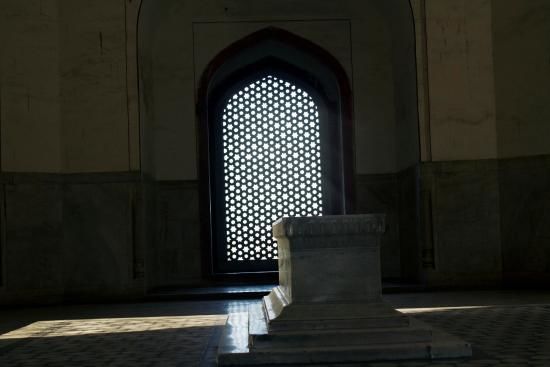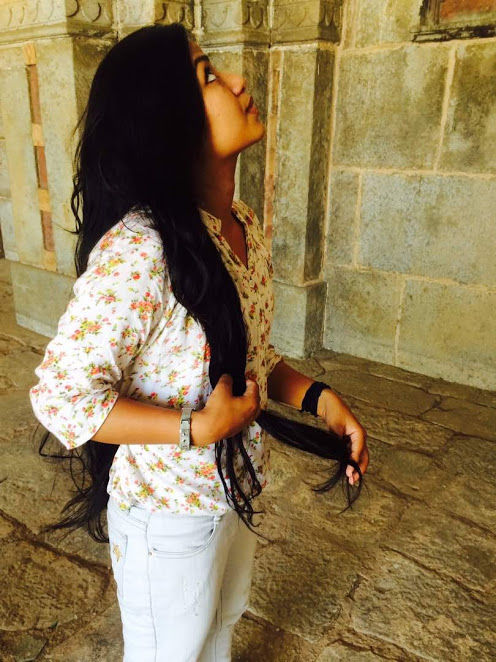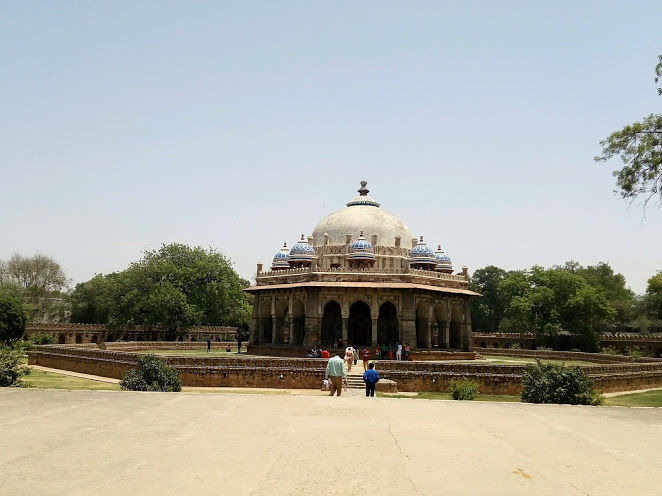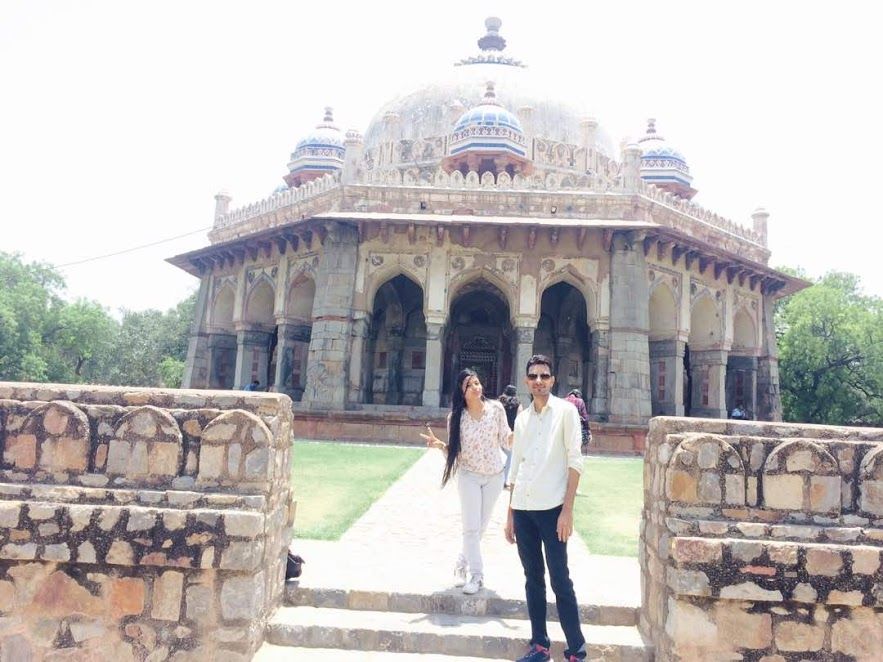 It was just another busy week and as usual I was going out for some school work near Humayun Tomb...as I was about to leave , a friend of mine Nikita called me to inquire if I was free.. as I didn't have much work to do so I asked her to accomplish me to the school..and she agreed. We decided to meet at Yamuna Bank Metro station. As I reached there I was surprised to see Nikita with her another friend Himani was waiting for me. I asked her... 'Tu toh akeli thi na...' and too this she started telling me about the whole story.... that her friend also didn't want to go to institute, so she asked her to join us...After talking for sometime, we were now deciding on how to reach there??... and on this we both started arguing on which route to take .....as there are 2 ways through which you can reach Humayun Tomb: Reach JLN Metro Station and then take an auto.. and the another to reach Pragati Maidan and then take Bus and reach ....... finally after a lot of arguing we decided to take the route she was telling (i.e JLN One) ... It is well said that a boy can never win an agruement with a girl...and I was arguing with two crazy girl who considered google more accurate than me...
Finally after travelling a lot in Metro... we reached JLN and took a auto towards Humayun Tomb.. After reaching, I went to the school and they waited for me at the reception .. Thanks for their cooperation..After that we headed to Humayun Tomb,one of the hot spots for visitors in the capital. Humayun's Tomb is listed as one among the fifteen Heritage sites in India. Being an admirer of architectural buildings and beautiful, well maintained gardens, it attracted me like a magnet.
A lot has been said about this tomb, but experiencing it personally, is a complete mesmerizing act. This is one of the few sites where we can actually enjoy the royal grandness, admire the architecture, feel the tranquility from dawn to dusk. This is also one site where you will see photographs of different kinds, starting with a selfie, couples fantasy, friends get together, family's outing, school's picnic, researcher's slide, amateur's portfolio, wedding photo shoots to shooting parparazzo. Passing the passage we head to the Ticket booth, with clearly laid prices for the tickets. At the sight of it, we feel privileged of being an Indian as a domestic visitor pay quite less than that of a foreigner. The moment we enter this vast space, we got fascinated by the grandeur of the tomb. While walking towards the gateway, I noticed that the entire complex was larger than what I had imagined. To the right as we enter the complex, the first building we observed was the Isa Khan's Tomb. This tomb was situated just outside the Humayun's tomb. It was built in the honor of Isa Khan, a brave and valiant noble under Sher Shah, the Afghan ruler who had overthrown Humayun and it later served as a burial place for the entire family of Isa Khan.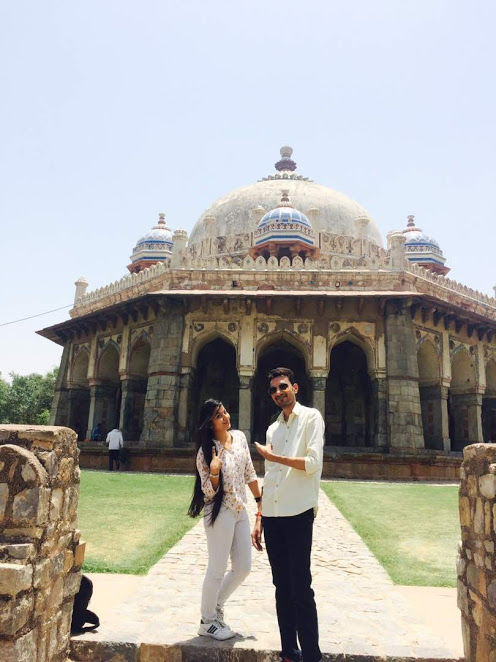 After visiting the place, we headed towards the Humayun Tomb. When I entered the Tomb, I felt as if I had been transported to the Mughal era. I was struck by the magnificent and intricate architecture of that period. The main complex opens with a small exhibition laid in the arcaded gateway. The exhibition talks about various conservation works done by various bodies like Agha Khan and UNESCO. It also shows some artifacts dug out of the excavations done in the vicinity area. It also shows the initiatives by various NGOs helping in urban renewal of Nizamuddin basti. I was awestruck with the unexpected, never-imagined-before grandeur and age's old magnificent splendor of Humayun Tomb even after five hundred years.It is a Taj Mahal like structure, minus the marbles and minarets of the Taj Mahal . As I saw the tomb I started Imagining the common human impetus behind these two edifices – one erected by a devoted wife for her husband and the other by an equally or more devoted husband for his wife.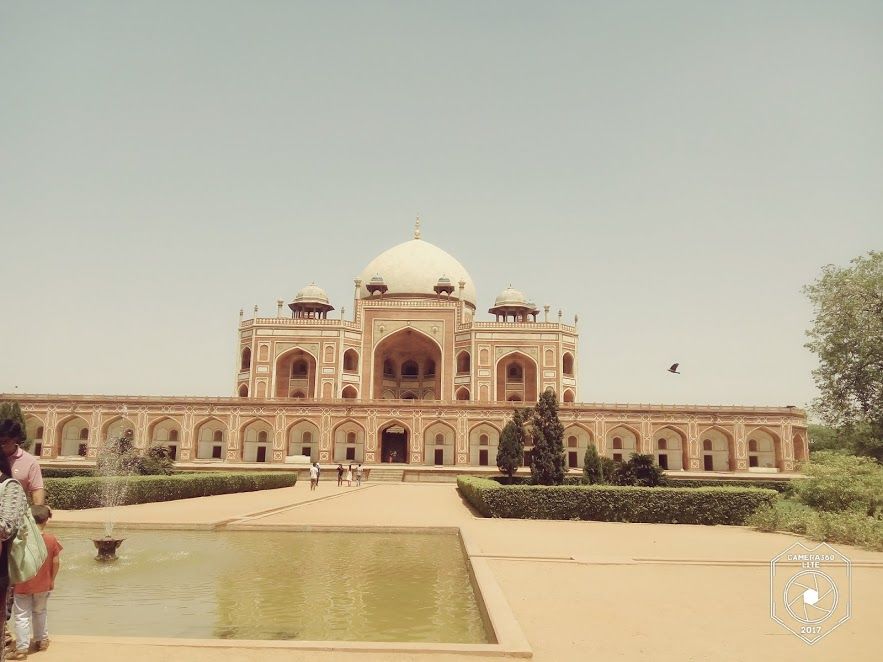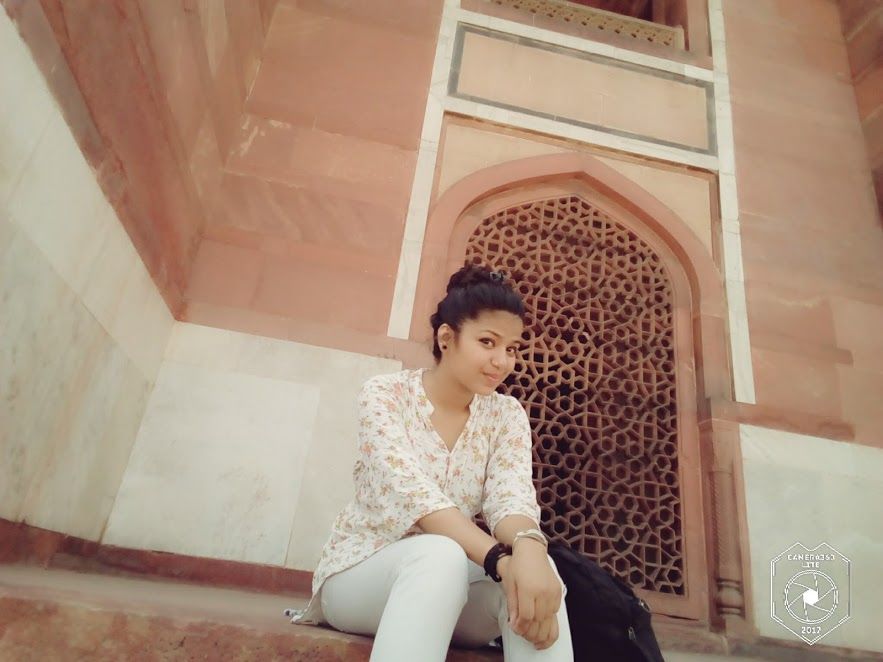 The plan of the building is simply brilliant and very mathematical, with symmetrical ground plan and chambers that are sure to WOW .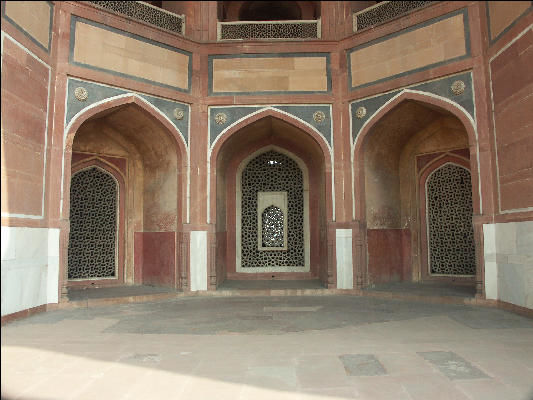 But the steps are quite high and it challenge everyone stamina and phobia. For visitors comfort, railings have been laid on both sides of the steps. (Warning :People with height phobia are requested to step down slowly). We decided to take pictures on these stairs will returning down.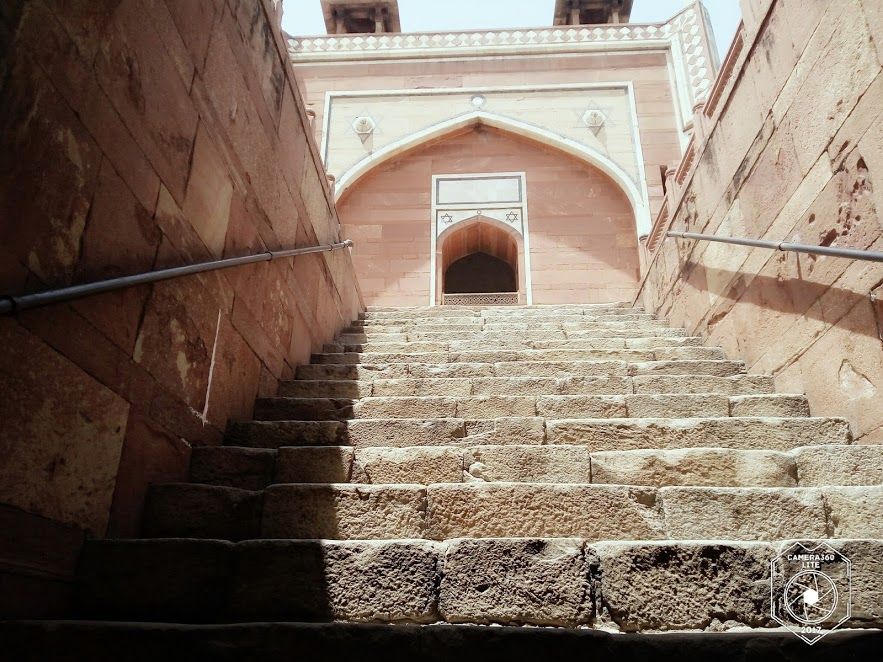 The majestic tomb is surrounded on all four sides by a beautiful garden in char bagh pattern with all the fragrance and fruit bearing trees. The green plantation is also elaborated with water causeways at the junction of every bagh. This combination of water, trees and tomb reinstates the philosophy that someone is resting in peace in a place like heaven.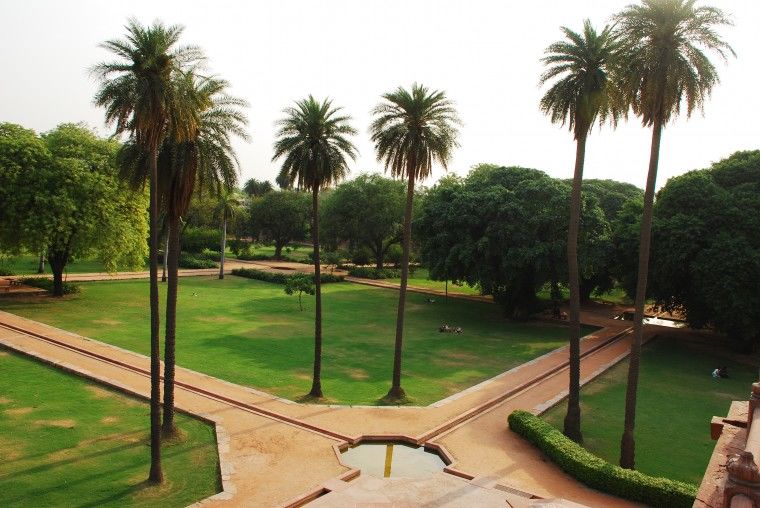 While roaming around the tomb and seeing the beautifully carved stone screens that were not only artistic but only practical for the ventilation and light. Himani started taking selfies and insisted us to take photos .... As we were taking pictures... Himani asked me to stand on the platform near the maze so that she can take the pics..but I didn't moved and to this she shouted" Kabhi meri bhi sun liya kar... " coz of irritati0n ... and this shocked Nikita as she had never heard anyone shouting at me.. A family was going near by u:s when she was shouting and all the female started laughing as they heard this...and saw me that I still have not moved ... to this she again shouted " Arre upar kade ho ja" and now we all started laughing and I moved on the platform and fulfilled her wish .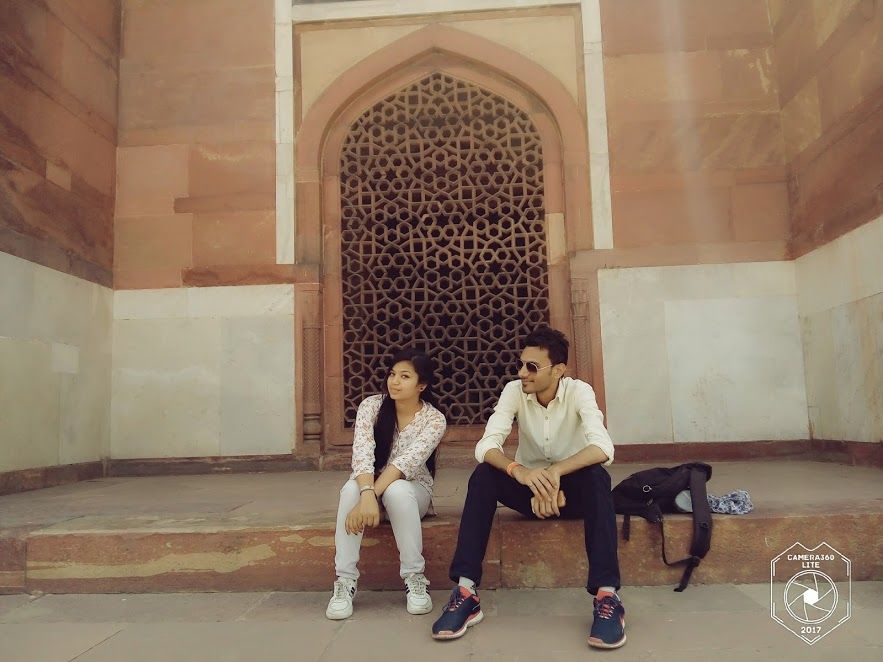 Finally after taking a lot of pics we went inside the Humayun Tomb to see the cenotaph. In all there were over 100 graves within the entire complex,including many on the first level terrace,earning it the name 'Dormitory of the Mughals'. Since the graves were not inscribed,their identification remains uncertain.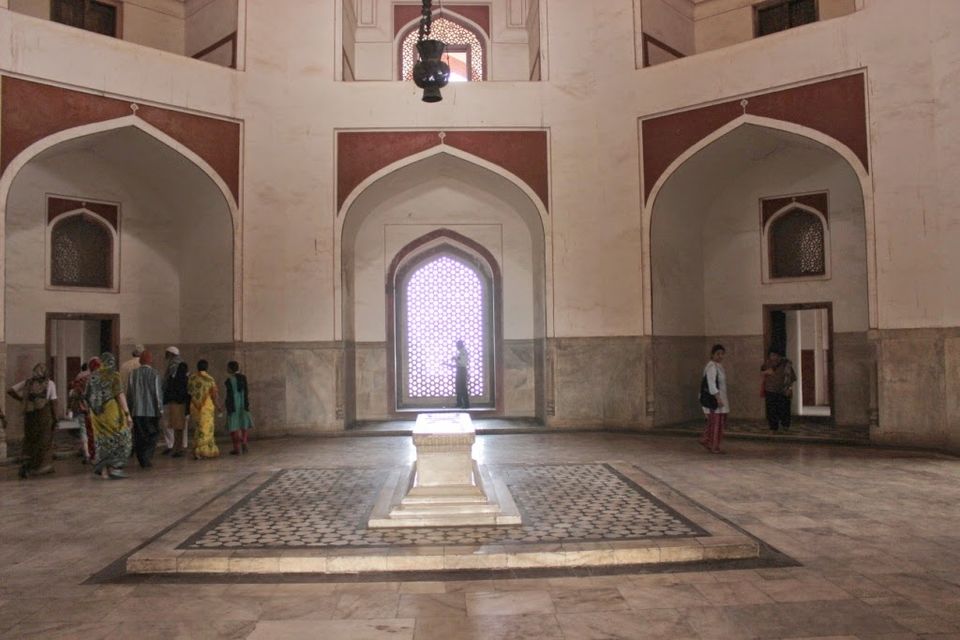 After enjoying the beauty of the Tomb from the inside as well as outside. While taking the last view of the Tomb....... One question kept hovering in my mind. I was left wondering what drew these emperors, mostly Mughals, to construct such lavish, monumental structures, when their subjects lived on a much lesser modest level , if not in a state of penury. Did love for the arts and architecture motivated them to construct these monuments, or was it really a thirst for immortality, or simply a streak of swellhead existed in them?
Finally this visit to Humayun's Tomb was not a quick one and we spent lot of time there.. and it was all worth !!! It provided me enjoyable moments with Himani and Nikita amidst serene surroundings, as we were leaving I remember a Quote that I have read somewhere:
"Artists do not need monuments erected for them
because their works are their monuments."
And this monuments is not only resting place of Humayun, but also showcase the mastered Art of Mirak Mirza Ghiyas( Architect)..and truly justify the quotation...