Here's an awesome getaway for your first weekend in 2018! India's first-ever scuba diving festival on an island is here, It's free and open for non-swimmers too!
Tucked away in the beautiful coastline of south-west India, just about 200 kms south of Goa, lies a quaint little fishing village. Murudeshwar, also quite popular for the largest Shiv Statue in the world and vibrant sunsets. Situated 20 nautical miles from Murudeshwar is the heart shaped Netrani islands. Used by the Navy for practice until a decade ago, Netrani found its new identity with the discovery of a vibrant reef around it and became a marine national park with regulated fishing. The island is one of the best dive sites on mainland India and is going to host the country's first ever scuba diving festival on the 6th & 7th of January.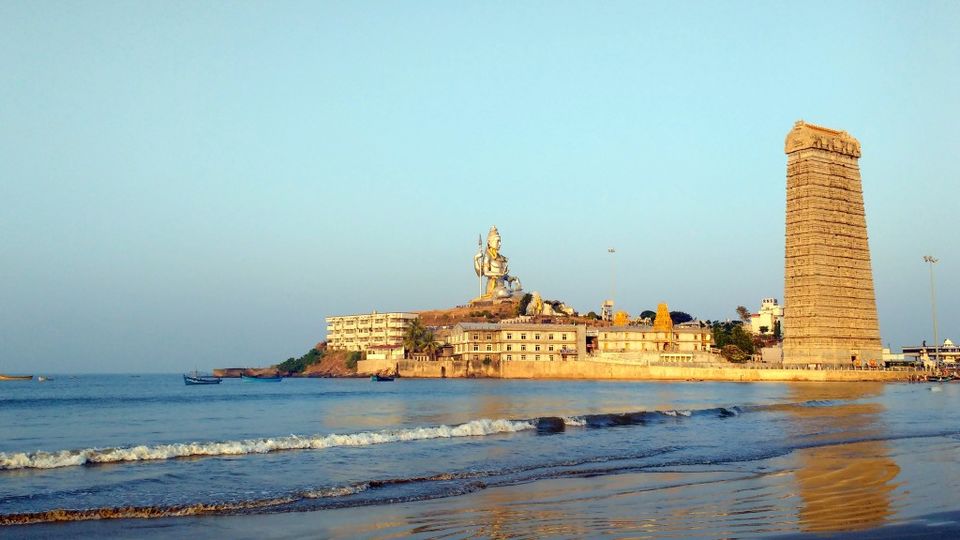 About the festival:
The festival is perfect for people to experience Scuba Diving for the first time or have the time of your life at the Murudeshwar Beach as a Visitor. The festival is an initiative by the Government of Karnataka and is organized by Finkick Adventures. The diving is provided by dive centers present at Murudeshwar - Dive Goa, Netrani Adventures and West Coast Adventures. The aim of this festival is to provide an integration event for the local fishing community with the SCUBA Diving community. This will intern promote Scuba Diving both as a means of livelihood and an alternate to fishing as sustainable tourism. The govt of Karnataka has also paid for 25 kids from these communities to get their SCUBA Certification as a part of the festival.
What to expect at the festival?
The dive zone is about 10 to 30 meters deep, that consist of coral reefs on the eastern side of the island and rock walls on the west and north western side of the island. Well known for regular sightings of Turtles, Napoleon Wrasse, Great Barracuda, Cobia, White and Black Tip Sharks, Stingrays and Stonefish. Expect anything right from trial dives for beginners, to fun dives for certified divers, the scuba festival will have a host of activities such as snorkeling, underwater hockey and introduction to free-diving. With a strong belief in conservation and sustainability, the festival will also host cleanup drives wherein certified divers can participate in underwater reef cleanup while others can give back to the local communities by participating in beach cleanup drive.
As a visitor, you can enjoy the beautiful beach, check out an underwater photography exhibition that has some amazing photographs from around the world. Visitors and participants can also witness some talks and movie screenings from the underwater world hosted in collaboration with "moving waters film festival". One may also participate in beach cleanups in collaboration with Afroz Shah and his team to help give back to the local communities and build a culture of sustainability. The visitors too, will be in for a beachy treat with water sports, beach football and spike-ball. Participants & Visitors will also get to witness the local culture with an evening planned by the government. Look at the full festival schedule here. https://www.netraniscubafest.com/schedule
Who can attend and how much will it cost?
Anyone and everyone ready to experience the waters in Murudeshwar in a new light is welcome to visit the festival for free. The festival is also open to complete beginners, although a total cap of 150 divers and a 1000 visitors will be set.
Access to the underwater Zone is priced at INR 5,000/- for ages 10+ only. A 10% discount is available when booking for 2 or more. Read what activities are covered under this pass;
Inclusions: All equipment for diving, snorkeling, free-diving introduction and underwater hockey, light snacks on the boat, 4-5 underwater pictures
Exclusions: Swimwear, towels, toiletries, your PADI/SSI/CMAS certification details (if certified), any extra photos or videos except for what is mentioned in the inclusions above.
Getting There & Staying There:
Travel:
Fly-In : The nearest airport is in Mangalore, about 137 km away from Murudeshwar
Steam-In : Murudeshwar railway station on the Konkan route the closest station at 1.5 kms.
Drive In : Get your car and enjoy the scenic and curvy NH66! It's just 8 hours from Bangalore & Mysore, 5 hours from Goa, 3 hours from Mangalore, 10 hours from Pune and about 12 hours from Mumbai.
Stay:
RNS Residency besides being part of the event venue is also the best hotel in the village with air-conditioned rooms and a swimming pool. Apart from these, there are a number of good Bed and breakfast options available here.
More information about Netrani Scuba Fest:
To connect with the festival team directly WhatsApp at 8380087062 or call at 8380087062.
Check out their official website or Facebook event page for more information on the festival.