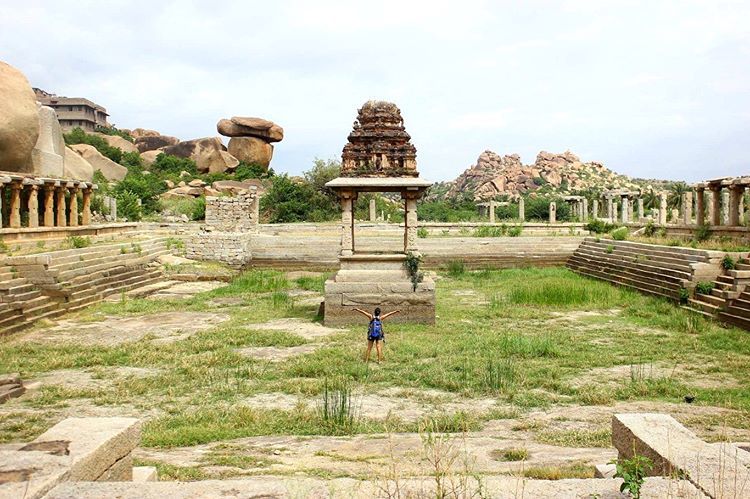 One of the very famous places to visit in Karnataka is Hampi. It was been in the news in the past for various reasons ranging from Hampi becoming a world heritage site to illegal cafes being shut down to curb the tourism that's booming there. 
Many people I know visit Hampi to experience the "hippy" culture, something that involves being a backpacker, living like a nomad, listening to trance music, and getting high on a lot of stuff. But, I'm not that sort of a person. I had heard that the cafes in Hampi were pretty organic, healthy, and colourful, something that seemed to stand out in the contrast of rocky hills and greenery that one would normally find in Hampi.
There's also a place that's popular in Hampi called the Hippy Island that a lot of foreigners end up travelling to and staying in ecostays that exist on the island. What a lot of people don't know is that it isn't really an island. This land mass resides bang in the midle of the river and is covered majorly by water. But, it is connected to the mainland on the other side (the less popular side) and not many of the locals want to make this fact well known.
The reason being that there are locals who run a "ferry" service to ferry you across the river to the "island" side, even if you have a rented bike. They charge quite a bit if you're new to the place and foreigners get over-charged.
But, I'd seen incredible pictures of hippy island and the surrounding places and I knew I wanted to visit and experience a piece of Hampi for myself. This time, I wanted to travel with a group, even if it was a small one. I asked a few close friends to accompany me and finally, 5 of us decided to go: 2 girls and 3 guys. Two of the guys were studying photography and they wanted an excuse to visit some place other than Bangalore to finish their assignments. I wanted company, so it was good.
We booked a train from Bangalore to Hampi and boarded it early in the morning. I remember it being nearly a 6 hour journey, something that I couldn't tolerate! We were supposed to reach by 1145 AM; it was 1045 and I had had enough of waiting in the train!
I looked at my bag, nicely packed, looked at my bored friends and said, "I'm getting off at Bellary. Whoever wants can follow me."
Everyone was surprised and confused. Asking questions like, "How are we supposed to go to Hampi from there?", "Her madness has started.", etc. I had no clue how we were going to go to Hampi from there, but I just knew I couldn't wait on the train any longer. The Bellary stop came and by then, I had convinced everyone else to jump off the train with me. All 5 of us got off the train with no clue as to how to get to Hampi, and walked to the main road. I knew that a lot of transport trucks made their way on the highway towards Hampi, but I couldn't spot one on this main road.
The distance from Bellary to Hampi is about 60 km, and I knew we'd find some truck to take us if we got to the highway. But, I wasn't sure. We quickly took a group photo of our situation and proceeded to ask around for an auto to take us to Hampi directly.
An auto guy agreed to take us to Hampi and as got onto the highway, we noticed several trucks making their way towards Hampi. Not wanting to miss out on the opportunity, I asked the auto guy to stop, paid him half of what we were supposed to pay him, and tried to flag down a truck. Finally, we managed to stop an oil truck, and climbed on-board. They were heading towards Hampi and agreed to drop us of on the main road.
Listening to loud music in their lorry, we proceeded towards Hampi, talking all the way and learning their story. The truck was crawling at just 40 kmph and when I asked why he was going slow, he said, "We have no load today and the roads are not great. It would be too bumpy; we can only go fast if we have a full load."
We ended up reaching Hampi only by 1145 AM, the estimated time for our train to reach as well. But, hey, it was an experience! From the main road, we got onto an auto to take us to the river edge where we could ferry ourselves across the Tungabhadra river. We had to wait in a queue as foreigners and locals both tried to ship their vehicles across the river. Every five minutes, they had a boat ferrying people across. I don't remember how much we paid per person, but I remember it was not cheap.
The moment you land on the other side, the road leading up to island is lined with small stores selling accessories like bracelets, anklets, and earrings. Small kids run up to you and bug you to buy something. Some of the items they sell are extremely nice and trendy. The island side of hippy island isn't too big and you can pretty much walk the entire distance. The main road is filled with small stores selling funky t-shirts and places to stay. The prominence of foreigners is extremely apparent from the fact that some of the menu cards in the cafes are all in Russian. For some reason, Hampi is predominantly famous with the Russians.
It was afternoon and we stayed at Shanti Guest House which was almost at the end of the main road we were walking on. It took us a while to get to the place where we were staying only because of the two photographer students I was travelling with. They wanted to stop every ten minutes to take a photo.
We stayed in a cottage right next to a paddy field. The setting sun always cast its last rays on the paddy fields giving it a warm glow. We had booked two rooms for 5 of us and the hosts warned us about wild animals roaming around at nights, especially sloth bears. The moment we reached, we were extremely hungry and we had spotted a nice cafe to eat, Gopi Island, on our way to our stay. We unpacked, freshened up quickly and walked back to Gopi Island to eat.
The menu items in all the cafes in Hampi are almost the same. Organic salads, pastas, burgers, and sometimes pizza. The key word is organic. They are meant to be healthy and non-fatty.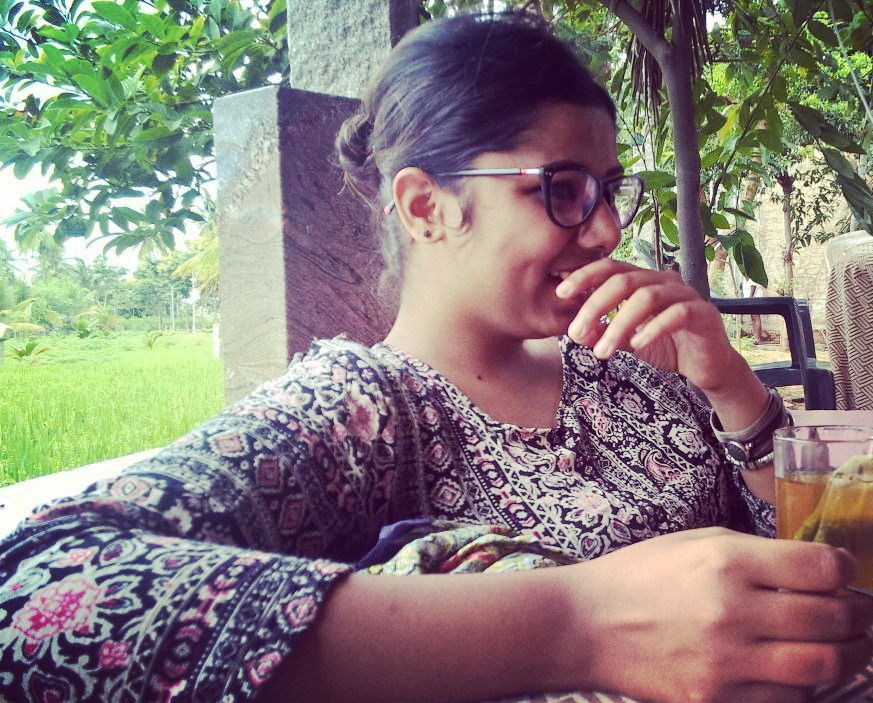 After a good lunch of leafy vegetables and salad, we decided we would visit a nearby hill to catch one of the epic sunsets of Hampi. A few locals told us that we could walk along the main road we came from and that it would lead to a popular trekking point.
It took us about an hour to reach by foot and we found the famous hill. A lot of foreigners had climbed up a little and had settled down, playing guitars and singing their songs as the sun began to set. We climbed as high as we could till we could sit down and watch the sun set.
We managed to click some amazing pictures at this height.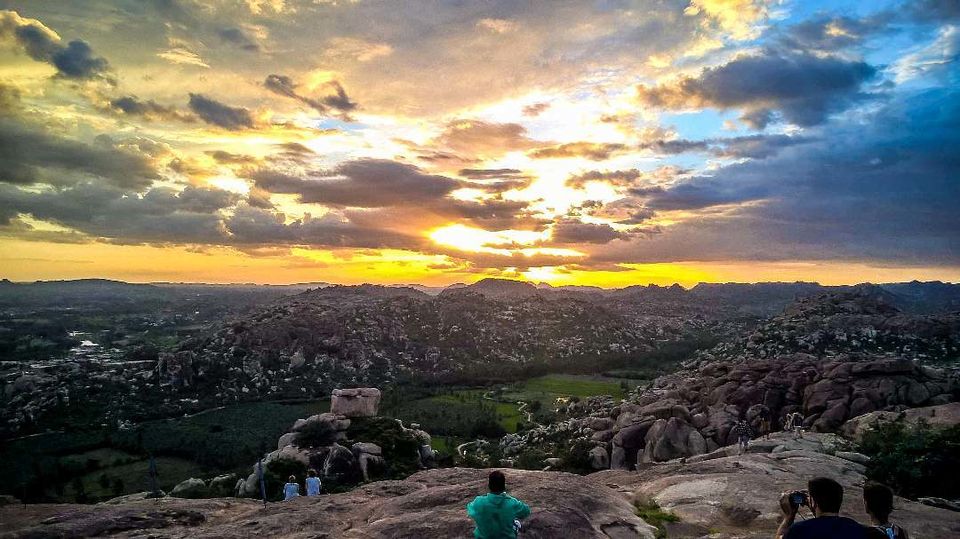 On our way down from this height, we had a minor freaky moment when we suddenly lost our way. It was quickly becoming dark and we didn't want to be stuck up on a hill. We called out loudly to some of the foreigners below who were singing but no one seemed to be able to hear us. Frustrated, we used their voices as an anchor and found our way back.
The sun was almost done setting when we reached the bottom and our climb and descent had made us all hungry. A famous cafe called the Goan Corner was a couple of kilometers away and we had managed to spot it from atop the hill. We walked all the way to the cafe as darkness settled around us.
The cafe's food is the same as any other in Hampi. Tastewise was not very different either. However, with the lighting in the cafe, it looked pretty!
We met a few people who promoted rock climbing in the area. A lot of Russians came down to Hampi to experience bare hand rock climbing. This cafe also had a test rock climbing area where you can check if you are physically fit for it. In fact, we found several foreigners walking up with bouldering shoes just to go rock climbing.
We walked back after a satisfying dinner in absolute darkness all the way to our stay. We went to bed early because we wanted to wake up early and explore more of Hampi.
The next day, we woke up, and headed to Gopi's cafe for breakfast. After a salad-y breakfast, we found someone who let us rent some mopeds to get around. We instantly mapped out a few places we could get around to. We found the route connecting us to the mainland from the island without having to go across the river.
The first destination I had in mind was this place called the White Elephant. It was supposed to be a good cafe and a good 15-20 km away. The route leading to this cafe was beautiful to say the least. We stopped at several locations along the way to take some fun photos!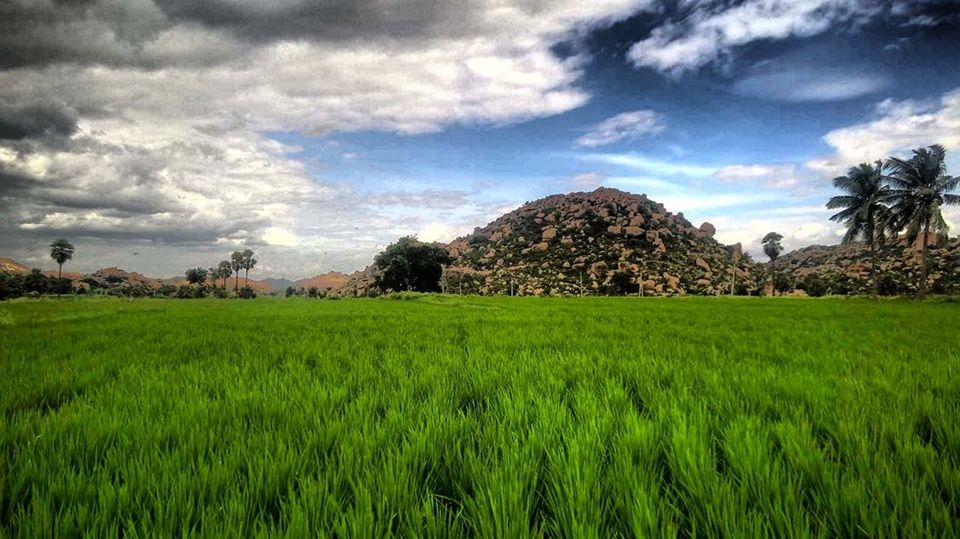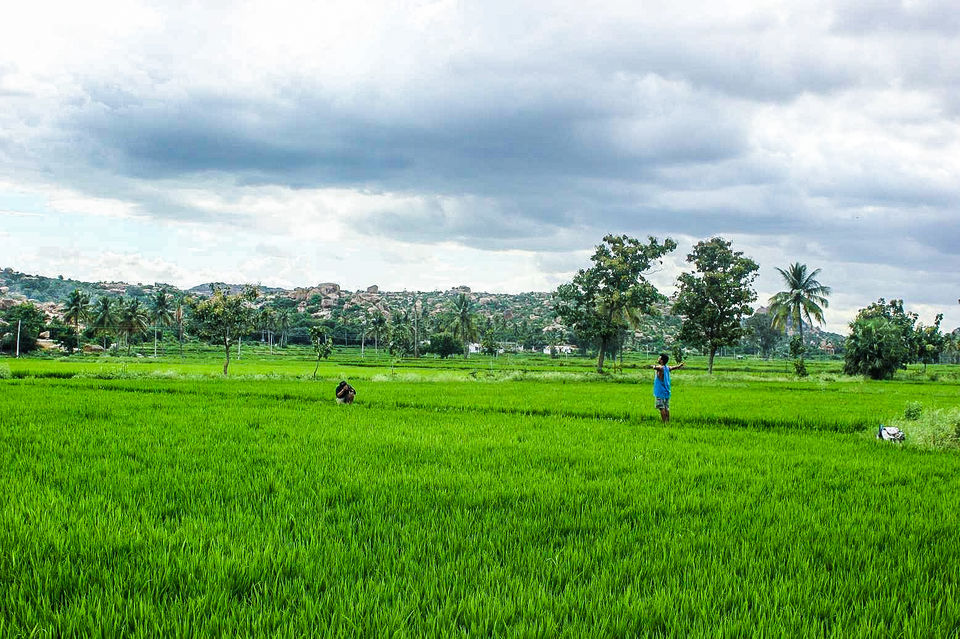 We also stopped at several key points such as a reservoir and had a small boat-ride on a coracle. The locals warn you not to get into the reservoir by saying that crocodiles sometimes attack but someone later let it slip that they purposely say it to ward off people who want to jump in and swim.
There was also a random fisherman who offered to sell us some strange looking seeds that he said would be "fun". I later figured out they were poppy seeds, so for those of you like me, be extremely careful. They are illegal and not healthy.
We then reached the White Elephant which was not really a great place. But, they offer hookah as a service, so I suppose that's what lead to its popularity. We then took a longer route back to the hotel and reached by evening. We then decided to chill for a while and take photos in the stay itself. Our remaining plans were off the island and we couldn't ride that far.
The rest of the day went by with us just talking and catching up with our lives as the sun set over the paddy field by our cottages.
The next day, we planned on checking out early, and crossing back to the mainland. As we waited for our boat to cross over, I bough some colourful and cute anklets for myself from the stalls that lined the road. One of my friends decided to buy himself some flowery and flowing shirts to appear more "hippy".
When we crossed over to the other side, we got ourselves an auto who said he would show us around Hampi and take us to all the famous places. Our train back to Bangalore was only in the night, so we realized that this was the best plan for us.
We went past famous land marks, some of which were being renovated.
After visiting the Virupaksha temple, we headed to the most popular hotspots.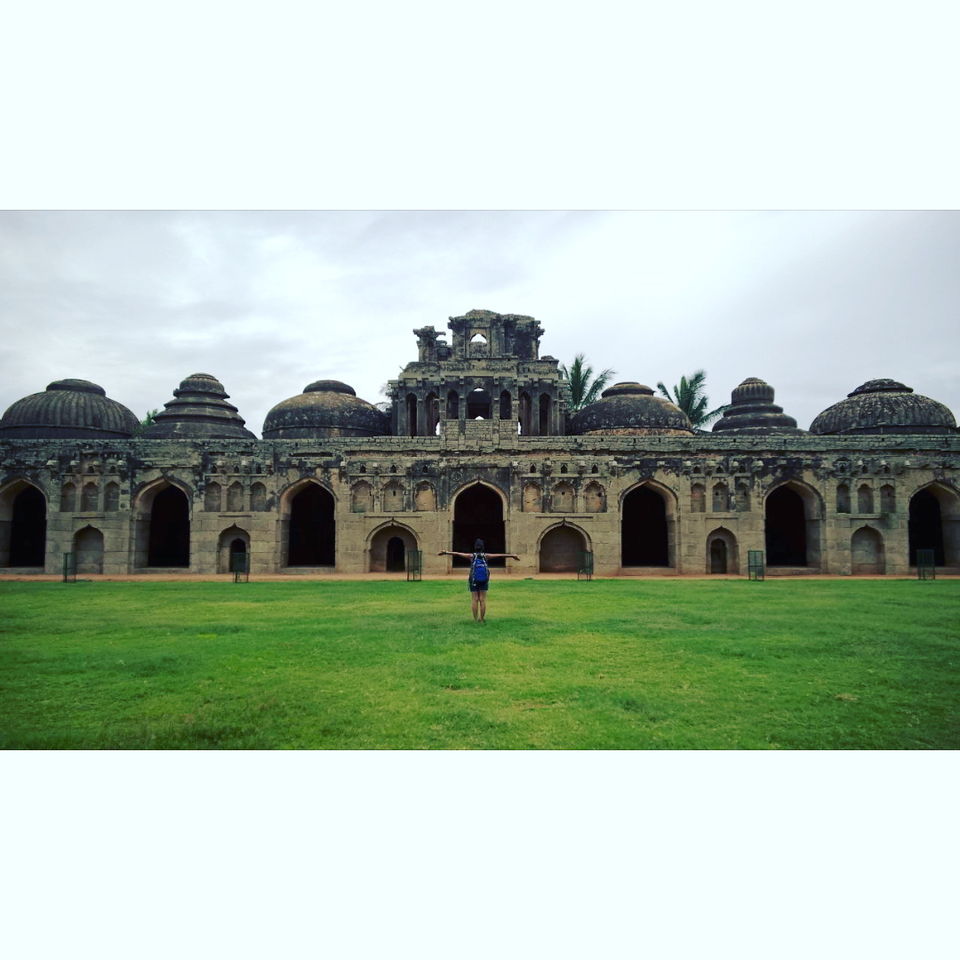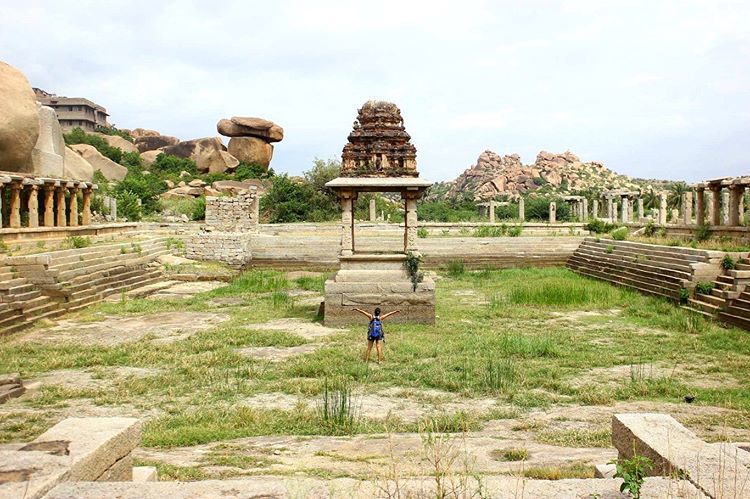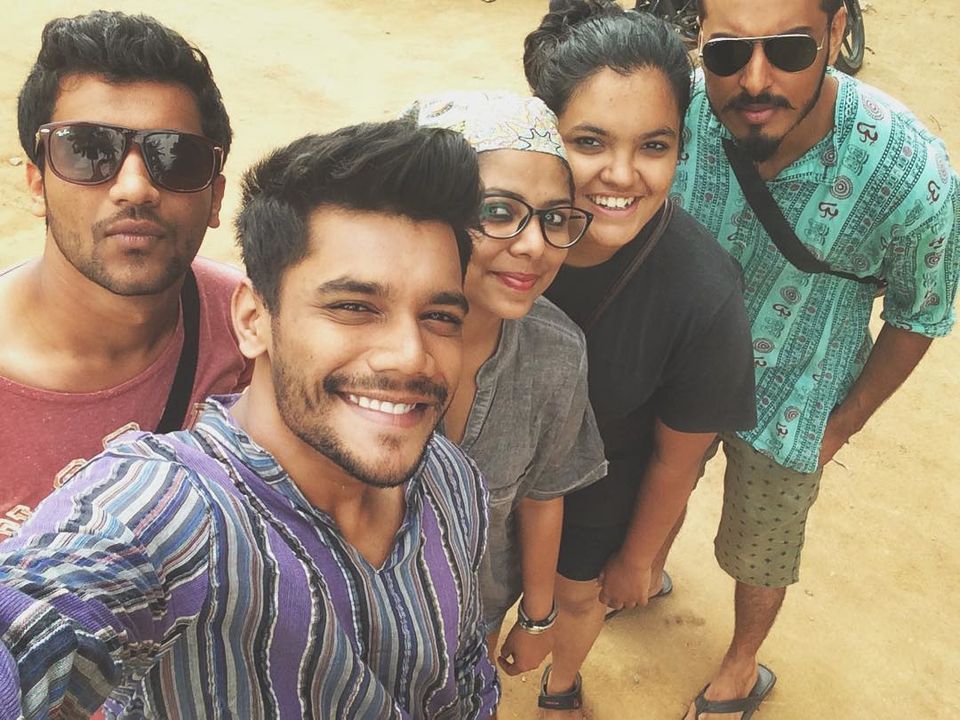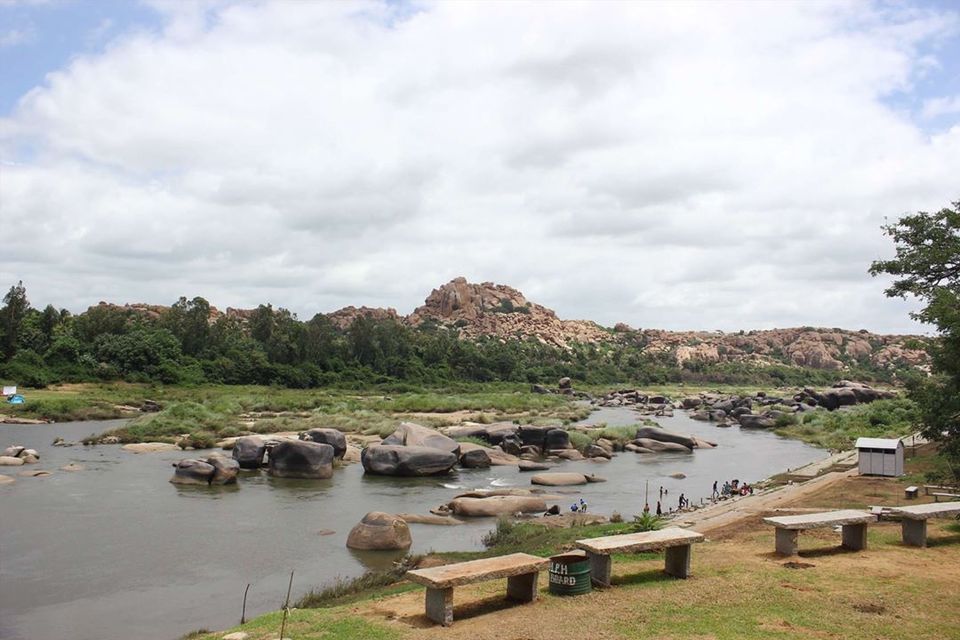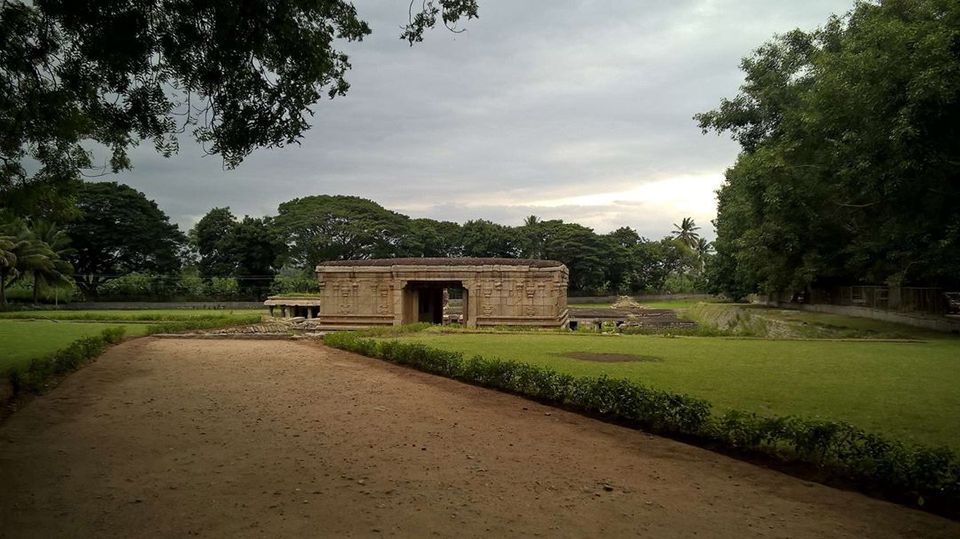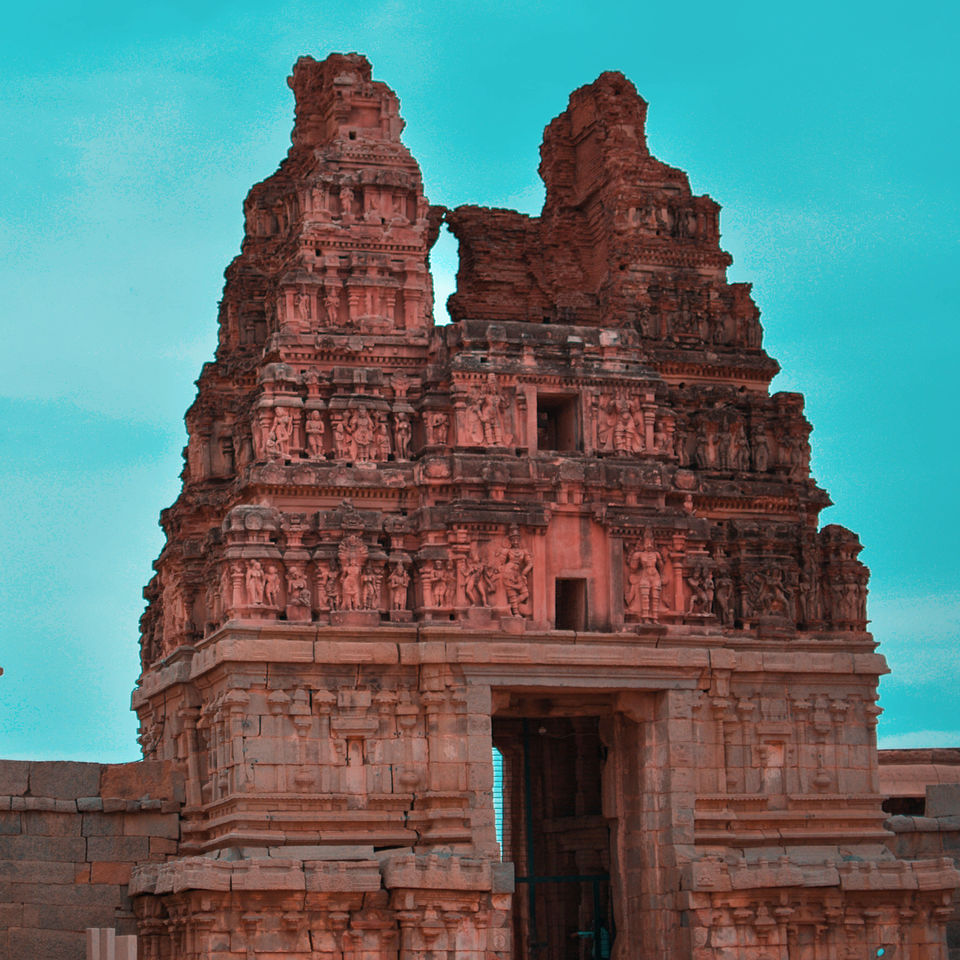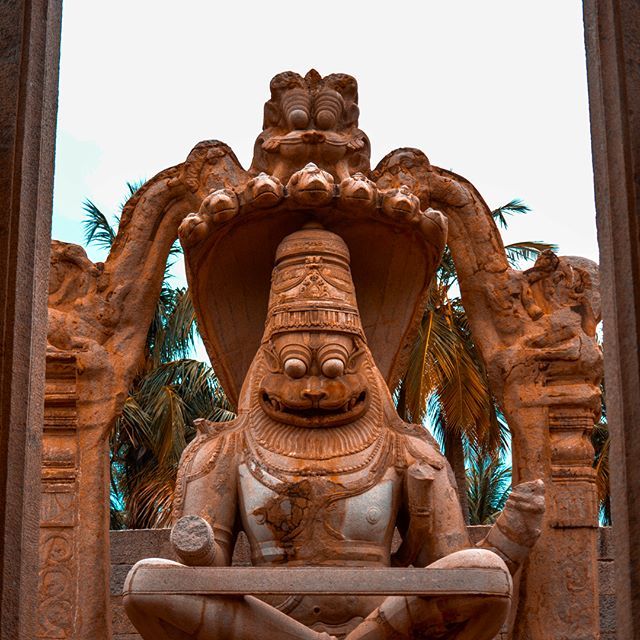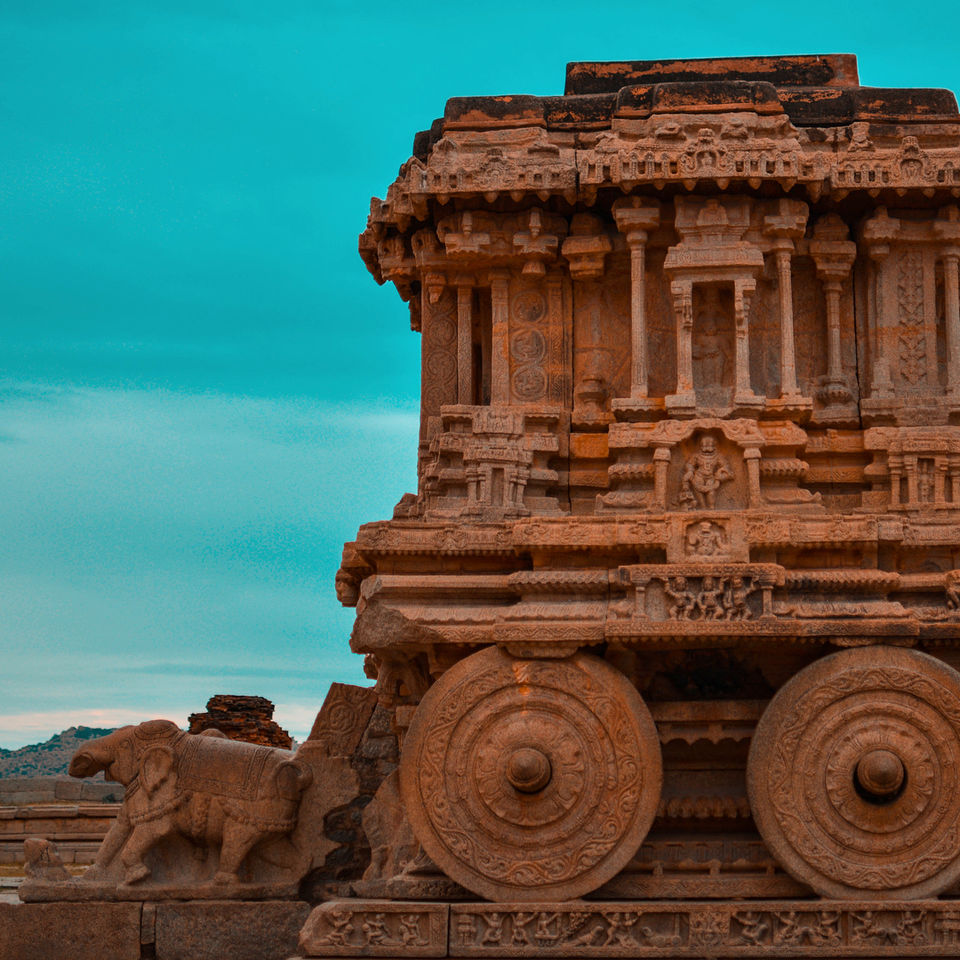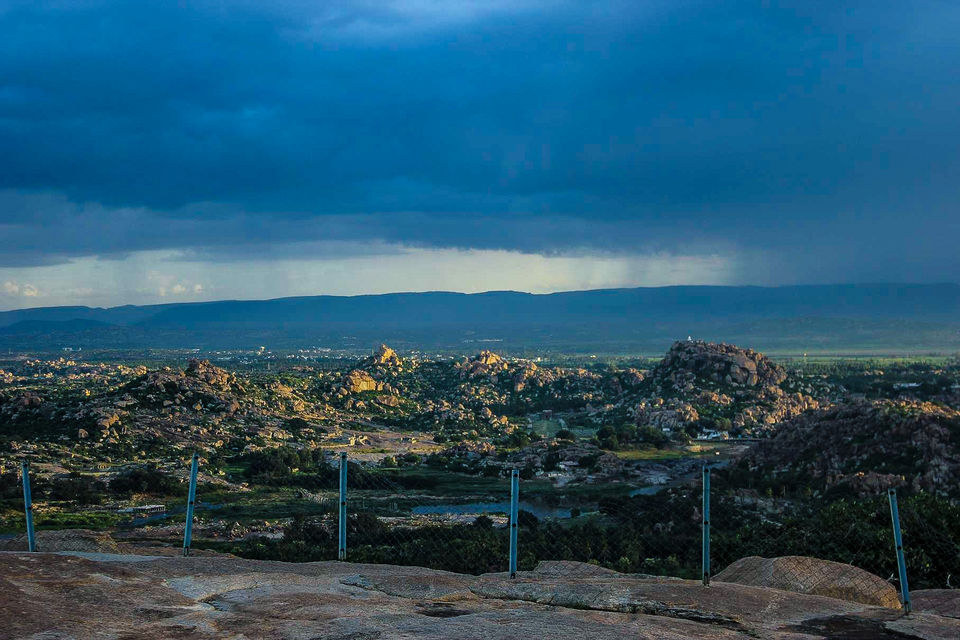 We caught the night train to Bangalore and while we still had a lot left to explore in Hampi, my trip had come to an end. I always save more places for next time.
This time, because of the photographers I travelled with, I managed to capture more video footage. Here are two awesome video compilations put together by them! If you haven't already subscribed to my channel on Youtube, please go ahead and do it!