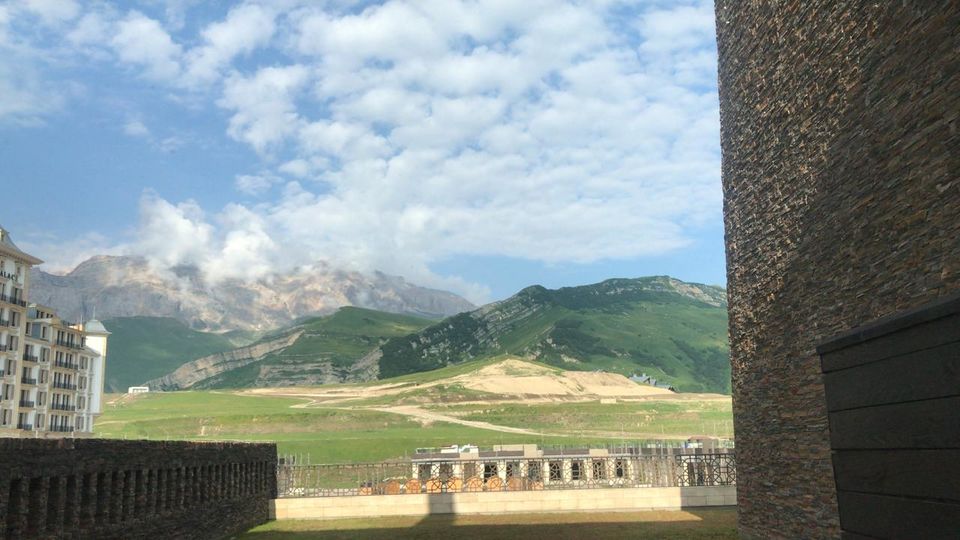 Day 1 : Welcome to Baku , Capital of Azerbaijan . I happen to visit this beautiful country in my bday Month - June and I am so happy that I chose to be a part of this journey . Baku is full of friendly and nice people and it gives you a mix of Asia and europe at the same place. You must consider a visit to Icheri sheher ( old town) and the Nizami Street of Baku to have a flavour of this country .
Day 2 : Visit of Jw Marriot , Hotel Dinamo , Four seasons Baku . This day we had a sumptuous breakfast at hotel Baku boulevard and then started to visit all the amazing hotels of Baku . We started our visit from the magnificent Four seasons Baku which is right in the city centre of Baku city . Formula 1 Racing events , UEFA Championship are lined up to be the near future events in this hotel . If you are visiting Baku and you have a good budget , you have to choose this hotel over another 5*
I am not in Switzerland , I am in Azerbaijan . Lush green mountains called the Caucasus is where we headed on our day 3 of AZ visit , This day we started our journey from Baku to shurabad which is famous for a small boutique property and then further explored the Quba palace hotel which is famous for Golf and resting our day with a beautiful hotel in the valley of mountains @ shahdag Mountain resort . Shahdag is very famous amongst Russia , European and now India clients for winter activities as it attracts lots of ski lovers from around the world
We did activities like Chair lift and Segway which was a beautiful experience and the weather was also just perfect . Activities in this area are pocket friendly and the place is perfect for all kind of travellers , kids and families . There are other activities like parasailing , ski etc but bcs of limited time we had to choose only couple of them.
Azerbaijan Is a very beautiful country as it offers something for everyone , it has beautiful city life in Baku , Caspian Sea for beach lovers and the mountains in Gabala & Shahdag . If you are looking for a trip full of adventure , night life , shopping and relaxation , this is the place for you . Xoxo
Much Love
Uj
#baku #azerbaijan #Placestoeat #nizamistreet #Icherisheher 
Back to India :)