Have been thinking to visit this country since so long and after a casual research online, I have applied for e-visa through their website and got my visa issued in 4 working days. Thanks to my good luck for this trip, have found a seasonal direct flight from Kuwait and booked my ticket to capital city Baku and boarded this flight with lot of excitement.
Predicting the language barrier in this unknown land, I have asked hostel to send a cab to receive me at the airport. It was a warm welcome by the cabbie and the weather itself as I landed there on a sunny afternoon.
In my backpacking experience in Europe I have realized that If you are a solo traveler, staying is Hostels is the best thing to do and it was proved right once again. I got to share the room with 3 different nationals and have extracted touristic info about Baku and joined their plan to visit Bilgah Beach which was located in outskirts of City.
First evening in Baku..
After resting for couple of hours, I started my walk via Boulevard of Baku heading towards Carpet Museum which was just 2 kms away from my Hostel and got to see locals hanging out in the parks.
It was a 3 storey modern built museum with carpets and techniques from centuries ago displayed on ipads . Some techniques can be related to Indian craft work as well.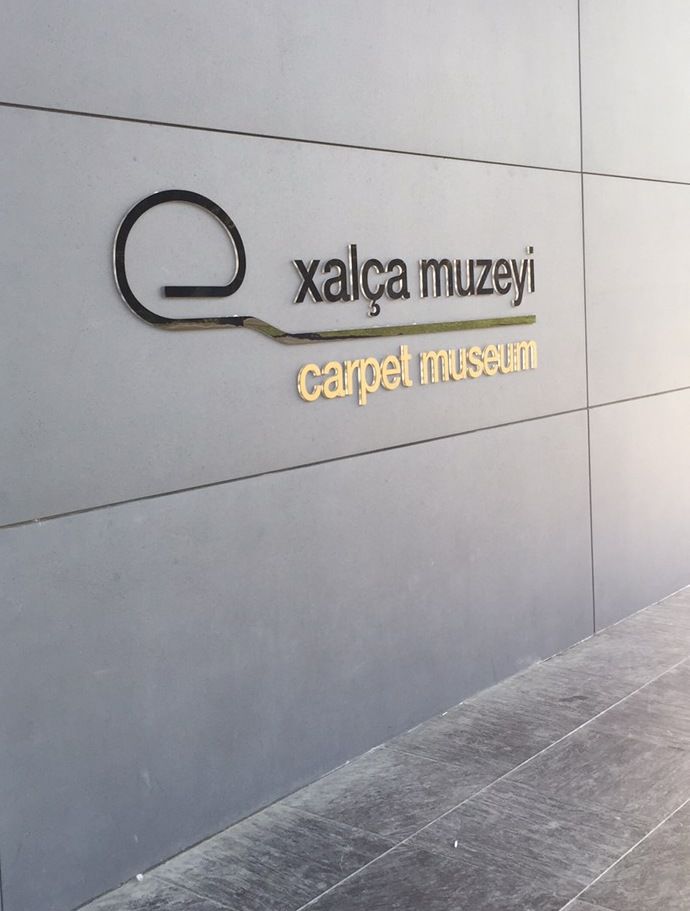 As it was a tiring day so far, I decided to relax a bit and then go to checkout the Nightlife of Baku (its famous for it). My stay in capital was just for 2 nights so I decided to go on club hopping and ended up in very cute bars and discotheques. Like Shakespeare Pub, OTTO Club, Tortuga Pirate Bar etc.. all were in two streets adjacent to each other. It worth trying different places each hour and djs were playing till 5 am that too on a usual weekday.
Day 2: Baku city tour
Hangovers sucks!... Got up late and rushed to nearby brunch place, dont remember the name exactly but there plenty of such places in Fountain Square, it is the most busiest and happening part of the city.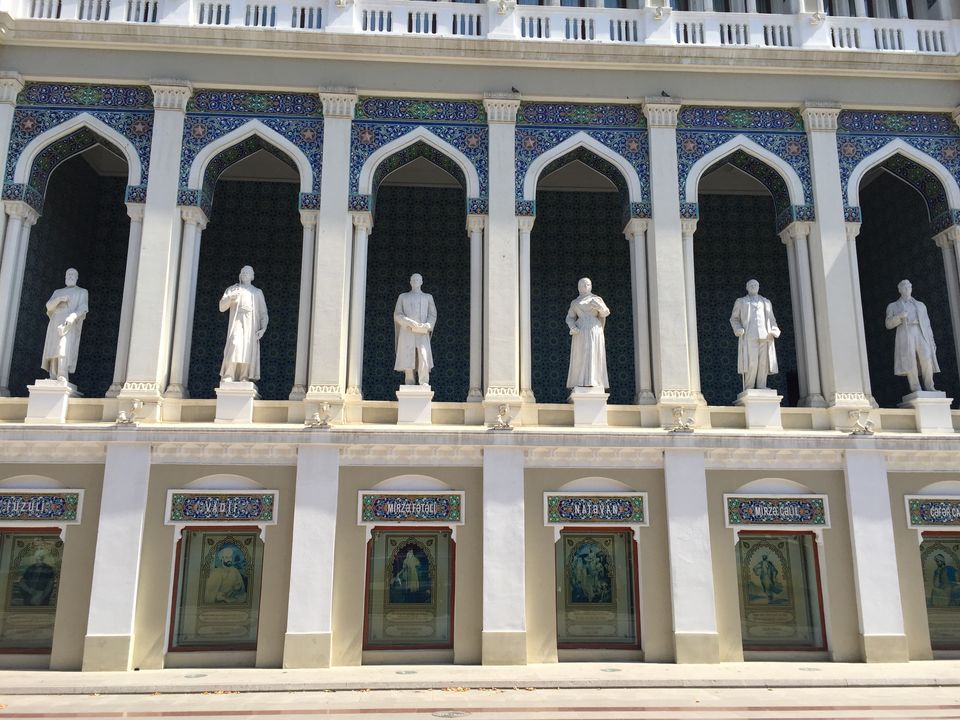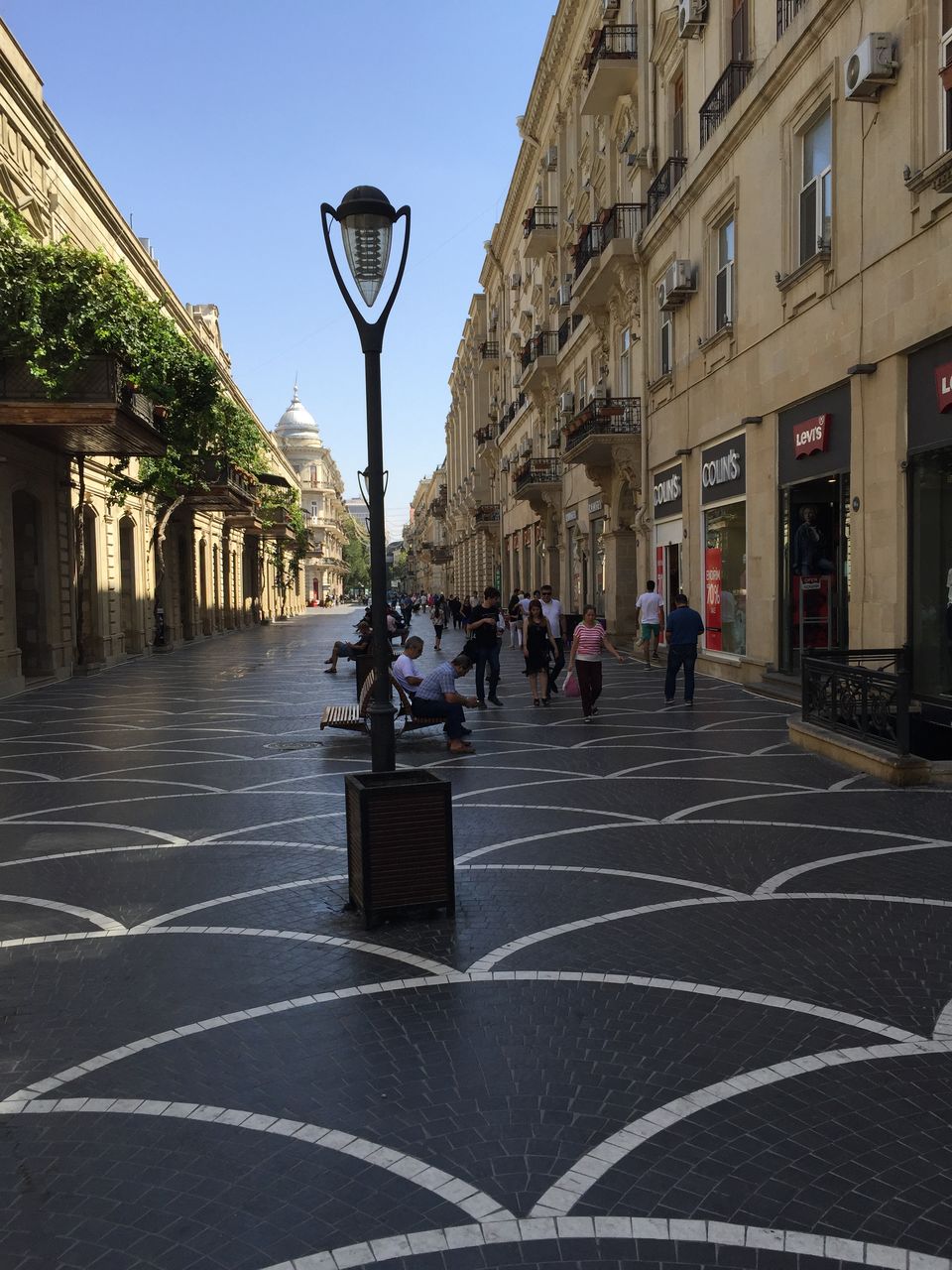 After my visit to Carpet Museum I went back to Hostel and joined my hostel mates for the beach outing. It took as 30 mins drive by taxi (& 20 manat) to reach and witness one of the beautiful sunsets of my life. Clear blue water of Caspian Sea tempted me to take a dip and trust me I didn't get out of water for 1 hour. We headed back to our hostel and had some local fast food on our way.
It was a hot day to be out and stroll during days, but this old city had some pleasant feeling which I usually get when I am in my native place of Rajasthan, India. There were old structures, fort, beautiful souvenir shops and some authentic Azeri restaurants where I had my lunch with a glass of local Red Wine.
I had to tell myself that enough of this architecture, lets take some rest and came back to Hotel this time for a much needed power nap and put a pause to my city tour. Before sunset I wanted to visit and pictures clicked at this Fancy building of Hyder Aliyev Center.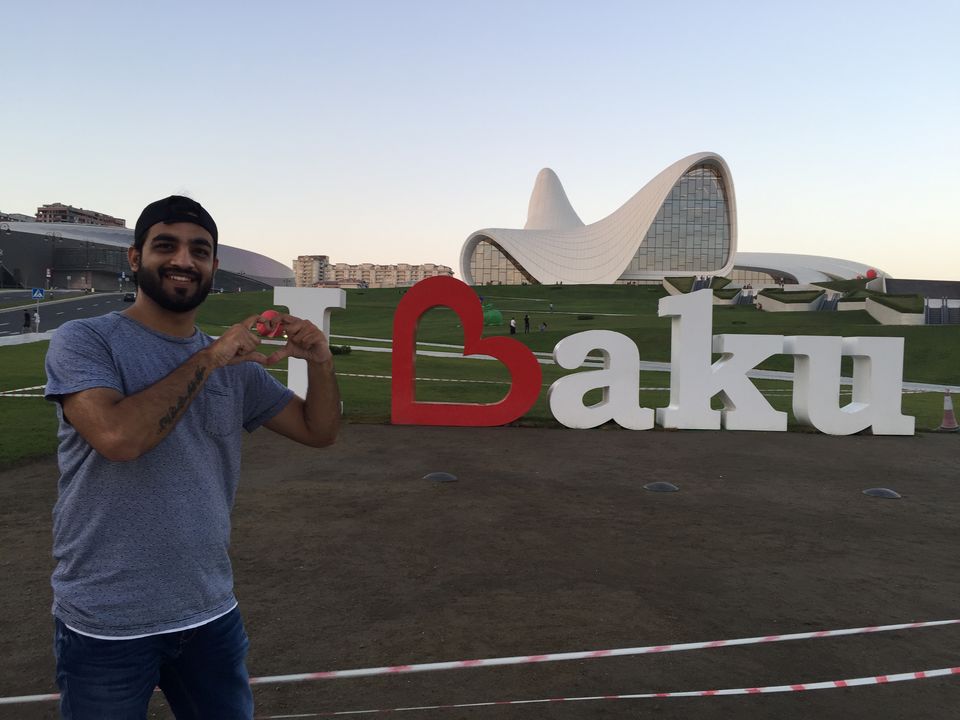 That was 2 days in the capital of Azerbaijan before I headed to country side. will continue in my next article.