Brigade Buena Vista is the best under construction project from Brigade Group placed at Old Madras Road which is near to Budigere Cross of East Bangalore. 

Location: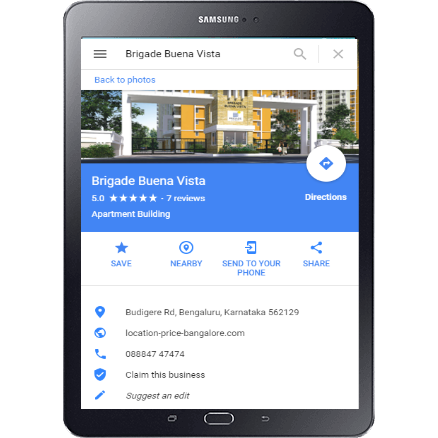 Old Madras Road, located in East Bangalore, is part of the National Highway 4 (NH-4) that connects Mumbai and Chennai. The micro market is in close proximity to the heart of Bangalore and the key business areas of the city. It has a mix of both commercial and residential areas.
Historically, Old Madras Road was an industrial area, and had industries like Tin Factory and NGEF. After the decline of these industries, the properties were demolished and made way for commercial and residential projects. The Old Madras Road region has seen tremendous growth in recent years because of its proximity to IT companies in Whitefield, Outer Ring Road, Hebbal and Electronic City.
Another reason for the growth of Old Madras Road, is the region's brilliant connectivity to other parts of Bangalore, as well as connectivity to other towns and cities. The locality also has a well constructed Metro connectivity, with the main Metro terminal on Old Madras Road. The Old Madras Road region also has huge land parcels that have been bought by industries and IT companies.
The locality is wrought with malls, restaurants, hospitals, petrol bunks, schools, and colleges. The nearest market from Old Madras Road is the K.R. Puram market. Hawkers sell flowers, fruits, dry fish, pulses and grains, and vegetables in this market. Multi-retail stores like Big Bazaar and World Market are also located here. This corridor is tightly wound with sizable facilities, adding to its excellent social infrastructure.
Connectivity and Transit Points
Old Madras Road connects Bangalore with Kolar, Mulbagal, Chittoor, Chennai, and other towns and villages through the National Highway 4 (NH-4). KSRTC, BMTC, and APSRTC operate buses to these cities and towns, and they have a bus stop near the cable-stayed KR Puram Bridge. The buses start off from the Satellite Bus Stand in Byappanahalli
The Byappanahalli railway station and the KR Puram railway station are the two closest railway. Bangalore's main railway station, the Bangalore City Railway Station is 12 km away from Old Madras Road. The Bangalore International Airport is located 40 km away from Old Madras Road.
The Old madras Road also has several Metro stations along its stretch which includes Halasur, The Vivekananda Metro Station, and the Baiyappanahalli station. Travelling from Old Madras Road to other parts of Bangalore is a breeze as it is well connected by BMTC bus, Metro, auto-rickshaws, and taxicabs.
Major Landmarks
 Gopalan Signature Mall
 Byappanahalli Metro Station
 Krishnarajapuram cable bridge
 Garden City College Hospital Bus Stop
 Tin Factory
 Budigere Cross
Factors for Growth in the Past
For years, the Old Madras Road area mainly consisted of several industries and was an industrial belt. Now, there is a lot of real estate activity in this region, with several residential and retail projects coming up on this road.
The growth of the Old Madras Road region has been heavily influenced by the growth of IT in Bangalore. Whitefield, which is a major IT hub, is only 15 km away from this locality and Manyata Tech Park, which is an IT park, is around 8 km from Old Madras Road. People have been moving to Old Madras Road as prices of property in nearby localities like Indira Nagar, CV Raman Nagar, and Kammanahalli have shot up.
Residential and Commercial Markets
The real estate in this area has seen a sizable evolution that will meet the needs of the modern society. The region has seen new residential property by prominent Class A builders such as Puravankara, Prestige, Brigade, and Salarpuria, amongst others. Property prices in this region have seen a significant increase over the years and the current capital values (Q1 2014) ranges between Rs. 4,200 per sq. ft. to Rs 4,800 per sq. ft. The rentals range between Rs 17 - 20 per sq. ft.
Developers have bought land parcels near Budigere Cross, which is seen as a good region as it has good connectivity to the airport and Whitefield. In addition to the Gopalan Signature Mall and Gopalan Grand Mall, Hebron Mall and World Market are two upcoming malls on Old Madras.
There is also a flurry of activity in the retail front and there is potential for infrastructure development in the next 3 to 5 years. This is owing to the increase in residential properties in Old Madras Road and enhanced connectivity to the region, especially the Hoskote Industrial area.
Major Challenges
The Old Madras Road has its fair share of problems that majorly affect its functioning. Issues pertaining to traffic are suffered at the narrow bottleneck parts of this corridor. The maintenance of roads has become lax with unattended open potholes, dug up roads, and the dumping of excess mud and wastes along this road. The region also faces lack of good quality schools and colleges. The nearest reputed schools and colleges are in Indira Nagar and Whitefield.
Future Prospects for Growth
The Old Madras Road corridor will see prospective growth in the future and will handsomely reward the vested interests in this area. The areas in and around Old Madras Road will become a commercial and residential hub in the next 5 to 10 years. New residential and commercial properties will be the key prospects for growth of Old Madras Road.
The Future Group are planning to build a wholesale market called World Market in Avalahalli on Old Madras Road. Residential and commercial property prices in this region have increased by 15% in the last few years, and are said to increase even more.
The connectivity, currently well accessed, will see progressive improvements with the Bangalore-Chennai Expressway and the Metro extensions will also benefit Old Madras Road sizably. The region did have some water issues earlier, but it has now been resolved thanks to the Cauvery stage-4 phase-2 water project.
For more details visit our website at: