The dingy alleys with rows of shuttered windows and red-oxide floors, the illustrious and cacophonous opera houses styled after the European theatres, the busy marketplace, and the overpopulated streets; Shyambazaar is the age-old neighbourhood at the heart of North Calcutta.
Surrounded by the princely estates of Raja Naba Krishna Deb [i.e., Shovabazaar] and trading hubs nearby the ghats of Ganges-Bow Bazaar, Chitpore, Cossipore, and Bagbazaar; Sovaram Bysack (alias Basak) a well-known clothing merchant traded in silk and muslin was first-known settlers in this part of Sutanati, one of the three villages merged to form the 'City of Joy'-Calcutta.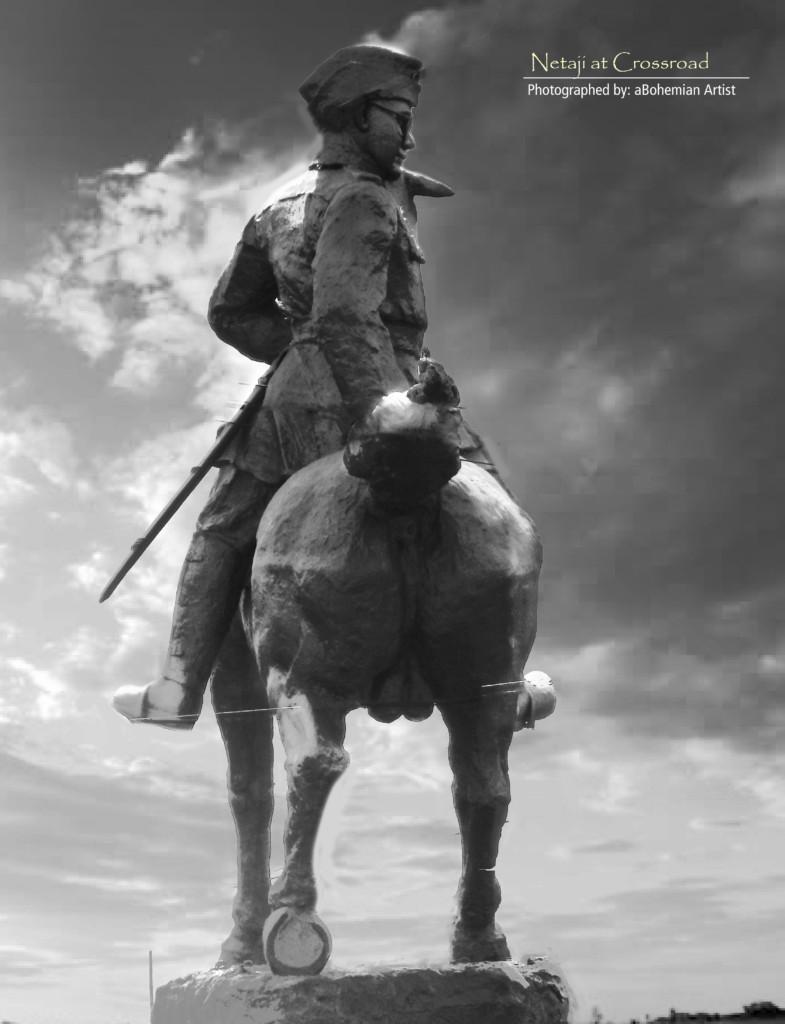 Over a period of more than five hundred years, as the city developed under the British, Portuguese, French, Hindu aristocrats, rebellious Naxalities and Communist regimes, Shyambazaar eventually turn as the hub for Bengal Renaissance and refined Bengalee heritage. At the intersection of Shyambazaar, or Panch Mathar Mor [5-Point Crossing] stands the iconic statue of Bengalee revolutionary, Netaji Subhas Bose astride a horse surveying the speeding yellow-marooned minibuses, the slow-gait trams, and nosy passers-by.
I board the Tollygunj-Dum Dum metro at Hazra to alight at Shyambazaar Metro Station. Following the blue LED indicators and green arrow signs posted at the odd corners of the station, as one exit through Gate - 1, the statue could be seen on the right side, at a stone-throw distance. Sculpted in copper-yellow by Nagesh Yoglekar today stand in the middle of a mesh of light and heavy cables, though make one feel proud as Bengalee but painful to eyes as the controversial leader struggles with bird droppings, billboards, wire cables, and endless traffic snarls.
This photograph is shot from the direction of Metro Station gate and is in black and white (for I disliked the colour copper-yellow) with 300dpi, 24 bitrates, focal point 22m (f/4.5) and ISO limited to 100.