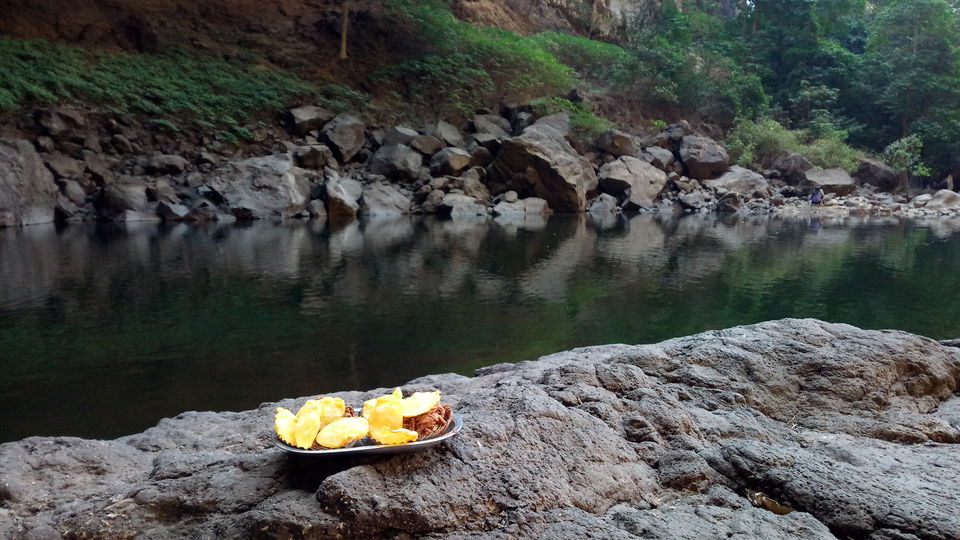 It was 5 am when my alarm beeped. I was obviously happy at the sound because I knew I was going for a much needed break away from the routine.
I had signed up for a one-day trek to Devkund with Trek Mates India (popularly known as TMI). It was more of an easy hike than a trek and the idea sounded great.
With about 20 enthusiastic participants, TMI drove us to the base village near Bhira dam after a yummy breakfast at a local restaurant at Khopoli.
TMI's leader, Vikram Singh is not just an expert trekker but also knows how to make your commute interesting. He was so full of stories about almost everything, from places that you could explore near Devkund, and river rafting at Kundalika to a "wadi" (village), known as Hirdi, occupied only by elderly people.
"Have you visited that village?", I asked
"Oh yes, and I feel so sorry for the elderly, as their children hardly visit them", Vikram sounded genuinely concerned as he spoke.
As our vehicle reached Bhira where you can also see Tata's hydro power station, we crossed a tree full of orange flowers. Vikram was quick to comment, "This is the palash tree, also known as "fire of the forest". Back home, we juice those flowers as they have a cooling effect on the body". This man is certainly a seasoned traveler!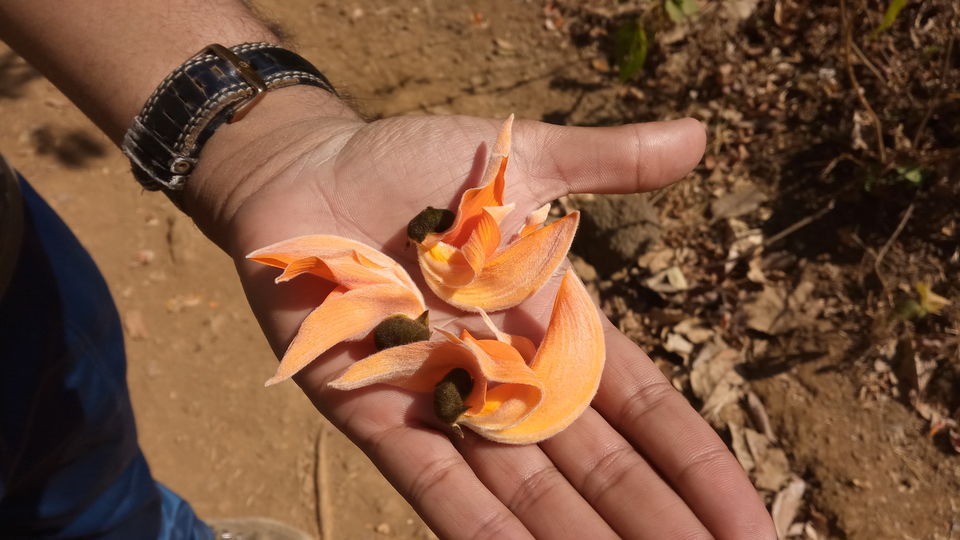 The day ahead certainly looked like a tough one with sun shining upon us with all its energy! TMI had guided us well ahead of the trek on things to carry and things to avoid, so we were pretty much prepared. After a quick round of introduction, we began our jungle escape from Sawantwadi, the actual entrance for Devkund.
Our walk was dotted with beautiful glimpses of the villagers' homes. They were clearly preparing ahead for the summers as can be seen in this picture. Cow dung has a cooling effect in homes, when applied on the inside walls.
Our trek leader, Vikram had a coordinator (Mayur) and a villager to guide us. The one thing I like about TMI is that the event organisers believe in safe trekking. While their expertise and experience is unmatched, they still strongly believe in taking the guidance of locals as these are the people who know their routes so well. Also, in any unforeseen emergency, they are the first ones to provide all immediate available help.
My steps were fast on a sunny day on this dusty trail with dry leaves cracking, twigs breaking and stones shifting under my feet. I could hear my own breath and the magical sound of birds chirping. The silence of the village was just perfect to communicate with your own self and motivating yourself to keep going.
On our way, we were crossing huge boulders and semi-dry lakes. The sun was stronger now. One hour still to go. Would Devkund be dry too? I mumbled to myself. Vikram had mentioned that there will be a small trek for us, earlier during the introduction. Perhaps we had reached that part of our hike.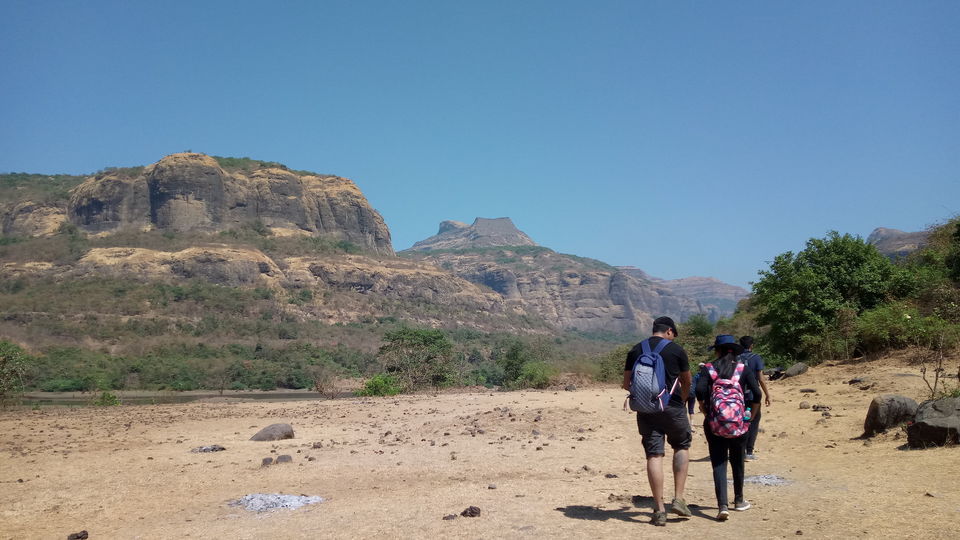 Call it coincidence or sheer miracle, but every time I prayed in my mind, to the Sahyadris, to be good to me, a waft of breeze passed by. It was like a blessing for all of us.
I was panting heavily by now. The trek looked difficult to me. A co-trekker offered jaggery which was a welcome break. But the panting didn't stop. I was giving up, nodding my head in denial.
"I can't do this", I told Vikram, huffing and puffing my way up. My breaks became longer and along with a fellow trekker, I sat on the dry land with dense foliage, for more than 5 mins.
"You can. Devkund is just few mins away from here. Come on!", encouraged Vikram.
The local guide also beckoned us poor souls to keep on going.
If I made it till here and I go back without seeing Devkund, for which I have come all this way, I will be really disappointing myself. I had to somehow manage. I promised my soul that Devkund will definitely be a treat for the eyes. At least I hoped.
Two couples had given up already and they decided to stay back and wait for our group to come down later. We were getting nearer now. I could see even bigger rocks on our way.
"AO, AO" was our call to communicate with each other. We could hear sounds of people.
AO, AO, we shouted excitedly. Few people of our group had already reached.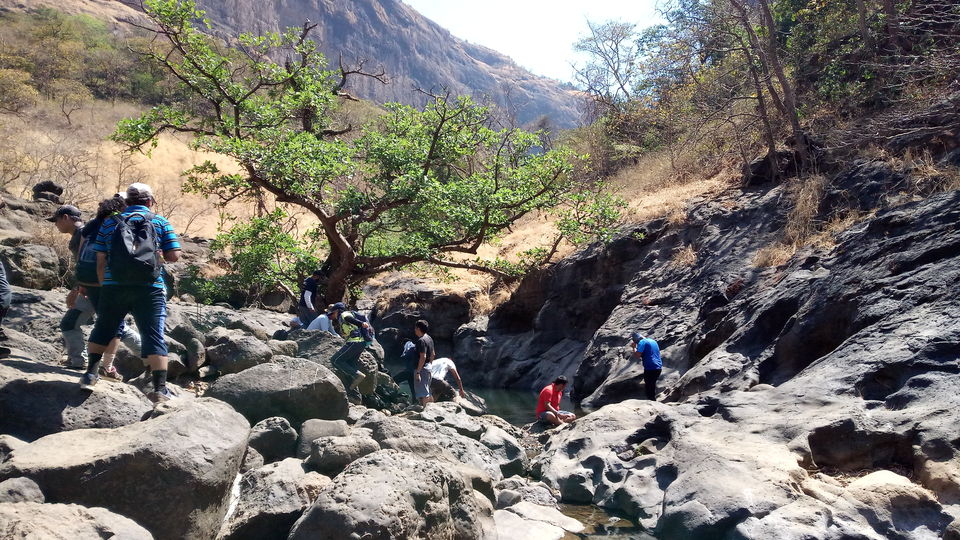 My steps were quick now. Despite all the huffing and puffing, I was now vigorously climbing and crossing the huge rocks.
And there it was. Devkund.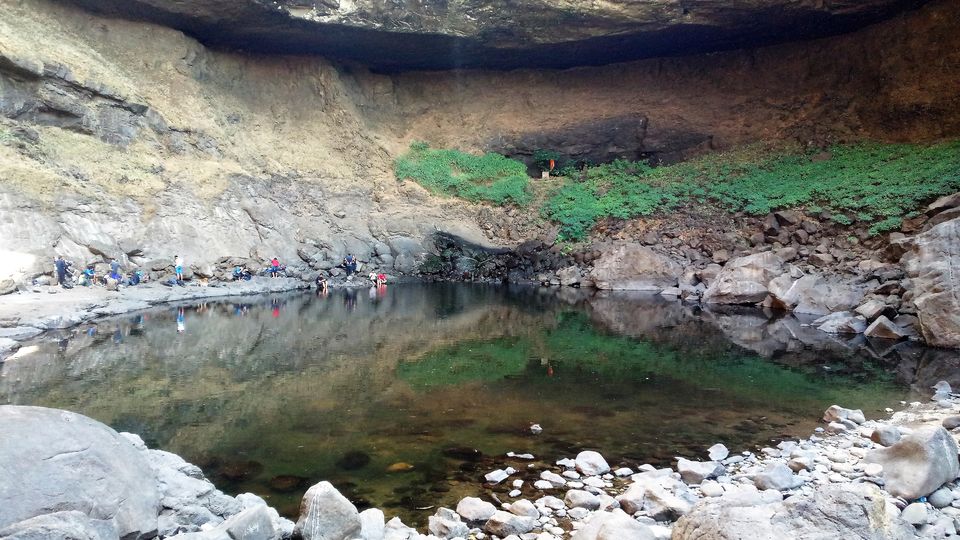 Huge, quiet and with water so green and clear, you could see small rocks inside. I took a moment to behold the sight in front of me. So this is where the Gods bathed! Magical! A confluence of two huge boulders could be seen through which a stream of water trickled. In monsoons, you can experience the waterfall and it's believed that this is where the infamous Kundalika river originated from.
Our group was slowly settling down. Hungry but not tired because Devkund had cast a magic spell on all of us! I knew I just had to remove my shoes and put my feet inside. It was no surprise that despite the scorching heat, the water was freezing cold. Wow. What an experience!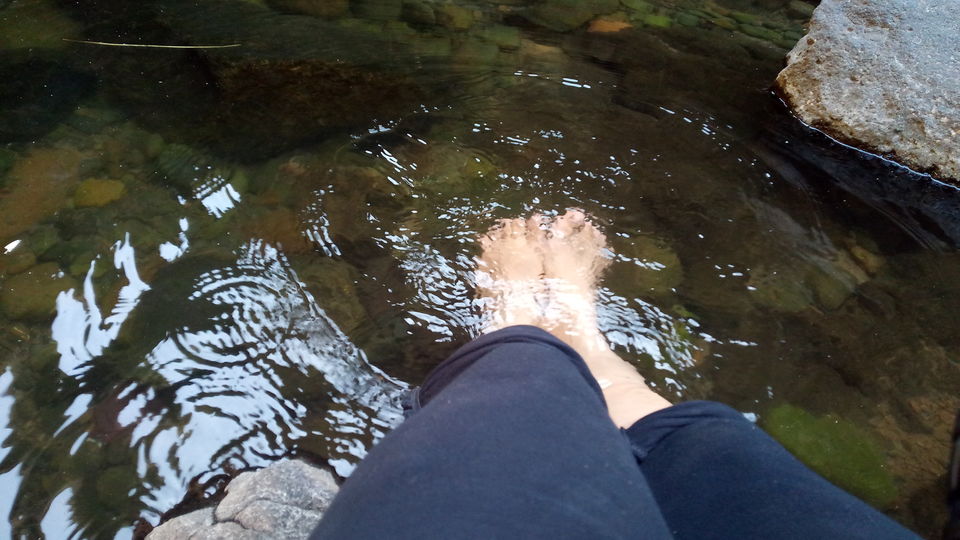 After refreshing ourselves and drinking the water directly from the lake, we started hurriedly eating our lunch. From cutlets to sandwiches, boiled sweet corn and Iyengar bakery's fresh cakes, we had all possible options. Our always enthusiastic trek leader, Vikram, also arranged for garam bhajiyas, thanks to the local people who were excitedly frying them at Devkund entrance.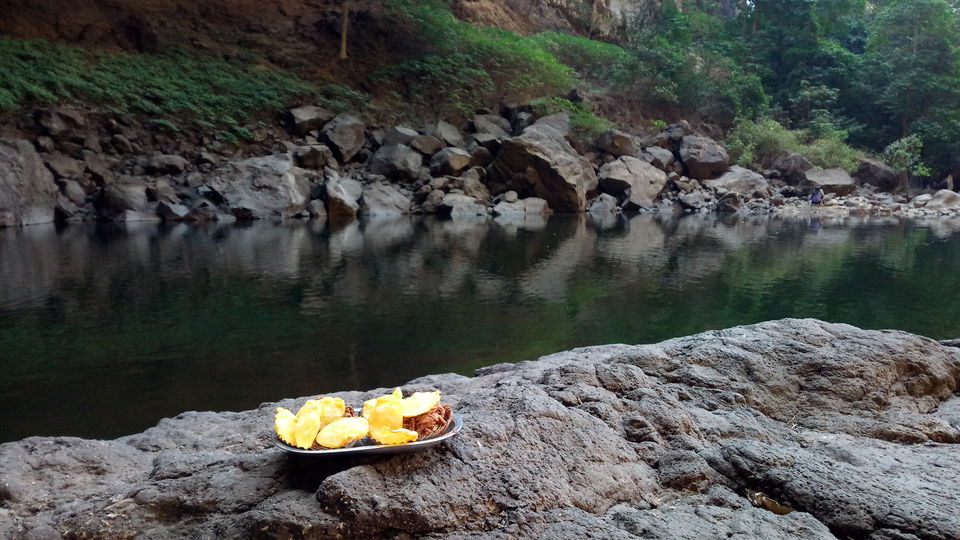 One of our group members offered fresh, ripe tomatoes. Eh? I wondered. But nothing could actually replace that taste and satisfaction of having juicy tomatoes on a sunny day. (Tip: Fresh fruits, raw vegetables and lighter lunch packs are better than oily poori bhajis / dry khakras and theplas)
We hardly realized how an hour passed by. It was time to leave. After a refreshing break, the "descend" seemed too easy. A quick group photo and we all started our way back to the base village. Hot poha and fresh lime juice awaited us. Heaven! The journey back home was relaxed as we caught up on some much needed sleep.
Life is so simple. And it's simpler and beautiful when you spend time with nature. There's so much to see, feel, smell. So stop thinking and start travelling. Because travelling makes you modest and realise that there's so much MORE.