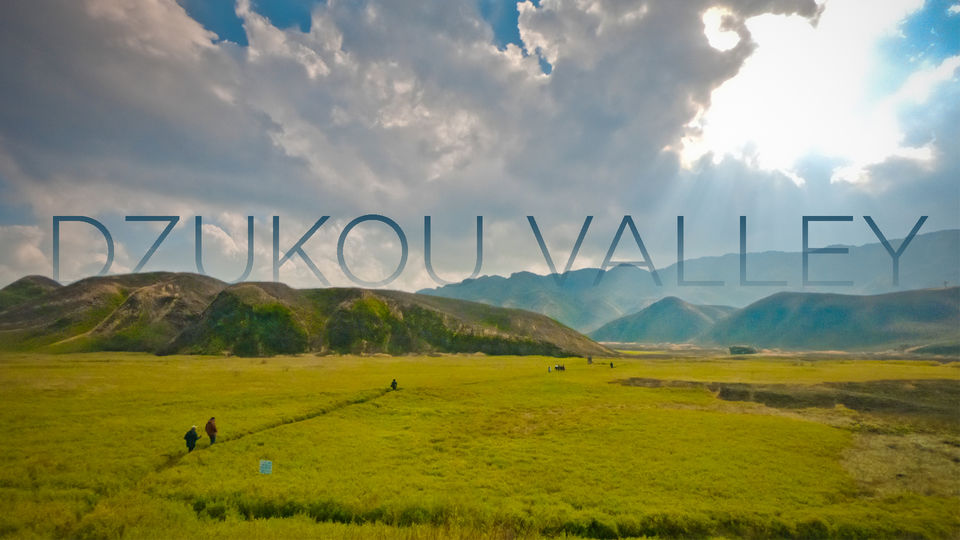 Dear Traveler,
Pack light. It will be a long trek. Memorize this war cry "Oooo aai Oooo aai" and march along amidst the bamboo forests.
Pack some warm clothes. Pack a raincoat. Carry some protein bars. Carry at least two packets of Maggi. Food and water is scarce here but scenic view is abundant.
Hold on. Yes, I will tell you the entire story.
From Jakhama village, we reached to a point where cars drop travelers. We were 16 travelers from different parts of the country. We started our 1 km long climb on the steep rocky mountain at around 8.45 am. There were some new trekkers and some seasoned ones. Even though we camped together a night earlier at Jakhama village, we hardly knew each other. And trekking gives that opportunity to bring people of different cultures together like no other activity. Along the way we got acquainted with each other, shared our stories and some glucose tablets.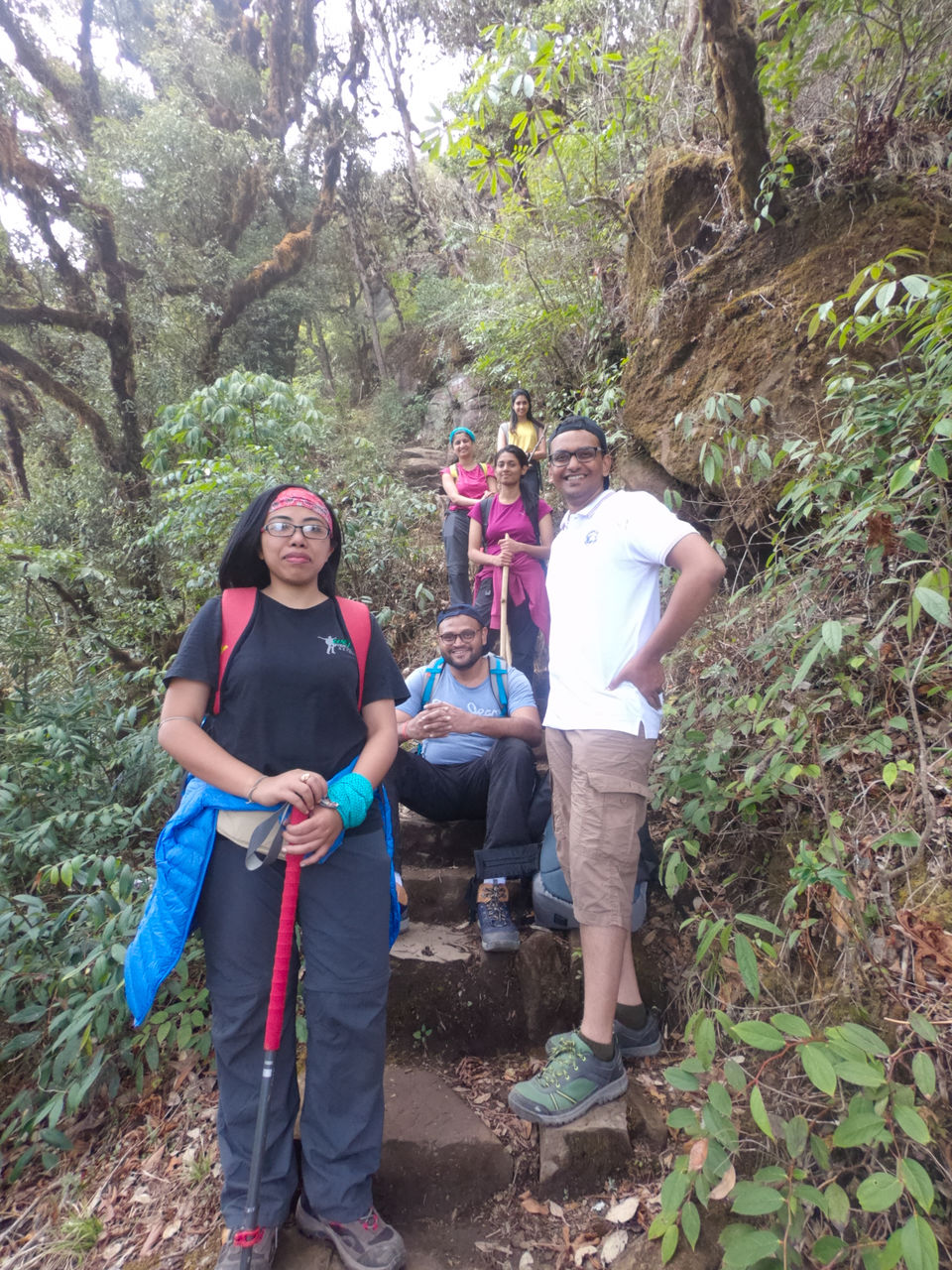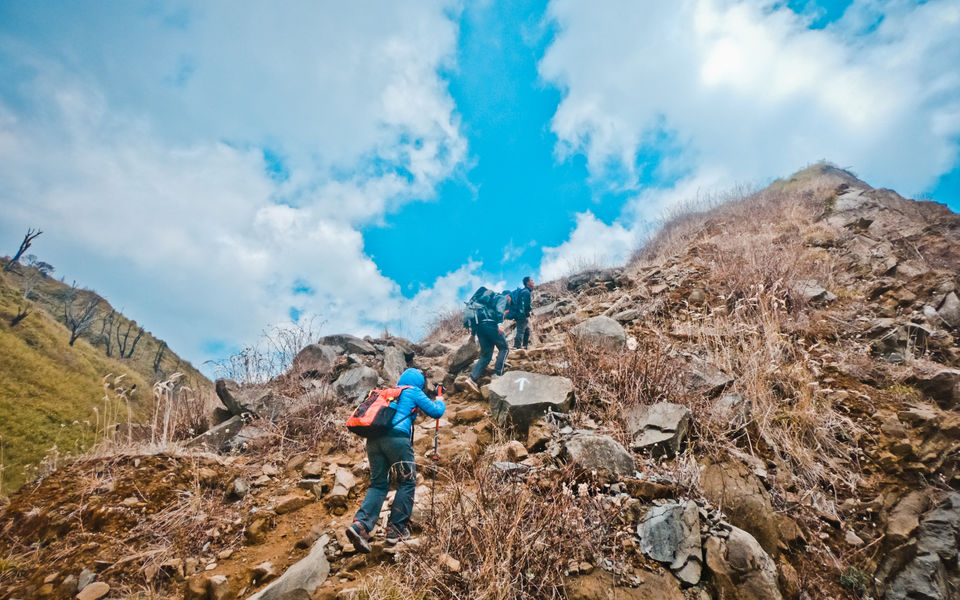 We reached the top of the mountain after an hour or more since many of us took various stops along the way. It was cold and windy. We rested there for 15 mins catching our breath. We were sweaty from the climb but the top of the mountain was a different story altogether. We quickly had to wear our hoodies/sweaters to beat the wind.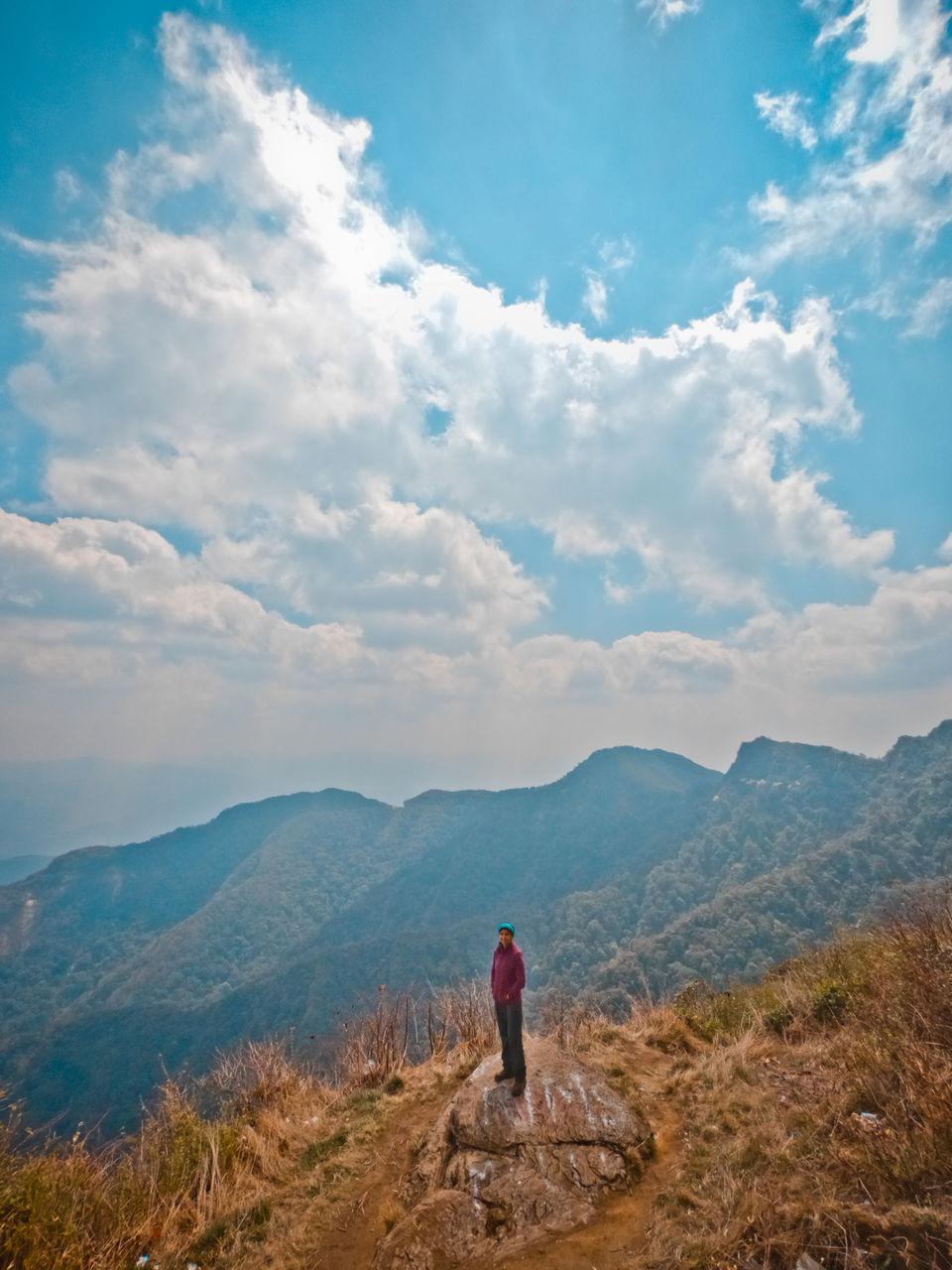 Then we marched along the bamboo forest occasionally waiting for a few pictures. The view was nothing like I had seen before. Dead black trees, green fields of bamboo plants covering acres and acres of land till the eye could see and beyond. Along the way there were many dustbins, so that the region remains clean.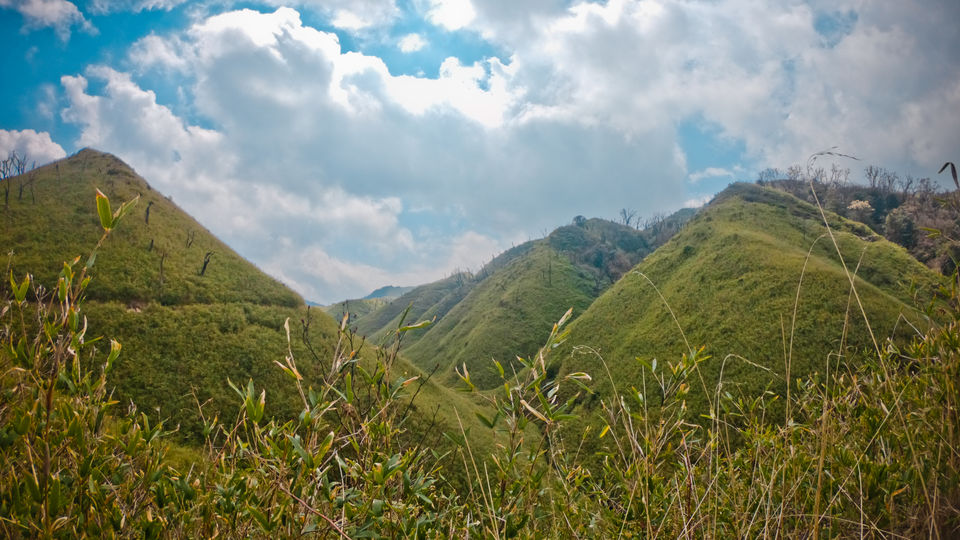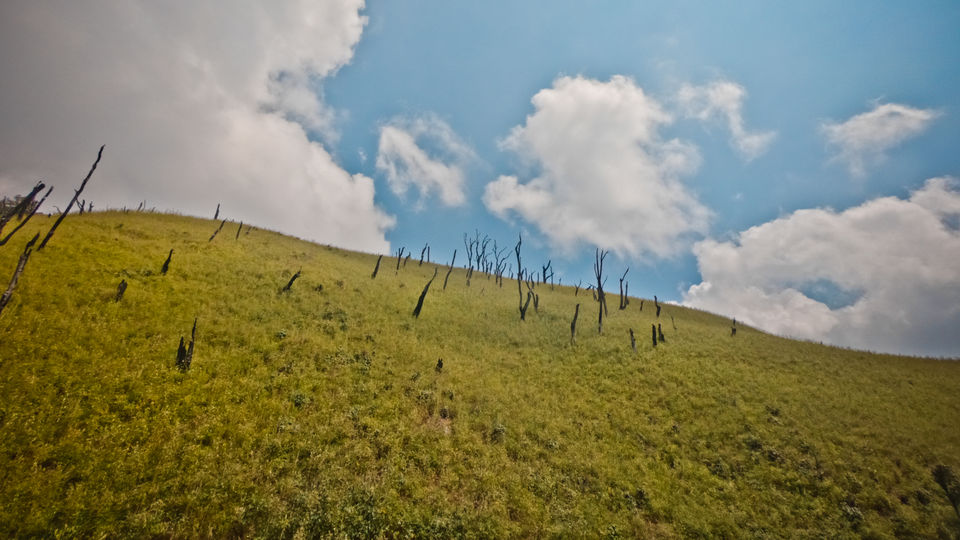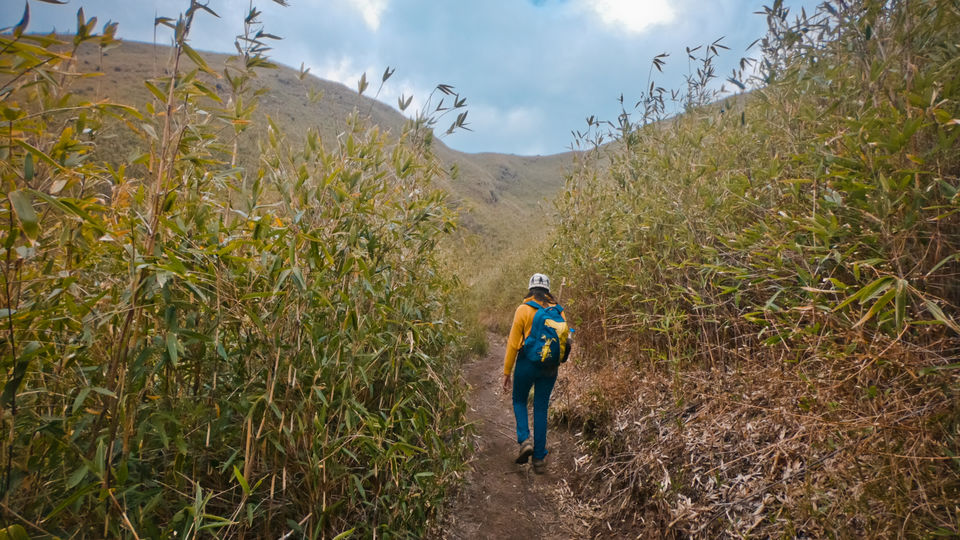 The weather was unpredictable. One minute it will be complete sunny, another minute it will be too windy to make your blood freeze and one moment it will be cloudy with drizzles. We stopped several times to wear our raincoats whenever it started raining.
After about 7 kms of long trek we finally reached the dormitory at around 1 pm. The dormitory is taken care by Nagaland government. The dormitories can be booked at Rs. 50 per person. You have to carry your own sleeping bag and food. There are some private rooms as well which costs more. We dropped our bags on the wooden floor of the dormitory and rested for a while. Our tour guide Vikho from Chalohoppo brought back boiling hot water from the kitchen. We filled our cup noodles with hot water. Once we finished eating, Vikho told us that it is the best time to climb down the valley. Though we were very tired, we didn't waste anymore time.
The temperatures were drooping to approximately 5°C and it was very windy. Being from Mumbai I don't have much experience of surviving cold. I and others covered our selves in 3-4 different layers- T shirt, Hoodie, Windcheater, Monkeycap, track pants on top of shorts and gloves. It was a funny sight but at that moment I only cared about surviving. At 2 pm we started the descent and we reached the main valley at around 3.15 pm.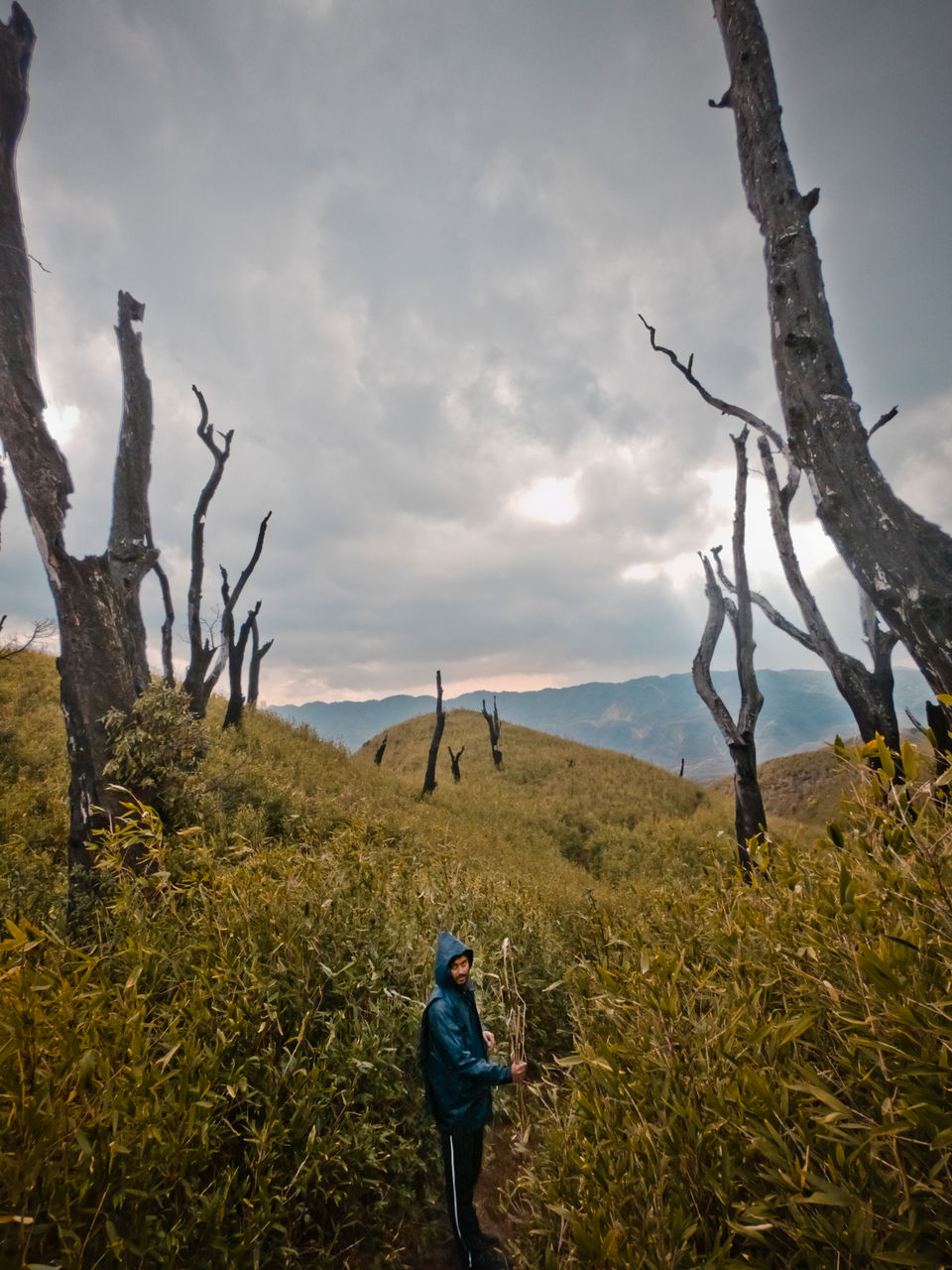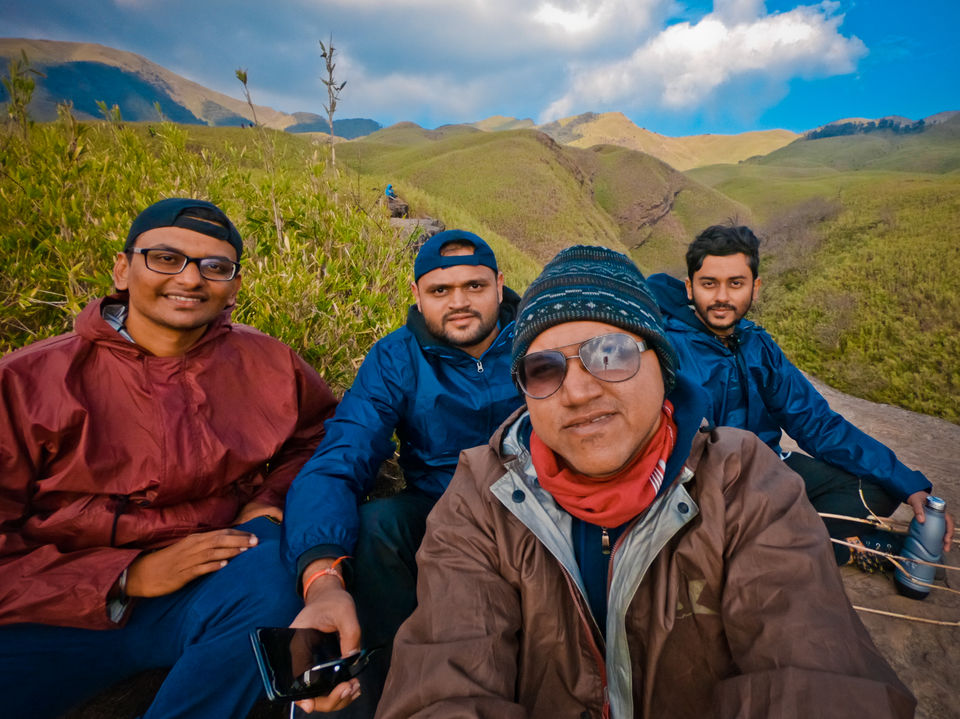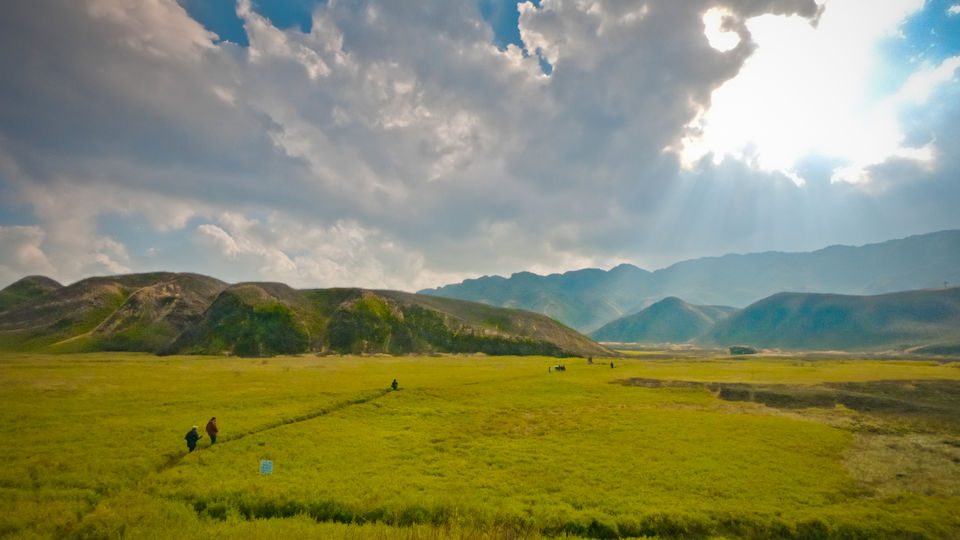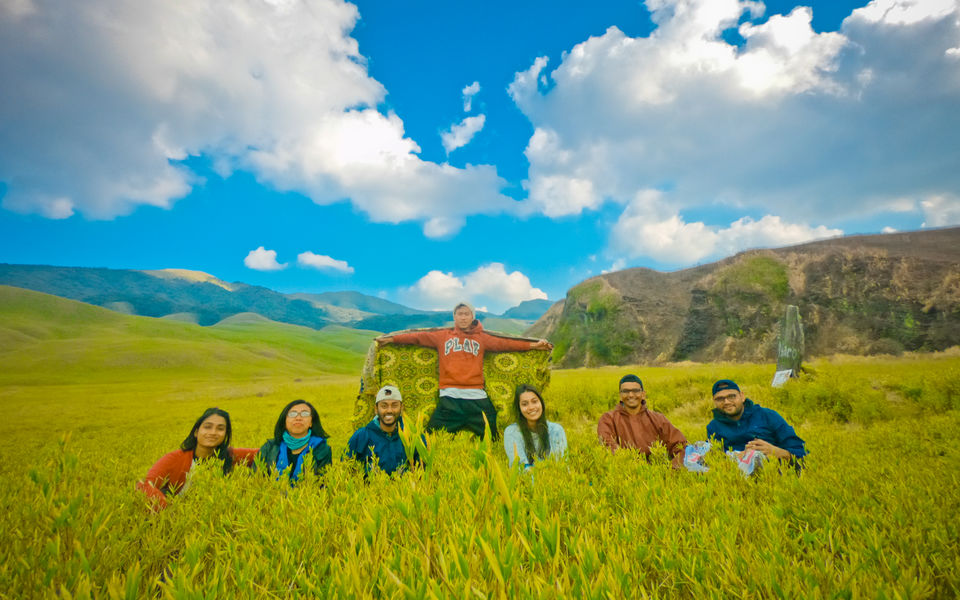 As soon as we reached the bottom, a long photo session with different poses was in order. I have never seen such beautiful landscapes in my life. It was like that old Windows XP wallpaper. A perfect combination of green and blue and white.
We started trekking back to the dormitory at 4.30 pm since the sunset was at 5.15 pm. We had our torches ready incase we don't reach on time. I think I saw the best sunset of my life here. I didn't capture it on my camera. I saw it. I experienced it.
At 5.30 pm we reached the dormitory. I took out my phone to see 80% full battery. I didn't use my phone the whole day, in fact I forgot it existed. Also there was no network so the battery didn't drain. By 6 pm it was pitch black. Clouds moved fast as if seeing it was a timelapse video with occasional view of million stars. Inside the dormitory there was no electricity. Some local trekkers on the other end of the dormitory were playing some very good music on their phone. We just laid there in our sleeping bags, shivering. Someone would pass some chips some biscuits and it went around among the 16 of us. The howling wind through the crack of the window was making weird noises. Every time someone goes out of the door, the cold wind would send chills down the spine. Oh, we hurled abuses at them. It was that COLD!
At 7.30 pm, Vikho called us for dinner. I had no stamina to get up. But it was my only chance at a proper meal since the morning breakfast. We went into the kitchen with our torches and served ourselves a plate full of rice, dal, aloo and chicken. I sat next to the chulha which was warm as someone left water to heat. The burning wood gave me some respite from the cold. I sat there for next two hours talking to other fellow travelers. Listening to weird travel stories and sharing them felt lot better than wasting hours on a smartphone.
In that cold wooden floor, amidst the howling wind sound, we slept in our sleeping bags like babies. There was nothing that would disturb our sound sleep. We left early next morning.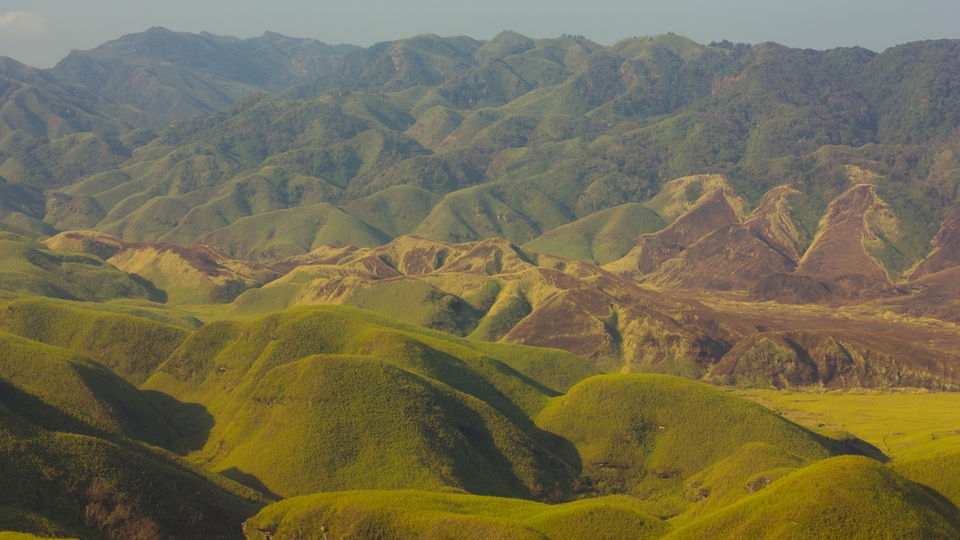 I have been to so many places before including few places in abroad. But if anyone asks me which is your favorite travel destination, it would be undoubtedly Dzukou. You have to climb up the trek to fall in love with the valley.
Love,
Another traveler
PS: Visit North East soon. Its magical.