Few months back I was having a chat with one of my friends in which he mentioned that his dad recently went to sikkim for some work and the word got stuck in my head. When I got back home the two things that I could relate with Sikkim was Gangtok (its capital that we all learn when we were young) and cleanest state (read it somewhere) so the curiosity started increasing and with that increased my knowledge about the smallest state of india(in terms of population). Reading about the place I decided it to be my next destination and fortunately I had days off in the coming month and it was a good time to visit the place.
Sikkim the landlocked state is surrounded by Nepal,Bhutan,China and West Bengal is a wonderland for nature lovers as you can spot waterfalls and a wide variety of exotic plants everywhere.The people are very honest, hardworking & concerned about nature and that is the biggest reason behind it being the cleanest state, people don't litter things on the road and they don't even pee publicly. Moreover they don't even let you do that and you might be scolded for doing that.
Few queries that everyone had due to lack of information about the north east were about
Tension with china & terrorism (it is very peaceful last war was in 1967 since then no such incidence unlike the indo-pak border)
Permits (you need them but not a big problem ill cover them in detail in my travel guide)
People (they are mostly Nepali and are open to everyone)
Few things that you should know before going
You need permits for going to north Sikkim and east Sikkim so carry min 4 passport size photos.
Nathula is closed on Monday & Tuesday plan accordingly.
It is a bit expensive for budget backpackers.
Carry with you a rainproof jacket coz it can rain anytime in gangtok.
Booking your trip from njp station might be the stupidest decision of your whole trip, the guys there will charge you double for what you will get in gangtok and won't respond to your complaint calls.
Foreign nationals can't go everywhere and they need to be at least two people accompanied by a guide if they want to trek. Your go to place is altitude travels near tourist reception centre mg marg, they specialise in arranging treks for foreigners, you can easily find someone to accompany you for the trek.
There are shared jeeps for most of the places that are shared by 10 people so book front two seats for you if you want to travel comfortably.
Internet is not smooth in most places except Gangtok so preplan your trip and have all the important info that you want saved on your mobile or laptop.
Lets talk about my trip, I booked my tickets 2 months back and got them for 7k roundtrip to delhi, this was my first time flying with vistara and it was really as they say "fly the new feeling" for me. The service was good and the big surprise for me was that I wasn't expecting a single meal and I got a full meal plus a snack as my flight had a small halt at Guwahati airport. This new venture of Tata and Singapore airlines deserves a thumbsup and I would love to fly with vistara again.
I spent 10 days and covered north,east and west spending 25k (food, travel, accommodation).
Day 1
I reached Bagdogra airport at about 14:30 and was already very happy with the service I got in my flight and took a shared innova to gangtok for ₹750. You can also go from bagdogra to siliguri and then take a shared jeep to gangtok it can save you ₹200 but I chose comfort over saving.
Reached Gangtok at around 19:30 and checked in to my already booked place in Mg Marg called Go Hills. It was a kind of hostel that had two 4 bed dorms and a private room. I booked the dorm bed for 700 but to my surprise I was alone, had a chat with my host and then left for dinner. I had already searched a lot of travel blogs for nice places and had Khan Uncle's kitchen on my list it was close to my place but was full and I had to wait for half an hour for a table, so I chose to use their takeaway counter and ordered a chicken wrap and it was good. After having the wrap I went for a walk and came across a shop serving softy which are very famous on hill stations so I decided to have one and went back.
Day 2
I was supposed to go to nathula pass today and I prebooked that but due to bad weather it was cancelled so I decided to take the gangtok day tour with two other people (we shared the same cab from aiport to gangtok).It was a 10 point tour for ₹2000 but believe me out of the 10 only 3 or 4 were worth going like the banjhakari falls, Himalyan Zoological park(you can see the famous red panda), Rumtek Monastery & Tashi viewpoint (if the weather is clear), force your driver for these 4 points instead of all the 10 points. He will try his best for not going to rumtek but now is the time to show your negotiation skills.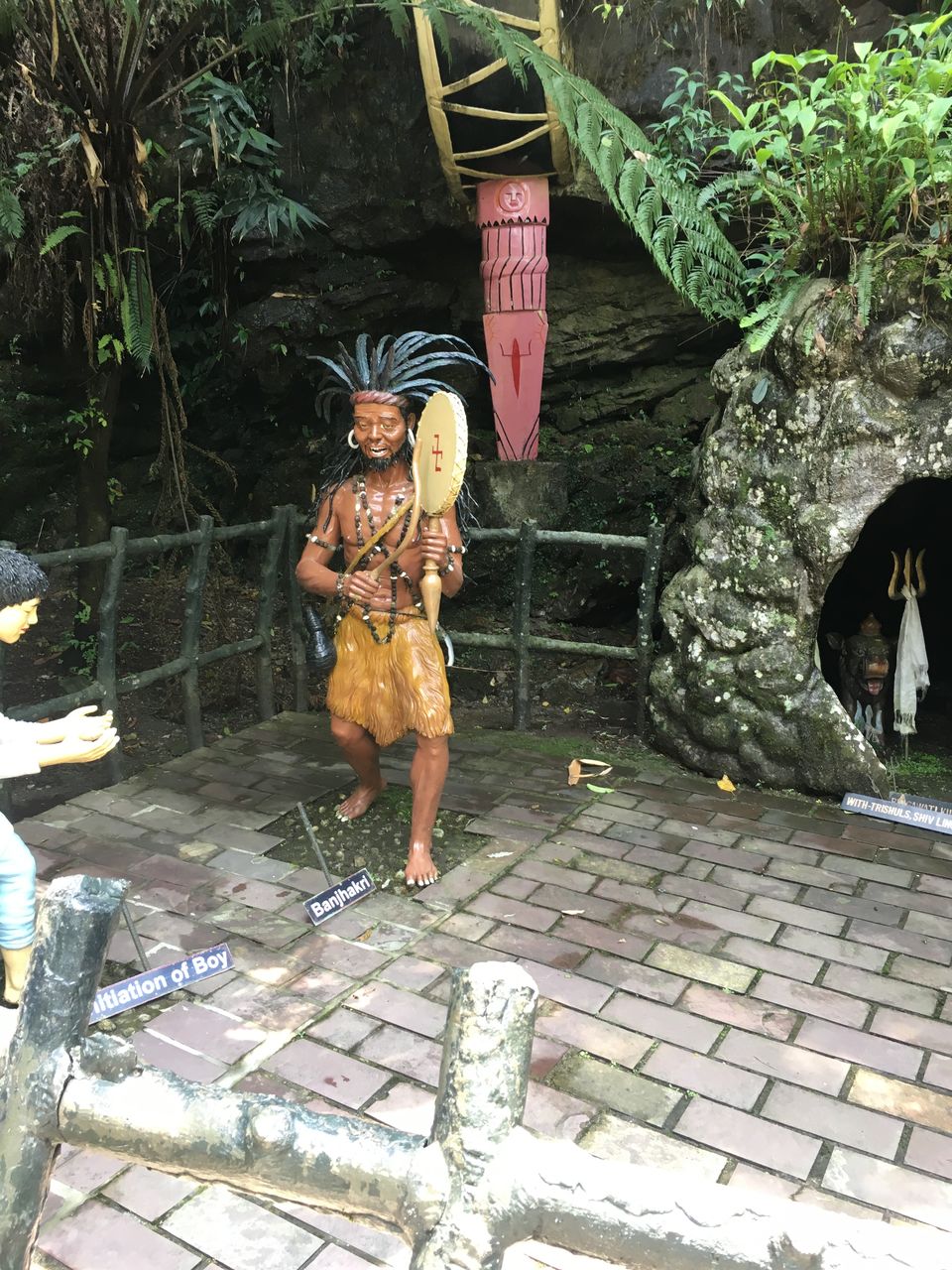 After completing the day tour he dropped us at Mg Marg and we decided to meet for dinner at Khan Uncle's Kitchen, meanwhile I started to search for a good travel company to book my trip for North Sikkim and I was successful in booking a good trip for three of us for ₹5k each. It was 2nights 3 days and our own reserved car. We met later for dinner as decided and the restaurant was yet again going full and we have to wait for our table, the food was good and so was today's day.
Day 3
We had to leave for lachen today so I woke up early, packed everything, went for my breakfast at the bakers cafe, met the other two and left for vajhra stand where the ride was waiting for us. It was a new bolero car but the driver was missing and then he came with his bright and cheerful aura. The guy was nice, warm and gave details about everything that we passed by. I noticed a pattern of things while travelling in Sikkim everywhere you travel, you are accompanied by a river or its tributaries and you will find waterfalls everywhere as if they are municipal water supply but unlike them water is flowing 24×7. This time we were accompanied by Teesta river and saw naga falls (the biggest I saw in Sikkim) and a lot of small unknown waterfalls on our way to lachen.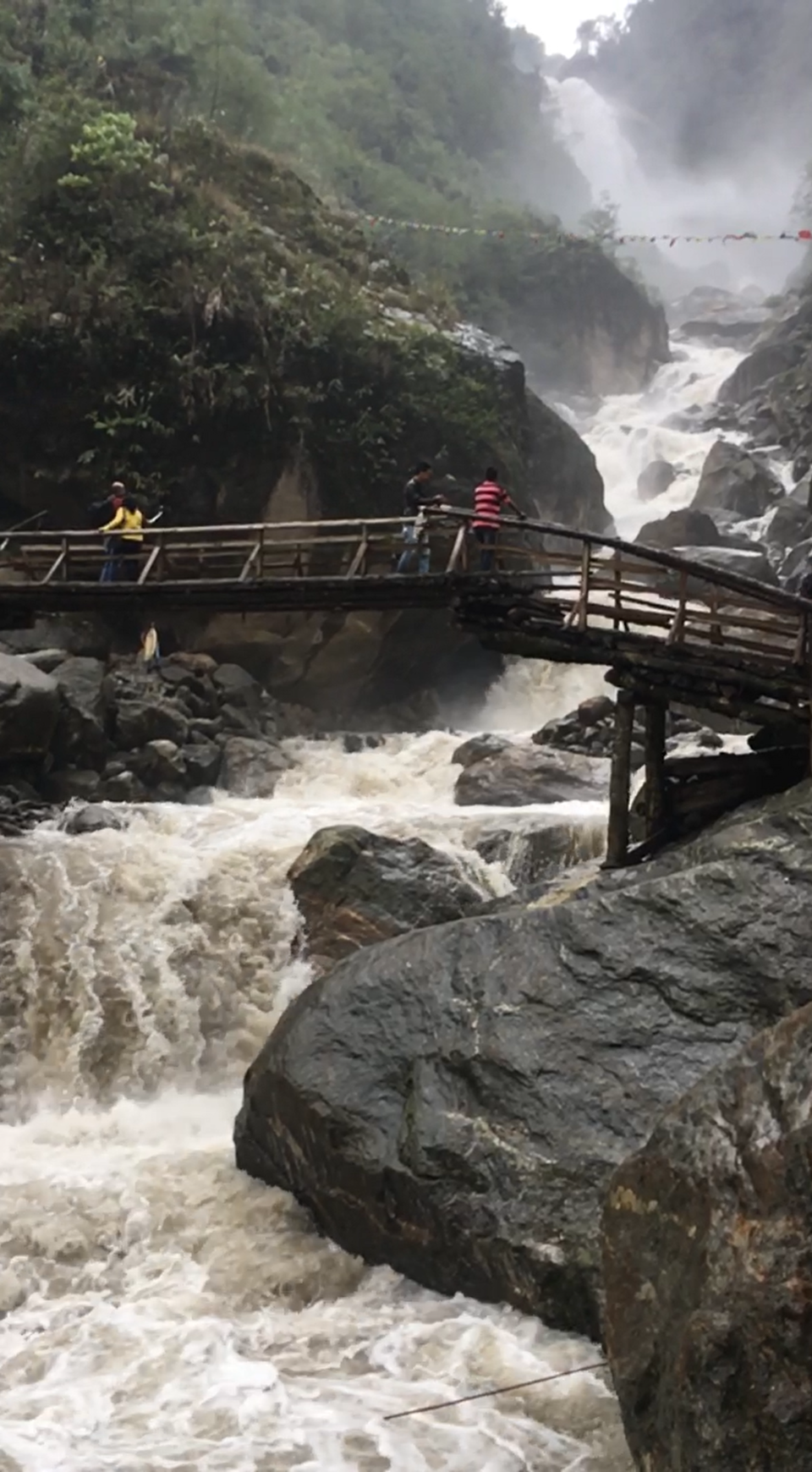 The 7 hr drive passed talking, listening to the driver's 90s collection & bit of humour. By the time we reached lachen all of us were open to each other and acted like friends, now we were 4 people instead of three. The hotel was par, I unpacked my stuff changed my clothes and went for a walk with the driver. We sat at local shop and he started his routine drinking schedule and people were coming and we were having random conversations with people, some in hindi and some in nepali (which I was just guessing).Then came the time for dinner which was not even par and I used pickle for flavours and went to sleep early because tomorrow's day was meant to start early.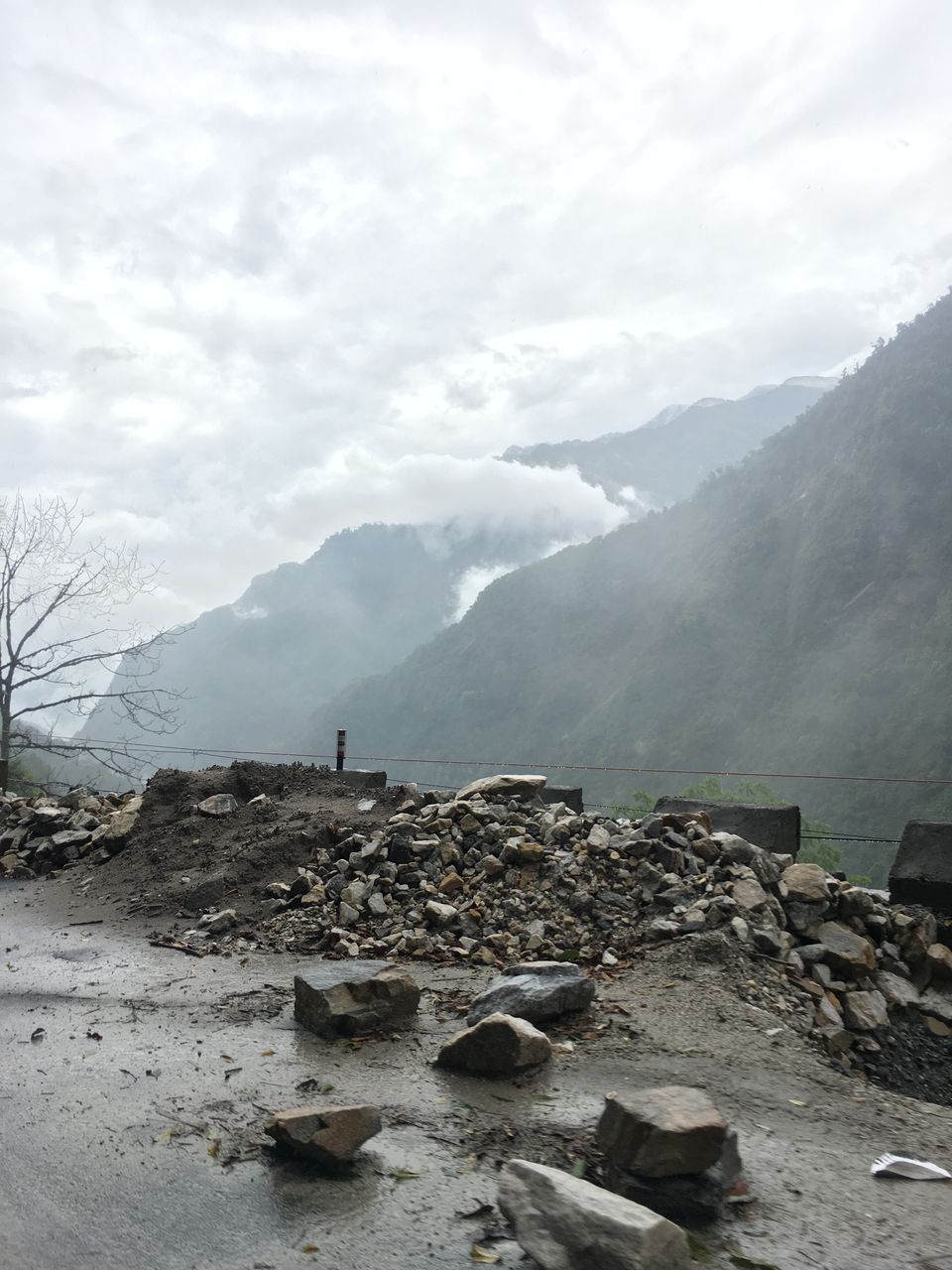 Woke up at 5 had a splash of water on my face, brushed my teeth and hurried down for the ride, as we were already late for the 7hr drive to gurudongmar lake and back. There was partial light outside and we started our journey @5:30 and this time we were accompanied by rangit river & clouds and then there was sun rising from the snow covered mountains and the scene was so mesmerising that you could look at it for hours. With the rising sun the temperature began to rise and became more comfortable, we stopped at the breakfast point and that was a small shop overloaded with people, everyone going to the lake stopped there. The roads were bad and continued to become worst till the time we were 14km away from our destination, and then there was 14 km stretch of fresh & smooth tarmac, while the max speed of car earlier was 40 this time it was easily crusing at a speed of 80.
Finally we reached the lake and it was not that big but it was at a height of 17,800ft and people were facing oxygen problems. The lake looked normal but a quarter part was frozen (in the month of may) on the far end.I being better than everyone else (in my head) decided to complete a walk around the lake.
So I started walking and there were around 20 strangers who were walking with me and then slowly some stopped at a point taking selfies, so we were 3-4 left now and I was at the front with the camera in my hand recording the walk and kept on walking and suddenly I realised I was walking alone (the other 3 also stopped back). I decided to continue towards the frozen part and as I went ahead some strange noise was hitting my ear drums and it was weird and I could see foot prints of animals on the ground and I was scared as hell, I looked back but my friends were far so I didn't bother going back to call them and continued ahead. As I went towards the frozen area that noise kept on increasing and so were the no of scary thought in my head and suddenly I felt unconscious, I was waking for around 20 mins at a height of 17800ft and my body was low on oxygen. I sat down for a while and decided to go back, I just turned around and started walking back and don't remember a single thing properly how I walked back. I reached back to my friends and sat at a rock for 10-15 mins and became normal but still I was having minor headache. They told me that they were looking at me going there and there was a point when I was too far to be visible and they were worried and then the driver told me that i was lucky enough not to encounter a snow leopard. I went back to the car & rested there for a while, in the meantime everyone came back and I was fit again for the journey.
We reached back our hotel had lunch, packed bags, and were on our way to lachung. We reached our destination in 2.5hrs and it was very much similar to the previous one, the only difference was that the hotel this time was average. I was too tired to complain so I decided to sleep while the other two wanted their bedsheets to be changed. I woke up and went on the terrace for star gazing that was the only time I missed my dslr, which I sold recently because it was having some issues. The sky was clear, the moon was close to full and the light of the moon falling on the snow-covered peaks was giving an impression of some wonderland away from our earth. The dining hall was full and I had wait an hour for my turn, but even that wait was of no use because the food was pathetic. I left the food went to the shop bought two lays ate and went sleep.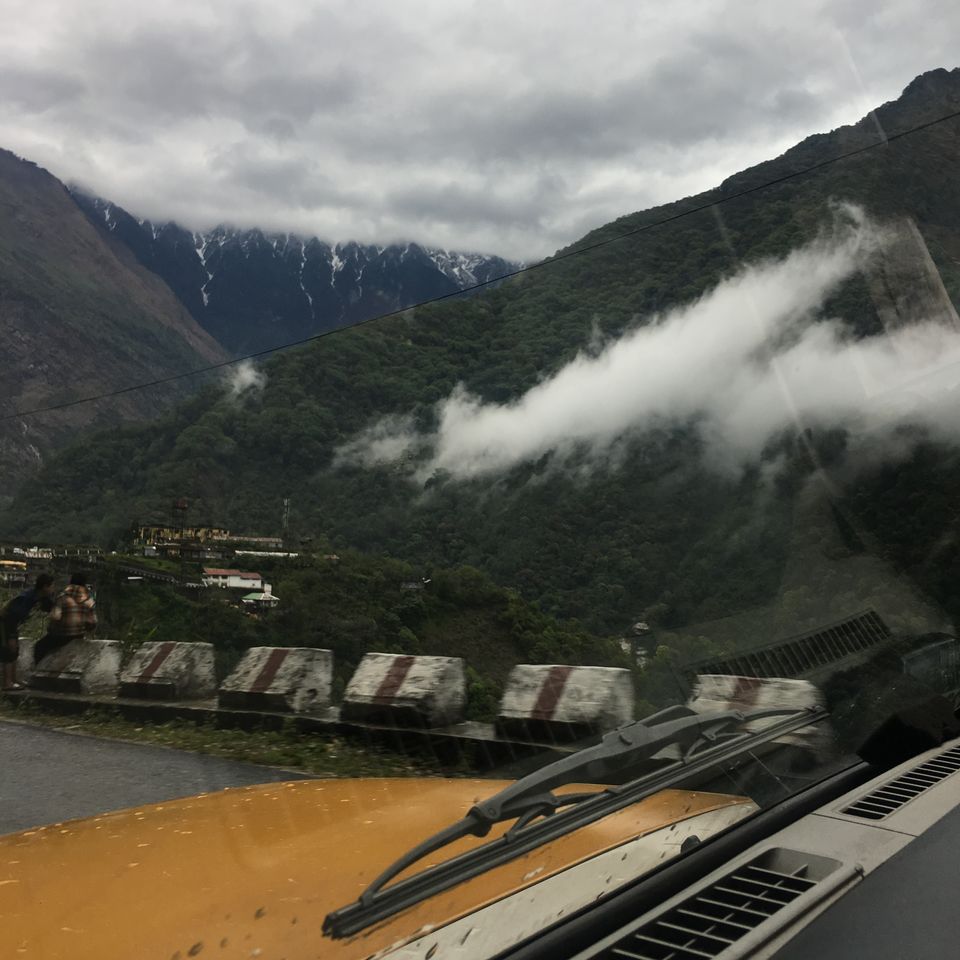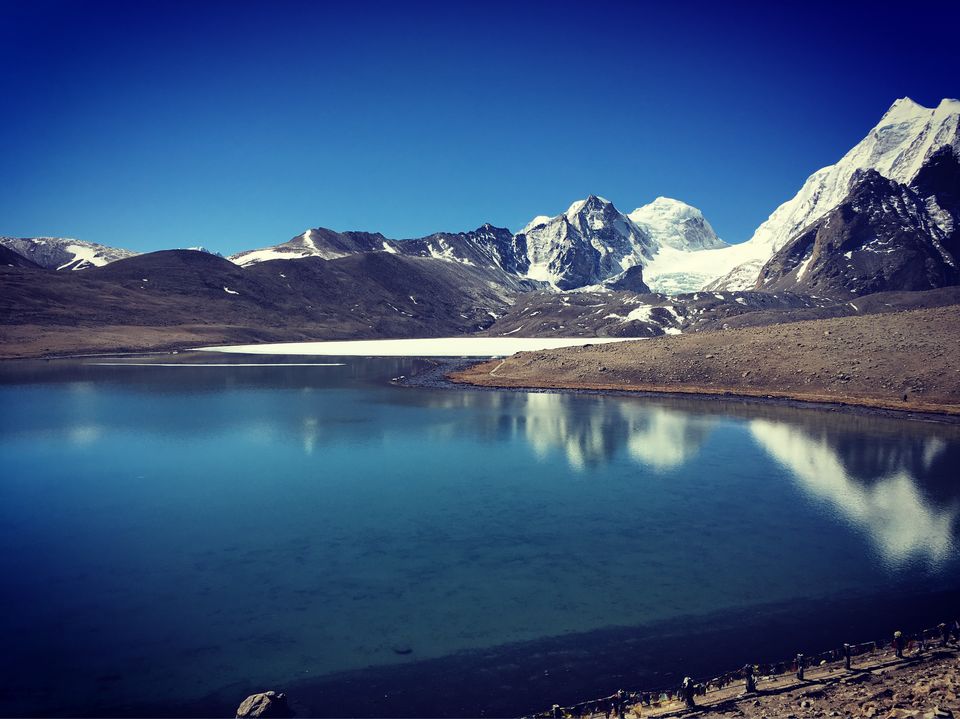 Day 5
Today I woke up at 5 and got ready but the driver was missing, I called him and he told me that he is staying in some other hotel. He came and we left for yumthang valley at 6, the valley was not that interesting so I was a bit disappointed. The driver asked for another 3k to go to zero point and after a bit of a discussion we decided to go and it was a good decision (you will know why). The road to zero point was bad(in terms of driving but beautiful all around) and I was again doubting my decision as I was not much impressed by the lake and yumthang valley but when we reached there all my doubts were gone. All I could see was snow covered mountains infront of me, I got excited and stepped out of the car and had one good look of the mountain because I was seeing snow this close after a long time. I was too excited to walk on snow that instead of taking the small bridge to cross the river I jumped on the stones to reach the other side. I started hiking and wanted to go to top, it was again more than 15000ft and oxygen was less so you have to hike for 2 mins rest and then hike. I did exactly the same after learning from my mistake yesterday and had no problems. I met a Bengali guy and we both hiked together but he was having problem to breathe so we decided to hike together we went up and then came a point where he was tired and I suggested him to slide down. At first he was afraid but finally he went down sliding and i went further up, the wind was increasing and the temperature was -2c. Once I was satisfied that I was on top, I decided to sit there and enjoy the fast blowing cold breeze to hit my head and that was a feeling I cant explain. After sitting there for 10 mins i decided to slide my way down and covered my legs with the jacket to prevent my trouser from being wet but I didn't help much. I met the same guy down, exchanged numbers and then we left for our hotel.
Day 6
We started our journey to East Sikkim and were told that due to bad weather Nathula is still closed, I asked the driver what is wrong with the weather is it raining heavily? "You'll see on the way" he answered and we were moving towards our first destination change lake. We collected the pass for the lake and I noticed on the pass that the lake was situated at a height of 12,400ft and we had already experienced a lake at 17,800ft so I wasn't much excited and I decided to take a nap. 15 mins later I hear noise of something hitting the windshield and I opened my eyes and it was a hailstorm and then the excitement started to build. It was a strong storm and the roads were covered with hail as we started to go up, the cars coming down were skidding and I was enjoying again. The driver said these was the bad weather (for him but I was enjoying it) and we may not be able to go further. Due to the hail storm there was traffic near the lake, the cars were skidding, some were stuck and we were stuck in traffic for an hour. This time the lake was beautiful surrounded by mountains covered with snow but we cannot stop there due to traffic. The lake is considered sacred and you cannot step on it, its frozen during the winters but there is one part that never freezes.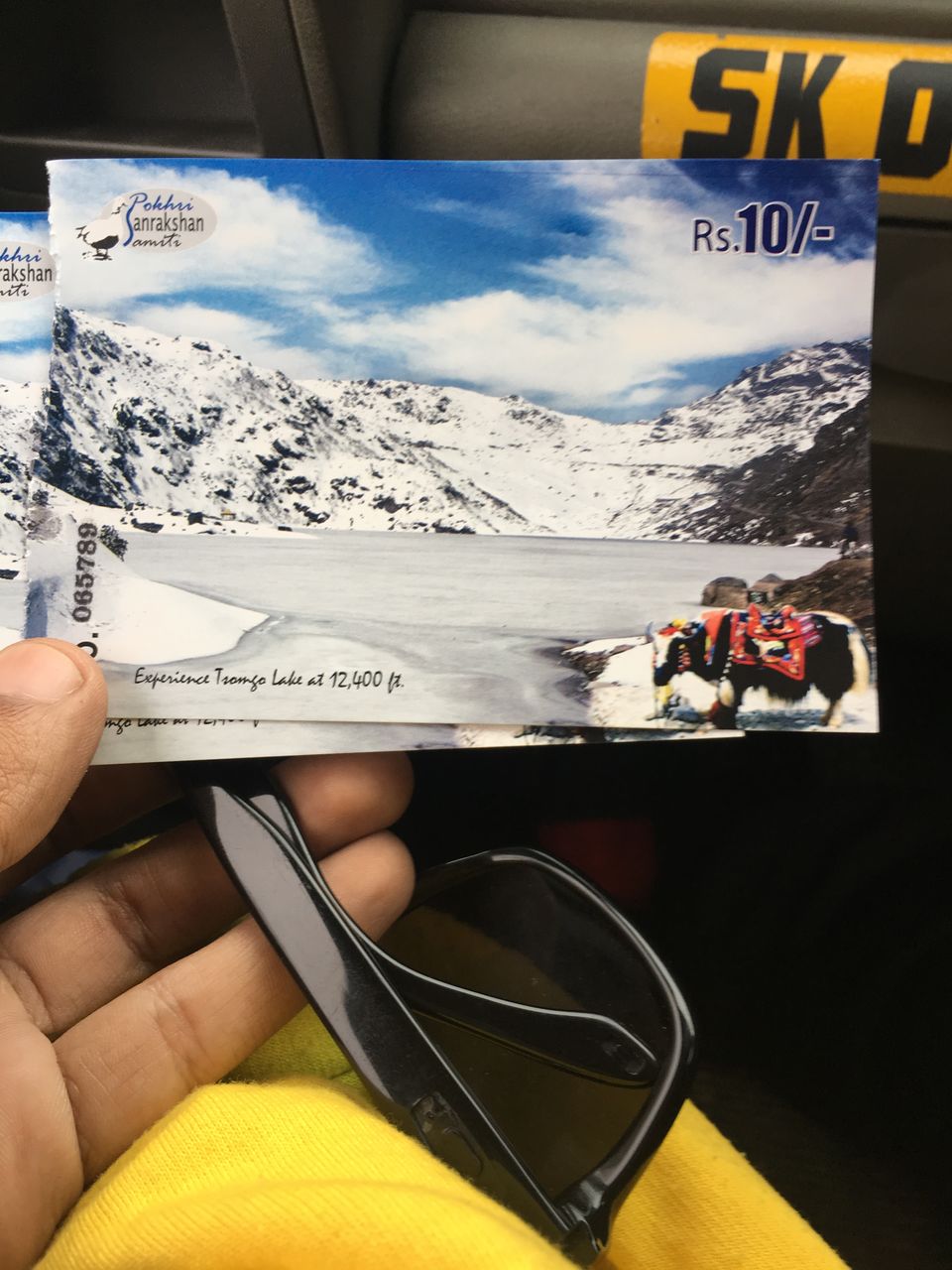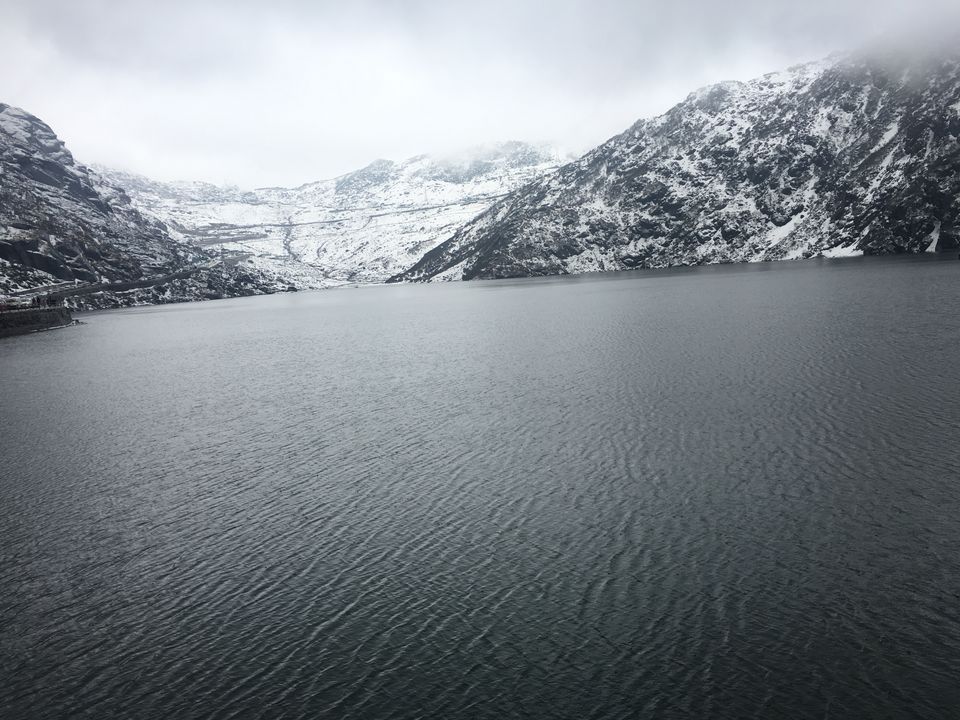 Finally we were out and were moving towards next destination The Baba Mandir, baba was an indian soldier and there are many stories about baba.
He is seen patrolling at the border by many Indian as well as Chinese soldiers. Baba Mandir
There are stories of baba slapping soldiers who sleep on duty.
He gets his yearly leave and a train ticket is reserved for him.
We went to baba mandir and there was a soldier serving Prasad(holy offering) and he was from my home town so he packed some Prasad for us(it was delicious). The driver then told us that this is the New Baba Mandir and we will visit the old one also. This mandir is the last stop for most of the cars so as we moved further we were only two vehicles and the Exquisite scenes were turning into dreams. Two cars, empty roads, snow covered surroundings and everything including the cars was white. There are times in your life when you can't explain you feelings and all you have is a big smile on your face which explains everything.
Next stop was the Old Baba Mandir or Baba ka Bunker as it was called, you have to remove your shoes to go in and wear the slippers, and it was to cold for the shoes to be removed. It had all the personal belongings of baba his clothes, shoes, bed his desk everything. We took baba's blessings and then moved forward towards our final destination of our day Gnathang Valley.
The exquisite natural surroundings were accompanying us and as we moved forward the visibility was dropping due to fog.
We finally reached Gnathang and it was a hamlet with merely 100 houses and 250 people living in one of the most beautiful and peaceful places in this world away from all the hassle of the city life. There was no mobile network and everyone in the village goes to a particular spot where you will find some network. Our home stay was a climb upstairs from the village and you can see the entire village from there. The rooms were beyond my expectation and even the food served was the best I had in Sikkim till that time. The weather in that place was changing every minute, you see clouds covering the entire village and leaving in a couple of minutes. I sat outside my room and enjoyed the weather with the tasty pakoras and chai served by the homestay owner. The day was tiring so I had my dinner and slept early.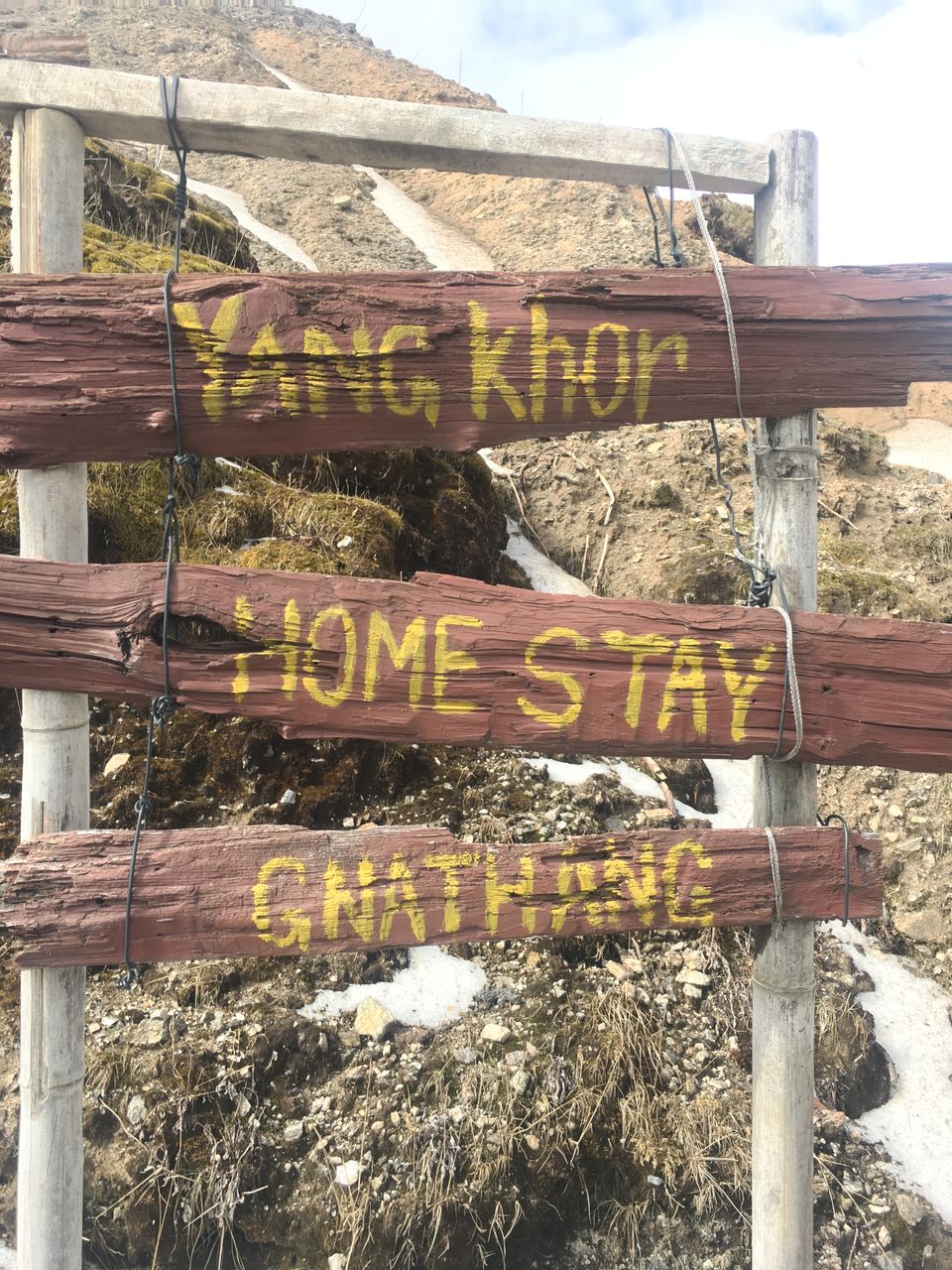 Day 7
I woke up early and entire village looked white we had snowfall(maybe hail) last night and I again sat outside my room and decided to read for some time. The time was 5, none was awake and the only thing you can hear was the breeze, birds and the bells ringing in the yaks' neck. After a long time I woke up so early without any reason and I enjoyed that moment being lost in the nature, which was the first time in my life that I felt like I am a part of this beautiful nature. Then to my surprise I saw that the owner was already awake and she was preparing for breakfast. I went inside and she offered me tea and she told me that she lives alone and most of the people live alone as there is no school in the village, so all the kinds went out for studying. She told me to go on a village tour and see the monastery and the Krishna temple and I followed the same. I was familiar with monasteries but this was the first time I saw a Krishna temple that looked more like a monastery. There were hardly 7-8 tourist vehicles because this place is still a hidden secret in Sikkim.
I went back had breakfast and left for the old silk route and dzuluk, we were going to aritar after this on driver's suggestion. The silk route was trade route used by the Chinese and the Europeans to do business with India and is named after the Eurasian silk which was traded the most through this route. This part of silk route had 32 sharp turns and is followed by dzuluk which served as a transit point for the historic traders.
Dzuluk was also a peaceful place and I knew about it earlier but it was nowhere close to Gnathang. We had our tea in dzuluk and moved forward towards aritar. We reached aritar and the driver took us to a lake for boating and seeing the lake and its muddy water I wasn't interested and neither was anyone else. Then he took us to our stay and it was someone's farmhouse where we were staying and it wasn't looking nice. We regretted our decision of leaving gnathang and could have stayed there for one more night, so we decided to skip this place and move forward. The other two people were having their return flight so they went to Darjeeling and I went back to gangtok because I wanted to go to pelling.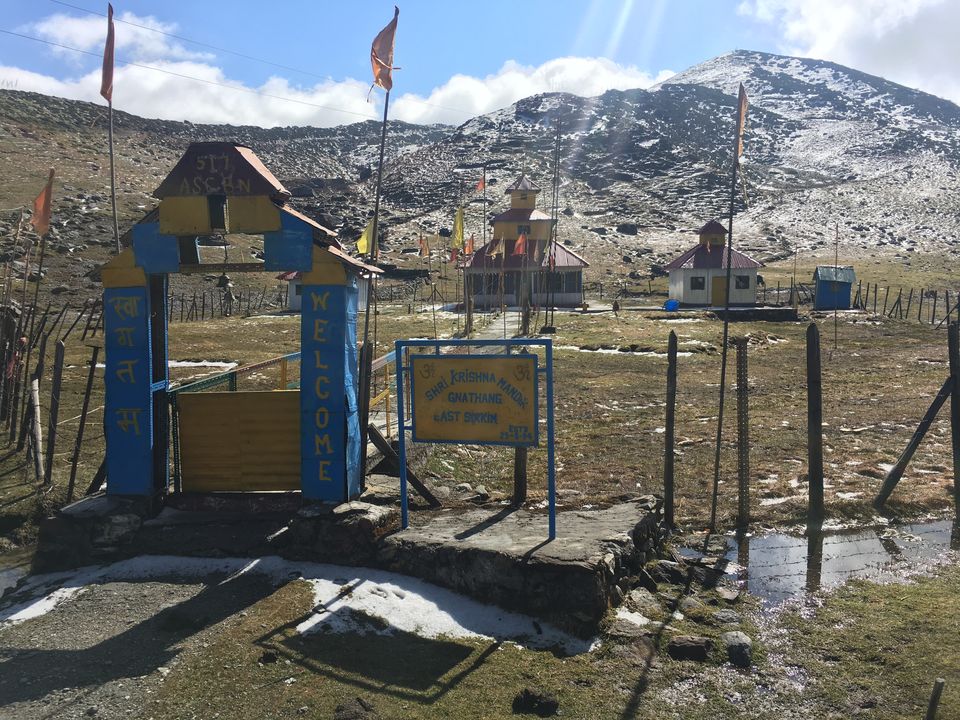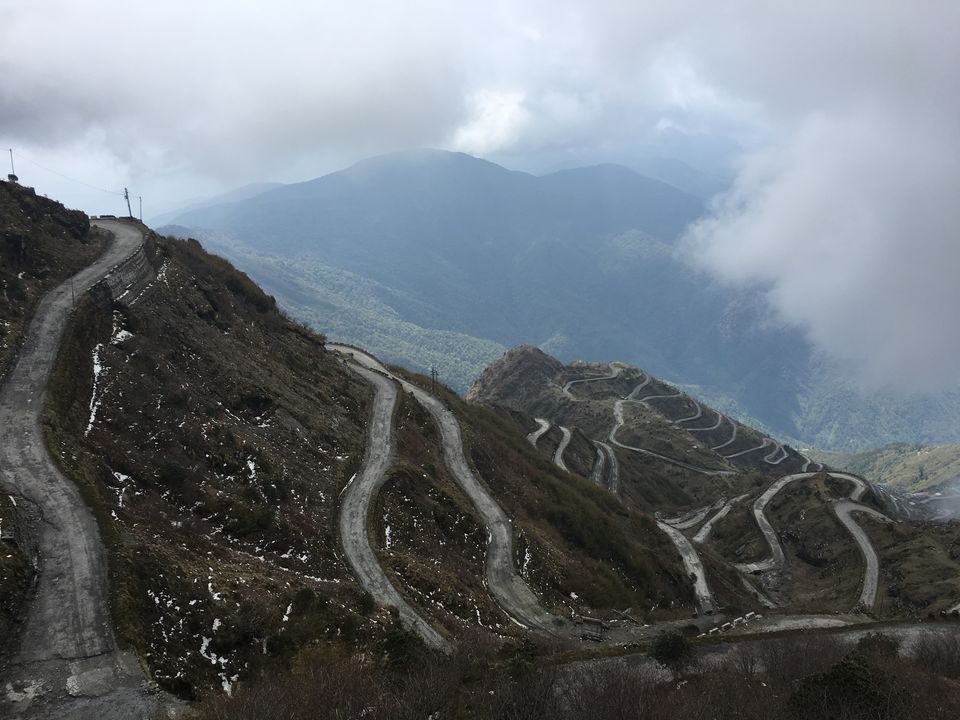 Day 8
I decided to stay in gangtok today because I was already travelling too much, I met a guy of indian origin who was from London and this was his first time in india and went decided to go to rumtek today. It was raining heavily since morning and it continued to rain till we reached rumtek, we entered the monastery and the prayer was going on, it was my first time witnessing a Buddhist prayer. All the monks were singing so beautifully and in sync, I had Goosebumps listening to them. The environment had its own peace despite the prayer, this is what they learn in these monasteries living a peaceful life. We sat there and waited for the prayer to complete and then left back for our hotel. Now the guy wanted to do something but as a foreigner you have many restrictions in Sikkim and most importantly you have to travel in a group of two, the last time I was in gangtok I saw many foreign travellers in a small shop near the tourist centre so we decided to go there. The shop was called Altitude travels and they organise tours and treks for foreign travellers so if you are a solo traveller you can definitely find someone there. He opted to go to dzongri trek with three other European girls(lucky guy).
I left him there to do the paper work and decided to explore the local markets for some Buddha statues but they were very expensive and then I saw a poster of a shop called Tribe India a govt initiative. I went there and was surprised the same statute that was for 4k on mg marg was of 2100 here and that too I got 40% discount on that. I was very happy with deal I got and went back to hotel and started planning for pelling. The other guy came and he was excited about his trek for which he was leaving early tomorrow morning, we went out for dinner together.
Day 9
I boarded the shared taxi for pelling at 1pm for which I bought the ticket yesterday but there was only 1 left so try book them in advance but to my luck the two guys sharing my seat did not appear and I went comfortably. The journey to panic was tough because the roads were bad and there was not much to see around as well. We finally reached pelling 7 in the evening and straight away went to the hotel. I decided to have dinner in kabur hotel, it was recommended by many travellers and the time I reached there I knew why. It was a nice rooftop restaurant setup in traditional sikkimese and Nepali fashion with local music serving local authentic food and Chinese. The food was good and the two kids working there were even good. They told me that they have rooms which I was unable to find online, they don't book online you can call and book.
Day 10
I went out in search of a taxi to Darjeeling and I was told that I can take a shared taxi to Gorethang and then another one to Darjeeling so I booked front two seats for me till darjelling and it was 400 per seat, but you can get that for less if you take it directly in morning. So I switched hotels and then decided to take a local tour but believe me it wasn't good. You see waterfalls, lake, a bridge and a village from far that's it, instead there is village nearby called Uttarey which is declared as an eco-tourism spot by Sikkim govt , it will definitely be more interesting than the day tour. You can pay your visit to Pemayangste monastery, it is one of the oldest monastry in sikkim and can be reached walking from upper Pelling.
I spent the rest of the day sitting at the restaurant and reading a book, you can even talk to other travellers at the restaurant most of them were having a group chat but I wanted my space to read my book. Do try the Sikkim food in the restaurant its good especially there thukpa.
Day 11
I was waiting for my taxi which was supposed to come outside my hotel at 7 but due to some repair it came by 9, by the time it came it started raining heavily and it kept pouring for hours. Till this point my stay in west Sikkim was kind of relaxing and there were not much experiences I was taking back with me and the experience was waiting for me on the way to gorethang. As I told you it was raining for quite some time so the road was blocked due to landslide and the machine was clearing it and we were waiting for it to be cleared and suddenly a big piece of rock came tumbling down and it went down the road infront of us and everyone was scared as hell. As I was sitting on the front seat I was having a clear view of small stones coming down signalling something big, everyone in the car were ready to jump out and run as soon as the see anything coming. The machine cleared the road and we went forward but the land slides did not stop I was all the time looking up and telling the driver to slow down or speed up whenever I see something, it felt like I was playing a video game. Everyone can see the big rocks on the road and knew that anything can happen but luckily nothing happened and we reached gorethang. The driver showed me the taxi to Darjeeling and I went there but my bad luck, due to the car breakdown this morning I was late and I wasn't able to catch the last Toy train ride which leaves at 4:20. So I stayed there and enjoyed the weather, food and bought some tea.
The next morning I left for the airport.
To have a look at all these places watch the video.
Originaly posted on my blog Momad
Frequent searches leading to this page:-
kalimpong gangtok, tour of gangtok, gangtok 10 point tour, gangtok itinerary for 6 days, gangtok pelling tour packages