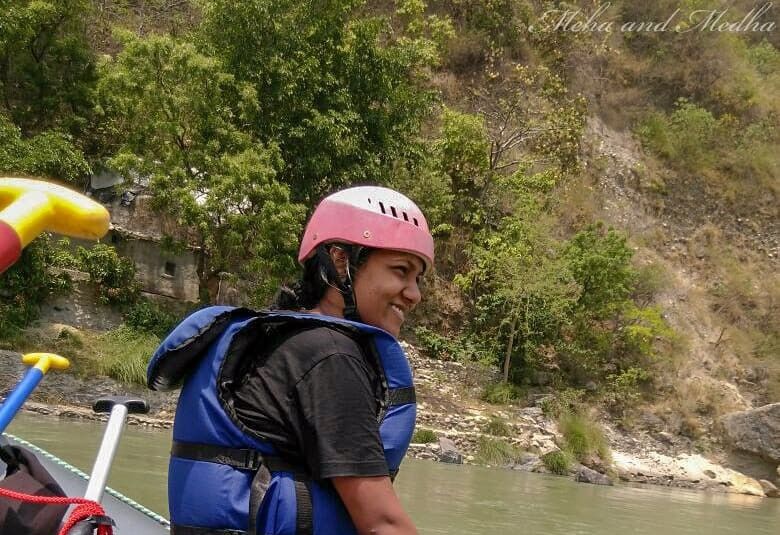 Rishikesh , located on the bay of Ganges is a perfect place to explore your Adrenaline rush. This place holds many adventure activities amidst of nature securing a perfect combo for self - realization; be it by meditation or by adventure sports.
5) Rafting : Present on the shore river Ganges , this place is already quite famous for river rafting. Ganga which starts from Gangotri makes steep fall till it reaches Haridwar. Just before Haridwar lies Rishikesh which has a perfect flow of Ganga for experiencing activities like rafting . There are three starting point for rafting - Marine drive(24km), Shivpuri (16km) and Brahmpuri(9 km). I suggest you to start from Shivpuri atleast and if you are a trained swimmer you can even dare from Marine drive. One can even try from Kaudiyala(32km) if they are trained professionals for rafting.
Best time to do- September- November
Cost- Rs 500-1000 depending on point from where you start.
4)Cliff Jumping - Do attempt a jump from a 10 feet cliff which lies on the way of rafting. This free fall from a cliff which leaves into some 12-15 feet deep into the water. You are then pushed by the bouyant water on the surface, trust me this is a one time experience everyone should always have!
This is usually covered in the rafting package and you don't have to pay for it. Enjoy body surfing in the water in with this.
3) Zipping - Not that popular for zipping , Rishikesh also offers zipping to you. You can have a breathtaking view of Ganga below you while zipping from one end of hill to another. It is a thrilling experience to see river Ganga flowing 200 feet below you while zipping.
Cost - Rs 1000 - 1500
2) Rappelling - Rappelling, also commonly referred as cliff climbing is also an interesting activity you can do at Rishikesh. But unlike normal cliff climbing, this is done under waterfall which makes it more difficult and even more adventurous than the normal one.
Cost - It costs Rs 600 for only waterfall rappelling and Rs 1500 for package consisting Rappelling, rock climbing and Trekking.
1) Bungee Jumping - Bungee Jumping is one of the most adventurous sports that one should atleast try once in life. And no other place other than Rishikesh can give you the best treat when comes to bungee jumping. Rishikesh has a 83 m ; yes you heard it right the platform from where you jump is placed 83ma and it the highest bungy of India. Jumpin heights is a government recognised adventure zone run by an ex- army person. The quality of products used for bungee jumping are excellent and platform itself is installed by an recognised team from New Zealand.
Youn read about the safety and details/quality of equipments on their webpage - jumping heights .
Go!! Try them ! Unless you understand what is your true strength!