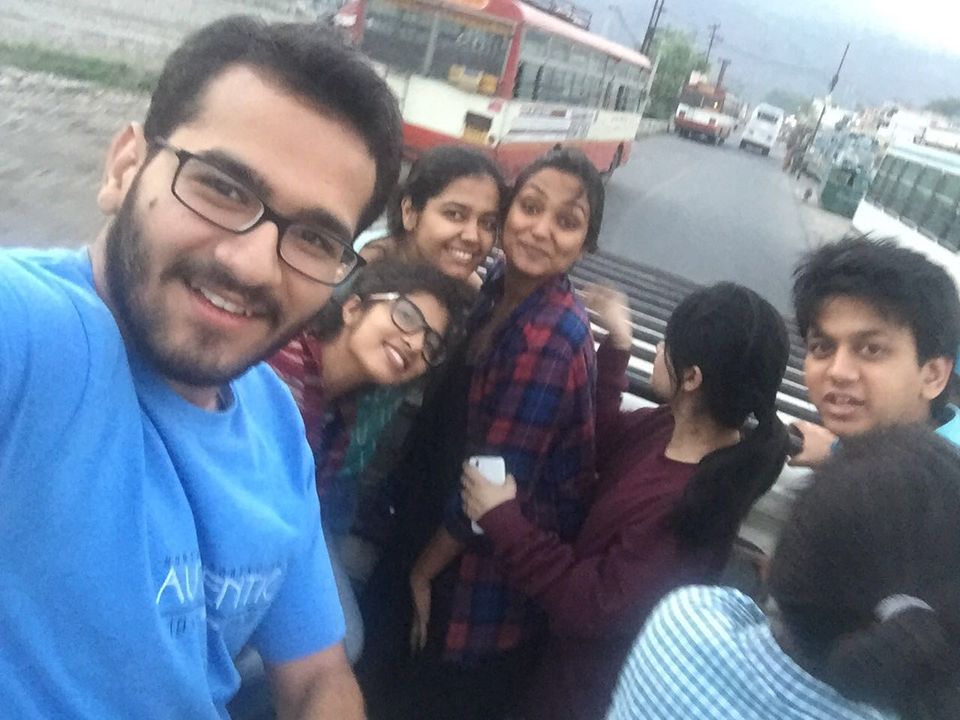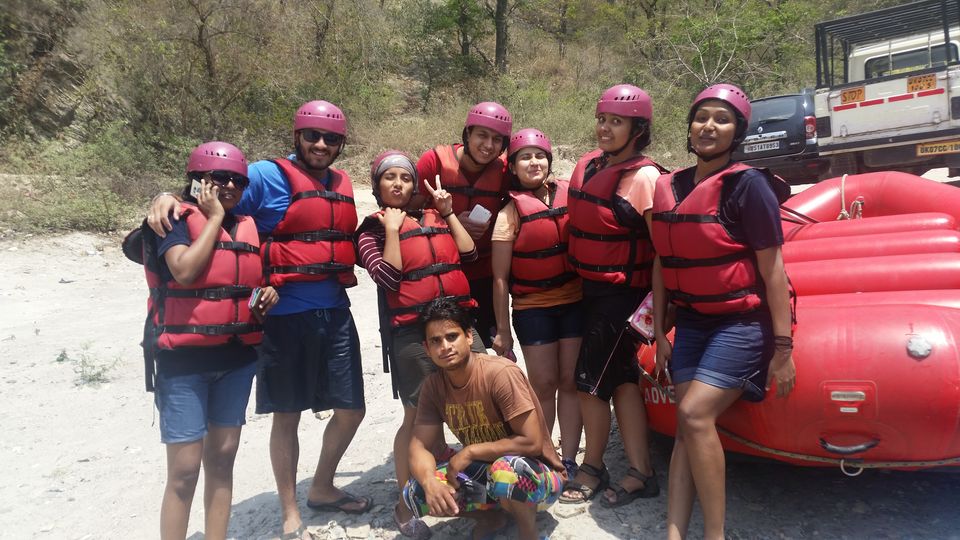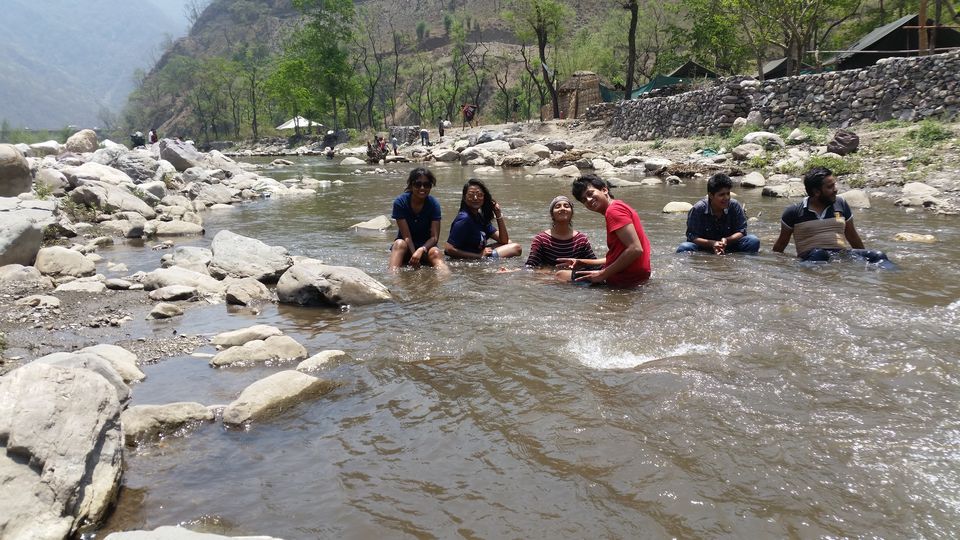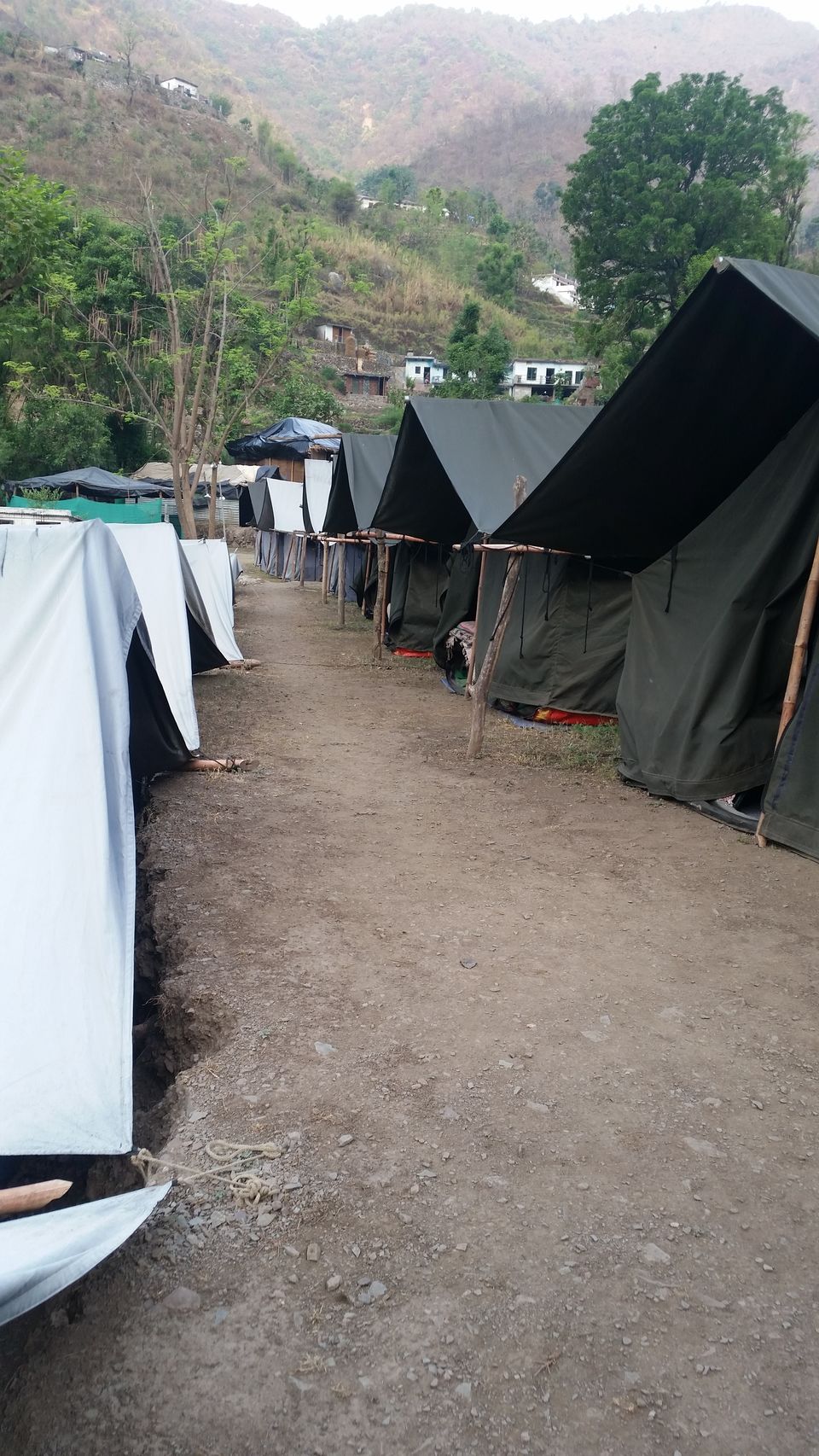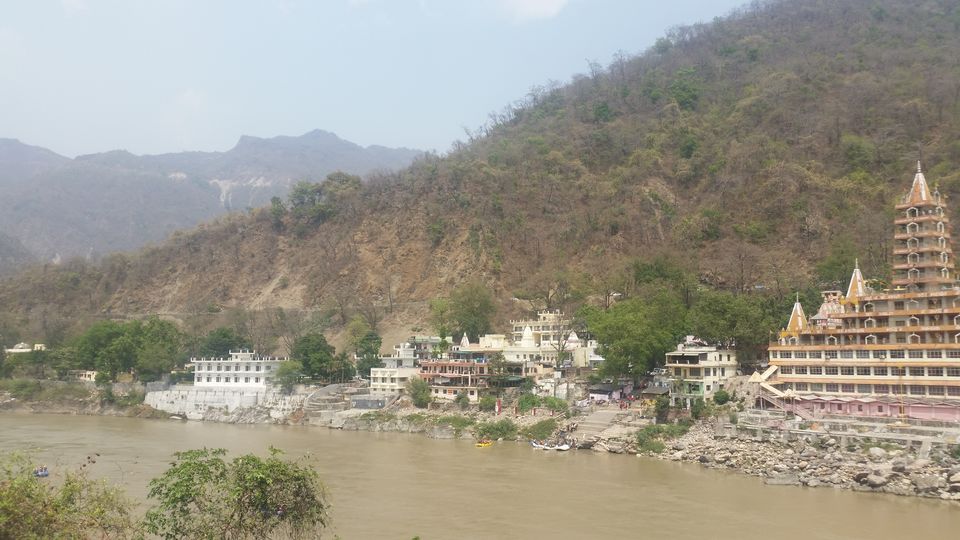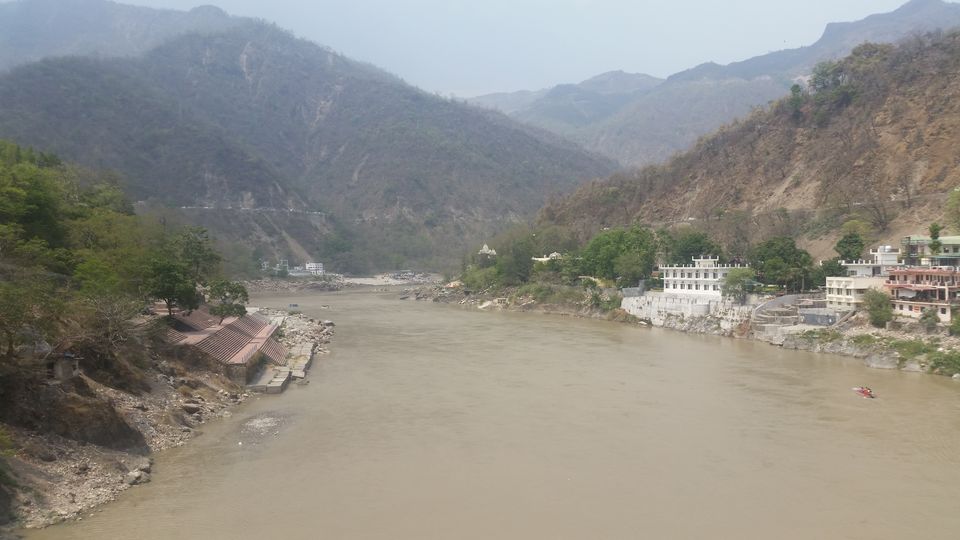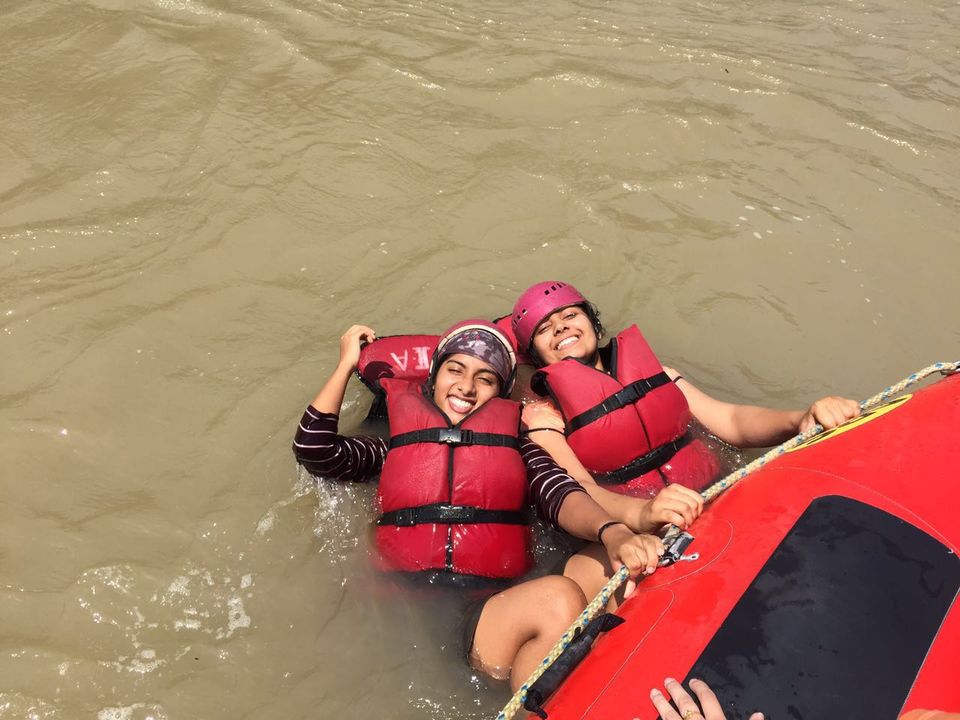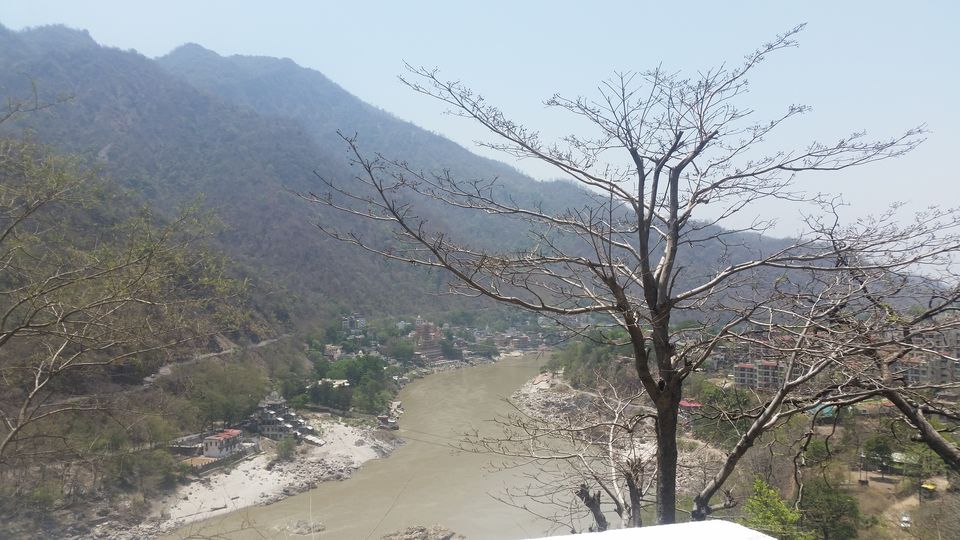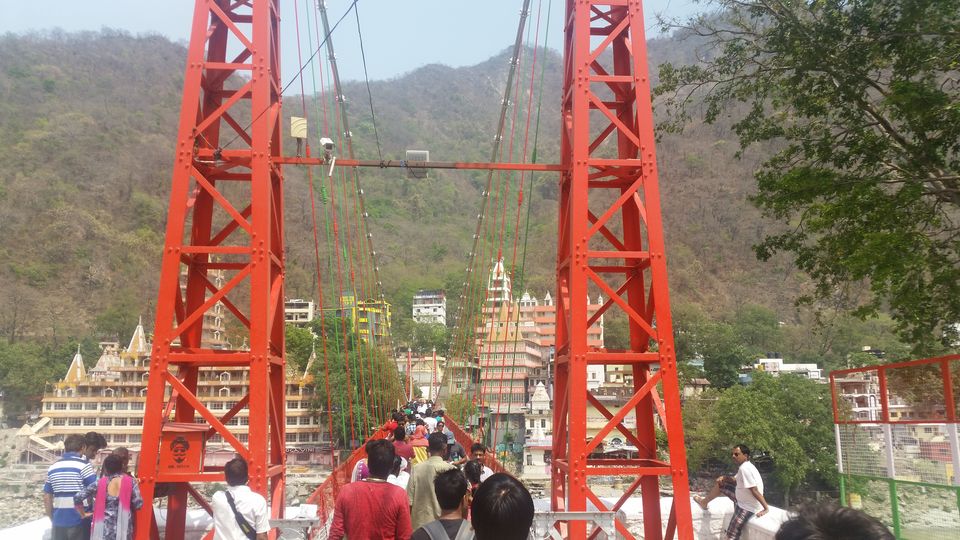 A back open jeep halts in front of us at 5 in the morning. We bravely scurried onto our jeep that was to take us to our camp in Shivpuri. Gliding by the hairpin turns, with cold air smothering our droopy faces, watching the sun contemplating whether to rise from behind the mountains, a scintillating view of the valley and river ganga royally gushing through and monkeys waking each other up was finally what landed us at our camp.
Situated on the banks of Ganga's tributary, Goa beach view camp is a pocket friendly back packer's camp. Nothing of the luxury sorts, bare minimum amenities- tents with 3 beds each, dimly lit, 3 decent meals and not so clean bathrooms, there is not much one can complain for the price we paid.
Our first adventurous stint for the day was white water rafting. Much to our convenience, our camp package was inclusive of white water rafting for 16kms. We geared up and set off to grapple the rapids.The scorching sun above our heads and the cool Ganges spraying our face and  most important of all, clutching on to the raft for our lives as the rapids lashed at us was an experience of a kind. 16km rafting offers around 7 to 8 rapids out of which 3 are highly dangerous and the rest are easy going. 
Reality  Check :  Back surfing is lying on your back in the calmer portions of the water while rafting. When camps offer combined packages, they include "back surfing" as though its a separate water sport, but all it involves is climbing out of the boat , holding on to the rope and floating. It's fun, no denial, but it's just a part of rafting.
Cliff diving is another "always mentioned" adventure activity in packages. It involves stopping at a particular spot while rafting and jumping off a barely 5 feet cliff. Due to the receding water levels cliff diving is not a safe option, especially if you're tall. 
Our adventure thirst had not quenched; hence we went on to do bungee jumping. And why not? While at the adventure capital of India, tick off as many adventures from your bucket list, and that is precisely what we did. Jumpin Heights offers India's highest bungee jumping site- 83ms. Though the prices are on the higher side- Rs 3500, it's an experience worth every penny. They have an unnecessary entry ticket of 100Rs and charge extra for photos (Rs200) and video (Rs750) but all that apart, Bungee Jumping down 83ms  is intoxicating. I have blogged about this exhilarating experience here. Give it a read and virtually feel yourself jumping off the bridge.
Exhausted and drained, we slept on our hard beds completely oblivious to mosquitoes, flickering bulbs and bats screeching. Having slept like babies, we started our day early and were off to roam the streets of Rishikesh.  Rishikesh has  a gazillion ashrams and yoga centers/ spots, but for non- yoga enthusiasts, the perfect ashram is Beatles ashram. It has a serene aura , absorbing graffiti and interesting architecture to consume. Clink here for a detailed blog on Beatles ashram.
A mesmerizing walk across Ram Jhula & Laxman Jhula at Muni Ki Rethi was the next on our agenda.The bustling narrow bridges which are similar in structure  carry humans, bikes and what not ! While I was wondering why these bridges are called jhulas ( swing) ,a  light breeze passed by and that is when I realised why they are named so . They sway! Built across Ganga River these swaying structures swarming with people are a must go. The view from these bridges are breathtakingly beautiful  as you can see the entire valley and the Ganges pushing past in the middle with crowded ghats and markets on either sides. To say these are the busiest part of the town would be an understatement. There are ashrams, yoga houses, cafes, a gazillion shops, temples and to top it all thousands and thousands of people. 
The city of Rishkiesh has wildly grown near these Jhulas, so once you get there, you can shop a bit, buy curios, attend an aarti in a temple and try out some amazing street food.
Reality check: The very famous Buddha café is closed. So, don't go searching for it.
After the Jhulas and shopping , it was time to go back to Delhi. A word of advice for those who land up there without return tickets – Never, I repeat NEVER take a private bus back especially not ANKUR TOURS AND TRAVELS as it is the worst possible decision one can make.  Rishikesh to Delhi is a 6 hour journey , but we reached in 12 hours.  Our driver drove under the influence of alcohol, he kept stopping to smoke, drove extremely rashly- all in all a bad experience. Government buses run more or less on time and they are cheaper, but getting an AC government bus is hard. Our decision to travel in Ankur tours and travels was due to an exasperated need for AC which in the end turned out to be a bad decision.
This was how are adventurous rendezvous with Rishikesh came to end. Till the very end from Bungee jumping, to rafting to roaming the streets, to beatles café and finally a never ending bumpy bus ride that got us to Gurgaon at 5 in the morning instead of 10 in the night. In the end, alls well that doesn't end well too!.
Trip Expense Breakdown :
Uttaranchal tourism AC Bus from Delhi : 700
Goa beach view Camp Stay : 1500 ( Inclusive of 4 meals, rafting and cab service for a day )
Bungee jumping at Jumping Heights : 3600 ( 3500 for the sport+ 100 for ticket)
Beatles ashram entry ticket: 150
Ankur tours and travel AC bus back to Delhi : 500 
Jeeps for Rs.30 to Rs.40 can be availed for commuting across Rishikesh and other near by areas. Buses are also easily available.