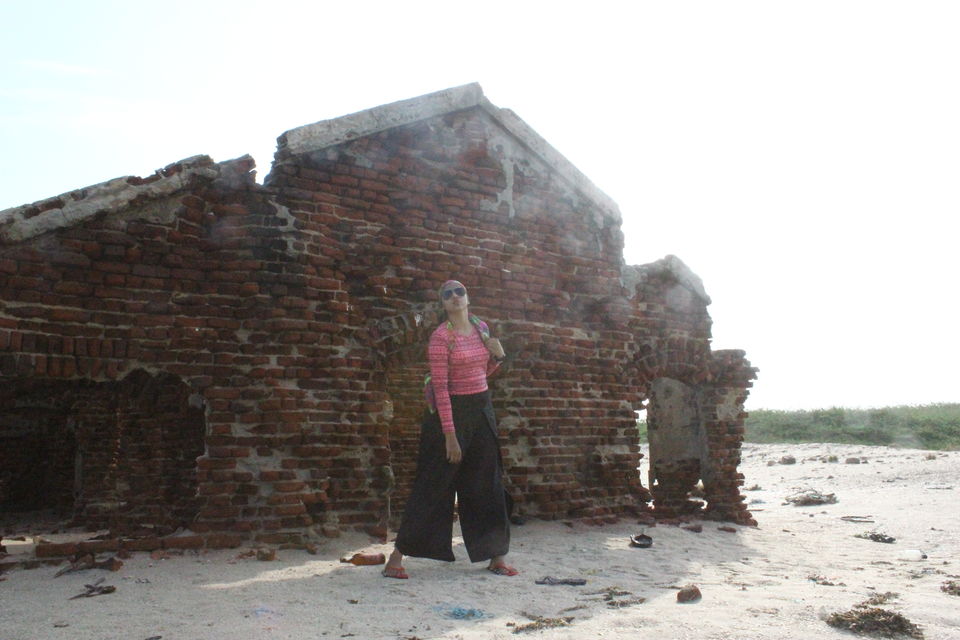 #CoffeeWithTripoto
I'd been dreaming about visiting Rameshwaram and Dhanushkodi for several years! I finally had the opportunity to make this dream come true. In this blog post, I will also include details of the planning that went into making this journey happen.
Dhanushkodi is one of the southern most tips of India. Several decades ago, this place played a prominent role in our country's history. It was a port; a harbour teeming with activity for trade right from the British years. Schools, homes, churches, ships, and even a railway station made this part of the country most accessible. It is also one of the closest points to Sri Lanka – a mere 31 kilometers away. Swami Vivekananda set foot here after visiting the west. According to Hindu mythology, Lord Rama built the Ram Sethu – the bridge connecting India to Sri Lanka – here. It gets its name from the fact that Rama is supposed to have destroyed the bridge with one end of his bow at the end of the war.
However, it is now a ghost town and this is exactly what made it a fascinating visit for me. It isn't really haunted, no. But, in 1964, a cyclone destroyed the entire city. Rameshwaram was a small town that didn't even have access to a railway line back then. It was Dhanushkodi that was the popular one. But, the cyclone changed everything and buried most of the city underwater.The tidal waves caused by the winds were apparently 25 feet high near Rameshwaram.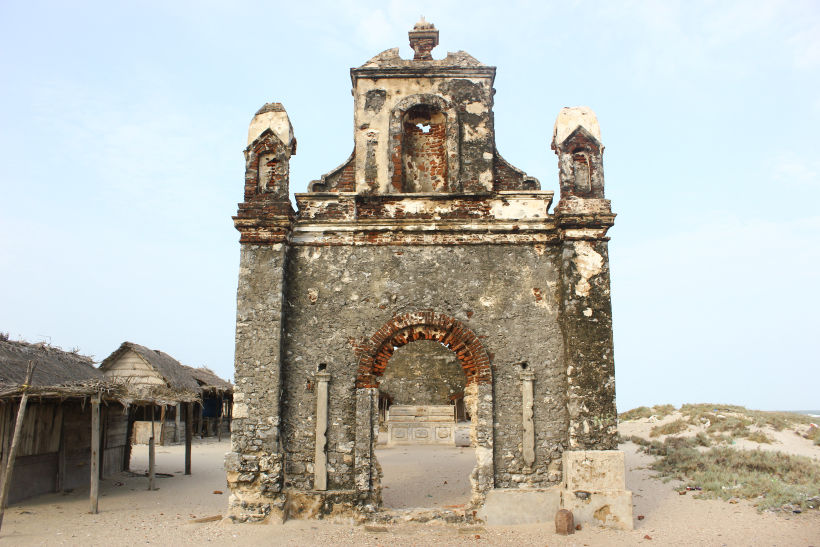 Reading about all this online before going there gave me the inspiration to see it for myself. The first step was to figure out how to get there.
There's no easy way to reach Dhanushkodi directly. The only way is via Rameshwaram since there's no place to stay in Dhanushkodi. But getting to Rameshwaram is a problem for anyone staying in Bangalore. There's no direct train to experience the Pamban bridge. Rameshwaram has no airport and the closest city with one is Madurai. And trains from Madurai to Rameshwaram are all overnight and in fact, there's just one train a week from Madurai. The only other option is bus and there are just three buses to Rameshwaram. SRS, KPN, and Royal Travels and each one takes 12 hours. We chose SRS and had a bad experience since he decided to drive slowly and stop frequently.
Hotels there are plenty but good quality ones are slightly on the pricey side. Typically hotels start at Rs. 1400 per night but keep an eye on the reviews as well. I remember such places having bad reviews. We stayed at Pearl Residency and it cost us roughly 2500 per night and included breakfast. My friend and I initially thought it was high but it definitely was worth it since hotels like these end up helping you get around. Our hotel put us in touch with friendly auto drivers and an extremely entertaining jeep driver. The food was good too considering it tasted more like home-made food.
The first day we got there, we decided to do some local sight-seeing since it was too late in the day to go to Dhanushkodi. Our hotel reception told us of a place called Holy Islands that had water adventure sports. In a place like Rameshwaram, that was the last thing I expected to find. Since we had nothing better to do, we decided to head over to Holy Islands which is a few meters away from the Rameshwaram temple.
It was brilliant.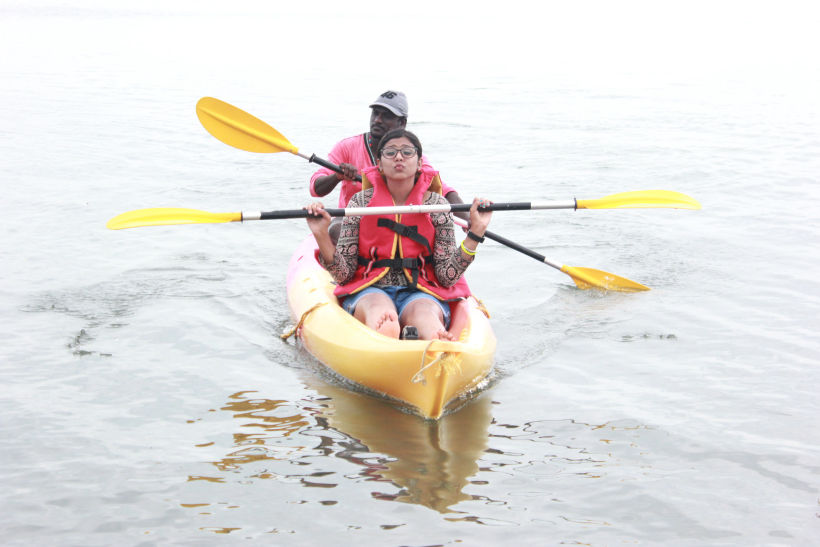 They had water sports on the beach and had everything from a simple boat ride and playing on the beach to jet skiing and snorkeling. The ocean floor around this part is filled with different species of coral and the water looked pristine. It wasn't too hot out and we ended up kayaking on the Bay of Bengal. However, we couldn't do snorkeling since they told us that since it had rained the previous day, the water was too muddy and we wouldn't have a good experience. They promised us snorkeling the next day and my friend was most excited about free diving into the ocean. I can't swim and while I was excited about snorkeling, I was worried.
We ended the day heading back to the hotel, ordering fries, and falling asleep since the bus journey to Rameshwaram had taken its toll on us.
The next day, we woke up early and got into a jeep to head towards Dhanushkodi. Typically, anyone can drive towards Dhanushkodi for 16 kilometers and then, one has to take a jeep or a local bus to enter Dhanushkodi. That's because the only way to get to Dhanushkodi is by driving through several kilometers of sand, water, and slush on barren lands. Our hotel got us a jeep and an entertaining, talkative jeep driver – Anthony – who told us the entire history of Dhanushkodi. He himself is primarily a fisherman and by the end of the day, he had introduced us to his entire family.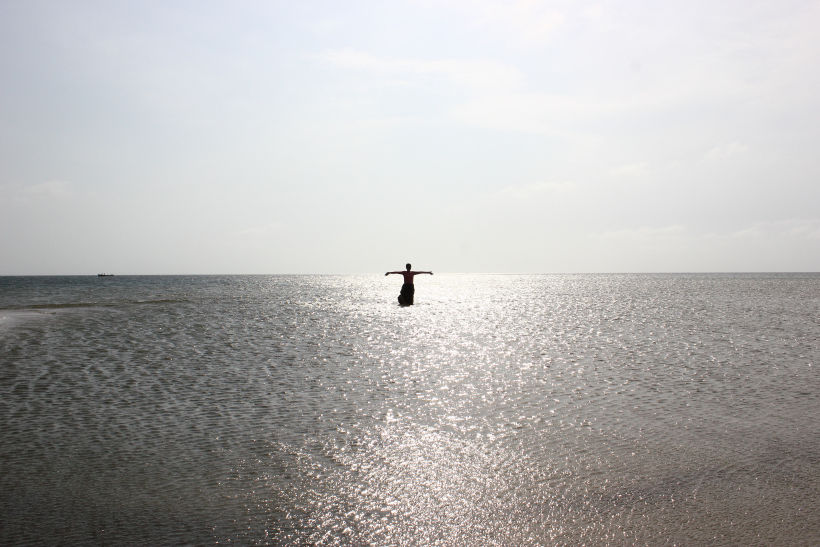 We crossed an entire water body by jeep and this is the part I most loved: the water was only knee-length and I could walk for several hundreds of meters without worrying about drowning. And it was also an excuse to take awesome photos against the rising sun!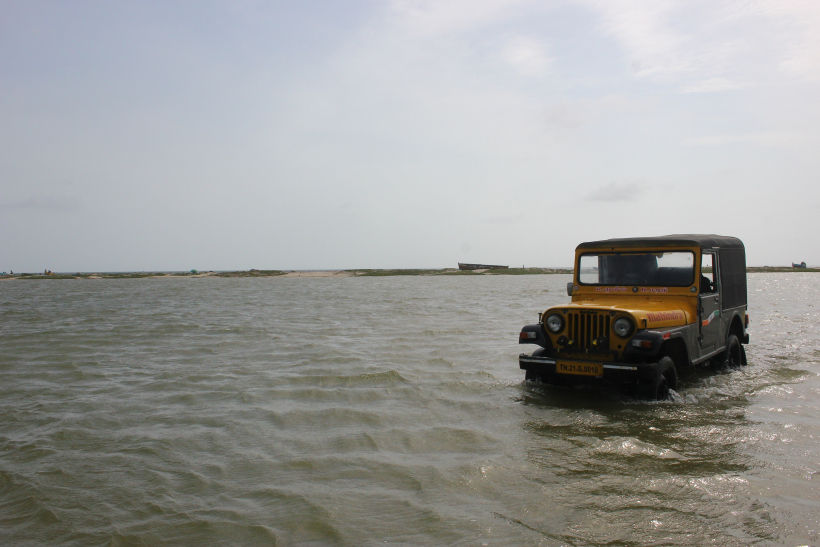 Anthony's kids tried to sell us shells and coral as expensive artifacts but he was quick in stopping them and pulling their leg. "What is this called?" he asked his daughter pointing to a small shell. "Ram Sethu stone," she said, smiling coyly. The cute kids seemed satisfied just posing with me!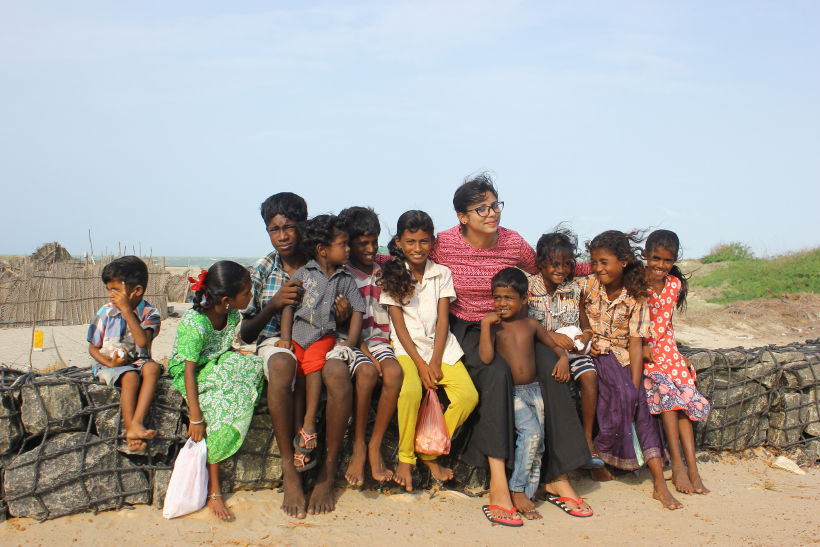 As I stood in the ruins of a church, I was overwhelmed with emotions. The people who died there were buried under several feet of sand. An entire city was under the ocean. Along with all its people. And I was standing there above all of their cries and tears and staring at the remains of what was once a city brimming with life and activity. Every few feet, I would spot a buried pillar, or the remnants of a house or a school. It's easy to read about such places and probably to watch a documentary as well. But, to be there in that spot, the silence of the place was enough to make you realize that the cyclone had erased any possibility of human life from there.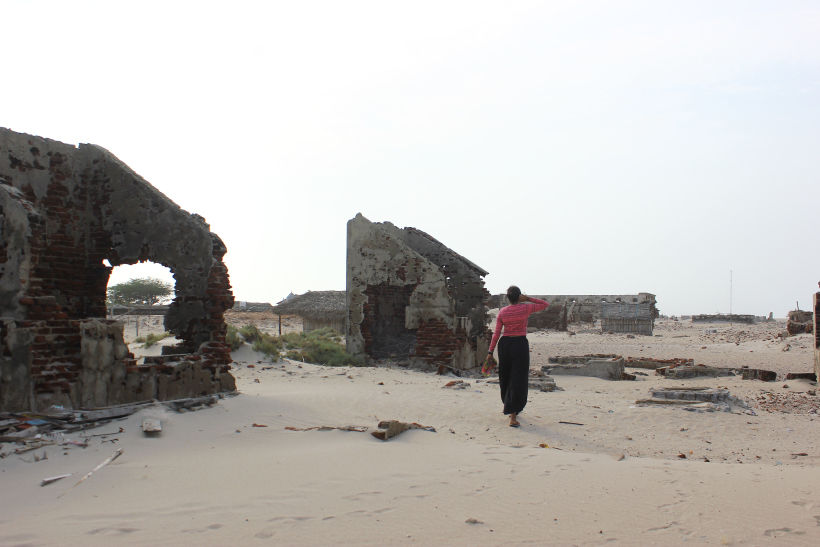 We grudgingly headed back towards Rameshwaram a good two hours later and did some local sight-seeing. We headed back towards Holy Islands to do some snorkeling but it was way to windy to take a boat out on the sea. And that's how we never got to do snorkeling!
It was already lunch time and all we'd eaten the previous day was idlis, vadas, and dosas. I was craving some chicken or some non-vegetarian food! We asked our auto driver – Alfonse Ravi – and he took us to a Muslim restaurant where one could get pretty good biryani. As we waited to get our order, the waiter came up to us and said, "You see that man, the owner? He's related to Abdul Kalam." It explained the whole lot of Abdul Kalam photos hanging around the restaurant.
Abdul Kalam was born and raised in Rameshwaram. After his death, he was buried here as well. There's a memorial built in his honour that anyone can visit. We never did visit his memorial since it was a little outside the town, but we did visit his house where they've converted the top floors of his house to a museum and preserved his awards and medals. The ground floor of his house is still occupied by his brother's family.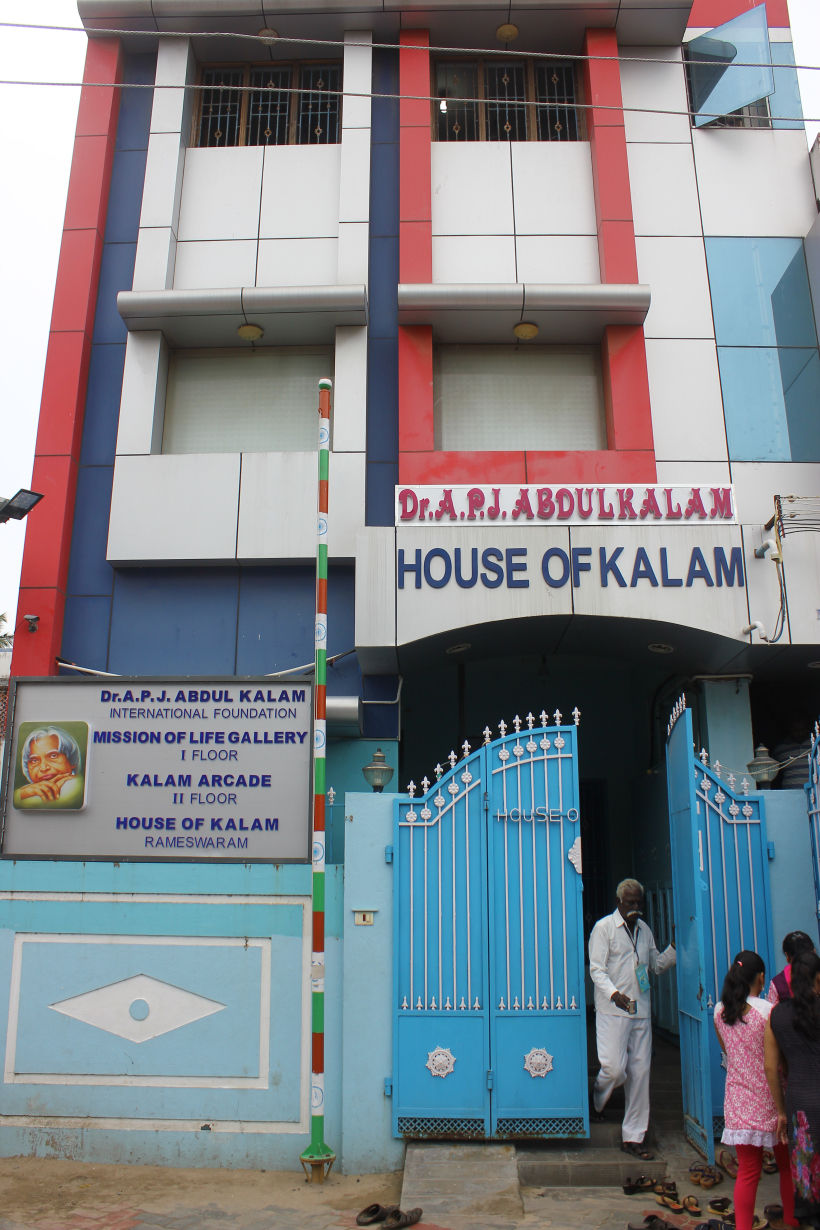 The biryani was surprisingly awesome! It was a welcome flavour in contrast to the vadas we'd been eating. The vadas were really good, but hey, nothing beats biryani!
We woke up extra early the next day to head towards the main Rameshwaram temple – Ramanathswamy Temple. This is a Shiva temple that is famous for its darshan. Their special darshan happens between 5 AM to 6 AM and there's always a 3 hour waiting queue. Most temples close at 12 and reopen around 4-4:30 PM; so if you're planning to visit temples, make sure to keep this in mind. The special darshan involves taking bath in the ocean followed by 22 dips in the temple pond. Only then, one is allowed to enter the temple for the puja. You will see people from all over India heading to this temple.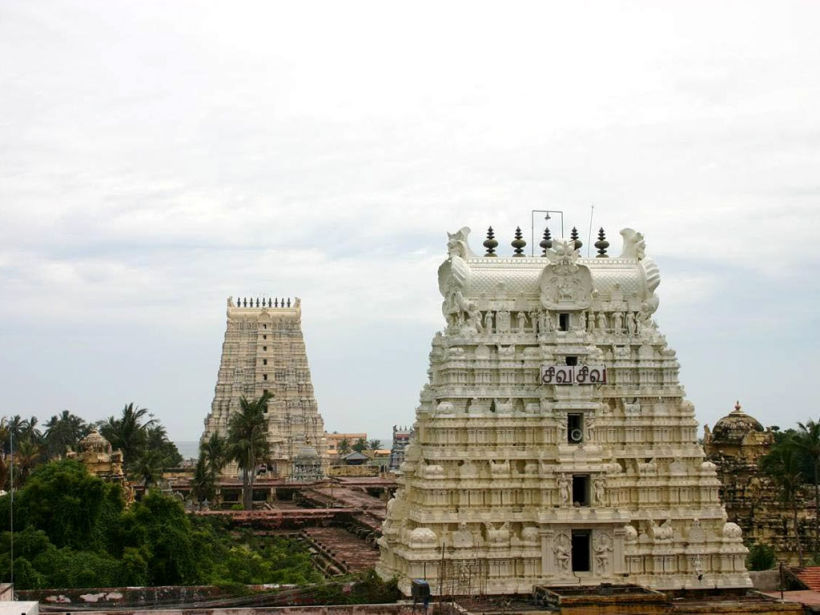 After visiting the temple, we were left with a lot of time on our hands before catching our bus back to Bangalore. I hated going back in SRS but we didn't really have a choice. We called our auto driver, Alfonse Ravi, and asked him to take us around. He was very sweet and offered to take us around to different places to make sure we weren't left with nothing to do. In three hours, we had visited all of the remaining temples and stopped to eat lunch. When in Rome, be a Roman, and don't eat Chinese food like I did in Rameshwaram.
Since we were left with ample time, we drove to Swami Vivekananda's ashram where he was supposed to have set foot upon his arrival from the west. It was incredibly windy and we took several photos on the beach to kill time. I loved how the water was rough and splashed all over my clothes … by "loved" I mean hated since my clothes got all muddy and had me rubbing sand off on our way back to Bangalore.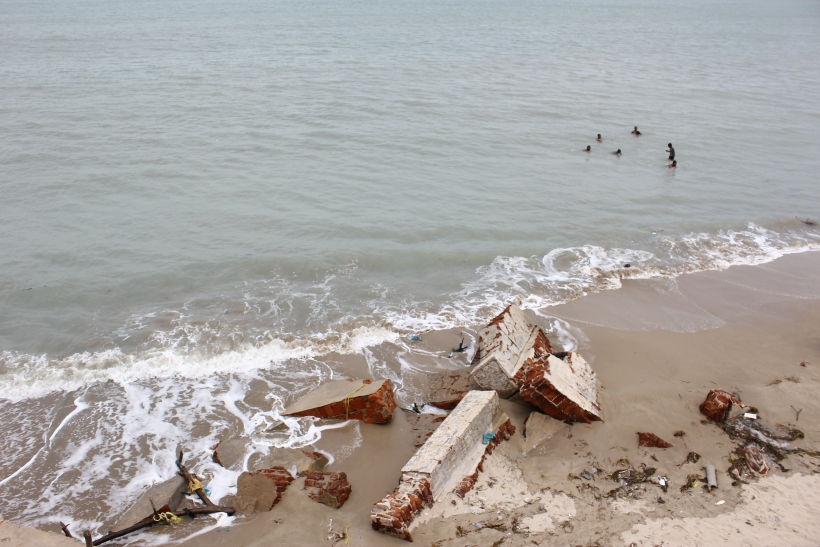 We visited the Marine National Park near the Mandapam base camp based on suggestions I found online. It was actually just okay and while I'm not that much of a marine enthusiast, my friend is and even he found it okay in comparison to the other options we had in hand. My suggestion would be to visit this place if you are on your way to Rameshwaram; it isn't really worth it to drive to it once you're already at Rameshwaram since it's quite far and you may end up feeling like it wasn't worth the effort of getting there. But, for people who are fascinated with remnants of marine life, you might enjoy it since their museum has several jars of preserved marine life that to me looked … um, interesting.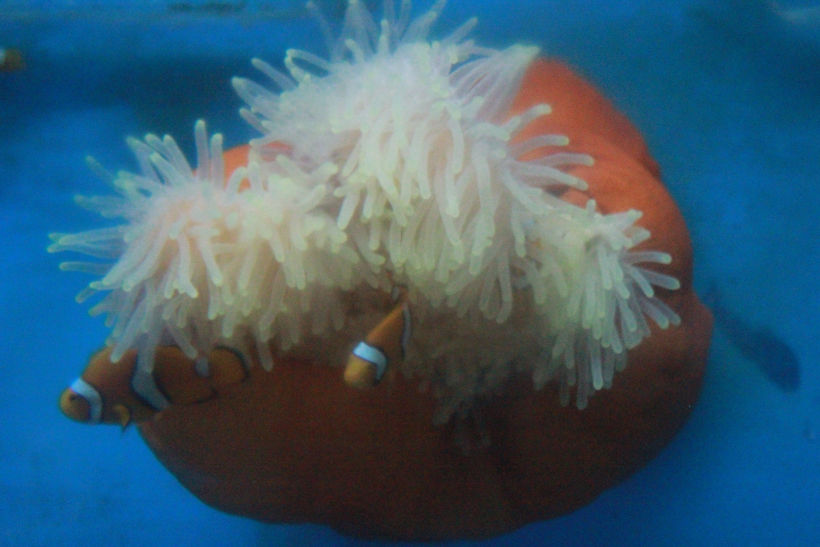 We drove down to Holy Island again for one last attempt at snorkeling after lunch … and we were left disappointed again. The winds were stable, but since it had been extremely windy the previous day, the water was again muddy. To ensure we weren't disappointed, they took us out on a boat to the coral reefs and showed us the muddy water through the glass bottom. My friend was extremely disappointed that he couldn't free dive into the ocean to touch the coral, but I was content that I didn't have to get into the water!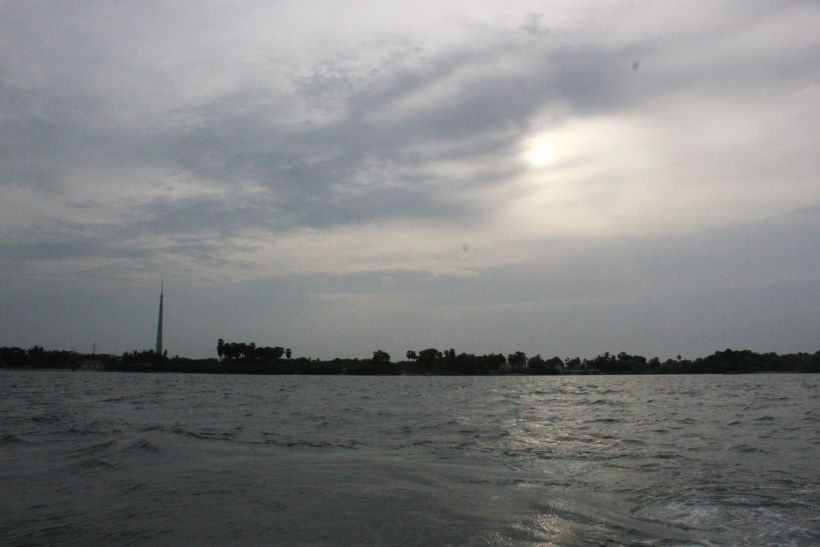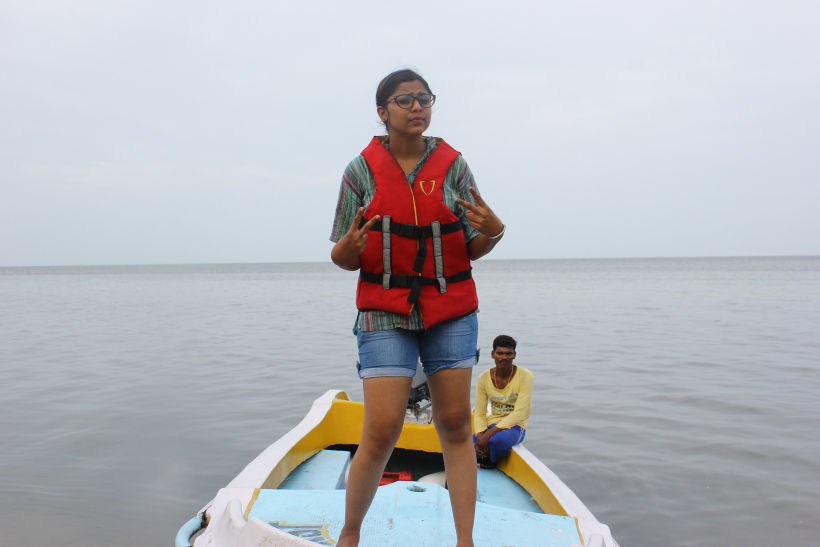 At the end of it all, as usual, I was craving for Maggi. I scanned our hotel menu the night before we left and realized that they didn't have it on the menu. My friend and I rushed out in the evening, bought three packets of Maggi and they were kind enough to cut vegetables and make Maggi just the way I like it!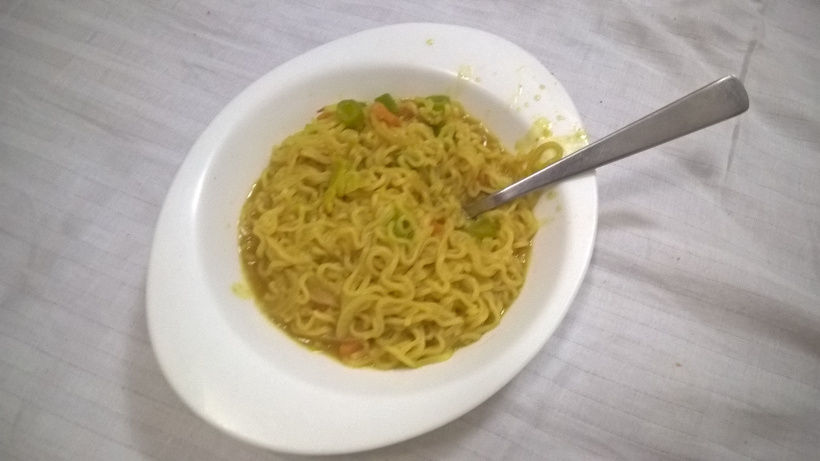 Even as we left Rameshwaram, even though I love water (and fear it at the same time), I had just two regrets: we didn't get to go snorkeling. We also never got to go by train on the Pamban bridge. The Pamban bridge is a low lying bridge just a few meters above the water that connects Rameshwaram to the mainland.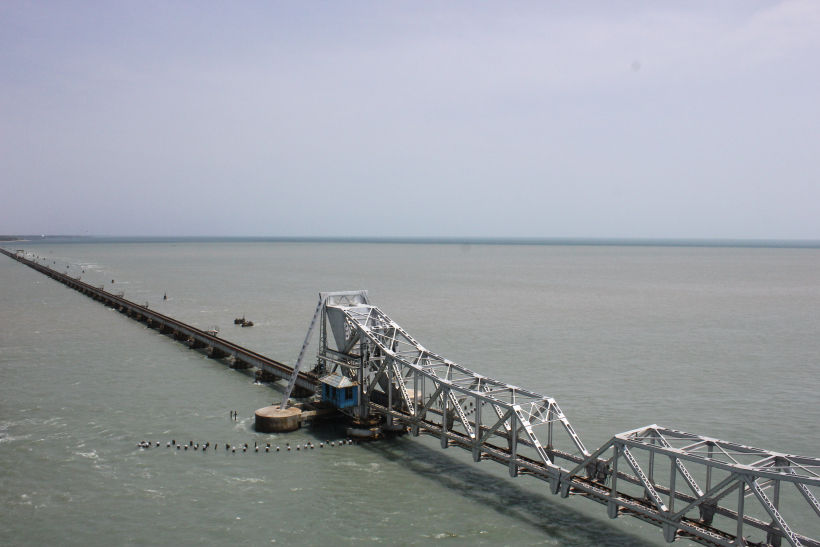 This was a beautiful trip, one that I'd been wanting to do for years. I left Rameshwaram satisfied that we'd accomplished doing almost everything we'd planned on doing. Sure, we missed the bridge and the snorkeling, but hey, that's what a second time is for!
And before I knew it, we were at the end of the trip! We'd visited quite a few places in just two days and I'm still processing some of the things I've learnt since going there. For those of you who want to try something off beat and different, this is a place to go to.
Check out this short selfie video of me walking in Dhanushkodi!
Also, the costs I mentioned for this trip is for 2 people.