Hang Son Doong Cave, located in the Phong Nha-Kẻ Bàng National Park (a Unesco World Heritage site) of Vietnam is the largest cave in the world. It is over 8.7 kilometres long and can fit a 40-storey high-rise building within its walls.
Opened for public tours only in 2013, each year only a few fortunate adventurers get to witness the out-of-the-world beauty of this mammoth cave.
Ho Khanh, a local farmer first discovered the Hang Son Doong cave in 1991 when he had taken shelter in it from a storm. He lost the exact location of the entrance and found it again only in 2008. He reported it to the British Cave Research Association, who were stationed in Phong Nha at that time. British cavers Howard and Deb Limbers were the first to explore it in 2009 and in 2010 and it was determined to be the biggest cave in the world in terms of the cross section.
This 2 to 5 million-year-old Hang Son Doong cave was formed as water eroded the limestone underneath the Karst mountain. It has its own environment inside with animals, lakes, beaches and a river. This cave also has its own jungle called Garden of Edam, where you might feel like watching out for dinosaurs, given the prehistoric aura of the place. Rare limestone pearls shaped by water drops over centuries are also scattered inside the cave. Its main chamber is more than 5km long, 200 metres high and 150 metres wide. The cave inside boasts some of the tallest known stalagmites, some as tall as 70 metres tall. Before Sơn Đoòng was discovered, the largest cave in the world was believed to be the Deer Cave in Malaysia.
How can you explore the Hang Son Doong cave in Vietnam?
The government of Quảng Bình has only allowed one operator, Oxalis to take adventurers inside the cave, to protect it from mass development that can destroy its fragile environment. The tours run once every week in the months of February to August, not allowing more than 10 tourists at a time.
Who can go on this camping expedition?
The level of this expedition is difficult and is meant for physically active people above the age of 18 years. The expedition goes across 25km of jungle and involves mountain trekking with elevation change up to 400m, knee-deep river crossing around 40 times, underground strong current river crossing and 7km caving complete with rope climbs, rocky terrain, scrambling and 90m ascent of the Great Wall of Vietnam inside the cave.
How much does it cost?
A four days and three nights expedition costs Rs 1,94,708 or US$3,000 per person, which is inclusive of the $660 national park fee. One night before and after the expedition is also included. The tours for 2017 were sold out a day after opening. You can check for available slots and book here for next year.
What if you don't have that kind of money and still want to experience the surreal world within the cave in Phong Nha?
Phong Nha is slowly attaining popularity as an adventure destination in South-east Asia. With thick forest cover, this place has hundreds of cave systems waiting to be explored. While I was there, I got a chance to explore three caves – Paradise Cave, Phong Nha Cave and my favourite, Dark Cave.
Other famous caves in Phong Nha are:
Hang Va: This cave is one of the largest and most beautiful caves in the world and is a perfect alternative to Sơn Đoòng cave. It is part of the Sơn Đoòng cave as they share the same water flow, and some of its stalactites and stalagmites are even more extraordinary than the ones found in the Sơn Đoòng cave. The expedition involves 10km of jungle and mountain trekking, walking on rocky terrain with an elevation gain of 150m, 3km caving in the river with a waist-deep water, with a temperature of 17 degrees Celsius and a 20m traverse using rope and harness. The expeditions are reserved for Oxalis and cost VND 8,000,000 or Rs 22,723 for two days and one night.
This cave is about 40km from Phong Nha. It is in one of the most beautiful untouched areas of Vietnam, where you can explore minority cultures amidst unexplored jungle, rivers and waterfalls. Again, only tour operator Oxalis is allowed to take expeditions here and it costs VND 5,500,000 or Rs 15,622 for two days and one night.
Phong Nha and Tien Son Caves: These caves are beautiful and enormous. They are about 45km or an hour by road from Dong Hoi. It costs 150,000 VND or Rs 426 to visit the Phong Nha cave and 80,000 VND or Rs 227 to visit the Tien Son cave. Renting a boat is a necessity as there is no other way to get to the caves. You can rent a boat that can accommodate 14 people to visit both caves for VND 350,000 or Rs 994.
This cave was my favourite because of the range of adventure activity involved along in the cave exploration. The ticket price to Dark Cave is VND 4,50,000 or Rs 1278. This price includes zip lining to the river from where you will swim to the entrance of the cave and take a kayak out. The cave is dark and raw and can be explored with only a headlamp or torch. Inside you can experience the weightlessness of being in space as you float in one of the mud rivers inside.
This cave is claimed to be one of the most beautiful in the world. Approximately 500 stairs lead up to the entrance of the cave and another 100-200 stairs down inside is a beautiful chamber. This place looked like an alien land with weirdly-shaped stalagmites that could pass for calcified aliens. It is one and half hour away if you are staying in Phong Nha. The cave entrance fees is VND 250,000 or Rs 710 and includes an English-speaking guide.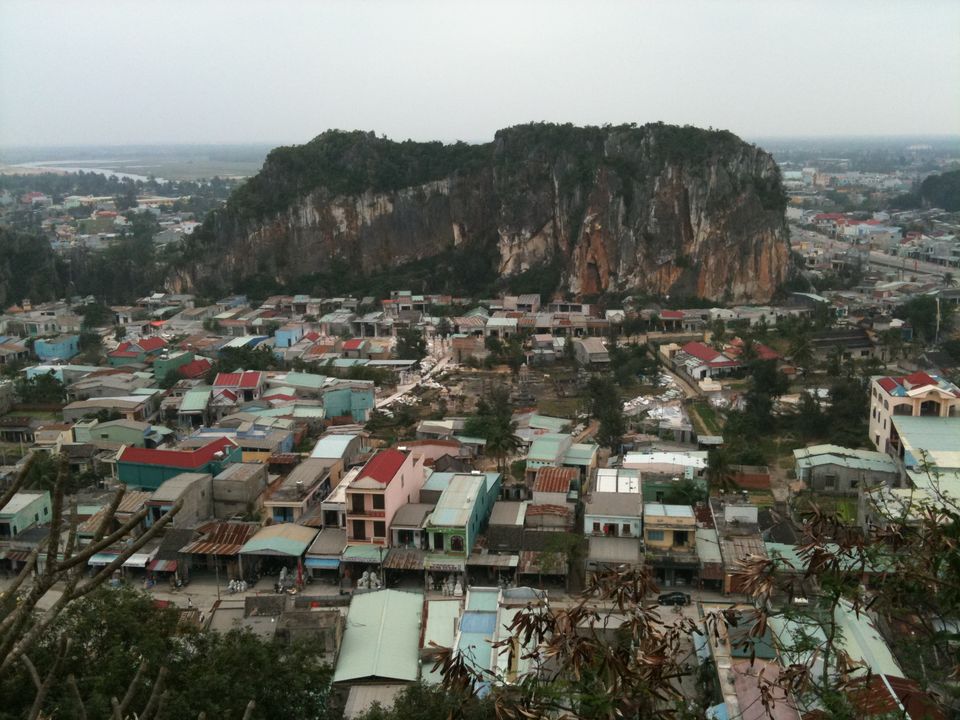 I had never experienced so much of beauty in my lifetime. Phong Nha is wild and marvellous in all aspects. I had the most amazing time exploring the cave, riding along Highway 20 cutting through the national park and imagining the place with dinosaurs still alive.
Have you ever explored a cave like Hang Son Doong in your life? Did it blow your mind? Share your story with the 25 million travellers of Tripoto community.
Frequent Searches Leading To This Page:-
hang son doong tour, hang son doong how to get there, hang son doong tour cost