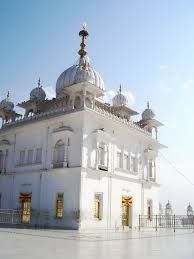 It is already Spring and the festival of colors Holi is at our doorstep. Very soon the atmosphere is going to be immersed in colours and rendered dusty by the heaps of scented powder blown all over. What better way to celebrate this festival than adding a tinge of religious fervor to it!!
Holla Mohalla At Anandpur Sahib
The Sikh Festival of Holla Mohalla is celebrated in the month of Falguna. The three day carnival is an annual event which takes place at the pious land of Takht Sri Keshghar Sahib. The festival was started by the Tenth Guru of the Sikhs, Guru Gobind Singh ji who emphasized the importance of military preparedness, defense and valour for the Sikh Army.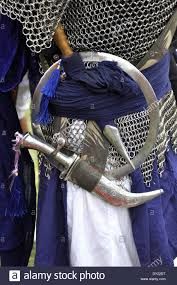 The Nihang Singhs (warriors of the Sikh religion; generally wear navy blue robes with conical turbans) carry on the martial tradition forward with mock battles and displays of swordsmanship and horse riding. These fearless warriors perform audacious feats like Gatka (mock encounters), tent pegging, bareback horse-riding and standing erect on two speeding horses.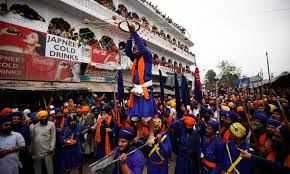 The quaint town of Ropar comes to life as all the trucks, trolleys, motorcycles and every other vehicle is heading towards the city to celebrate this festival with swords and colors. People are often seen gathering around the nihaangs showing fearless skills of weaponry. The vibe of the city immediately changes to that of a fair where food and savoury items are distributed to all. People irrespective of their creed, caste or religion sit together in pangat to have langar from the community kitchen.
Stalls selling various knick knacks and memorabilia including tiny nihaang singhs, utensils and sweets dot the entire city. Various kavi darbars and literary contests are held during these three days (Guru Gobind Singh wanted Sikhs to acquire knowledge and wanted them to be able to defend themselves at times of need; therefore you will see both military and literary events at the festival)
Shardai or Bhaang
This festival of colours is incomplete without the traditional drink referred to bhaang or shardai. This divine drink is a concoction of juices extracted from an intensely ground paste of almonds, poppy seeds, melon seeds, black pepper, cardamom, cloves, cinnamon, rose petals with a pinch of Cannabis! Bhang was used as a pain neutralizer which helped the Nihang's sooth their pain from injuries that happened in the battlefield.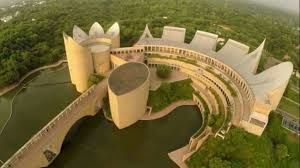 Takht Sri Keshgarh Sahib or Gurudwara Anandpur Sahib is one of the five Takhts of the Sikh religion. On April 13, 1699, the tenth Guru laid the foundation of Khalsa panth (baptised Sikhs) here. A stream of the river Sutlej used to flow near the gurudwara but now has shifted further south of the town. The is a glittering Virasat-e-Khalsa museum stands tall to commemorate 300 years of Sikhism.
How To Reach Anandpur Sahib
Regular buses and trains ply from the major cities of Punjab to Anandpur Sahib
Where to Stay
All Gurudwaras have sarais. However, last minute availability in Anandpur Sahib remains a hassle. You can experience true 'vagabondism' by staying in tractor-trolleys and tents (you won't feel left out, as most people who visit this place end up staying in this manner)
Photo Credits: Google