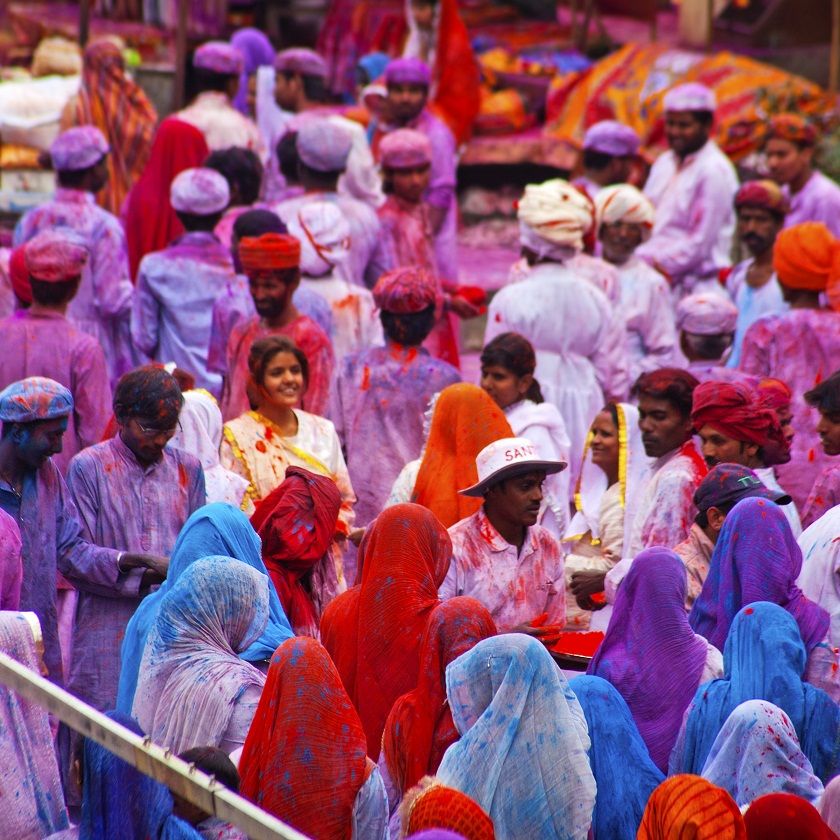 In my last blog 10 Best Places To Celebrate Holi In India (PART 1), I have shared 5 places where you can experience a new way to celebrate Holi. Here you can see list of next 5 unique way to celebrate Holi.
6. Hola Mohalla, Anandpur Sahib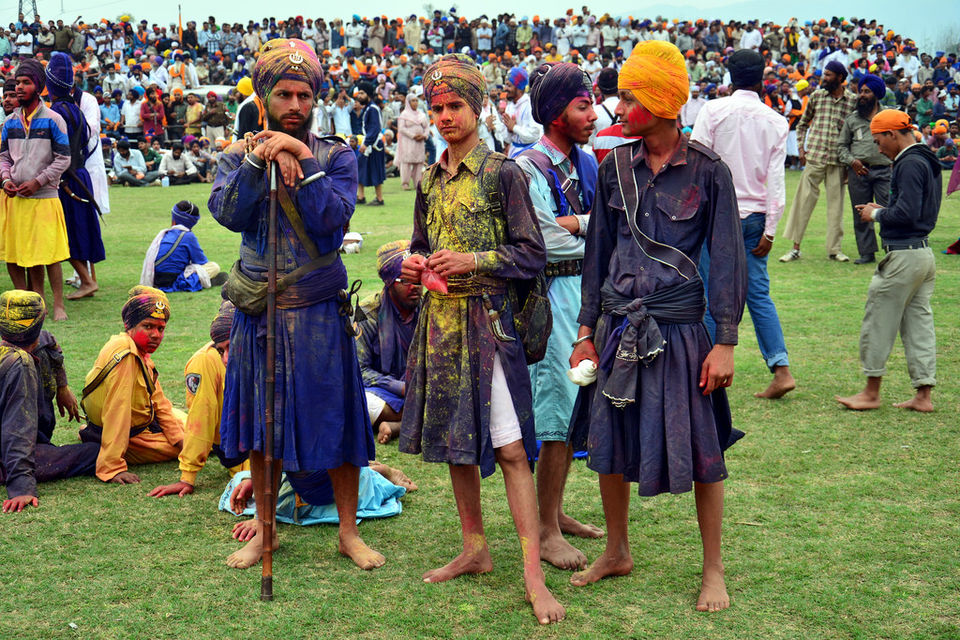 Hola Mohalla is an annual fair that dates all the way back to 1701, which was first organised by 10th Sikh Guru Gobind Singh to celebrate holi. Hola is a masculine name of feminine holi, which is celebrated a day after the Hindu festival of Holi.
Instead of throwing colours, Hola Mohalla takes the form of demonstrating martial skills in simulated battles. On this three-day grand festival, mock battles, exhibitions, display of weapons, etc., are held followed by kirtan, music and poetry competitions.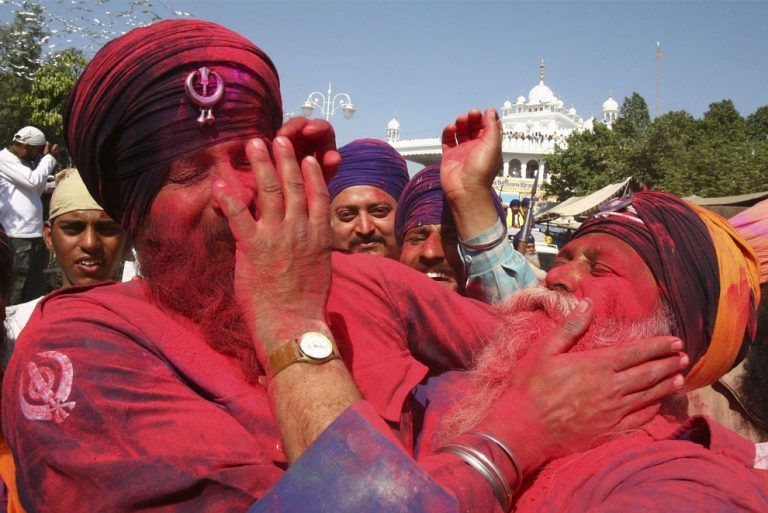 One of the Best Places to celebrate Holi in India with a different level of energy and passion among peoples. The popularity of this festival may be judged from the fact that out of five Sikh public holidays requested by the Khalsa Diwan, of Lahore in 1889, the Government approved only two - Hola Mahalla and the birth anniversary of Guru Nanak. Hola Mahalla is presently the biggest festival at Anandpur. It will be appropriate here to discuss briefly the town and the participants of this festival.
7. Royal Holi, Jaipur and Udaipur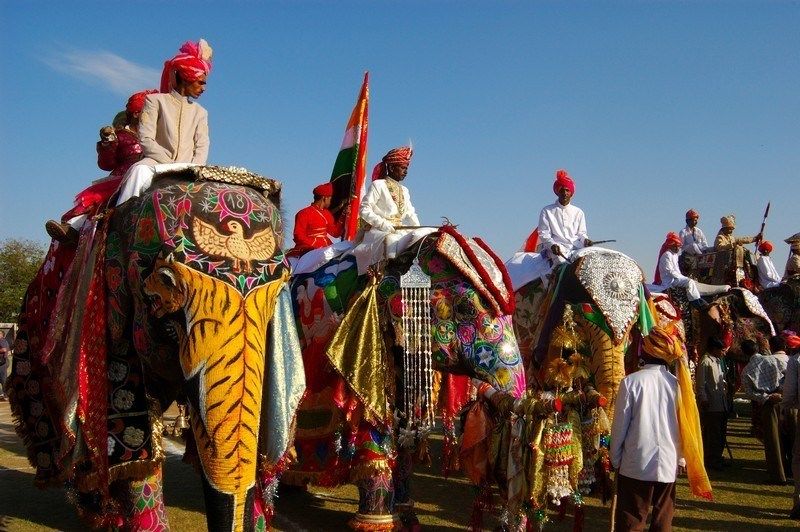 Every year the Holi festival begins with a massive parade including elaborately decorated elephants, camels, horses, and folk dancing through the streets. The spectacular elephant parade in the city is followed by beauty contests, tug-of-war between elephants and stunning folk dances. The origins of the elephant component remain unclear, but due to pressure from animal right groups, this parade was cancelled after 2012. Instead of parade, A cultural program was held without the elephants.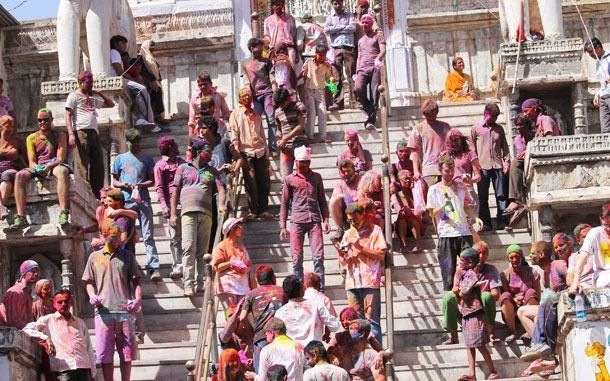 Udaipur, the city of lakes celebrates Holi in its own royal style. A day before Holi People in night lights the bonfires and mark the occasion as a day of winning the good overevil. The celebrations stretch for two days. The first day ,there will be a magnificent palace procession from the royal residence to Manek Chowk at the City Palace, including bedecked horses and royal band. Later the traditional sacred fire will be lit and an effigy of Holika burnt.
Started with burning of Holika, the festival is famous for its celebration in Jagdish Temple in Udaipur. The celebration includes the music and dancing on traditional songs. Streets of the city are filled with people colored in different colors enjoying their time.
8. Shigmostav, Goa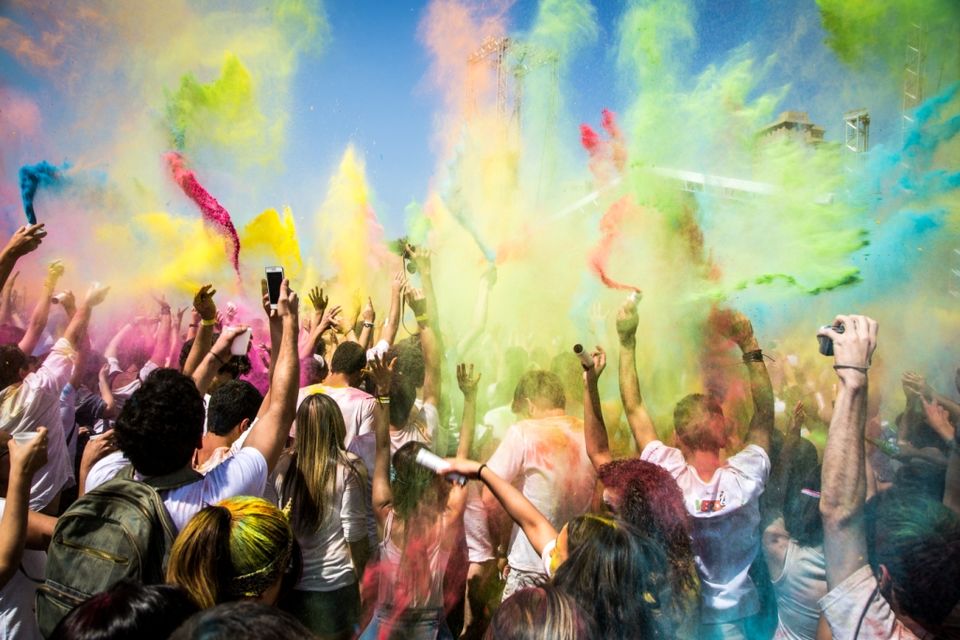 To Goa goes the credit of lining up the festival of colours in a completely new avatar. Here festival of Holi is celebrated as Shigmostav which is 14 days long festival. he festival honours the homecoming of warriors who had left their homes and families at the end of Dusshera to fight the invaders. Huge dance troupes perform intricate movements of folk dances on the road all through the length of the parade. This aspect of Holi is visible in the number of boats that are part of the Holi parades in Goa.
There are two variants of Shigmo festival: Dhakto Shigmo ("small Shigmo") and Vhadlo Shigmo ("big Shigmo"). Dhakto Shigmo is generally celebrated by farmers, the labour class and the rural population, while Vhadlo Shigmo is of greater consequence and is celebrated by everyone together.
Most of the festivities are mainly concentrated in Panjim, Vasco and Margao. The main Goa Beaches also turn colorful on the day of Holi with large number of locals & tourists gathering on the shores to play with colors.
9. Musical Holi, Delhi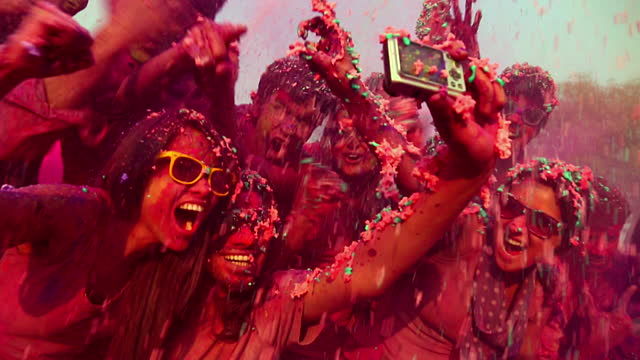 Holi tends to be a rowdy affair in Delhi. Being a metro city, an amalgamation of cultures and traditions can be witnessed here. Virtually all aspects of Holi as seen in various states are noticeable in the numerous pockets of Delhi. Water balloons are a major part of Holi celebrations in Delhi, and the preparations for the same begin well in advance. Small children and even adults stock buckets full of water balloons and lob the balloons right on top of passersby.
Delhi also organizes Holi gatherings and parties where one can celebrate the festival with organic colours and within a controlled atmosphere. Feasts, music, dancing and blasting parties are held all over the city to mark the festival of colours.
The Holi cow festival is a festival of music and madness and is held at the outskirts of the city. Here you can be sure of using only non toxic colors. People drink "Bhaang", an intoxicating drink made from Cannabis, which is typical to this festival. The music is brought by DJs and bands that perform here. This festival of color, moozik and madness has more than 40 Indian and international performers spread over many stages.
10. Holi in South India, Hampi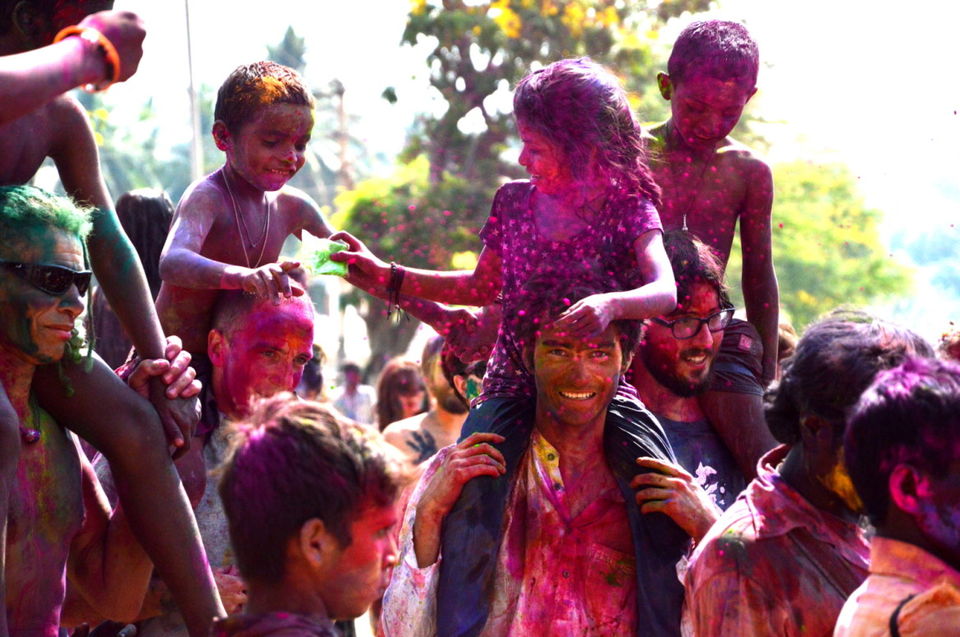 Last but not the least, Hampi also organises Holi celebration for two days. If you're looking for an exuberant Holi, south India is generally best avoided. As Holi is primarily a north Indian festival, it's quite subdued at most places in the south. But Hampi in Karnataka is a notable exception!
People gather in the streets to splash colors and dancing to the drum beats followed by a nice dip in the river. One of the top heritage sites in India turns colorful on the eve of Holi. Hampi is one of the prime faces of Karnataka Tourism. One of the Best Places to celebrate Holi in India.The foreign tourists actively participate in Holi celebrations along with locals.
Whichever part of India it might be, Holi is perhaps the most equal festival to be a part of. Although the style and rituals of celebrating vary from State to State, the spirit of the festival is constant throughout the world: to spread and enjoy happiness. So what are you waiting for , pack your bags and check out your favourite places to celebrate the festival of colours.
This post was originally published on Travel With Jha.