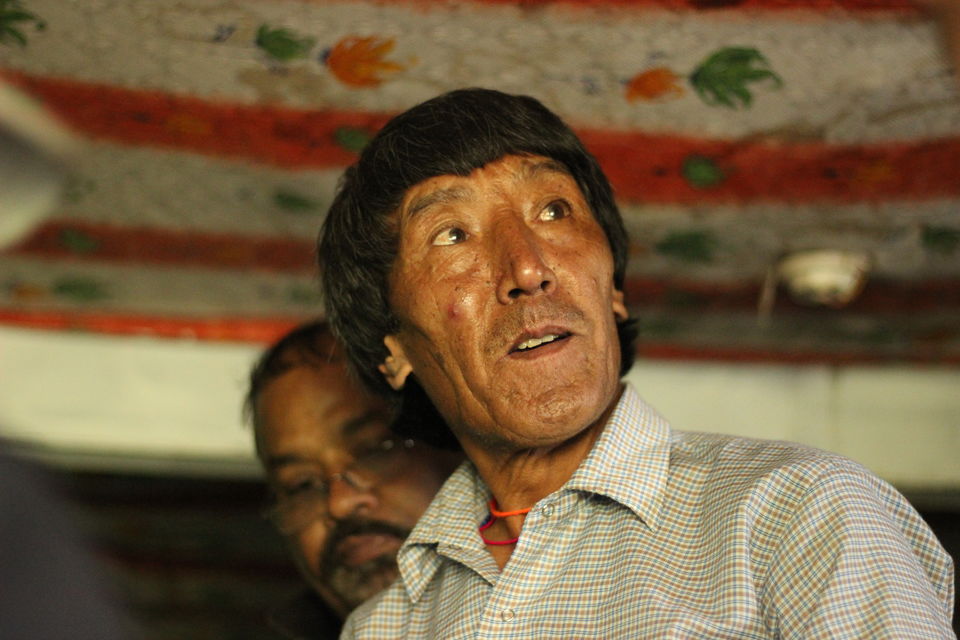 My dad is a travel enthusiast and that has heavily been transferred to me as well. I, leave no opportunity to hop on a plane with my dad to visit places he puts a pin on and decides to explore. And so, I did the same with him, in August 2017 when we both reach Chandigarh to join a group of other travellers in their bikes and their cars to explore the Spiti Valley. Spiti Valley isn't a destination, rather an experience you get throughout your vagabondage in that channel of valleys.
We had started our journey from Chandigarh to Narkanda and then travelled all through Mud village (which is a must if you're exploring Spiti ) and reached Kaza. Hikkim is in the district of Kaza which is situation in the valley of Spiti and Lahaul. We were at a stay called the Sakya Abode which I strongly recommend for various reasons out of which one will be highlighted by the end of this write up.
Quite a few minutes of a bumpy ride from Kaza, we reach our location of Hikkim, which holds the highest post office in the world since 1983 at a height of 15,500 ft (4,700 m). It is managed by Mr Chhering, who rented his house to the India Post. There is another man who also helps him with his work as of now.
Keep in mind: There is another Post Office in Tibet's Everest base camp since 2008 but it isn't as accessible as Hikkim Post Office. But it is claimed to be higher than Hikkim's Post Office. Although it doesn't function as an official post office I guess.
Believe me, I had been waiting for the moment to arrive at this spot for the past two months, hell I was missing my semester final tests for this trip, so it's clear how high my anticipation was of this place. Being born in the later (read as better) half of the 1990s period the concept of writing letters and posting cards was vintage for me. I had only known of important letters that my grandmother had when grandfather was alive which was kept in her safe lockers so you know what a pretty big deal it would have been for me. I was also ready with my camera gear to document as much as I can, in order to get my experience recorded because for all I knew, the post might shut down like the telegraph did and I'd like to have a memoir of it saved for I think everything I come across will soon be worth it for museums to archive. (History graduate feels)
There are travel services that take you to Kaza in vans if you want to arrange for yourself. Or you could join a travel group like I did and make new friends along the way. And/or you can get your own vehicle as well. Because trust me even Maruti 800s were making their way upto the top. You can start your journey from any of the spots mentioned above, a few more : Chandigarh, Narkanda, Delhi, Shimla Sangla.
As we reached Hikkim, we almost felt like we were on a mission to achieve this. (seen in the video above).
I felt like the need to document others first doing it and then do the posting myself. The Post Master, Mr Chherring was a person who had immense trust and faith in people. He kept doing his work of arranging his services for us and believed that we would maintain our commitment of paying him the right price as told to him. He cared more about doing his job than anything else.
I asked him in the video, that does he feel like leaving his job since in many newspaper articles (when interviewed) he was talking about retiring.
His answers were crisp and to the point letting us know that he isn't there for entertainment but at the service of the India Post. Once we were done with the letters, I spent some time playing with his kids who were really excited to see so many travellers.
I had taken everything to post letters but envelopes. Forgive me as I was not habitual of posting but yeah some of you might consider it to be really stupid. But that's where Sakya abode, the hotel we stayed at comes to the rescue. They gave free envelopes to me for posting the letters. There's a reason why I mentioned about the free envelopes provided by Sakya Abode. Since it was the first time I was ever going to write a mail to a few important people in my life, in a hurry and excitement of the trip I forgot to carry envelopes.
In Kaza, I went around the market hoping to find some stationery but couldn't. That is when I asked the receptionist in this Hotel Sakya Abode and he, without any hesitation, gave their envelopes for free.
Now in the city life, it won't seem like a huge thing but back here in Kaza, where life is happy even at minimum, smallest of things seem important. and Hence I appreciate their hospitality.
I do recommend this hotel in case you plan on visiting Kaza.
Happiness, if it could have been contained in tin boxes, would surely burst my tin can because I was beyond elated to have this experience in my life. I'm not sure if I will ever get a chance to write 3 letters and post 4 cards again from the highest post office in the world that is situated, as proudly I write this, in my very own country.
P.S.: The trip was for ten days throughout Spiti Valley. This part is about Hikkim. The other parts I will soon write and post as well. And hence the details about the dates, duration and cost would be the same as for the whole trip.