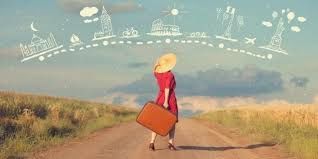 Ever since I was a child, I had wanted to visit Jaipur. I had heard a lot about it and seen a lot too (in pictures ofc! ). The idea of visiting Jaipur had always fascinated me but I had no plans to visit Jaipur anytime sooner. It was only few days before that I decided that Jaipur, being a favorite tourist destination would be a perfect destination for my first ever solo trip. I had already booked a return ticket from Jaipur to Chandigarh but not for the other one. Maybe because I was still not sure if I should take the chance of going alone.
According to what I had planed, I was to leave on 28th night by train, reach Jaipur early morning the next day, explore the city followed by another two days trip to Udaipur (got a little too inspired after watching Dhadak!).
But to the contrary, I caught cold 3 days before the day I was to leave, followed by fever and a severe body ache. Catching cold was a routine affair for me but fever was something new. I tried every bit to get away with it by taking heavy doses of antibiotics from time to time and not going to college for 2 days hoping it gets better. But every effort was in vain. It only got severe with time. My condition worsened to the extent that I could not even stand for more than a minute. My body was shivering all the time. I couldn't walk properly. Going to the mess from my room for meals became a lot more difficult task than I thought it would be.
It was 28th and I still had not booked the tickets. I promised myself that I would book the tickets only if my body allows. I was in dilemma if I should go or not. I still remember having a thousand conversations with my body that day asking if it would be okay for it to travel or if it wanted more rest. But all I received were irreconcilable responses. A part of it said to me.. "Yes dude!! Don't think much. The world is waiting for you." While the other part of it said.."Don't even think of doing this! You know you will be alone right? What if u faint or something serious happens? Who would come to pick you up? How would you answer your parents? They don't even know that you're going on your own."
"Yes, You are right. I should drop my plan." I said to myself. But what if nothing happens? What if everything goes well?
The clock showed 4. I had only a few hours to decide and I still could not manage to reach a conclusion. And that was when my friends came to rescue. Honestly, I have the best bitches anyone can ever ask for. Wonder what would I do without them!
Friends are always your first and last resort when you are stuck in the ocean of dilemma. They came to me like a sun in a cold wintry morning. They gave me the push that I actually needed that time. Their words came like a kick to me."What worse would happen? If you faint, someone will surely come to pick you up. Then just take a train back to Chandigarh" my friend joked. Well yeah, she's right!! "The world wouldn't end if I fall", I thought.
"OK so I am going !! Help me pack my clothes", I asked my friends and booked my tickets immediately. It came instant. In next two hours, I had left for the railway station with a bag which had more medicines than clothes. I still recall carrying medicines for almost every genre of ailment I apprehended I might catch.
The train was on time. I had booked a seat in ladies the compartment. I was packed from head to toe, all prepared for the unforeseen battle. But the journey went pretty well. The medicines worked, my body started to show signs of recovery. I dozed off to sleep in no time.
The train reached Jaipur at 6 in the morning. I booked a cab for the hostel ( Roadhouse Hostel ). I checked-in and slept for sometime. I left the hostel at 9. I decided to start the day by visiting Hawa Mahal. Surprisingly, that day was International Tourism Day and the entry tickets for all the government-run heritage places was free. I skipped Jantar Mantar and City palace. Then, I took a local bus for Amer Fort. As soon as I got down at the Amer Fort, I was approached by a guide (Mr. Tara Chand), who somehow managed to bait me by saying "Mam, guide le lo. Entries toh aaj vese bhi free hai". I was hesitant initially. After a hard bargain, he agreed to show around the entire Jaipur city for 500 bucks on his bike. Honestly, it was a good steal for a few reasons-
1. I would get a company. (The soulless walls of the forts were not as fascinating as they appeared in Jodha Akbar!)
2. The giant architectures looks way more engrossing if you know their historical significance. Only a guide can help you with that. (The Forts and palaces has audio guides facility too!)
3. Had I booked an uber or ola or took a bus, it would have cost me double my time, energy and money ofc!
4. He had a bike. What more to ask for? (There are many tour operators who rent two-wheeler for a day at minimal cost.Wait, I don't have a driving license for two wheeler yet. Nevermind!)
5. You get a personal photographer for free, a boon for solo travelers. (I can shamelessly go on asking people to click my pictures though!)
I visited all the major attractions of Jaipur- Amer Fort followed by Nahargarh Palace. I again skipped the Jaigarh Fort. (No doubt why I failed in History!). After clicking a few pictures at Jal Mahal, he took me to a local Hanuman temple, which was at the outskirts of the city. We then visited the famous Monkey Temple which was 10-15 kms from Jaipur. The monkeys reminded me of Jakhu Temple at Shimla. They were far more disciplined in Jaipur than they were at the latter. Everything was going well until I noticed fatigueness and a little shivering. "No! Not again", I panicked. I could feel my energy draining from my body. My body was giving up slowly for the second time. I decided to go back to my room. It was when my guide insisted, "You should not miss the Albert Hall Museum. It won't take more than 15-20 minutes." I consented and we went inside the museum. I was really tired by that time and didn't wish to risk my health any further. I knew my body was in great need of rest. So I asked my guide to drop me at my hostel and decided to visit the rest of the places in the evening only and if my fatigue goes away. I started to feel better after some time. So, I booked a cab and left for Birla Temple which was followed by shopping at the famous Bapu Bazar market of Jaipur (the part I was the most excited about). I bought some really pretty items. It was 9 pm already. I went back to my hostel, ate dinner and dozed off to sleep.
Well, the whole idea behind writing and sharing my personal experience with you all is that it was only after this incident that I, for the first time, realized the importance of keeping good health and a sound body. Believe me, when they say "Your body is a temple", They're right. Respect, Worship and Honour it.
Also, I dedicate this to two of my friends Geetanjali and Reeta, without whom this trip would not have been possible. (Kulbir and Navya, please don't feel bad, haha!!)