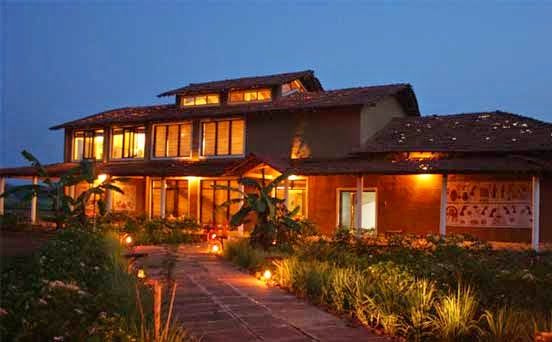 I distinctively remember that when I was small I used to watch an animated serial on DD. It was called the Jungle Book. It was and is still the most popular series of all time. I have actually downloaded the same for my daughter through kickasstorrent.com. Today also I remember the great intro song of "Jungle , Jungle patta challa hain , Chaddi pahan ka phool khilla hain" . How many of you remember it. I am sure lots of us. The characters were great. Bagira, kalia, Kaak, shar khan, akeela and many more. It is assumed it's the imagination of the great Rudyard Kipling from India. How someones imaginations can create such a great book. I got my answer in one of my trip.
I went to visit Munna, but it looked as if he was not interested to meet me. I visited once again, and this time also Munna ignored me completely. Can't blame him. It was raining and he does not like rains much. He prefers staying indoors in these times. Munna stays at a place that spreads around 940 square KMs into Mandla and Balaghat districts of Madhya Pradesh. In totality it is 1067 square KMs. His house was constructed on 1st June 1955. He has more than 1000 types of flowering plants. He shares his house with Bagira, Ballu, and akila's family. Many more stay there. I am talking about one of the largest National Park in North India i.e. Kanha National Park . Munna is the famous tiger with cat written on his forehead. That's actually true.
This is in continuation of my trip after Bandhavgarh. We friends wanted to stick to the motto of a renowned aerated drink (personally I prefer not to have this aerated drink as it is not good for health. You can also try avoiding it) "Yaha Dil manga More, haan yes abbhi". We took an SUV that drove us to a distance of 250 KMs approximately expected time 5 hrs.
The people from Tiger Den Resort Bandhavgarh had personally packed us some snacks for the journey. We were so lucky that when we were leaving there was a major cloud cover that made our journey less tiring. It was like racing with the clouds. All good things have the other side as well. It had rained before us as a result there were fallen electric wires on the road and fallen trees. As a result we took 6.30hrs to reach Kanha. But overall the journey before the main journey was great. We stopped at some places to click some great snaps.
We were put up for the trip at 'Chitwan the Jungle Lodge'. It is an excellent property inside the jungle of Kanha National Park. The best part is that this property is that its 5 minutes of drive to the safari Gate. It is security is handled by Cheeta and 2 of her kids. They are pretty friendly Alsatian dogs. Great for the guests and stern for jungle intruders. The property is spread out, and massive land. The rooms are categorized based on the elements of nature. Jal, Prithvi, Aakash and Mahasagar Suit. Chitwan has a great concept even in its name. Need to visit it to know it. The staff is very supportive and also takes care of your almost every request. The food is a great delight in its own. Very simple and extremely light but filling. The staff is there for you every time. The thing I loved about the property was they have a great kitchen garden in their property and literally half there ingredients are handpicked and fresh. The staff took us around there garden and showed all the things that they grow. Incredible.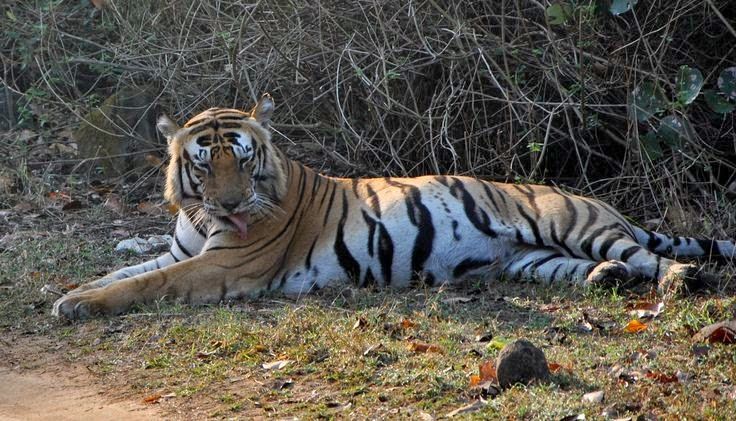 We had booked 2 safaris in Kanha. The major safari zones are Kanha, Kisli, Mukki and Garhi zone. We opted for Kanha and Mukki Zone. This is just 20% of the entire forest area. An extract from the Website of Kanaha National Park gives a great insight." To see, enjoy and explore the flora and fauna of Kanha National Park it is good if all zones can be covered with at least 2 safaris in each zone and 2 Jungle treks in buffer zone of the tiger reserve. This needs a minimum 5 night 6 days stay and chances of seeing Tiger, Leopard, Sloth Bear, Wild Dog and other wild creatures are very high. Stay in Kanha for a day or two only with a single safari will not do justice to your holiday. "
Our first trip was for the Mukki zone. We got up at 5 and were ready for the trip. The weather was looking great though slightly crowded with clouds. The breeze was superb. The hotel had packed us our breakfast as the safari goes till afternoon. We entered and as usual greeted by black faced baboons. The topography of Kanha is superb. They have bamboo forest, great meadows and thick saal tree forest. Forrest authorities had re located quite a few villages out of the core area as a result the meadows are present. There had been rain in the night so some of the trees had fallen. As we go deeper we are able to see some wild bores, chattel, spotted dear. The precious mammal after Tiger that is available in Kanha is Barasingha. Barasingha were almost extinct but by great efforts of the Government they are back in Kanha only. Currently they are breeding Black bucks in an enclosure to bring them back to the wild. The effort of the government is commendable. We were able to see some rear bird of Kanha on our way to the centre point. We also saw a pug mark whish was about 5 min old as per the guide. However hard we tried we could not see the owner of the pugmarks. Usually these wild cats do not like rain and they tend to go in the thickets of the jungle. We had an opportunity to see a Caracas of a dear on our way. The forest guard informed us that it was a kill of the tiger today very early morning at around 3 am. We hoped the tiger would come for his morning breakfast. But no Luck. The forest has many chowkies inside. These are the residence of the forest officers on duty.
Center point is in the middle of the park and is the point where we have our breakfast. They have a great information centre there where you can go and see the wild life in picture and plaster. It is a good spot. As we were leaving from the centre point we were greeted by rain which grew up sharper and stronger. Unfortunately our canvas that is put up as roof got stuck and we couldn't enjoy the 2nd half. No complaints though. We had a great wet safari. The only roof available was over the driver and the side seat which was cozily occupied by my daughter and her favorite Meenu aunty (a friend in the group). The driver and the guide tried there level best to hold the roof in place with dry bamboo sticks. Though it sounds sad, it was hilarious experience. We enjoyed every bit of it. After that we cut short our journey as the chances of finding a tiger was minimum. We left for the property. A lovely lunch treat was waiting for us.
We had also booked another safari for the Kanha zone for the next afternoon. Hopes were high for that trip. This time we made sure that the canvas fits before we go in for the trip. No chances taken. The next morning hotel people took us to a man made natural lake for an outing. The lake is very beautiful and spread out. We did some fishing in the lake. One of our friends even managed to catch a small fish which was given to the locals who use this as food. The staff ordered some fresh fish for us as we were interested in tasting the same. We visited some properties in the mean time and heeded for the 2nd safari in the afternoon. The weather was good. Mix of sun and rain. We witnessed some great sighting of the animal in motion. We saw 2 spotted dears fighting for something. The banging sound of their horns made us speechless.. It appeared that one of them will kill the other. But in 5 minutes the stopped fighting and went on their ways. Jungle cock was jumping here and there. The peacocks were al inspired and were displaying their feathers in order to attract peahens. That was a great sight as well. The guide informed us that the park would be closed from 1st July in order to allow the animal's privacy. This season is there mating season. This zone is a thicker zone as compared to the Mukki zone. The trees and plants create a beautiful show of colors and hue. We were not taking packed food because the trip is from 3 pm to 7 pm. We were taken to a place that was a popular water hole in the forest. The tigers tend to come here a lot.
When we neared the hole we were greeted by the alarm call. The driver and the guide said that there is a tiger around and is moving. We waited silently for almost 20 min in order to see a tiger. The cries were continuous and then suddenly slowed down and finally ended. The guide said that the tiger has stopped moving or is sitting somewhere. Chances are that he has moved away from the spot. The driver took us around the spot in order to find it. All we could see is Gaurs that were huddled in a group with 2 mails keeping a lookout. We also saw the pug mark in the wet land. As per the guide the tiger was just walking and not hungry or else he would have attacked. He could also be a young tiger moved out of his pride.
Again the drizzling started. This time we were well equipped with rain coats as well as canvas. But it didn't look threatening. The 40 minutes we spend in finding the tiger was really exciting and adrenalin pumping. We moved on in the jungle. Greeted with various birds and herbivorous animals. We moved to our property from the trip. On the way we dropped in one of the resort in Kanha as we were invited there by their resident Manager as he had once upon a time worked with my wife and was her mentor. In the night we had a beautiful fish dinner.
Next morning we bid farewell to the resort and there team and left for Jabalpur station for our return train to Delhi. We had enough time on our way back. We utilized the time to visit few more properties of Kanha. Chitwan staff had packed lunch as well as dinner for us. Thanking them from my heart and looking forward to visit them again as the park opens. Promising Munna to meet him and his friends. Who knows he would be a proud father when we come next time.