Mauritius - Paradise in Indian Ocean
If you looking to travel to any island destination but you are afraid to spent lots of bucks - pack you bag and head to Mauritius....
I started my tour on 29th Sep 2016
When you close your eyes and imagine your trip to Mauritius, you undoubtedly automatically think of crystal clear waters, soft beach sand and fine weather. - Open your eyes and see bcoz it is like that only
When we started my trip it seems as we are travelling in Punjab -do not worry , you are not in India .. Its just bcoz Sugarcane which you will find everywhere ..In early times they take Indians to cultivate the same and its one of the most imp business of the country .
I saw mountains on both the sides and in my front I can find SEA ...
The language spoken there is BROKEN FRENCH but wait wait do not say in front of anyone as its official anme is CREOLE LANGUAGE
Mauritius - Mauritius is an island in the Indian Ocean, more than 2,000km from the East coast of Africa. The 70km long island lies in the middle of the 'Deep Blue', it's really far away from everything! But that's what makes this island so special from a flora, fauna and human perspective.
If yo are looking for ADVENTURE , BEACHES , DRINKS , DIFFERENT CULTURE , AMAZING PEOPLE .. there is one such destination i.e. MAURITIUS
Mauritius has stunning beaches but for people looking for more than beaches, the mountains in the middle of the island should definitely be explored. Some of the mountains have distinct features where locals call them Sleeping Woman ( my driver says its his wife :) ), Sitting Gorilla or Thumbs Up. These mountains with their waterfalls, gorges and valleys offer the adventure seekers great opportunities: ziplining, mountain biking, canyoning, hiking, and more.
When we went to PORT LOUIS - the capital city we were amazed to see the lifestyle of the people You will find Hinduism, Christianity, Islam and even a bit of Buddhism. All living together without any problems. As my local driver during that week so happily explained: "We are here on the island only for love and peace."
In Port louis we went to Caudan waterfront which is really beautiful decorated with colorful umbrellas , you can find casino over there , go and try your luck ( I wasn't luck enough) , there is music , restaurants where you can drink and eat ...
And do not forget to drink gane ka juice there ...
Lets be ready to get deep into the ocean ..-ILE AUX CERF - the place where you can do water sports activities ,we took our speed boat and we went to platform to do PARASAILING - I was so afraid to do but thanx to my friend NISHANT bcoz of whom I was able to do that - once I went high in the air I was like top of the world and that day I learnt one thing about fear :
" LET YOU FAITH BE HIGHER THAN FEAR"
The the most astonishing thing was UNDERWATER SEA WALK - just one thing came in my mind I have lived my life . those blue crystal clear water and the fishes and the view was incredible ..
What will be your reaction when you will get to know that you can WALK WITH LIONS .. yes you read rite .. you can walk with lions , interact with LIONS or TIGERS or CUBS inside CASELA BIRD PARK ..
You can find everything over there starting for birds till ostrich..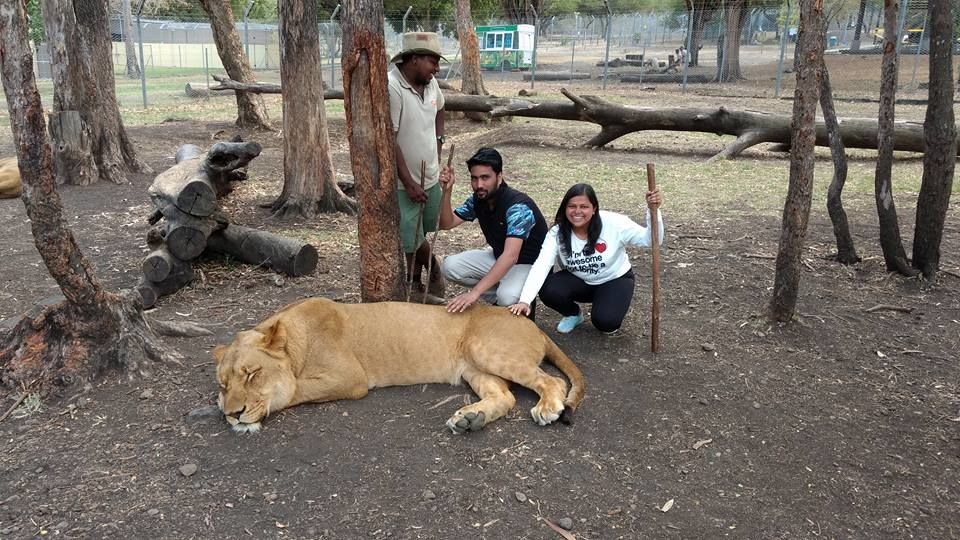 Do you want to spot dolphin then take a catarmaran cruise and enjoy your day full of romance in between sea ..
Want to enjoy night life there is one such day when you can enjoy it - its SATURDAY , head towards GRAND BAIE and enjoy whole night with some Engligh music , dance & drinks ..
Buy whatever you want by 7 pm as the shops clossed by 7 pm and you will hardly get something after that .
When coming back do not forget to buy Rum drink mixed with sugarcane ( which is famous of Mauritius ) and giving tip to driver as he showed you the city .
Now the time came say bud adieu.....
WATCH THE SPACE FOR MORE TRAVEL STORIES...
NISHA VERMA
- don't just travel .. explore