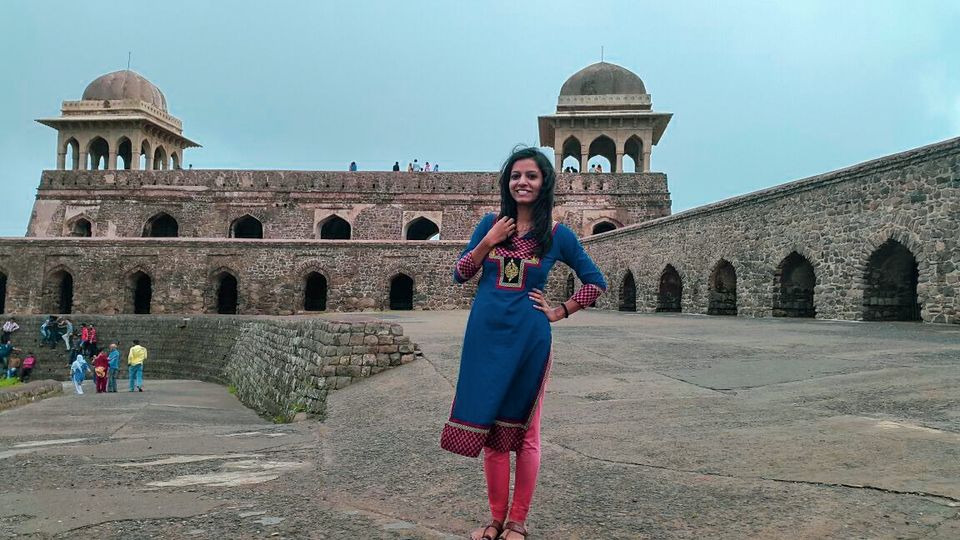 Madhya Pradesh has its very prosperous culture, history, but it is still underrated in tourism department. It has its very own charisma and attraction when it comes to sightseeing. And if you simply choose to get yourself drenched in the monsoon then discover the state of Madhya Pradesh.
Yes, Madhya Pradesh is rising as the new monsoon vacation spot in the country presenting outstanding landscapes and travel experience that can leave you speechless.I am going to tell you about the two locations which are more iconic and stand apart, you may or may not agree with me, however, you will actually fall for M.P. There is so much that India has to offer.
Mandav or Mandu
Mandu is located at a distance of only 55 kms from Mhow. We were three people who started their journey by bike at 10o'clock in the morning. The weather was very pleasant and light rain had started as soon as we left. We had to complete three locations in a single day: Mandu, Maheshwar and Patalpani. But my friend's mother told us that the flow of Patalpani increases during the rainy season and there is danger, then we removed Patalpani from our list and started moving towards Mandu.
As soon as we got out we thought to have a little breakfast. Mhow is very famous when we talk about food. The food here is discussed all over India. Poha is very tasty in mhow. Generally I do not like Poha so much, but my thoughts have changed after having MP's Poha. Not only food, I never thought that MP would be so beautiful, but when I traveled all the places, I could not believe that I am in MP, which I will tell you about further.
I have always visited Himachal and uttarakhand only so there has been a perception in my mind that apart from this, there cannot be such beautiful mountains anywhere in India, but all my thoughts changed after coming to MP. The road we were going to Mandu was no less than a paradise. I had not seen so much greenery or thought that it could be in MP too.
We all have traveled for half an hour that the rain has started, we waited for the rain to stop a little but the rain did not stop, so we thought of wearing our raincoat to continue. And again we started moving towards Mandu in heavy rain. While doing so, we reached Mandu after an hour and a half.
Let me just tell you something about mandu first.
Mandav, Also recognized as Mandu situated 90km from heart of MP -Indore, is a great example of Indian history. It was built by Mughul emperor Gyasuddin around 1500AD. It is surrounded by ponds and water bodies resulting in getting title of Jahaj Mahal. The view from top of the castle is mesmerizing. The road to attain Mandav is quite scenic with loads of curves and viewing points at very high altitude. It also has few extra forts and museum.
This location is where the romance between Rani Rupmati and Baz Bahadur happened. Mandu is an architectural pride and has been constructed in Afghan fashion and has more than one location of the attraction. There are about 50 locations to go to within this fort, therefore one needs one full day to see all the attractions.
You will comprehend you have reached Mandu when you begin seeing the lovely and beautiful structures which remind you of the Mughal architecture. But it's not any Mughal structure you see regularly throughout the country! It is a mixture of the Hindu and Afghan architecture, which has been the prelude to many architectural marvels in India, consisting of the Taj Mahal. Malwa retreat and Malwa resort are the state tourism resorts in Mandu.
Mandav was once a really famous town that served as a main fort city of the Mughals as properly as the rulers who came after that. The city bears remains of all the records that it noticed almost 500 years in the past, even nowadays in the shape of all the meals and historical constructions that nevertheless exist. The Hindola Mahal, Jahaz Mahal, Rewa Kund and the Hoshang Shah's tomb are not to be missed out on while you are here.
Jahaj mahal
Jahaz Mahal is formed like a ship and was constructed by Khilji, comprises of halls, corridors, terrace to revel in the scenic beauty, pavilions and interesting factor of the jahaz mahal was to conserve and save rain water. It stands between synthetic lakes and gardens. It is an amazing piece of architecture. It appears like a big ship and is a fusion of Afgan, Mughal and Hindu architectural style.
Jahaj Mahal is having three giant halls linked by corridors on the ground floor and is believed that the king has 15,000 ladies in his harem and this region was for them. There are wells inside this structure which helped to hold the temperature at the lower side even in harsh summer.
Rani Roopmati Mahal
Rani Roopmati Palace is on the hill top and it is said that Rani Roopmati wished to have the view of river Narmada and on a clear sky day the river is still visible. It's said that the pavilion is acoustically properly constructed from where the queen would sing and the king could hear her from his palace. Today, undeniable land on one side and hills on the other, full of lush green land, offers a dazzling view. It is actually a vicinity to experience the sunrise and sunset.
Jami masjid
Jami Masjid has beautiful symmetric buildings.
Hindola Mahal
The Swing Palace has sloping walls and is said to sway with winds.
Guide services are available between Rs.1000 and 1500 for a complete Mandu tour.
Explore this ancient city and do try Daal Bati, a local cuisine.
When we reached Mandav, we bought tickets to enter and we were amazed as soon as we took the entry because I had never seen such a beautiful view before.The rain had stopped, but there were some clouds in the sky. To enjoy the rainy season, we bought corn to munch, which was giving different fun during the monsoon. It is said that when the weather is good, whatever you eat will taste good. The color of the cloud was dark blue and there was a different view with the surrounding greenery which looked very beautiful. We took a lot of really good photos to enjoy this view. The wind in the fort was too much, it was difficult to handle ourself, specially our clothes and hair. But I was having fun too. We sat on a little fort, took photos and after spending an hour and a half, we thought of returning from.
Undoubtedly the panorama of MP is superb in the monsoons, however the route to Mandu is simply breathtaking. As you drive in and out of the valleys of the amazing plateaus, you would see lots of inexperienced shades, like never viewed before.