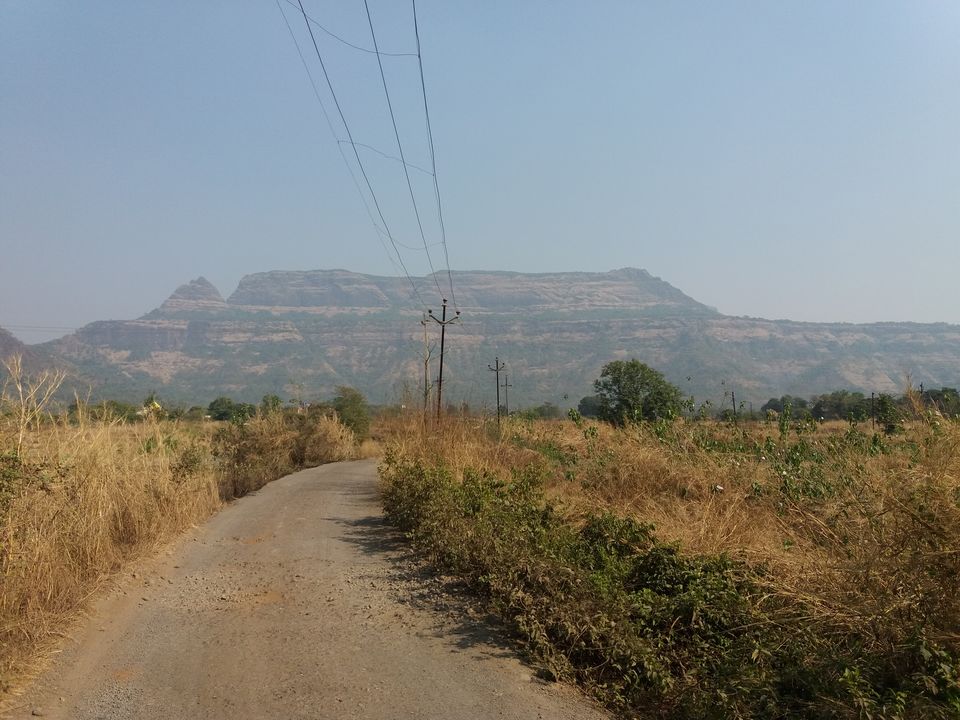 Fort State: In ruins
Difficulty: Tough
Endurance Level: High
Things to carry: 2 liters of water, some snacks, Trekking shoes.

Best time to visit: Winter and Summer
History: This fort dates back to Buddhist time. After Yadav, Bahamani, it was ruled by Nizamshahi. Shahaji Maharaj, Rajmata Jijabai and Chhtrapati Shivaji Maharaj have stayed on the fort. After the fall of Nizamshahi, it was taken over by Adilshahi and later by Mughals.
In 1657, fort was won by Marathas. As per the treaty of Purandar, it was handed over to Mughals. After the treaty was broken, Marathas took it back. In 1818, Britishers won this fort and destroyed it a lot.
Prabalgad is a vast fort in Matheran range. It is located on a big plateau. Kalavantin is not a fort, a pinnacle located on the northern side of the fort. It could have been used as a watchtower.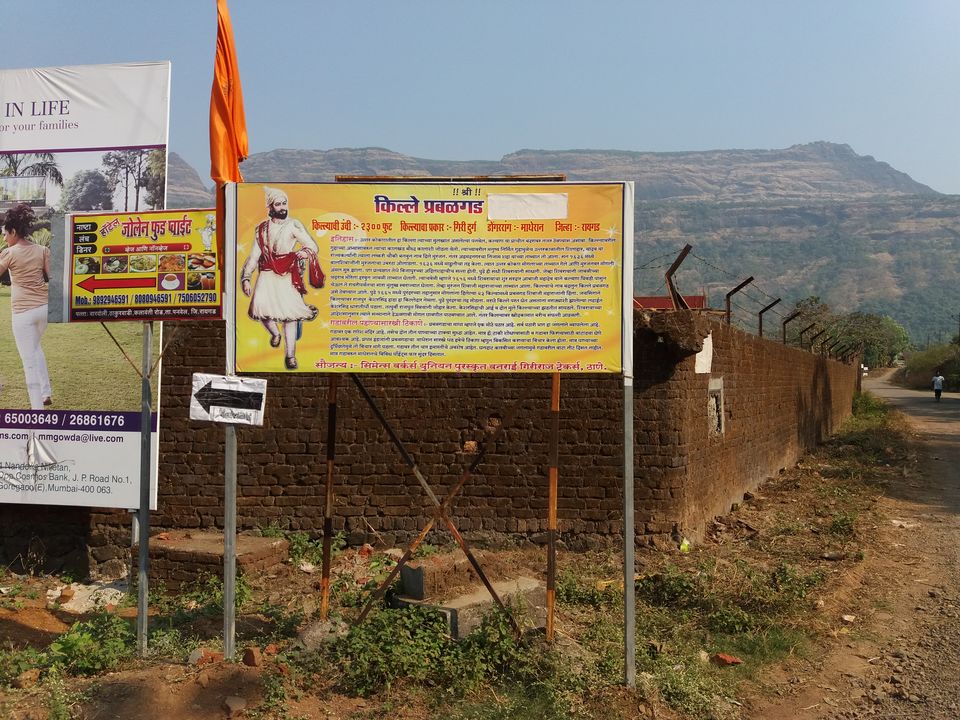 Kalavantin is notorious for taking many lives. There have been many incidents where people have lost their lives while visiting this peak. That is why it is very important to stay safe. Make sure you are not going alone. Sharp edges, strong winds, narrow steps, and the phobia of height will make the matter worse. Do NOT go here in rainy season unless you have a trek leader, low visibility and slippery path will be tough to handle.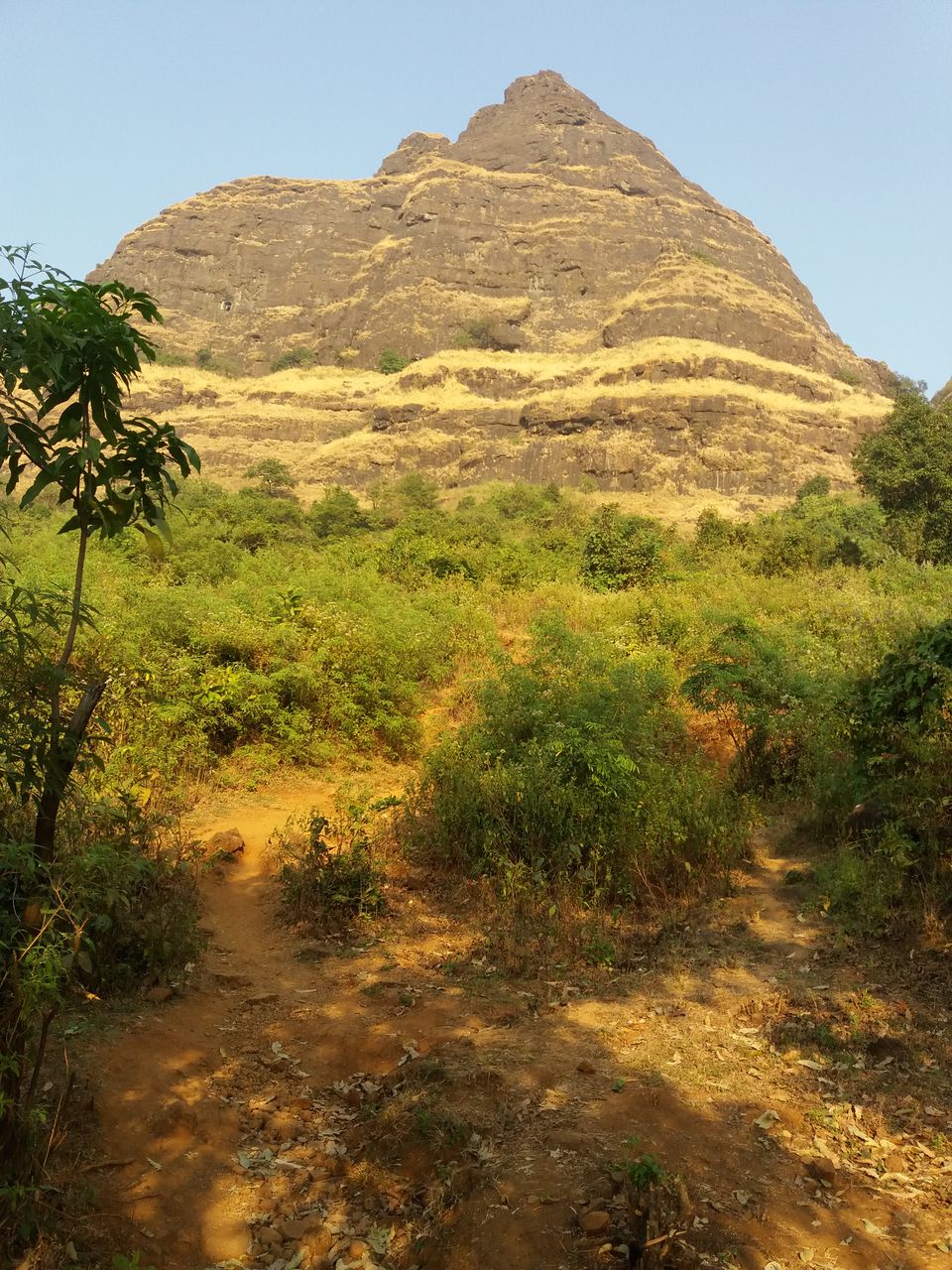 Date: 30-Dec-2017
We visited this fort on new year's eve. I and Swapnil started from Wakad at 11 AM and followed the route as suggested by Google Maps. On the way, we visited Mahad, one of the eight famous God Ganesh temples (Ashtavinayak). We reached the base village Thakurvadi by 2:30 PM.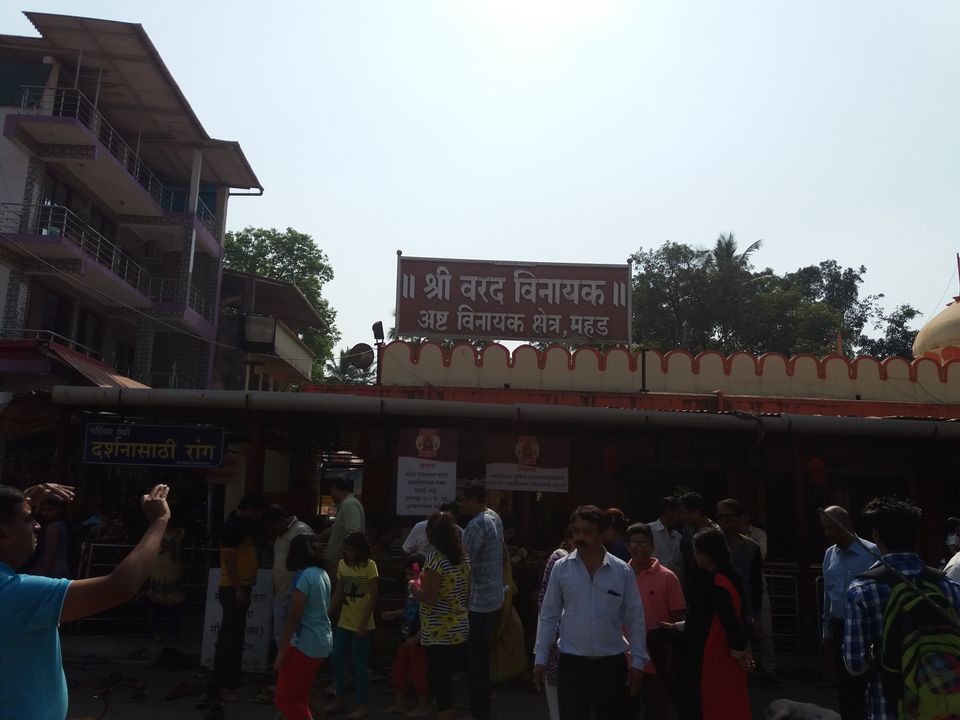 There is a parking space available which will cost Rs 30 for bike. Also there is a small restaurant. We started walking towards the fort. Its an unpaved road through dense trees. Unlike Lohagad or Visapur, where you can take your vehicle right till the base of fort, here you have to walk right from ground level to the top.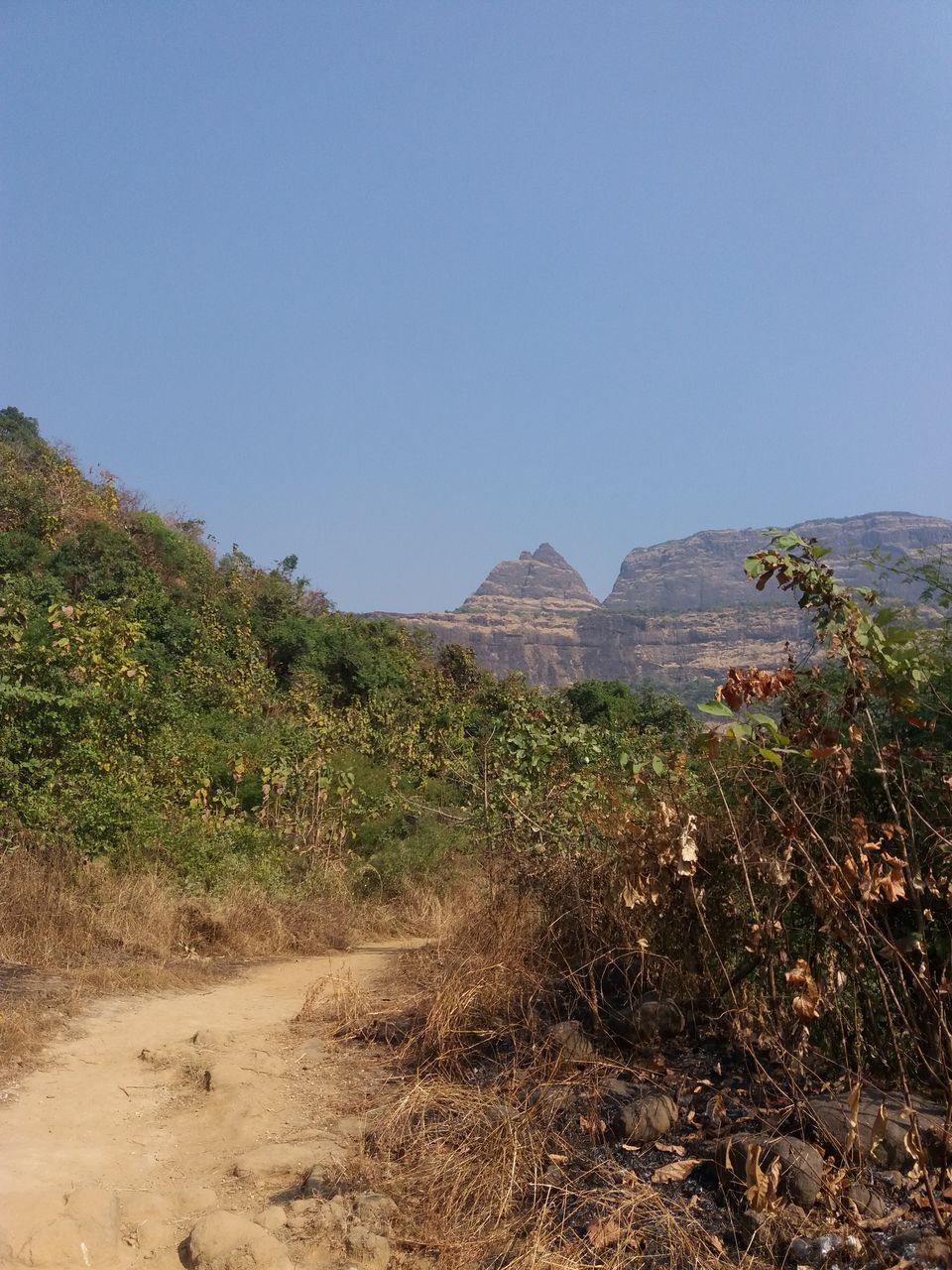 The climb becomes harder as you go ahead. It took us nearly two hours to reach the Prabalmachi village. On the route, there are many shops which sell beverages snacks, etc. On a sunny day, it is very important to keep self hydrated. Make sure you drink lot of water and juices. Keep a close tab on directions, there are arrows marked on trees and rocks.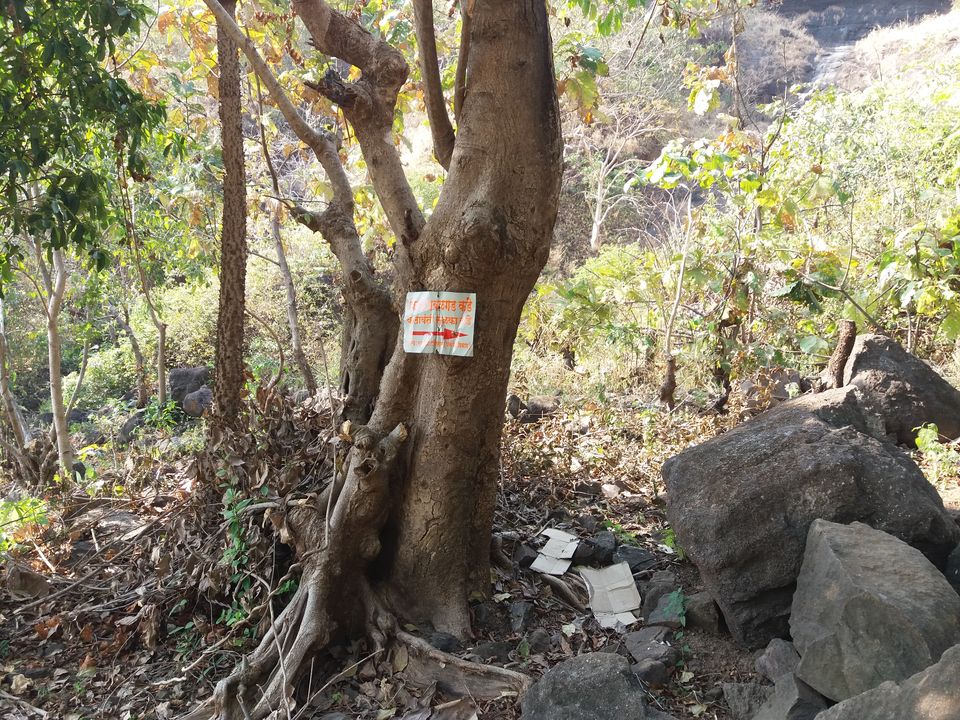 We saw beautiful Lord Ganesh and Hanuman sculptures on the rock.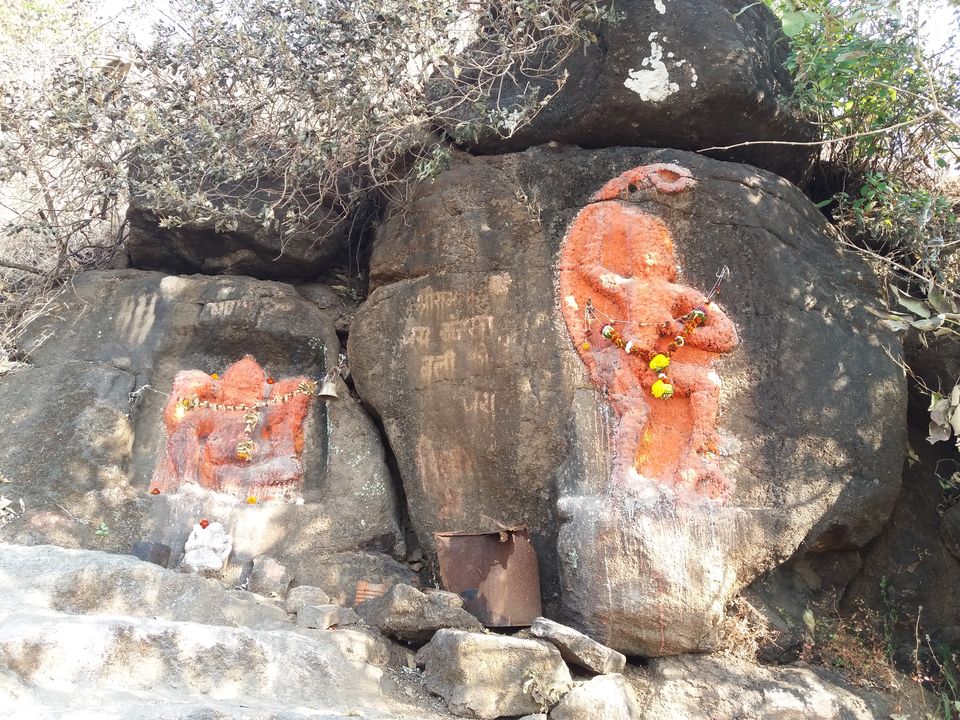 Once we reached the village, we saw scenic views all around. Both Prabalgad and Kalavantin look prominent from here. The village has a restaurant, toilets built for the visitors, tents can also be taken on rent. For two people, tent will cost Rs. 300 and for four people, it will cost you Rs 600. It is a good option to climb up in the evening and then stay here overnight. Lot of celebrities also visit this place. I saw Sajid Nadiadwala (Hindi movies producer) climbing up.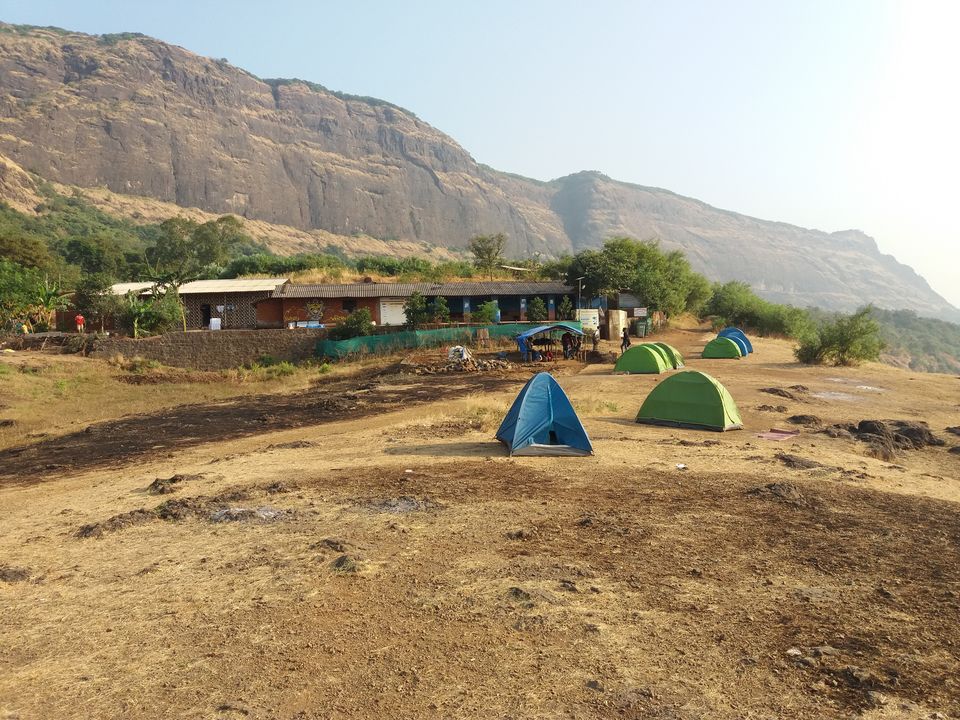 There are two paths that go through village. Right turn takes you to Prabalgad fort and left turn will lead to Kalavantin peak. We took left turn and after 15 minutes of walk we reached the base of Kalavantin peak.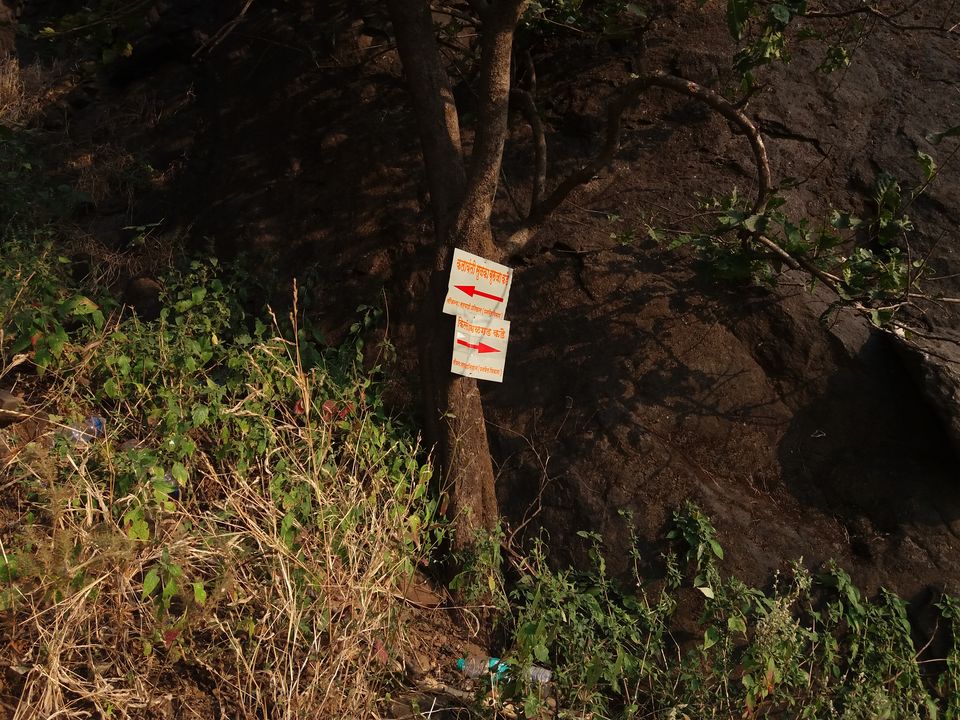 As you see the peak, you will notice the rugged and gigantic nature of it. There are steps carved out of the rock. There is no railing or fencing done which you can hold on to on the route. Be extremely careful while climbing up and double careful while getting down. People with phobia of height should avoid this place.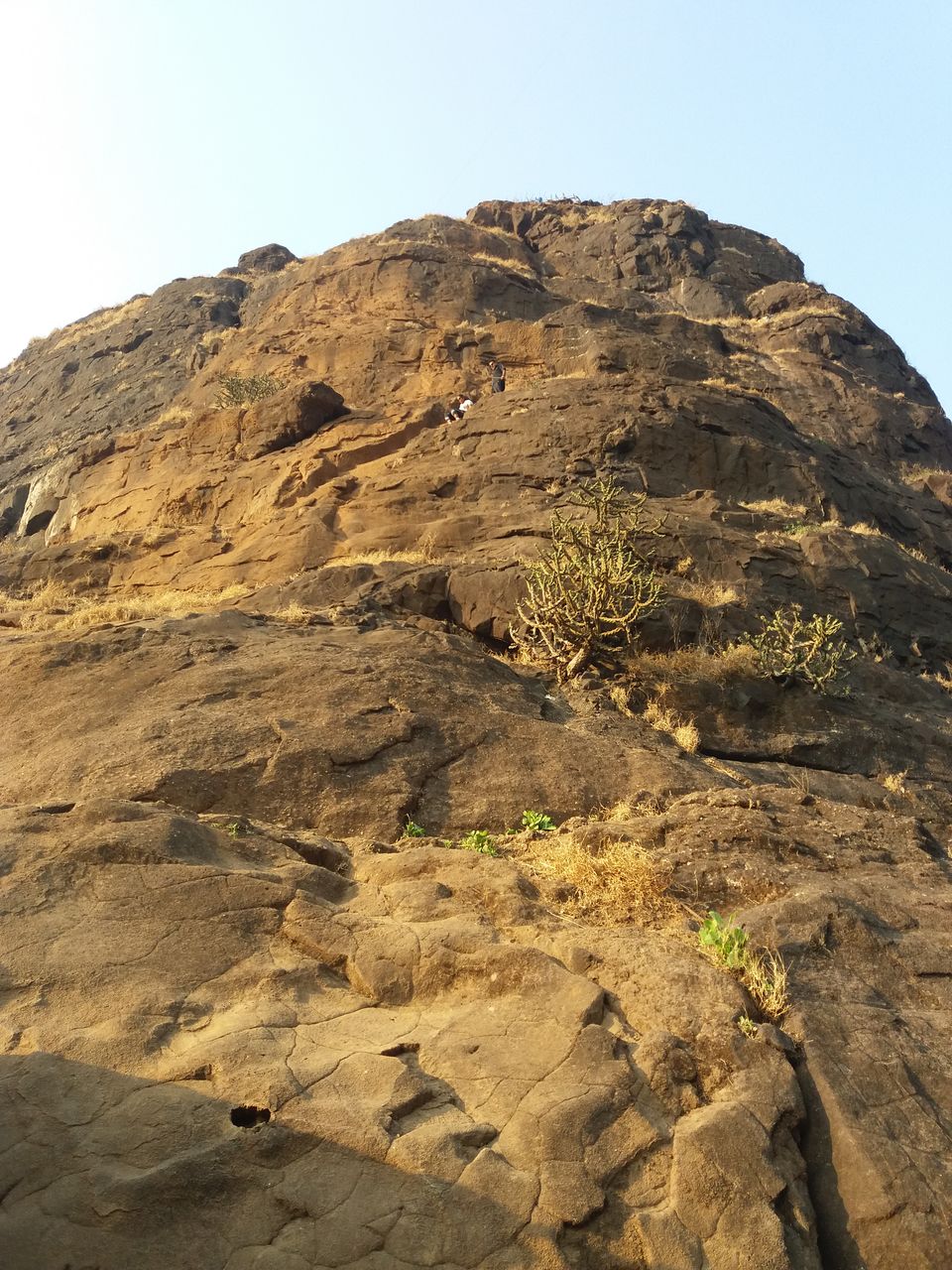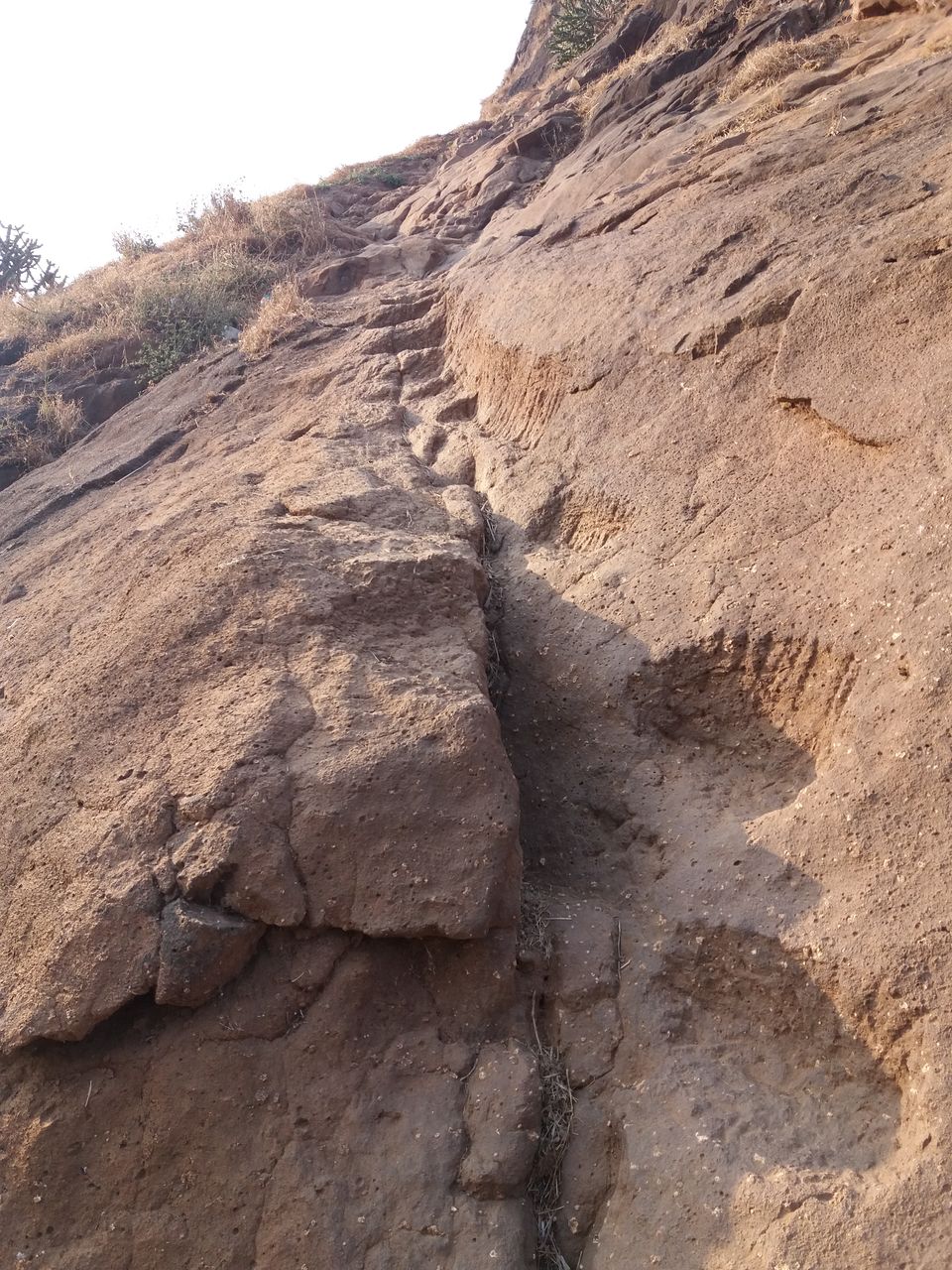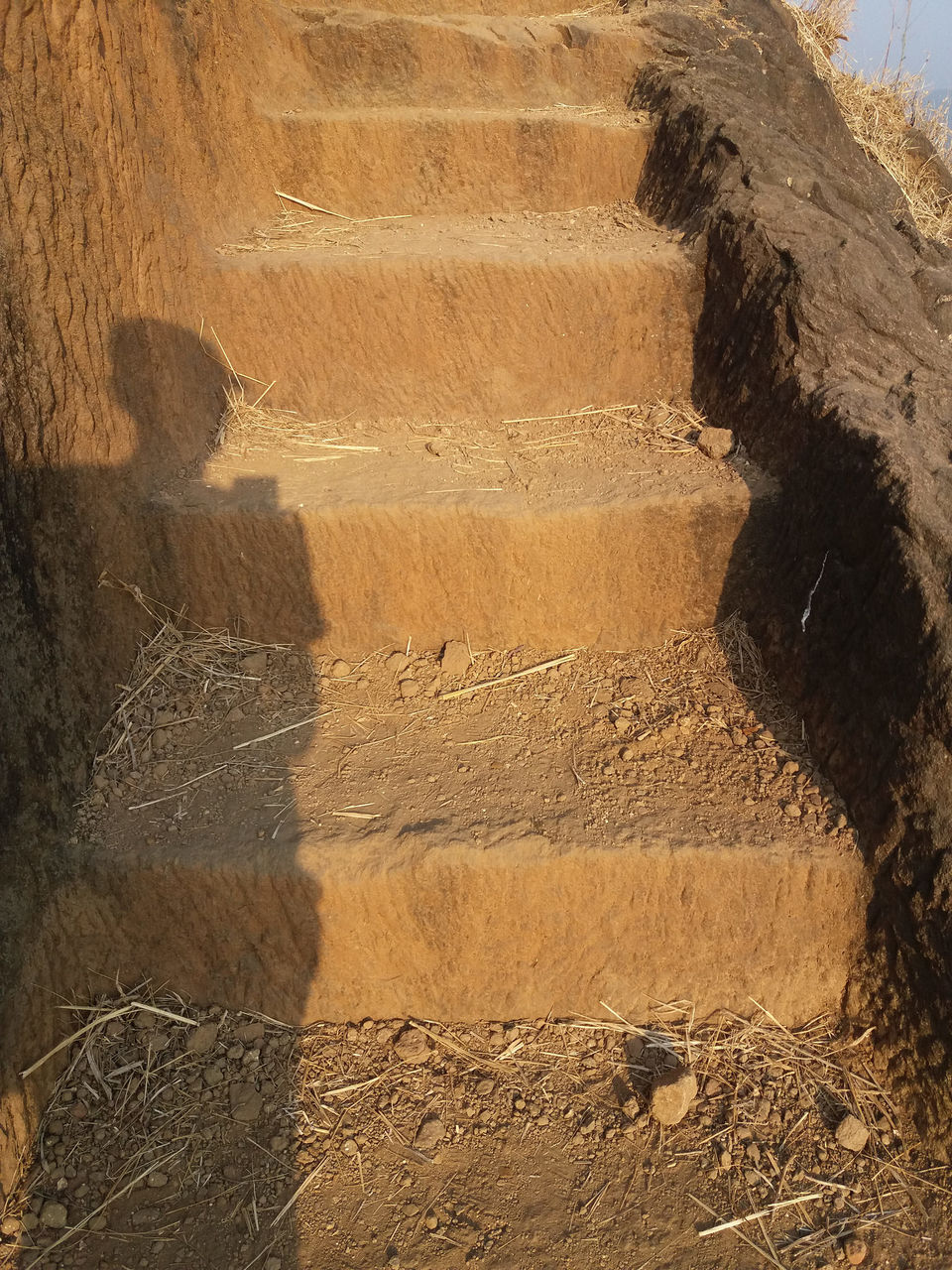 It will take 20 minutes to reach the top. There is a rope tied on a boulder that aids in reaching the top. This is tricky and difficult part. It will test your climbing technique. If there is someone in your group who is good, ask the person to go to top first and then give you helping hand.
Once you reach the top, you will feel like on top of the world. A big achievement. Spectacular views all around. Watching sunset from here is surreal. We could see entire Matheran range and other forts too. It is a proud to see the Saffron flag flying on the top.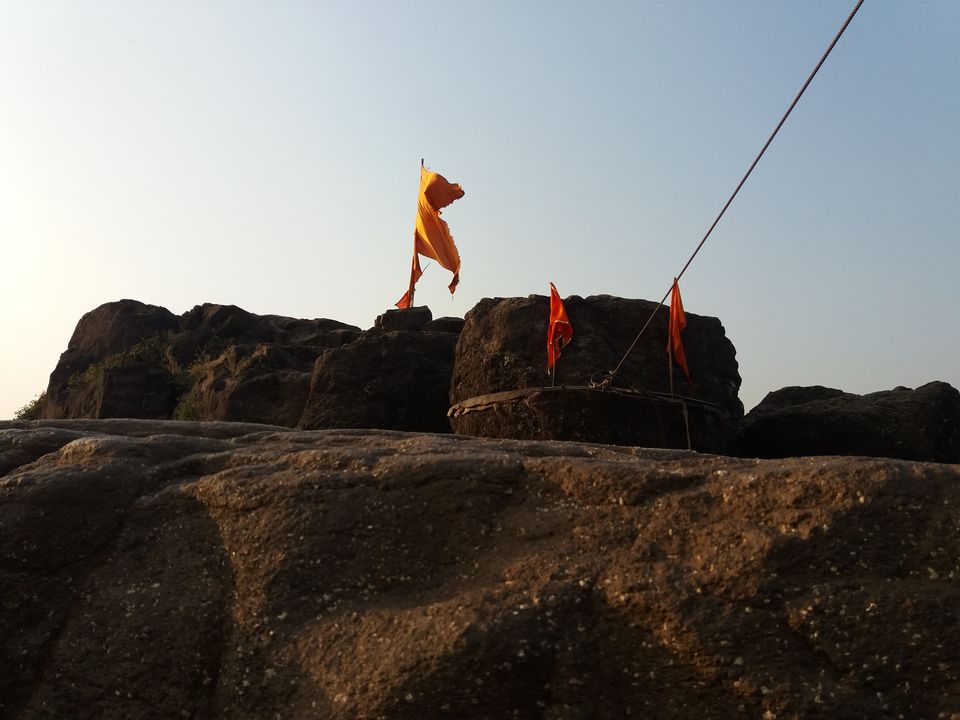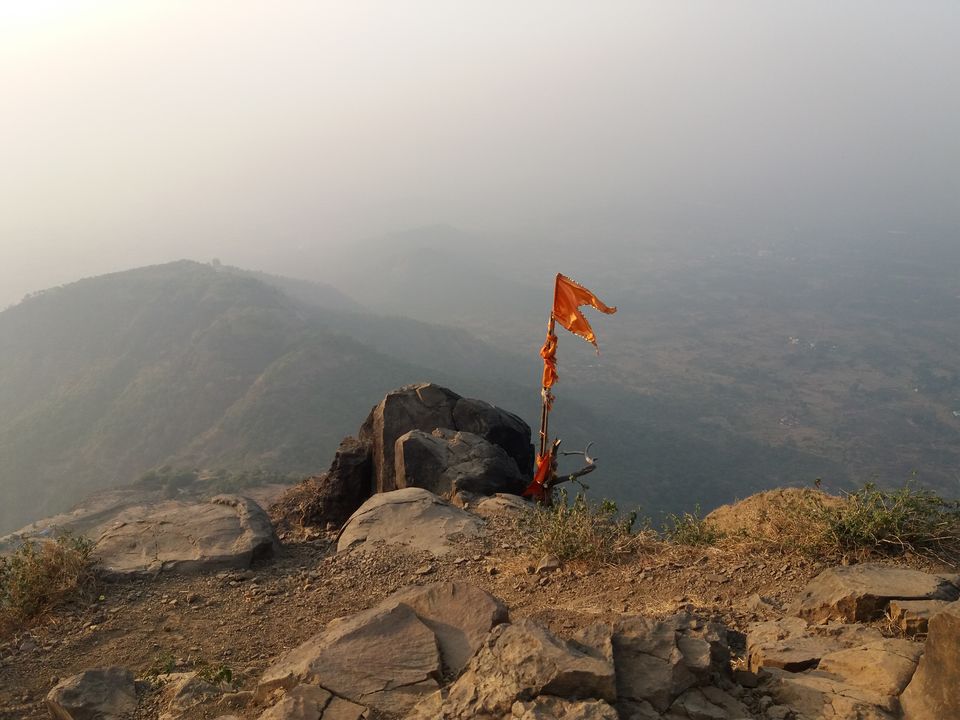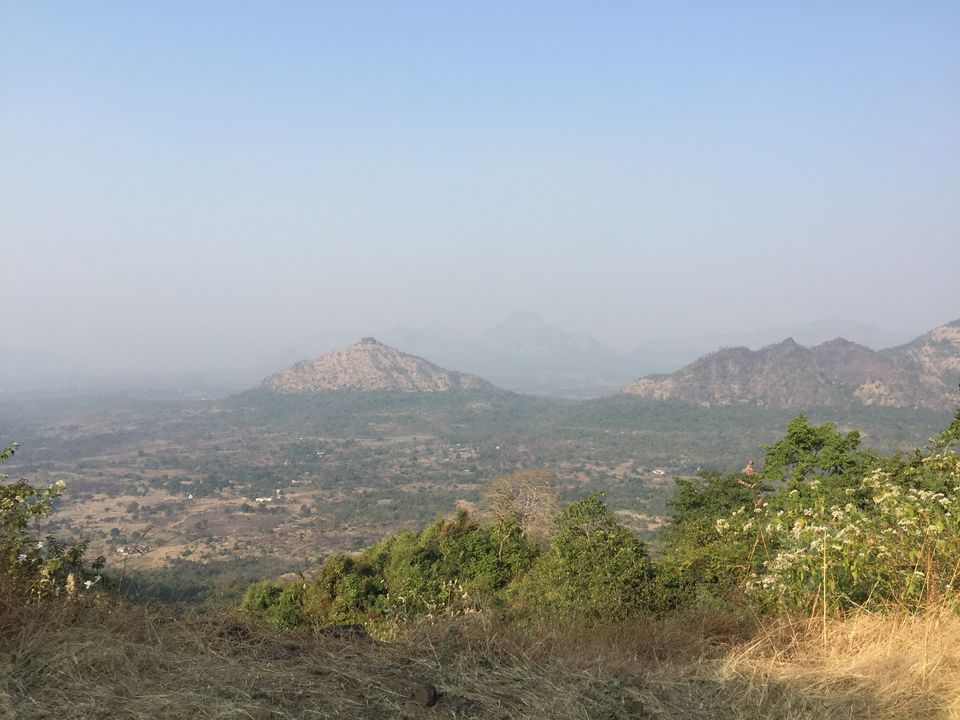 As we had new year celebration plan, we started to return for Pune and could not visit the Prabalgad fort. We decided to come back again and explore it.
Date: 29-Dec-2018
So we happened to come back to visit Prabalgad exactly a year later. This time we decided to stay there overnight and cover both Kalavantin and Prabalgad the next day. I was accompanied by Arriesh and Abhishek. As we were going there on new year's eve, we were again frisked by policemen. After through checking, we were allowed to go.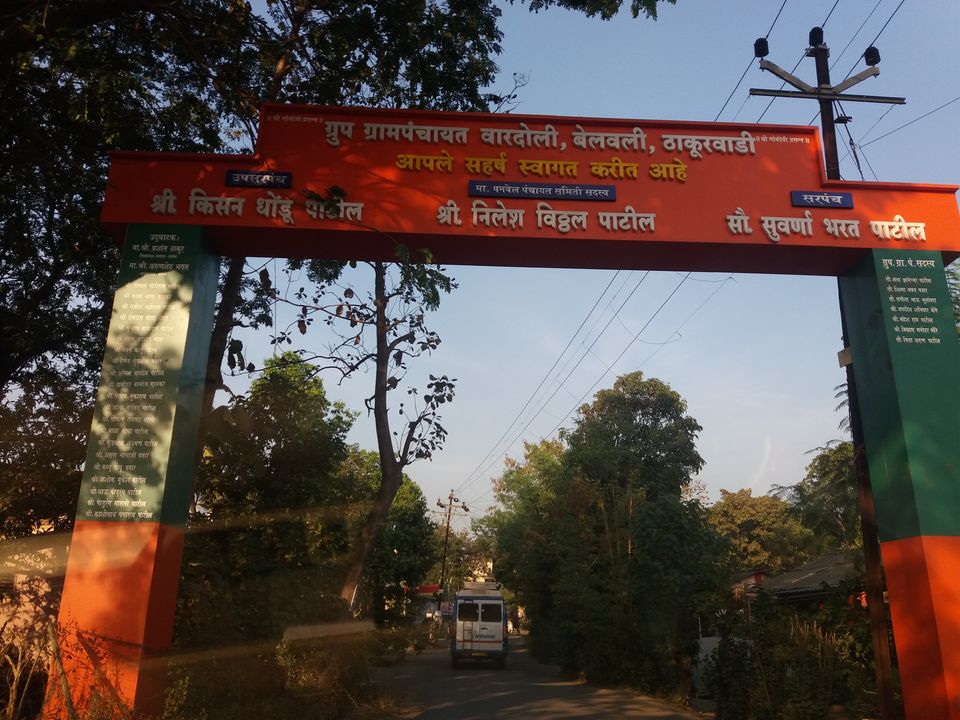 At the Thakurwadi village, we can park our vehicles. Bike parking costs ₹ 30 while car parking costs ₹ 50. These rates double if you are planning to stay there.
On the way, we had to shell out ₹ 50 as entrance fee. This was recently introduced and was not there when we visited last year. Villagers have formed a committee and employed few people from village itself. They use the funds for conservation and development purpose. Also they keep an eye on any activity going on the fort and peak. They also assist you in climbing up the Kalavantin peak.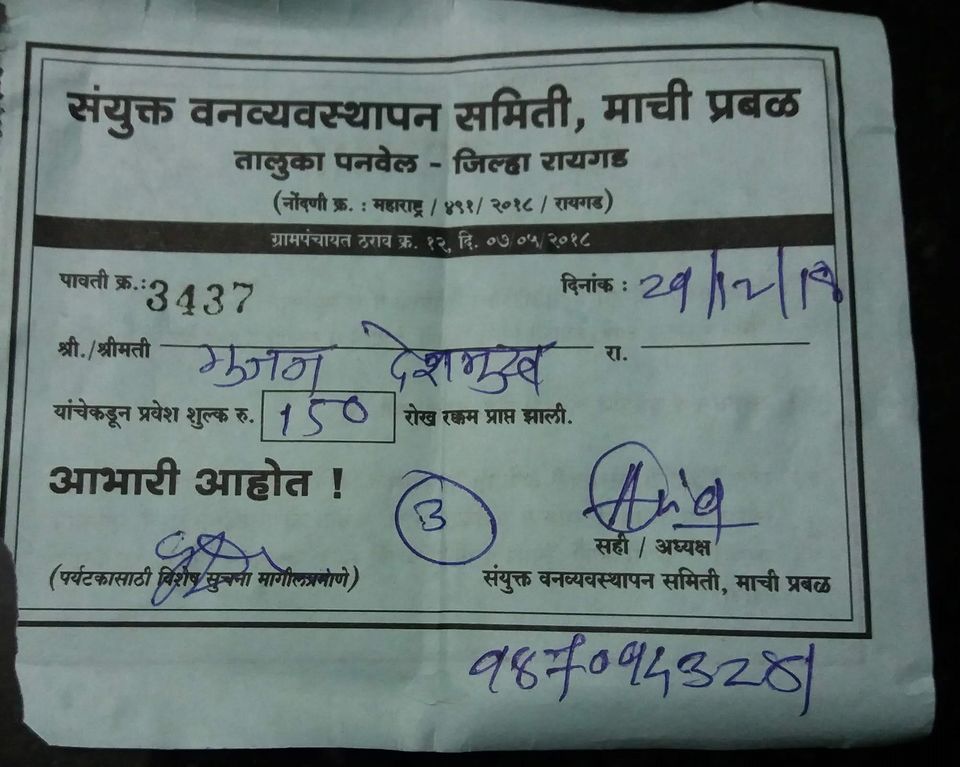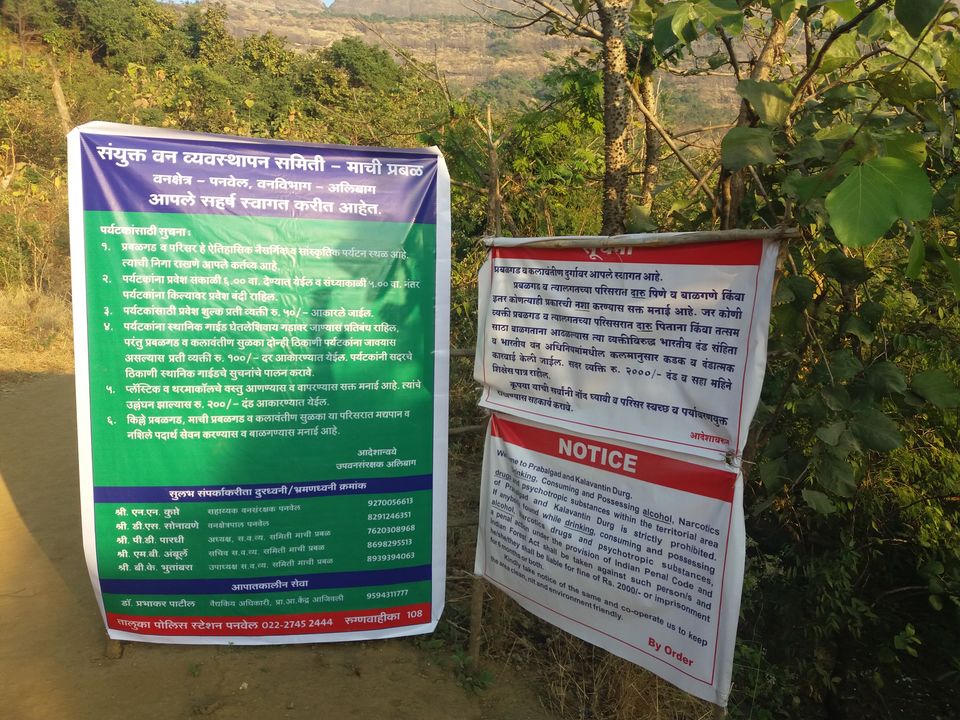 We reached the Prabal Machi village at 6 PM and inquired for tents there. It costs ₹300 for two people and for four people, it costs ₹ 500. There are also rooms available, but they are available if you are in a bigger group.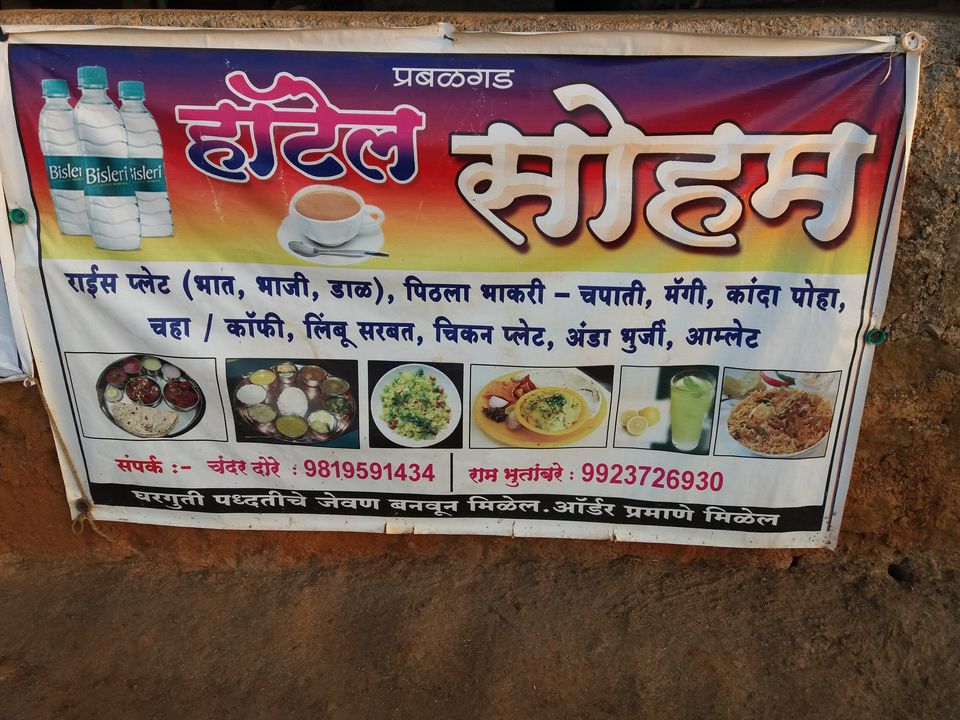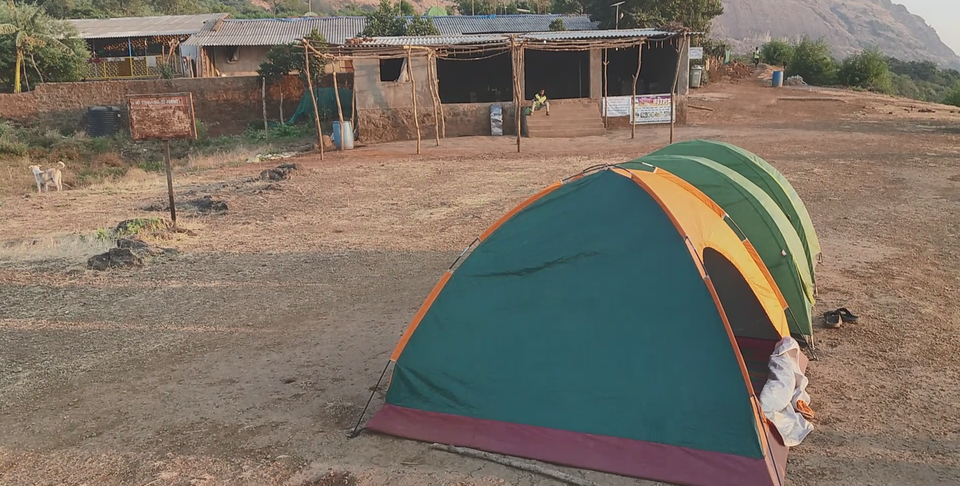 We had dinner in the village. Veg food costed us ₹ 100 while non-veg was for ₹ 150. After dinner, it was feeling very cold. A campfire was arranged for us. We circled around it and chatted for sometime before going to sleep.
At dawn, we headed towards Klavantin peak. It was yet to get light in the sky, we wanted to see sunrise from the top. We reached there in 30 minutes and made it just on time.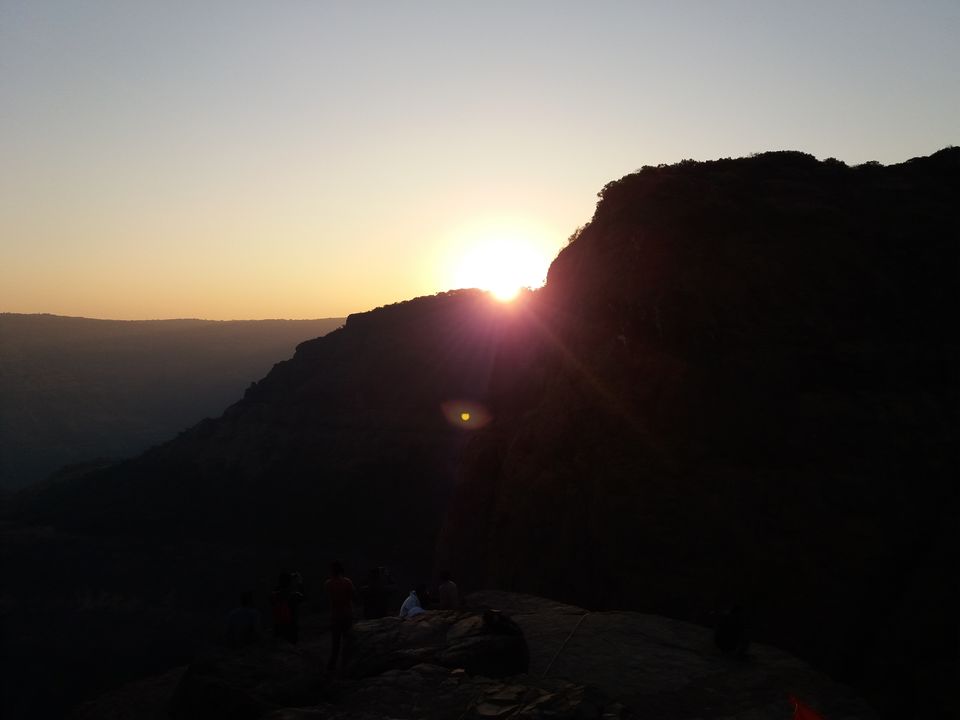 The feeling at the top was very soothing. we let the feeling sink in. When we started getting down, saw a large group of people climbing up. I was happy to have avoided the crowd.
There is a water tank on the Kalavantin peak but the water is not potable.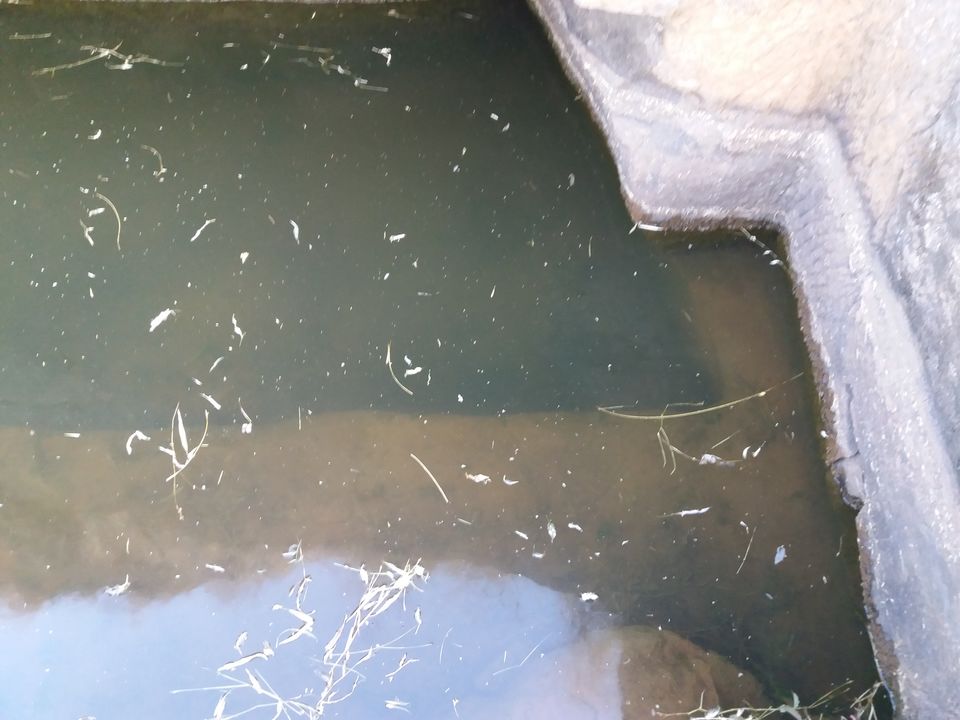 As we reached the base of Kalavantin, we spotted a cave. It must be close to 30 feet deep. There was a carving of Lord Hanuman.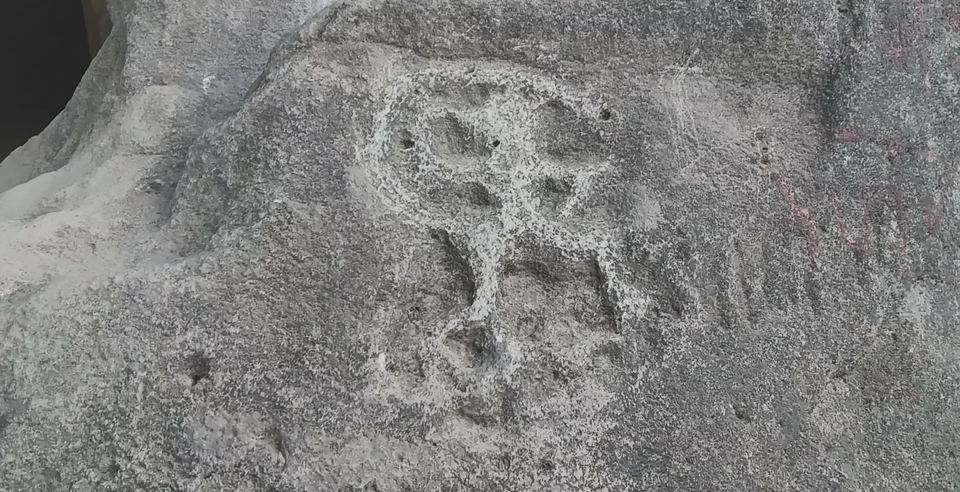 you should be extremely cautious while going in as there is dark inside and there can be some reptiles.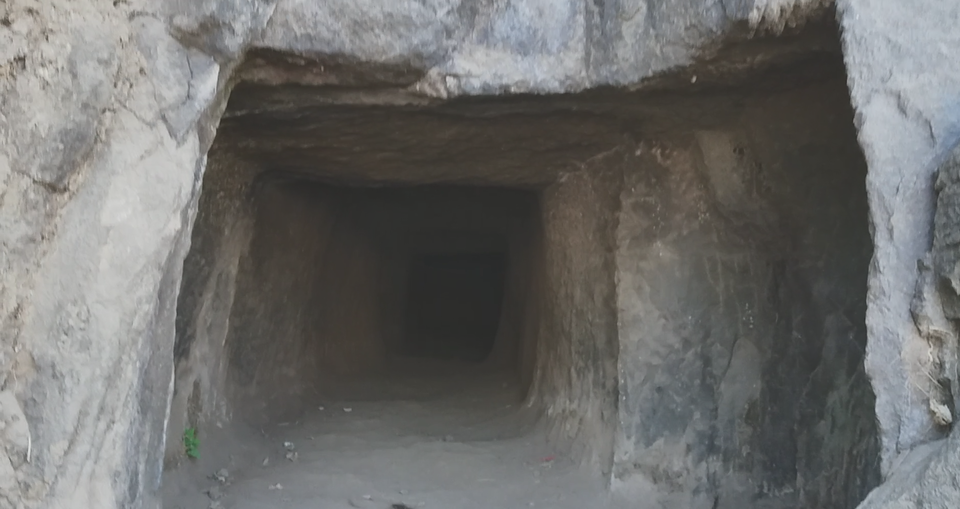 I went in and found it to be a thrilling experience.
From this place, there is a way to reach the Prabalgad fort. But this path witnesses landslide so better to avoid this. Go back to Prabal Machi village and then climb up from other way.
On the way to return, we noticed a cave in the Kalvantin peak from other side. However this cave can only be ascended if you have rock climbing equipment.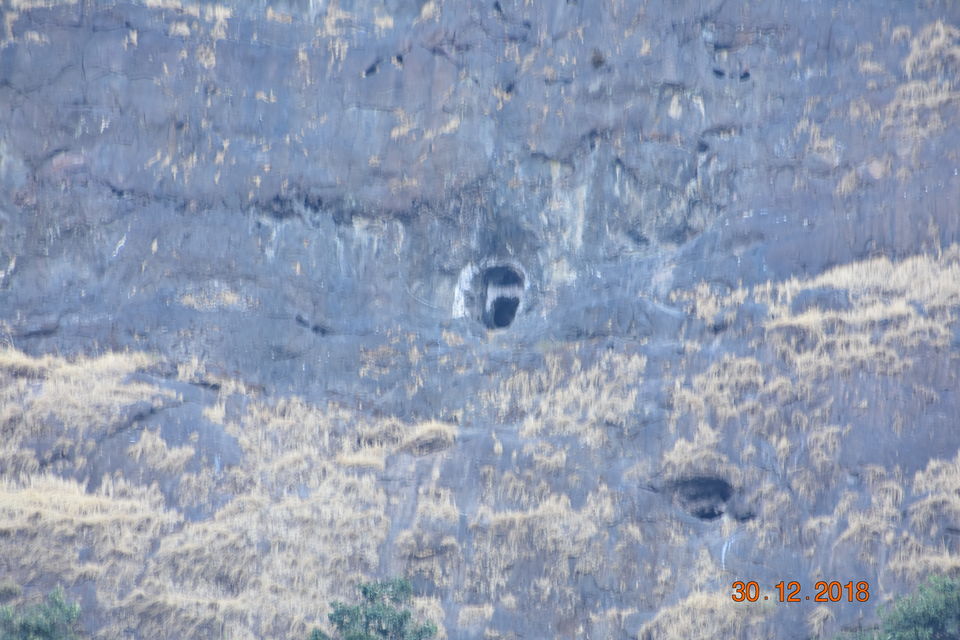 We had breakfast at this place. After talking to the person there, we came to know that actor Salman Khan (Hindi movies actor) has visited his place. A big hoarding has been placed at the entrance with his images.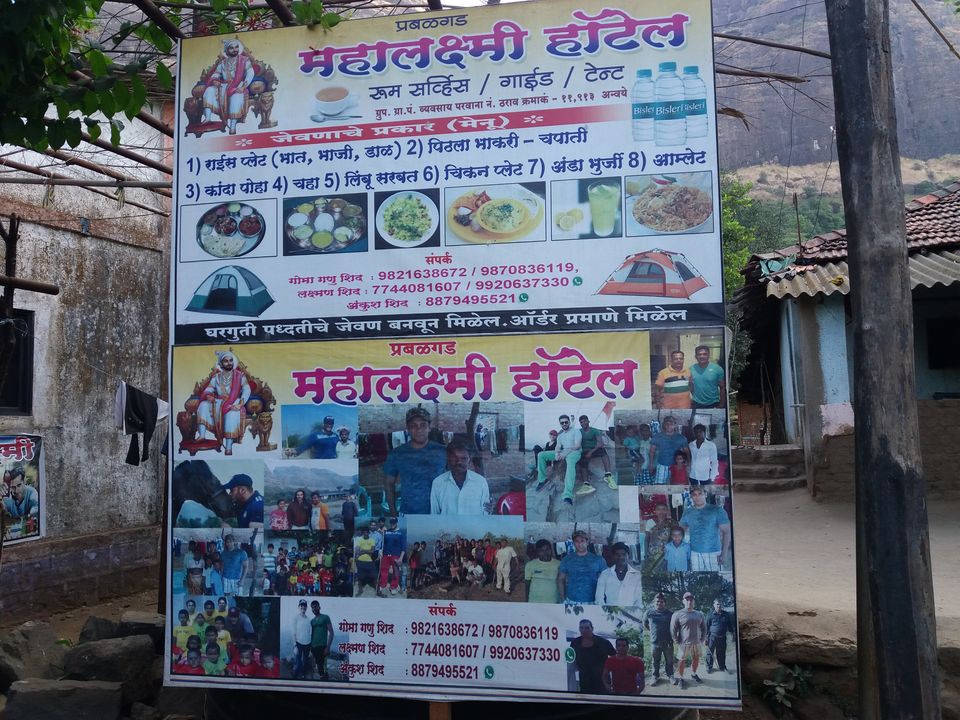 The way towards Prabalgad is marked with white arrows on the rocks and trees.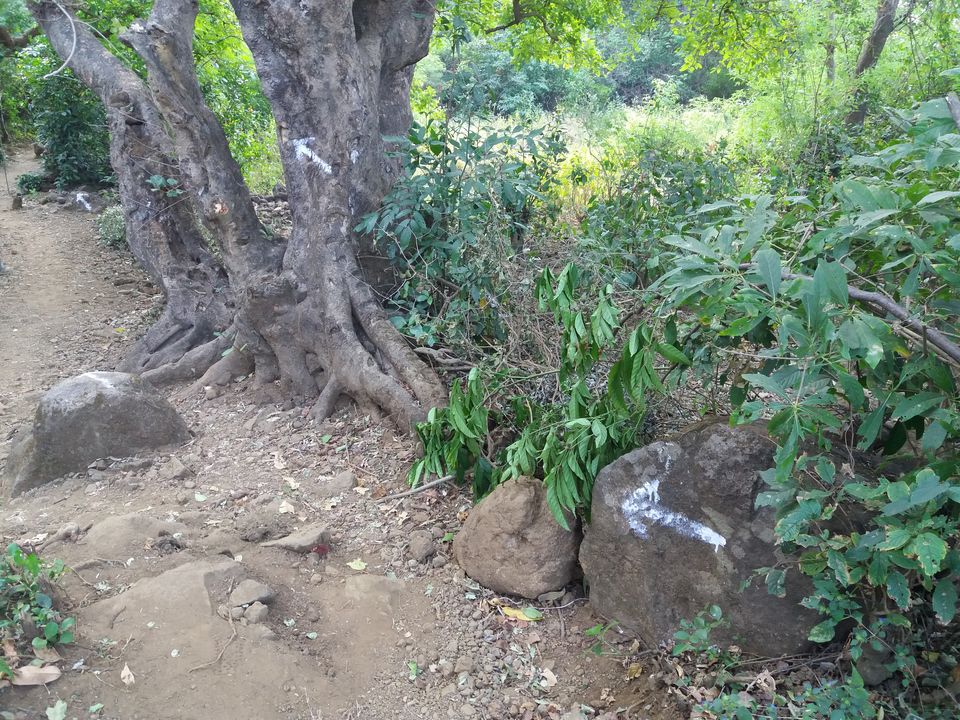 There are many huts on the way where you can have refreshments.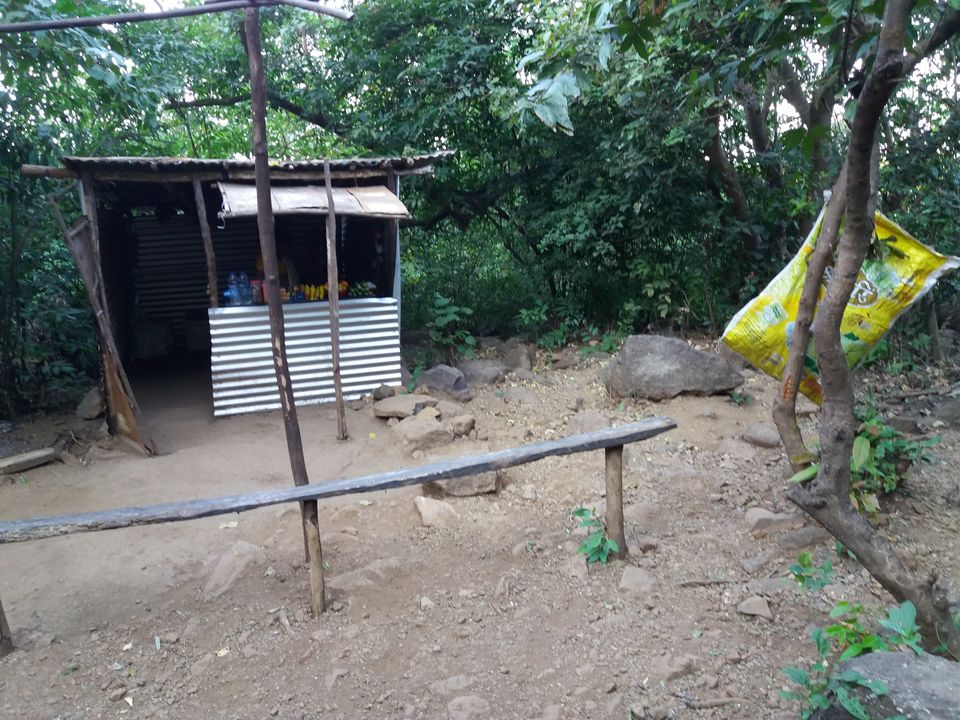 We walk through rocks and a patch of trees, after which we reach this place.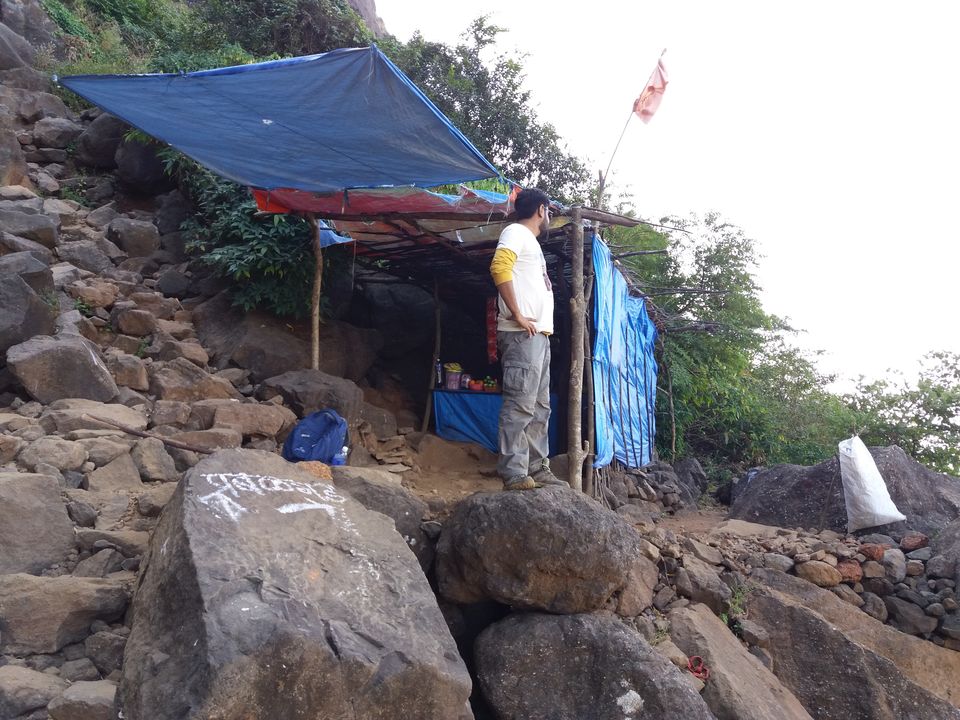 Just beside this, there is a large tree behind which a cave can be seen. This cave is lower in height but deeper than the cave at Kalavantin peak.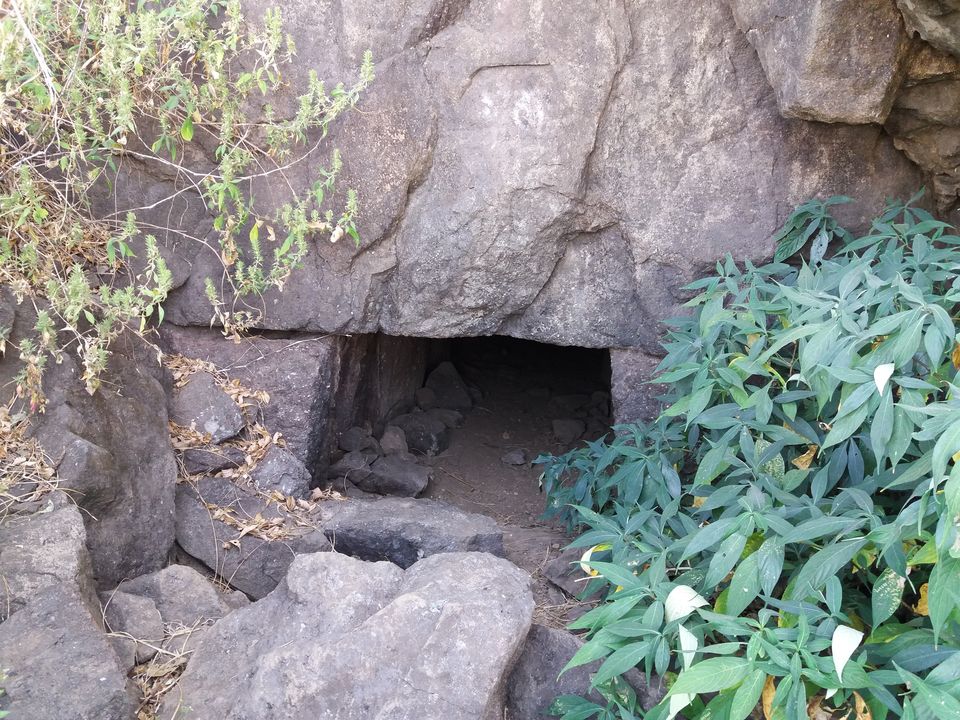 I saw snake's skin shredded in the cave, so one has to be very watchful while going in.
After around 1 hour, we reached the top of Prabalgad fort. The plateau at the top is very huge, one of the biggest among all the forts. It is densely covered by forest. Its length would measure 3km distance. We can imagine the enormous size. Britishers wanted to develop this place as a hill station but due to the lack of water source, they abandoned the idea.
We see this board at the top. Left goes to the view point of Kalvantin while right goes to the other locations of fort.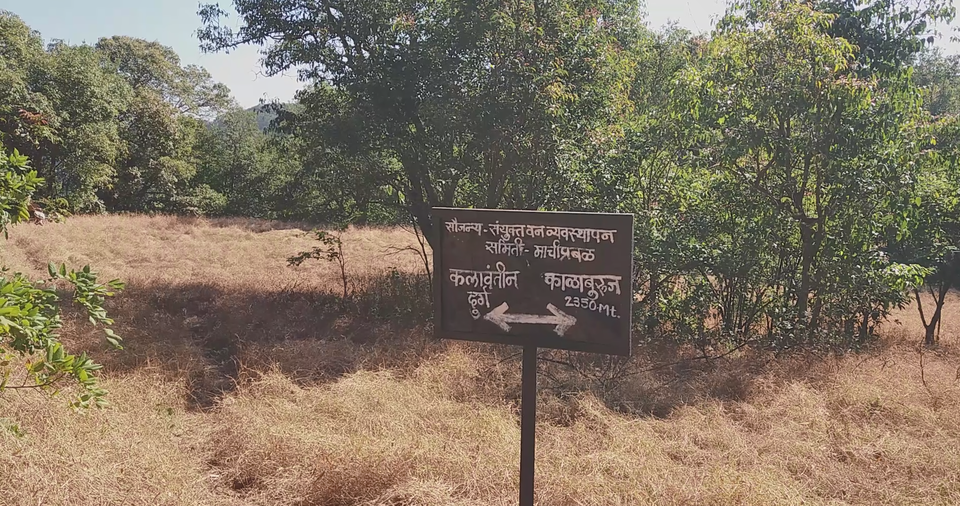 We took left and after some 20 minutes reached there. The view left all of us awestruck. The sheer natural beauty in front of us was truly mesmerizing. There is really something in Kalavantin which summons trekkers from all over India. Its charm increases manifold in monsoon with greenery all around.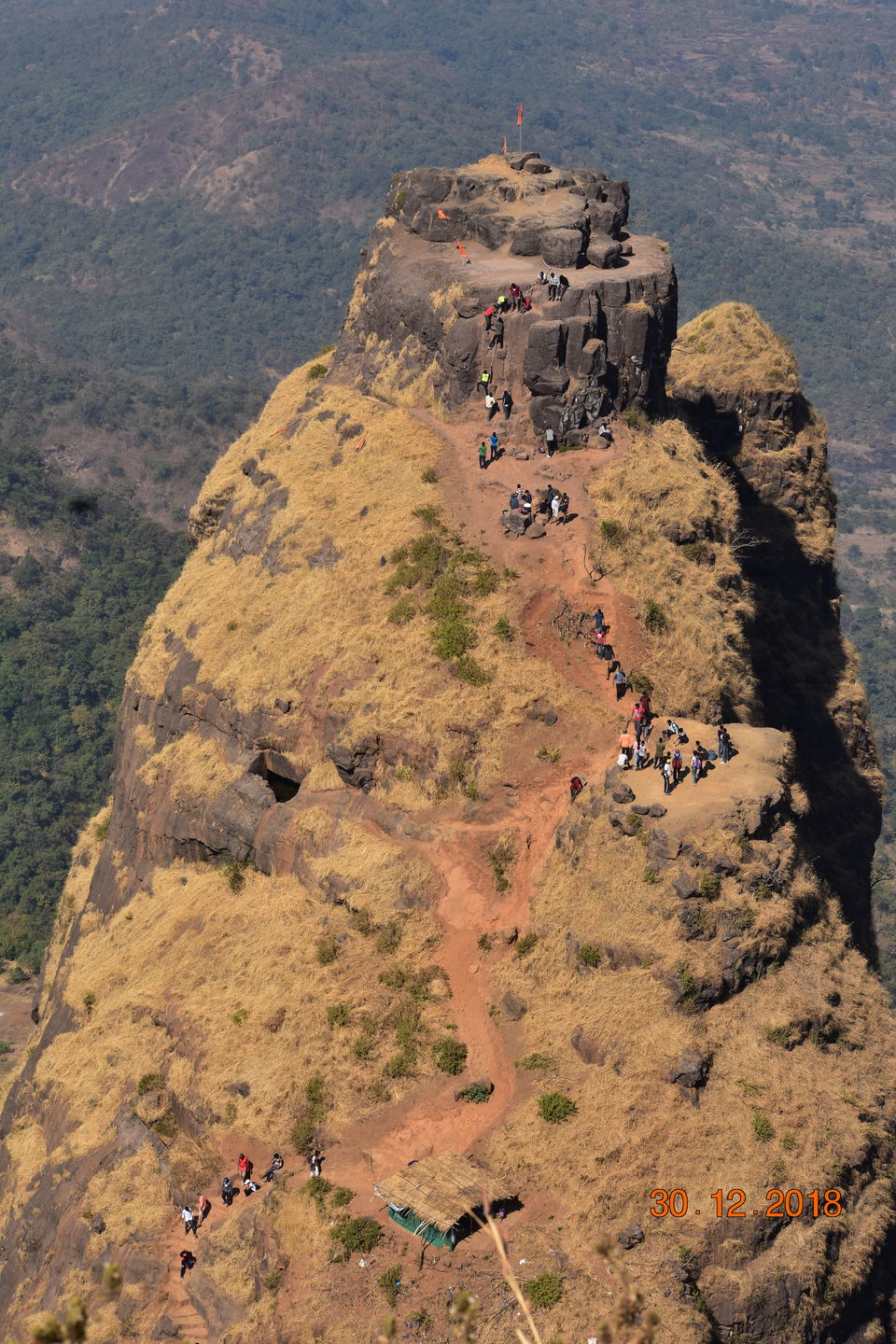 Spent considerable amount of time here looking at the spectacle. We then came back to same point and went towards other points. First we came across a structure that was built in the memory of Mr. Sahadev Sawant. He has trekked in this region and also helped others explore.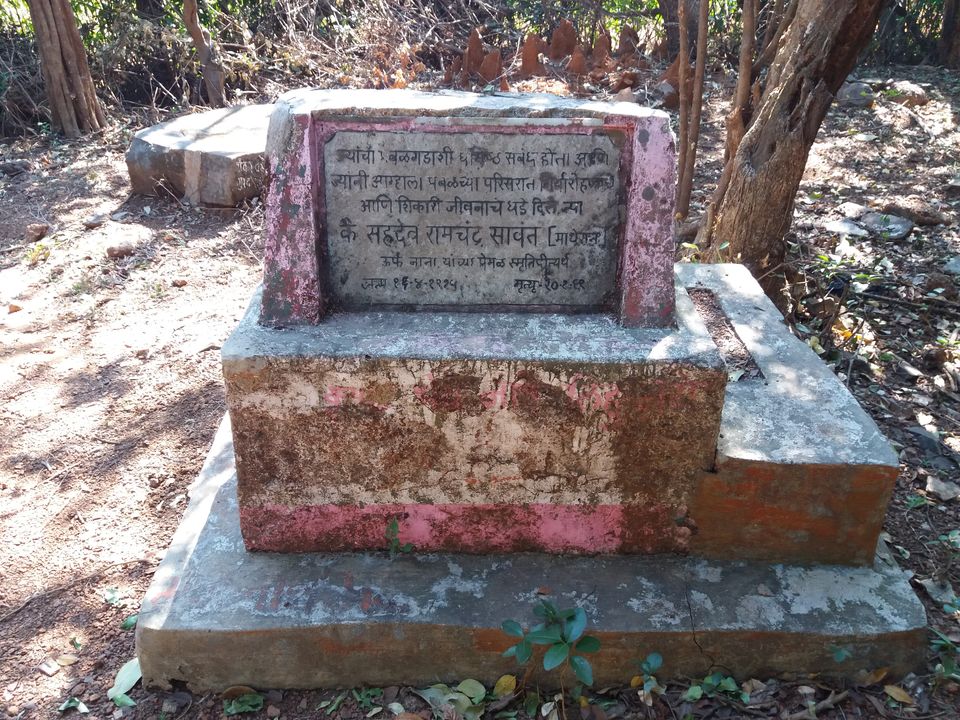 Going ahead, we came to a temple of Lord Ganesha. There is a Nandi carved out of rock. Also I saw dilapidated Shivalinga.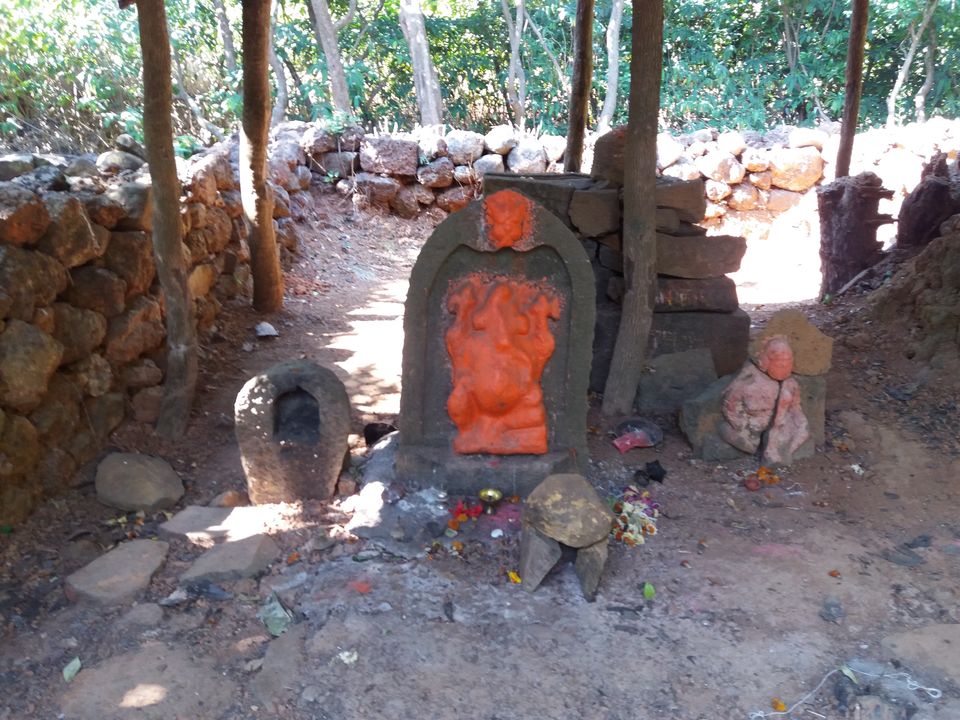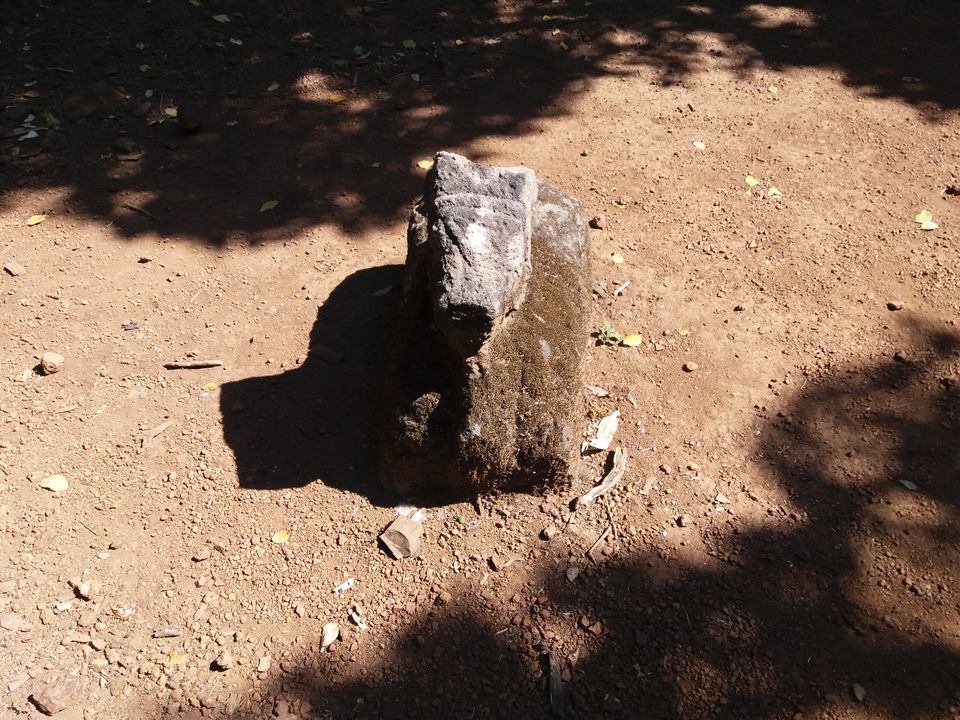 Further, there is a natural lake which was dried up.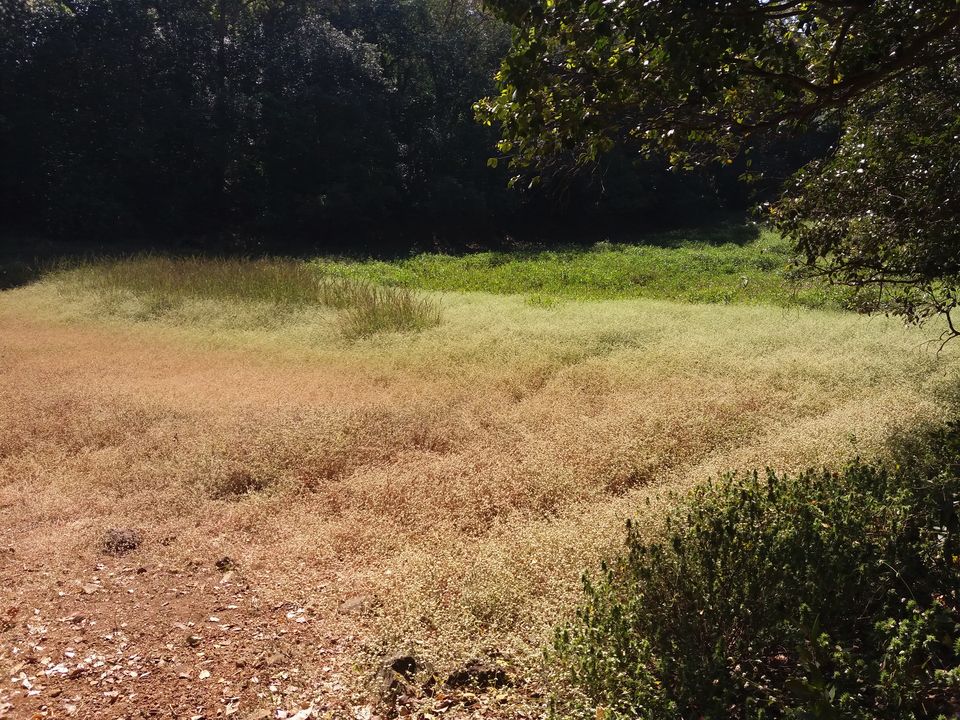 After some time, we come to a place wherein there are two ways. One goes to Borichi Sond point and other to Kala Buruj. We went towards Borichi Sond.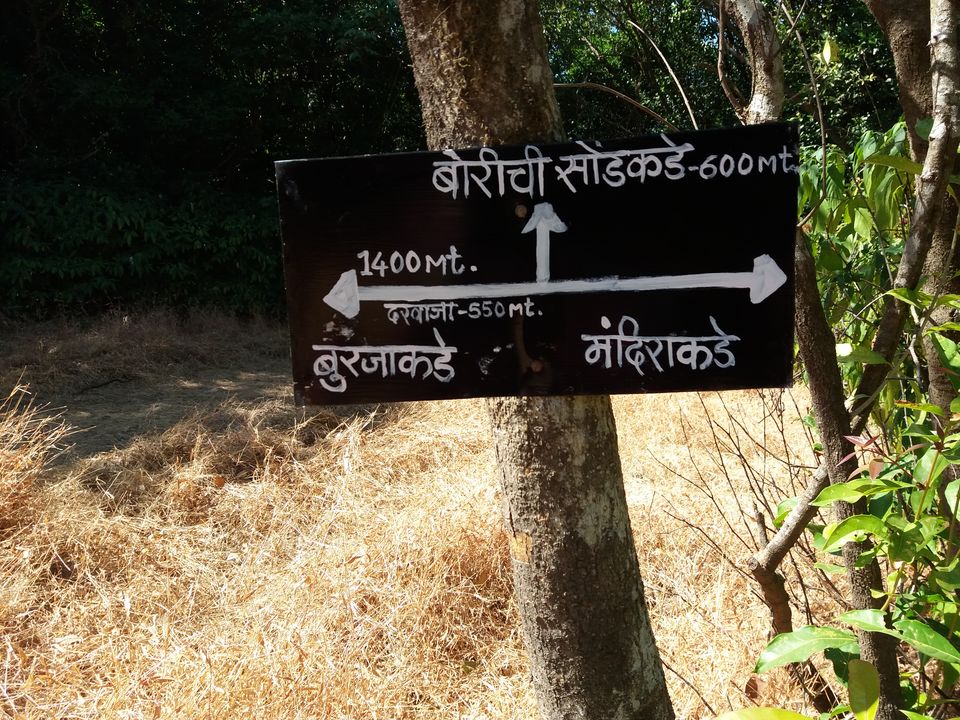 Borichi Sond is a point named after a tree of Bor there. It offers the panoramic view of nearby forts, Panvel and Navi Mumbai. on a clear sky day, we can easily identify, Irshalgad, Manikgad and Karnala forts.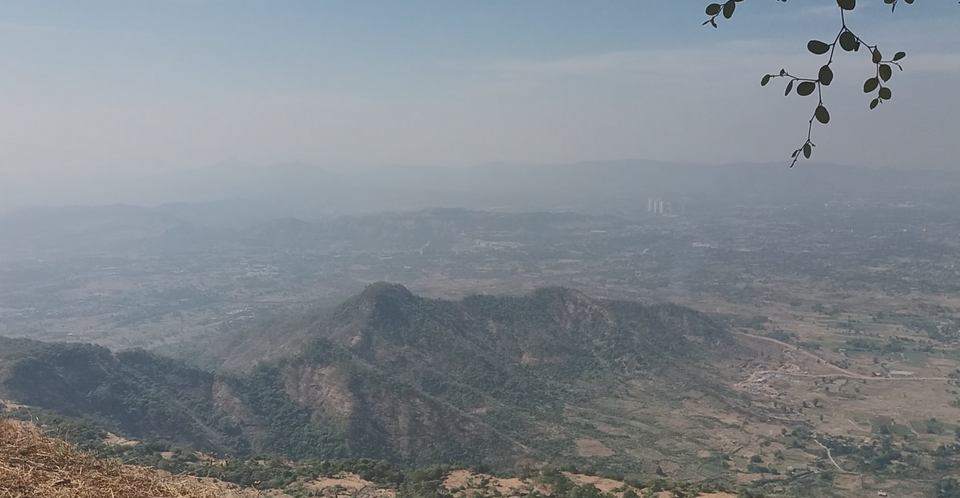 We have to come back to same point to go towards Kala Buruj. There is a long walk so make sure you carry enough water. On the way, we first come across a Darwaja. We can spot the fortification. There used to be a gate here and path from here leads to Irshalgad fort.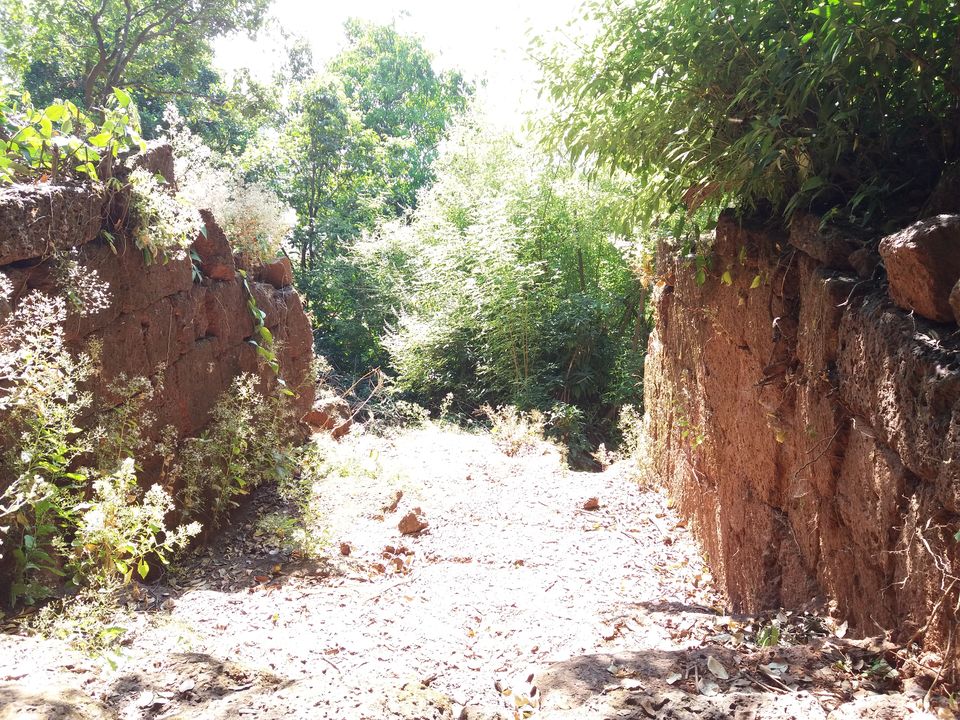 Moving ahead, we saw this building which could have been used as a watchtower.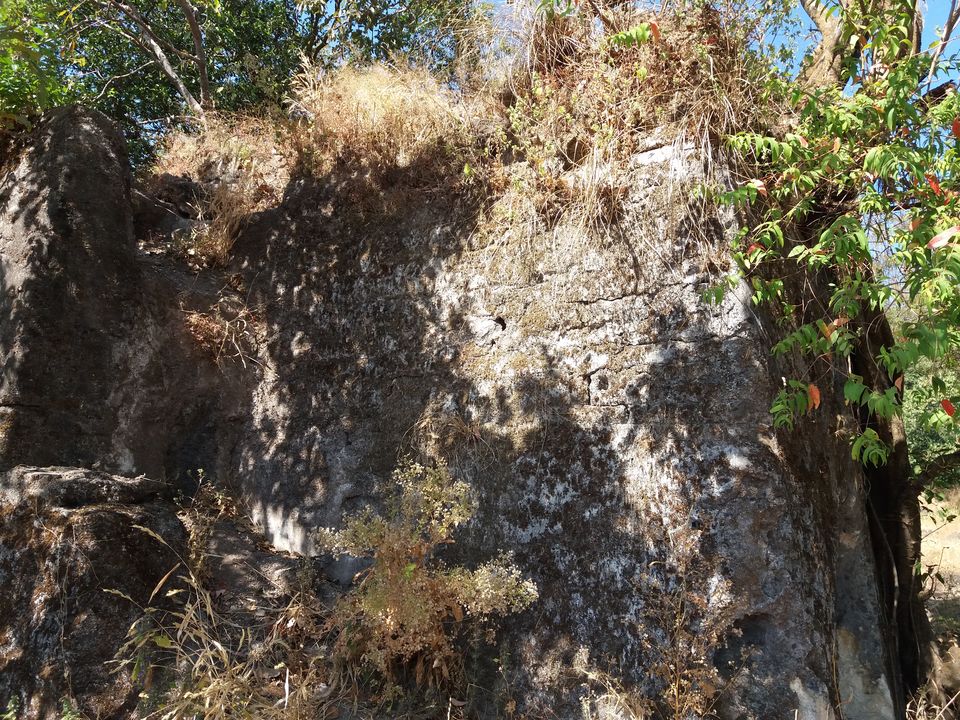 There are couple of water tanks near Kala Buruj but the water is not potable.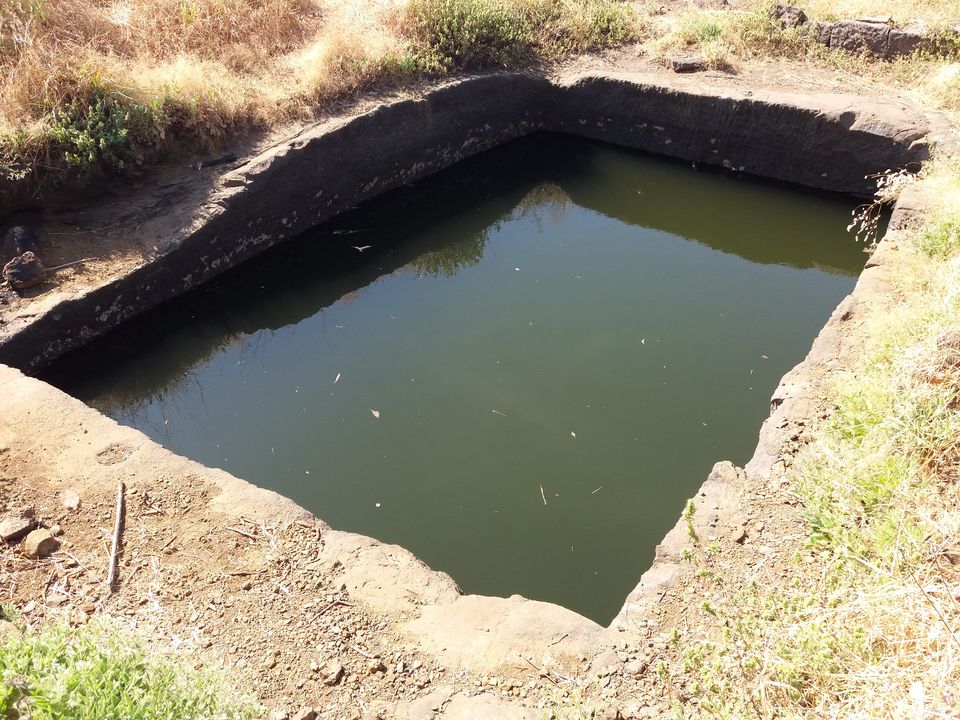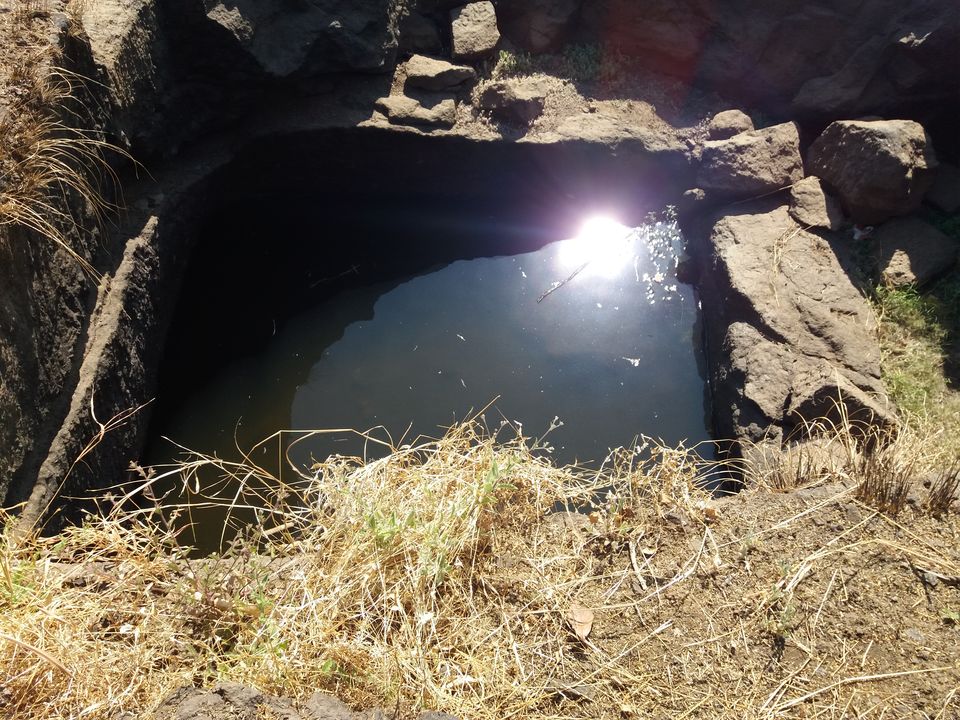 After 2 hours of walk, we reached the last point of the fort. It was worth the effort though. We get the most beautiful view from here. On the left side we can see Matheran range. Further there is Morbe dam. Beside that, we can see Irshalgad, Manikgad and Karnala forts.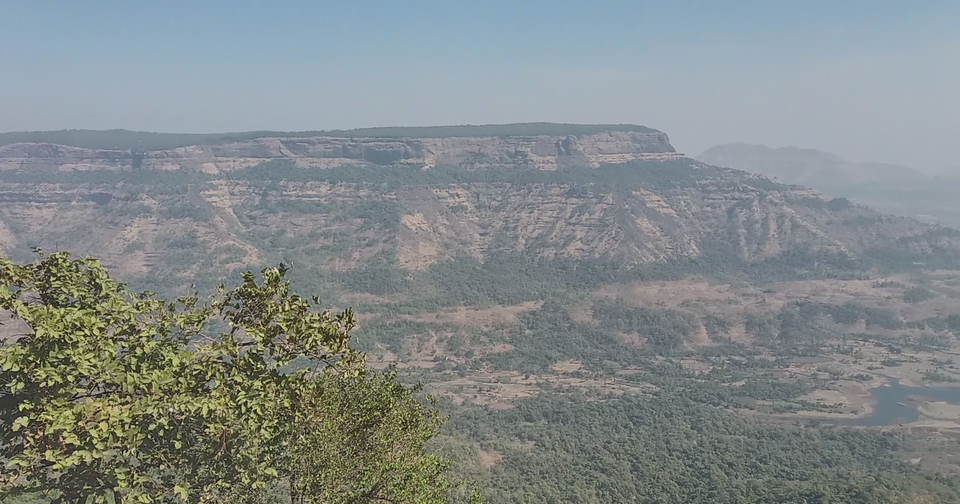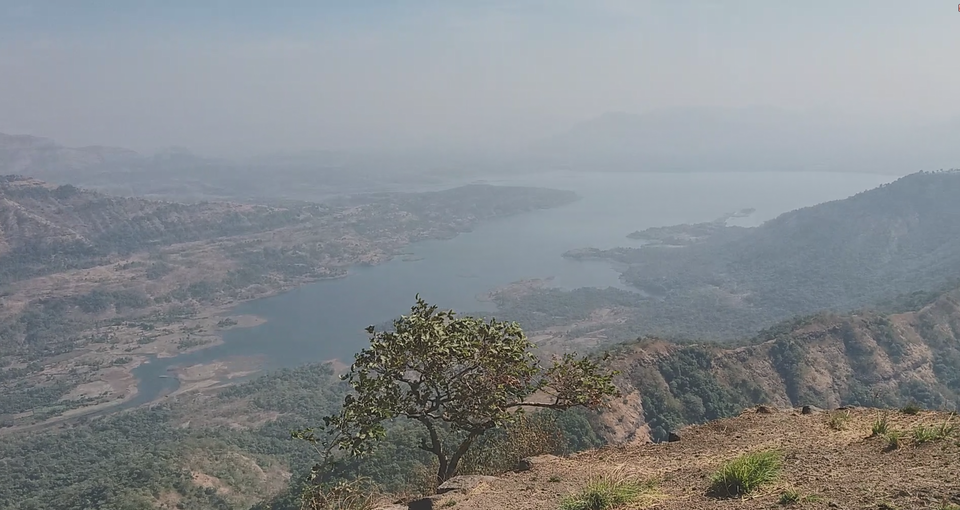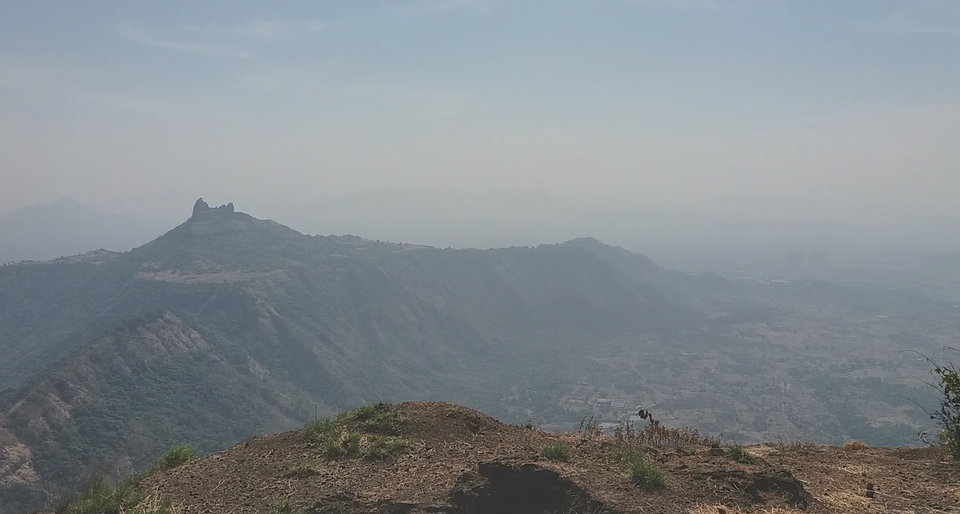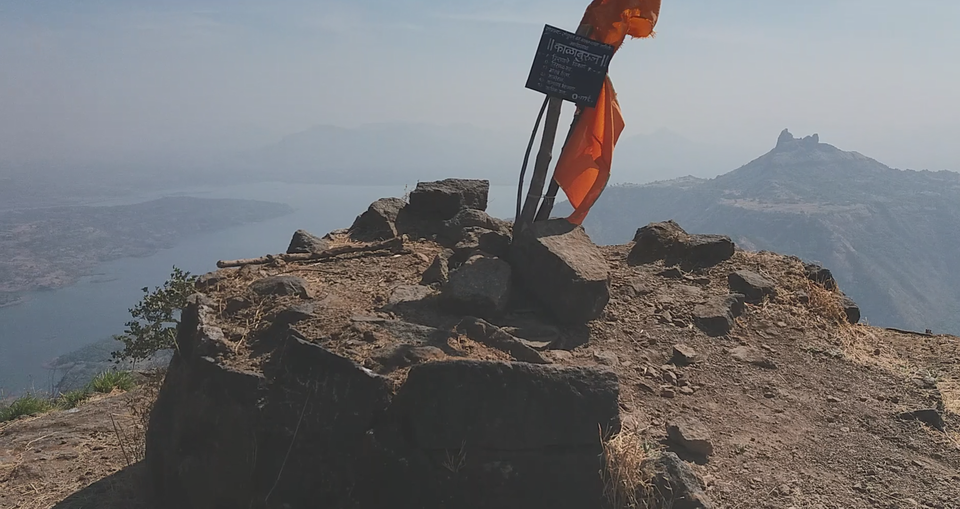 If we look down from here, there is another bastion. However the path going there is tricky.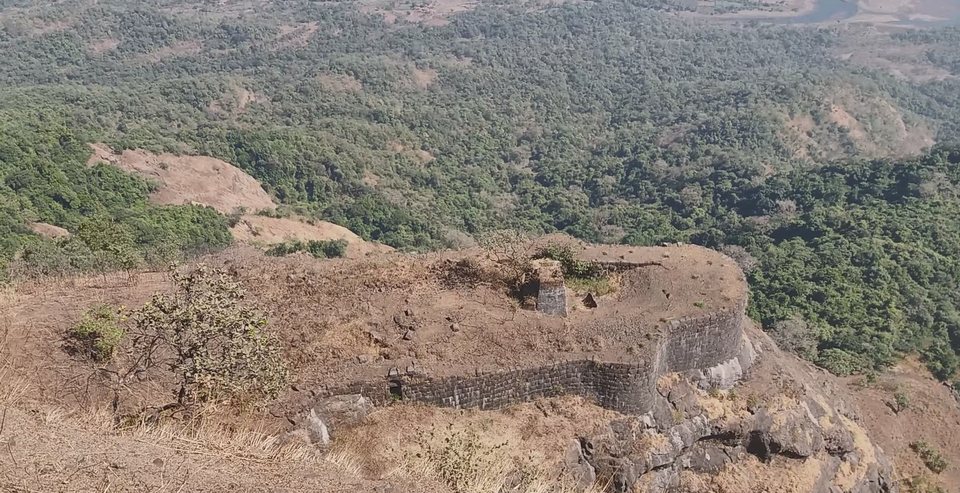 We came to the initial point. After talking to the vendor there, got to know that we missed Rajwada spot. We went in the direction of Ganesh temple and followed the path as per the arrows. After 10 minutes, we came near it. There are four rooms built near each other. These must have been used for high rank officers.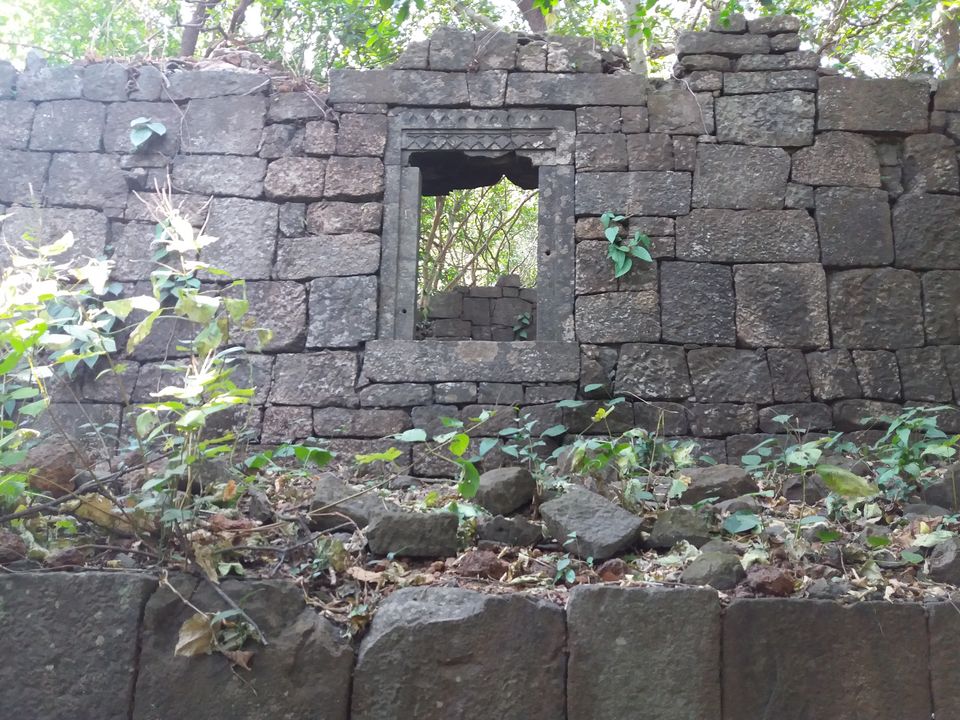 Apart from the walls, nothing else is left inside. This completed our exploration of Prabalgad fort. It was hectic but was much rewarding in terms of views and scenery.
You can also watch the vlog below.
Leave only your footprints, Take back only pleasant memories.