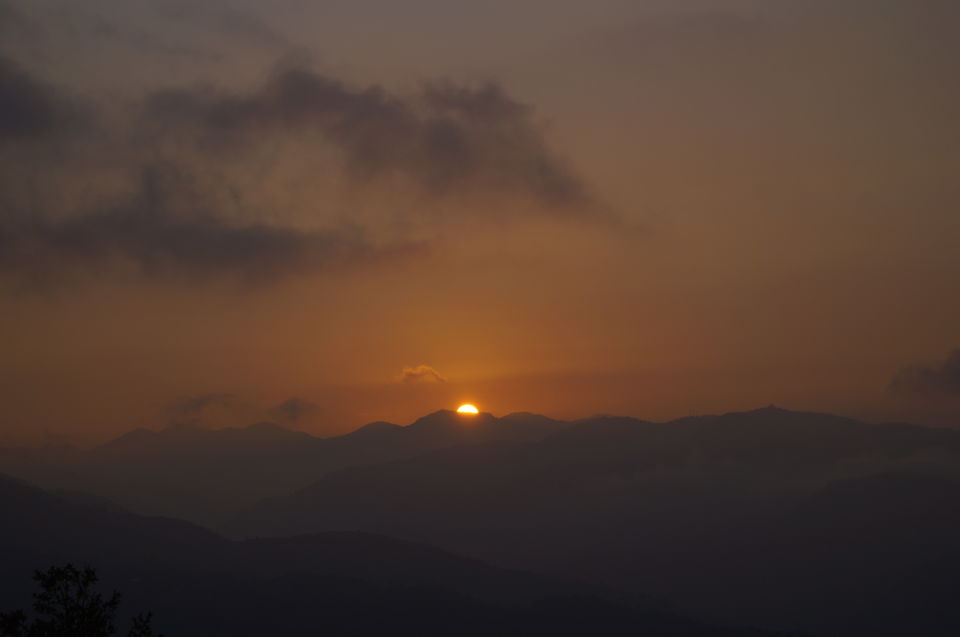 It had been nearly 1.5 years since I moved back to Delhi and while I had trekked in the Southern hills, the massive mountains of the North had been missing from my travel itinerary. No, I am not relating to Game of Thrones here.
So, when a friend asked whether I would like to join him on a road trip to Mukteshwar, I grabbed the opportunity. He picked me up in his Ford from AIIMS on a Sunday afternoon, and we set off at our nearly 350 km journey. Except for the slow traffic in Delhi, the journey was quite smooth. We had a terrific south Indian dinner at Udupiwala, at Rajabpur, whose mix veg Uttapam is especially famous among regulars. I missed the scenery as a major part of our journey, especially the mountains, was covered in the night.
We reached our hotel in Mukteshwar at 2:00 am in the morning and went straight to bed. Next morning I woke up at around 9 am and took my time to get ready. My friend, a regular to Mukteshwar due to some business related work, was supposed to be busy for most part of the trip. However, being a solo traveler, I didn't mind being left alone for some time.
Our first stop in the morning was the famous Chauli ki Jaali, situated behind the famous Mukteshwar Mahadev temple. Although not religious, I decided to give the temple a try anyways. My friend dropped me to the temple and we had a maggi together before he went off to his business. I climbed up the stairs to the small temple, which offers a great view of the mountains. It was very quiet and the sound of the mountain winds could be easily heard, swaying tree branches and bells. There was no sound of any human or vehicle.
I clicked some photographs there and then descended back to the entrance. Just on the left of temple entrance, a path diverges towards Chauli ki jaali. Locals are happy to guide tourists in case of confusion.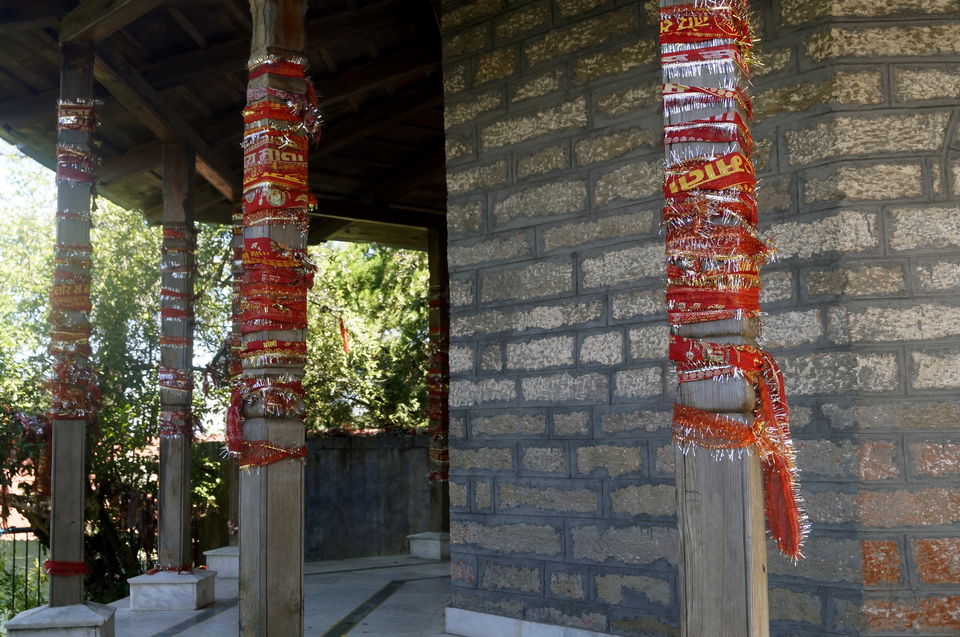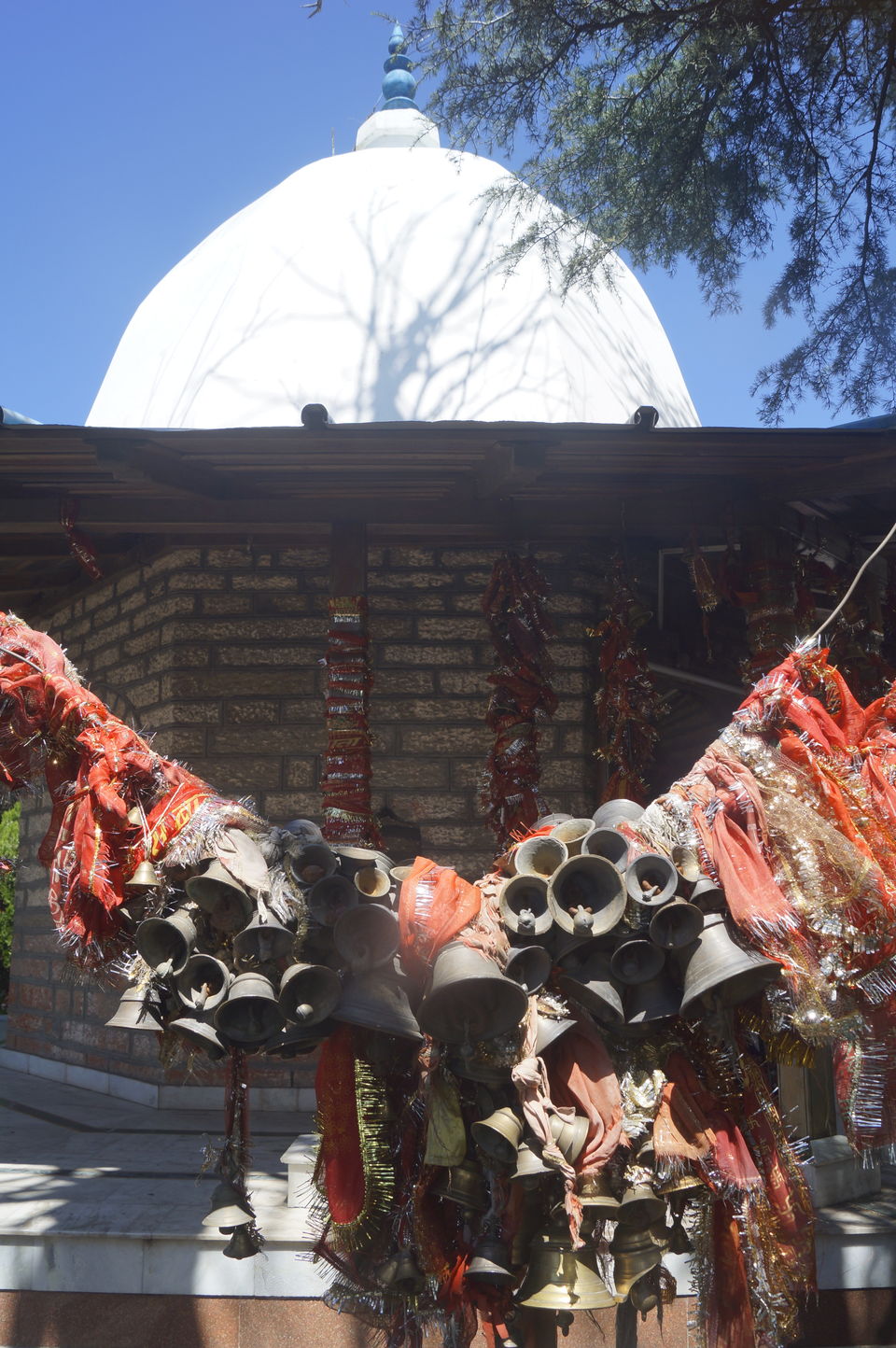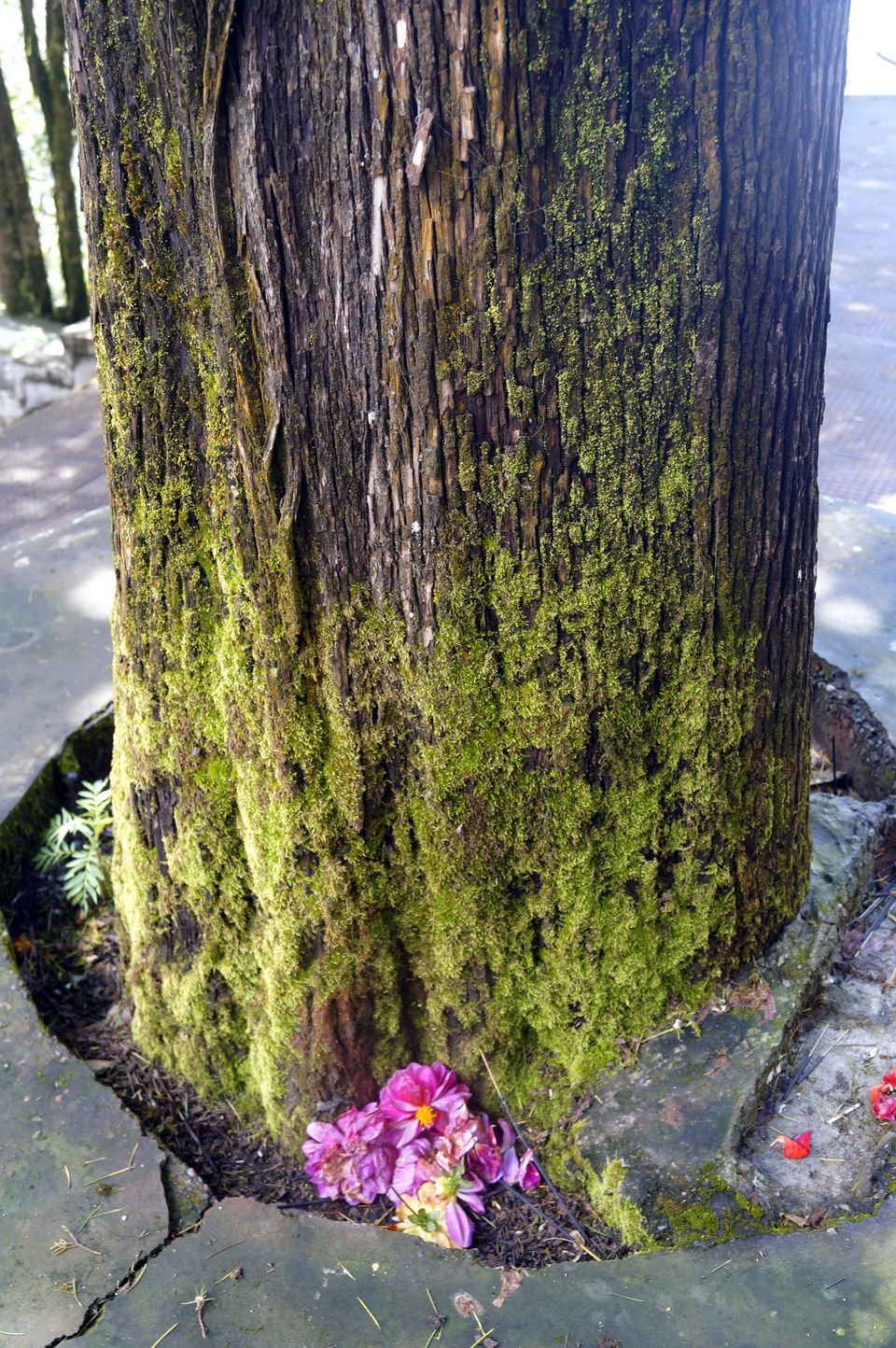 I took the path which was built of stones and gave a feel as if I was about to enter some mountainous location from 'Lord of the Rings'. However, one comes out into an open area at the edge of the mountain. This place is called Chaula ki jaali and gives a magnificent view of the mountain ranges, covered by a canopy of large clouds. I was told that when there are no clouds, one can see the Himalayas from the jaali. Although, I wasn't that lucky, the clouds made the landscape extremely beautiful. There were large rocks at the edge, which tourists were prohibited to ascend. However, there were many large lizards which were sitting and soaking in the sun, without any fear of humans. I sat there for some time to admire the beauty of the scenery and then sipped a tea available at a small shop set up right there on the jaali.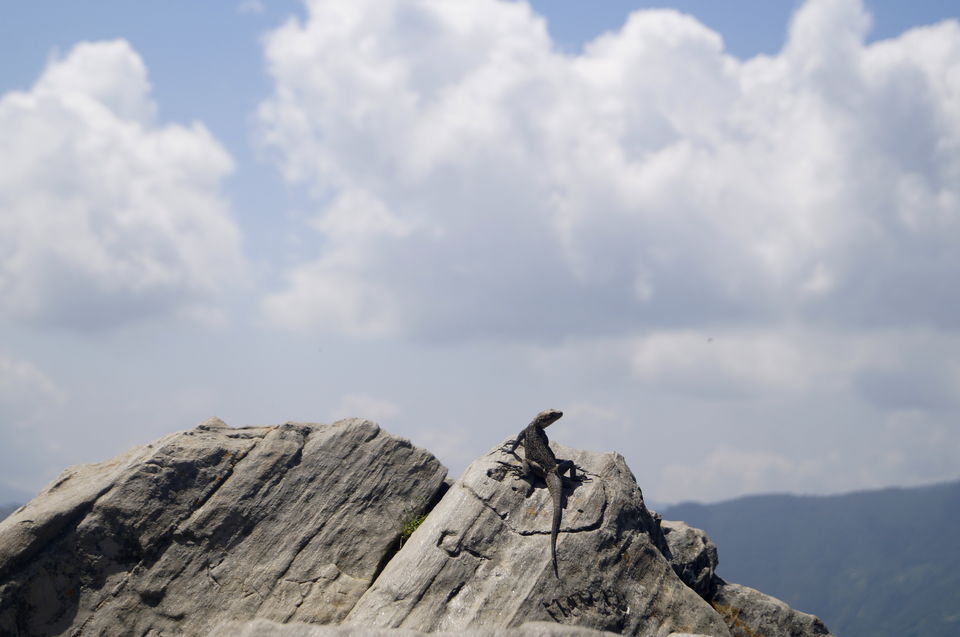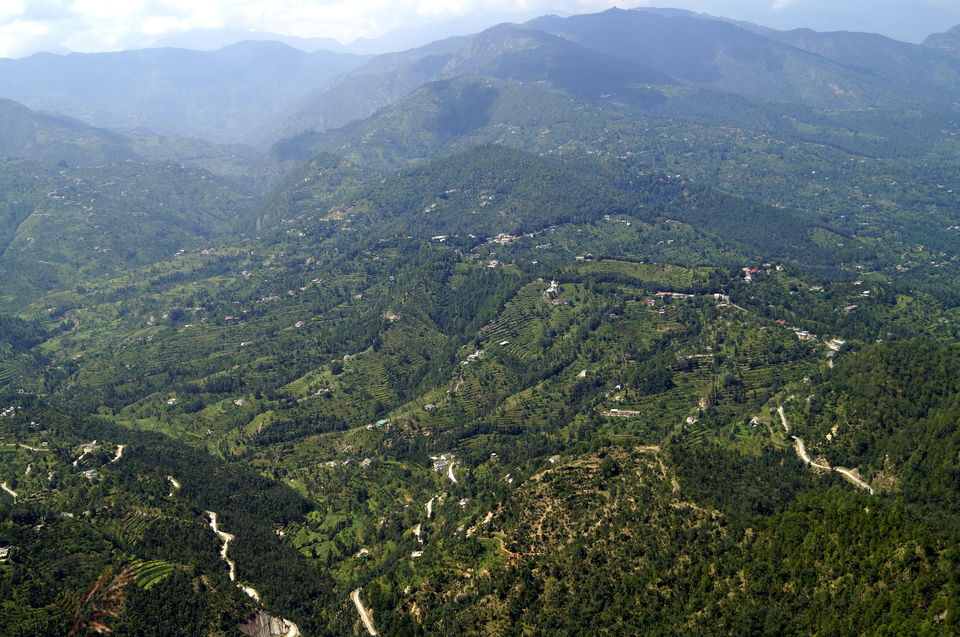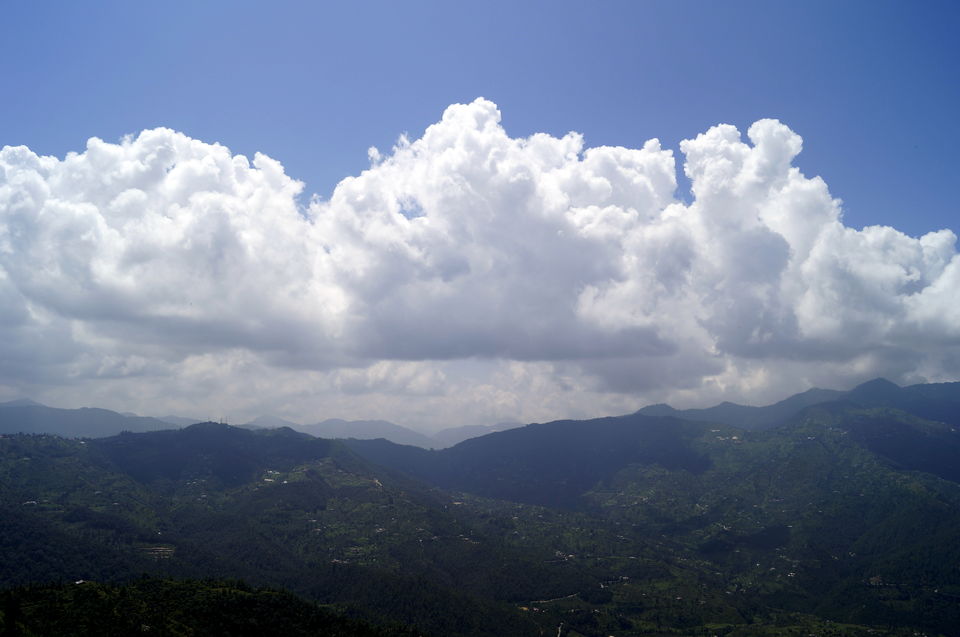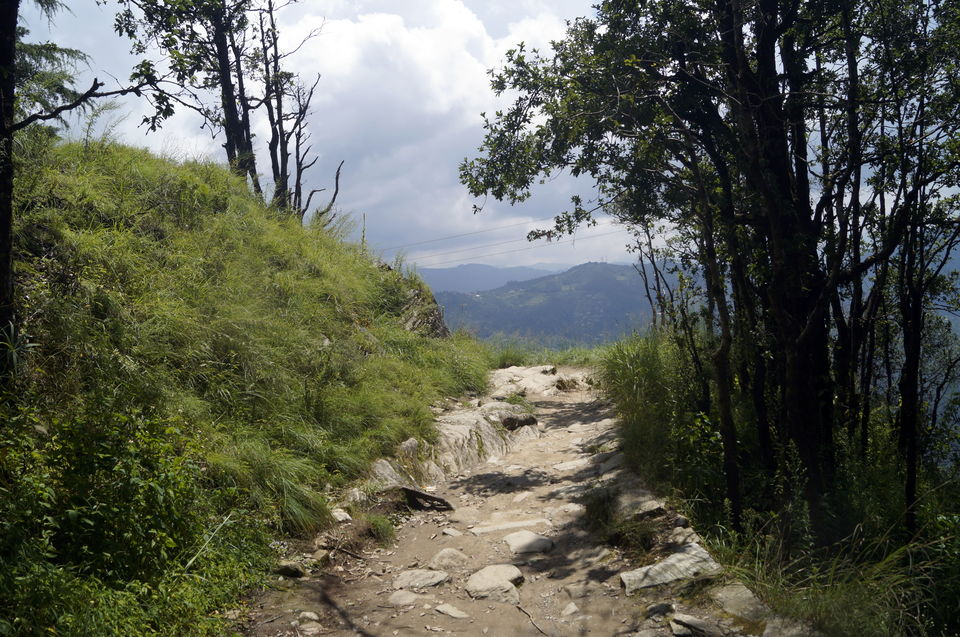 Having finished my tea, I headed back to the main road, near the temple entrance, and kept walking further on the main road. My friend had told me that one can get a great view of Almora from the road little further ahead. I didn't want to miss any opportunity to get a nice click. As I walked I saw several government guest houses nestled in the greenery, and finally a beautiful small cottage with a lawn facing the valley.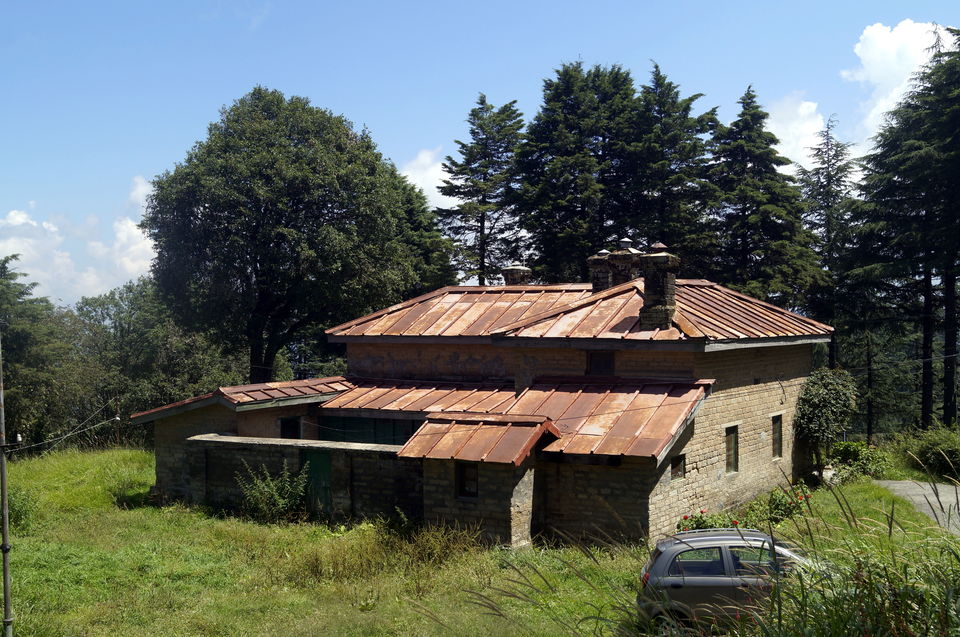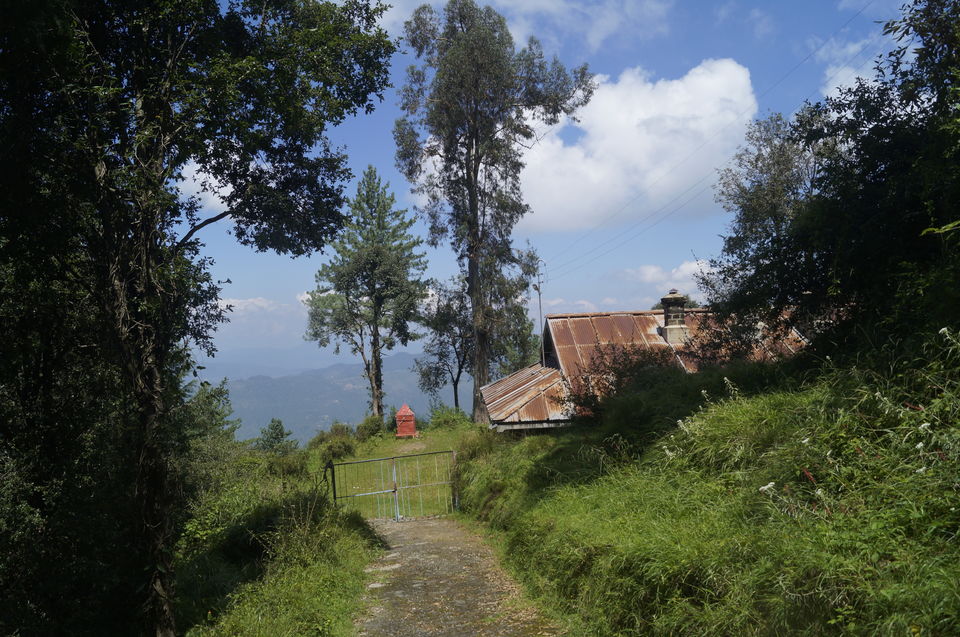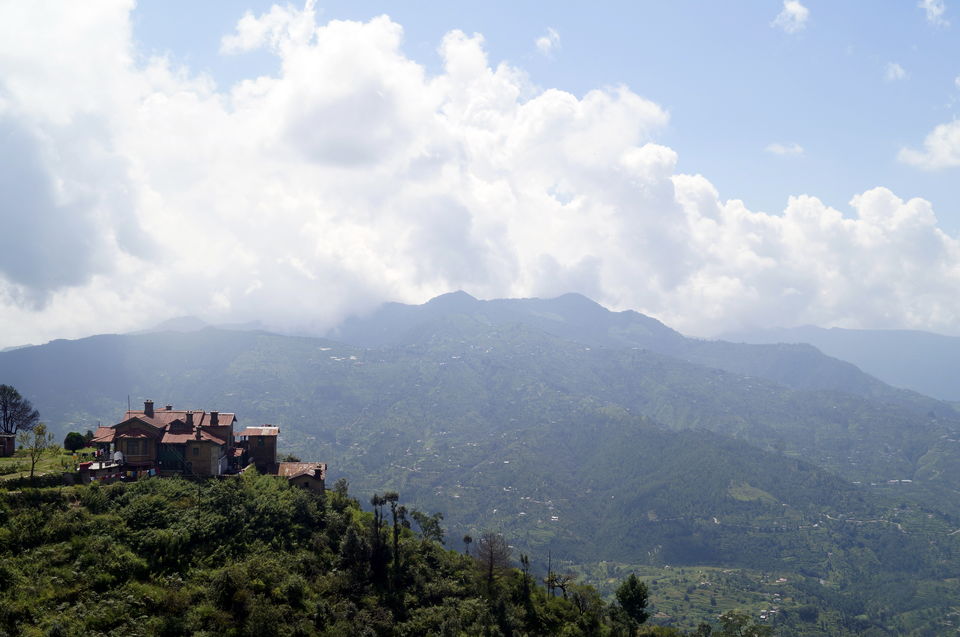 I just walked in to sit in the lawn and nobody stopped me. I couldn't imagine any other beautiful setting for a lawn, with benches and flowers overlooking a vast expanse of mountains and small towns ensconced among those mountains. One of them was probably 'Almora'.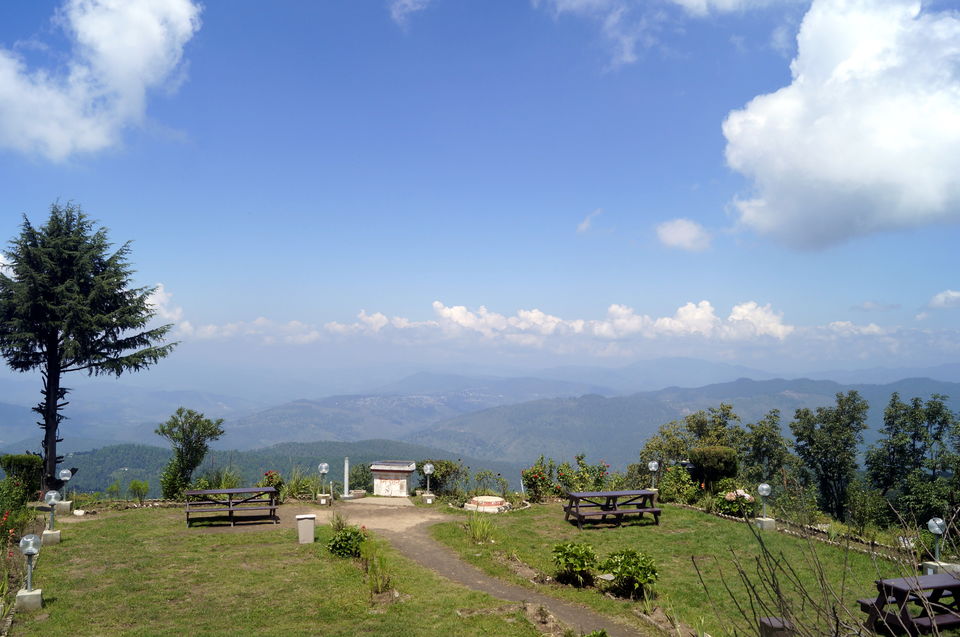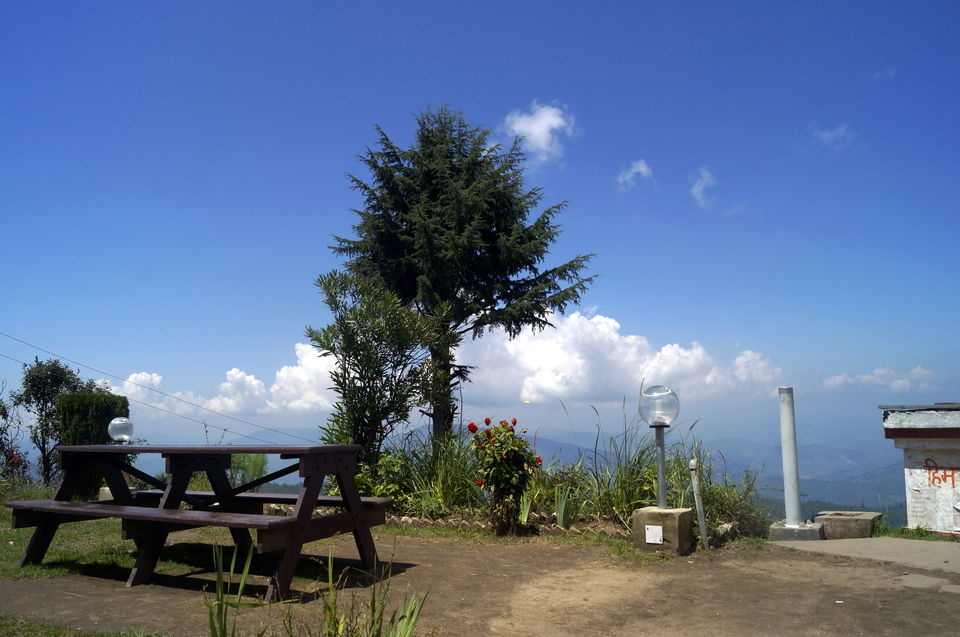 Having absorbed the view, I called my friend and started walking back to the hotel, which was quite far. I passed the government school where kids were leaving for their homes, all smiling and chirping. Besides trees, the next most common sight in Mukteshwar are school kids, walking on the road, being driven to school stuffed in small jeeps or just playing about.
Next came the State Bank atm, from which I took out the cash, and another beautiful house with clouds and mountains rising behind it. I tried to capture, as you shall see, some of them into my lens. Then I saw my friend driving towards me. I hopped back into the car and we drove back to the hotel.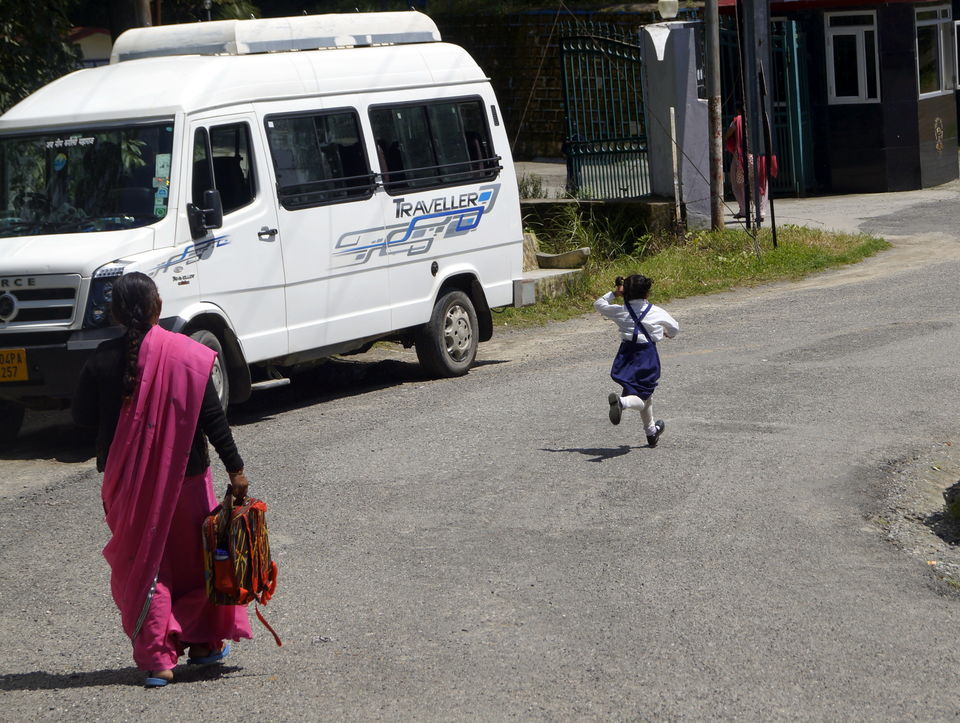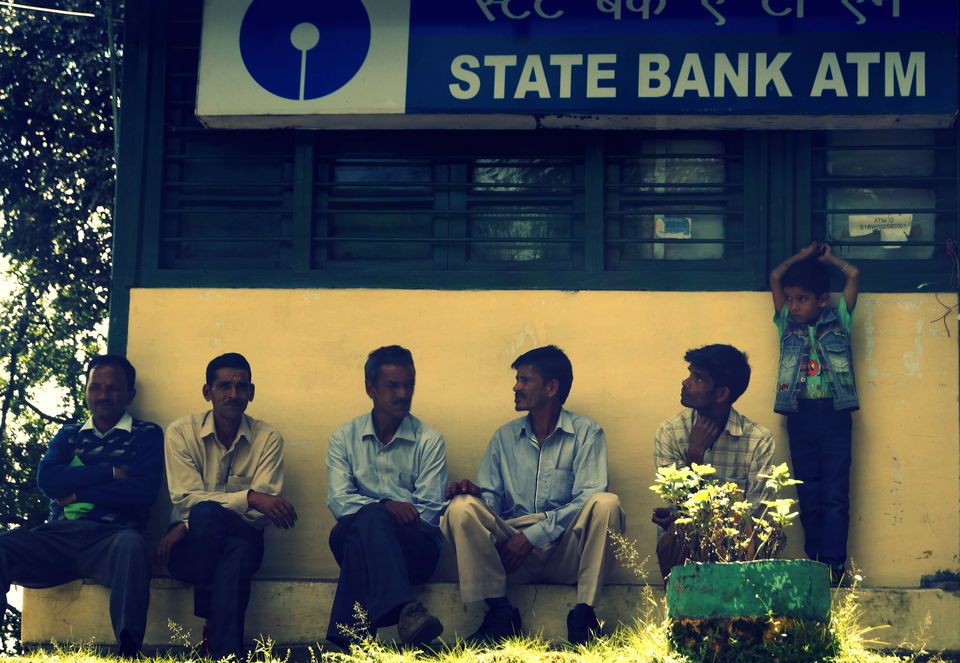 We went for lunch at a nearby restaurant cum hotel, overlooking the mountains. We could see the whole Mukteshwar from our seats while we ate. Afterwards, as the evening came, my friend took me on a drive to show around the nearby area. There are small towns like Dhaari and Dhanachuli which are connected to Mukteshwar with well-metaled roads. With the sun peeking from behind clouds, one can expect to see some beautiful landscape scenery with different combination of light, clouds and mountains. I took some beautiful clicks on this drive and while some roads can be narrow, any driver would enjoy driving through the nearby areas of Mukteshwar.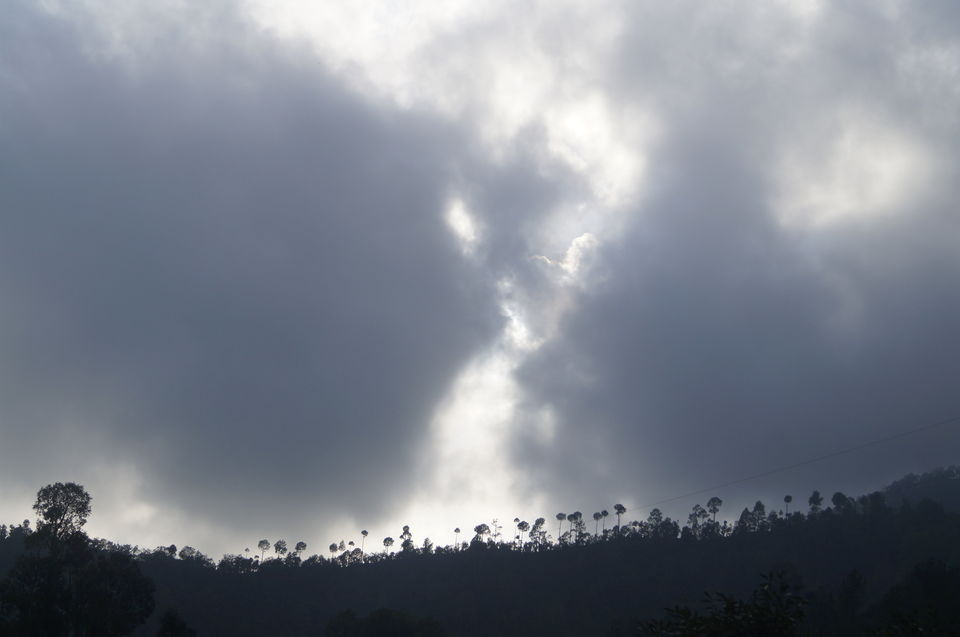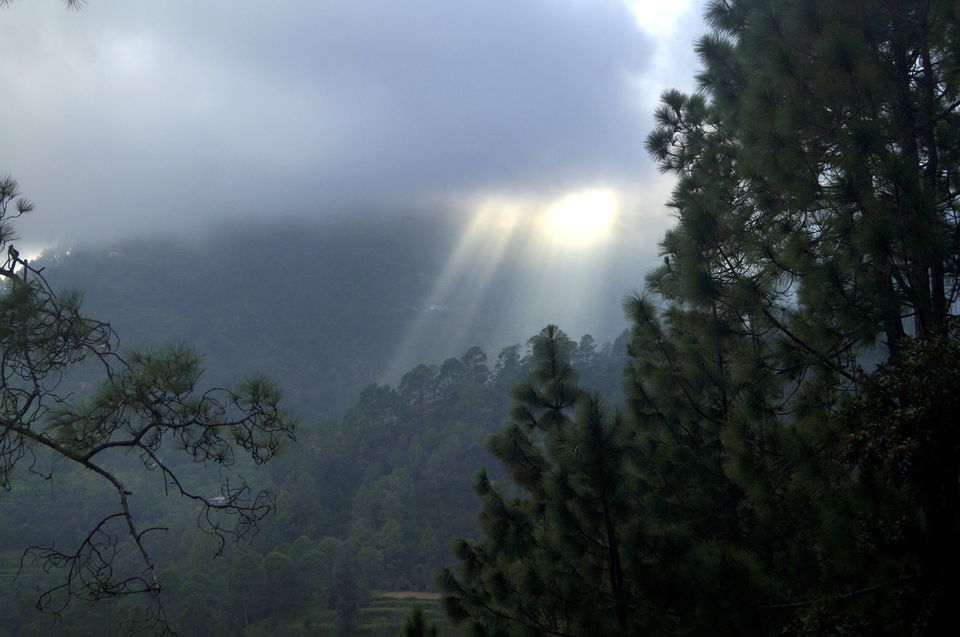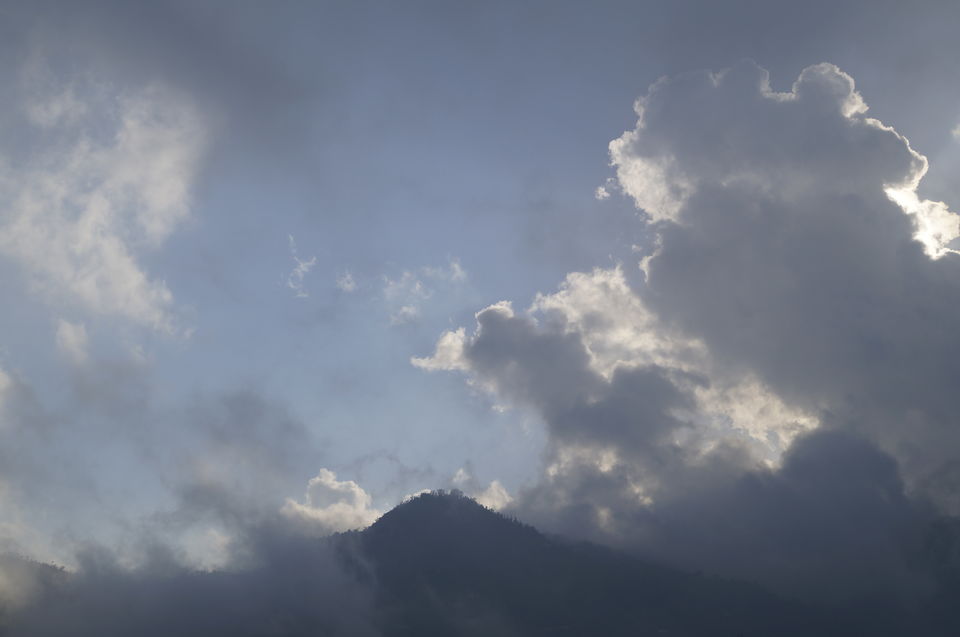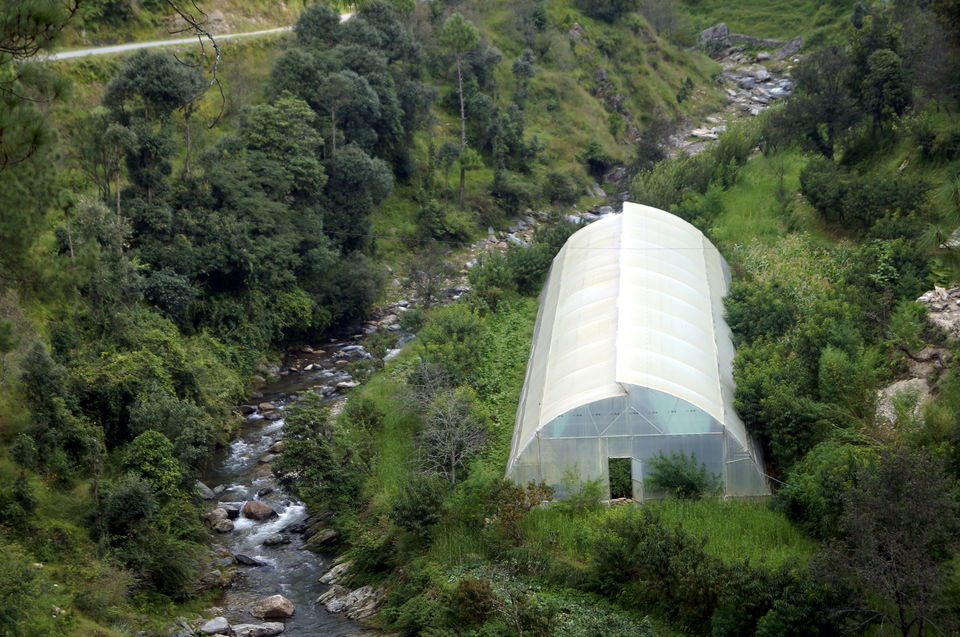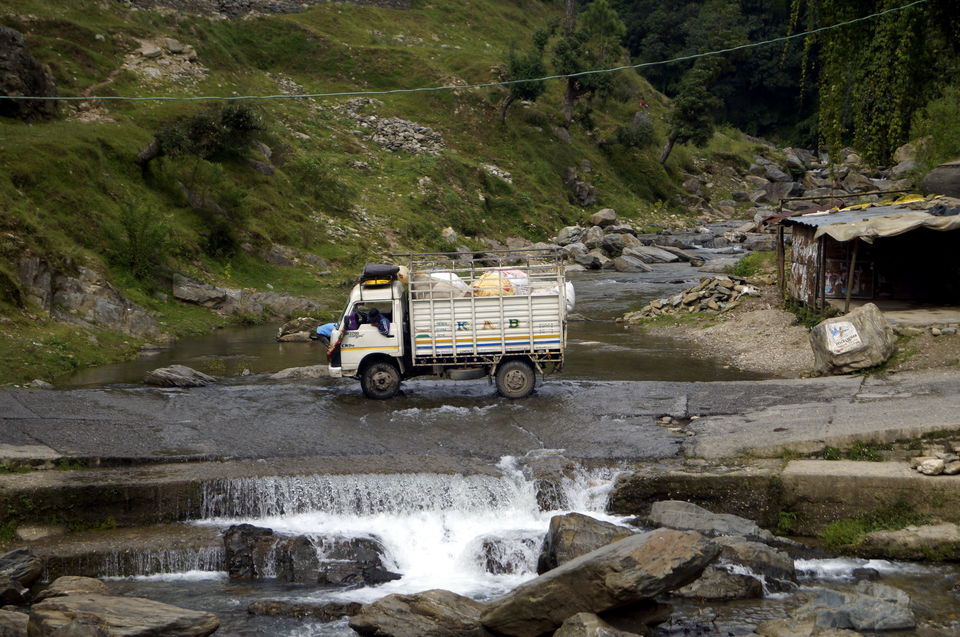 We reached back into the hotel as it was getting dark and with the mobile internet working at full strengths, rest of the day went in sorting and uploading pics at Instagram as well as having some great conversation with my friend.
Next day I woke up with an peaceful mind, having slept like a baby. My friend had to leave for some work so I decided to go for a walk. Colorful flowers on the roadsides made the walk a visual treat.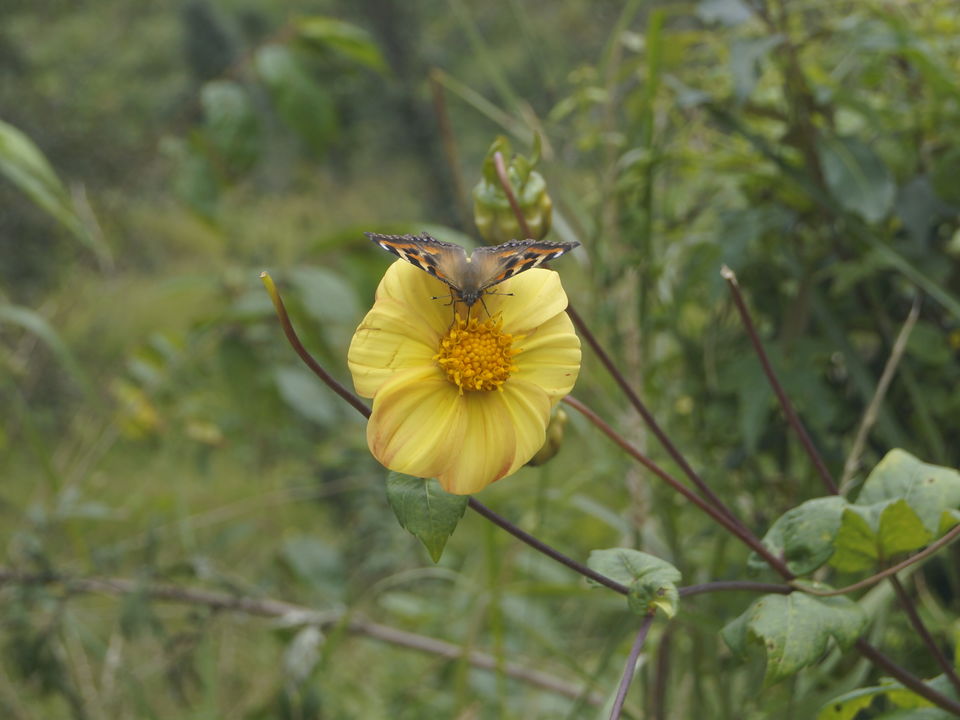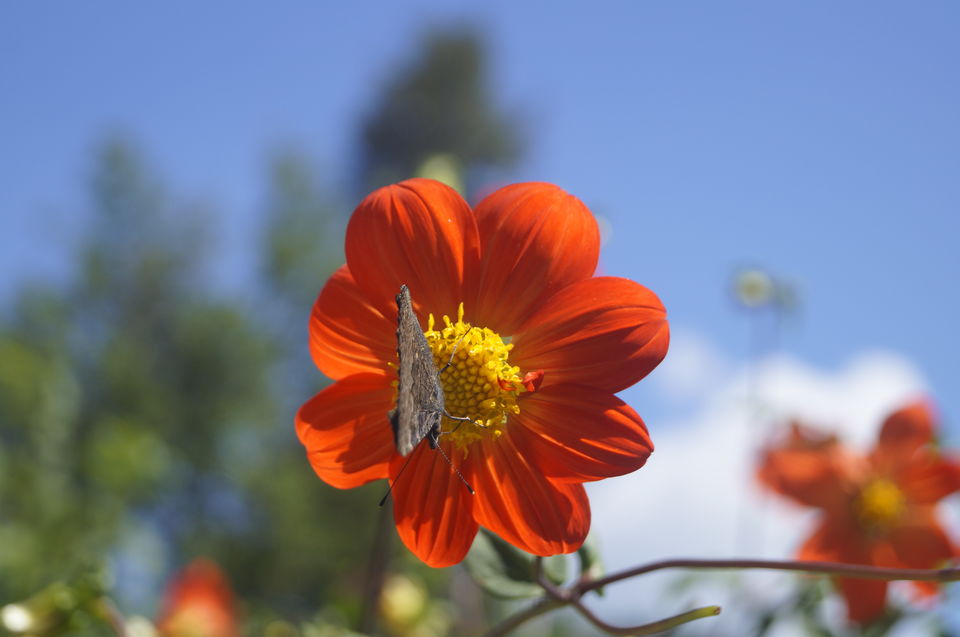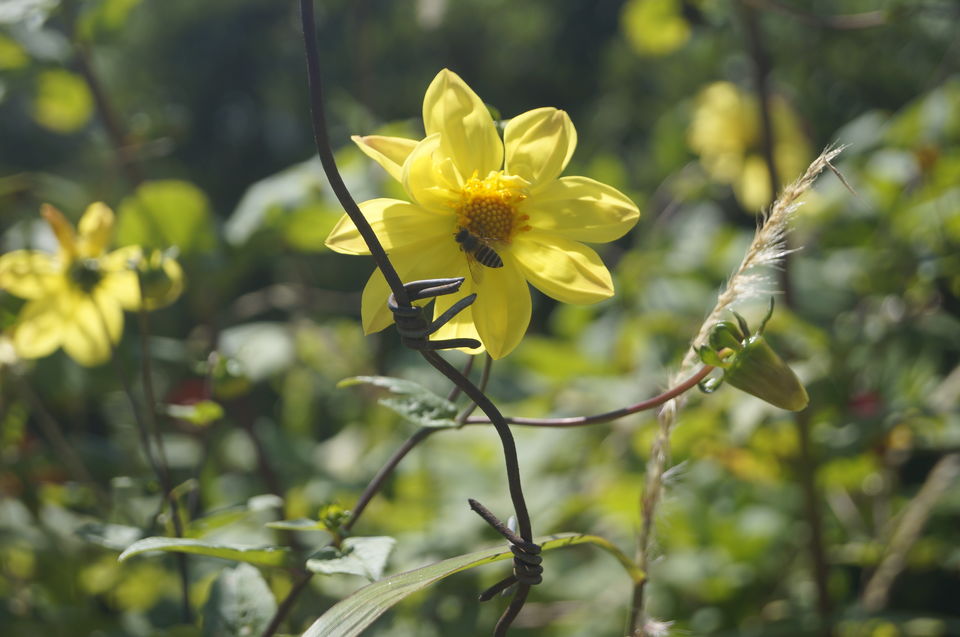 Mukteshwar is small town, with several shops and hotels situated on the main road. I soon came across a shop I had read about earlier on internet – the Kilmora crafts shop. It offers natural food and hand-made woolen products, all reasonably priced. I especially fell for the wool covered soft toys, featuring dolls, cats and mouse. There were some woolen accessories too like mufflers, socks, jackets etc. Another awesome product they are had to offer was naturally made fruit juice and jam. I gulped the delicious Apple and lemon pulp juice and bought some jam and toys for my friends.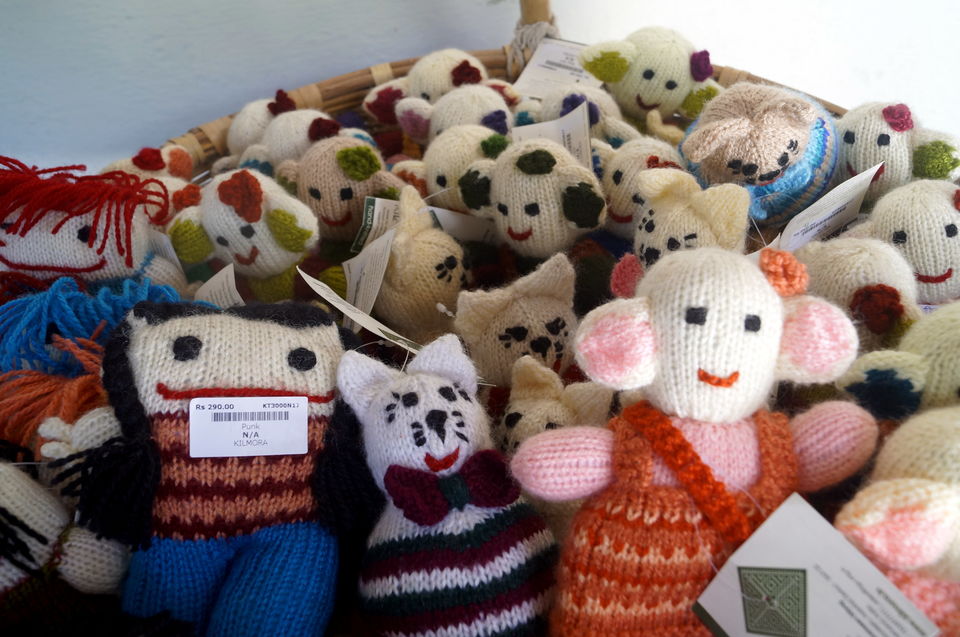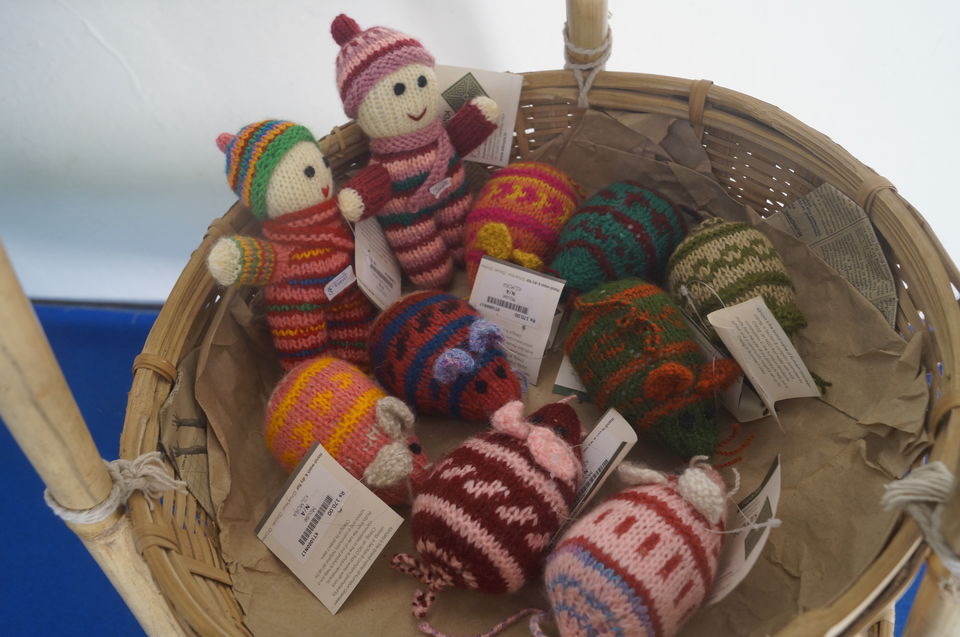 Done with shopping, I got a call from my friend who directed me to meet him at Bhatelia market, a market that acts as nerve center for the small group of villages nearby. The market was just below Mukteshwar, from where he could drop me to Bhalu Gaad waterfalls. I rushed to the hotel, took my camera and hitched a ride to the designated market. There is not much of a public transport in Mukteshwar, but the people are nice here and won't shy from helping a tourist in need.
My friend dropped me to the entrance to a path in the mountains which leads to the famed falls. I bid him goodbye and started walking towards the path. At that time a guide approached me and offered to take me to the falls. I was a bit skeptical of hiring a guide and thought I could reach the place myself without wasting the money. The guide, however, convinced me that the path is confusing and I may not be able to find the falls. Remembering a past trekking experience in Andaman & Nicobar islands, where I got nearly lost because of the absence of the guide, I hired him.
My bet paid off, as the path to the falls required from wading through a rivulets, and thus wetting your shoes and jeans, to climbing through several large rocks. While there is small waterfall in the beginning that can be accessed by anyone, the bigger one can be only reached after doing all the above mentioned things and thus quite out of reach for elderly. I would advise all to hire the guide. Since I had gone in off season, and that too on a weekday, the path was completely abandoned and there were no people around to disturb, except for a few mountain goats wandering around.
When we finally reached the waterfall after climbing up some large rocks, the view was beautiful. I could feel the shower of water even while standing about 300 meters from the fall. The water falls in a large pool and then flows into the rivulet. The force was quite astonishing. My guide told me that I could jump in and take a swim. While it was more than 20ft deep where the water was falling, the area around was not that deep and the water would push a swimmer back through its sheer force. Well, I took off my clothes and jumped in the cold and crystal clear water. I stayed in the water for at least half an hour and then finally came out freshened and relaxed.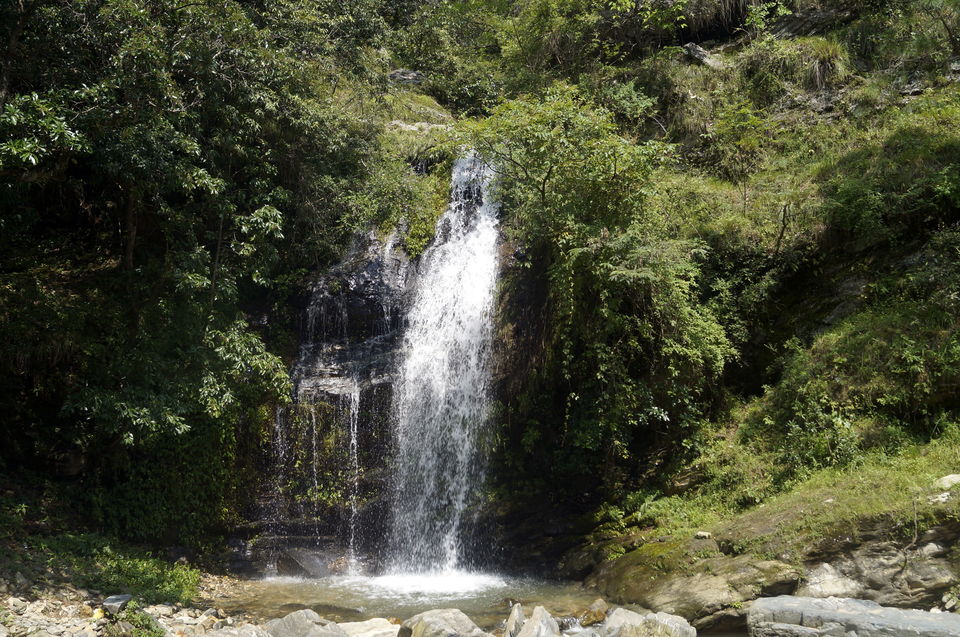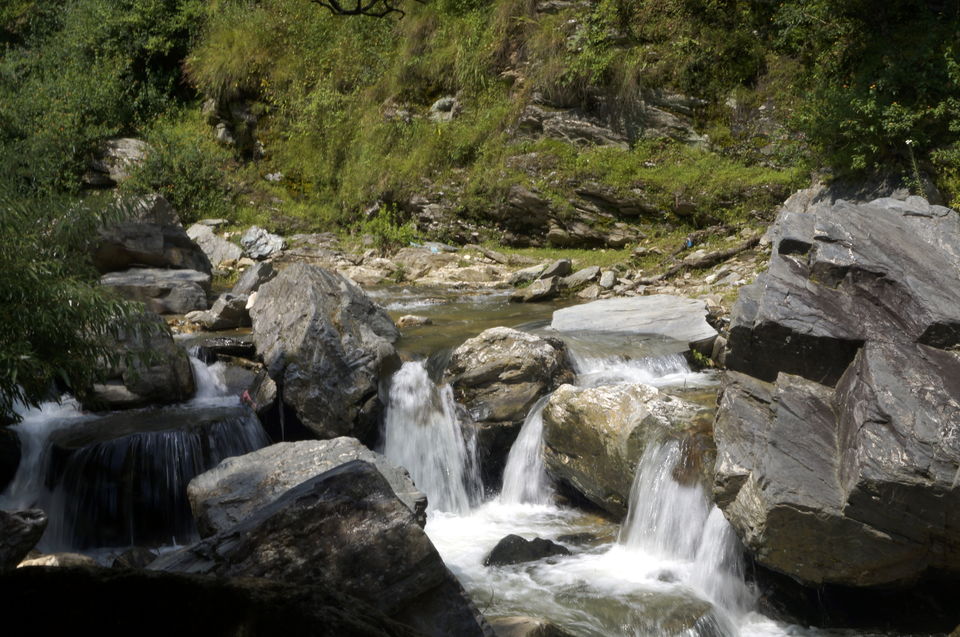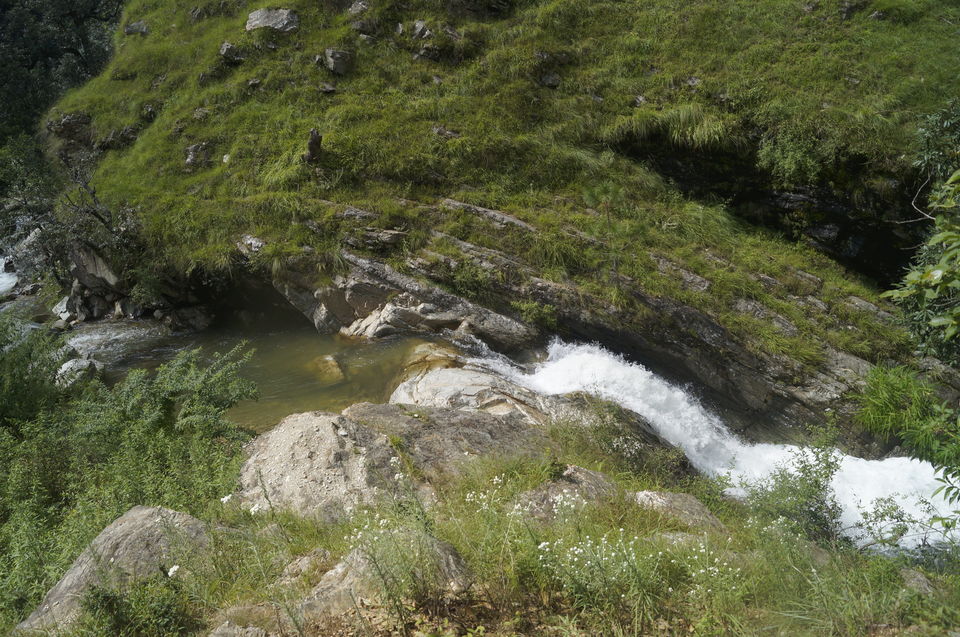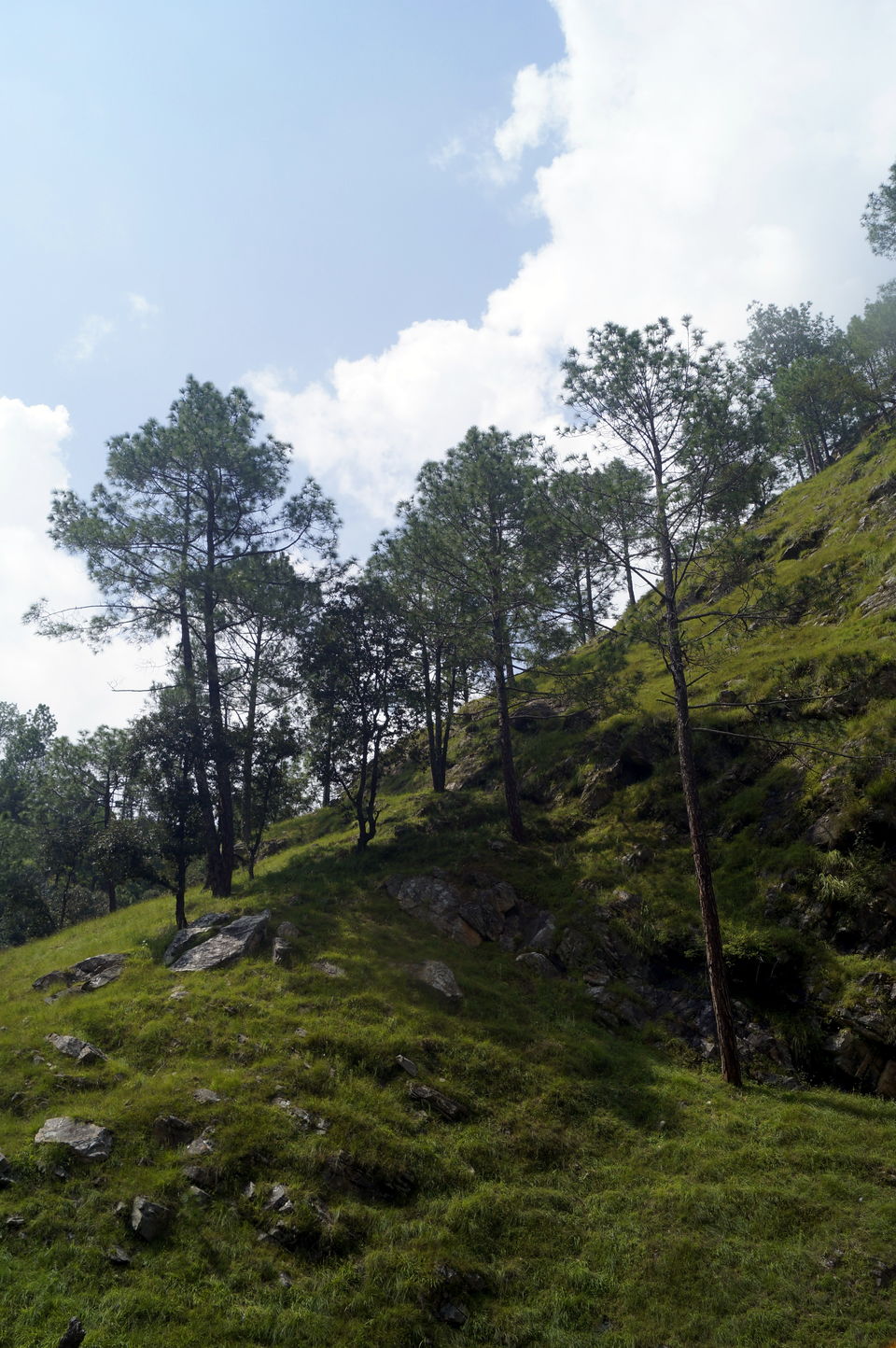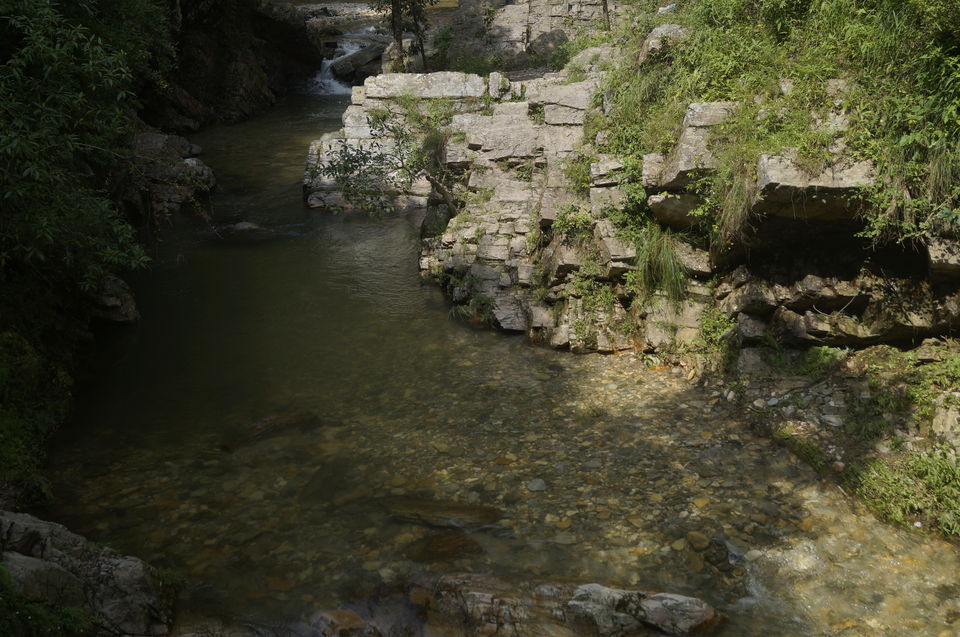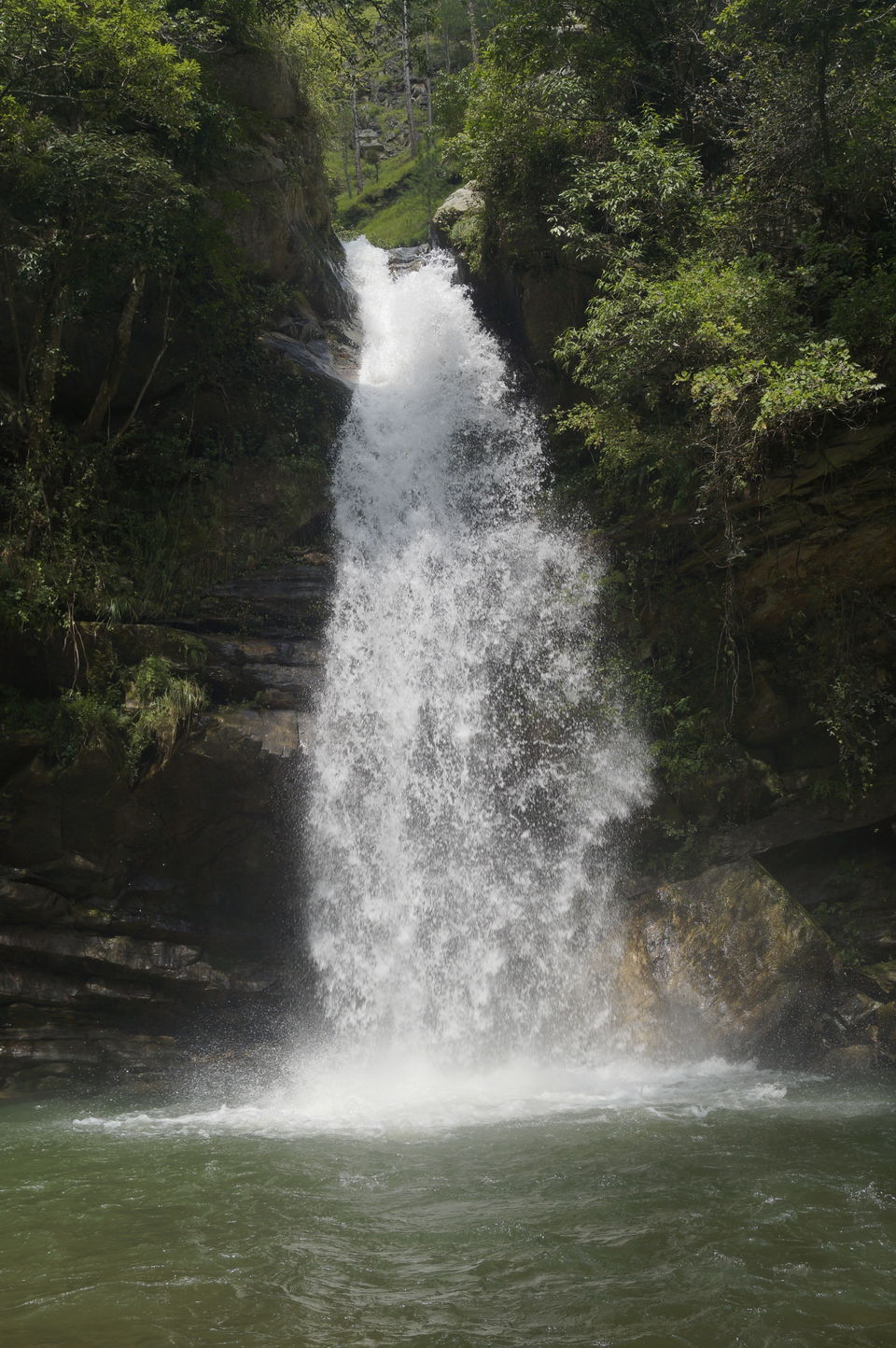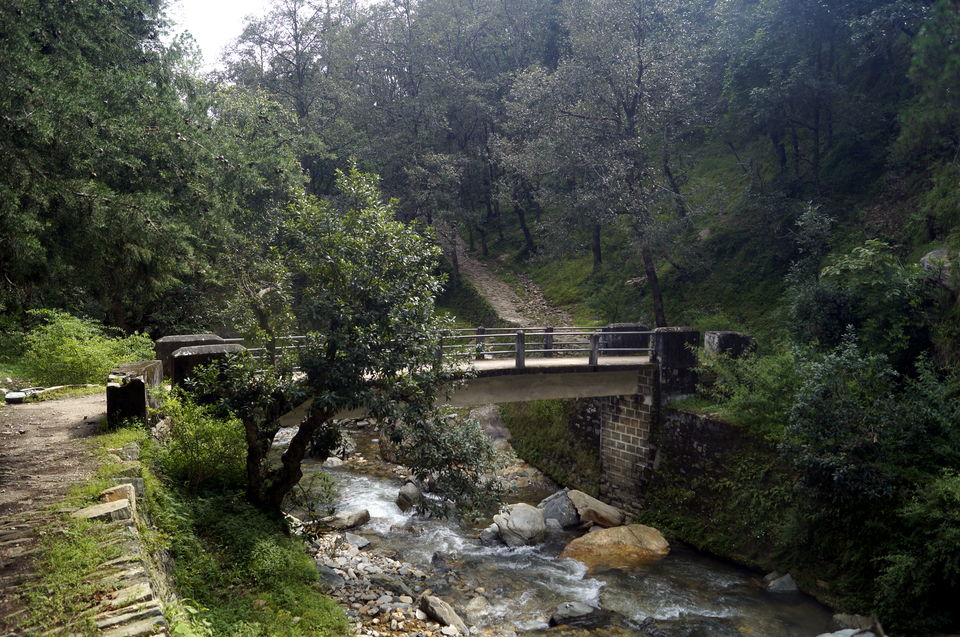 Women travelers might face some problems as there are no changing rooms nearby, and the crowd swells during the on season as well as on weekdays. However, all said and done, I had a paradise to myself due to the timing of my visit.
Having had a great experience, I paid the guide Rs 250, more than the Rs 200 negotiated earlier. I came back onto the main road and walk down further to get some clicks of the beautiful greenhouses I had seen a day earlier during the drive. Having done that, I took a lift on a motorcycle towards the Bhatelia market where I was supposed to meet my friend.
He got me dropped at the Kilmora shop from where I picked up a pack of photo postcards. There was an India Post outlet just next to my hotel. I posted several postcards to family and friends from there before retiring back to my room for a tasty meal of pakoras and tea.
Then, I just whiled away the time. In hills and especially Mukteshwar, time kind of slows down. I had a lot of time to sit and admire the nature, think about things, sleep and take long walks looking at the mountains. It is this relaxing idleness that gets difficult to find in plains. I watched the sun from my window as it set behind the mountains.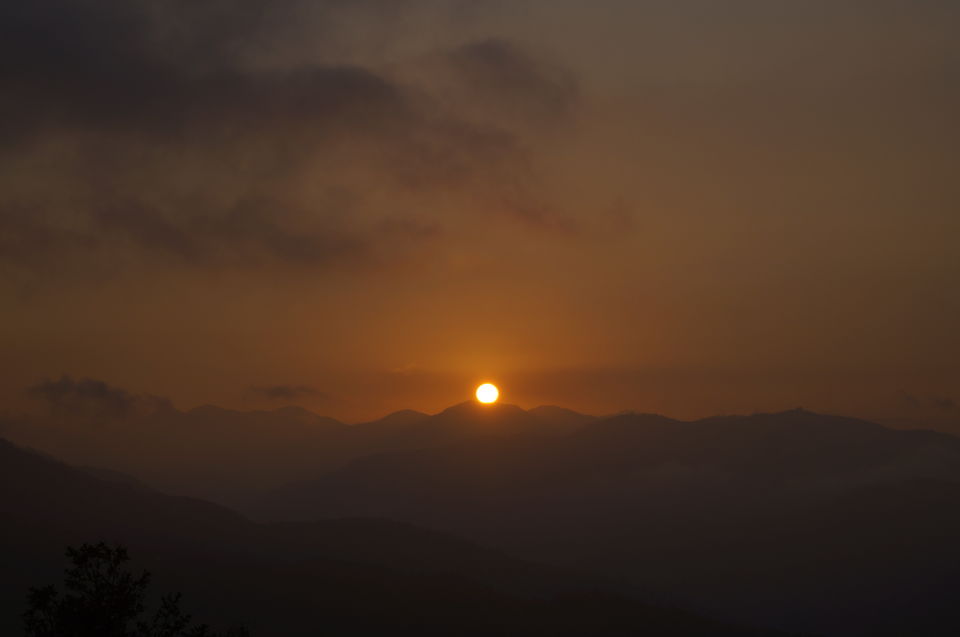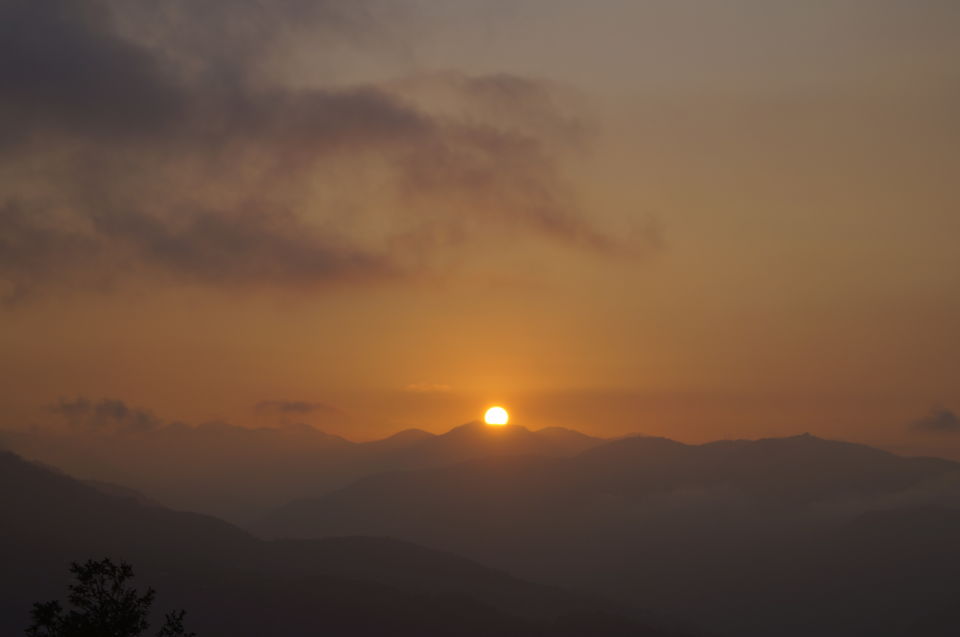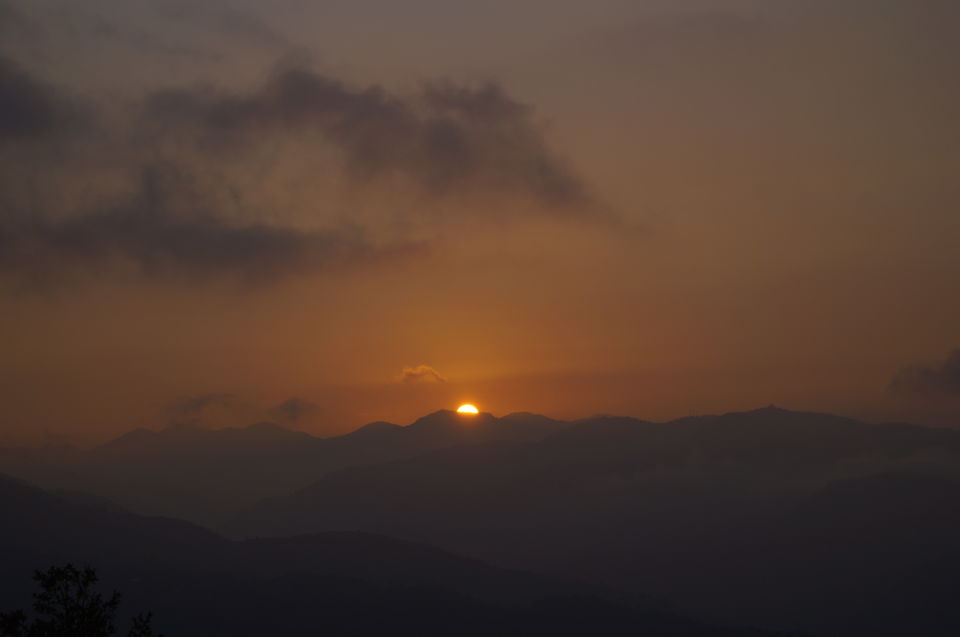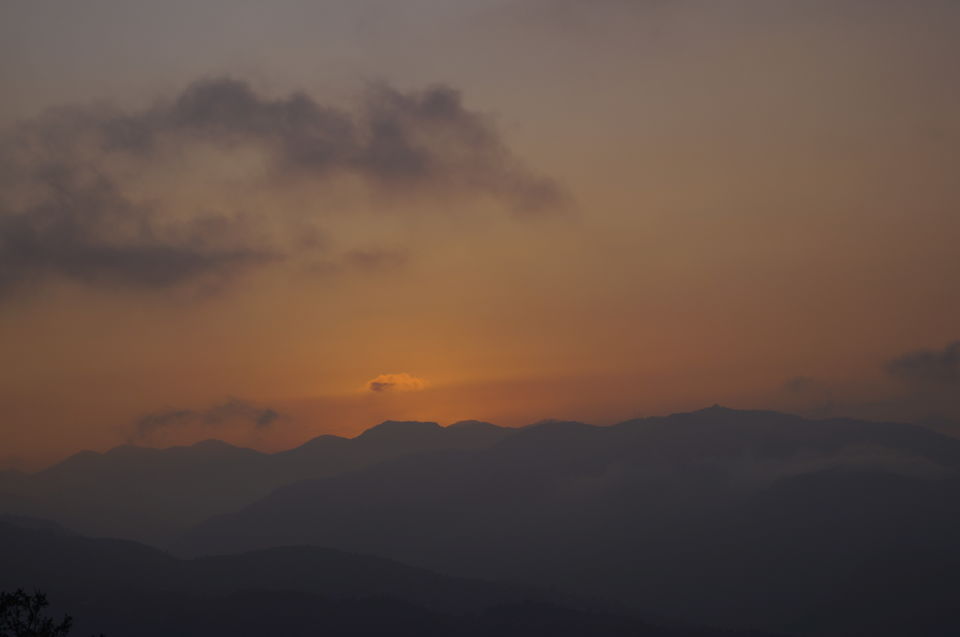 By 6, it gets dark in Mukteshwar and there would be no one on the roads. Even the shops will close down. At 7, I got out for a walk in the dark. A full moon was already out, lighting the road like a dim streetlight. Besides the hundreds of crickets in the silent night, I could hear my long breaths as my body labored to climb the mountain road. With the the moon and silhouette of long trees in front of me, I felt nothing less than real bliss. I got back to my room soon, had dinner and went back to a peaceful sleep.
Next day was supposed to be my last in Mukteshwar. So, I got back to Kilmora in the afternoon to pick up some more natural pulp juice for my flatmate. Having stocked up, I had a good breakfast at the the same restaurant to have the last look at the town again. After stuffing myself with gobhi paratha and tea, I walked down to Bhatelia market where my friend was finishing his work. Around 2 p.m., he turned on the ignition and we set off back to Delhi. I managed to take one last picture before we exited that beloved place.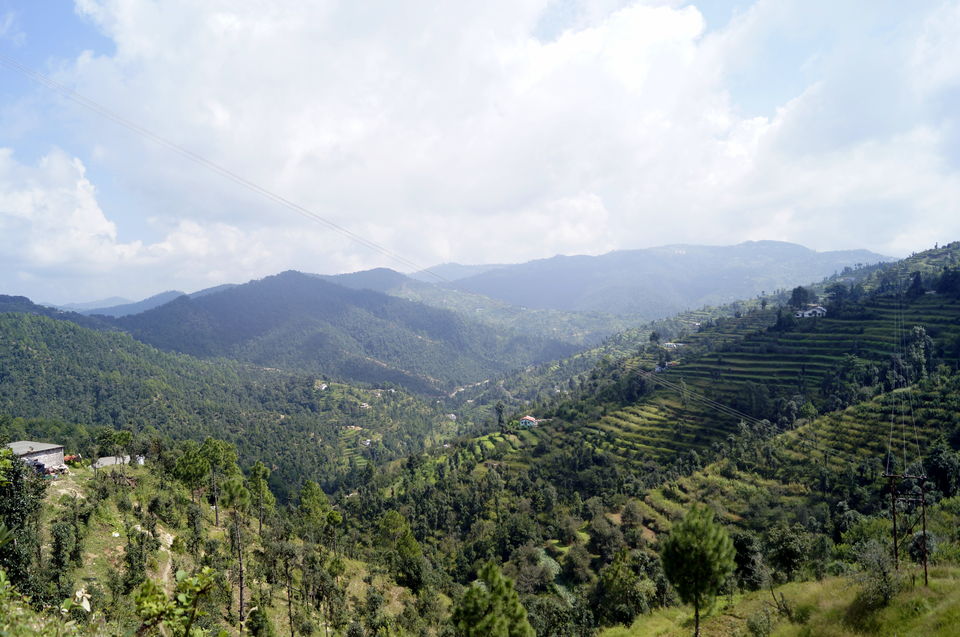 Our initial plan was to go via Nainital and pick up some of its famous bal mithai. I had missed the landscape while coming to Mukteshwar due to the night, however, this time I got the full chance to soak in the beauty of the mountains as we descended. We took an off beat route to Nainital which leads to Kaladhungi. The road was broken at some points but had lower traffic. At some points, the mountains were covered in a bright green cover of trees stretching to infinity. The haziness added by the mist only added to their beauty.
As it started getting late, we realized that there was not much time to enjoy Nainital properly and therefore we decided to head directly to plains. We stopped at a small waterfall, had some maggi and took the alternative Kaladhungi route through Corbett, back to the plains.
The Corbett museum also falls on the way. However, since we reached little late, it had already closed. Perhaps if anyone else reading this reaches the museum before 5:00 p.m., you can check it out. We again stuffed ourselves at the Udupiwala with its mix veg Uttapam and powered on to Delhi by midnight. It was raining in Delhi, making the weather cool and pleasant. I was relieved that as I get back to office, the weather blues that would hit me will be more tolerable.