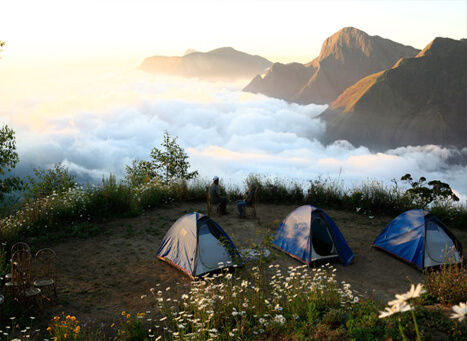 Top Station, located around 32 km away from Munnar, on the Munnar-Kodaikkanal road, Top Station and Echo Point are among the many attractive destinations.
The Top Station is the topmost point of Munnar from where the township of Munnar lay below to present a panoramic beauty.
Munnar Top station has majestic views of the western ghats mountain. Towards the final days of our Monsoon Ride we were in Munnar. On our first day in Munnar we stayed at Madhumanthra Resort which is a perfect location for nature lovers. Close to the wilderness with the music of the forest. Even the tall trees around the resort also have stories to tell.
On the next day in Munnar we started off from Madhumanthra to the famous Top Station in Munnar. Top Station is almost 40 kilometers from the resort and the route alone has plenty of things to offer Munnar's guests. On our way to the Top Station, we saw the sprawling tea gardens, the dropping water levels of Mattuppetty Dam and lush green meadows.
It was a small herd of elephants that pulled our attention in Munnar. They graze freely on the meadows as if to entertain the crowd. Finally, at the Top Station, the sky-high mountains received us. The vibrant colours of those mountains with the lushness of forests beneath were capturing.
You may also love to read A LOVELY MUNNAR TRIP WITH FAMILY | ONE OF THE BEST MUNNAR RESORTS.
Later that night we enjoyed a campfire and Kizhi Konchu at Madhumanthra. Our chef Vinish first sauté the prawns in a hot pan and then wrapped it in banana leaves before steaming it with water. I was confused whether to call it kizhi konchu or konchu kizhi, but what so ever it was, the cuisine just amazed me.