Bamniya Kund, A Waterfall Located near Mhow,
Around 50 km/s From Indore, almost an hour drive.

Since i Bought Drone , i wanted to go for camping . And finally after so many cancelled Plans , it's time.
Decided to go Bamniya kund by Car on 16th November with my friend Vishal, who already has about 7 years of Camping Experience.
We left Indore at around 4 pm, reached there by 5.15 pm , taking a 10 minute break at Mhow to buy the Bread, butter , jam and other food items ( Carbs and Proteins in Vishal's language :P ).
As soon as we reached the location, we quickly searched for a camp site and in just a matter of minutes we found our site. While Vishal was busy pitching up the tent i went to collect some wood for campfire , i was in rush to collect them as in winters sun sets early. By the time Sun Went down our tent is ready.
November is just start of Winter season, but knowing that we are going to set our tent in dense forest we took sweaters with us ( Thankfully we did ).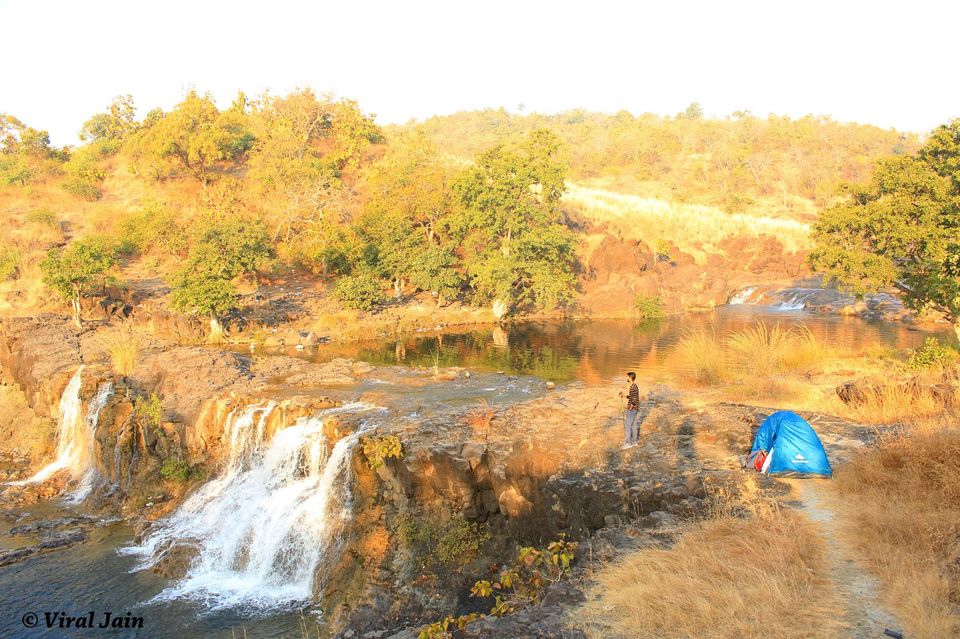 We were lying on the rocks , looking at the tranquil sky full of stars , listening some classic music from 80's & 90's on a bluetooth speaker which vishal took from home . A Perfect Serene moment, Could not ask for more.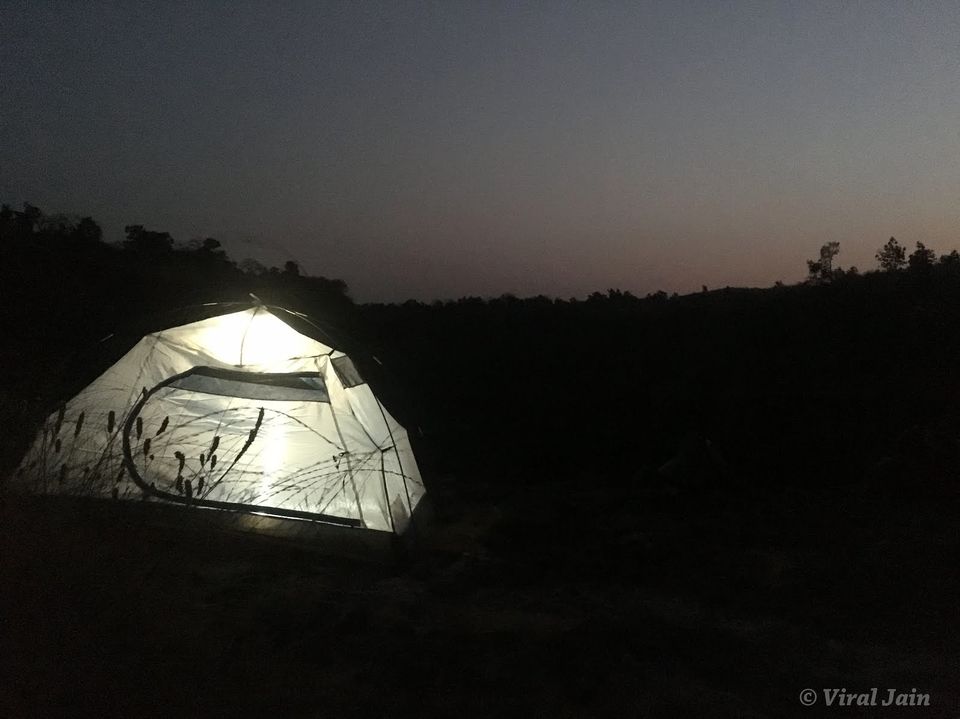 It was turning Dark and Cold , soon hunger hits us . We prepared Jam butter sandwiches and what better place to eat than on the tent under dark sky.
Vishal had " Into the Wild " Movie in his Smart Phone and we dedicated the night by watching the movie.
I tried to get some sleep but the sound of leaves and trees constantly coming , i was scared to death :P and fell asleep after sometime.
We woke up at 6.30 in the morning and the sight was amazing, A treat to our eyes. We Took a stroll around the waterfall and i started clicking pictures with my Camera and of course, my Drone.
Bamniya kund from a Drone's Eye .
I took couple of aerial shots of the waterfall and valley , and the view was mesmerizing , totally worth it . Unfortunately I Crashed my Drone for the first time , and thankfully no major damage done .
After an Hour of exploring the area we packed our rucksacks and headed back to the Car.
On Our way back , had a breakfast at a tea stall near the Highway.
My First Camping Experience and First Blog Post :) !!
Another Aerial View of the Waterfall and the Valley shot from my Drone