The world counters the first man-made biological calamity (Covid19 spread) by imposing lockdowns everywhere. Almost all countries have gone on a lockdown. Mankind has sacrificed his/her biggest gift- 'the freedom to move out with their willingness'.
Meanwhile, there is fear in the air & there is death records in the stats. Many countries have already started to suffer an economic breakdown. It's a shut down everywhere. We neither go out to earn nor to socialize.
With nothing much to do; I decided to go into my travel photography archive. And the first folder I went in was LADHAK. It's been more than 5 years now to my best ever travel trip.
Today, as I remember my Ladhak trip through these pictures, let me tell you, every pic in this blog has a story to say. Lets begin!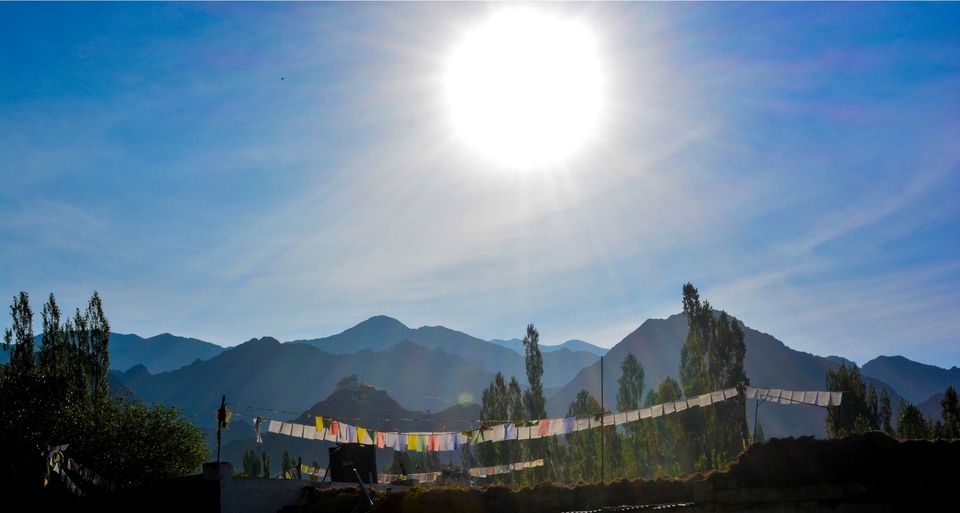 (Pic 1) This is my first click of Ladhak trip. I don't remember where exactly it was, but all i could remember is, it was early morning. My flight landed at 6.45 am at Leh. I clicked this somewhere on the way to our hotel. I love the picture. The Sun, the rays, the heavenly blue sky, the layers of mountain & that long thread of buddhist flag created an urge to click.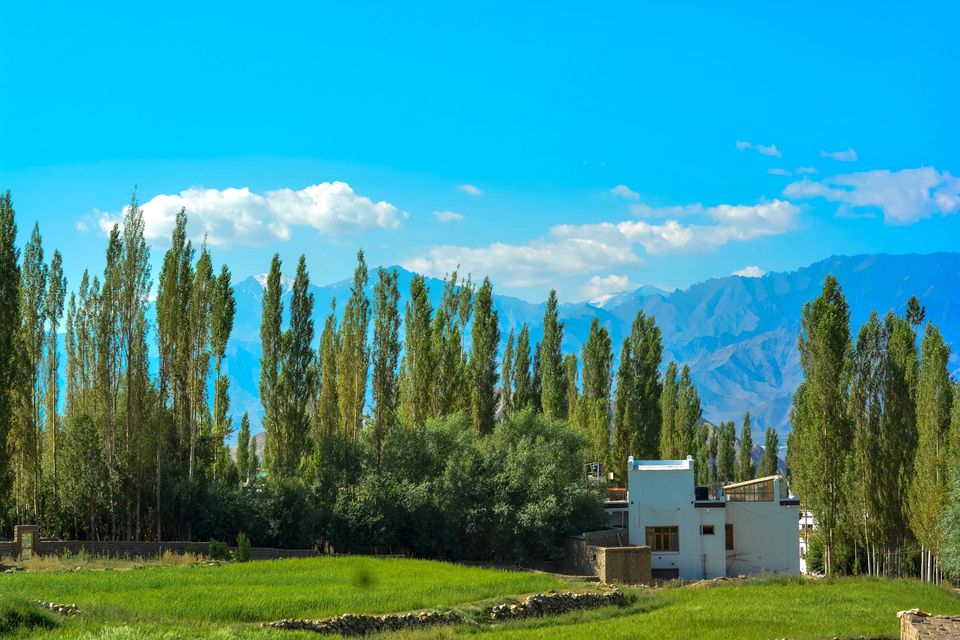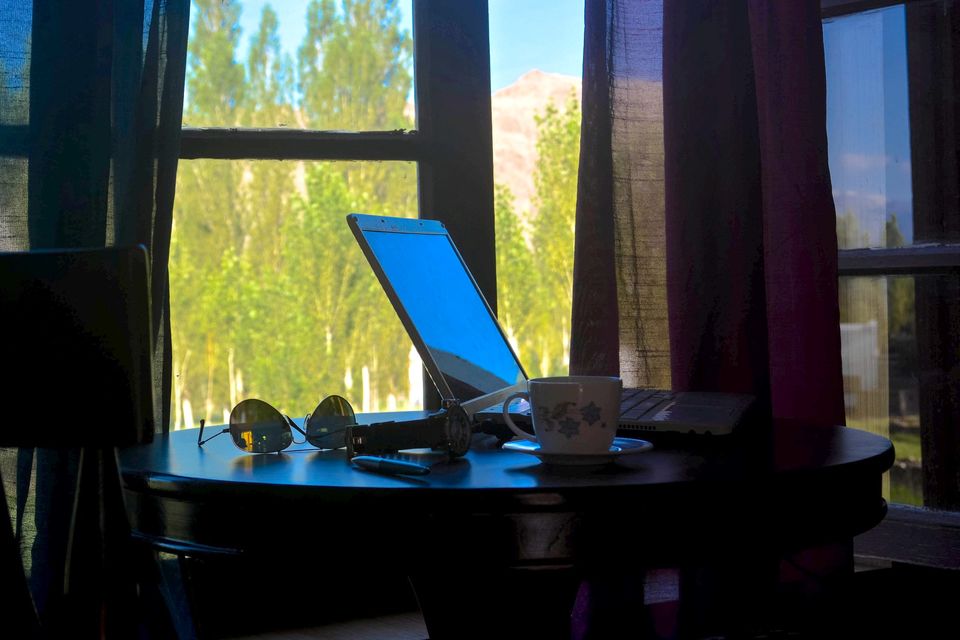 Pic 2 & 3 are from my room. My hotel room was wooden furnished. I was so glued to this window. The window was vintage big with a countryside view.
The first night at Ladhak was all about night hallucination. I would sleep and wake up in 30-45 mins with a feeling of sleeping for more than 3 hours. When this phenomena continued to happen thrice, i decided not to sleep anymore. I sat beside the window, that whole night, enjoyed the breeze, the moon, moonlit mountains, the smell of the air. It was very dreamy.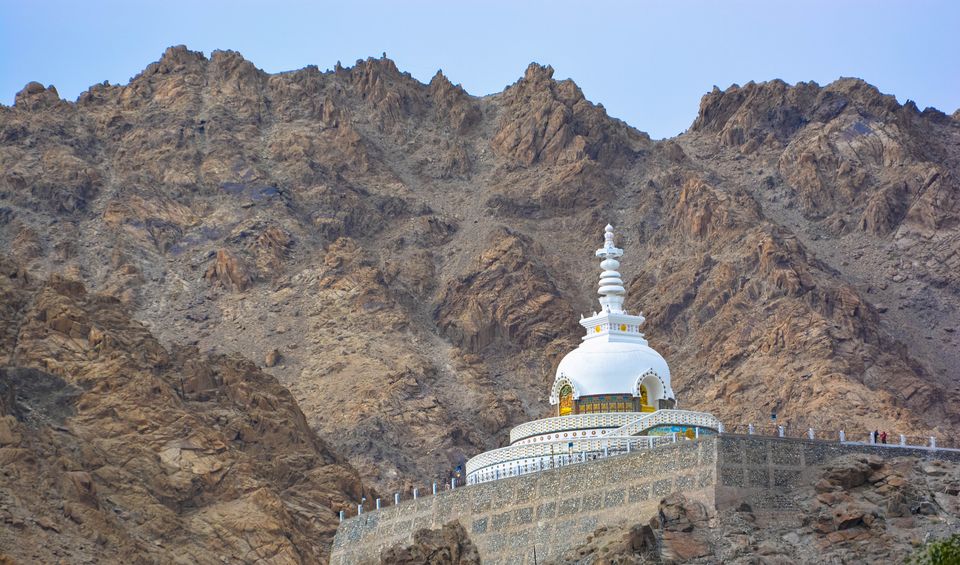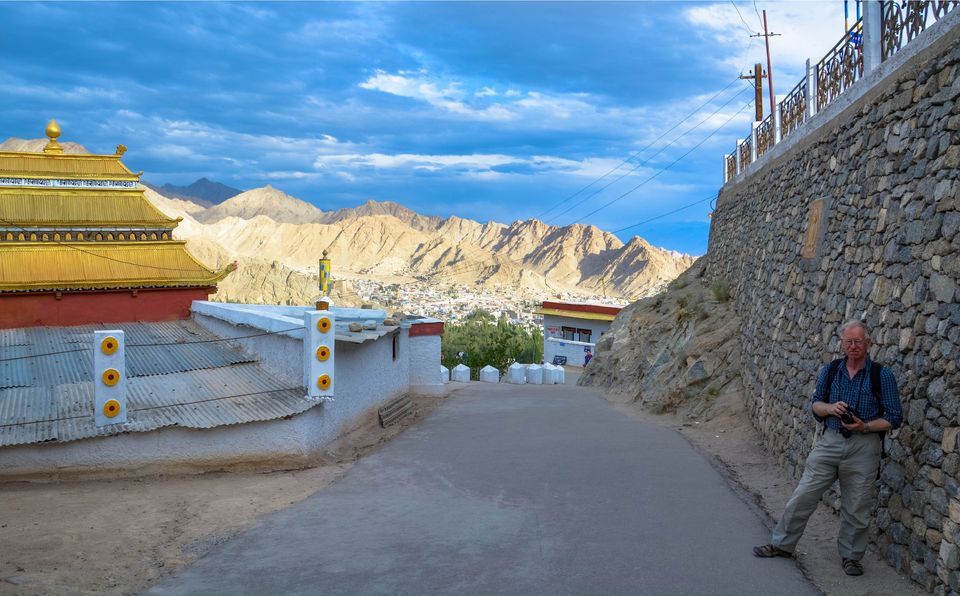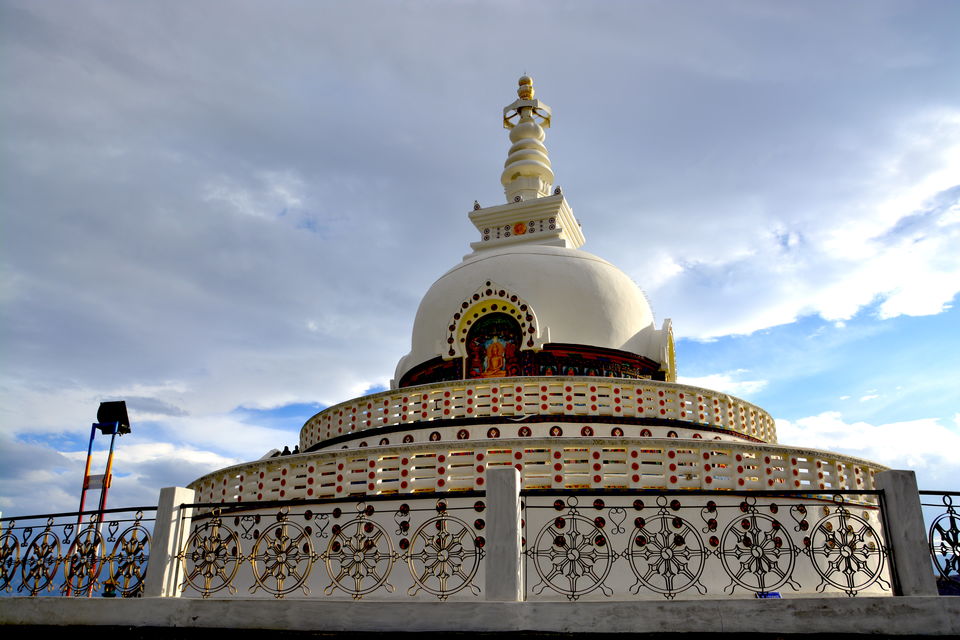 (Pic 4,5,6) Once you land at Ladhak, you are advised to take a day off & rest to acclimatize to the breathing conditions. This is extremely important for people who fly to ladhak. You may only visit nearby places and Shanti stupa was one of it. It was near to our place so we decided to start for shanti stupa post lunch.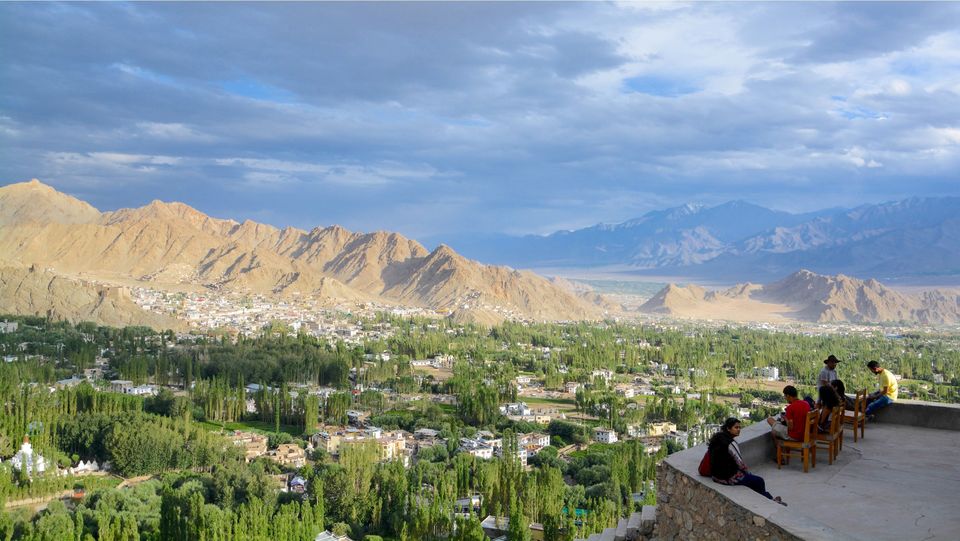 pic 7 has a lot to say. Can you guess the height of the mountains far way? Aren't they huge? I couldn't believe, these mountains at ladhak can be so massive. Look at those white patches. They are houses spread all over. How tiny are they compared to those mountains. And how small are we?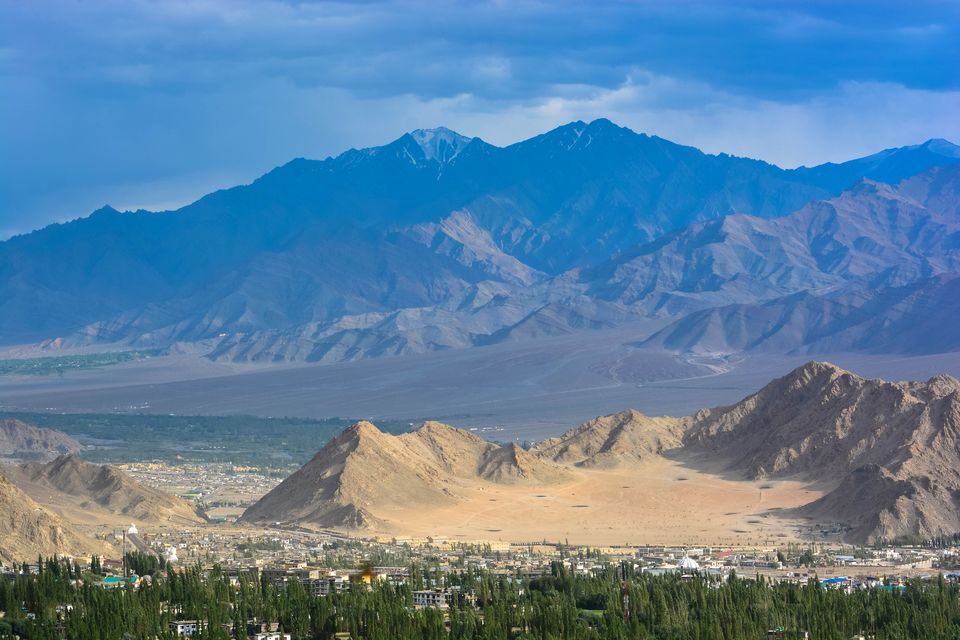 Something like i had seen never before. I was amazed with this creation of god. As i stand in front of this canvas at shanti stupa, I feel more grounded and grateful.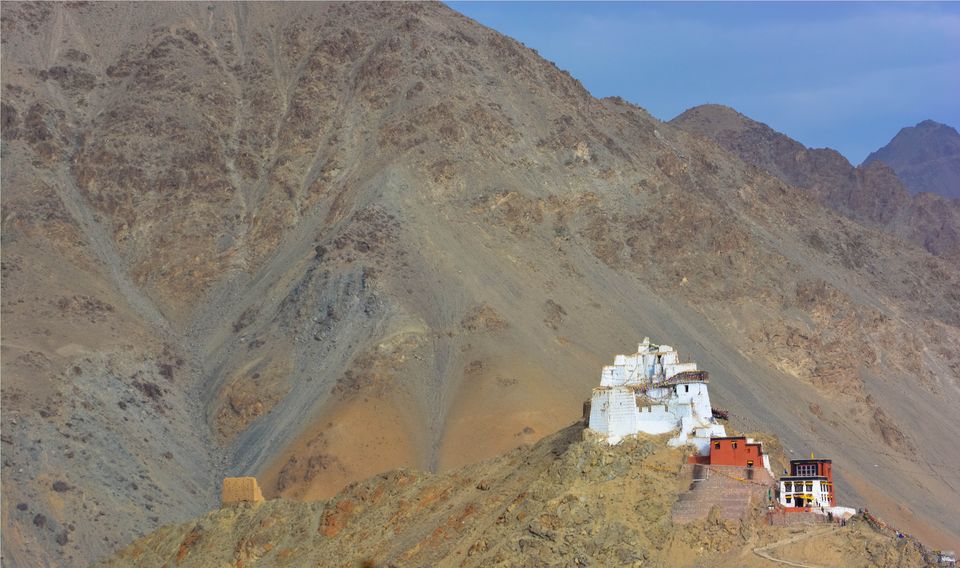 That's the Leh Palace which looks pretty clear from shanti stupa. Thats a typical tourist attraction.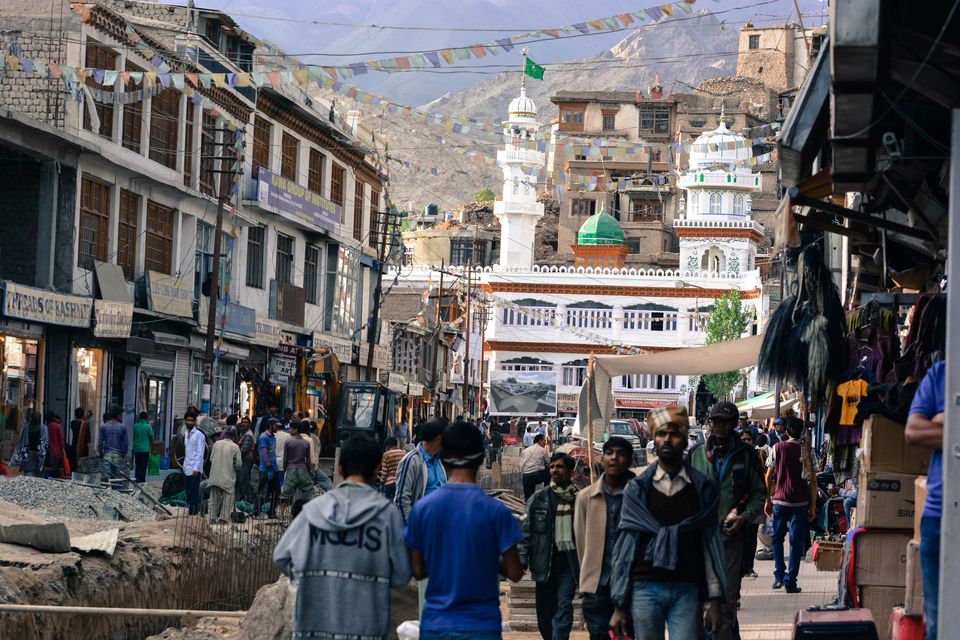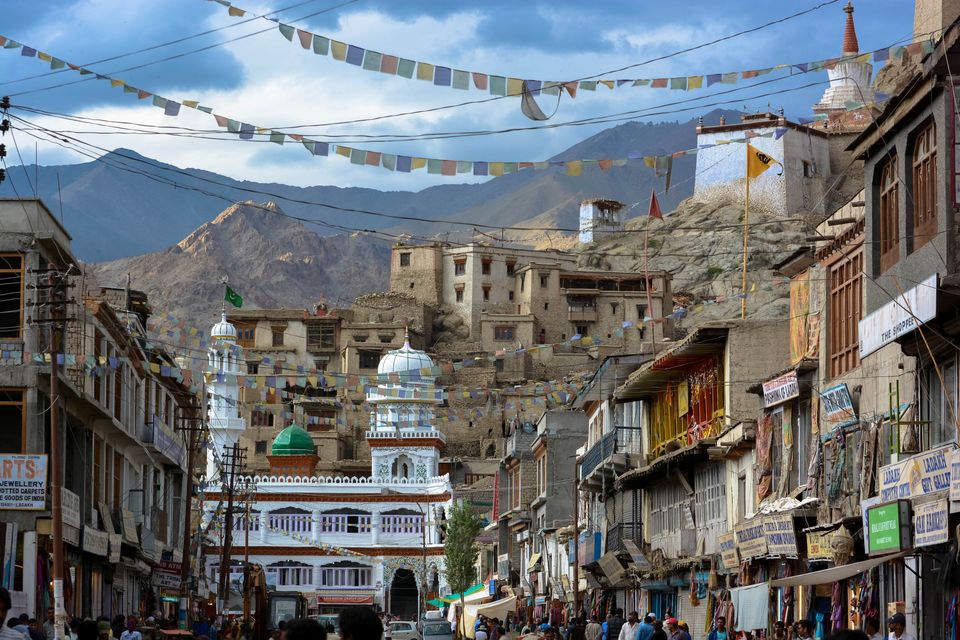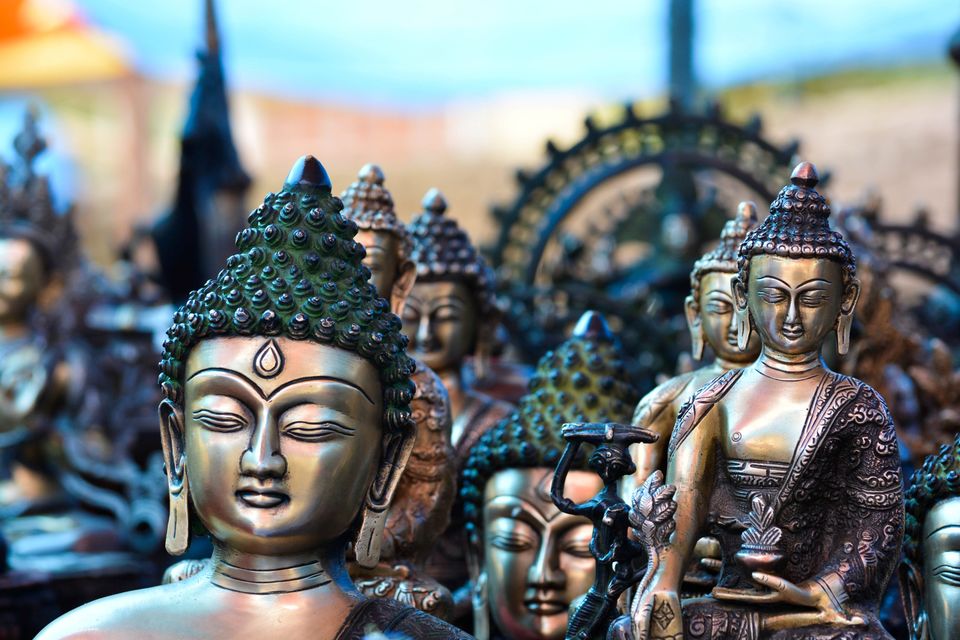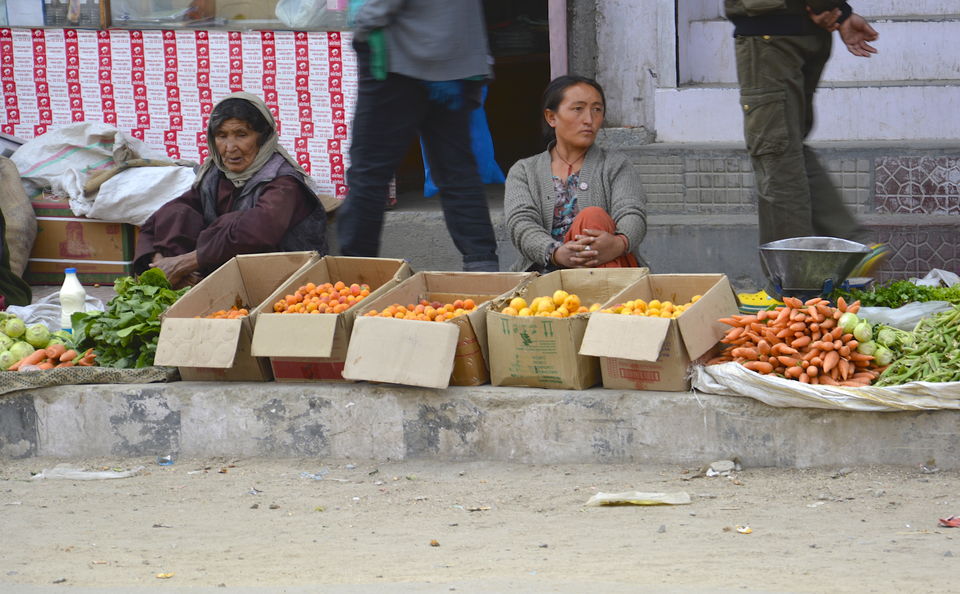 Pic 10 & 11- A 5 years down the memory lane, i remember buying apricots from the market. The market was under construction. We descended from Shanti stupa, went into the market, strolled for a while and went back to the hotel.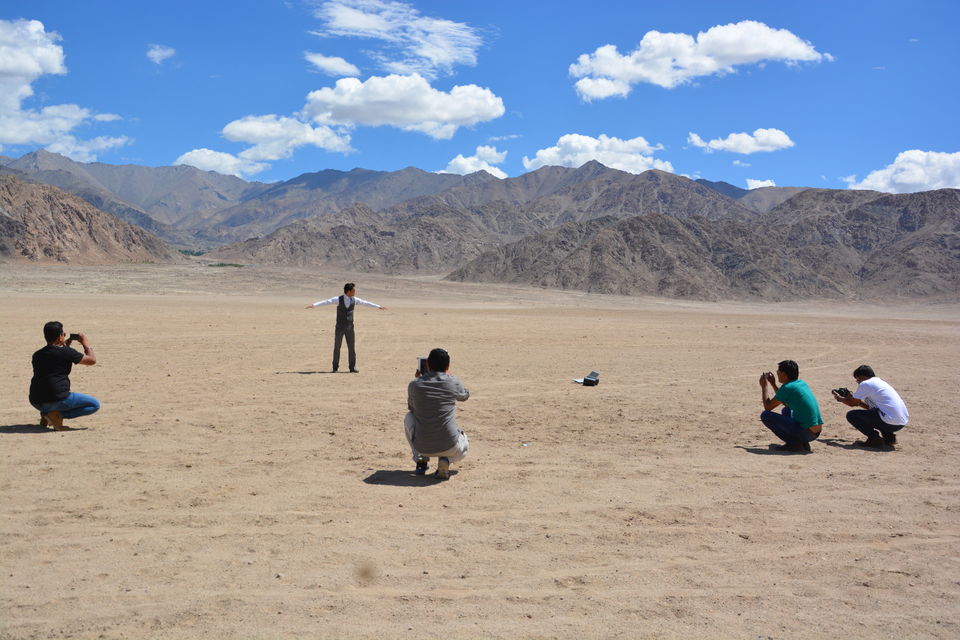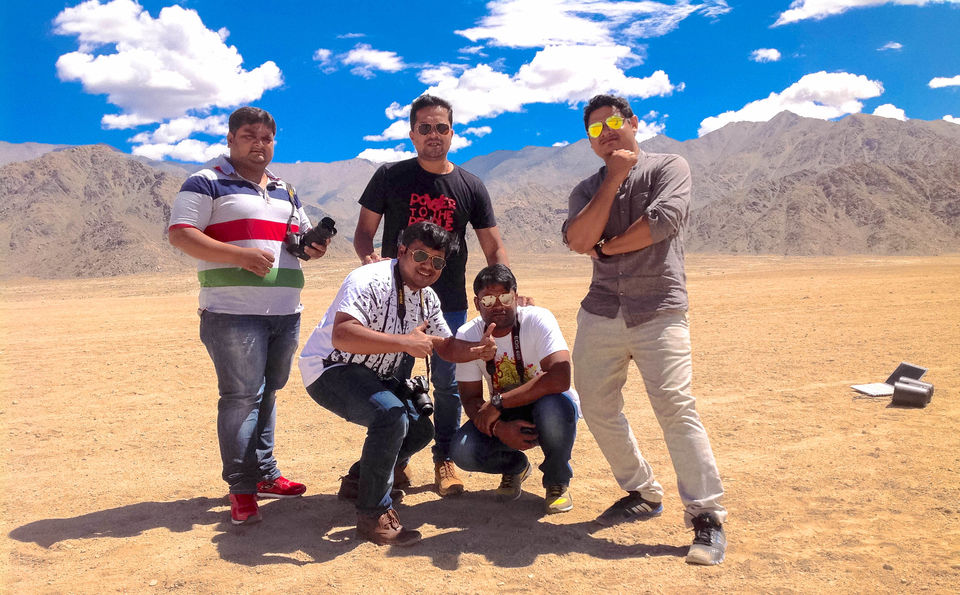 Day 2 we decided to visit Hemis & Thiksay monastery. Well on our way to Hemis, one of our friend who is a great dancer (India's got talent fame) wanted to shoot a video somewhere in the rustic barren earth with the backdrop of Mountains.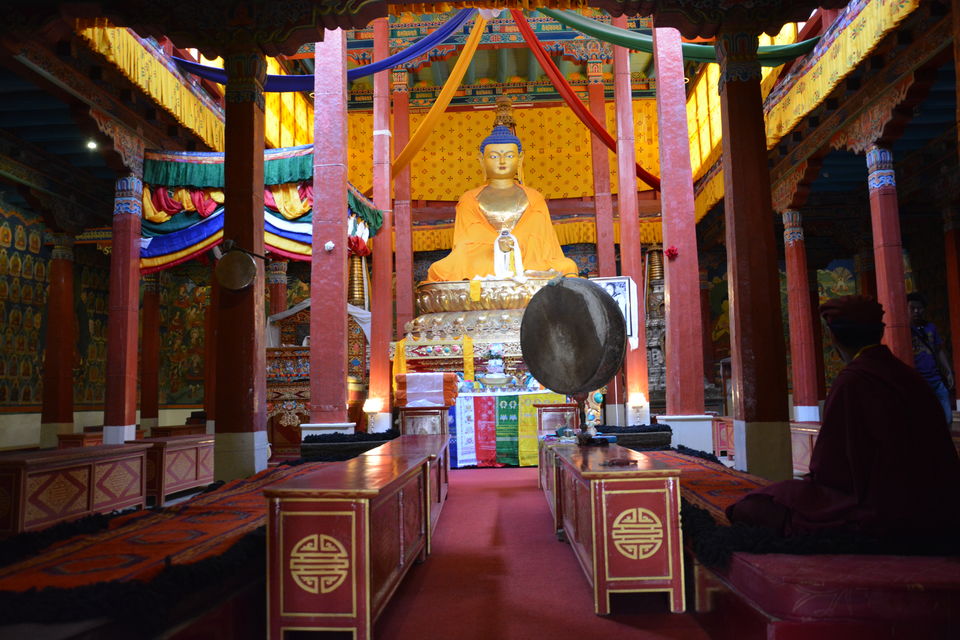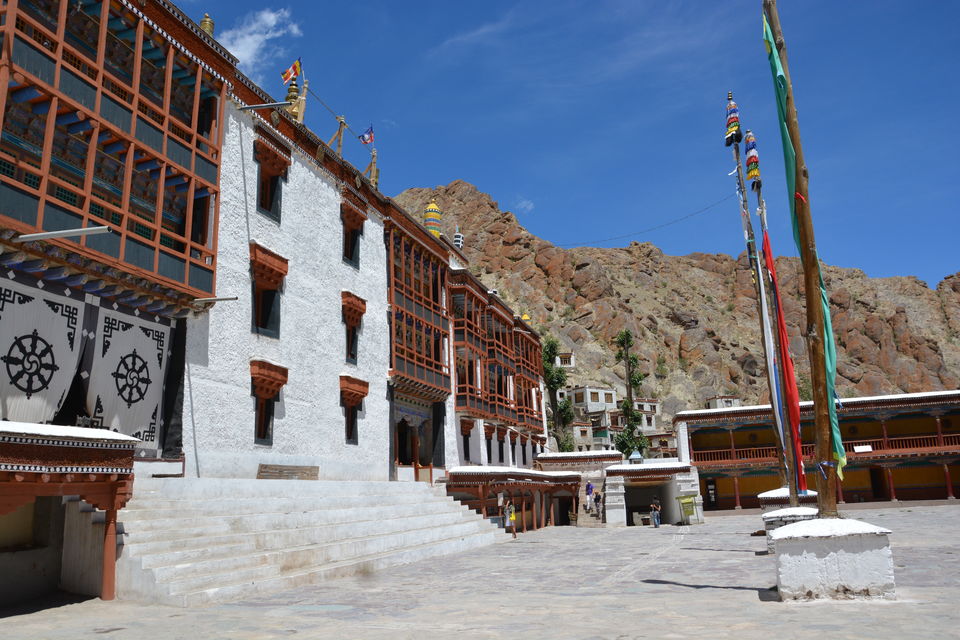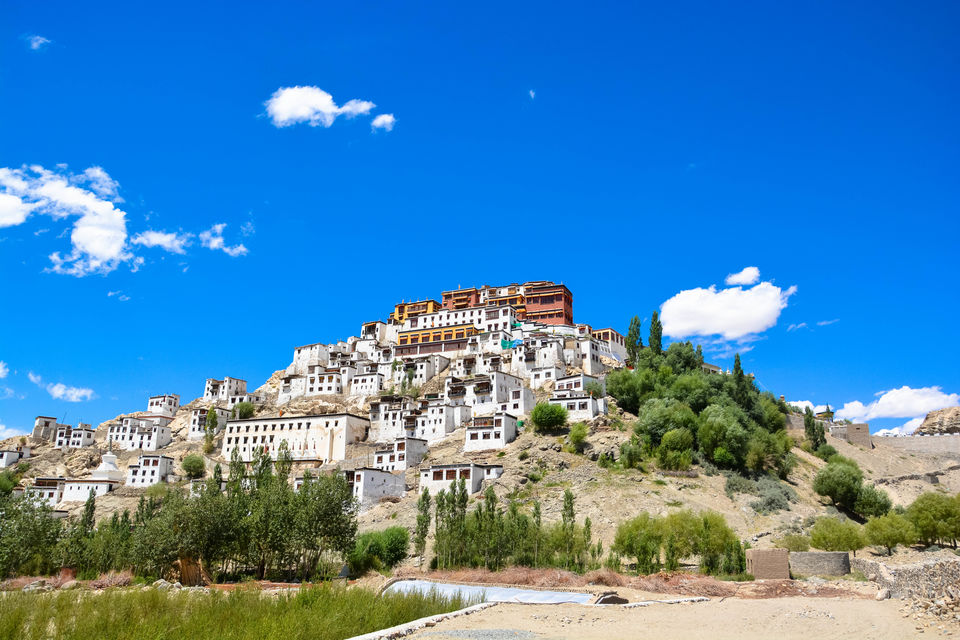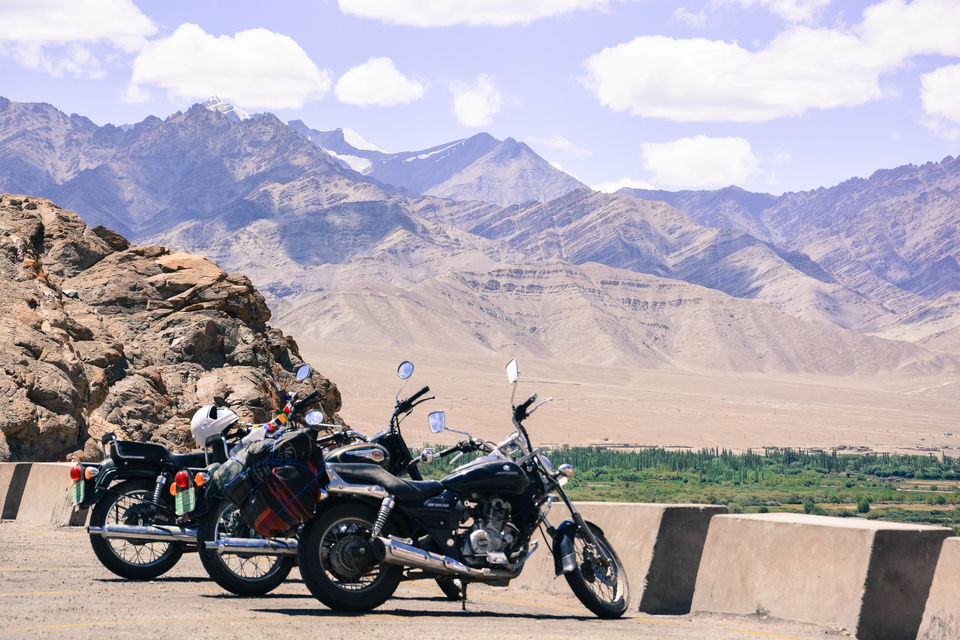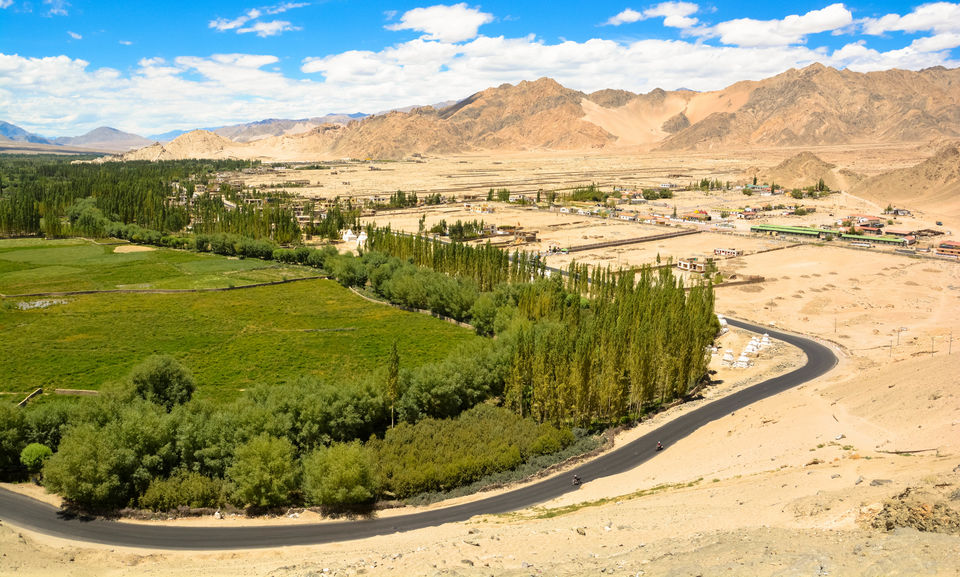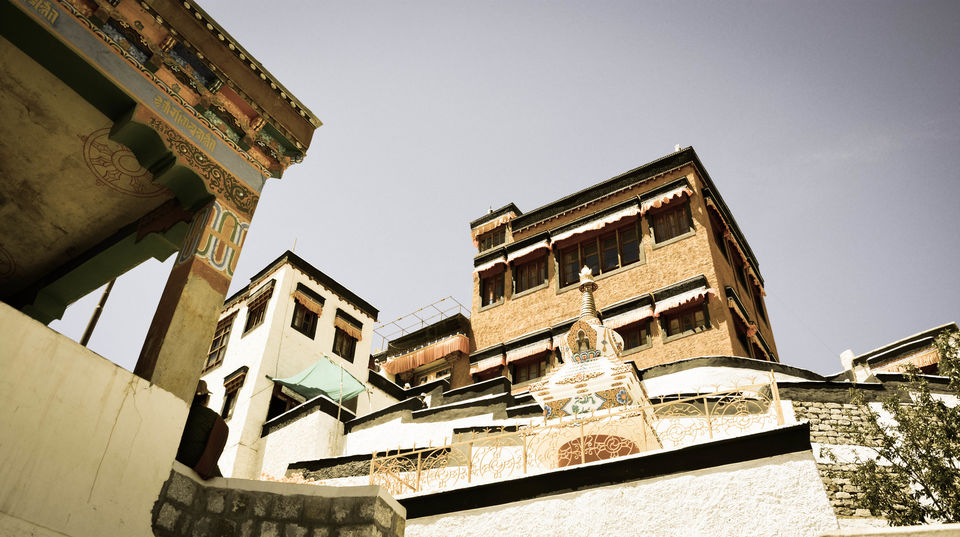 Thiksay Monastery will drain a lot of energy. There is a lot to walk and climb. You will have to climb higher to reach the top. The staircases are narrow and uneven. The view from the top is spectacular. Be easy on your legs. Rest and move. Do not hurry. Please do carry water. All of us got tired and thirsty at Thiksay.
It was 2pm. We were on our way back to the hotel. We were tired and done for the day. We took a halt for lunch at Leh city around 3.30 pm.
Few from our gang said, we are still left with 2-3 hrs of our drive time, so why not cover khardungla Pass...... ? Our driver was reluctant. But we decided to head for Khardungla pass. What happened at khardungla will never be forgotten! It was a wrong decision to cover Khardungla on day 2 under those physically tiring conditions.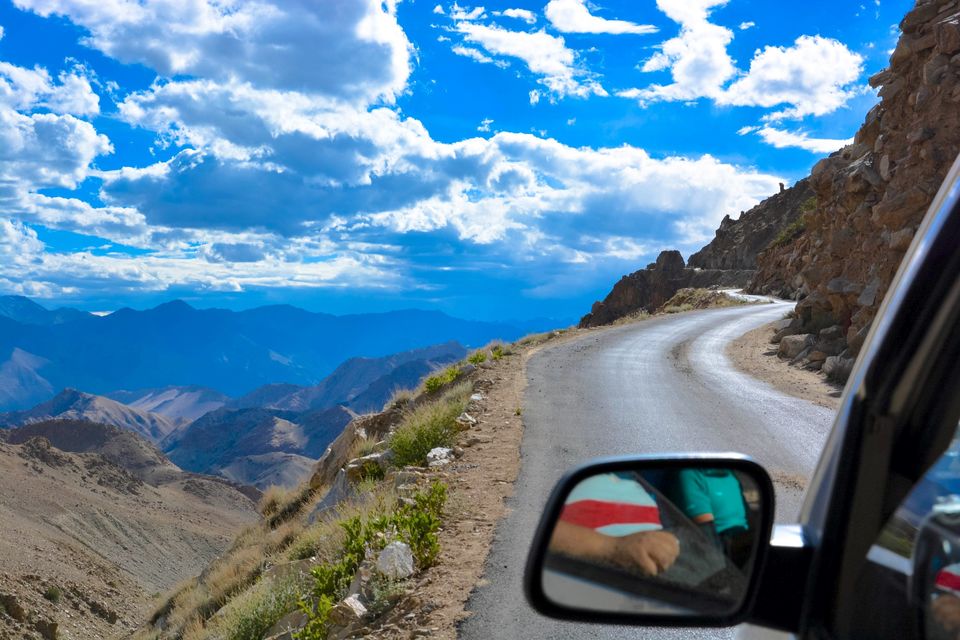 As we started to drive up, we came across some mesmerizing landscape. We were loud on our chats in the Innova, the music was nice to the ears and everything was picture perfect for a while. And then suddenly we felt a change. The chit chat stopped, the music faded, we started to drop our window glasses. What was that? i asked others in the Car, and someone replied, I'm feeling awkward... uneasy.
And then the driver said, you are on your way to worlds highest motorable pass- The khardungla. The atmospheric oxygen out there is scanty. This was frightening.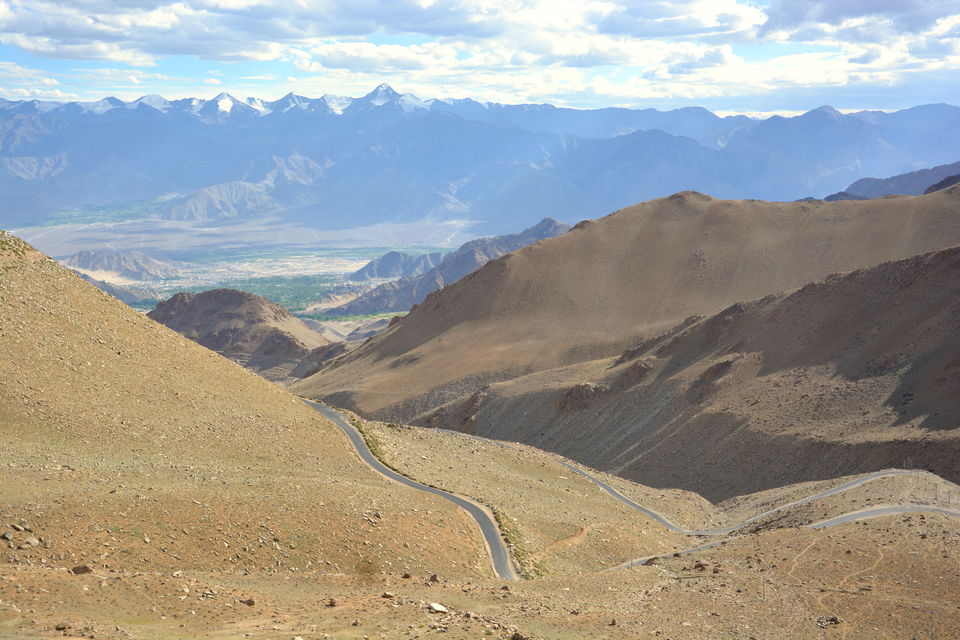 We reached khardungla pass. Non of us were in peace. Few had started to feel breathless including myself.
At khardungla pass, we were greeted by a army personnel. He gave us warm water to drink and some sugar beads to chew. His name was Dildar singh. He could make it from our faces that we were feeling uneasy. He guided all of us to the medico room and said, pump in some oxygen. You guys don't have much oxygen in your blood.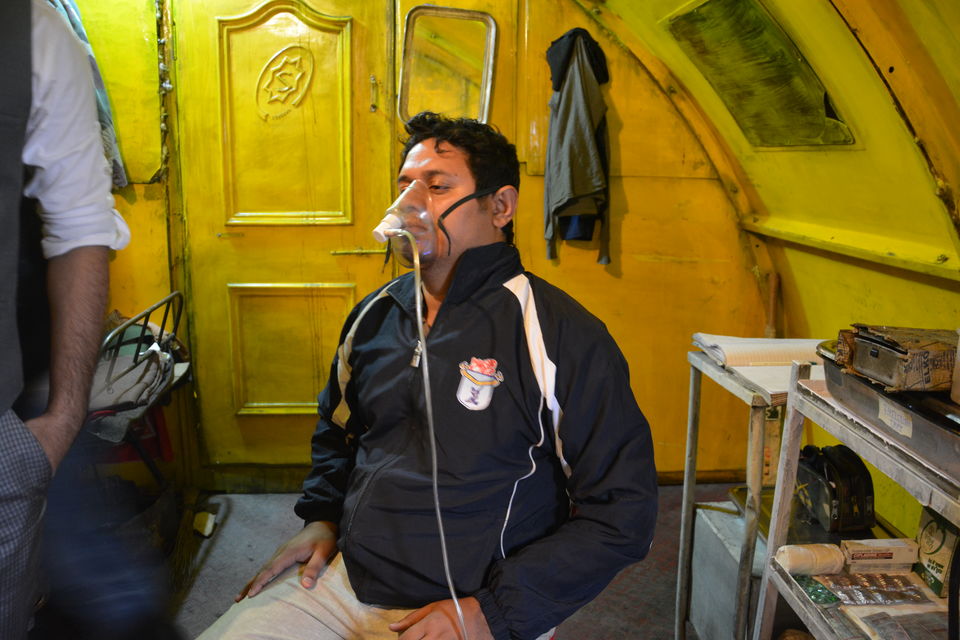 My sincere thanks to Dildar Singh and Indian Army! You saved us.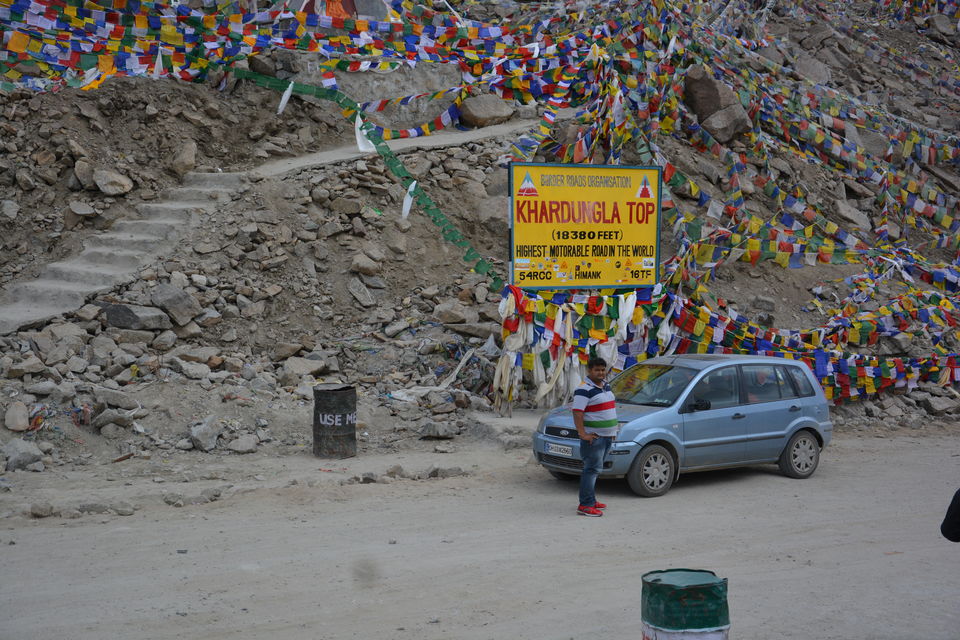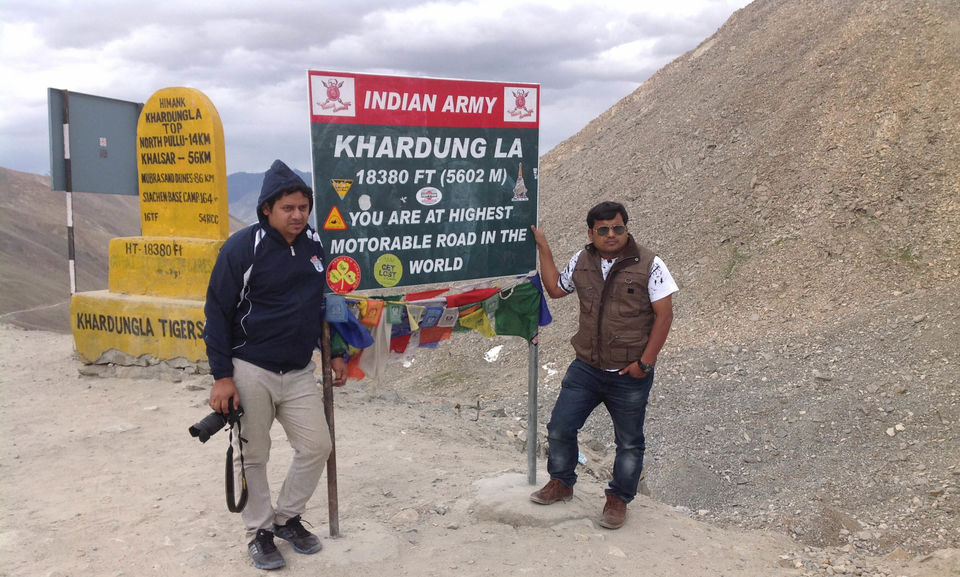 Note: At Khardungla pass, you need to breathe consciously. Make sure your inhales are longer, so that you pump in more O2. Do not panic. Do not stress. All across Ladhak, you have army medico rooms in every 20 kms. So keep calm & travel.
MYSTIC LADHAK continues in my next blog! keep following!