Ladakh has captured the fancy of many travellers in recent years. With its barren mountains, tales of exhilarating biking trips and many trekking opportunities, travellers from all over the world flock to the coldest desert in India.
So when I had the chance to visit this enchanting place, my excitement knew no bounds. Though my research was an ongoing process, it was fueled more so with my enthusiasm the moment our tickets were booked. Though initially we were planning to go to Srinagar first and then to Leh, things didn't work out and we ended up booking flight tickets. Before you read ahead for a helpful itinerary, here are a few details you should know.
This itinerary is applicable if you are flying to Ladakh. You may want to alter a few things if you are travelling by road.
The itinerary may not suit your interests or moods, you will also feel it covers the usual places but nothing extraordinary – do remember we were first timers so we made mistakes.
There are tips at the end of each day that we wish we knew. Though itineraries are great, I think they only offer you a direction, you have to figure out your own trip the way it suits you best!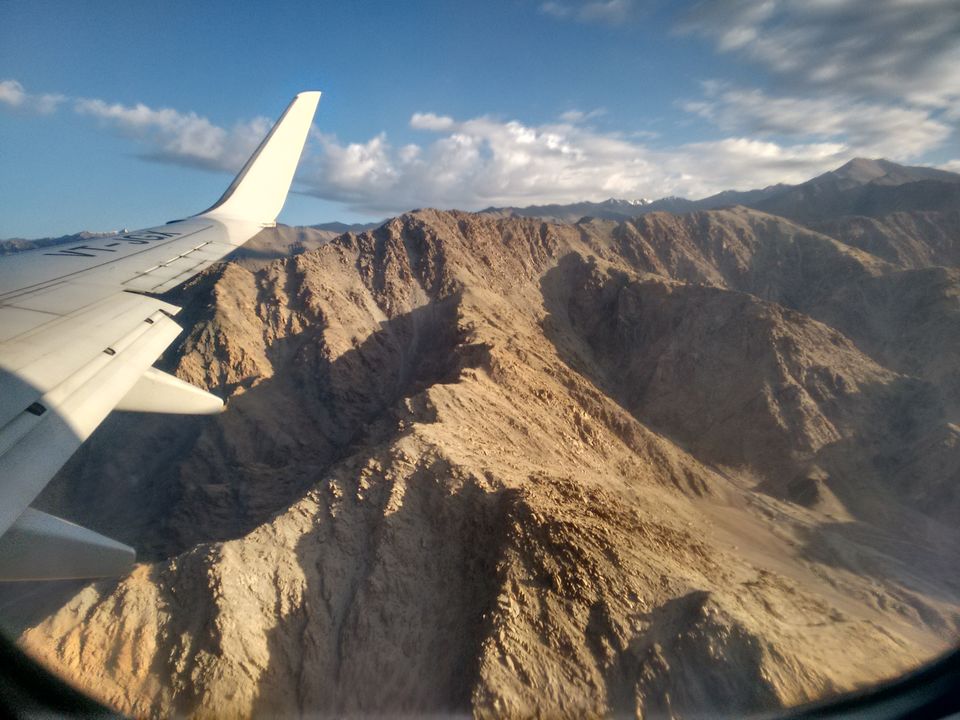 Day 1:
We landed in Leh at about 7 am on the morning of 25th August. As we stepped outside of the airport, there were rows and rows of taxis waiting to take tourists to their respective hotels. Since August is almost the end season for Ladakh, there were hardly any Indians accompanying us on the flight. We reached our homestay, Dawa Guest House, 20 minutes later.
About 25 minutes later as we were settling into our beautiful room overlooking the gorgeous Shanti Stupa, we were asked to rest for the day as the chances to fall ill were the maximum on day 1. We were more than happy to sleep for the day!
Or so we thought. After breakfast and another long nap, all I wanted was to step outside! The homestay host suggested we stay in and if we'd REALLY like to step out, it's best we take a taxi back to the homestay or give him a call to pick us up from the market (since it was an uphill walk).
The main market in Leh is brimming with restaurants, cafes and stores selling 'authentic' pashmina shawls and silver jewellery. We settled into the first café we saw, World Garden Café, and ordered a LOT of food (we were told not to eat too much since the stomach takes its time BUT)! After a hearty meal, we rented an Avenger at 800/per day (a little bit of bargaining and also off season rates) and headed back to our abode.
Tips:
Don't plan too much for the first two days. If AMS hits, it'll ruin the next few days for you.
Keep warm, avoid salads, alcohol and smoking
Day 2:
Since both my husband and I were absolutely fine, we decided to venture out! We made our way to Thiksey monastery and unknowingly found Shey. When making your way to Thiksay, avoid the main road and take the left before you hit the main highway. The road is beautiful, traffic free and very smooth, though it may be slightly longer.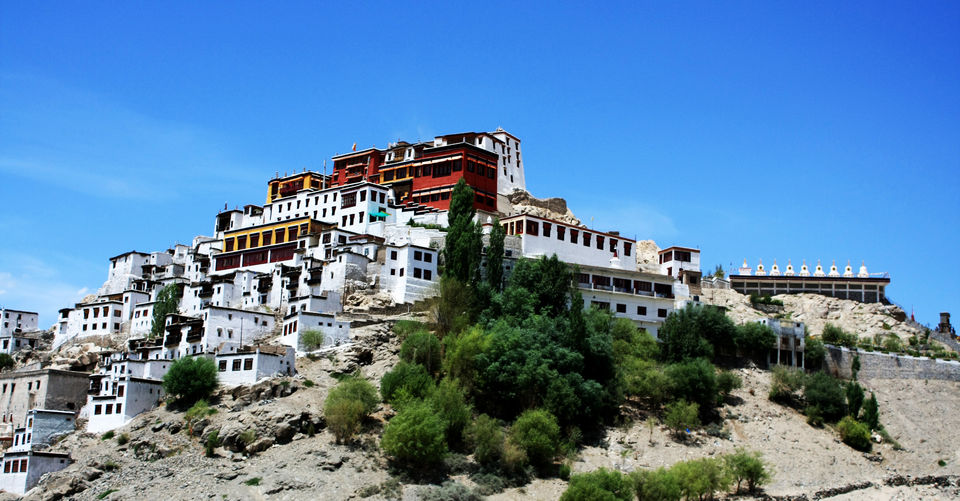 We didn't stop at Shey since we were starving and continued on the road to Thiksay. There were name boards boasting about a Cloud 9 café and that was my mission even before reaching Thiksay monastery. The restaurant is a few meters ahead of the turn leading to the monastery and is a great place for a light lunch. There is nothing traditional about the café and it serves the usual assortment of sandwiches, burgers and pastas.
Finally as we made the climb to Thiksay, the overwhelming structure looked splendid in the afternoon sun and right then I knew why Ladakh is different than any place you have been to or will visit. The monastery is beautiful with relics of the Buddhist culture. Though some would say, if you have seen one monastery, you have seen them all!
As we made our way back to Leh, we stopped at the market for a small meal and headed to Shanti Stupa. Shanti Stupa was located very close to our homestay and the first thing that attracts you about this striking structure is how impeccably clean it is! Peaceful and calm, it is worth spending atleast an hour here just taking in the surrounding beauty and admiring the little monks!
Tips:
Take it slow. Don't exert yourself too much and at even the slightest sign of illness, make your way back to the city.
The roads here are slightly confusing so it's best to always ask locals for directions.
Day 3:
Day 3 perhaps was the most memorable day of our Ladakh trip. I truly thought this is my last journey ever! Everyone we asked said that Khardungla, supposedly the highest motorable pass in the world, shouldn't take us more than 3 hours. Well, it took us 6 hours! The last one hour of the pass is the worst and you will really regret your decision.
If you have hired a local cab, then Khardungla will really take you about 3 hours including the 20 minute stop at the top. If you are riding and you are a good rider, it shouldn't take you more than 4 hours BUT if you are a first timer, then really spare the whole day for your Khardungla trip.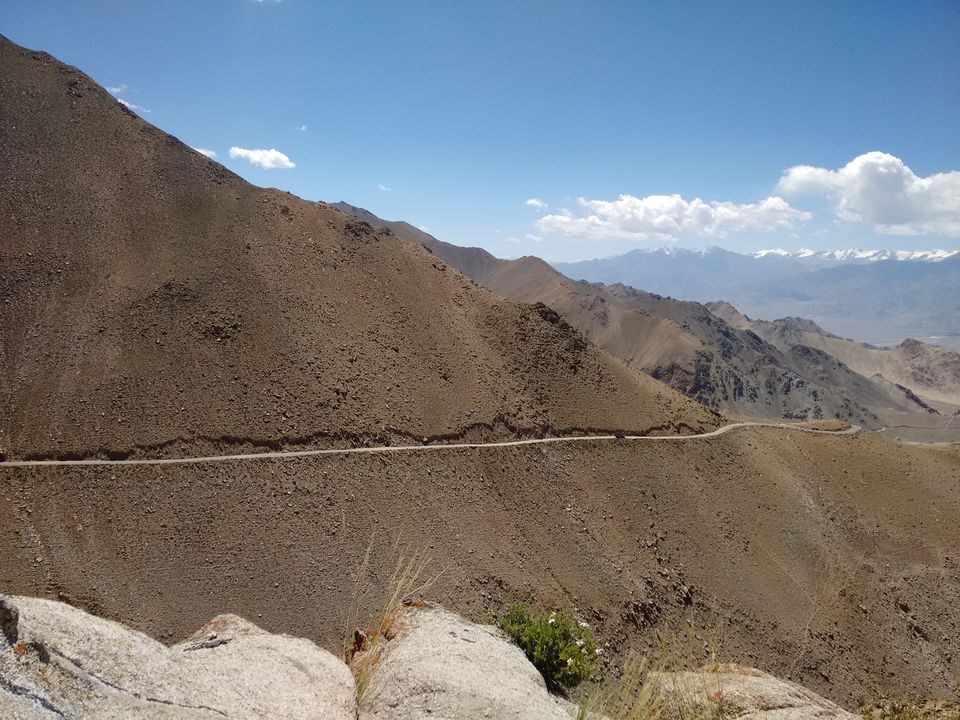 The winding roads are thrilling, breathtaking and jaw-dropping. Looking back at the winding roads was perhaps the most awesome feeling in the world and yet given an opportunity, perhaps I would do it again even though I swore I won't!
Here are some things to remember about Khardungla:
Carry water, biscuits and chewing gum – you will feel hungry on the way and there is only one stop –South Pullu. They serve excellent chai, bread omelet and maggi renditions.
If you aren't sure of your biking capabilities, it's best to not ride with a pillion but to certainly ride in a group. There is no scope to speed here so please don't try.
If you are travelling by car and Khardungla is the only place you have to visit, you can avoid it. There is nothing here that you won't see on the road to Pangong Lake.
If you are travelling to Nubra Valley, it is essential that you start early in the morning to avoid traffic on the mountain pass and also to make it well in time to Nubra. If you have motion sickness, take your medicine and be prepared for a topsy-turvy ride.
Day 4 and Day 5:
After our exhausting day at Khardungla, we woke up early morning for our cab to Pangong Lake. We reached the main market to board our cab with 4 other travellers and set out for our 5 hour long journey to Pangong.
The mountain pass, Chang la, will instantly remind you of Khardungla and for some it is even more exhausting than Khardungla. The bumpy but breathtaking ride to Pangong will tire you out and it's best to carry water and some snacks to keep you busy. Reading on the way is out of question and the music and scenery is the only thing to keep you occupied and happy!
We had decided to spend a night in Pangong and how glad I am to have taken that decision.
There are many checkpoints on the way to Pangong and you will have to show your identity everywhere so make sure you are carrying all your documents. For foreign nationals, you will have to show your passport and your permits so do make sure you have everything handy.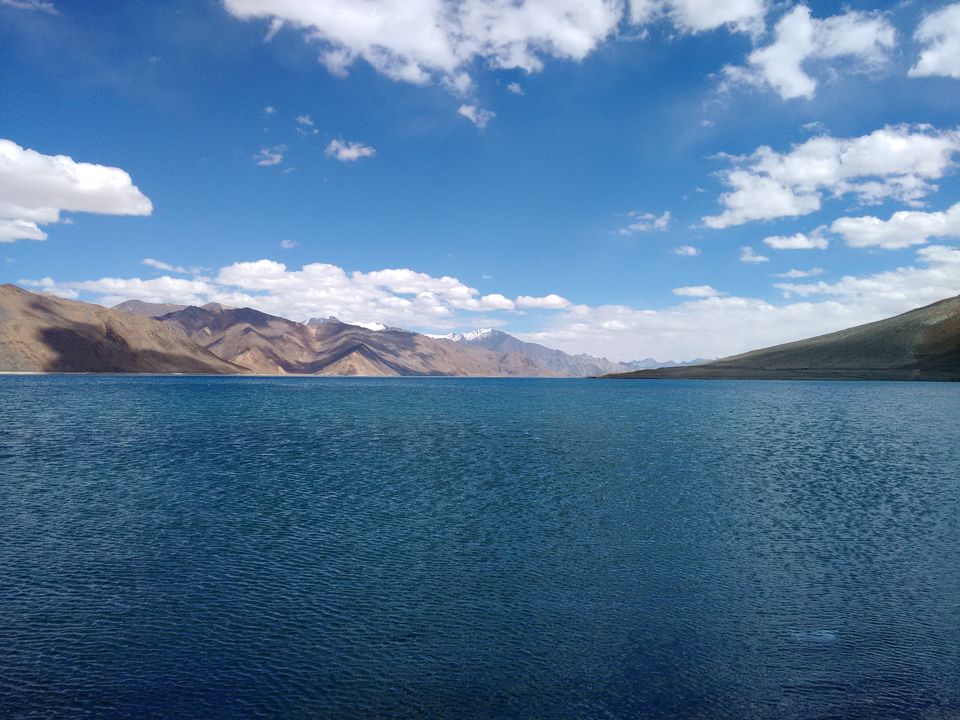 The first sight of the Pangong Lake will leave you speechless. I promise you, you would have not seen so many colours together anywhere! The vastness of the lake is surprising yet you feel as though you can take it in your arms in one swift motion. 35% of the lake is in India while the rest lies in China and you will wonder how something can be this overwhelming.
There is tons of restaurants right opposite the lake and all tourists assemble here before either making their way ahead to the tents or before heading back to Leh.
Since we were staying the night, we made our way to the tents and it was happiness! Since it was the end of the tourist season, there was ample space and everyone was up for some bargaining. Our tent was warm, comfortable and perhaps the best accommodation option in Pangong. The rest of the evening and the next morning was spent admiring the lake, taking in the ways of the sun and basking in the glory of this mesmerizing place.
When we returned to Leh, we spent sometime in the market, had dinner there and headed to the homestay.
Tips:
Unless you are really, really short on time, spend at least a night in Pangong. If I knew earlier, we really would have spent another night there. The tents are comfortable and the food is awesome.
The restaurants around the lake are dirty and it's upsetting to see a wrapper flying into the pristine lake so don't litter.
There is absolutely no connectivity here so inform whoever you need to before setting out to Pangong. There is one STD in the main area and if you are in luck, it'll be working!
Pangong should definitely be on your list. Even though it's uncomfortable commercial, there is an inexplicable calm to the place.
Day 6:
On day 6, we decided to take it a little easy. Since our plan also including rafting on River Zanskar, we wanted to save our energy. Earlier, we had taken the route from Leh to Manali (when we visited Thiskay), this time around we went towards the opposite direction. The Srinagar highway is exceptionally awesome. Wide roads, mesmerizing barren mountains and the sun shining brightly – this is what road trips are made of. I figured then why people travel for days to reach Leh.
Spituk Gompa is similar to Thiksay and is situated on a little hill. It offers a panoramic view of the surrounding mountains and is worth a stop. On the same highway is Hall of Fame, Pathar Saab, Sangam or the confluence of Zanskar and Indus River.
If you are looking for a relaxing, smooth afternoon, this perhaps is a great option! There is a small café on the way to Alchi called Joe's café. Do stop here for a bite and you'll thank me later.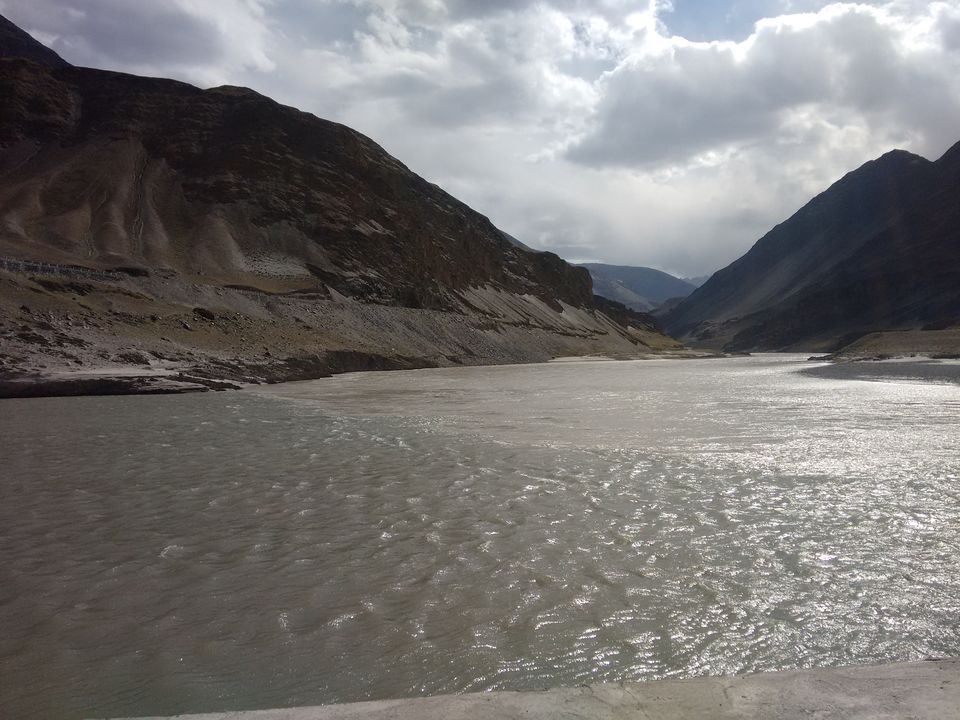 Tips:
If you have been hesitant to rent a bike all this while, this road offers even first timers the perfect opportunity.
Don't look for any signs for Magnetic Hill, you won't find any. Since tourists would take the bikes and cars off the road, the authorities decided to remove any signs of magnetic hill to avoid accidents.
At every crossroad, stop and ask someone for directions lest you lose your way. There are no name boards when needed the most!
Day 7:
This day was reserved for rafting, a meal at one of the many restaurants in the main markets and shopping :D
And that's precisely how it went.
Tips:
Carry a towel if you plan to go rafting. The time taken to reach the rafting site is about 2 hours from the city. They will give you wet suits to wear so be prepared to change in the bus.
Don't carry anything expensive with you since everything will be in the bus with them and honestly you can't use your camera while rafting.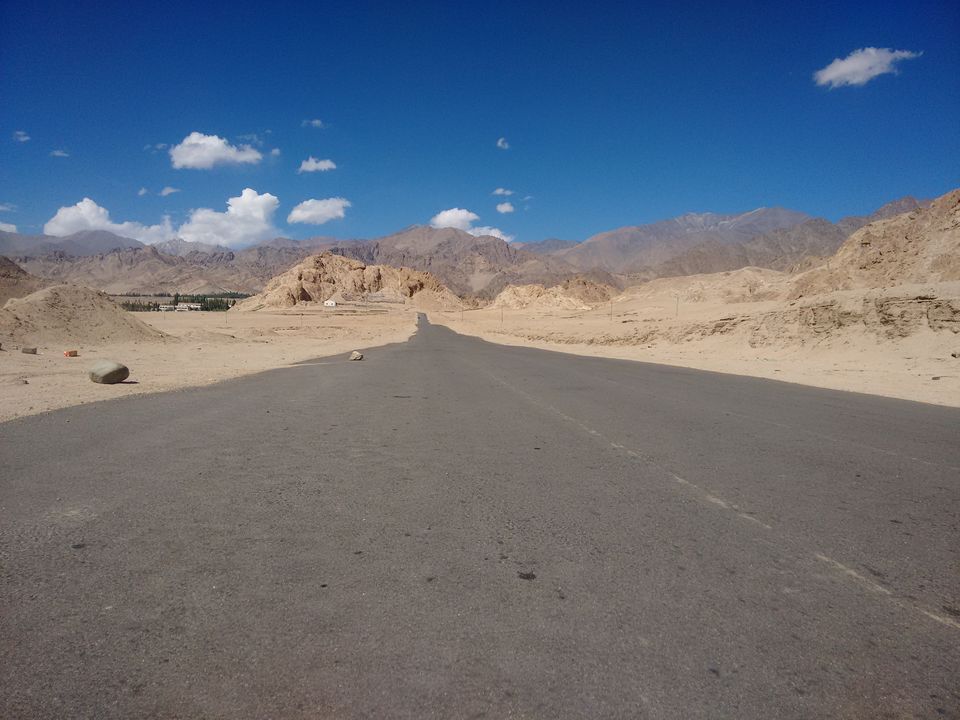 Day 8:
Was our happy, relaxed day (yes again!). We shopped, we read, we lazed around under the sun and it was just the perfect way to end our first trip to this beautiful, welcoming place!
More Tips for Ladakh:
Incase you are planning to trek, get all your information from local travel agents before setting out.
Always let someone know where you are going in case of any emergency. There are numerous places where there is no signal and it can get very inconvenient if someone is trying to reach you.
Ladakh is a very welcoming place. Respect nature, the culture and the traditions of this region.
For AMS, consult your doctor or just go to any medical store there and they will give you the correct medications.
There are shared taxis for everything and Ladakh can be very reasonable if you know the right places to eat, the correct place to stay at and the best way to travel.