It was one fine day when the planning started; I got a call from my buddy asking for a trip to Tadoba. Without a second thought I told a big yes and the development commenced. All bookings done and we were set to go with few ifs and buts.
Day 1
25th Dec' 16
Our Journey started in the evening and the departure of the train was at 5:40 PM. We boarded the train and were waiting for one of our friend to join, however there has to be a twist all the time. Our dear friend was late and missed the train. Luckily we had intelligent passengers who gave us an alternate option to board the train. Thanks to my friend's husband who had come to drop her, and was a savior for us to get all of them onboard. My friend had on board another train till Daund to catch up with us, as our train took a halt of an hour there. All the train adventure got over and finally all had settled down and took a huge sigh of relief. It was my first journey in a train and I was very much excited about it. The journey began and we landed at Nagpur city around 10 AM in the morning and reached to our friend's home via cab.
The whole heartedly welcome by the family kept me thinking, I am surrounded with really awesome people. The day was to rest and continue our journey next day to the land of beasts Tadoba. The first day at Nagpur was awesome, and we visited Lake Phutala. I met a wonderful local person who made us eat and narrated tales of Nagpur. The night was a peaceful one with good sleep and lot of excitement within us.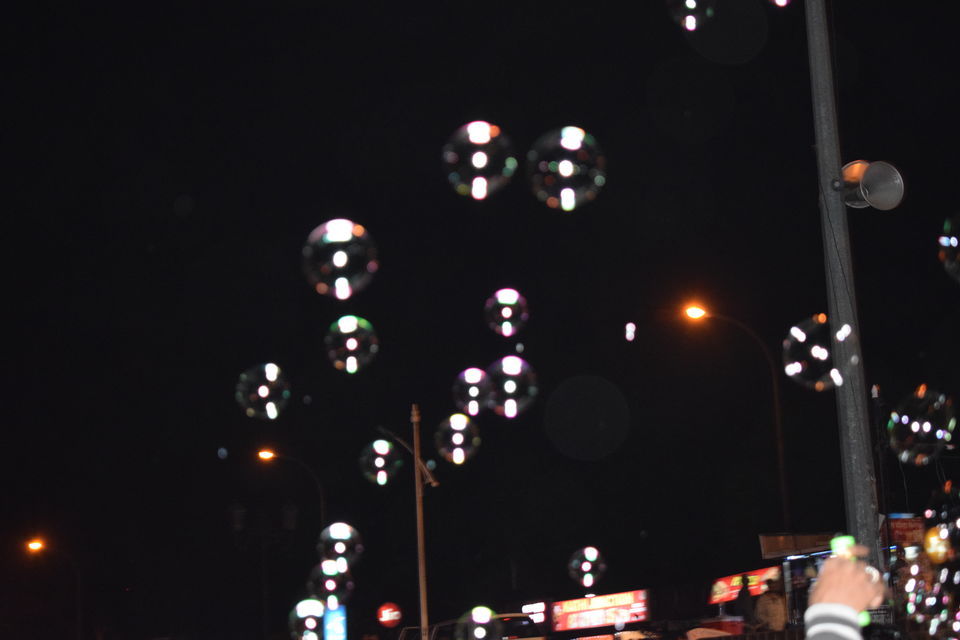 Day 2
27th Dec
All of us were ready to start for our next destination Tadoba. Tadoba Tiger Reserve is one of the finest & largest National Parks in Maharashtra. It is one of India's 47 project tiger reserves existing in India. It located in Chandrapur district of Maharashtra state. The transport arrived a little late by an hour, we stashed our luggage in the van. The driver had no clue about the route and kept on asking the locals which way to head. Finally we reached with lot of route stops. The rooms were pretty impressive with cleanliness and luxury. We were served veg meal before we begin with the first safari.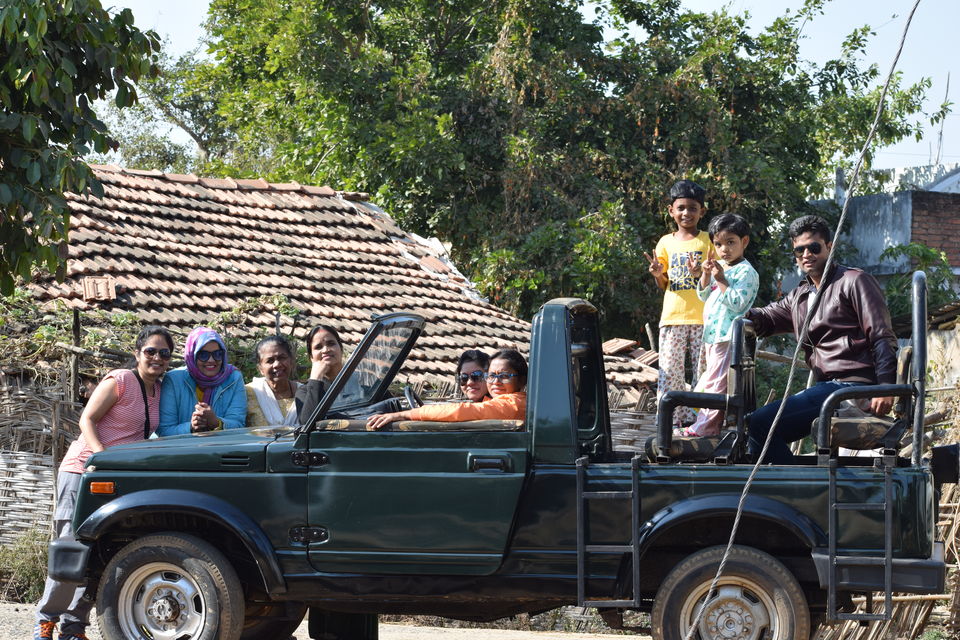 With lot of energy and excitement we moved towards Tadoba in our gypsy, and yes with lot of photo sessions. The route to Tadoba was full of greenery with a huge backwater standing still next to our way. The nature looked so wonderful and made me think yes I am where I should have been at that moment. Travelling on a tar which divides the wilderness gives a breathtaking feeling. The entrance of the Jungle looked so awesome as if I am in a different world. All the entering formalities were done and we moved inside the wilderness. We were lucky enough that we had dappled few tigers in our initial safari. Looking at the wild sent spines to our feet, as it was bare without any restrictions. I realized, we were on a land of animals. The tiger passed by the way saying it's my way and don't interfere. The safari continued in the wilderness and we took all the curvy roads exploring the jungle. We were lucky enough to have a face to face view with the tiger in the first go and also dears, peacocks. The safari ended with loads of memories in mind.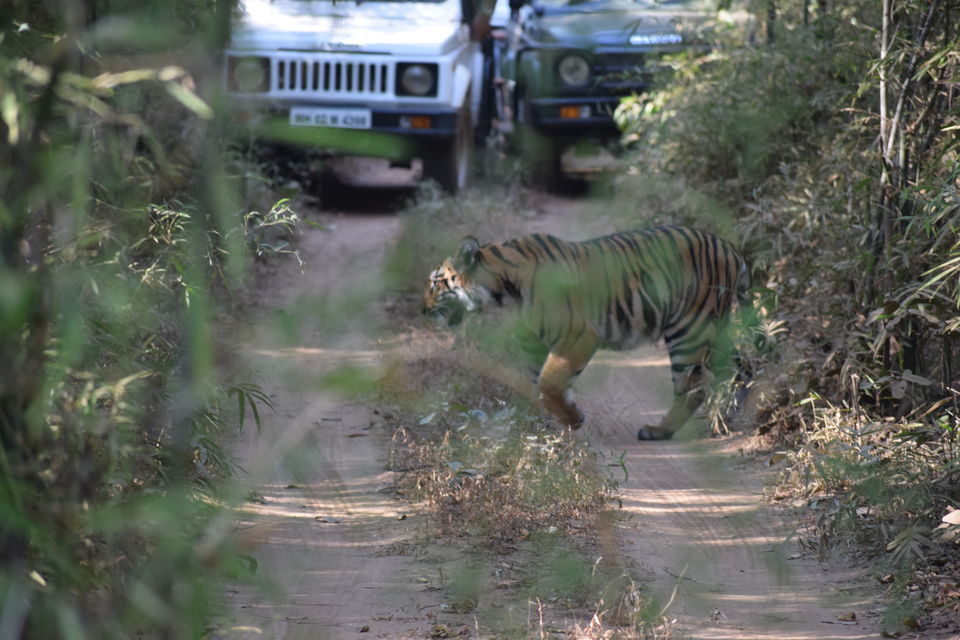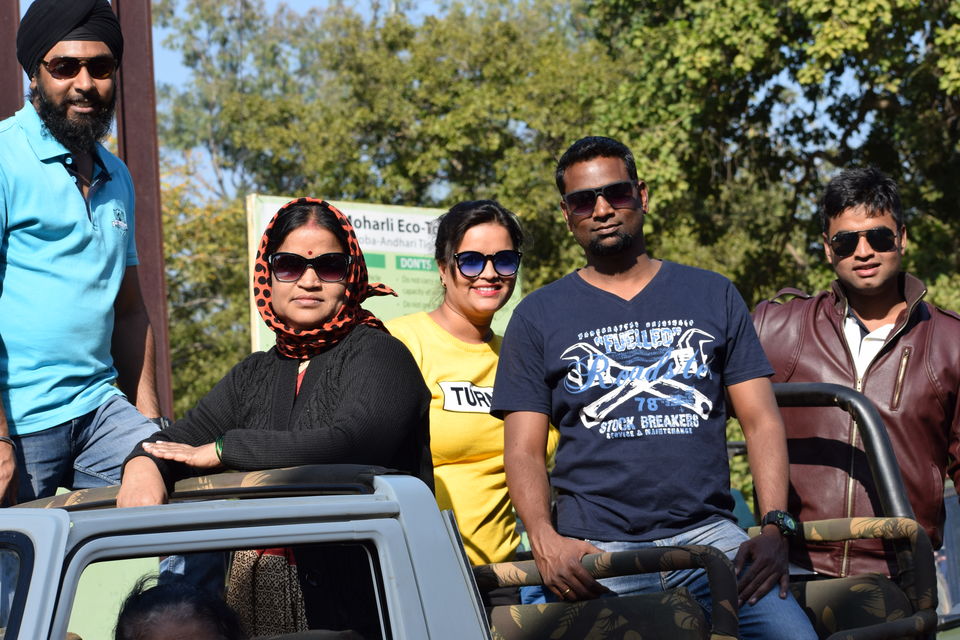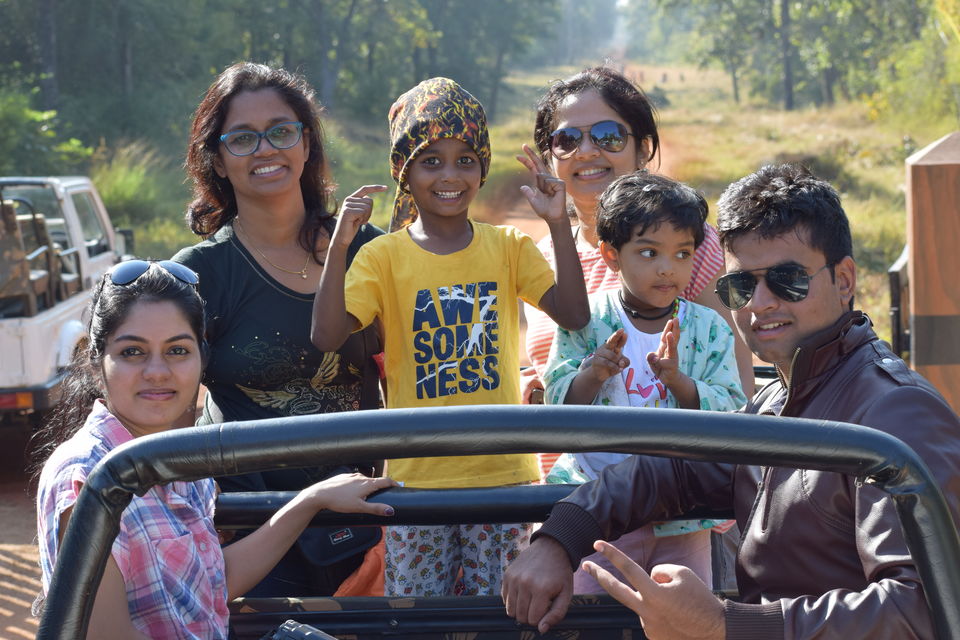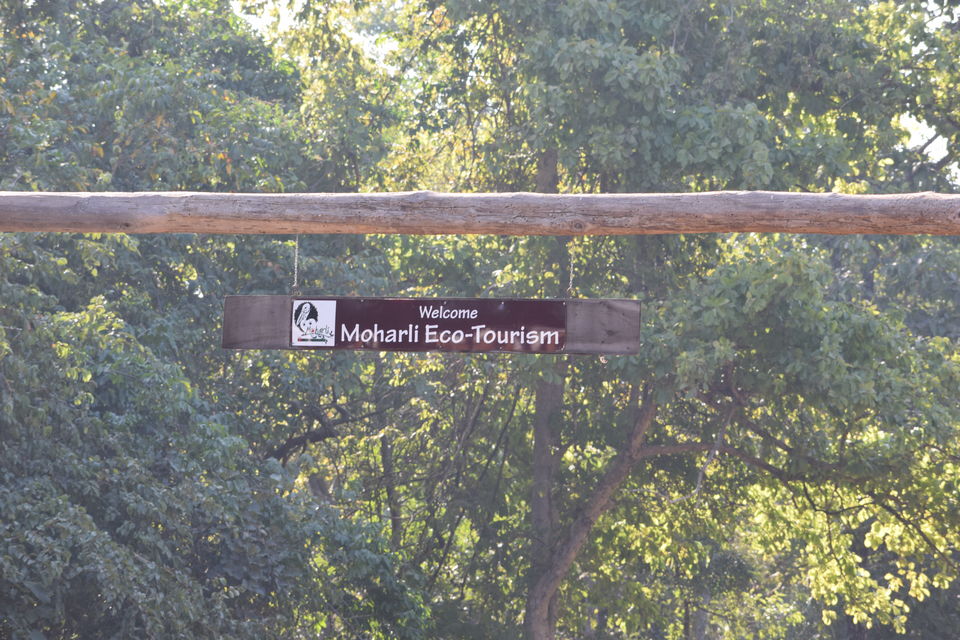 We reached the base and prepared for the bonfire, kids added more joy to it. The chilled breeze made us feel cozy around the flames of joy. The sky was wide open and the stars joined the warmth of the fire.
I sat for some more time when everybody left for a nap. Looking at the open sky, I went back to visualize how I spent my day.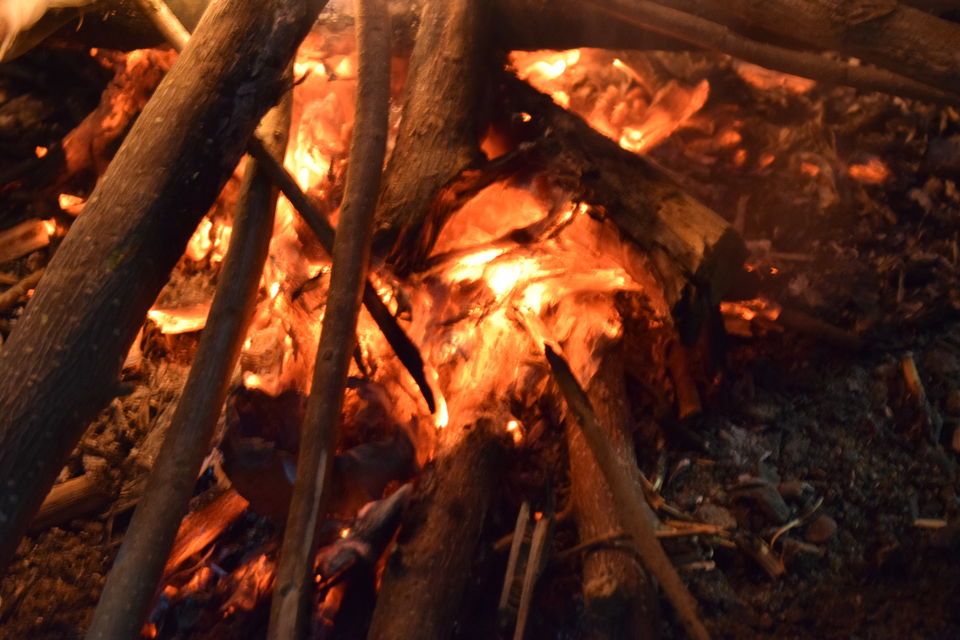 Day 3
28th Dec'16
Waking up early morning at 4.30 AM had become a habit for me, thanks to my Australian project that I worked for. The next safari was at 6:00 AM in the morning, the wind was shivering and the sun was yet too light its warmth. We got ready and moved in our open jeeps towards the jungle to experience the wilderness once again with lot of enthusiasm. The guide kept us taking to various spots to give us a view of the animals, but we couldn't sight any. It gave us a little bit of disappointment; nevertheless I was very much happy deep inside my heart that I was in the wilderness, a place I had never been before, a place that I would love to keep coming again and again. We stopped for breakfast and clicked few snaps; even I got my coolest pics thanks to my close pals. All of us headed back to our digs, hoping to see the beasts on our next safari. We took some rest and packed our bags, as we had to leave for Nagpur after the safari. This time we had a different zone for our ride. We started and it was a long ride before we reached the core of the wilderness. The travel route was between fields, small villages a big lake running by the side; it was fascinating to my eyes. This zone was different from the initial one, as it was much denser and kept a fear in our hearts. We kept moving till we spotted some dears, few peacocks, birds and a bear. The other gypsy friends were fortunate enough to sight more animals compared to us. We reached the base and left for Nagpur with heaps of reminiscences deep within our hearts. The travel was silent, as everybody were in their own world, a world unknown to us, and a world new to us……… we took a break at a local dhaba to enjoy dinner and continued with our journey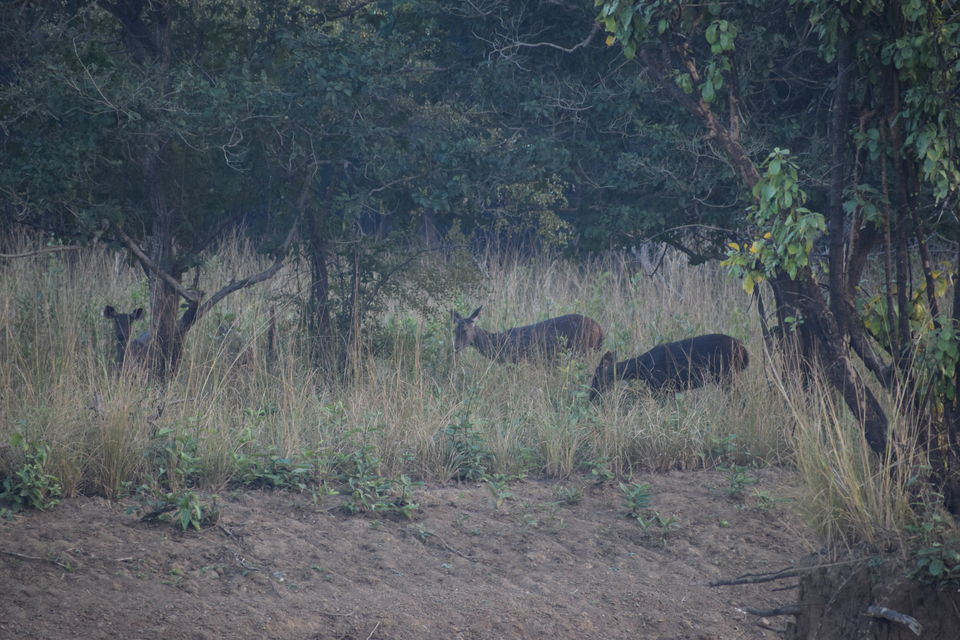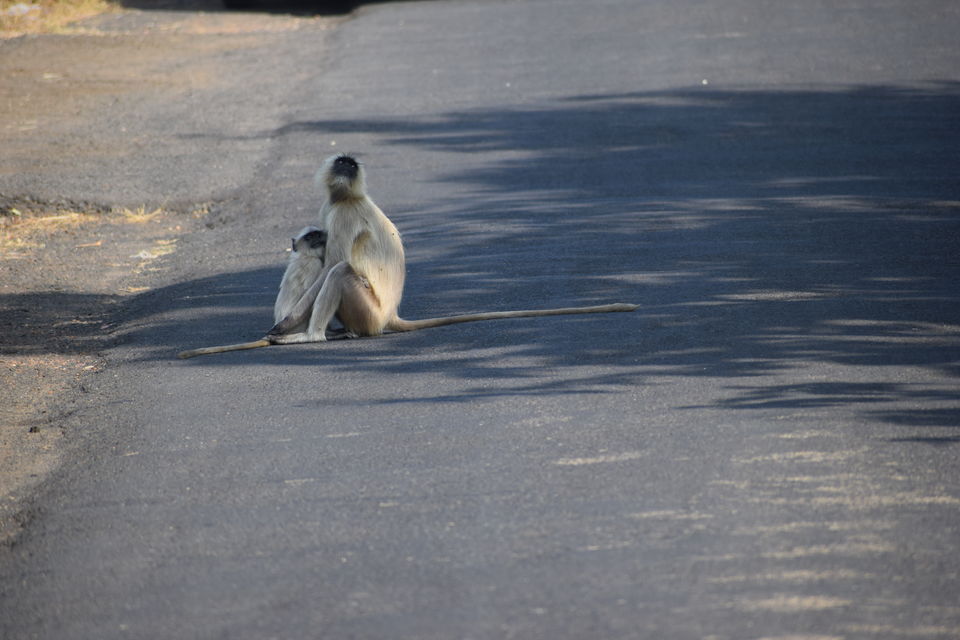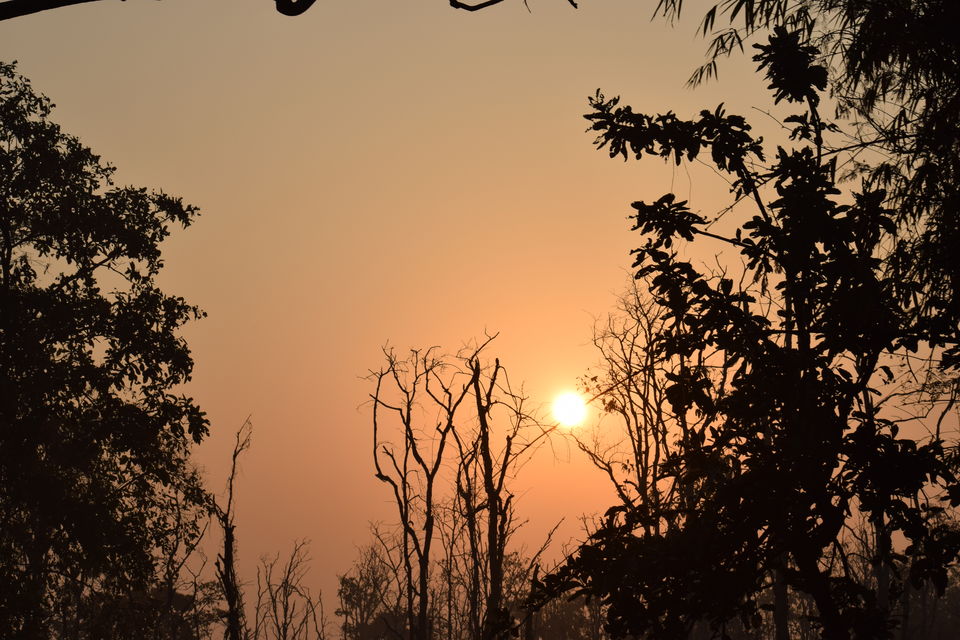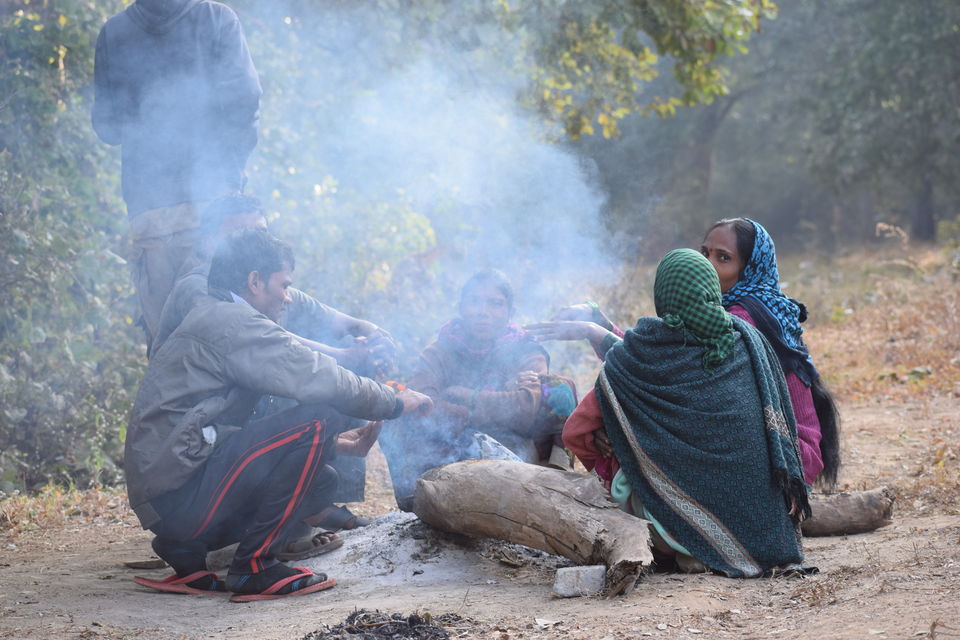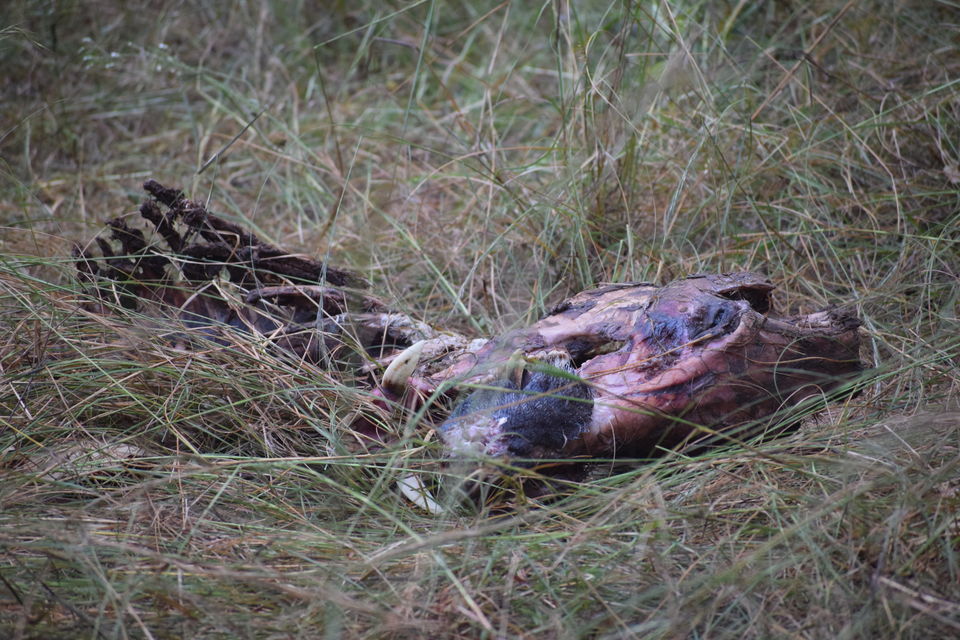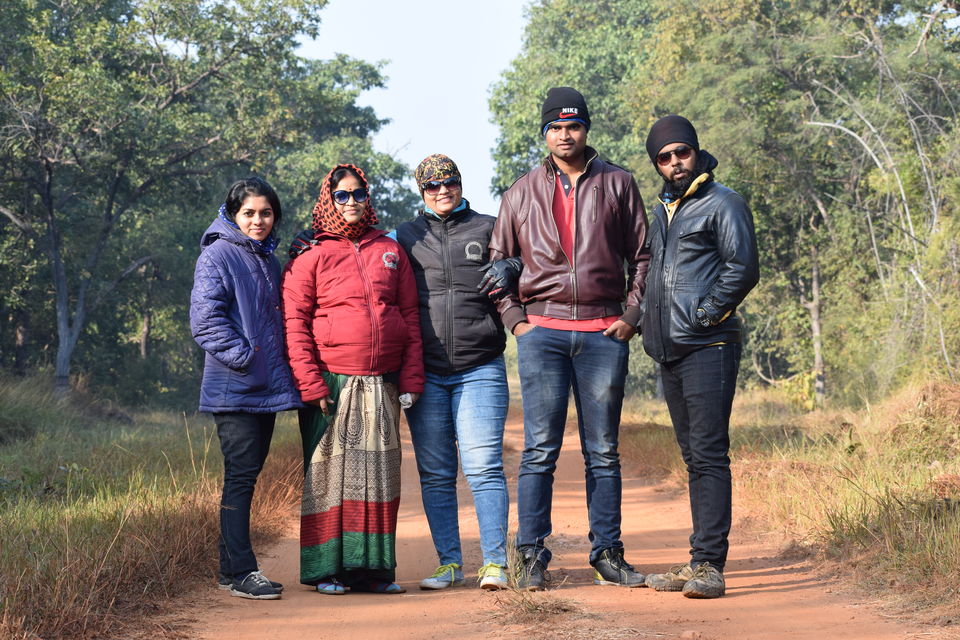 Day 4
29th Dec'16
No plans for day, as we were still thinking of travelling to Jabalpur or Panchmari. After lot of discussion we decided to leave for Jabalpur where a friend was waiting to welcome us. Booked to and fro travel to Jabalpur. Our bus travel started around 2.30 PM and we reached around 9.30 PM to Jabalpur. During the journey I picked up conversations with my friend and we talked about values of life. The conversation was awesome and it made me realize how life can be viewed with different perceptions. Thanks to my buddy for sharing his life incidents with me. Travel is not about going to different places, but also to have conversations during the journey. We reached Jabalpur and took a joy ride in an auto to our friends place. After reaching the warm welcome and a family feeling made us all more relaxed and comfortable. We had our dinner and took a deep sleep to rouse next morning full with energy. The plan was to visit Bedaghat.
Day 5
30th Dec'16
Good Morning to Jabalpur, we got our bed tea and breakfast. All of us were set to visit Bhedaghat situated by the side of river Narmada. We took a transport to reach the location; I was stunned to see the waterfall as Dhuandhar, which looks like smoke coming out of the river. We entered the water and enjoyed the coolness of it, the feeling was awesome. The water gushing between the rocks gives an amazing view of nature.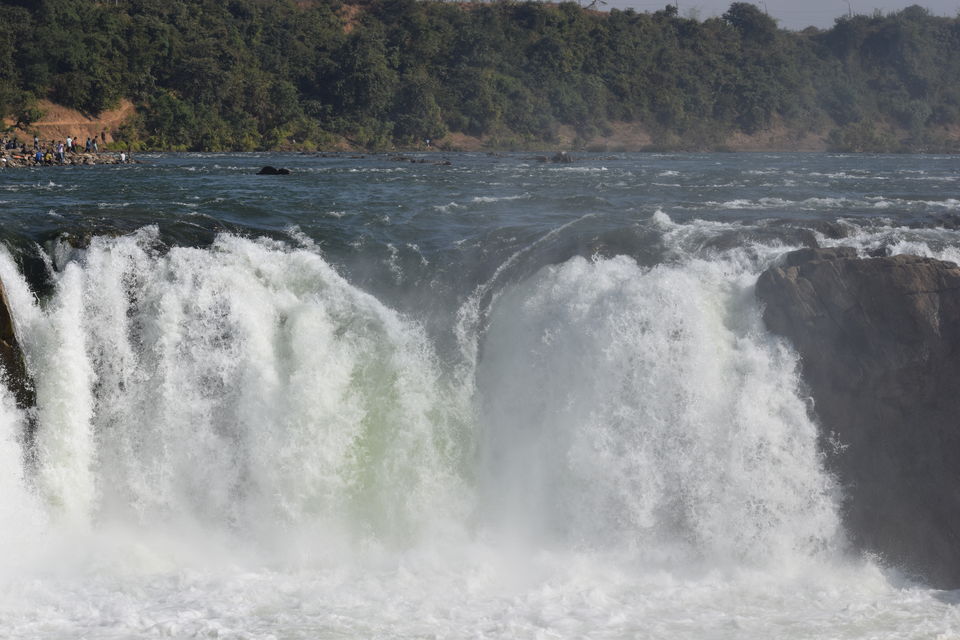 Bhedaghat is also famous for its rich marble market; there were lot of marble artists willing to sell their skills to us. We did a few purchases from the market and moved on to a boat ride between the rocks. The boat ride was for 20 folks out of which 10 were us and 10 were tourists just like us. The boat ride took us between the rocks and the guide kept us entertained with his one liner. Few famous movies were also being shot at Bedaghat. The view of the rocks was astonishing, huge, solid and firm also known as white marble. The ride took us further inside with additional 50 bucks, giving more adventure to tourists like us. The view of the river between the rocks made me feel India is incredible. The sunset gave us an amazing view of the rocks, river and boats, it was simply amazing. None of us felt like leaving the place and we continued for a while in the ferry, but time limitations pushed us back to the shore. Behaghat made a place in our hearts rock solid which will be mesmerized for a long long time, until we visit again. 
We took our transport back to my friends place, a house full of affection and nourishment's. We had dal batti for dinner, which has its own flavor, all the dishes were served repeatedly until our hunger got satisfied and our hearts gratified. My friend belongs to a musical family, so post dinner we had a musical event. Neighbors gathered and we had a jamming session, not with guitar or keyboards but with tabla and a harmonium. Few vintage folks with high vocals added flavors to the night. The songs were kept us tapping our feet and 'chalat musafir moh liye re, pinjde wali munia' was the show stopper. We also celebrated birthday of my friend's little cute son who turned 2 on 31st. The last day of the year kicked off with full on celebrations. 
The music ended up around 1 and all left to sleep. I was not sleepy, as it was my first experiences to feel the music of India in tabla and harmonium. The tunes kept moving around my mind. I kept my friends awake and we talked about the journey and experiences till 4 AM in the morning. Thanks to my buddies jinko maine jagaye rakha J. It was a peaceful sleep and we had to travel back to Nagpur at night.-
Day 6
31st Dec'16
It was a lazy morning for all of us. We had decided to visit few nearby places, however everybody wanted to relax. We spent time talking to each other and the hands of the clock moved quickly. My friend took few of us to a sweet mart to shop delicacies of Jabalpur. We were all set to leave with our bag packed; swiftly my friend informed the train is delayed by 2 hours. After numerous confirmations with train department we got the delay confirmed. We had another two hours at Jabalpur with the sweetest family to spend time. Capturing all of my friends and family members in the camera we took a walk to the nearby temple and offered prayers for our wonderful journey. It was time for us to depart with so much to remember for years to come. Our friend came to drop us and we departed. 
The train dint had much crowd as it was 31st, people must be celebrating. We got settled and it was 12.01 AM, beginning of the New Year. I could hear the crackers sound as we were travelling. All of us wished and hugged each other and passed on our best wishes for New Year. It was simply overwhelming to be with my close buddies on a new year. Few friends came in my life and made a place in my heart very quickly. Hope the friendship journey continues…..
Day 7
1st Jan'17
We reached Nagpur and evening we had a train back to Pune. Aunty cooked awesome chicken for us, which we kept eating till we got tired. The taste of Nagpur food was majestic. Thanks to my friends family who took care of us just like their children and never made us feel, we were an outsider. I was heartened by the generosity of the family members. Kudos my friendJ. It was time to take a round to a sweet shop to get some 'orange barfi' famous Nagpur sweet. All of us took delicious sweets for our loved one's back home. It was time to say adios to a wonderful family and an amazing city. We reached station and boarded the train. I was very much impressed by the cleanliness of the boogie which made me feel much relaxed. We got our seats and continued our journey and talked about each other. That was a best conversation between four of us we had. Suggestions were exchanged and accepted with full respect, that's how friendship should be. I and my friend were sad, as the journey was going to end we had a down face but the planning for the next trip had already triggered in our witty minds.
Day 8
2nd Jan'17
We reached Pune and the journey ended; rather the thought in our mind for another one began. It was time to say goodbye to awesome friends and depart. All of us were having a silent face before departing as the sadness was visible. Bye bye friends and we left to our respective destinations. The journey came to an end.
I lived my life fully throughout the journey. Experienced the awesome generosity, cool family members, fantastic whereabouts, wilderness, beast, open gypsy rides, loving friends, crying buddies, caring pals, playing children's, train travel, bus travel, peppy rickshaw rides, grand nourishment, never ending talks, life stories, lessons learnt, window view, feeling the breeze at the train door, open sky, twinkling stars, sunrise & sunset, music, celebrations, peace, sadness, tears, love and never ending friendship……..