"They told me not to visit this country. Not solo at least. I should really have listened to them", I think to myself walking my way through the canyon trail. He had said it is a medium level hike, but the winter chill is not helping and on top of that my growling stomach.
I look around, there is no one in sight. Except vast desert and shrubs. I sat on a big rock, take out the small piece of cake and packet of juice. Sallah, the driver, had handed the snack pack to me " Here, it is a 20 min long hike you might need a snack. I have all your stuff. Will see you on the other side" before I could say anything he joked "or not! Hahahha". I hope it was really just a joke "what if it was not?"
I tried dismissing the thought and continue to sip on the juice and stare at the Sky. The mighty blue of nothingness, unpolluted as ever. And I, tensed as ever. A chilly wind brush past my hand, almost could not feel them. "I should have taken the gloves out of my bag" "oh, shit!" I turn scarlet as I rummage through my sling hoping to find my passport. Almost skipped a beat, it was there,"Sigh!" But all my stuff was in Sallah's jeep, all of it.
I decided to go on with the trail, occasionally checking my phone for any signal. But who was I fooling? I was somewhere in the 720 sq. km desert. On my own. I check my phone one last time, "It has been 40 minutes, I should be nearing the end of the trail."
Panting I tried conquering the big sand dune. As I reach the top, I saw Sallah, waving at me. Abdul, his help, was at the end of the dune, he screamed something in his language. I had no idea what he said. But my happiness knew no bounds! Next I know, Abdul was climbing towards me with a sand-board. He handed it to me along with his gloves.
6 seconds, a few scratches and tonnes of sand in my shoe later I had conquered the sand dune. "What took you so long? Come on, we have lunch and tea ready" Sallah said pointing at the spread of food. A few more Bedouins joined us.
There was still no one in sight, no signal on my cell-phone all I had was company of 6 strange men in the middle of a desert. And the only thought that crossed my mind "They were wrong, I knew this would be worth it. This would be fun."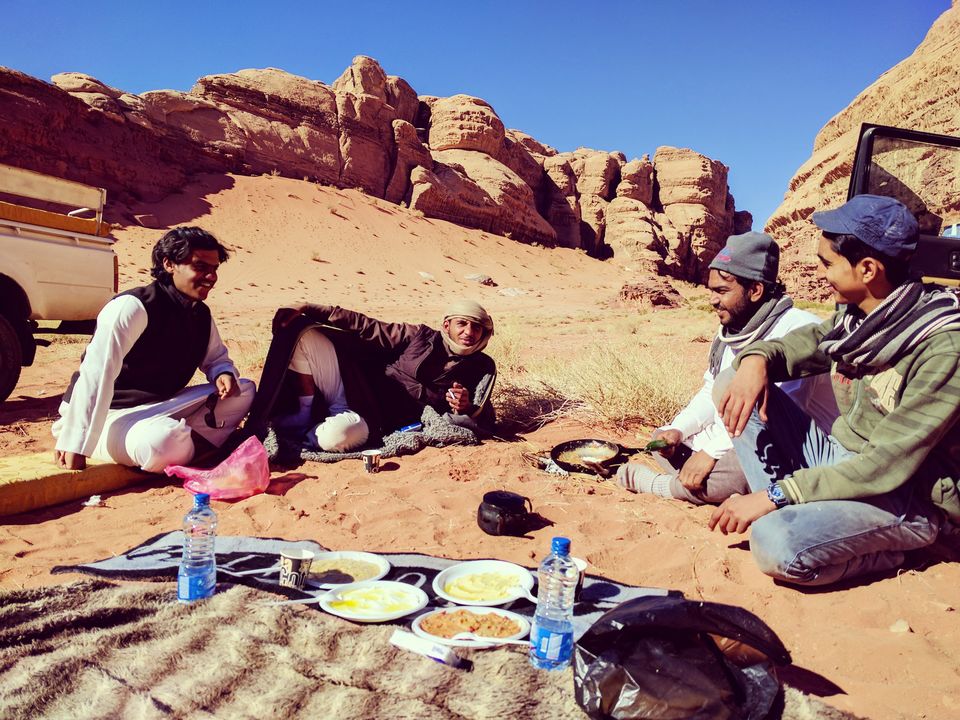 One of the Bedouins refilled my cup and said "You know Sallah is the best host around here." "I know!" I said, sipping on my 4th cup of the famous Bedouin tea. Looking towards the sky, only this time content as ever.
This post was originally published on the blog Of Miles and Musings