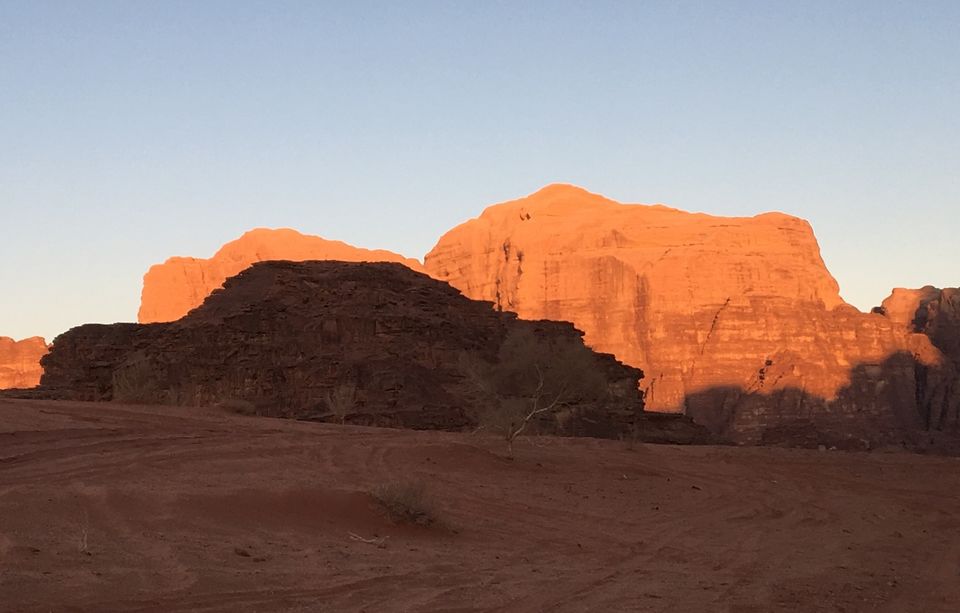 Whenever you feel like going to the Moon or Mars just consider travelling to Jordan to spend a day and night in Wadi Rum. It does have an unearthly ambience with its red sand and rock formations covering 720 square kilometres. Also known as Wadi Ramm or Wadi al Qamar (Valley of the Moon), this exotic locale has no parallel anywhere in the world. It's incredibly remote but easily accessible, seemingly deserted but with all basic amenities, quiet to the point of eeriness but not totally silent, cold in winter but not unbearable.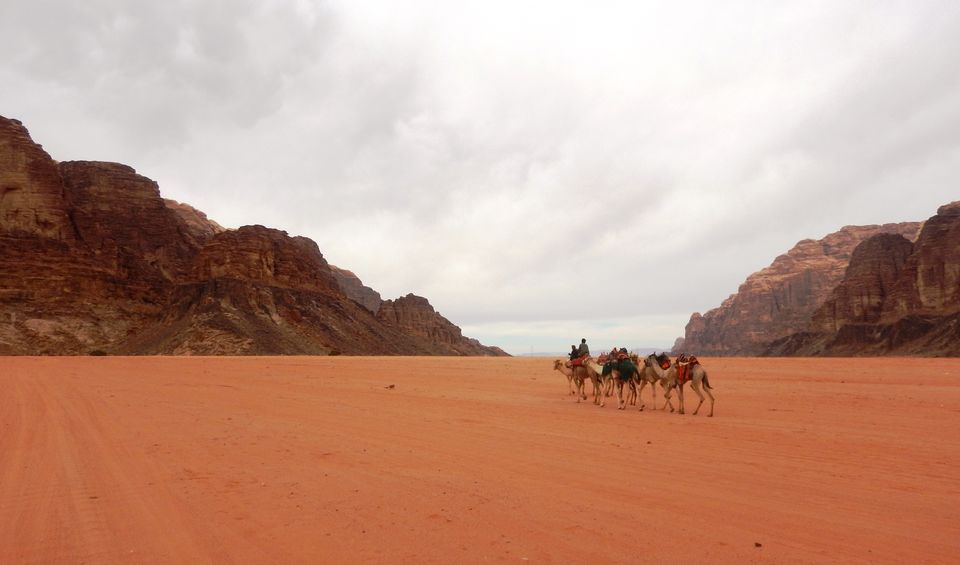 This was my second trip to Jordan, and my main agenda was to visit Petra, one of the New Seven Wonders of the World. Wadi Rum was an after-thought and an add-on. I was rather squeamish about camping out in the desert in the winter chill. But Tanuja and I had places from Umm Qais to Aqaba on our bucket list so it didn't seem sensible to leave out Wadi Rum. I'm glad we didn't. Though Petra was really amazing, Wadi Rum turned out to be the cherry on the Jordanian cake.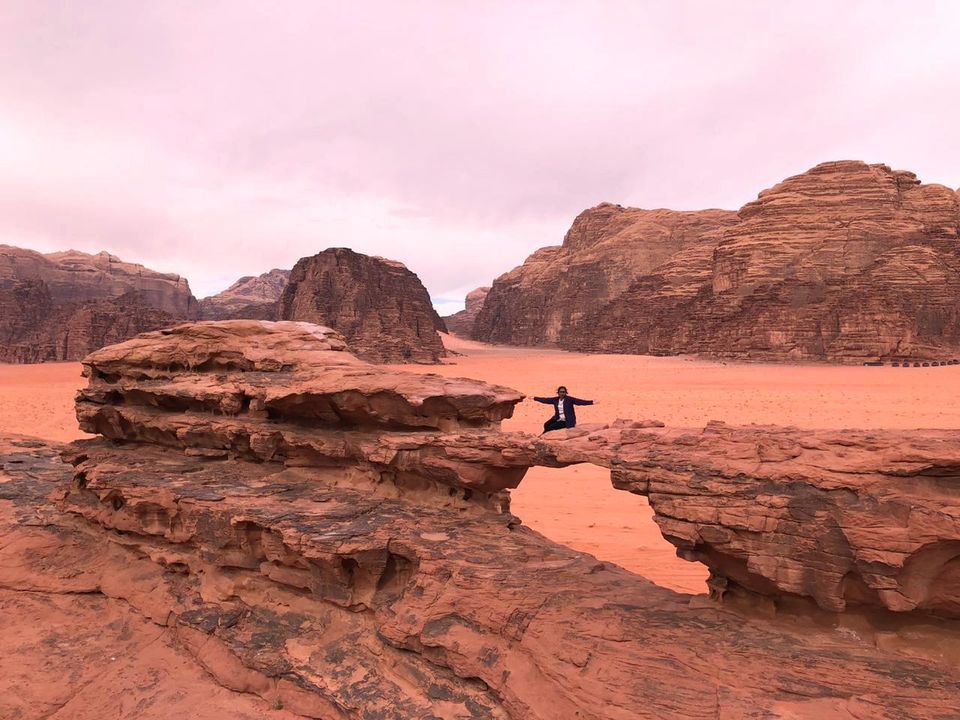 We took a pre-arranged cab from Petra one morning and after an hour's drive reached the Wadi Rum Visitor Centre. There our cabbie linked us with another driver called Hashim, a young Bedouin lad, who promised to show us around the place before dropping us off at the Wadi Rum Night Luxury Camp, where we had reserved a tent for the night. Hashim had a four wheel drive, which incidentally belonged to the hotel where we were supposed to stay.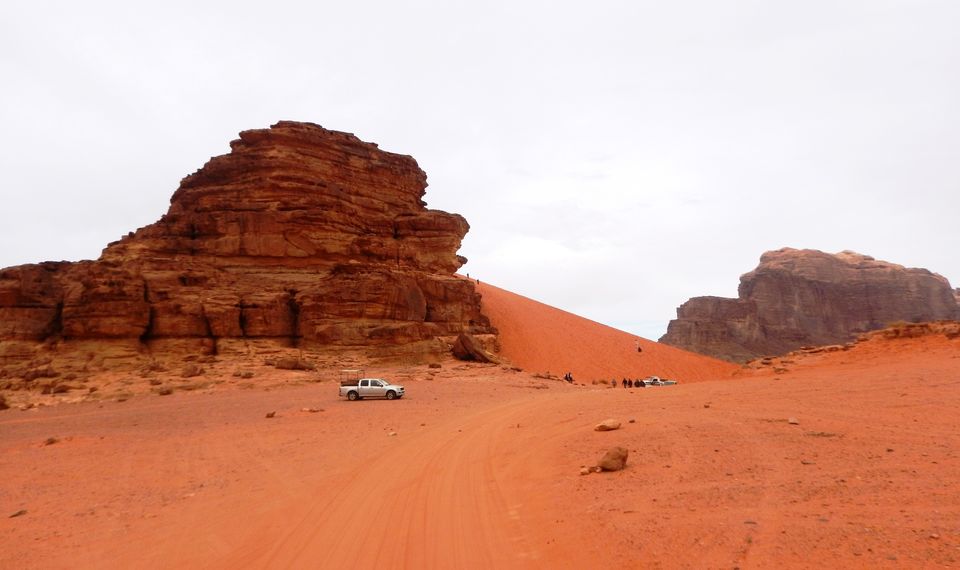 The drive was simply superb! The red sand and the rock formations were a sight to behold. And the silence of the desert, despite the presence of a few jeep-loads of tourists here and there, was spectacular in itself. Wifi and WhatsApp didn't work, so it added to the loneliness of the place. We sat on the back of the vehicle with scarves covering our noses to keep off the sand from our lungs.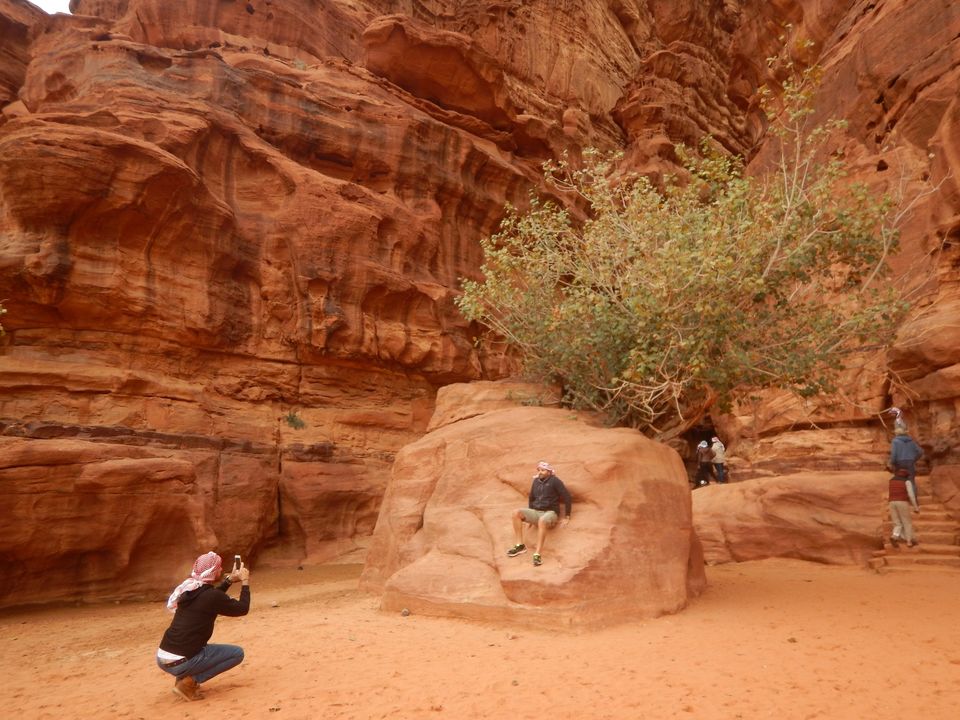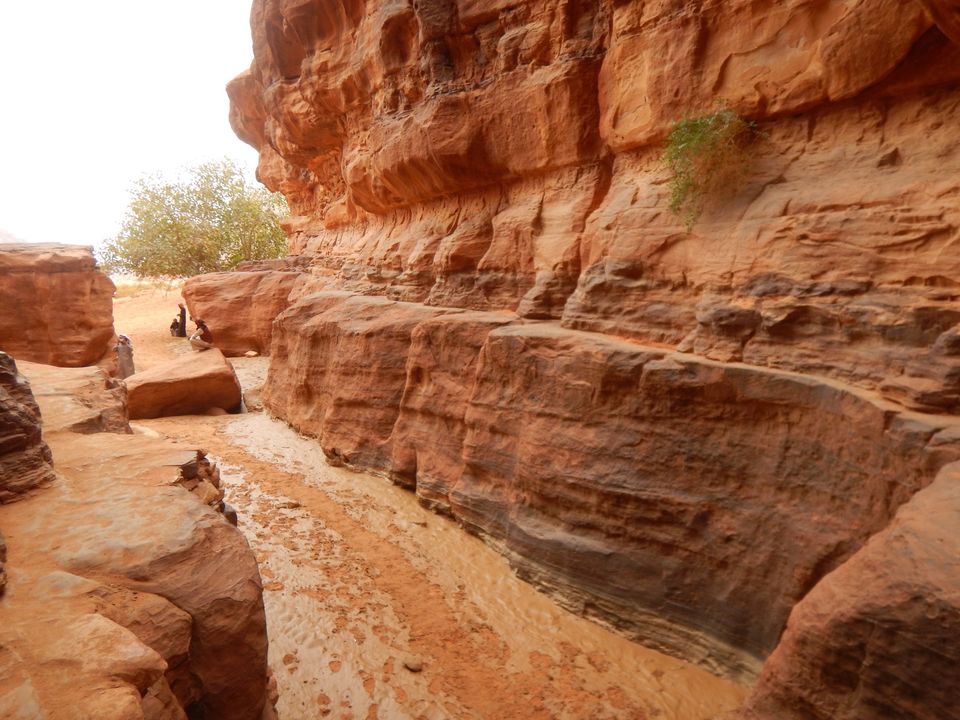 The Khazali canyon with its fascinating inscriptions and petroglyphs left behind by the ancient Thamuds, Lawrence's Spring, the Burdah Rock Bridge, the Burrah Canyon, the red sand dunes, and the exquisite sunset view points are some of the must-see locales. The Seven Pillars of Wisdom was earlier known as Jabal al-Mazmar (The Mountain of the Plague).
For trekkers and climbers Wadi Rum is a dream location. But even climbing the sand dunes is a real challenge - as my friend Tanuja soon discovered.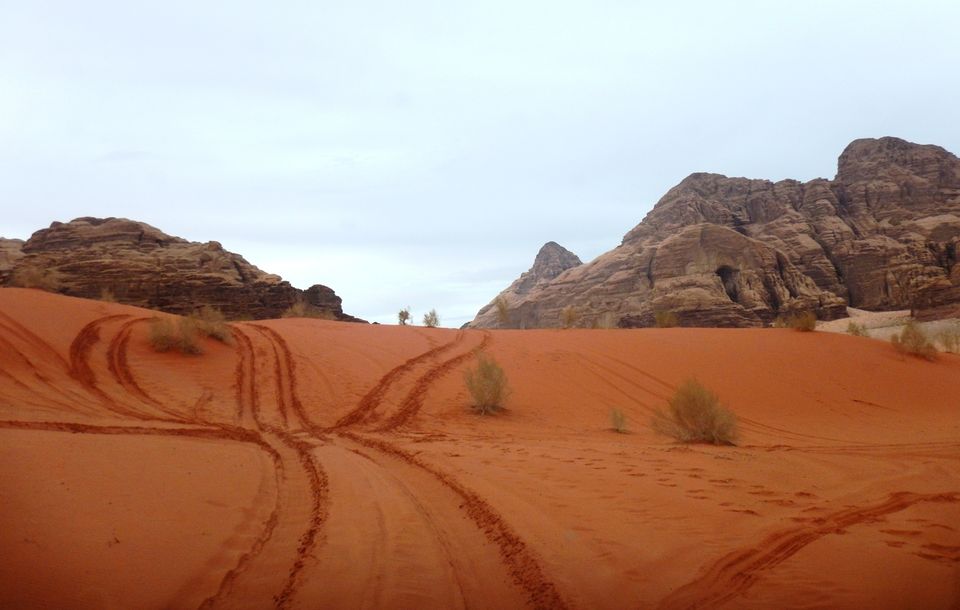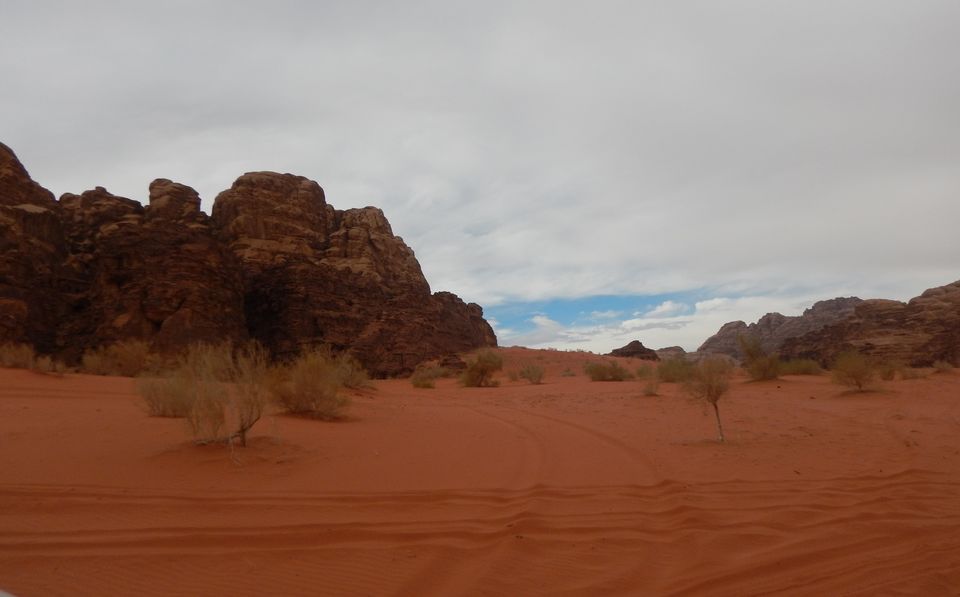 Lawrence of Arabia (T E Lawrence) was here one hundred years ago during the Arab Revolt of 1917-18, and he spent a lot of time in Jordan. While he's a hero to the Brits and other Whites, in Jordan he's a tourist phenomenon. The filming of Lawrence of Arabia in 1962, Red Planet in 2000, The Martian in 2015 and several other Hollywood movies adds to the romantic aura of the place. The 2013 Bollywood film Krissh 3 starring Hrithik Roshan and Kangana Ranaut had Wadi Rum as a back drop. The song 'dil tu hi bataa' starts at Wadi Rum, wanders off to Petra and the Dead Sea and then returns to Wadi Rum. Nothing exciting about it really, except that Hrithik shows off his muscles and Kangana her thighs and her skimpy outfits.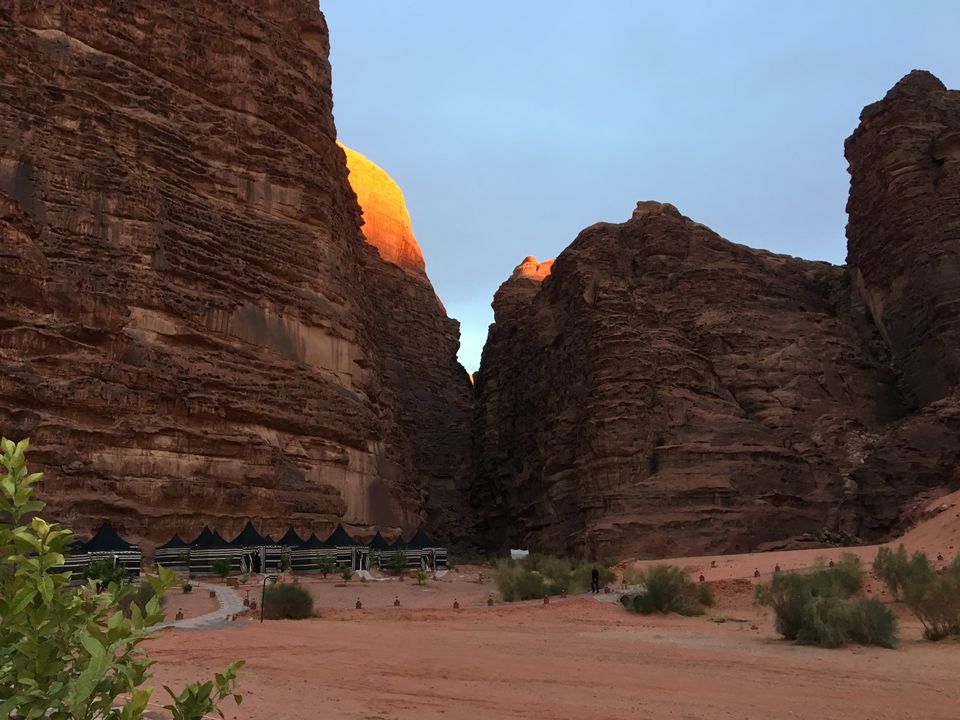 There were stray camels loitering around and a few desert bushes for them to feed on. No other vegetation. It appears that the Bedouins get their firewood from elsewhere.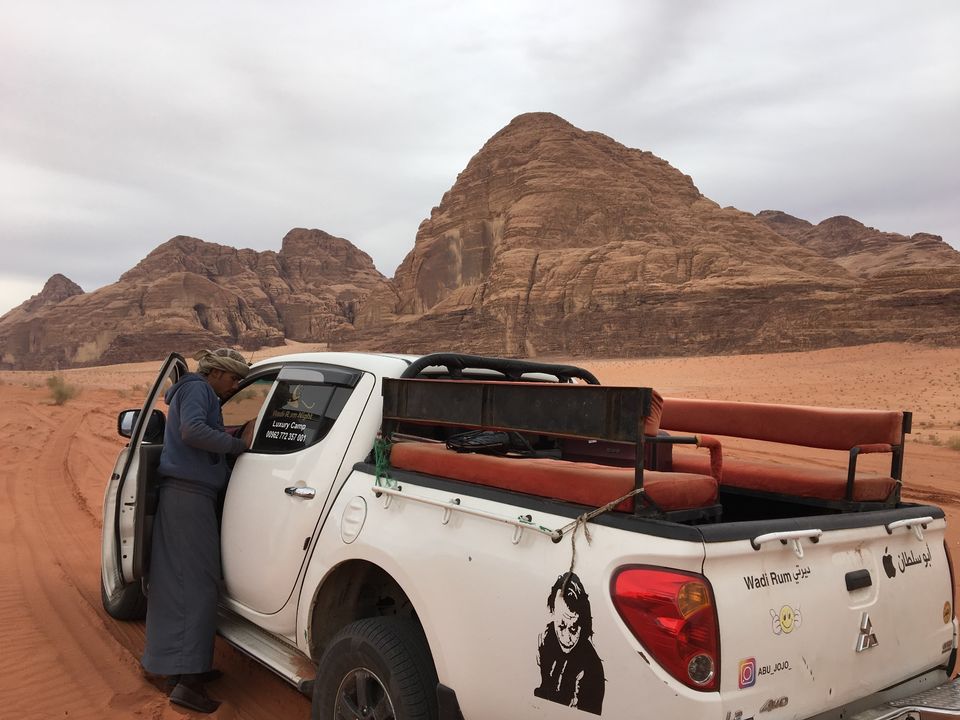 Hashim told us life was difficult for the Bedouin youth. If a young boy and girl liked each other there was no way they could marry because the bride's father would demand a hefty bride price. The going rate was in the region of 2000 JOD he told us (INR 200,000). The boy would also have to answer uncomfortable questions about his job and income, whether he owned a house and so on. Thus every young man would have to start saving money as soon as he found a job. Life was harder when tourists were not around.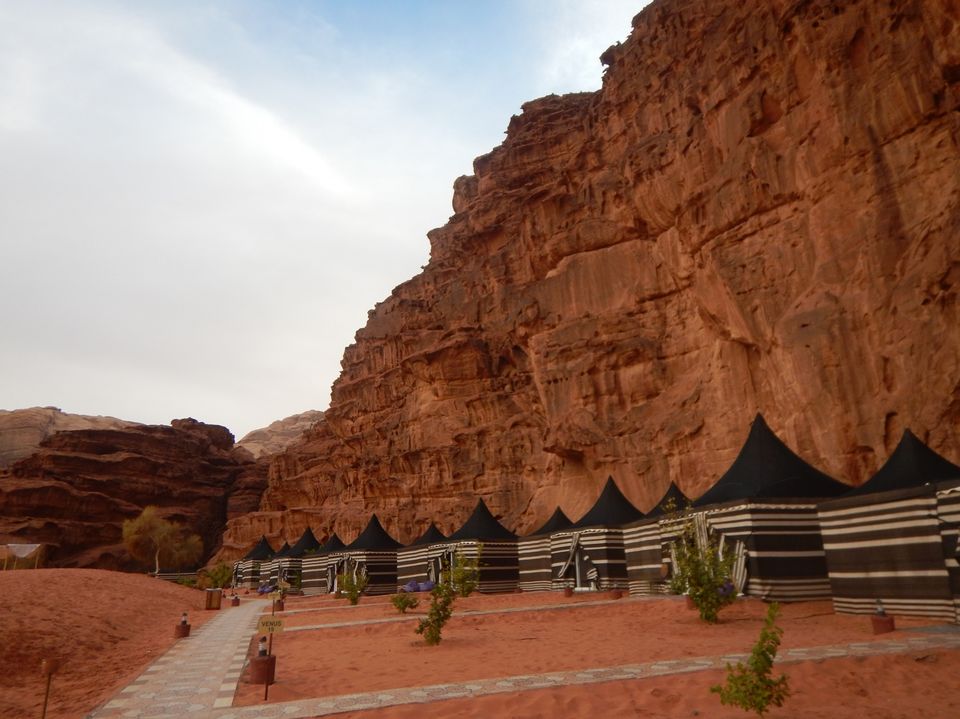 Our hotel or rather tent camp was strategically located at the base of a few hills, if you can call them that. There were a row of black tents resembling those of the Bedouins and another row of white bubbles with see-through glass (or plastic or whatever) to enable insomniacs to look at the stars. It was an amazing place with a few drawbacks. The 'luxury' was only in the name. Everything was basic level and the price was rather high in comparison with the facilities. The food was ok, nothing to complain about, but nothing to write home about either.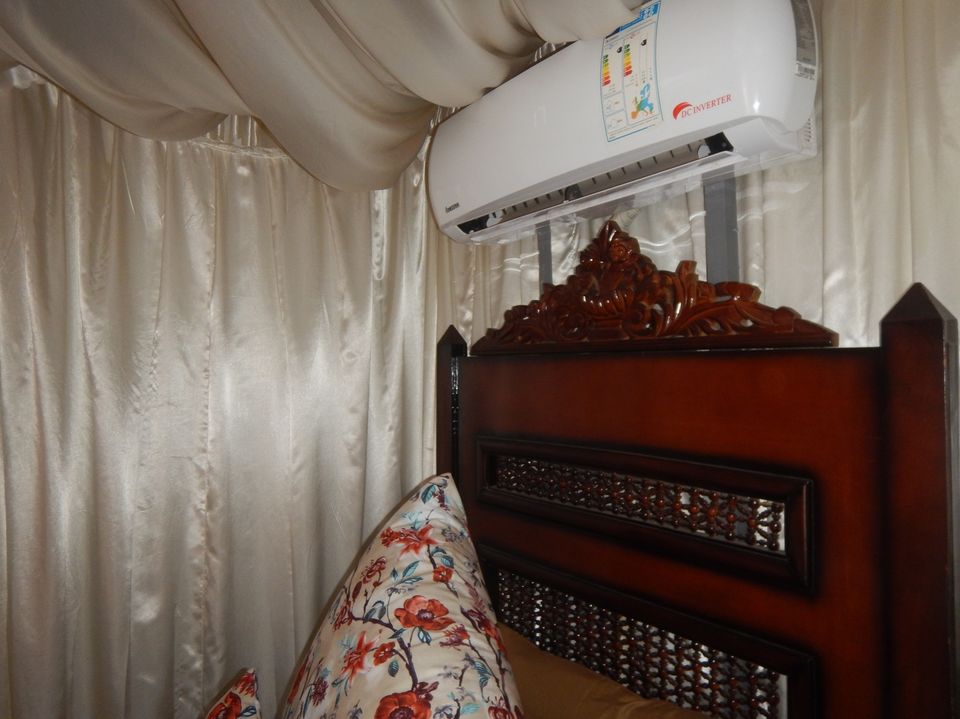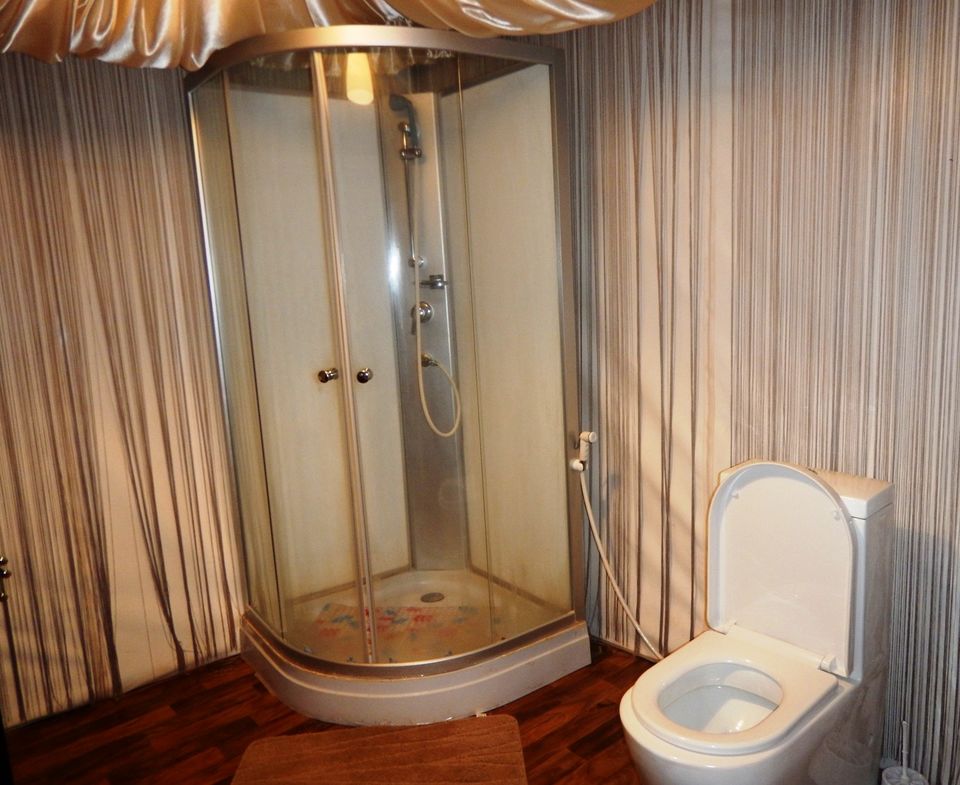 Once inside our tent, Tanuja and I realized the door was not lockable. Just a glass sliding door, which appeared to have a locking system, but the hotel had neither briefed us nor given us a key. It was too cold and too dark to venture out. We let it be. Later we were told by a young couple from Singapore that they too had not been given any keys. The bathroom was curtained off, no door, but we were glad we at least had a bathroom. That was the primary reason we had booked this fancy tent in the first place.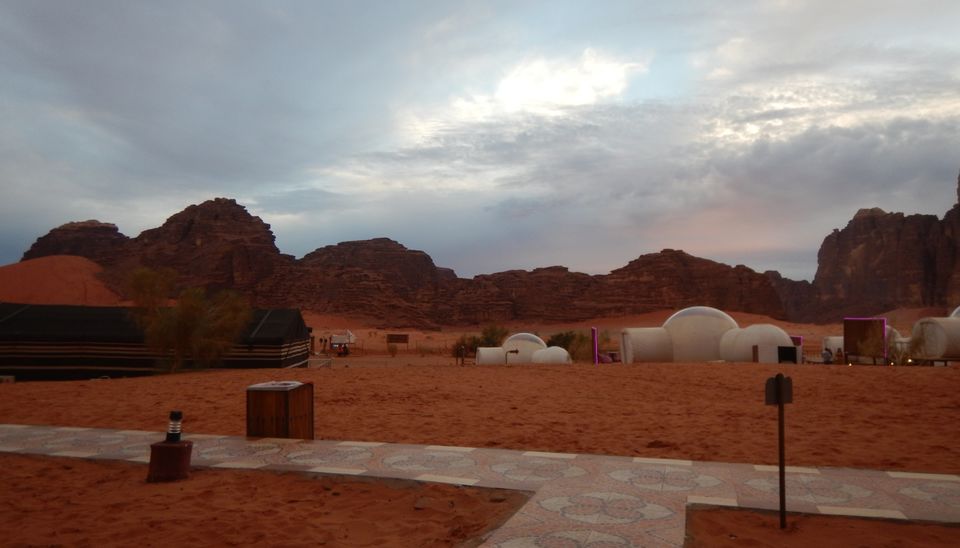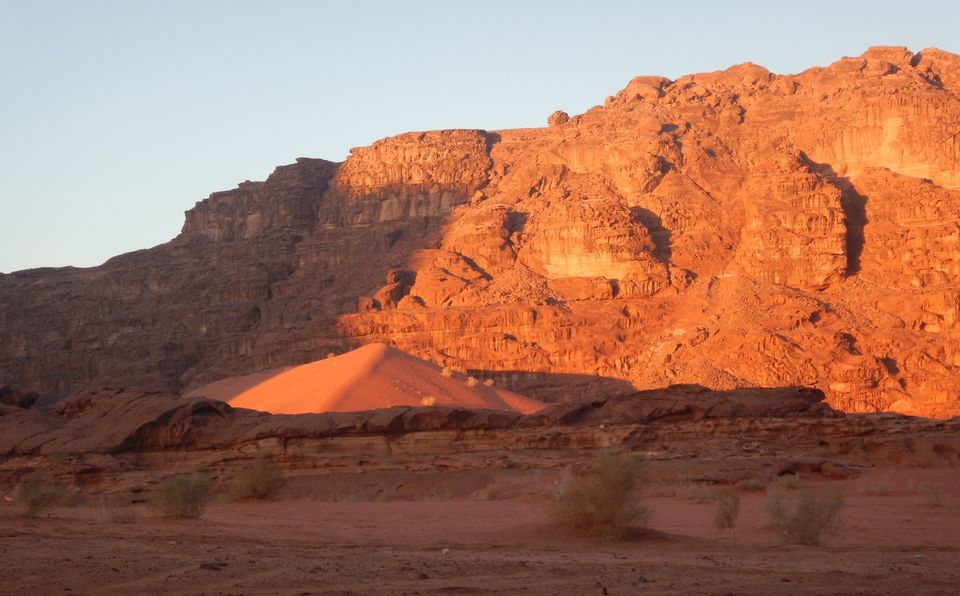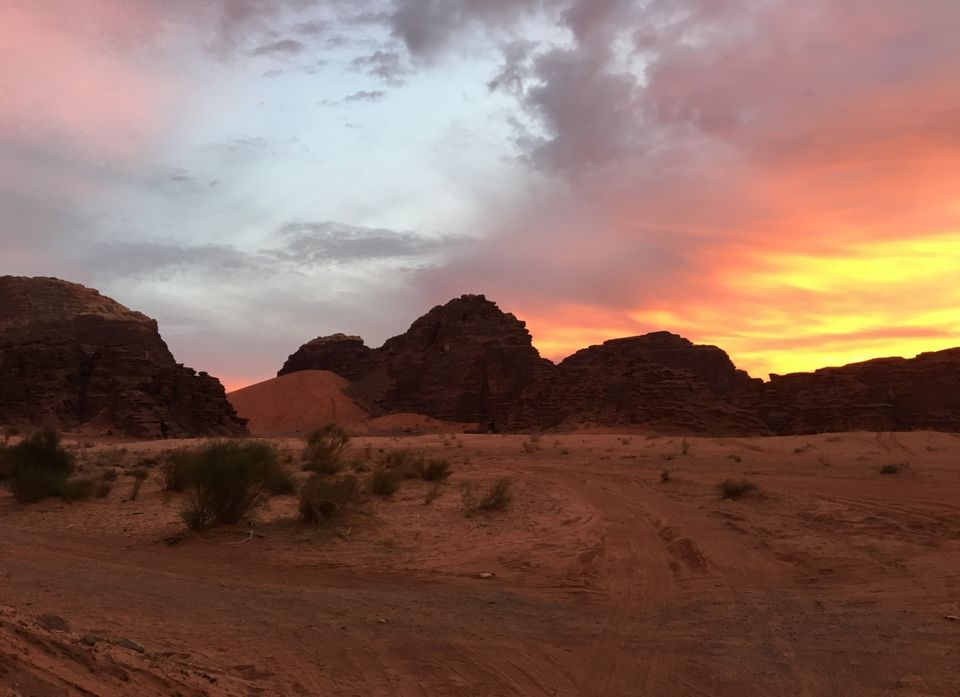 There was a bonfire of sorts and some Bedouin music at the foot of a hill after the glorious sunset. I went there to take some pictures and remembered to leave my camera behind. The next morning when we woke up early to see the sunrise and go for an early morning exploratory walk, one of the staff came to our tent and handed over the camera – to my immense relief. I'd just told Tanuja I didn't really mind losing the camera, but I'd be heart-broken if I lost the photos.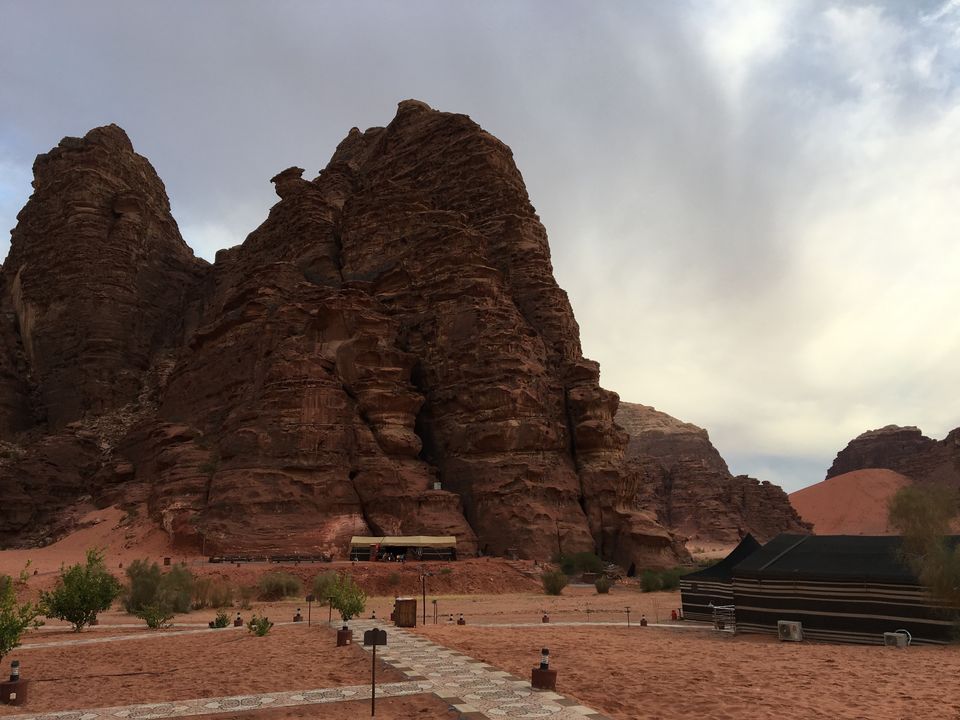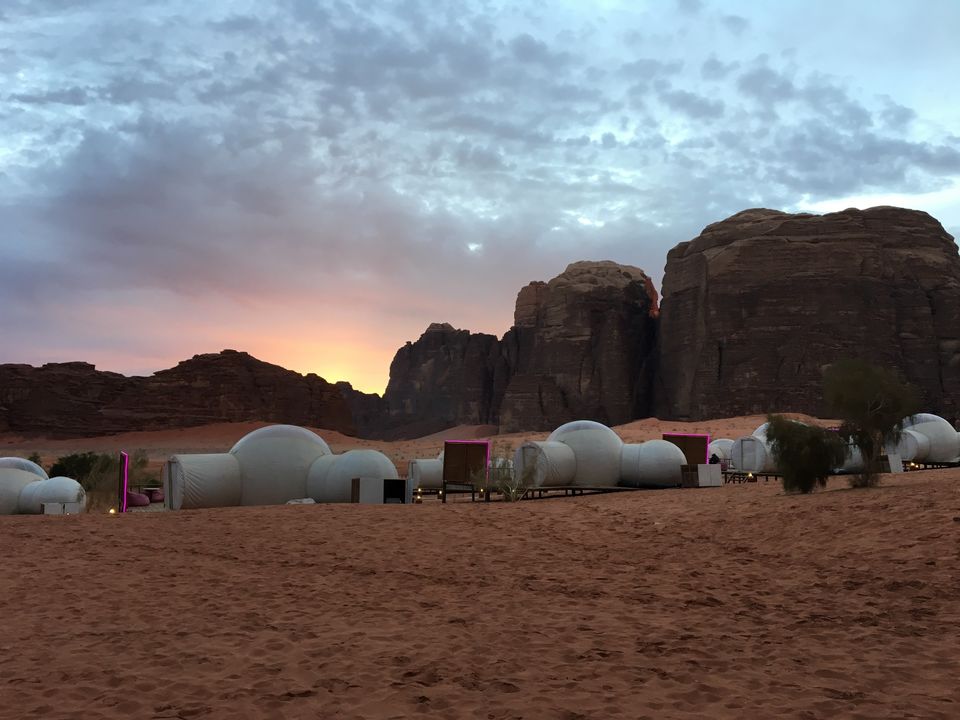 To our surprise we found that all the waiters, cooks and staff at the hotel were Indians, mainly Punjabis. There were Sri Lankan Tamils as well. They were quite efficient and courteous. When I gave a 5 JOD tip to a Sri Lankan waiter he quickly deposited it in a box at the reception area meant for the purpose. The dining area too had a similar box labelled 'tips to staff'. I wondered how much of that money really reached the intended beneficiaries.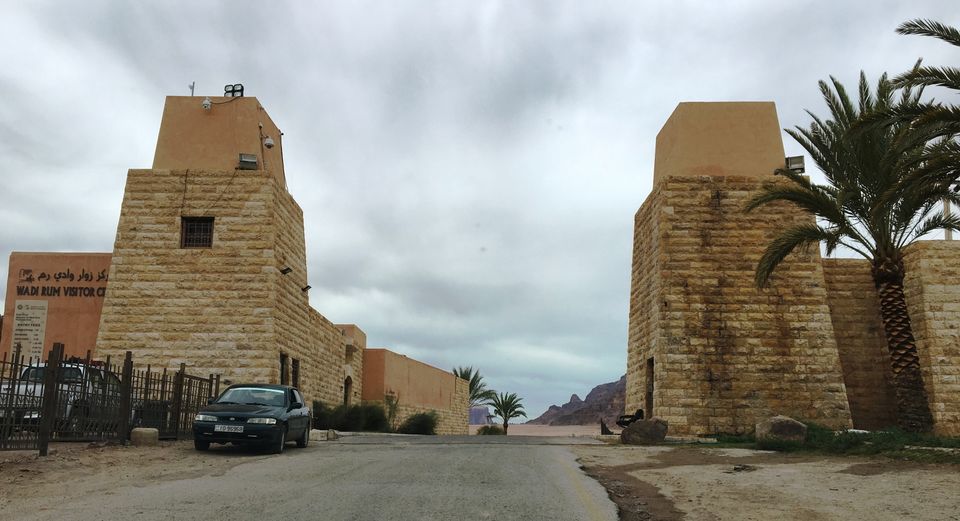 The next morning they dropped us off at the Visitor Centre, where a pre-arranged cab arrived to take us to the port city of Aqaba.