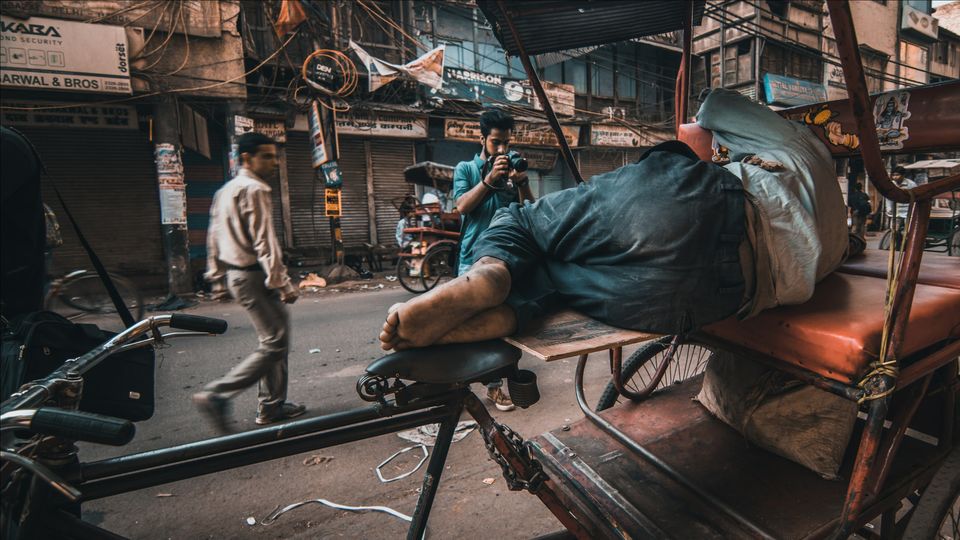 Commute is really convenient, thanks to the Delhi Metro Rail Corp. I suggest, get off at Chawri bazar and explore through the streets as the sun slowly rises shedding golden light to the narrow and picturesque streets.
Take a Knee
Slow down, the bustling of the streets may seem overwhelming all you need to do is get in line and have chai with the locals, talk to them. Oh, and don't forget to take your camera. It is an amazing place for street photography ;) Also, ask before taking photos, the tea vendors in particular don't like photographers since they've seen quite of lot of them. Have stuffed paranthas for 20 bucks a piece with pickles, and savor the richness of the extra ghee. Interesting conversations with many rickshaw pullers make for amazing captions and most of all satisfying experiences.
Pro Tip : DO NO TO MISS THE JALEBI (like I did)
Walk towards the Sis Ganj Gurudwara, on the way don't miss out on the Jama Masjid, you'll definitely meet a lot of photographers here if you haven't met enough already. They allow entry to one of the pillars, to the top, take a ticket and go there for a panoramic view of the streets. 
When you're out of memory take a walk through the 'camera market' which is filled with camera stores with neat little gadgets and bags, basically candy shops for photographers. 
Now, if you're fancy, go to the famed McDonald's and have some capitalist burgers, but  I highly recommend roaming around the streets, just across the McD is a famous Chole Bhature joint, and I hope I don't need to stress on how good Chole Bhature is or are....
Take an auto/metro ride home and start editing, and no matter how many times you go there, you will always have great photos each time!!