For a handful of us who are stuck in the rut of an ordinary life, there's always one person who has fought against all odds and is pursuing their dream life. One such inspiration is Prerna Dangi, who has made a mark on every mountain that has stood in her way. Quite literally! Prerna is an accomplished rock climber and one of India's top women ice climbers in the contemporary times. At the age of only 26, she has braved extreme temperatures, gotten stranded at summit camps and climbed ice walls at 20,000 ft.!
Tripoto caught up with this super woman to know all about her adventures. Here's taking a peak into her fascinating world.
Prerna, you're a professional climber. Tell us how you discovered your love and passion for climbing.
"I am from Ranikhet, Uttarakhand, so being outdoorsy comes very naturally to me. I was always jumping about and climbing trees. During the summer months in school and college, I'd enrol myself for a basic climbing course. At the same time, I would head out as often as possible to hone my climbing skills further."
Prerna went on to tell us about the defining moment when she went for an expedition to Denali, the highest mountain peak in Alaska and decided to pursue climbing with all rigour and passion. After returning from Alaska, Prerna's mentor asked her to accompany her for an 8-day exploratory trip to Spiti where she marked new routes for ice climbing. She says, "I had never done ice-climbing before, but I had years of rock-climbing experience and I understand the Alpine terrain really well. So I simply put two and two together, connected the dots and climbed a frozen waterfall! I realised that this was something I really wanted to do, so I visited Russia soon after for an ice training camp where I understood the mechanisms of ice-climbing".
Since very few women have pursued the field of ice climbing in India, who or what served as your inspiration when you started out?
"When it comes to ice climbing or rock climbing , there aren't any role models in India who are women. There are a few women in the west, but they are far away from my reality, so I've never been able to look up to them for mentor-ship because the social spaces we occupy are extremely different. After a while, I simply got used to the fact that there aren't many women to look up to. I simply focused on myself. This passion was just about me. I wanted to understand the skill, I wanted to climb and open routes, and become highly accomplished in this field. When I got the opportunity of pioneering ice climbing in India, I jumped at it", says Prerna.
Prerna's dedication has made her the only woman in contemporary times who is leading and opening new ice-climbing routes. How inspiring it that!
Tell us about your most recent climbing experience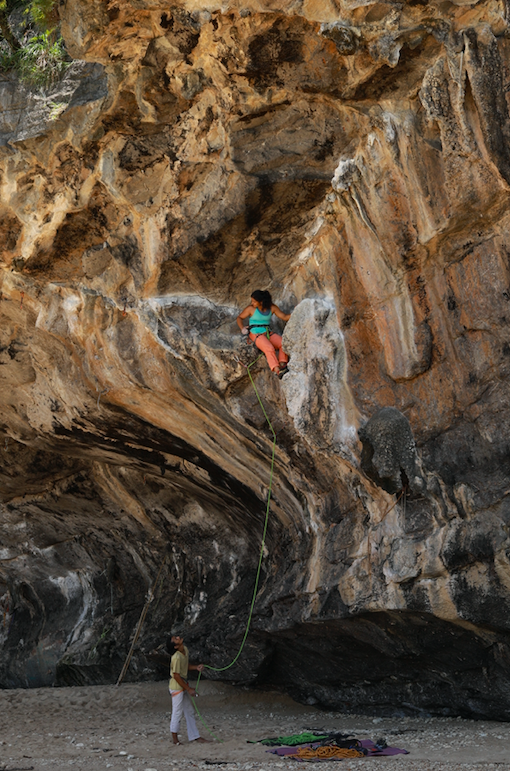 "Thailand is the most popular destination among Indians today. It is great for a relaxed vacation and partying. But I recently went there to climb! Many people don't know this, but Thailand is actually very developed when it comes to climbing", said Prerna.

Prerna climbed the Tonsai Roof Wall in Krabi, which is located right by the beach. In fact, it is the most popular rock in Thailand and is hailed as one of the best overhanging climbs in the world. Talking about her time there, Prerna says, "This was a very new experience for me, and it was beautiful because every time I looked back, the endless ocean rolled behind me. As if this weren't enough, the climb actually ended on a bar stool at a bar! It just doesn't get more fun than that!"
How do you prepare yourself before a climb?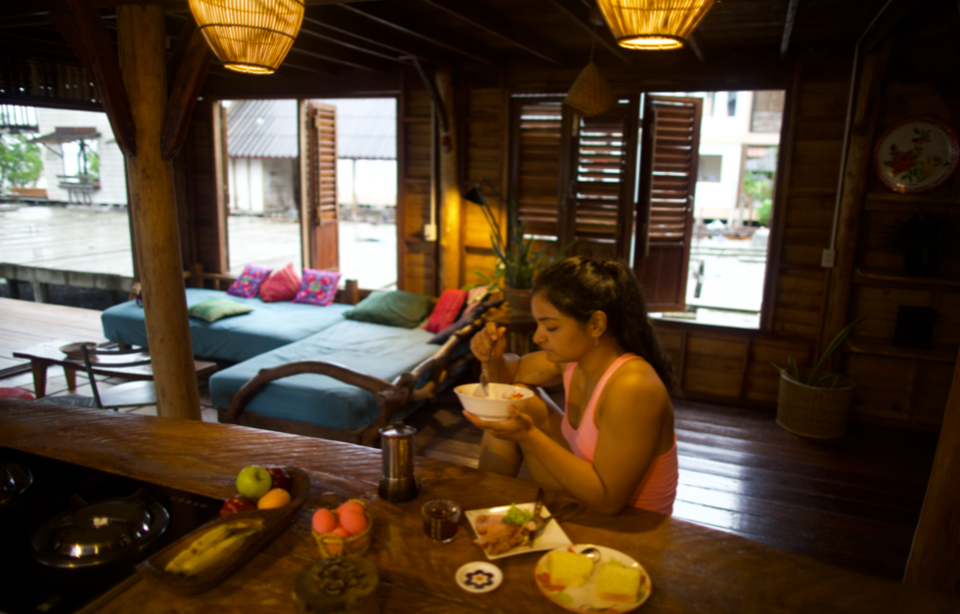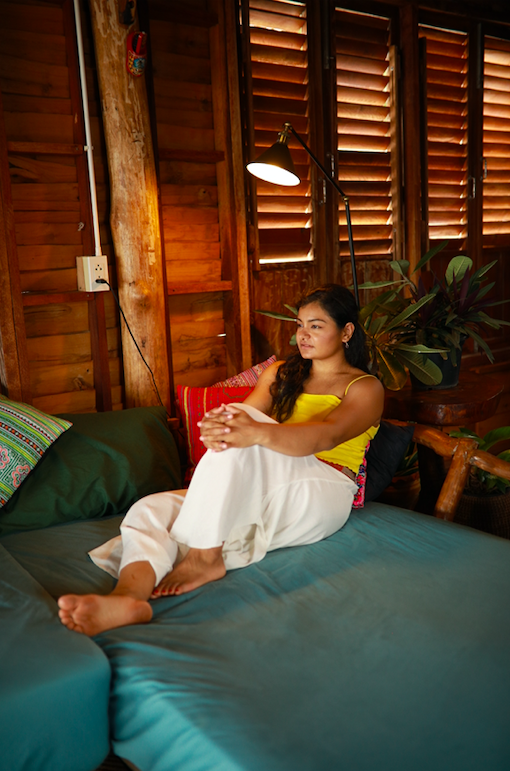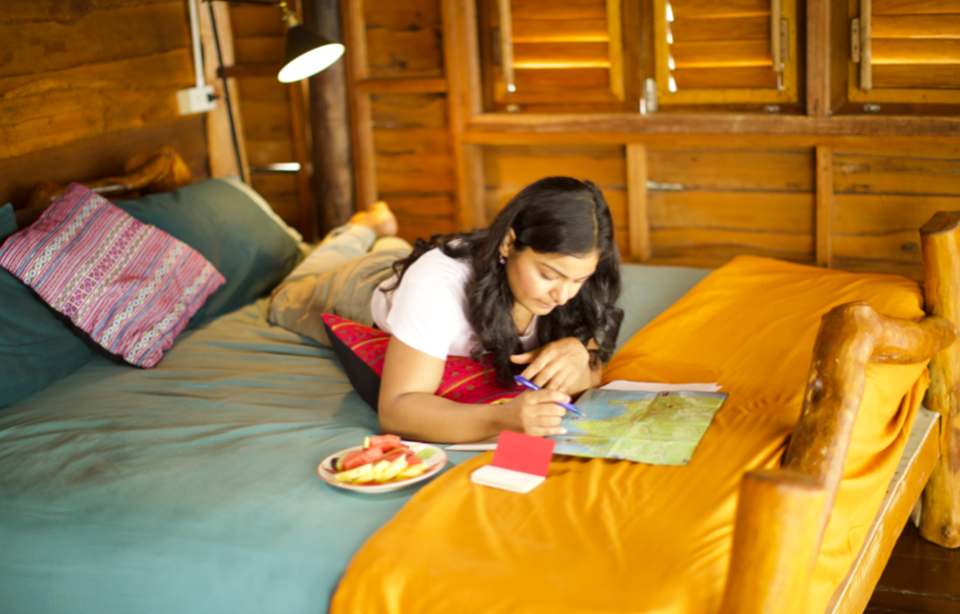 "Being calm, relaxed and aligned are most important before going for a difficult climb. So, in Thailand, I stayed in a beautiful Airbnb. Climbing is a heavy duty activity, you are completely drained after it, so once you're done, you want to come back home. This is obviously not always possible. So I opt for an Airbnb because it has the ambience and comfort of home when you're in a new city or a completely new country!" , she says.
Prerna goes on to say, "I absolutely love the feeling of not being confined to one room and having a lot of space to move around freely. I love having a particular kind of coffee before and after a climb, and at an Airbnb, I can brew a cup myself, thanks to kitchen access! These little comforts really lift the pressure of not being home, so I can proceed with a clear head when climbing."
Give us some more highlights from your stay in Thailand.
"Apart from the comforts of my Airbnb, another beautiful experience was with my local host in Krabi who was extremely helpful. He gave me a sense of the local life, and through him I got a peak into the indigenous environment. I am someone who likes to blend in and not stand out while travelling, so this was something I cherished during my stay. I learned a few Thai words and some local gestures. When you imbibe the culture of the place you're visiting, the people get really happy! And I love seeing that. After all, entwining yourself into the very fabric of the place you're visiting is the best way to travel, isn't it?", she said.
I'm sure most travellers are nodding their head with vigour reading that.
Where all has your passion for climbing taken you?
"I've travelled to Denali National Park in Alaska, Aviemore in the Scottish Highlands, Kirov in Russia, Peak District in UK, to name a few". When asked about her favourite places in India, Prerna was fairly perplexed as she had a long list of places to choose from. "I love climbing in Hampi, Badami, Sethan and Suru Valley", she said after much deliberation.
We'd love to hear about the most significant climbing experience that you've had.
"My latest expedition to Peak Paapsura in East Tosh Glacier, situated at a height of 6400m was a brilliant experience. Here, I climbed a vertical terrain which was inclined at 80 degrees! This time, I had gone with all knowledge and training of ice climbing, so I was finally able to apply all that I had learned. The expedition was all about making the right decisions and assessing every move. In addition, I unlearned and learned so many of my skills. This expedition was truly a game changer for me", said Prerna.
So what's your ultimate dream?
"I want to climb the mountain ranges that I see from my home – the Greater Himalayan ranges that lie in Kumaon. I want to be able to climb really hard rock routes, open new ice climbing lines and un-climbed peaks in Himalayas", said Prerna.
What would be your piece of advice for women who love the outdoors?
"I would say that it is most important to put yourself out there. Initially, it will get uncomfortable for you because you'll be out of the bubble that you've always been in. However, the real change happens when you start getting uncomfortable. The outdoors have a way of making you humble, they remind you of what you need rather than what you want".
Prerna went on to make some poignant points, and said that it was most important to not get caught up with expectations. She said, "There will be people who will underestimate you and there will be others who will overestimate you. During such times, it is important that you remember that you're doing what you are doing, for yourself. No one else matters".
Prerna's passion for climbing and most of all her relentless dedication are truly inspiring. So if you're on the brink of giving up on your dreams, take a breath, give it a thought and try again. You never know, the next turn could give you the life you've always wanted!
Are you someone who took the road not taken and pursued your dream of travelling? Tell us about your story and inspire a community of travellers on Tripoto by creating a blog here.

In association with Airbnb.