Hello there, Today i am going to share my paragliding experience. I did paragliding in Darjeeling. It was totally new experience for me. I had been planning to do it since i was 18 but finally i had courage to do it. Before the day i did it, i looked over google where to contact for paragliding as the nearest place to Siliguri was Darjeeling and because i have been there like many times, so i thought it would be good idea to do it there. So i found this website www.offroadadventure.in/ and contacted Mr. Sangay Sherpa daju, founder of the off road adventure. He is a Mountaineering instructor/ Rock climber. So cool heh? well, talked to him and fixed the date. When i reached Darjeeling i missed the first troops of people who were already all set sitting in the cab to go to the place to take off. So i had to wait a couple of hours for my turn. While i was waiting, thought to myself, why wait 3 hours sitting in the agency waiting for them to arrive. I got up decided to go walk around the beautiful town enjoy while i am here. So, i walked up to Chowrasta and sat there enjoying people loitering around, kids playing and looking up to the sky seeing paragliders flying in the air and nepali moms sitting next to me having kids in their lap heard them saying "WOW! mati herana paragliding gareko. Kosto majja aucha hola hai?" (translation: "Look up those people paragliding. It must be so much fun"). Another one saying "Majja ta k aucha tetro mathi vata laryo vane manche ta pakka morcha"(translation "What fun? if someone fall from it then the person is dead for sure"). I literally smiled listening to their conversation because we live only once, we gotta live life to the fullest. We gotta fight with our fears and i couldn't believe that i was going to fly in just few minutes! later I gotta call from Sangay Daju so i had to return to him as the cab was waiting for me along with some guys from Kolkata who came there for paragliding too :'D After 15 mins, the cab dropped us along with pilots in Jal Pahaar near St. Paul School then we walked down a little bit to the place where we need to take off.
As we arrived to the place, my pilot and his friends helped me all geared up as kolkata boys wanted me to go first. Here's a picture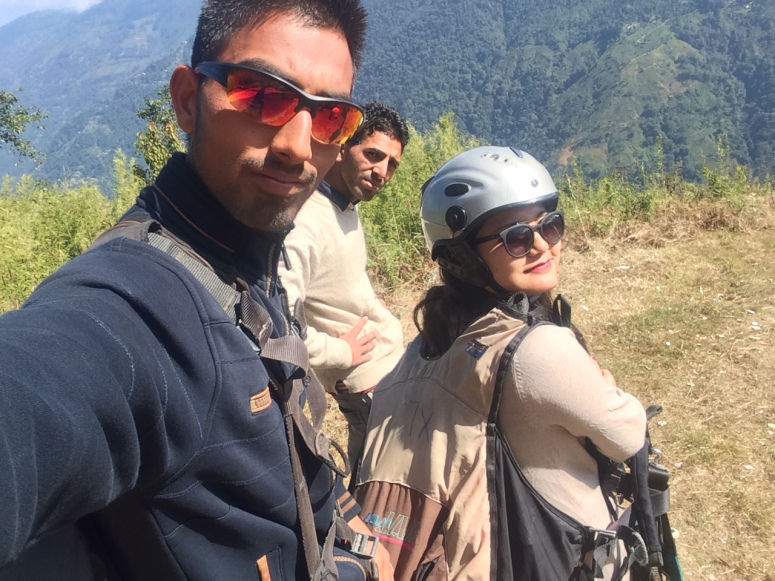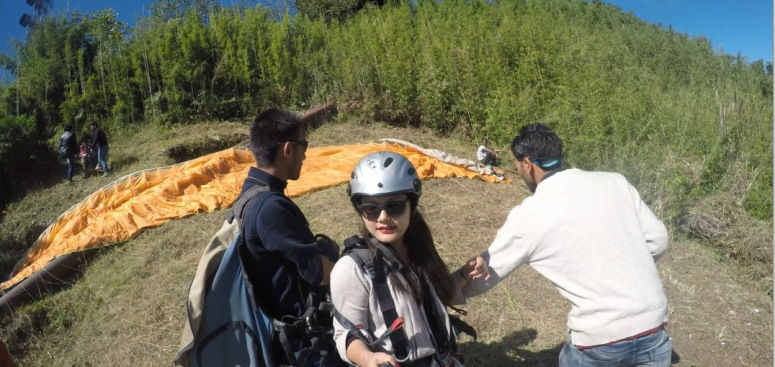 It was the time, time to RUN… . My pilot Shyam explained everything what i gotta do and what not. He said we gotta run on the count of 3 and then jump off a cliff sounded so cool. But then when it was the time to do it I couldn't do it. Got panic attack then after few secs i knew i need to do this. Told him "Screw this i am ready chaleye (lets go)" Just few steps running down the hill and we were in the air! Flying and soaring in the sky. It was an amazing, you could see everything from up.like i said i fear heights so i had a mix feeling while hanging in the air, feeling of fear and fascination. During the flight, we both were admiring the mountain, the Kanchenjunga and the beautiful landscape, he also told me he has been flying for 10 years and he is from Shimla and belongs to Brahman family. He said he is pretty much scared of heights too but he believe in Darr k agey jeet hai (Beyond fear lies victory). That was impressive of what he said.
Here are few still images taken from the video: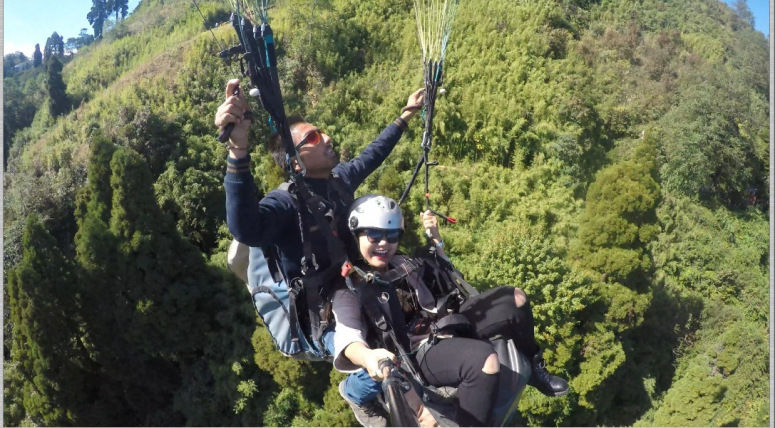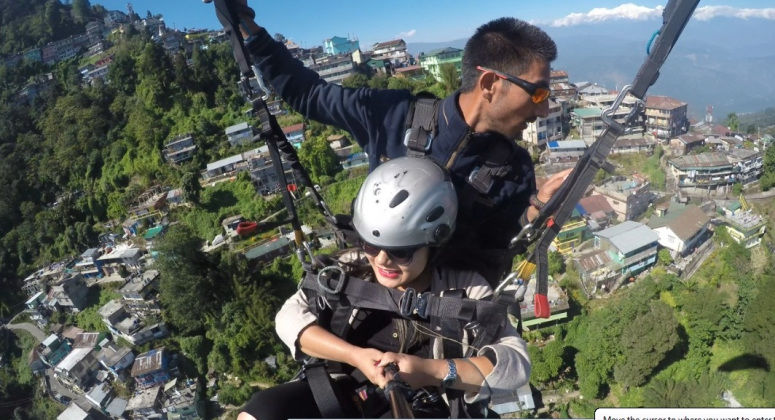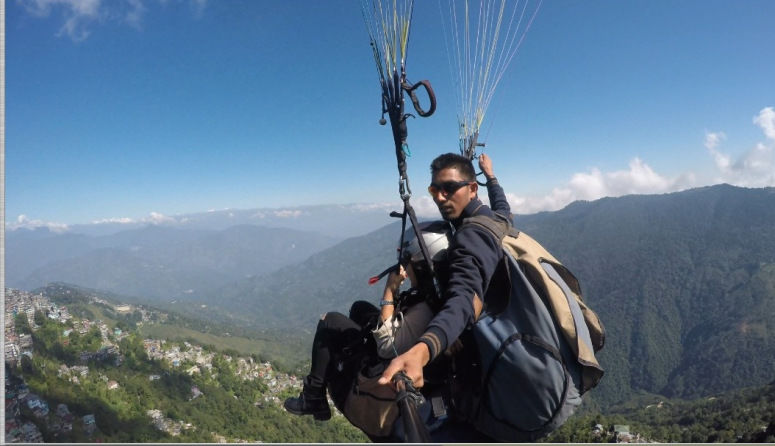 We continued to fly for 20 mins, i was having the time of my life. Totally incredible looking down from my seat at people walking around in chowrasta, kids playing in the roof, some kids in the road screaming and waving at us (i waved back :D) All of a sudden, what my pilot did blew my mind, he steered the glider into a downward spiral. It was scary.
After the downward spiral thing, we're about to land on the lebong mela ground and the landing process was the same way as the take off. Shyam explained we just need to run once down on the earth and make sure that the glider won't fall on us. As we approached to the ground, i did what i was told and the landing was pretty smooth. Loved it!
After landing, some kids were playing on the ground they ran towards us laughing and all happy spoke to us and asked what amount did i pay for this and how did i feel up there in sky.? i smiled and replied when you are gonna grow up you can do it too. i felt like a bird
Took off the helmet and bag and sat for a while, waited on boys to land. A few mins later, they arrived all smiling and laughing and we couldn't stop talking/sharing the feelings with each other about how we felt up in the air. They were like "Sorti ki darun laglo, ami aro ek baar korbo" As this was a great moment for all of us who did paragliding for the first time and before we left the place i said "This definitely calls for a group selfie.For the good memory"
Tadaa'! Here's a group selfie =D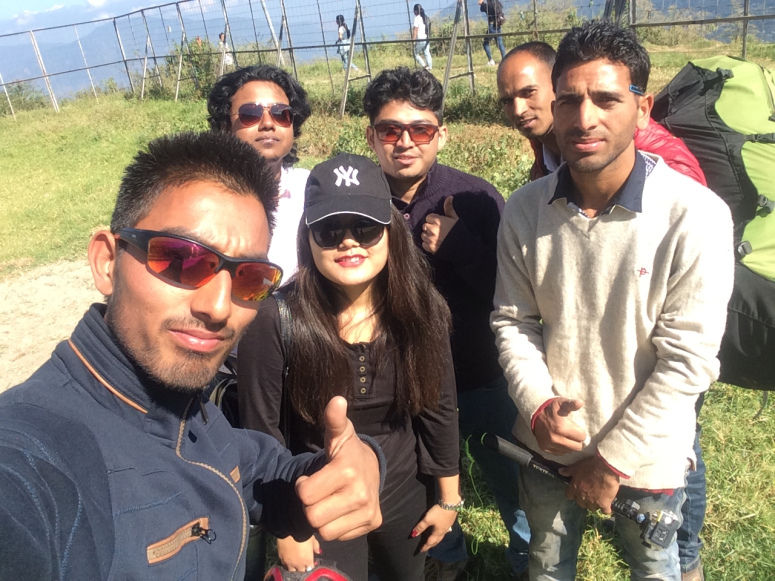 All the money spent on this, waiting for the cab to come pick us up and everything was worth it. I am really happy to have tried this.If any of you want to do paragliding or any activity like Trekking,Mountaineering Expedition, Rafting, Rock Climbing,Camping etc. go the website http://offroadadventure.in/ Contact numbers are there and no if you think i am getting paid for this, then Nah! lol I just think they deserve this for free (; I would highly recommend offroad adventure for all adventure lover. Peace out!