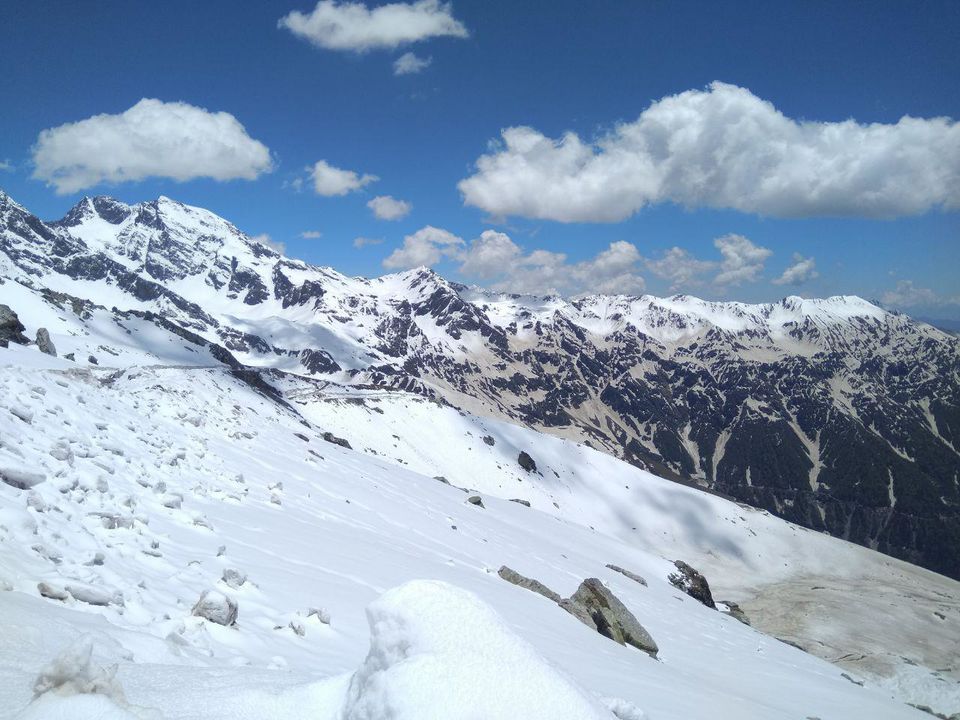 I was in McLeodganj and had just got back from Triund. I had to rush to the bus station and get into a bus to Dalhousie. At the bus station, I found out that, there is just one bus which goes to Dalhousie from Mcleodganj and it leaves in the morning, which I obviously missed. And, after asking around, I was told that I would have to go to Pathankot, and from there catch another bus to Dalhousie. But, that also was unsure, as you don't get these buses regularly. It was getting late and I had to reach Dalhousie the same day. So, I had no choice but to call up Mr. Sanjeev Tandon. He is an ex-army man who is now settled in Dalhousie. He runs his own hotel there named Dalhousie Hills. I found out about him while I was doing research on my Himachal trip. I had spoken to him before coming and he had been extremely helpful throughout. So, after knowing that I am stuck in McLeodganj, he arranged for a driver to drive down with his personal car to pick me up.
Whenever I am travelling, the journey has always fascinated me equally as the destination. Even though I had a tiresome day, having trekked down for some 4 hours from Triund with my heavy rucksack, I was enjoying the journey thoroughly. The view of the surrounding mountains made it all worthwhile. I was happily chatting away with the driver bhaiyya and we also stopped somewhere at the Punjab border and enjoyed some piping hot kadak chai. We arrived at Dalhousie just after 6 pm and directly went to the hotel. I was kind of tired and just wanted to take a shower and get some rest. I met Sanjeev later, who told me to have a good night's sleep as we were doing Sach Pass the next day. So, just to let you know, I had come to Dalhousie with the intention of doing Sach Pass. I had never heard about Sach Pass before, and stumbled upon it while doing my research. And, as and when I went reading about it, I became more and more determined to do it. So, Sach Pass is a 4,420-metre-high (14,500 ft.) mountain pass in Chamba District, Himachal Pradesh, on the Pir Panjal Range of the Himalayas.
Next day, we started early around 5 am, for our road trip to Sach Pass. It is around 180 kms from Dalhousie and it took us some 6 hours to reach there. The journey itself is so amazing with the views of the beautiful Himachal landscapes. We took a pit stop at a local food joint for some hot Aloo Paranthas and Chai, which we devoured. During the journey, Sanjeev also shared some amazing stories from his army days in Ladakh, Kargil and Siachen, and I listened with my mouth wide open. We cannot even imagine, what the Indian Army endures to protect our nation from the enemies. I have never felt more patriotic and my respect for the Indian Army went up by thousand folds. This whole journey was coming along beautifully and I was enjoying every bit of it. On the way to Bairagarh, there is this famous car-wash falls, where the water from the falls fall on the middle of the road. So, as your vehicle passes that waterfall, your car gets a proper wash! It was so much fun to experience that!
We reached Bairagarh, a village at the base of Sach Pass from where the steep ascent towards the pass starts. And, from Tissa onwards the altitude starts increasing and the road gets narrow. There is a police check-post where you need to show your documents and register your names and vehicle numbers. Then, they take pictures of you along with the vehicle, so that they keep a tab of whoever is entering that area. There had been a terrorist attack in the same place back in 1998, where some Pakistan-trained terrorists killed 35 people, mostly laborers in that same area. That is why, the security there is very strict. So, once we got done at the check-post, we started our journey up. Let me tell you, Sach Pass is definitely not for the faint-hearted. There are steep gorges on either sides and the driving has to be extremely careful. It is one of the toughest motorable roads in the Himalayas. The road is narrow with almost zero traffic. It had snowed the previous night and there was fresh snow around us. There are also several water crossings, which made the condition of the road even worse. At one point, I had to get down from the car and push a rock with my bare hand, in order to make way for the car. As and when we proceeded, these snow walls started appearing. There was some 20-30 feet of snow walls around us. We drove slowly and carefully and headed towards the top. After reaching the top, we just stopped the car and got down.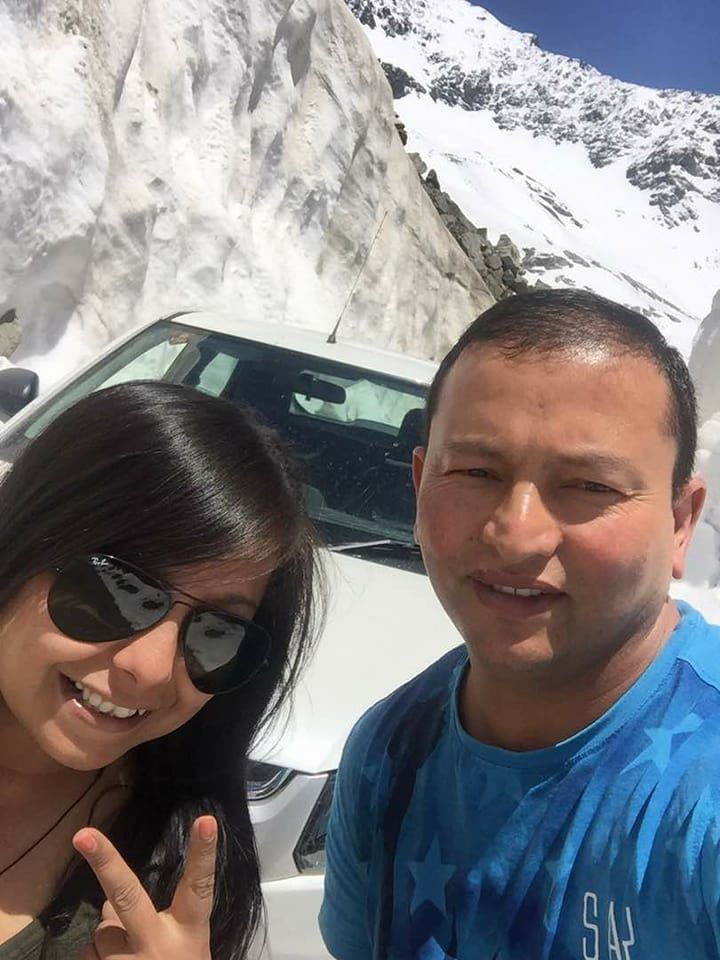 I wish I could describe the feeling when we reached that highest point of Sach Pass. I just looked around and wished that time stood still. The silence of the mountains prevailed and there was nothing except nature's powerful presence. I felt a different level of calmness in my heart and mind, as I stared at the snow clad mountains around me. Nature is so powerful, so amazing. We humans are truly nothing in front of it.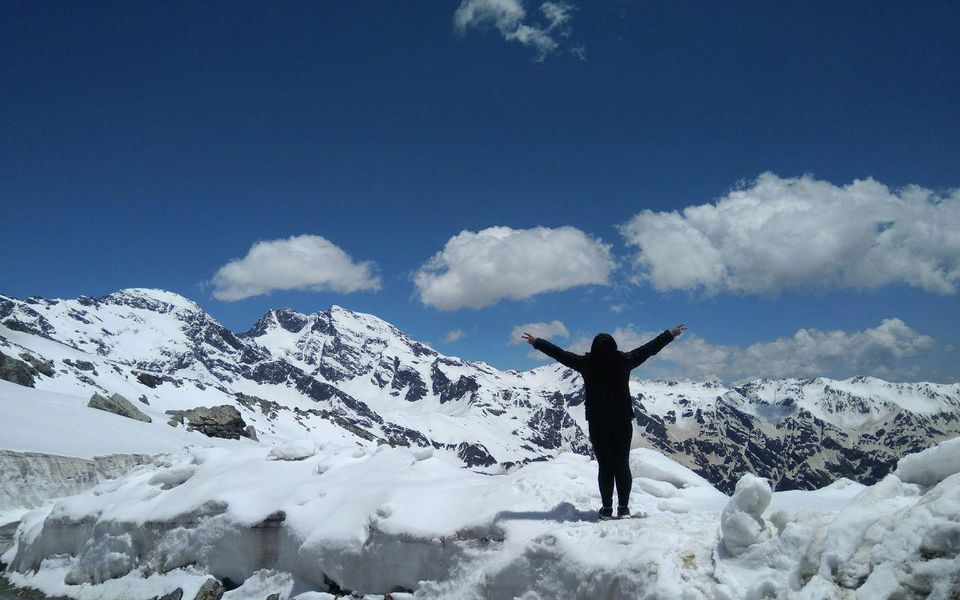 After spending some time there we wanted to go further. We went little ahead, however at one point we saw that there has been a roadblock due to landslide. We got disappointed and had no choice but to turn our car. Our journey back was nice and tiring. We stopped by at a small local Himachali restaurant and enjoyed yummy Himachali food. By, the time we reached Dalhousie it was 8 pm, so basically we were on the road for some 15 hours. After arriving, I was tired and just wanted to have my dinner and crash for the night. I then thanked Sanjeev from the bottom of my heart, for this experience at Sach Pass. I really was grateful to him, for having made this my most memorable travel experience so far. And, he called me a Brave Girl. I was beaming with happiness, hearing such a compliment coming from an army man!
I stayed in Dalhousie for two more days which I spent exploring locally. After which, it was time for me to head back to Delhi and from there return to my base, Bangalore.