​Your favorite love stories consist of places, characters merely bring them to life.
Come to Himachal not for the breathtaking vistas this place has to offer but the warm hospitality of the people which comes inherently to them. The terrain doesn't allow factories to employ masses or IT giants to outsource their jobs and hence they are massively dependent on tourists like us to help them get by.
In your moments of leisure they find their hard earned livelihood.
Day 1 - Shimla because deja vu
Airports, bus stations you name it; I don't remember a time I was at one not hungover. This morning was no different when we reached ISBT to board a bus towards Shimla. My teeny tiny eyes tried to make sense of all the chaos and an aching body least bit excited for the monstrosity that was the itinerary my friend had designed.
TIP: I do not advise a day long journey from DELHI > Shimla/Manali/Dharamshala
Like I said, the journey was horrendous with the exception being an uncle who settled by my side who made it even worse. In his defense I did forget to hang the Do Not Disturb sign around my neck. It would have a been a different story if his ice-breaker was something about dogs, but instead it was about how successful his both sons were.
Unkill, relax. I already have a dozen of relatives breathing down my neck. I am sitting in this bus for an escape and you're not helping!
We somehow reached Shimla in the evening and immediately awed at how big the bathroom of our hotel was. Little did we realize we were going to be seriously downgraded to economy class during the later parts of our journey.
A stroll down the Mall Road was only thing we could afford that late evening but it brightly reflected everything this beautiful touristy capital of Himachal stood for; cleanliness taking the top spot. The din was complimented by the flickering lights in the distance which belonged to small houses perched comfortably on mountain tops; easily mistaken for stars.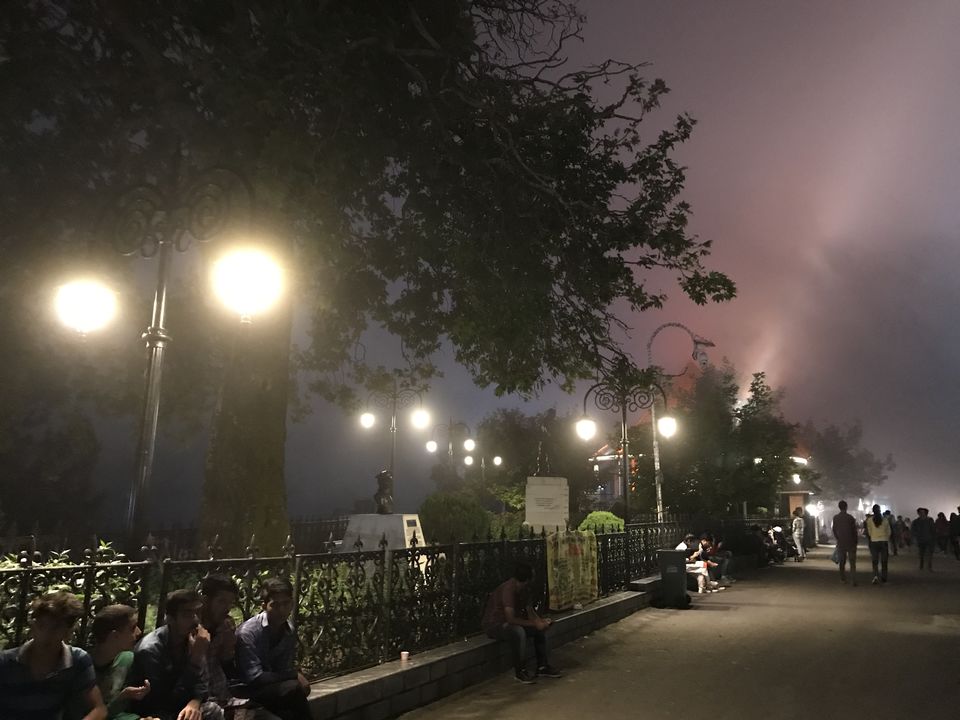 Day 2 - Kalpa'ble Homicide Amounting to Thrill
It had rained in the night as I woke up to a city shrouded in dense fog. This picture marks the inception of my obsession with a beverage we can easily declare as our national heritage.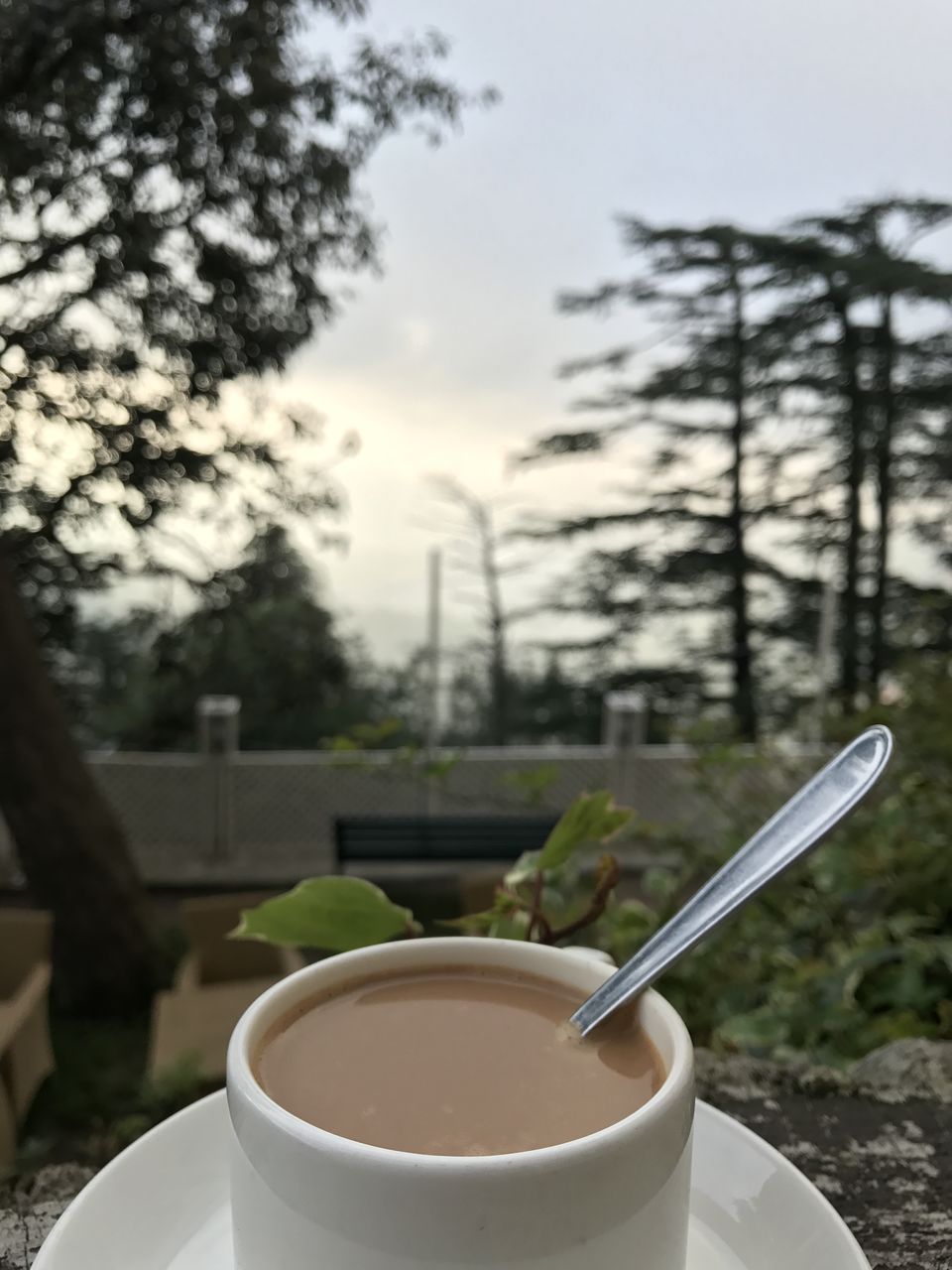 The skies took it upon themselves to dim our spirits..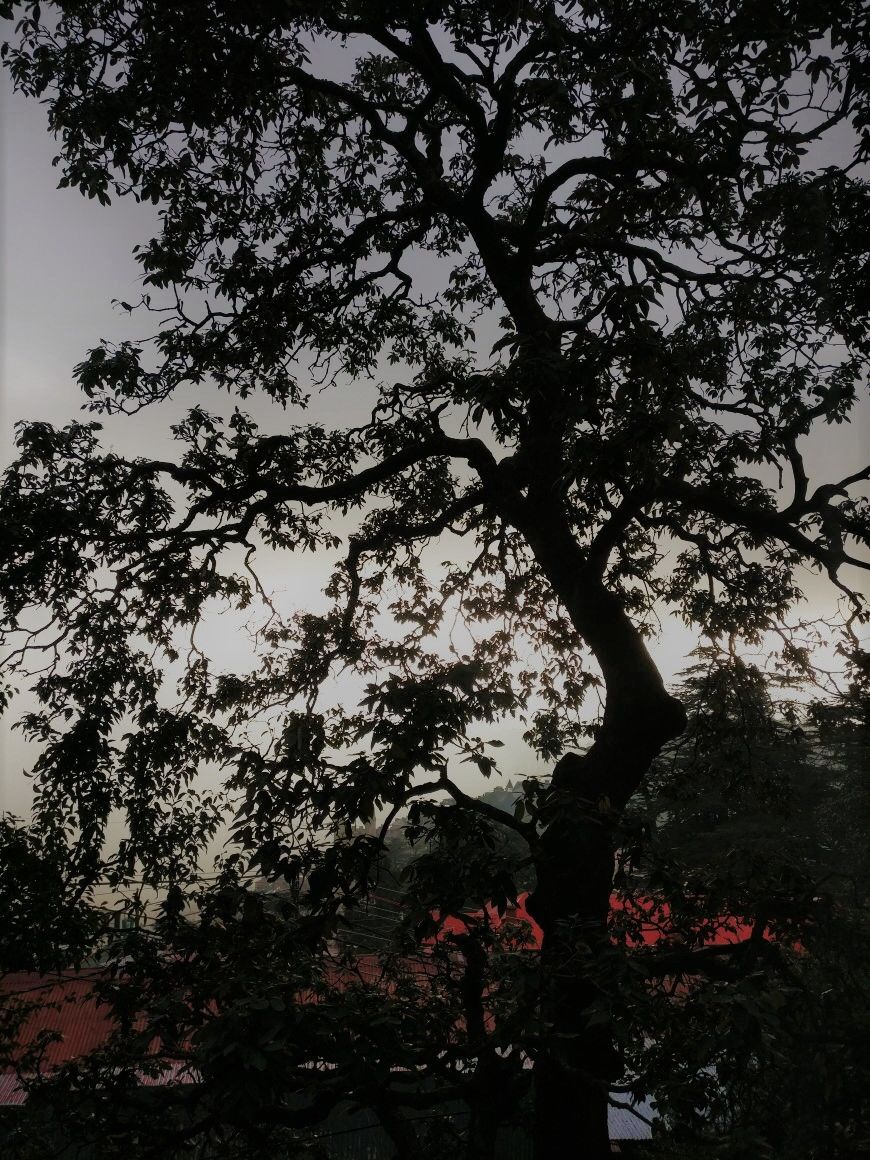 but little did it know what we had under our sleeves..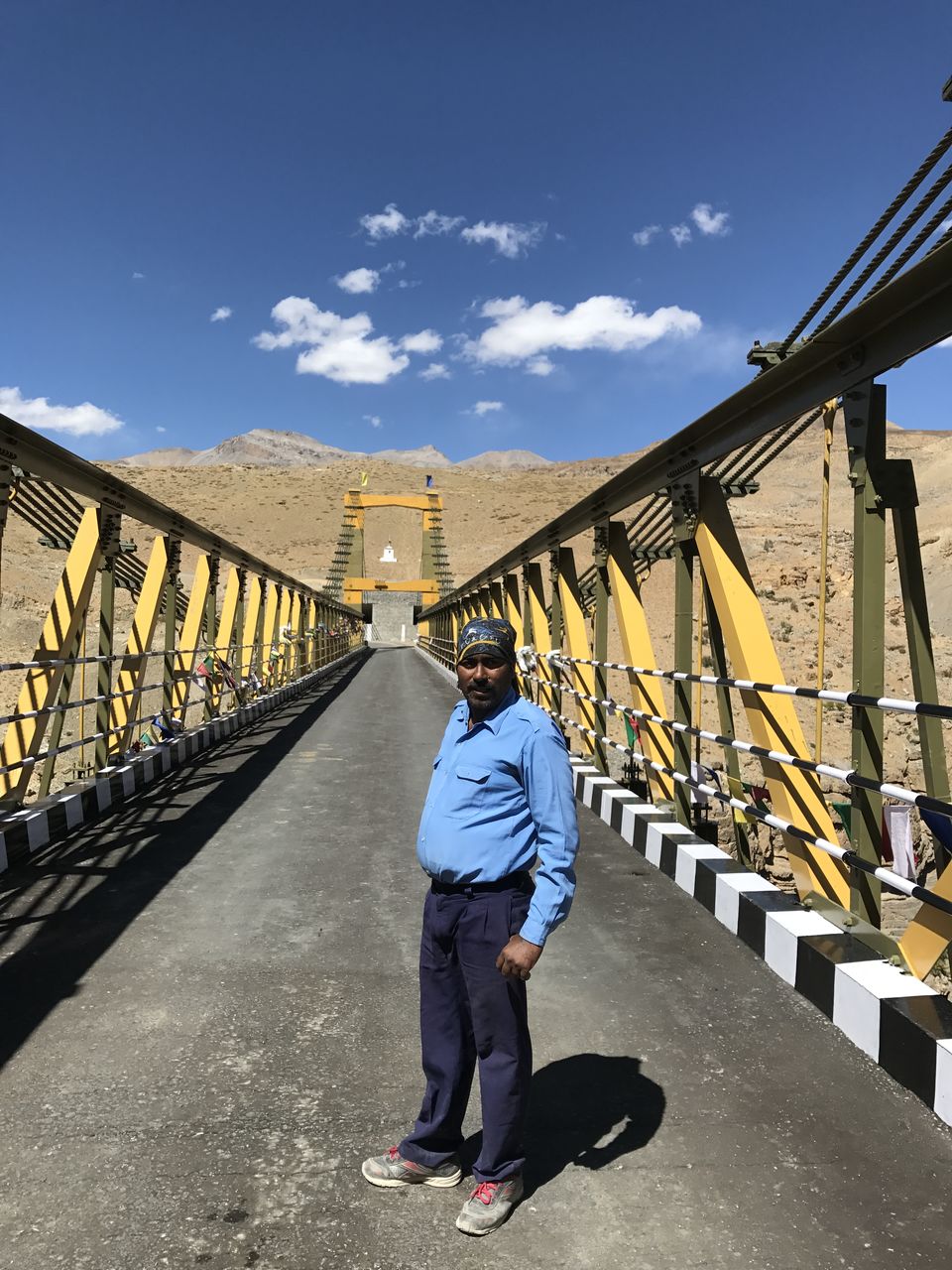 Our driver made it possible for us three to return in one piece. He's crucial to this story for he impressed all of us with his cautious and careful driving in the world's most dangerous roads.
Patience is a virtue, more precisely a superpower when it comes to drivers. Bundle it with compassion and you have Lord Ramesh Kumar. This is how a normal traffic jam looks like in the mountains.
"मैं गाड़ी रोकता हूँ, आप एक जल्दी से अंदर खींच लो|" Pull one quickly in while I stop the car.
The statement was often reiterated on seeing a bunch of foreign tourists as well.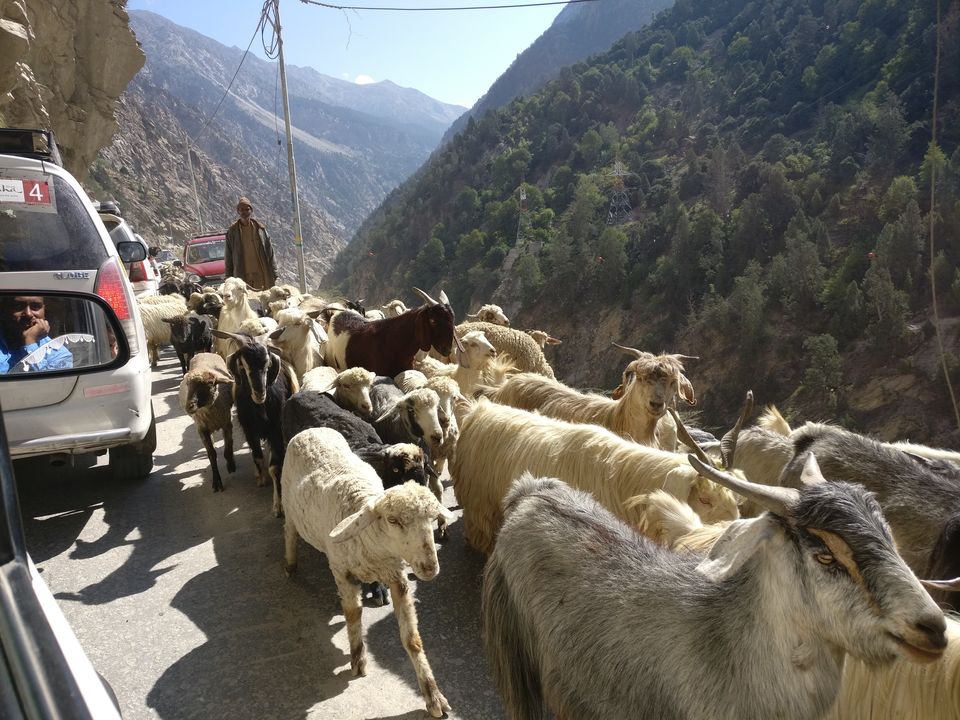 The treacherous roads of Kinnaur are no mystery where every blind curve has the power to end your life right there.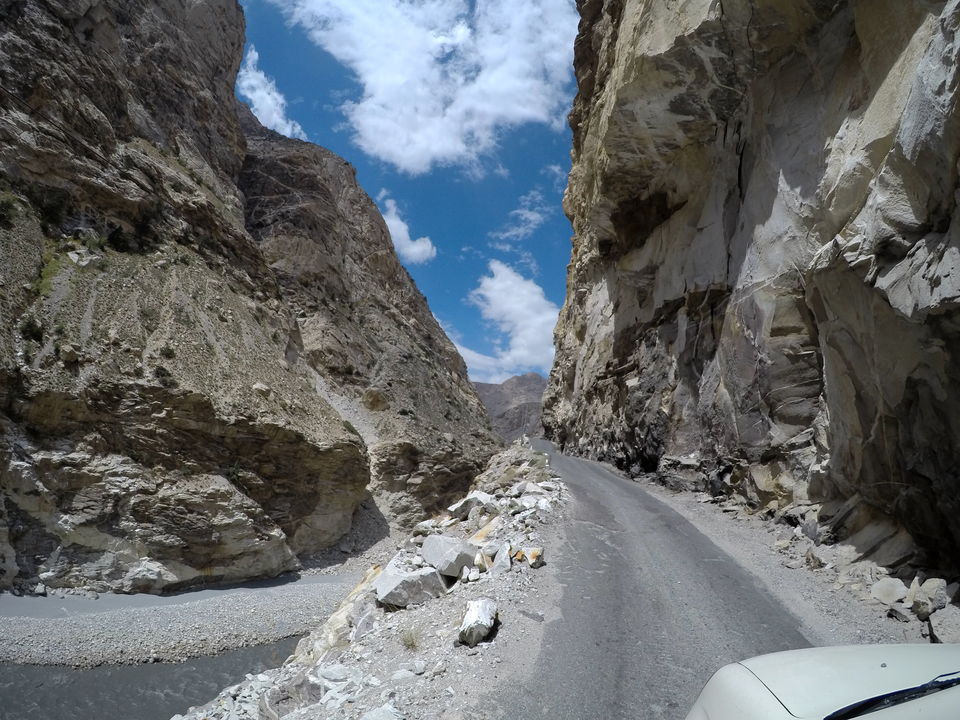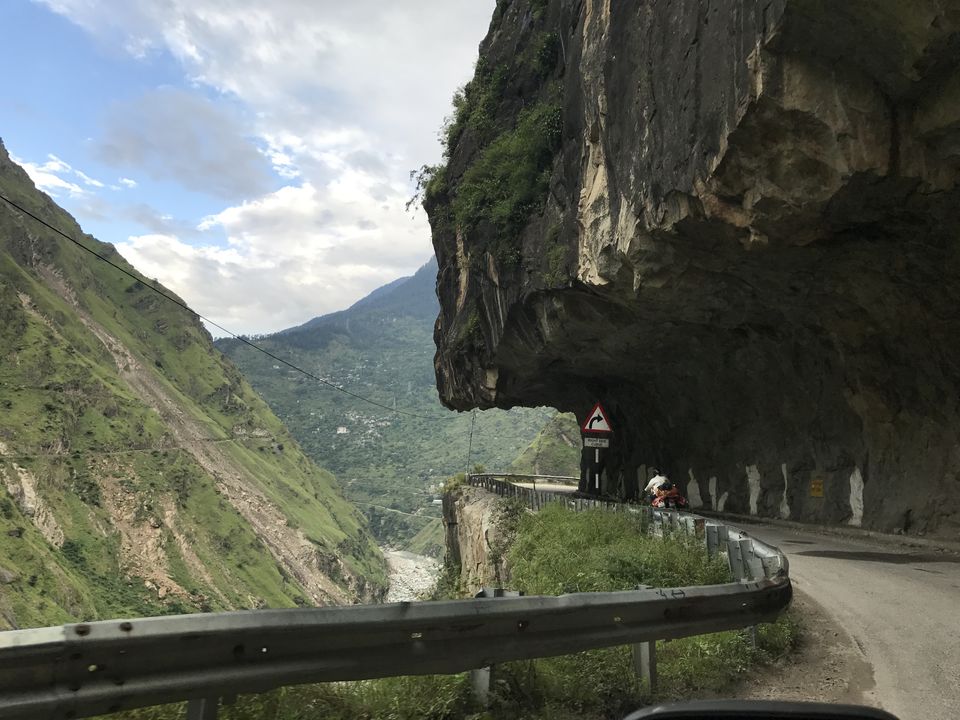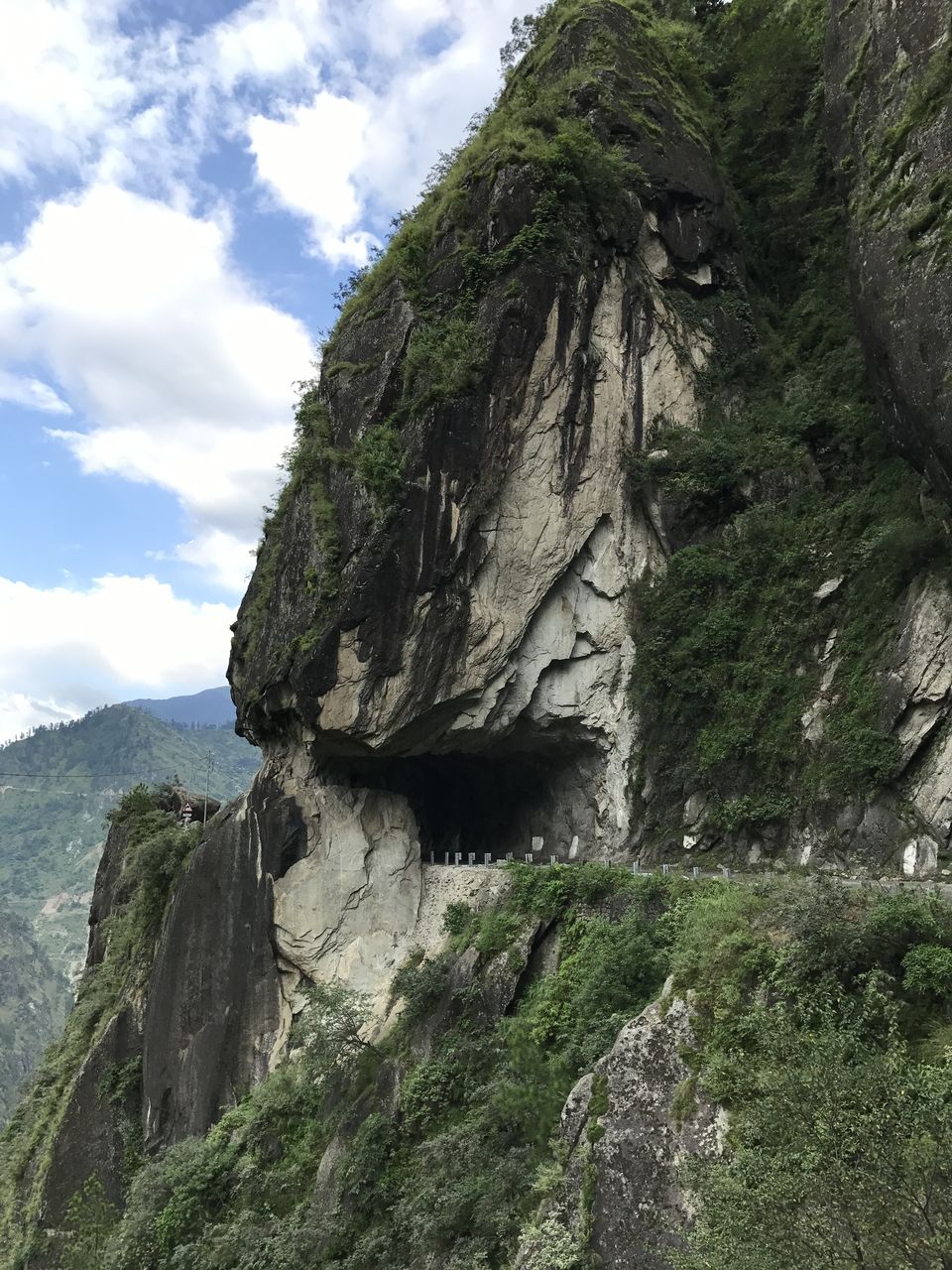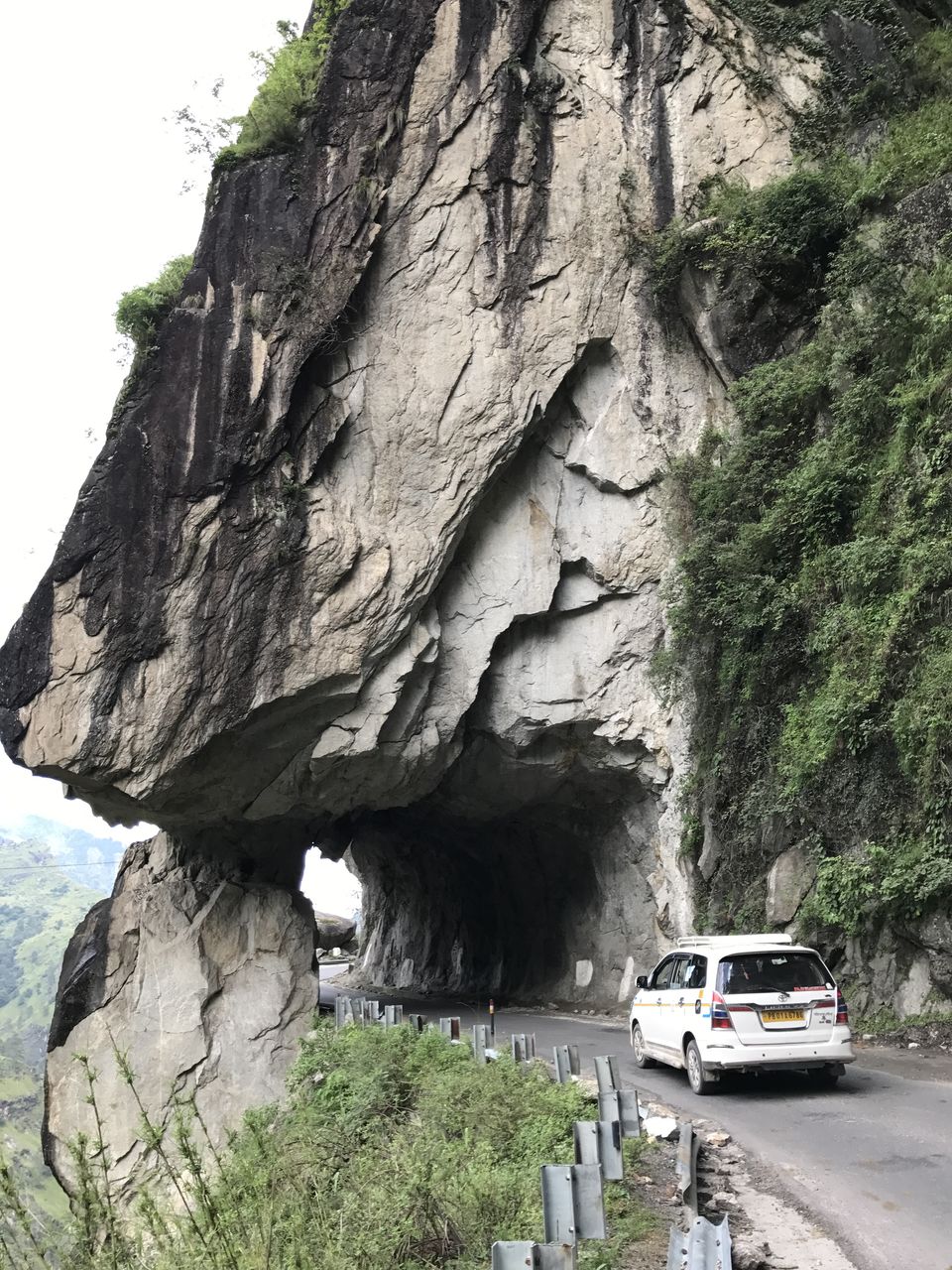 No wonder Nat Geo titles these roads as the world's most dangerous roads. And if you think the gut wrenching feeling ends right here, I urge you to think again.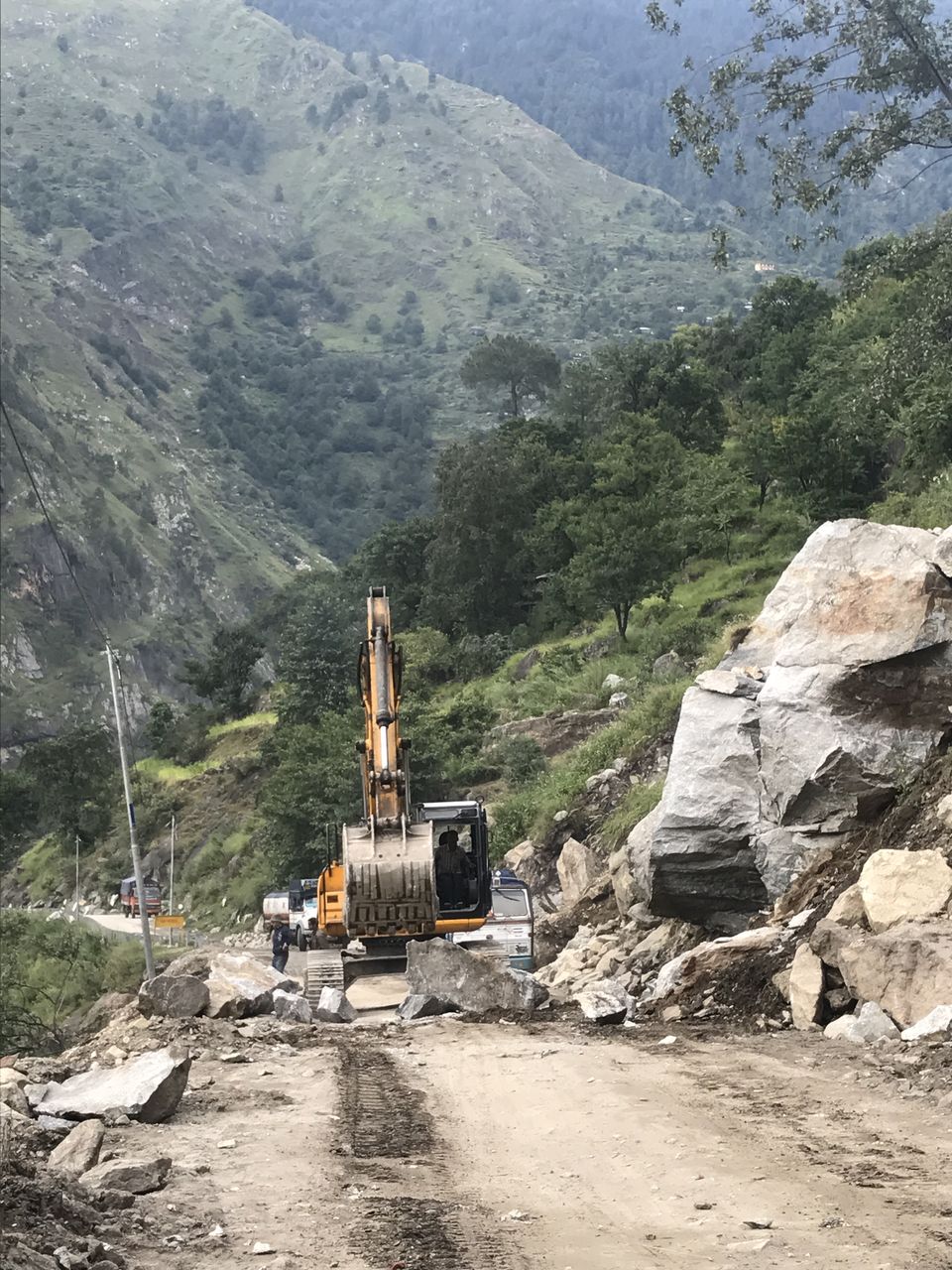 This was not an isolated incident. Media generally suppresses the woes of Himachali people when it comes to natural disasters. Landslides are a common occurrence which more often not lead to destruction of human lives if not property. Humans could be blamed for excessive commercialization in the form of uprooting trees to make way for hotels but Mother Nature doesn't play fair anyway.
Upon being asked how and when does landslides of any gravity takes place, the driver responded with -
There is not much to do en-route except taking short breaks to flex yourself to a view like this..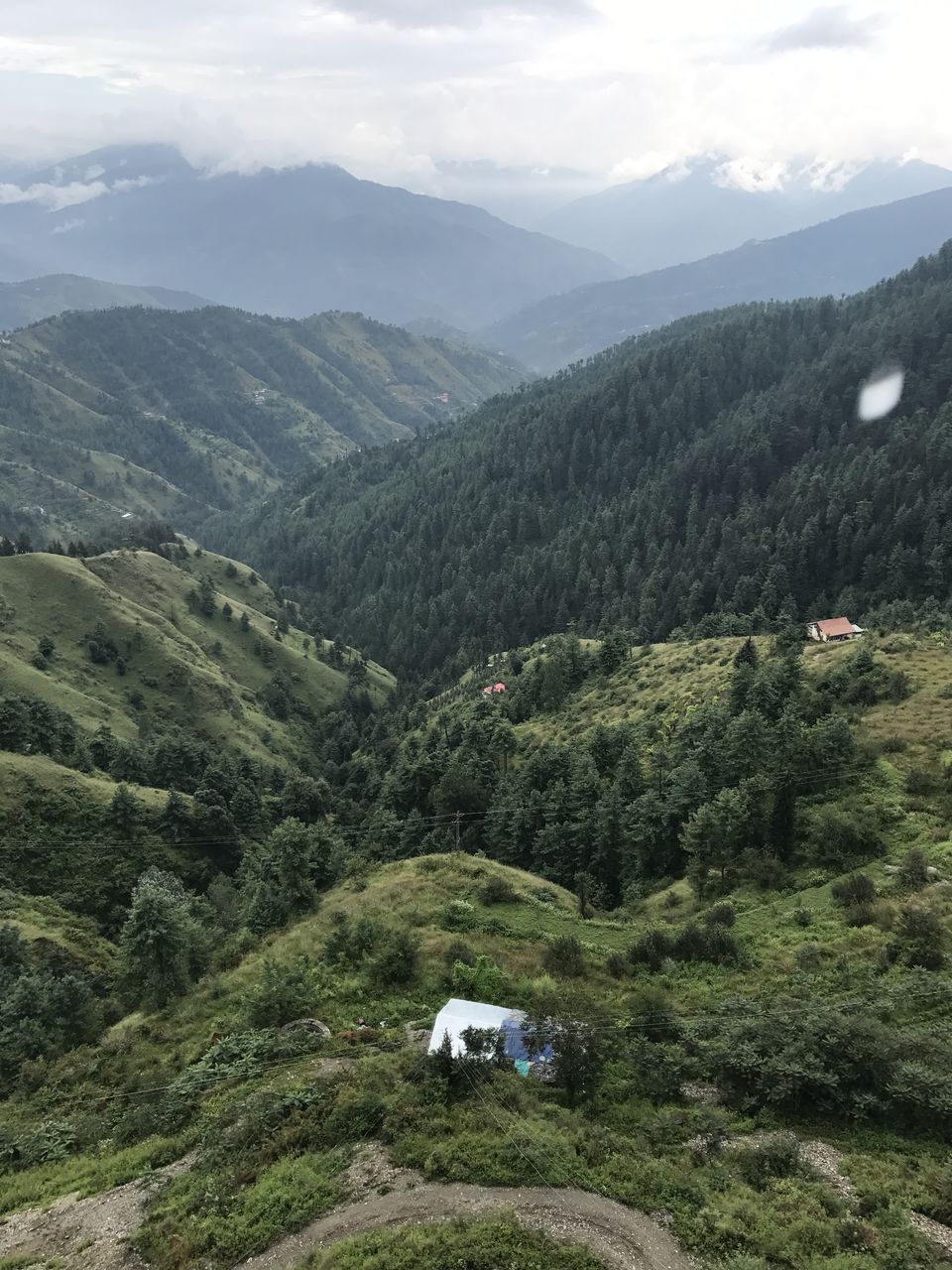 with something(one) warm to hold onto-
There is nothing much to do en-route but to stop every now and then hog. Can you spot the rays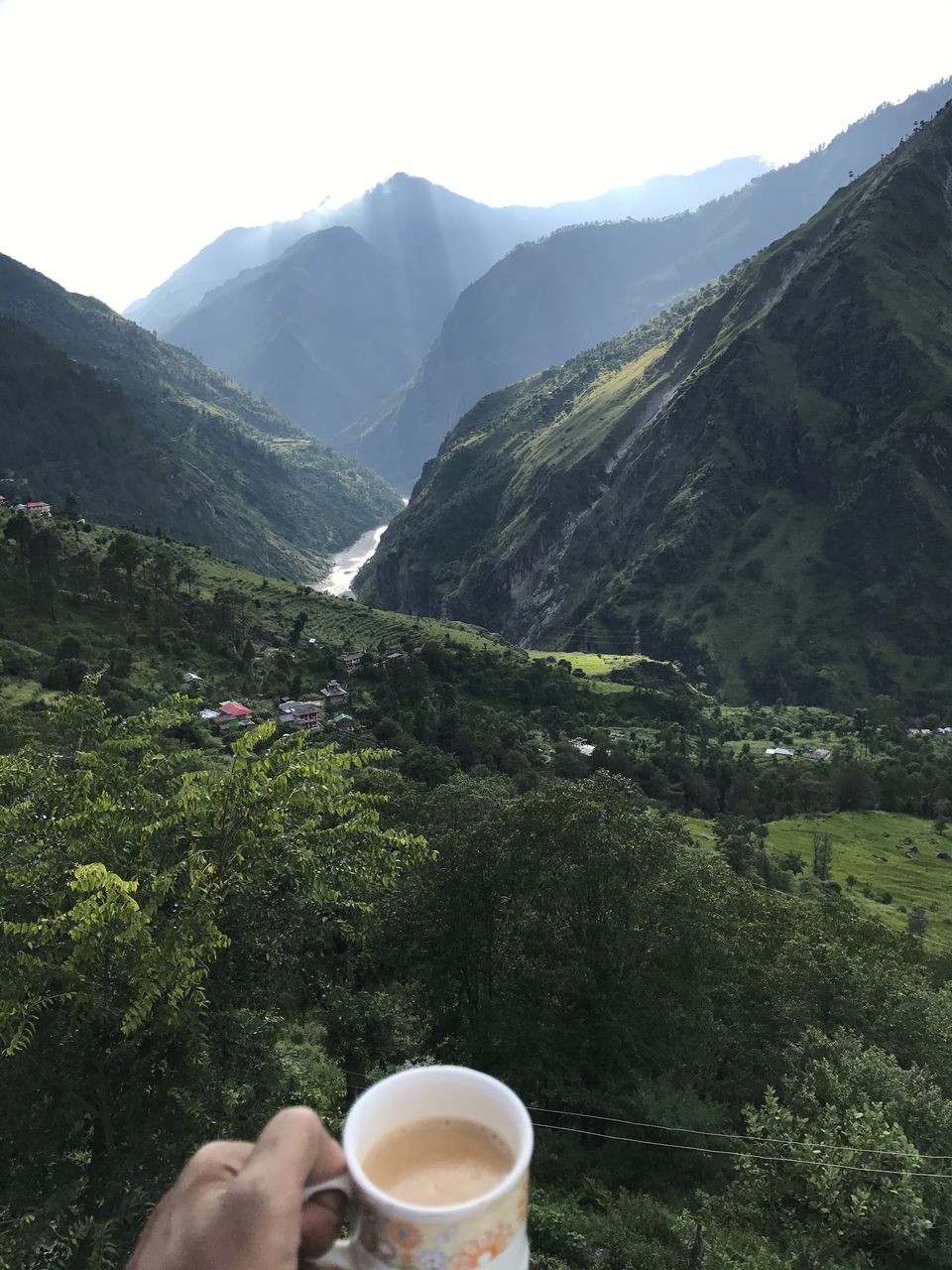 We reached Reckong Peo when the sun had just set. Peo has a fair amount of shops for all your basic needs so it's very much advised to take a halt because Kalpa may not have Tresemme for you smooth and silky hair. *does a hair flip*
The evening we went to being basic. Basic how?
TIP: Always carry a good quality portable speaker with you.
The hotel we bunked into was a good quality hole with a majestic chandelier which was the light we needed for a good couple of drinks. We did have signals in our phones but all we ended up using it for was to shoot boomerangs. It wasn't as chilly as it could get but the scotch warmed our insides enough for our adam's apples to function. We discussed everything from politics, religion, world hunger to nuclear treaties that night. The small room could only hold so much intellect and we were low on liquor so we decided to call it a night for the next morning held surprises our hearts couldn't fathom.
Day 3 - Tabo
I couldn't get a clearer peek at the holy Kinner Kailash that morning like I did in April but the golden rays cutting through the clouds basking the small village of Kalpa with the warmth of life somehow made up for it.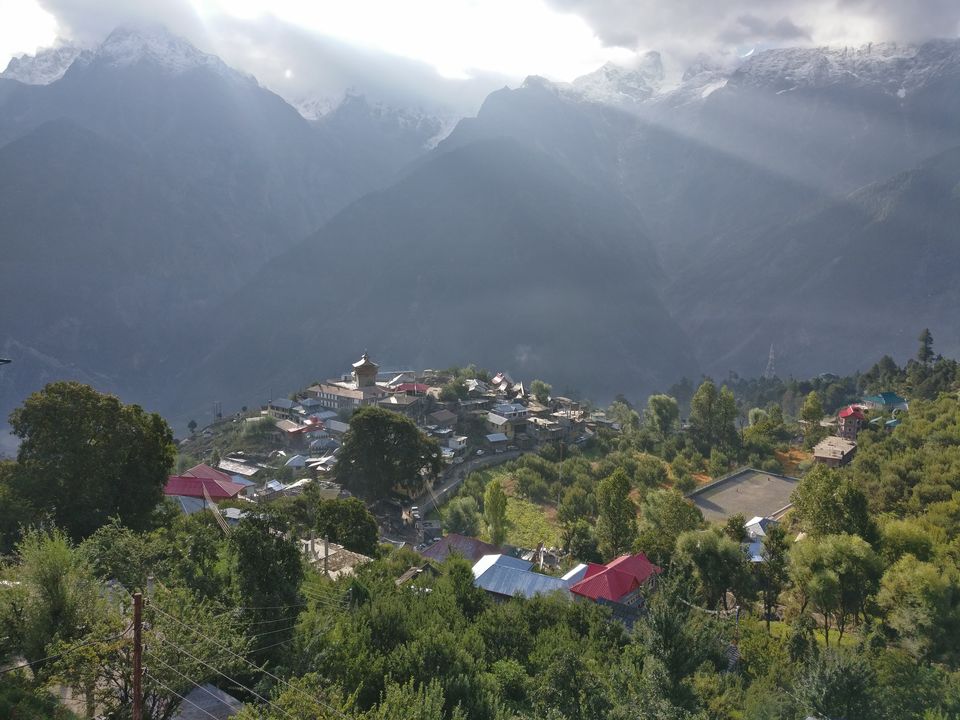 Wait, I have a better picture to help you re-live that moment from the comfort of your couch. I actually envy you being a couch monster myself where even an itch gets ignored just because I am too lazy to flex.
The village imitates an ocean bed for the rays to cut through the surface of the clouds and make way for itself to give the village its much deserved bounty.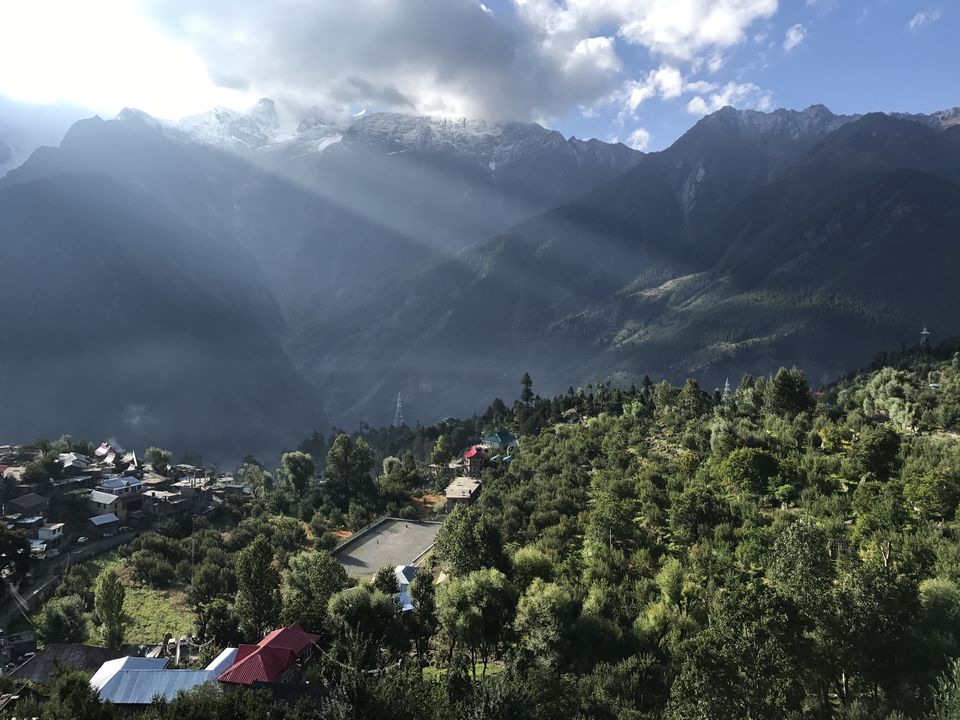 But I am a simple man for I couldn't care less as long as I'm holding a warm cup of tea baring my baby face to the chilly winds with hands that quiver and teeth that chatter.
Contrary to our evenings our mornings were quite frenzied. If you have traveled with a girl, you'll know what I'm hinting at.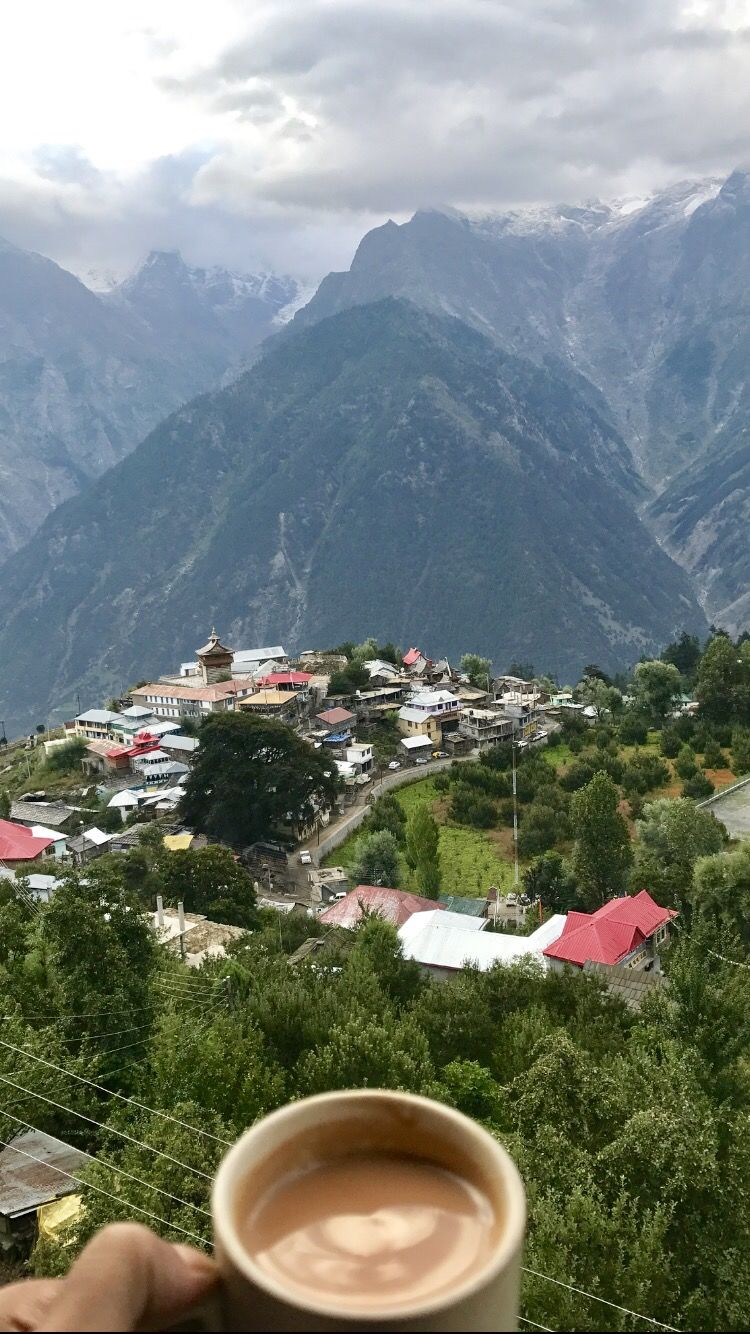 So you make the best of your time even though it comes at a cost of bothering someone to quite an extent. Case in point -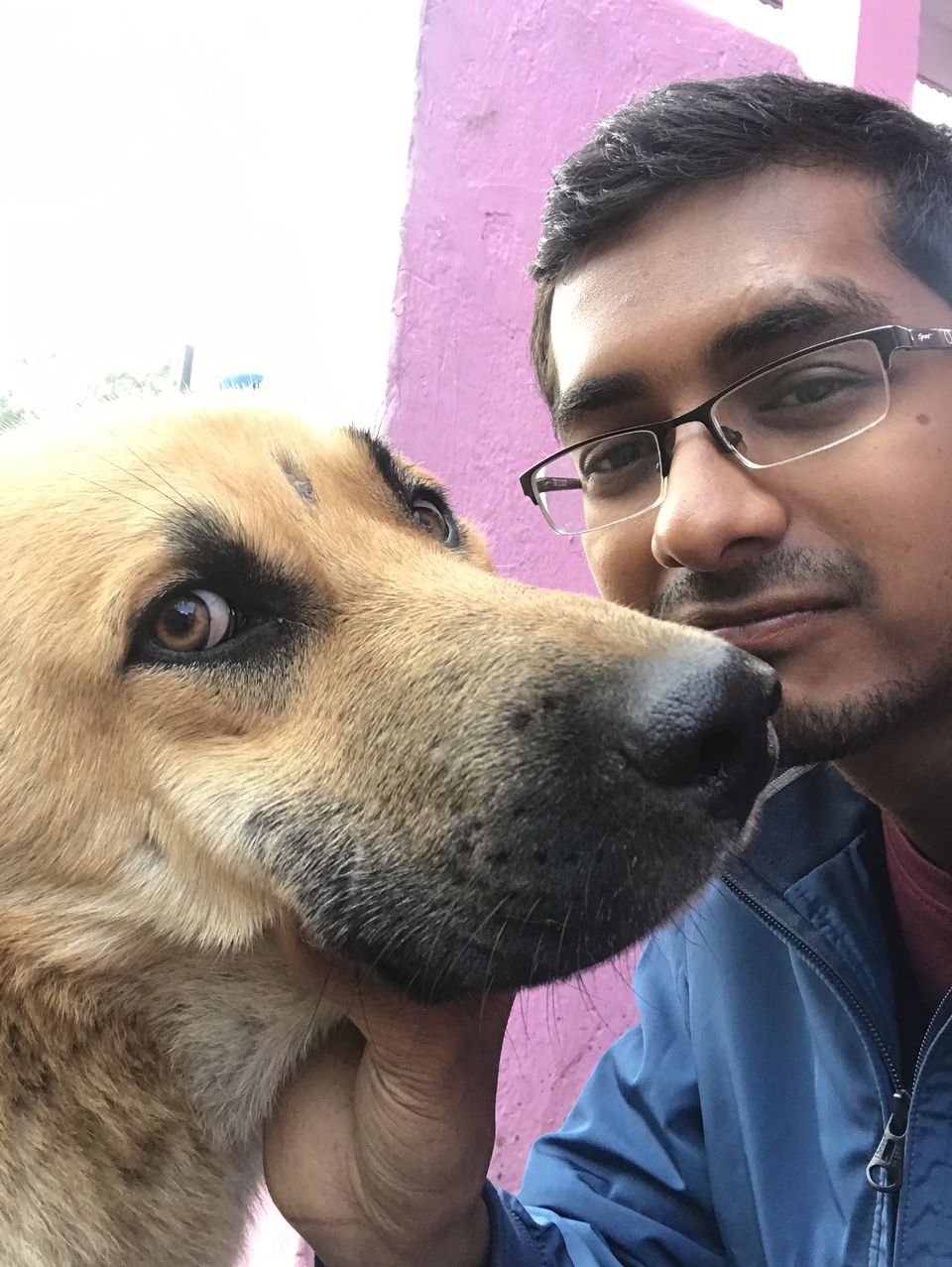 The mountain doggos have adapted well to the comparably tough weather conditions by growing themselves a nice furry coat.
Buy one of them dinner and with some luck you might just end up with a date.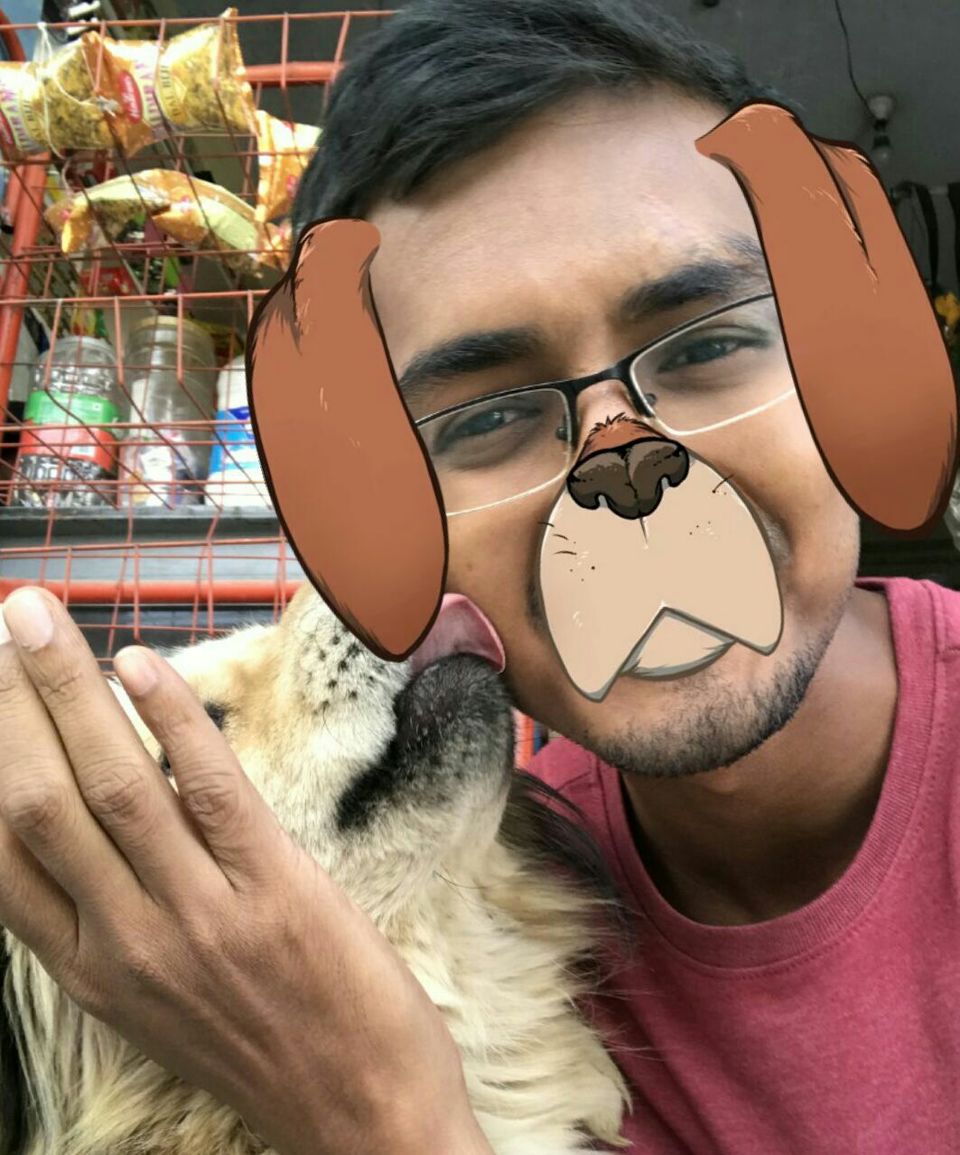 We left Kaza and made our way towards Nako.
A light breakfast goes a long way hence we hogged on poorly prepared paranthas with a chai which gave stiff competition to swine piss. But the unwinding roads don't have to know this, they need to be tricked into the fact that your tummy has some stuff so that you don't puke your guts out.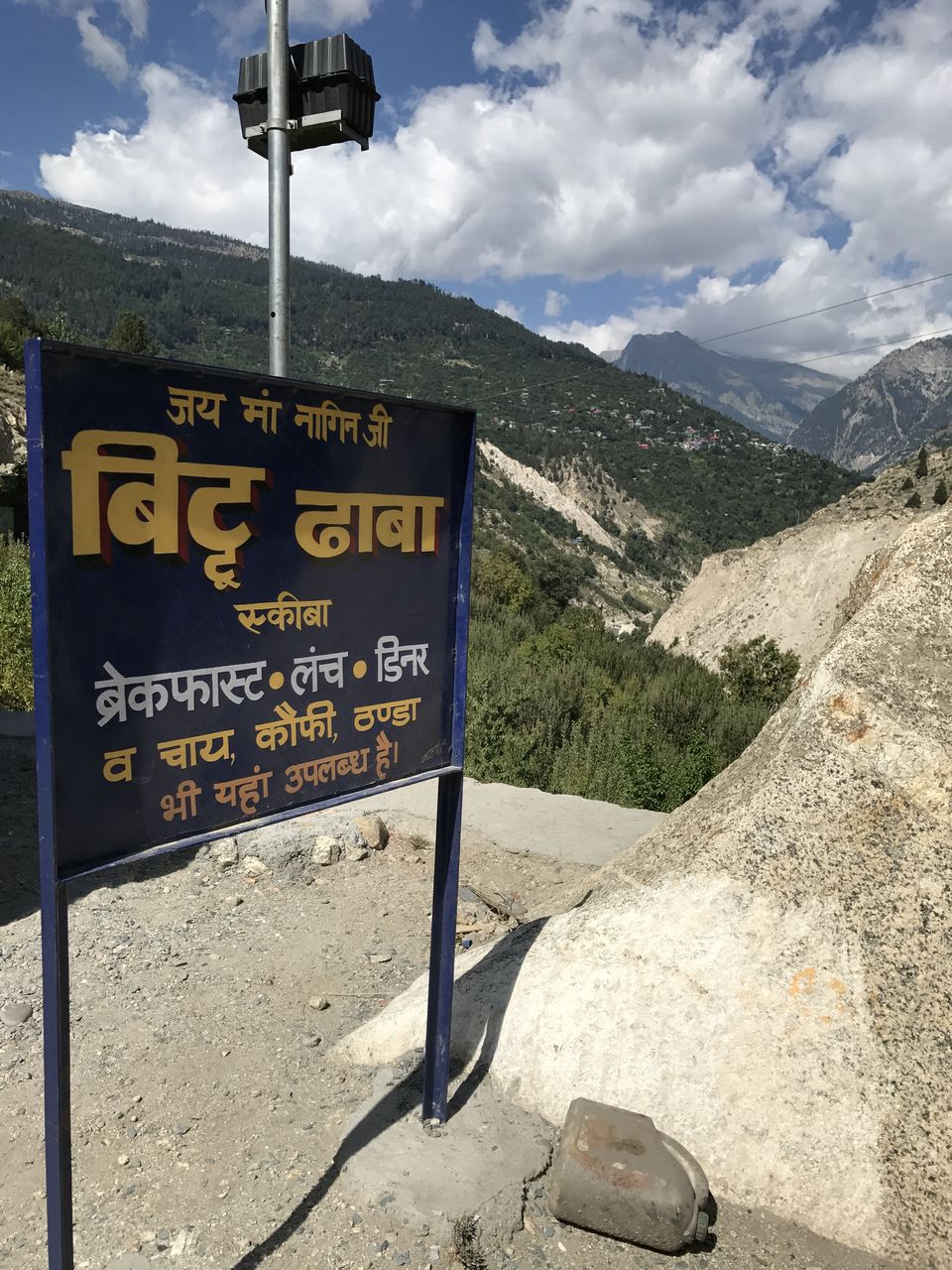 We took a small detour towards Roghi Village and stopped mid way at the infamous Suicide Point which according to our driver is a make-believe tourist spot to attract visitors.
Driver - "जहाँ खड़े हो जाओ, सुसाइड पॉइंट ही है|" Every place is suicide point here.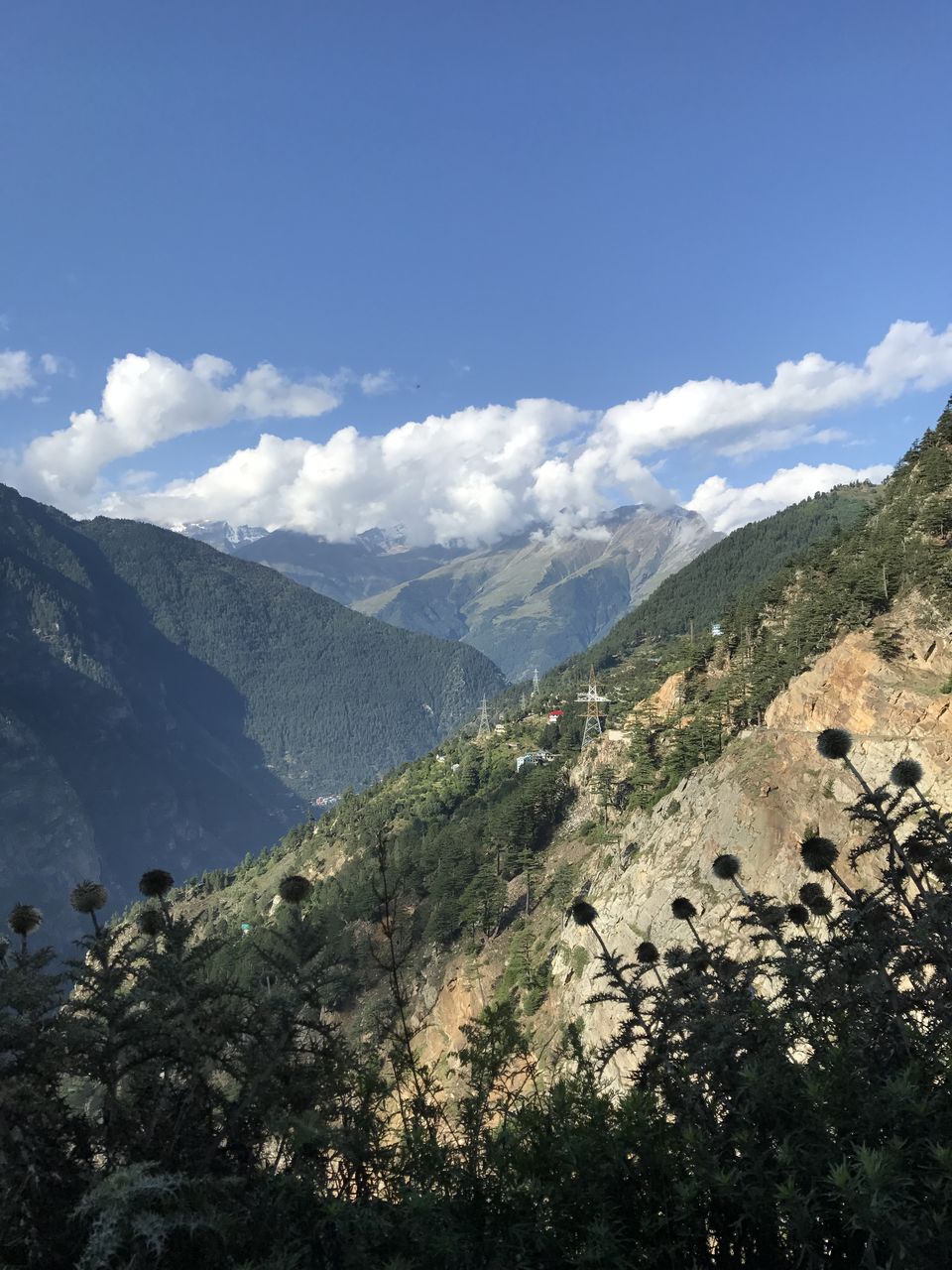 A precarious combination of your collective luck and driver's mad skills is what gets you through these roads to your destination. But again, you don't set foot in Himachal for destinations because the journey steals the spotlight for the most part.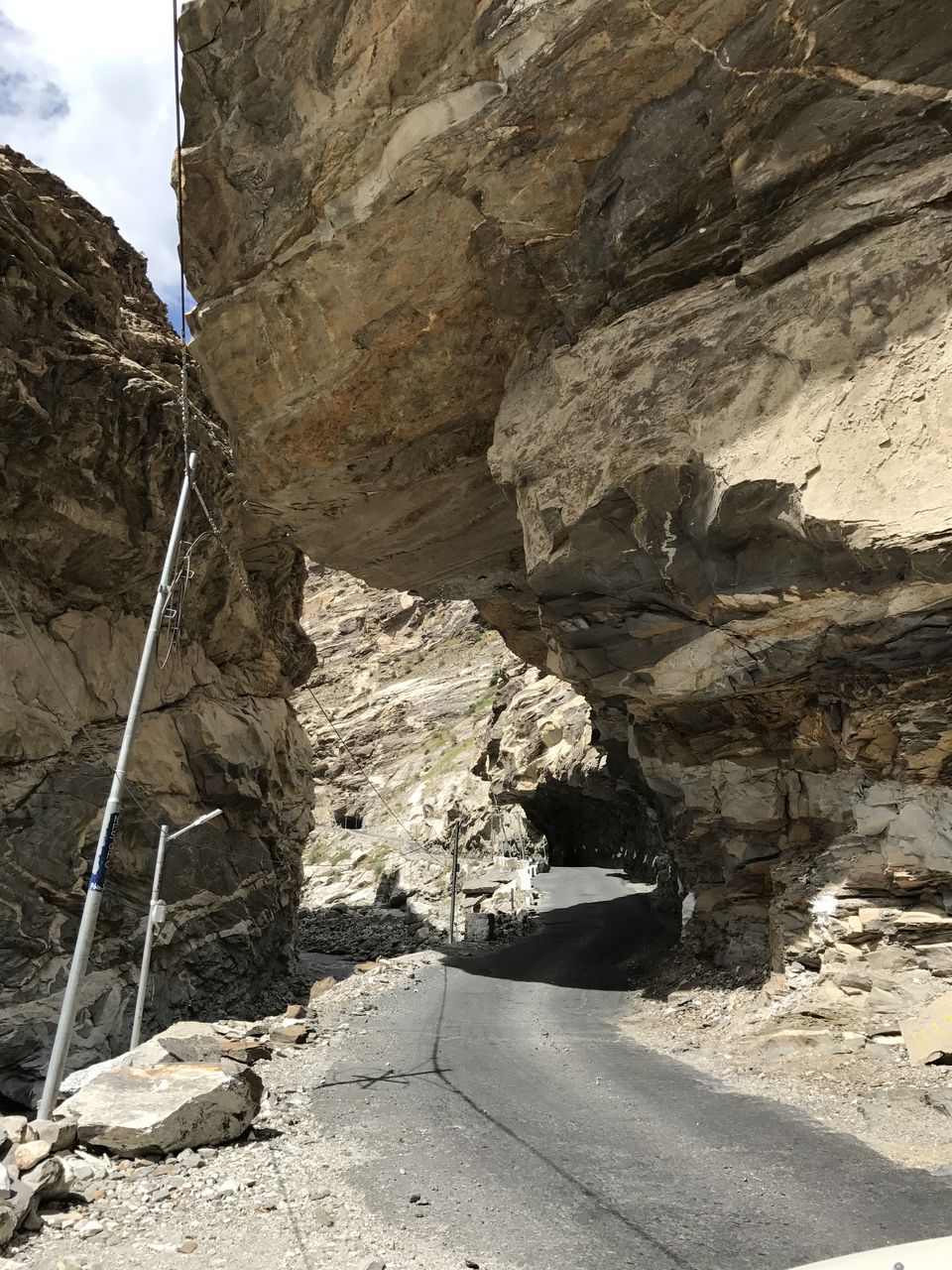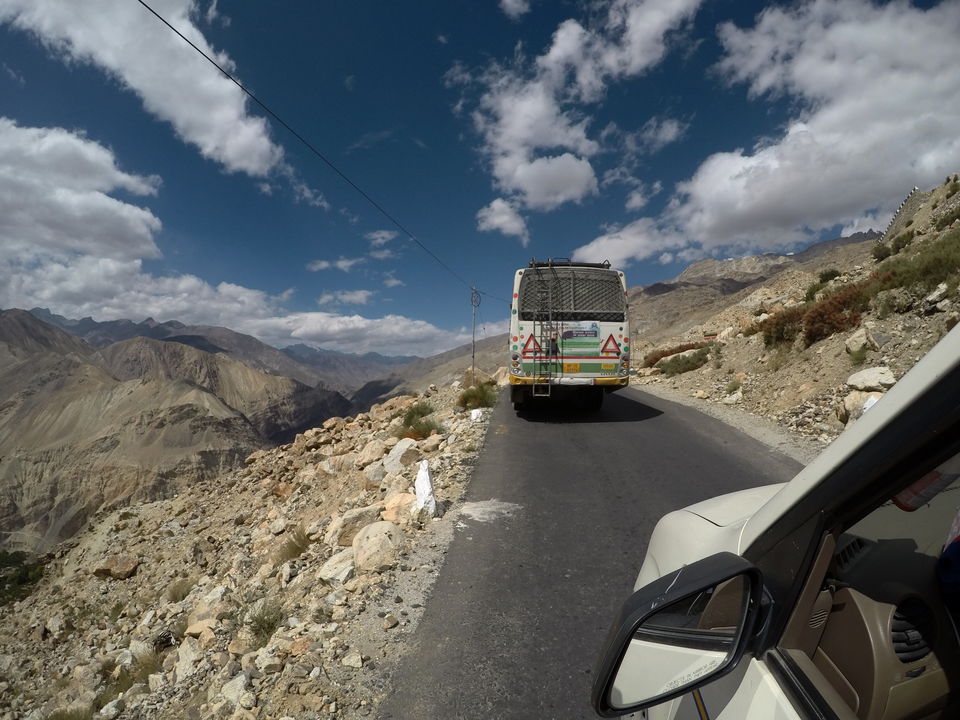 Yes, the journey was quite long and no, we did not play antaakshari. Instead we readily jumped out our car at our whim to notice a vista as breathtaking as this -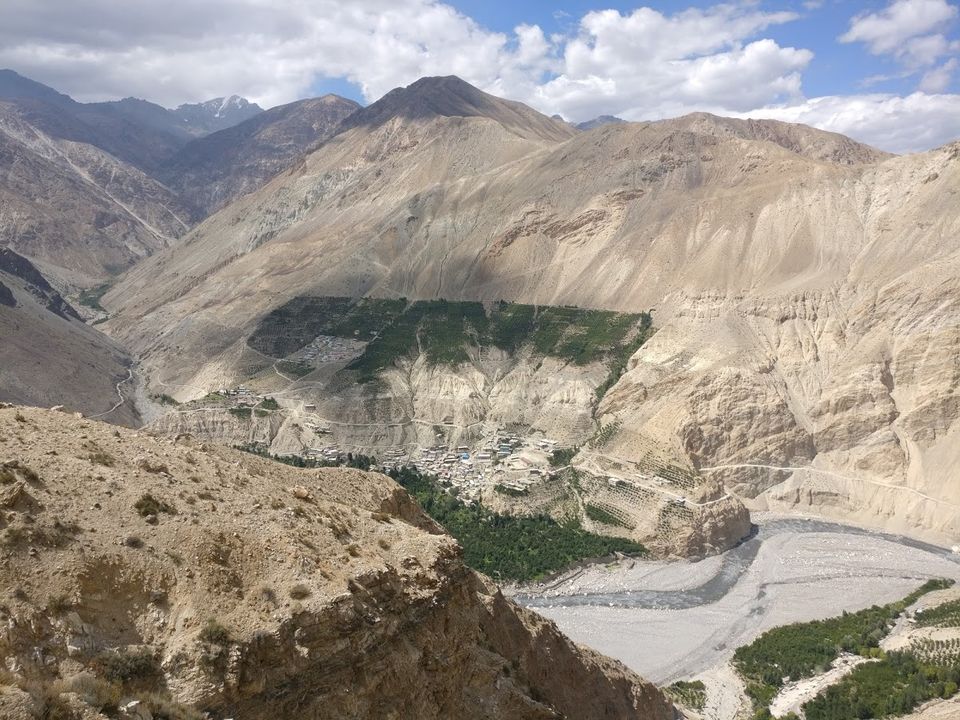 In God's native language, "I like this patch of land, bless this area in particular."
But a Meh fuck'all attitude with the rest -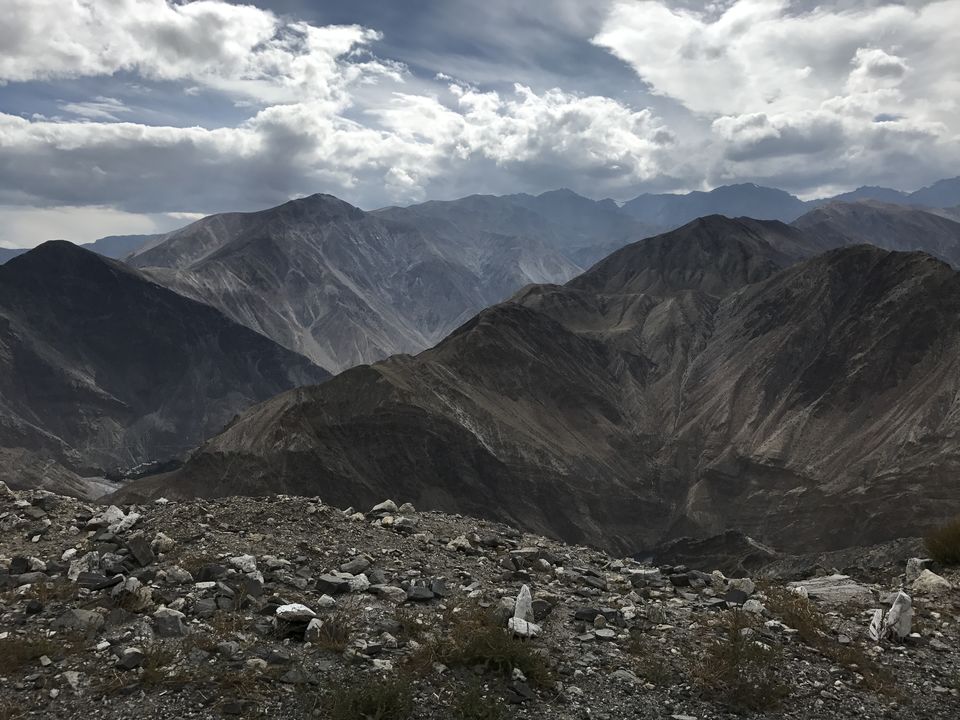 We somehow reached Nako. The quaint little town is famous for a small lake which adjusts beautifully in the midst of trees laden with yellow leaves giving the entire area a nice Vista. Surprisingly the lake is not visible from the roads that lead in or out the town.
Nako is a small village formed by the slopes of Reo Purgyal which is the highest mountain in Himachal Pradesh. Situated on the border of Kinnaur it's famous for a scenic lake that sits on the edge of the village with Nako monastery on the other.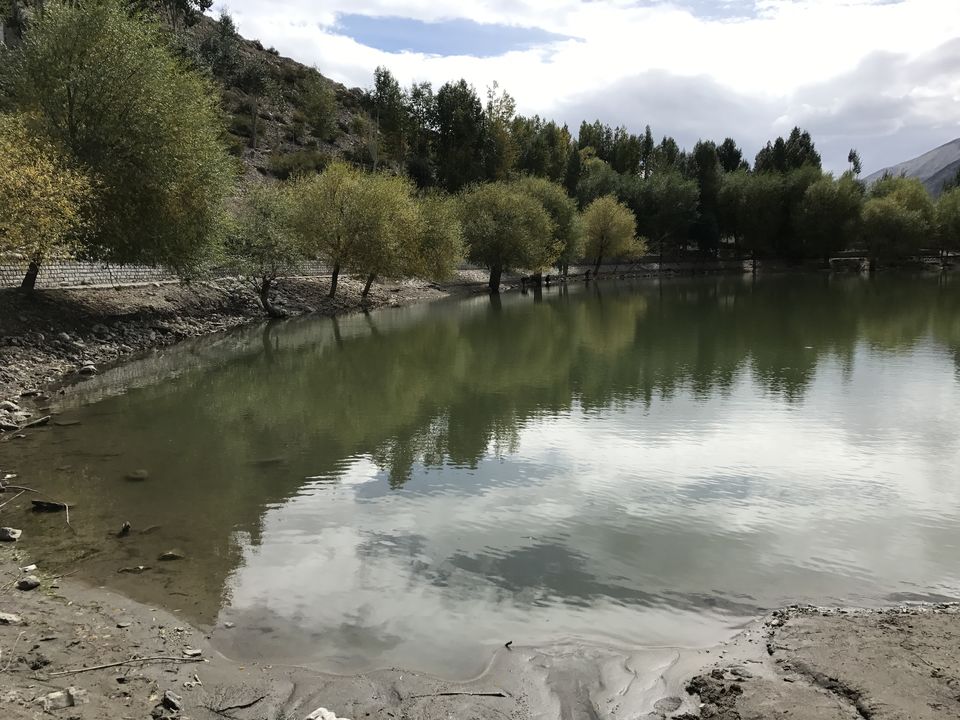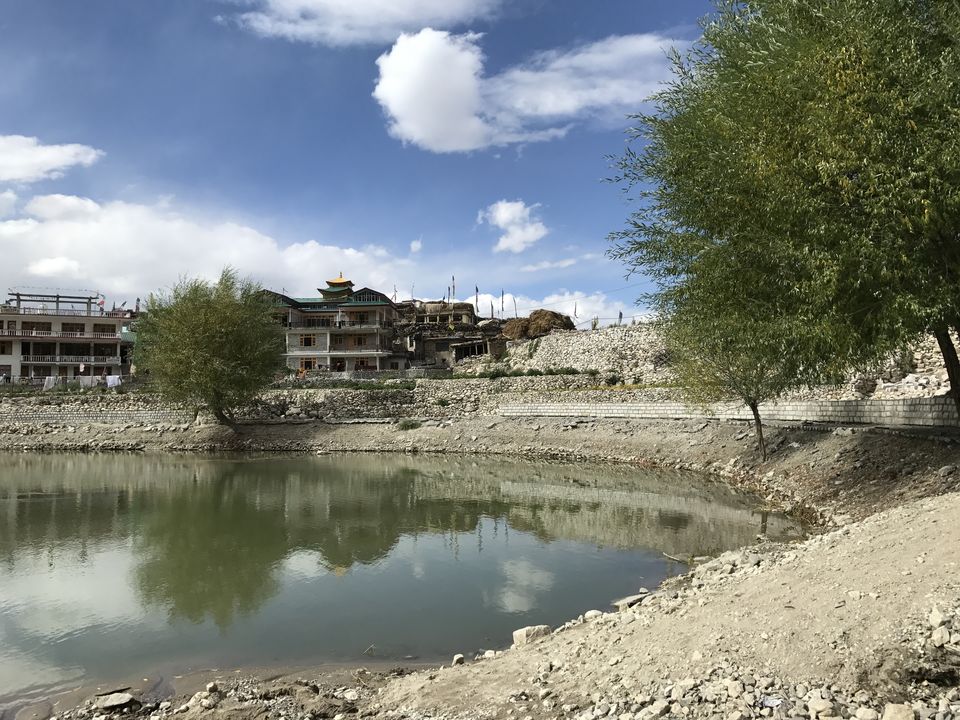 How different a lake can be from small patches of water in the village? I got an interesting viewpoint from our witty driver.
"There was a new driver which brought a family to Nako for sight-seeing. As he himself was unaware about where the lake actually was, he pointed to the nearest puddle and declared it as the Nako Lake."
"ओह जी ये है नाको लेक|"
Lord Ramesh being in the valley for 3 years knew all the good hotels and cafes where we would stopover and soak in the unparalleled beauty every village had to offer.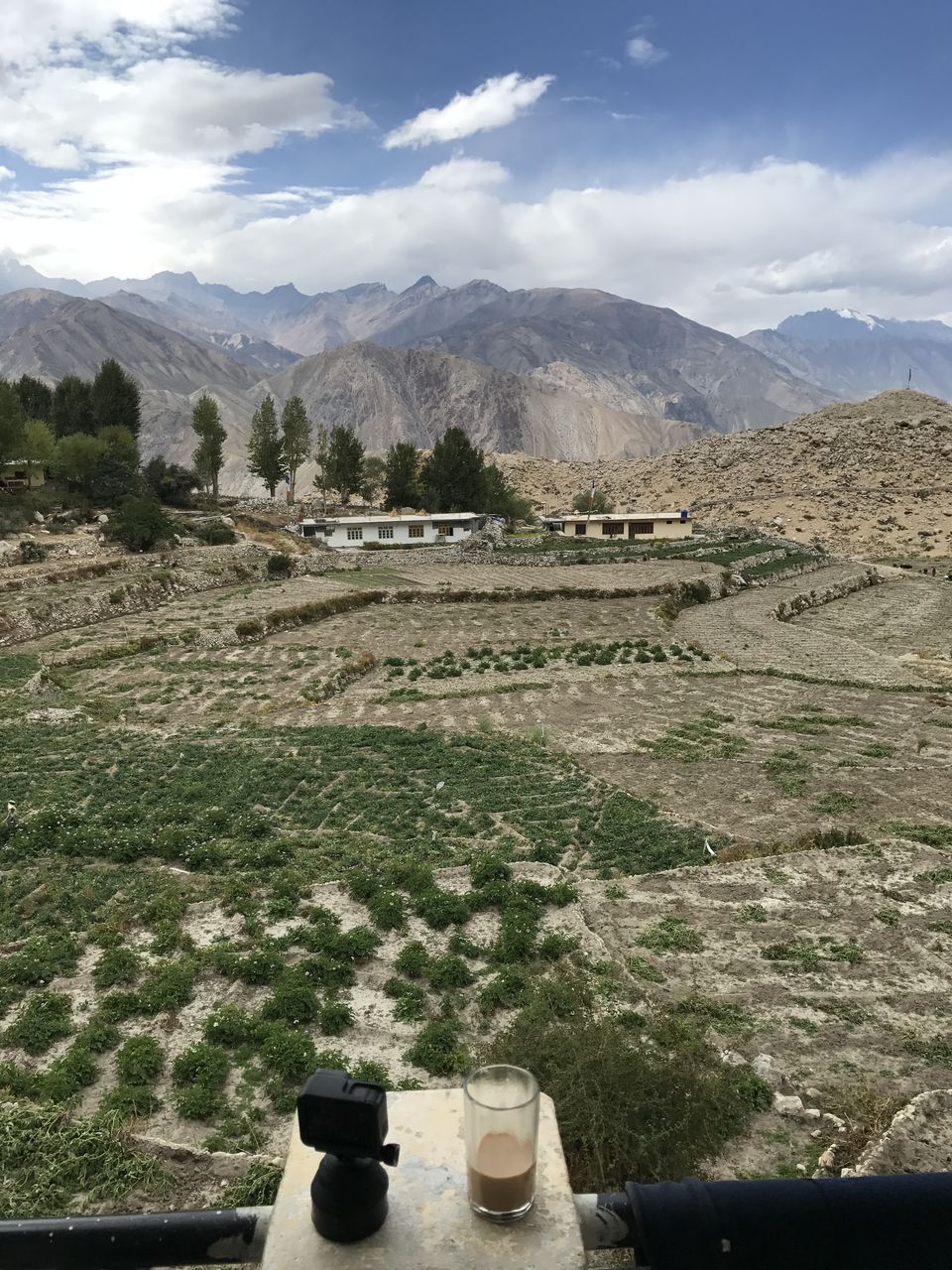 Your life is full of worries and expectations and it only makes you human to feel that way. But when you connect with a place way outside your comfort zone. Add a sprinkle of your favorite human - be it near you or over the phone as you I-miss-you them - things start making sense. The cobweb of uncertainties wash away and your world lights up with a ray of hope.
We reached Tabo in the evening and transferred to a hotel. The sun had already set but the sky held onto it like it still had some unfinished business. I strolled for a few minutes until I couldn't bare the chilly winds anymore.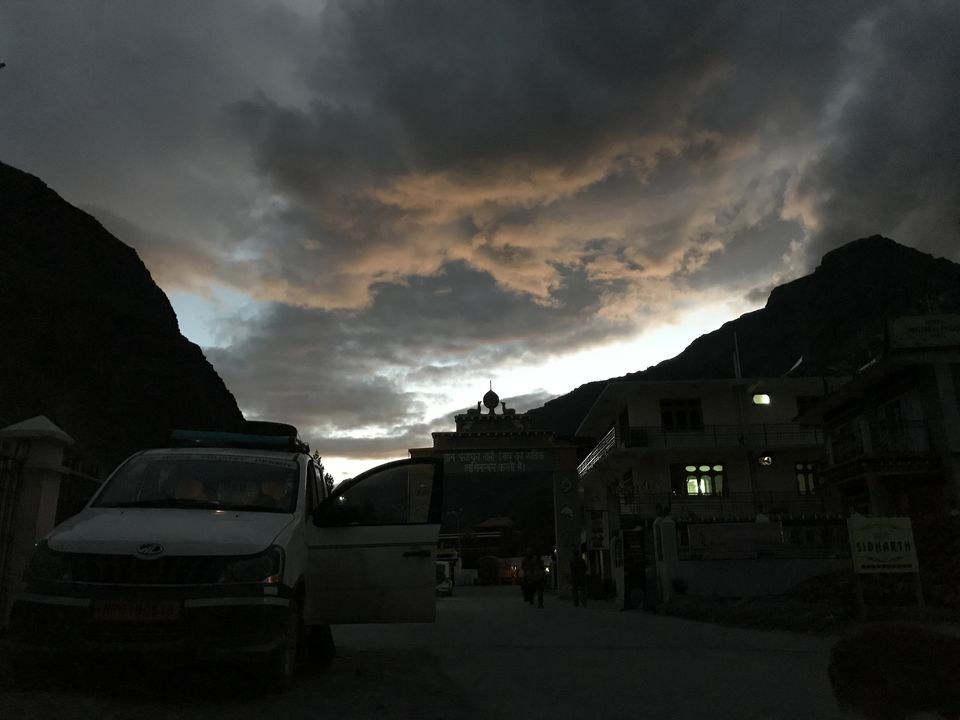 We hit the peak of our trip in Nako wherein she slept in early giving us an ample bois time. We set up a nice table on the terrace and made our liver work extra time in the mountains and tried hard to get a capture which could do justice to the night sky.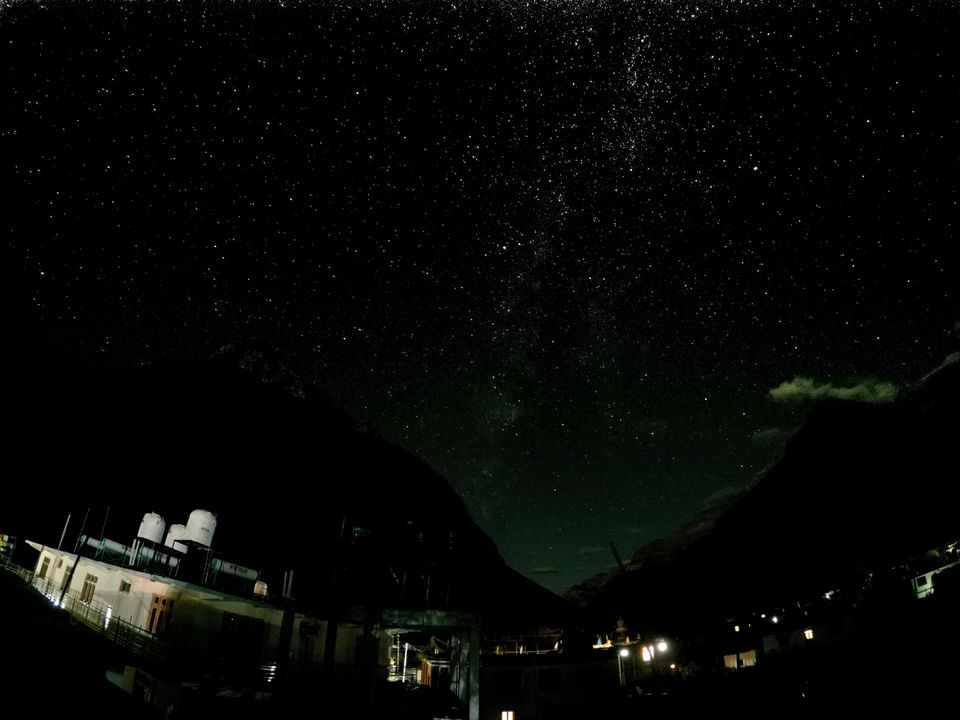 "To be draped in a blanket we bought together on the balcony of a cheap motel, sitting on the floor as you lay your back against my chest; my chin ruffling through your hair housing a fragrance only second to summer. Snatching my favorite hoodie to house yourself in looks better than your choicest dresses, only to find your favorite piece of chocolate I put in earlier; a smile ensues complimented by a I-know-you-well smirk. A cup of tea which we share which sweetens after every sip you take is our only company. As the windows in the distance start going dark one by one, I pull you closer to me. The star laden sky doesn't seem so beautiful anymore."
Fortunately we couldn't get a better capture to share with you because no camera or any lens with a foot wide aperture can capture what we saw.
जस्ट फूकिंग गेट आउट देयर मेन |
Day 4 - Mudh ke wapas Kaza
I sleep in late every single day until the neighbors' kids start making an intolerable din but this habit effortlessly gets transformed in the mountains. I'm suddenly the early bird which gets her worm.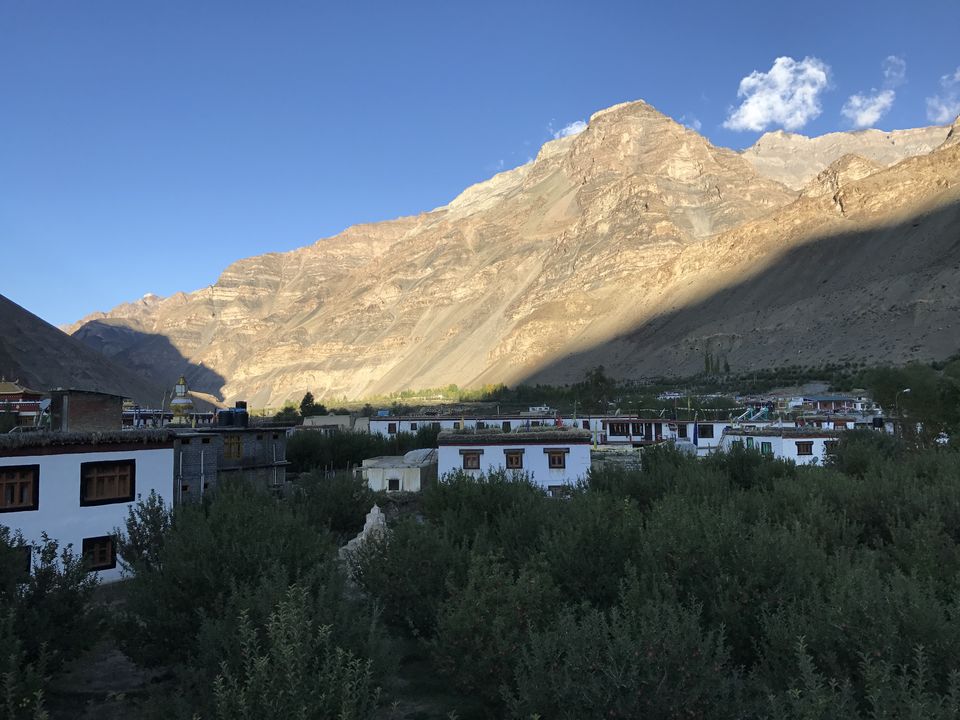 It's a precise process to be fair, choosing a vantage point 7 AM in the morning scoping for the near perfect place to sit and shiver with a favorite cup of.. well you just know it by now.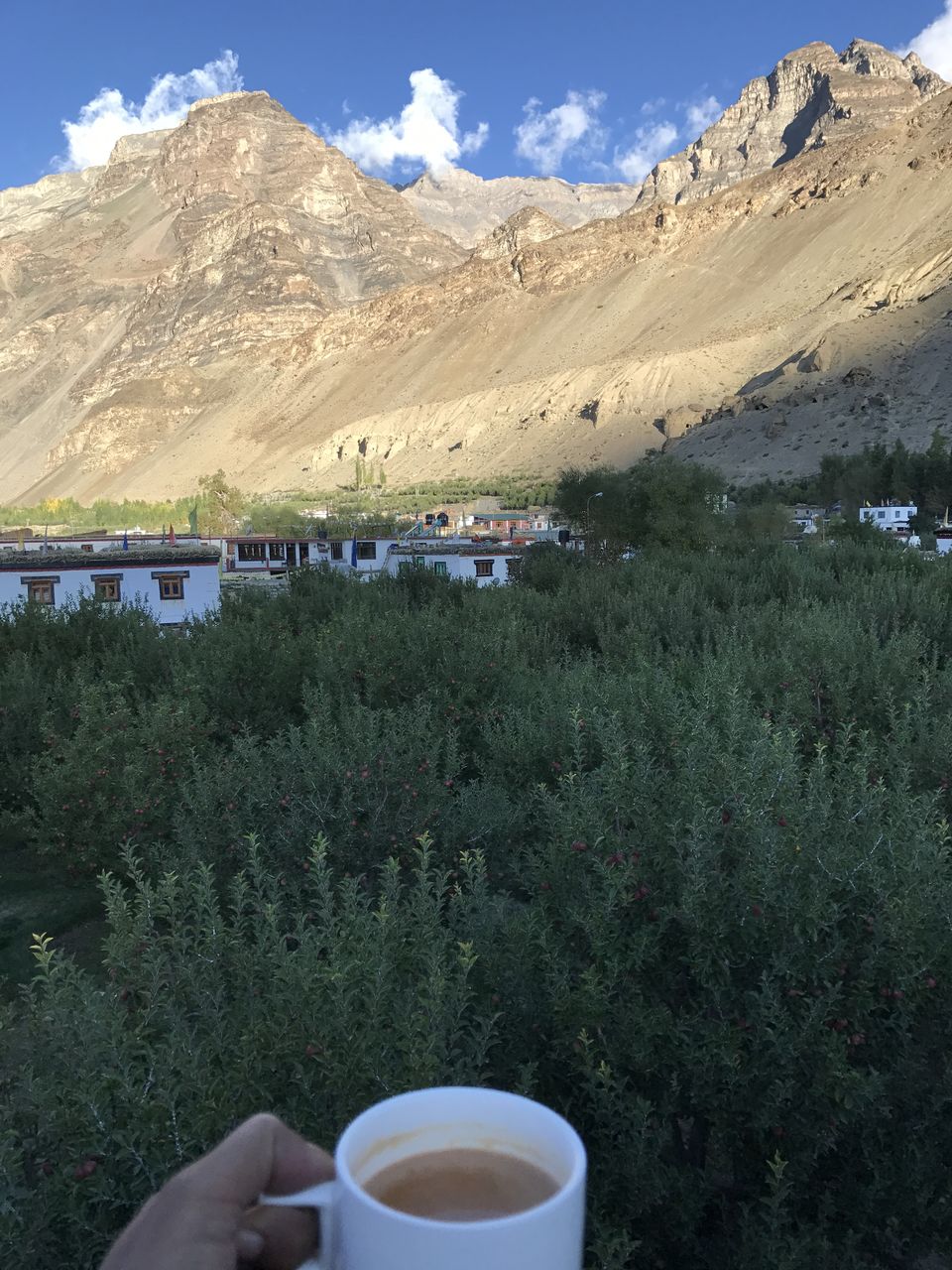 Don't let the apple laden trees and the bright sunlight fool you into believing this to be the ideal place for your every morning routine. The tall mountains that surround Kaza try their best to defy the winds but they still pay a visit with all their might and by the time the warmth could sneak up to me ..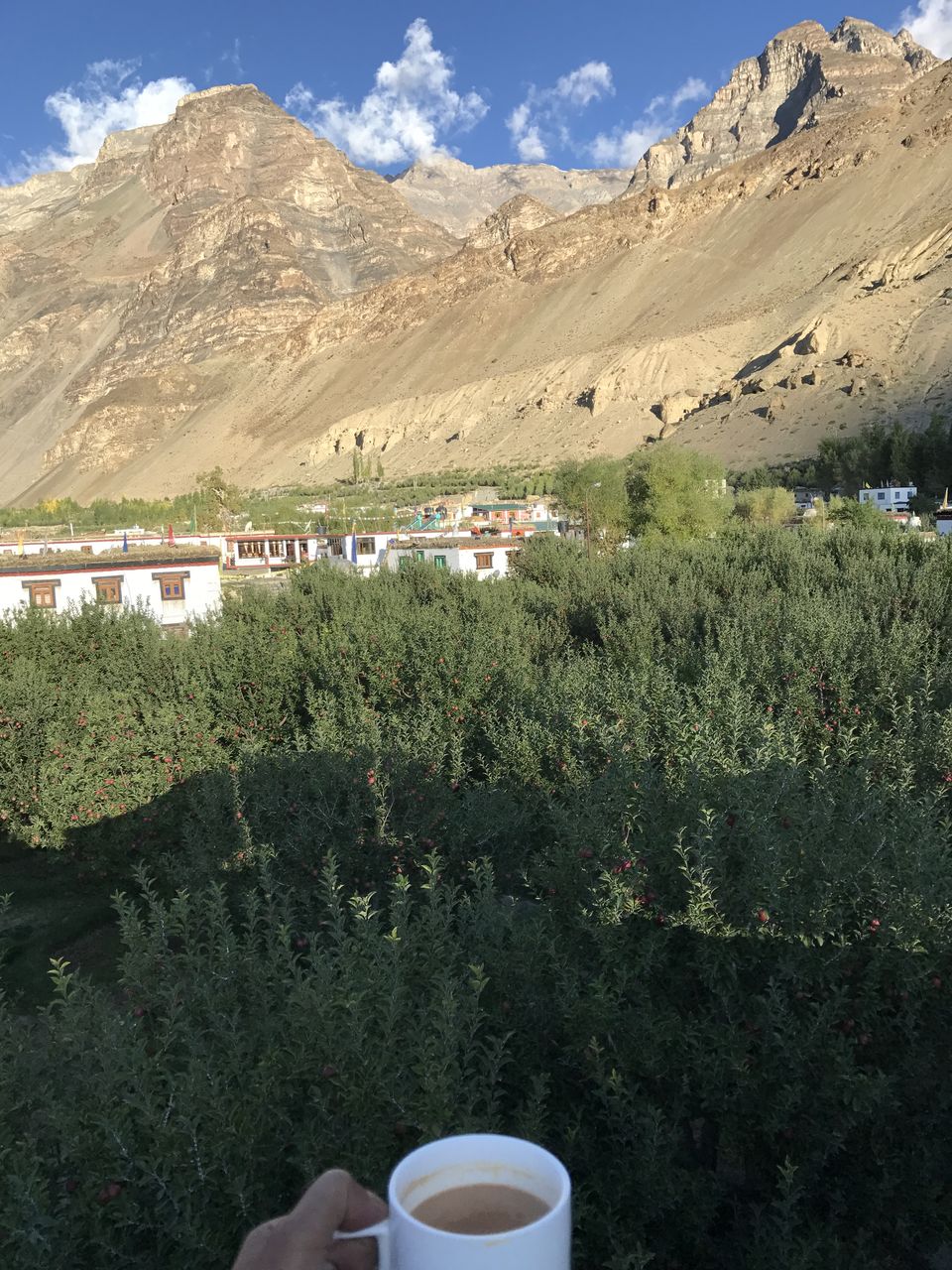 alas.. it had gone cold like your ex's heart.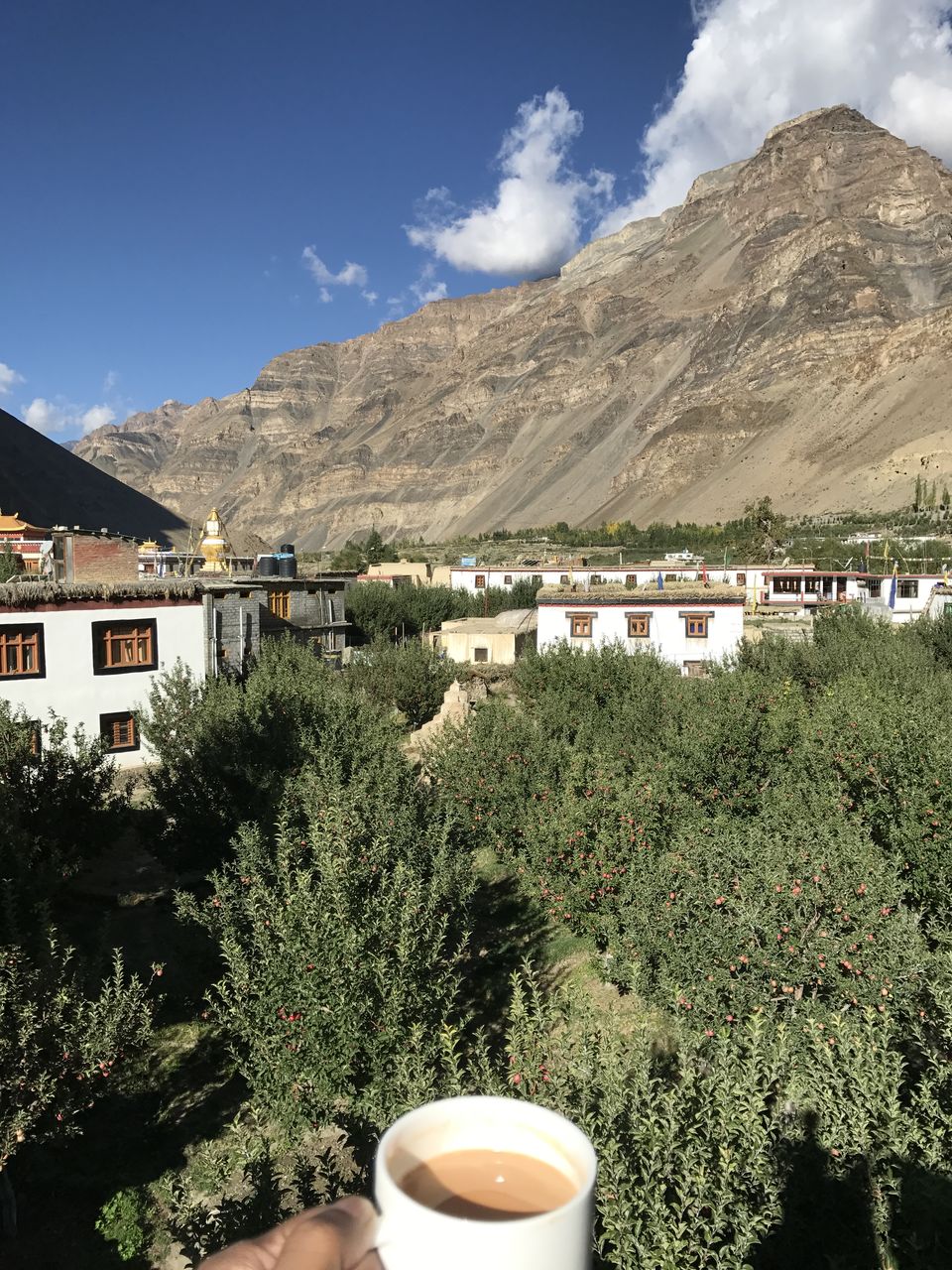 We decided to get some breakfast and were immediately felt welcome by this cute young hostess called Bipna.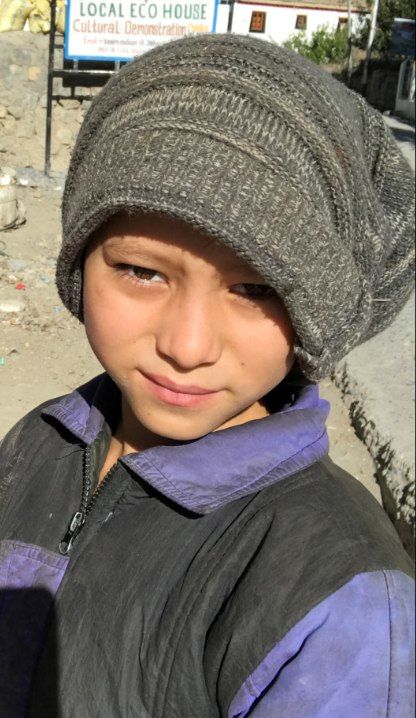 You may spend your weekends on the couch with your favorite bag of chips and Netflix but both of this are extinct here in the mountains and what better way to make memories than to connect. Normal conversations with a local boy provides you an insight on routine life which you can never relate to growing up in a city. Bipna recited the tiniest of things she does daily with abundant joy and happiness which was short-lived but contagious. They seem to be mature for their age given the hardships they embrace so seamlessly without a single complaint.
She was the highlight of the morning until I met a furry friend. My definition of love is questionably obsessive, compulsive and sometimes suffocating.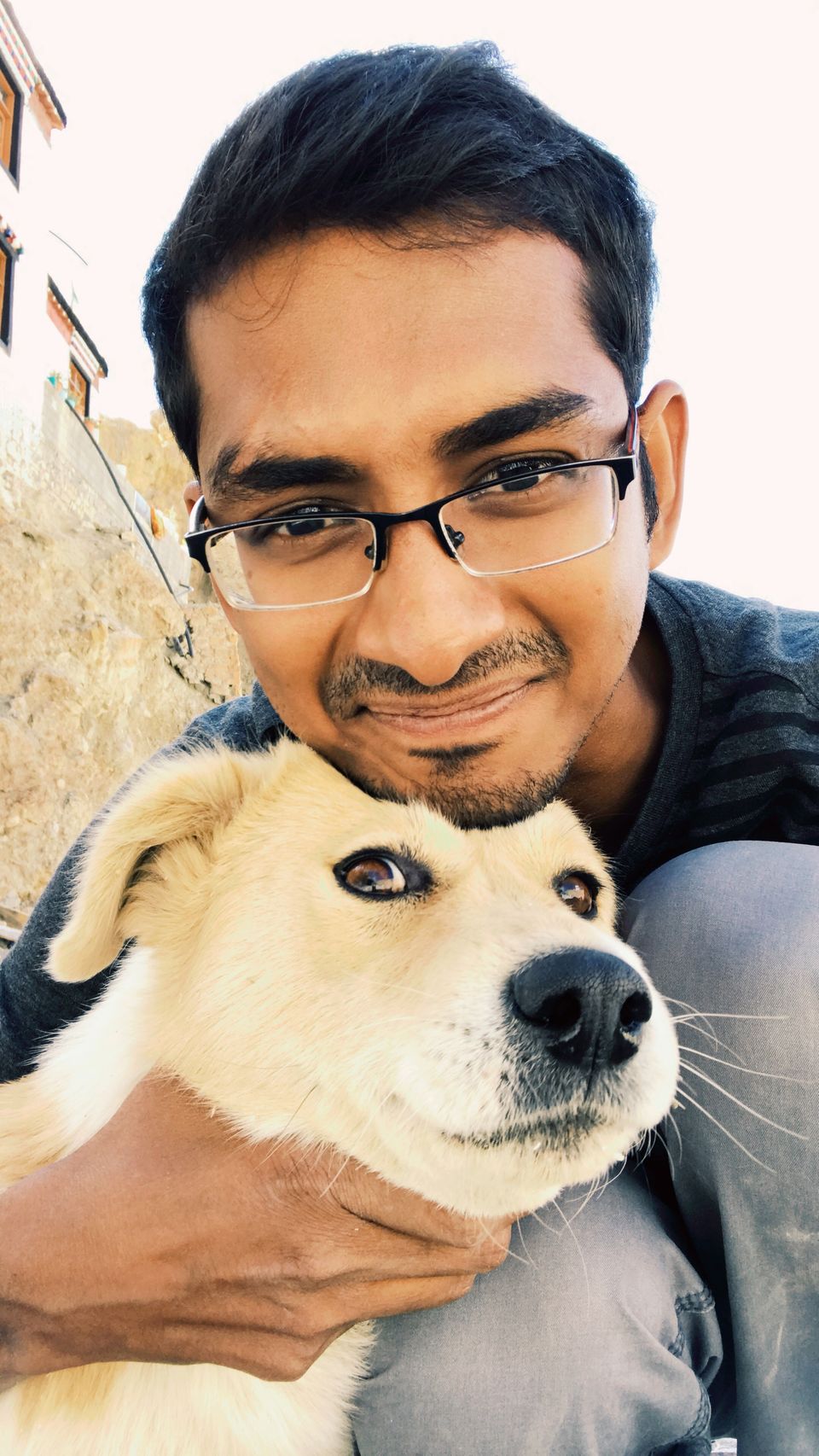 Aloo parantha mornings are the best mornings.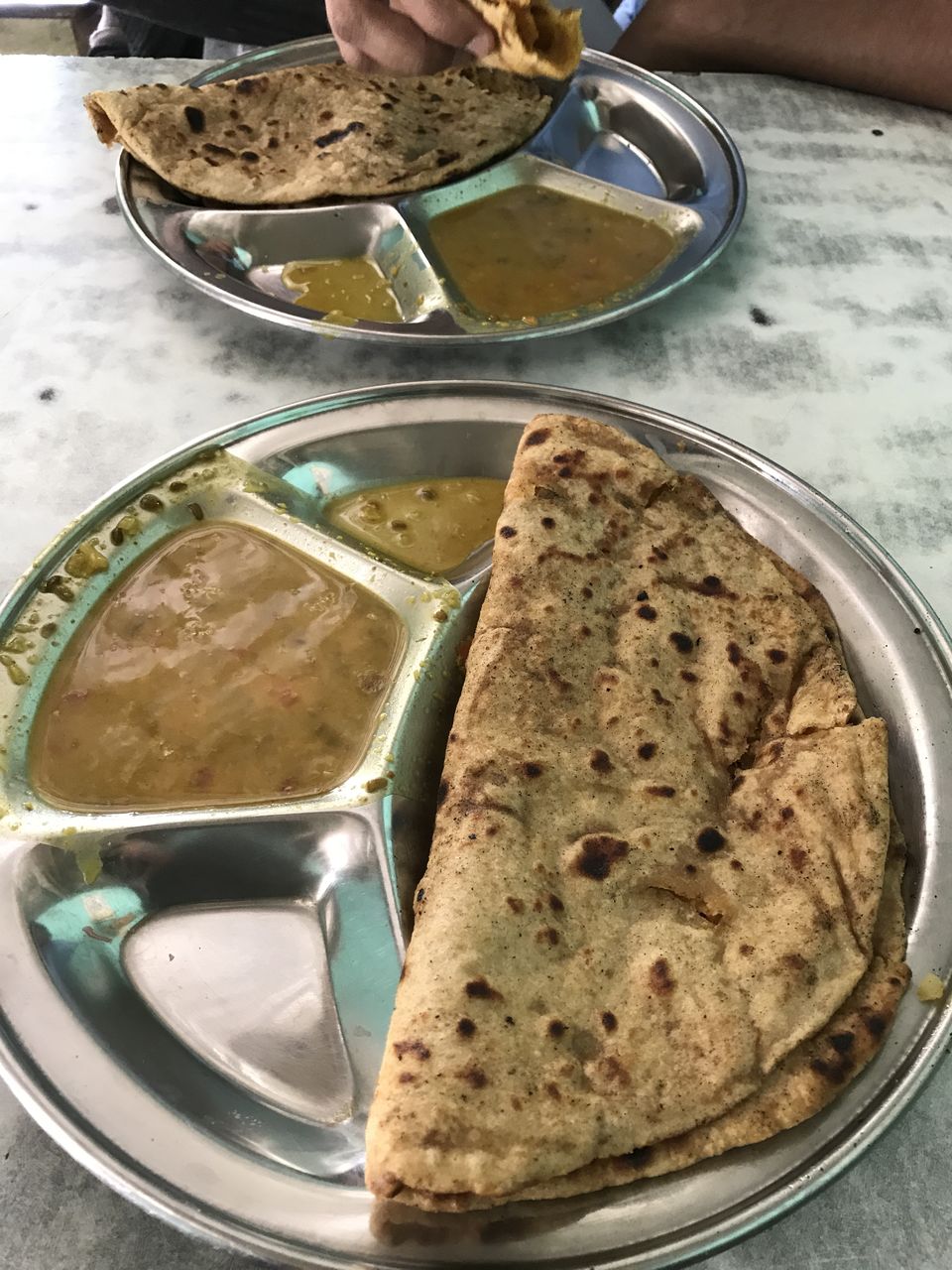 We spent some time inside and around Tabo Monastery which houses some impressive frescoes and murals. The Gompas made out of mud have stood the test of times and tough weather.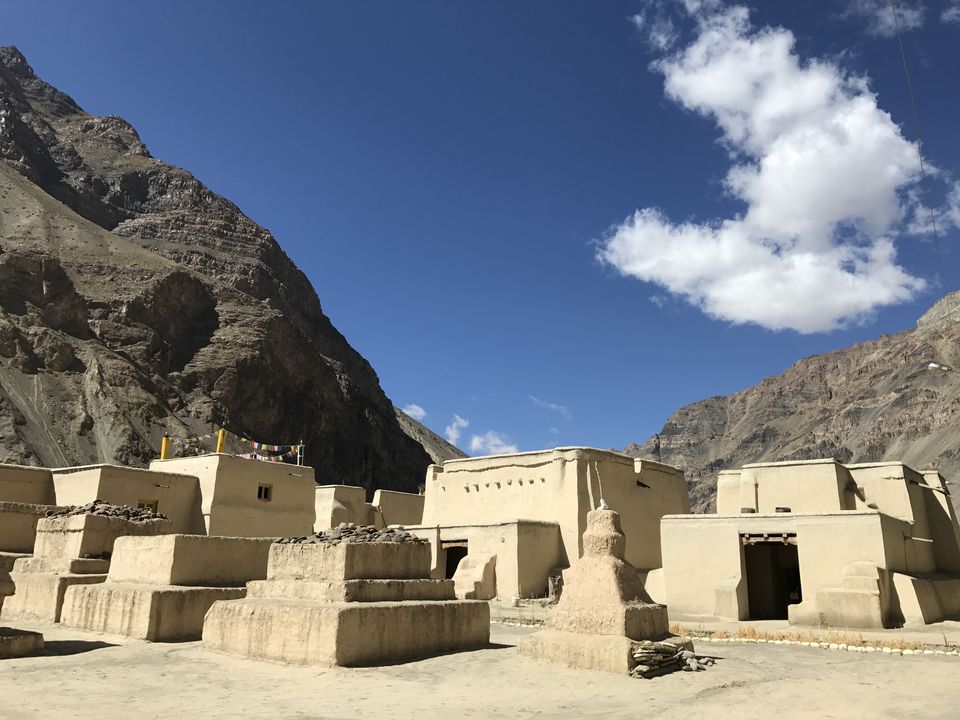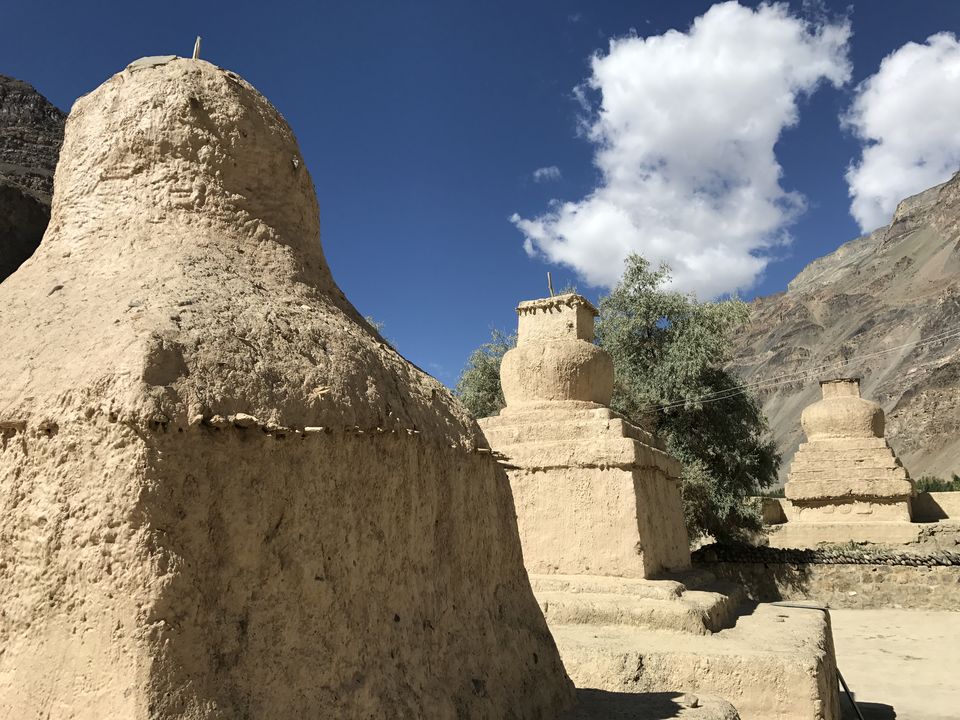 TIP: Always pack strong sunscreens to avoid resorting to filters in your selfies.
Before saying our goodbye to the Spiti kissed village we strolled in the apple garden behind our hotel to get a good view at them edible red gemstones.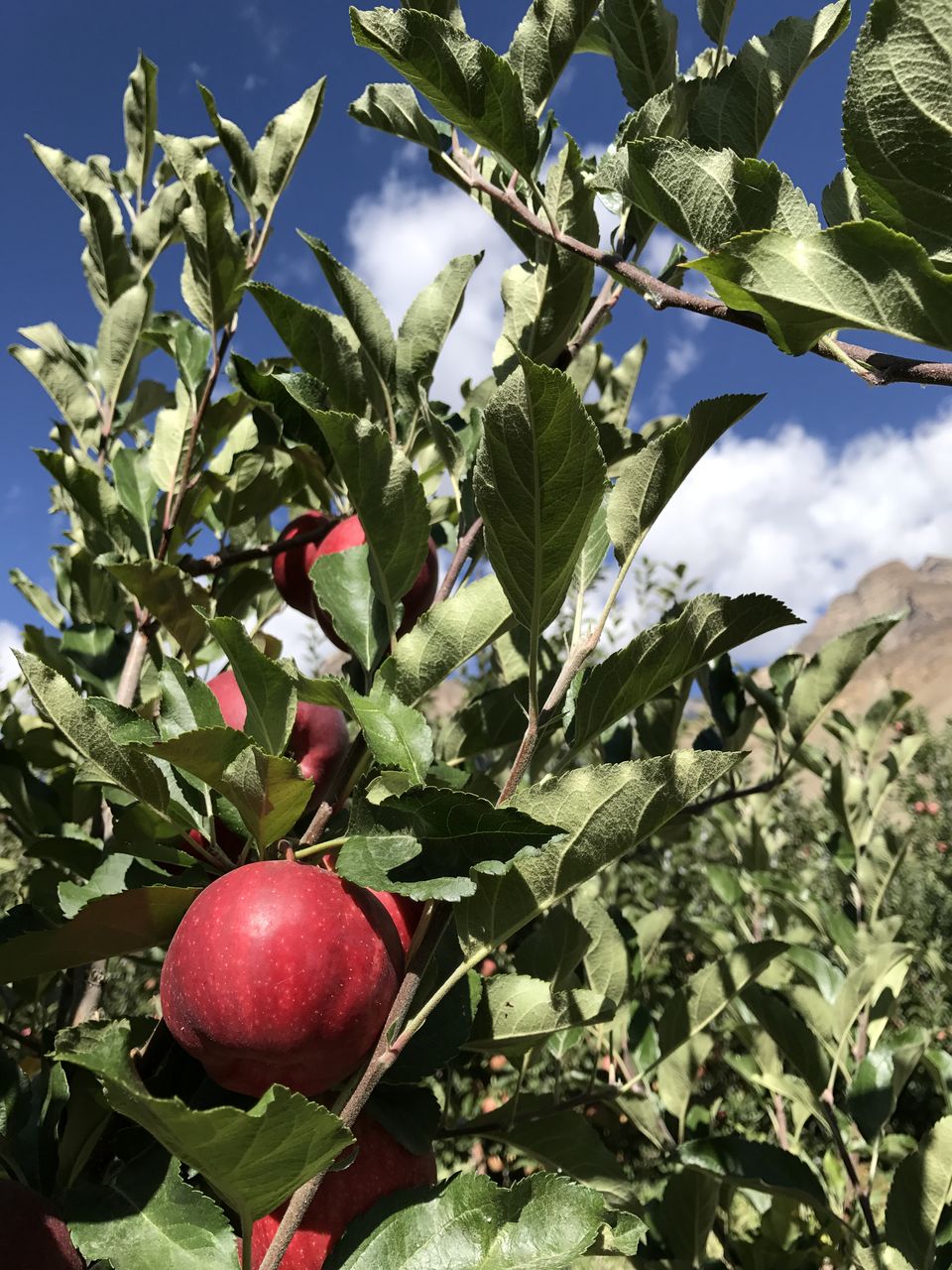 I spotted a flute in his car and gave it a try only to make an ass out of myself which I'm widely known for. He only knew one song which only made it more cuter.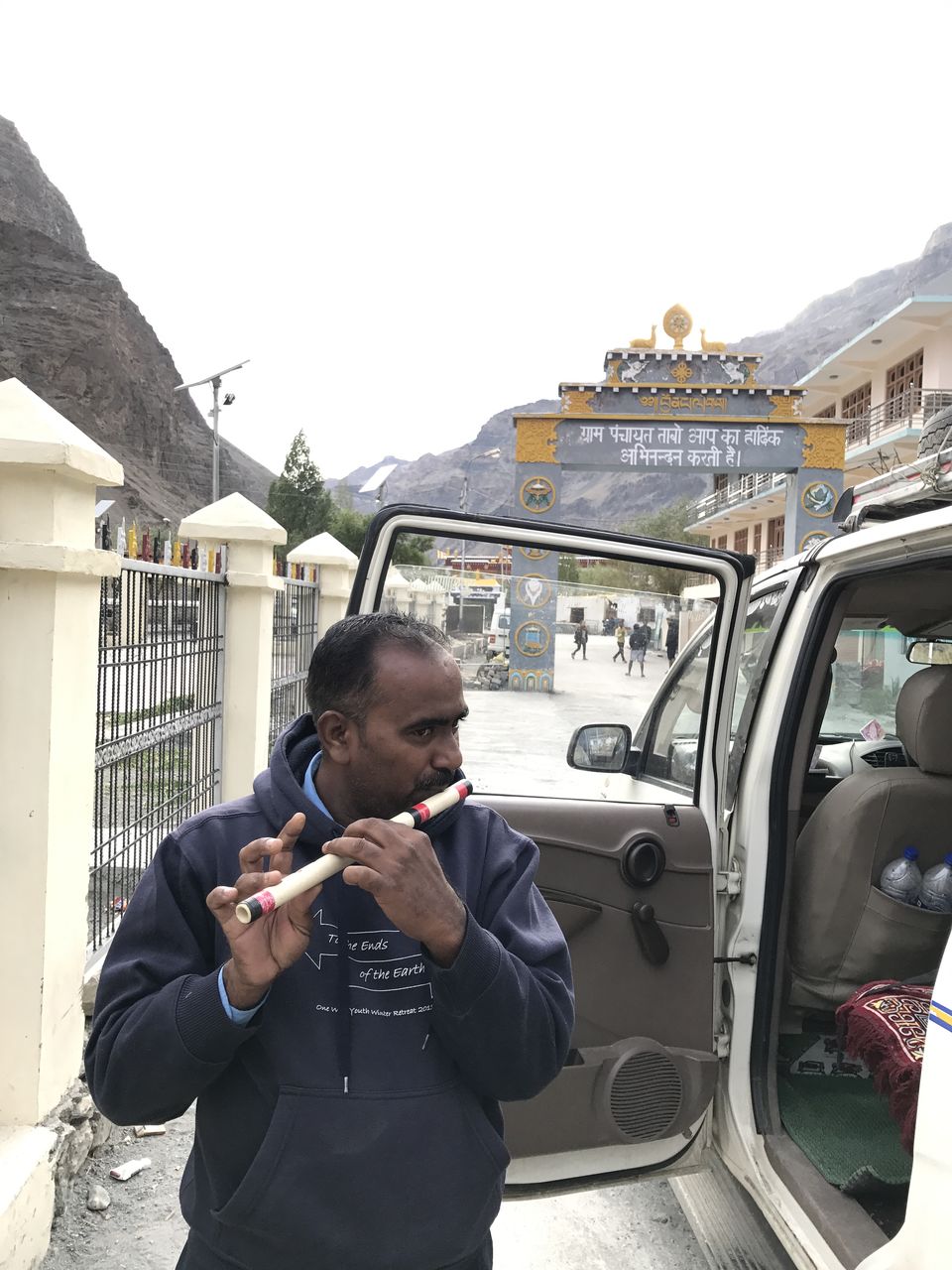 We did a little shopping from the local stores where she haggled over things men wouldn't know what they were.
The approach was

We somehow managed to leave for Dhankar Monastery and I have to say this -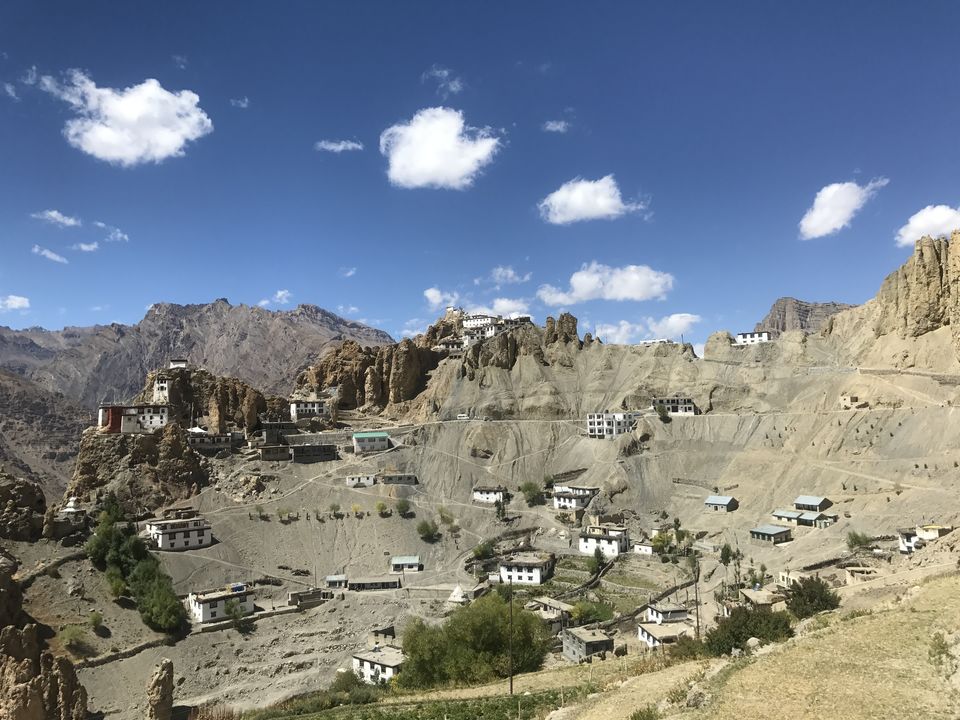 there couldn't be a more befitting seat for a Gompa than an elevation of 12,000 ft with the confluence of Spiti and Pin rivers to boast about. Less Gompa, more fort.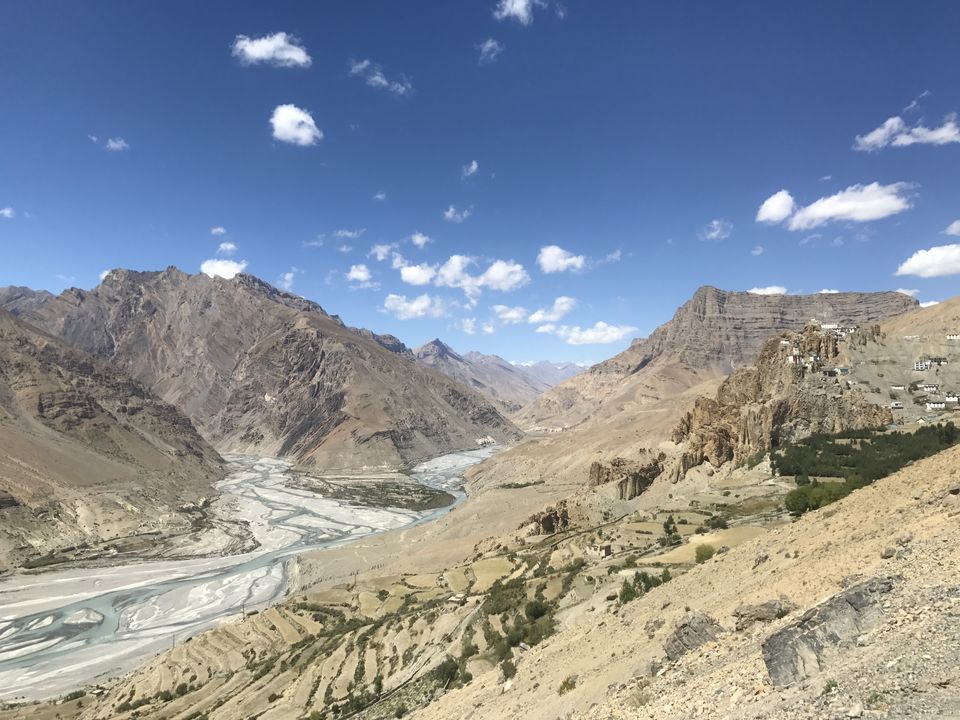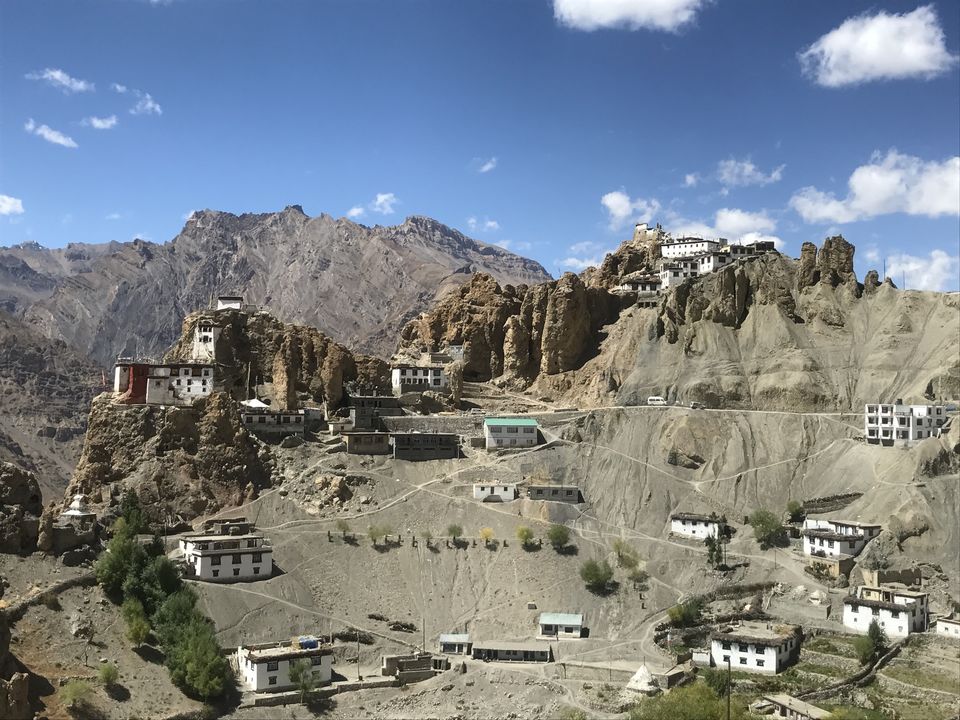 The view from the monastery was nothing less of magical.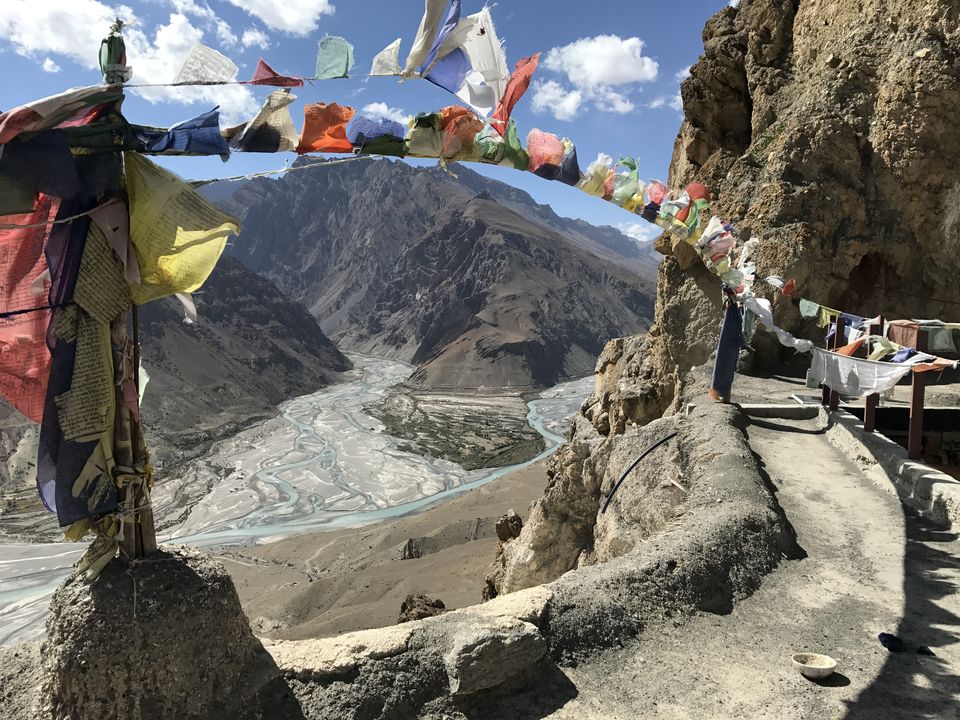 "The look on her tired yet radiant face made the arduous journey seem like a cakewalk. And I would do it all again in a jiffy without giving it a second thought. She hopped countless shops like a bunny searching for that perfect stawl to rock a steady yet clumsy dance which made my heart sing. As I held her safe from plummeting down the deep gorge I realized it wasn't her I was saving. The beauty of attachments is intensified by the fact that we give it our all without any expectations because what's love if not unconditional and absolute."
The drive from work to home is a hectic 15 km of city roads with the exception being an uninterrupted stretch of 6 km smooth roads flanked by Sabarmati. The riverfront road initiates a chain of thoughts every single time I cross. The damp smelly air surprisingly becomes the highlight of every evening as I want to be headed home, just not reach there and keep driving.
One such journey was to a village called Mudh.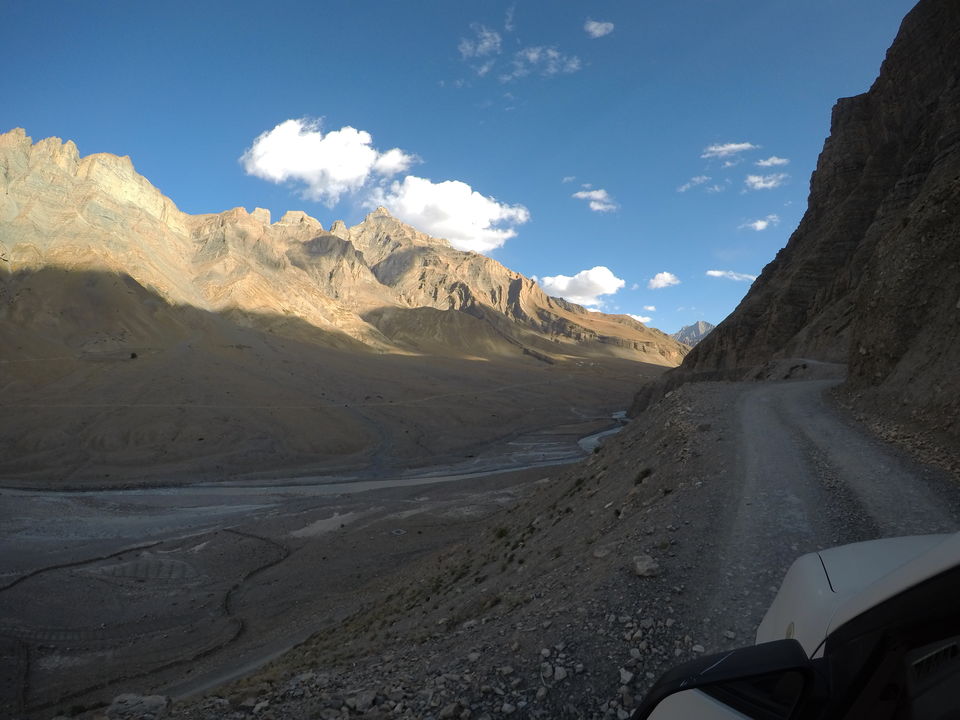 The train of thoughts takes you to a place where it's just you and your solace. Your worries melt into the ocean and the destination suddenly doesn't interest you anymore.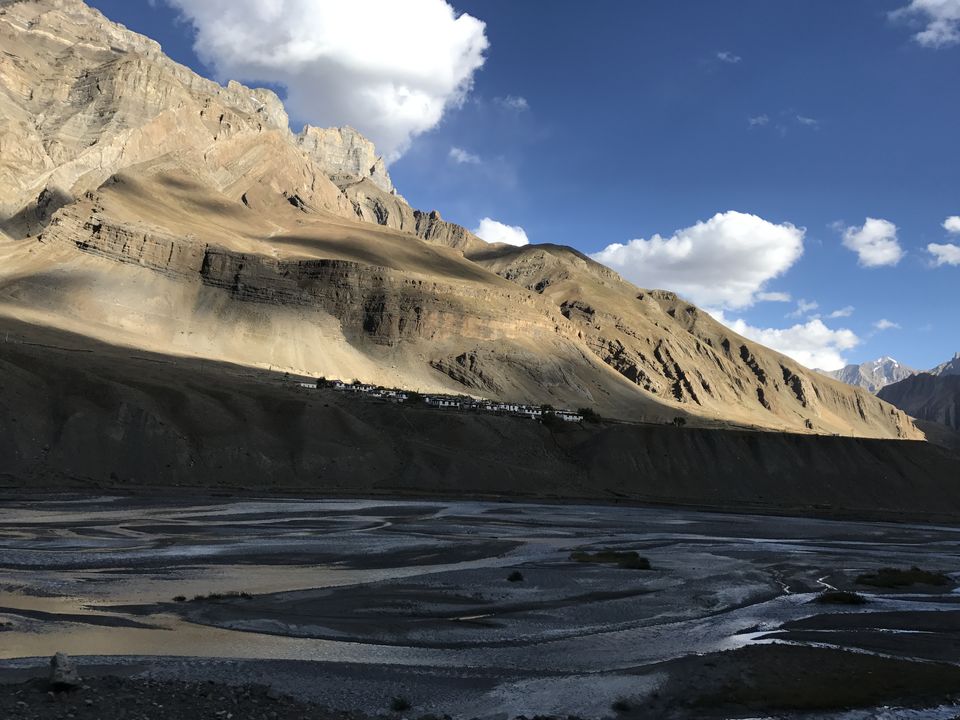 The ever so scenic route was scattered with natural taps where in one splash on your dust ridden face has the capacity to stun you. I became one such victim when our driver almost lured me into taking a bath right there. I passed on his offer as soon as I took a sip.
"सोचो मुँह धोने से इतनी ताज़गी आयी, नहाने से तरो ताजा हो जाओगे" Haan BC.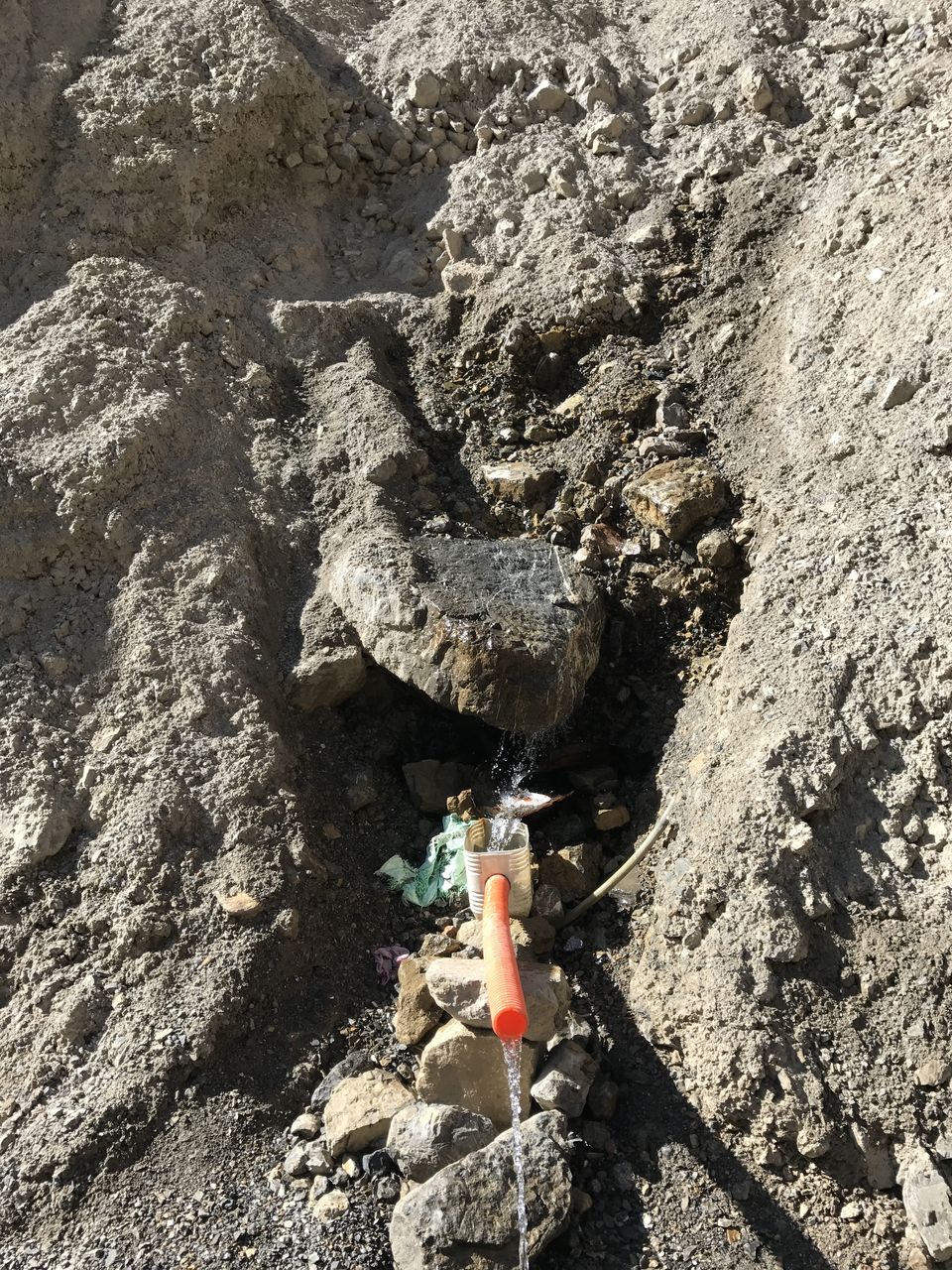 We reached Mudh before the sun was about to set. There are a handful of hotels where we had to find a comfortable corner to curl up to.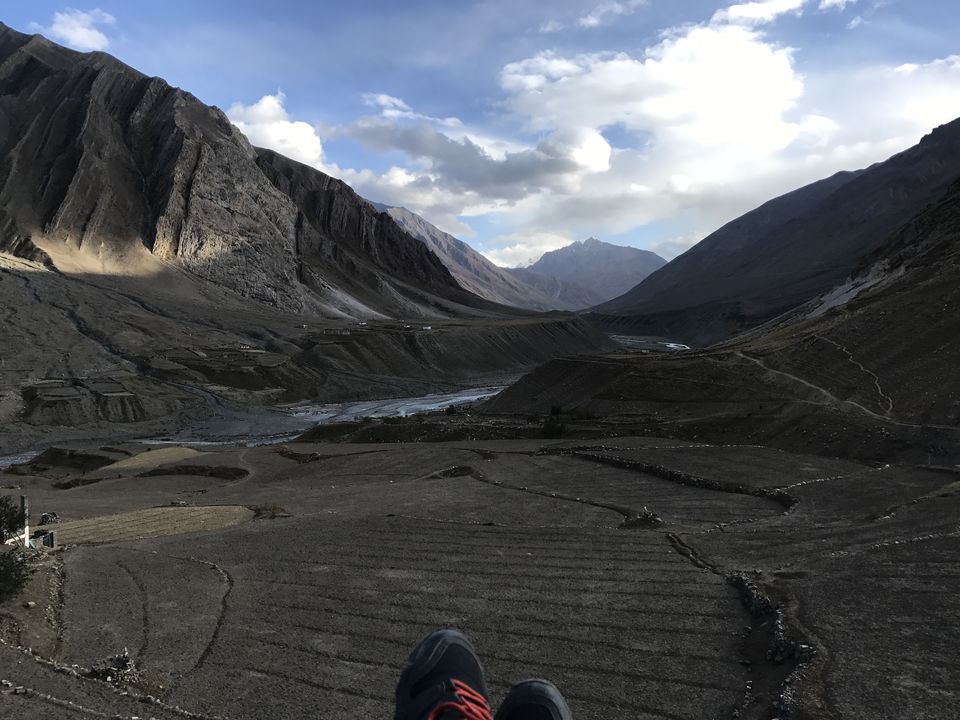 All the hotels were booked but the brief time we spent in Mudh was enough to keep us wanting for more. There was a massive shed like building which had its shutters down. Upon asking what exactly it was the driver responded with -
"The HRTC buses which end their journey here rest for the night. The drivers are offered shelter and food by the locals in a round robin fashion." Cool job, yeah?
Without a single regret we decided to leave for Kaza to spend our next two memorable days.
Day 5 - Komic-ally Desperate to Breathe
Our lives revolve around screens of all shapes and sizes. We are constantly on the edge of our seats more interested in what others are doing their lives often forgetting about our very own. Places like Kaza force you to discover you. Without a signal on your smartphone would you ever aimlessly stroll the draped in your favorite fleece listening to Ed Sheeran unapologetically.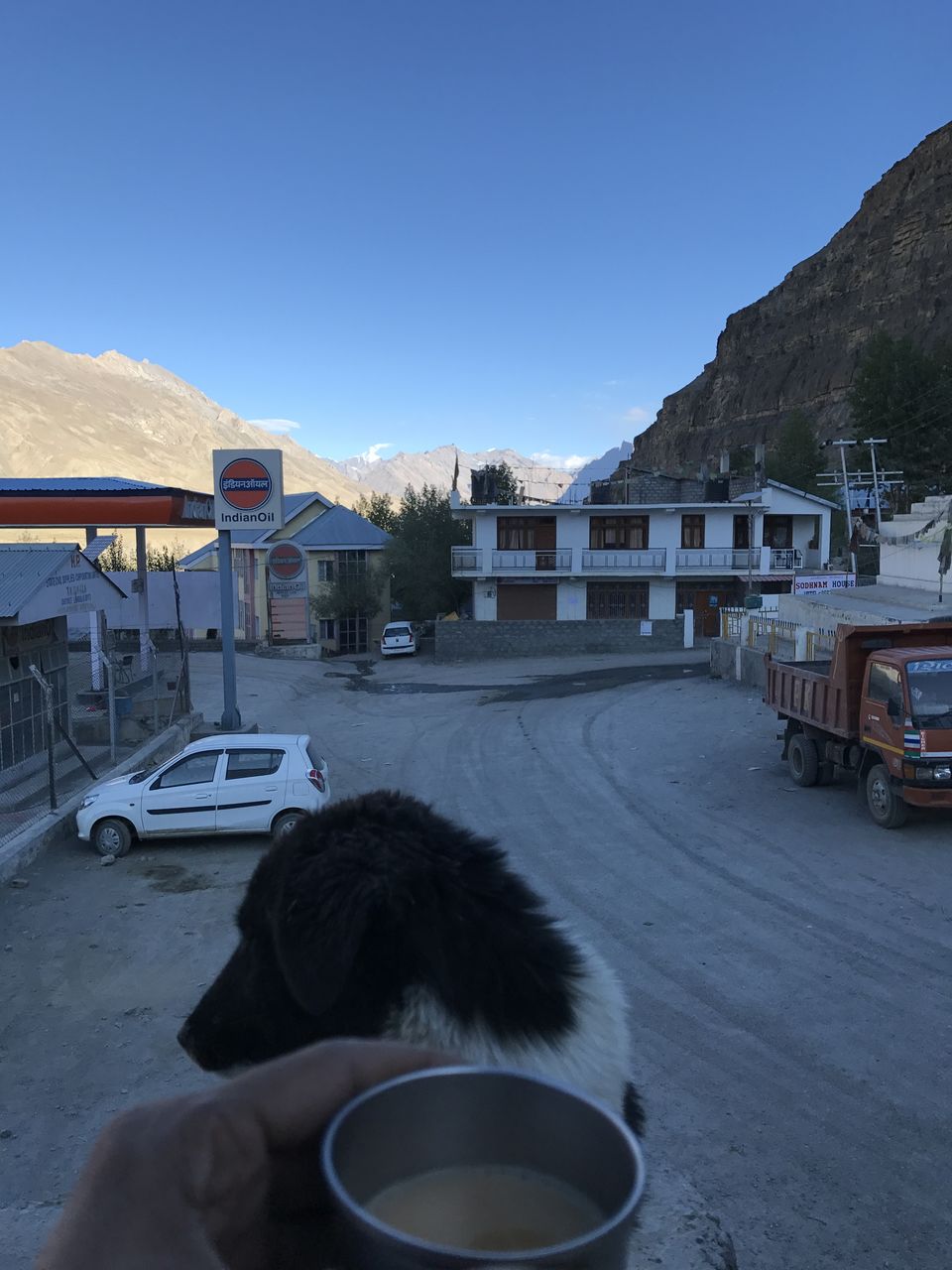 Or climb up a fleet of stairs to dangle your feet off a cafe's roof made out of mud, only to have a pupperino follow you. The air was too chilly for me to continue the romance with tea and pupper.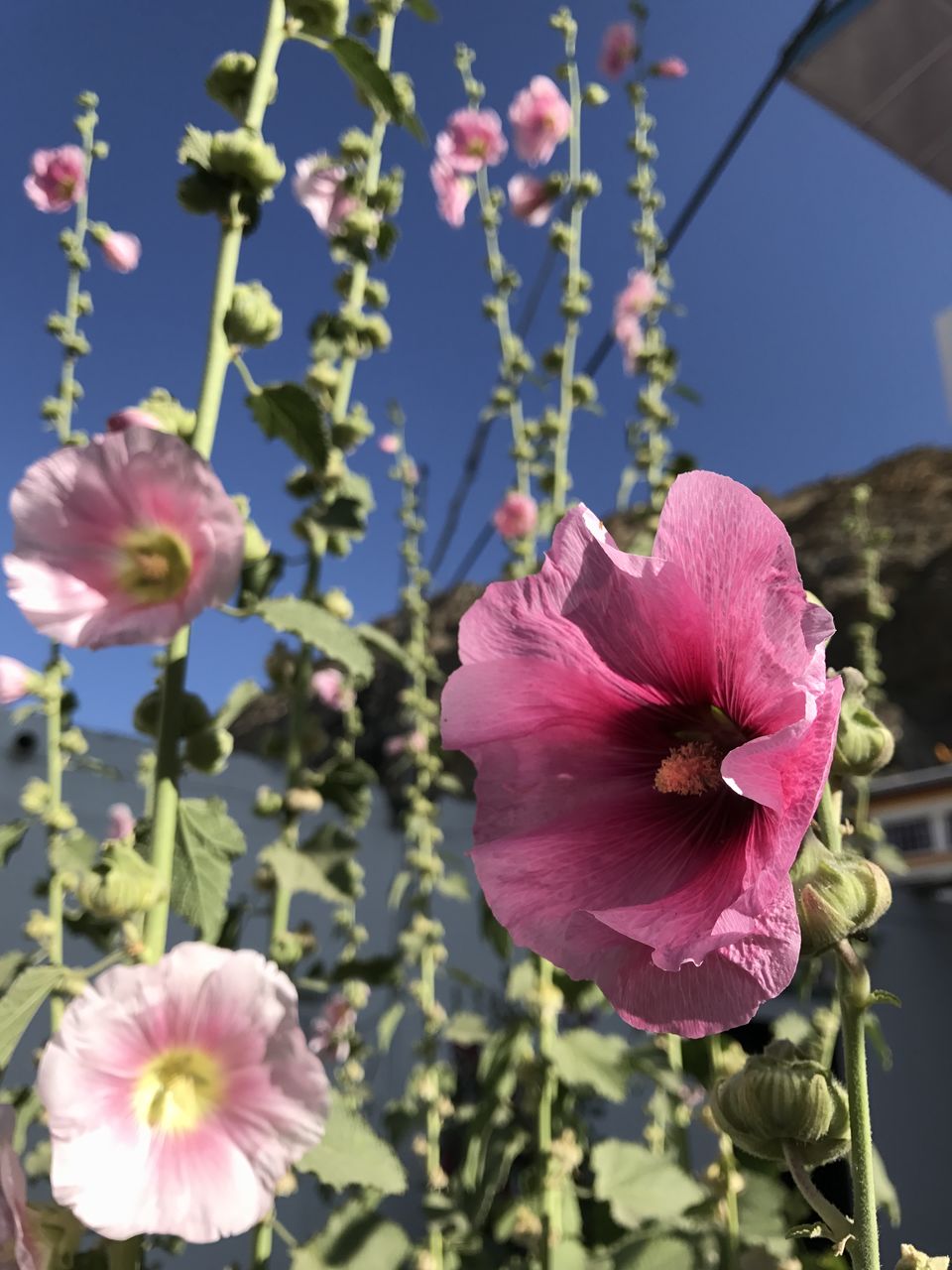 A flower may look beautiful to the naked eye but it represents love more than pollination science. Notice how the stigma is cared for by the petals around it?
"Love resides in the brief quiet moments. It's in those extra five minutes
at the end of each phone call,
of staying in the alley while dropping her for that last wave,
of the hug from which she isn't pulling herself back from,
of cribbing about a spoonful of that horrible soup she offers you.
Love is not one big planet but tiny satellites which orbit you making your limited time on this planet a little more beautiful day-in and day-out."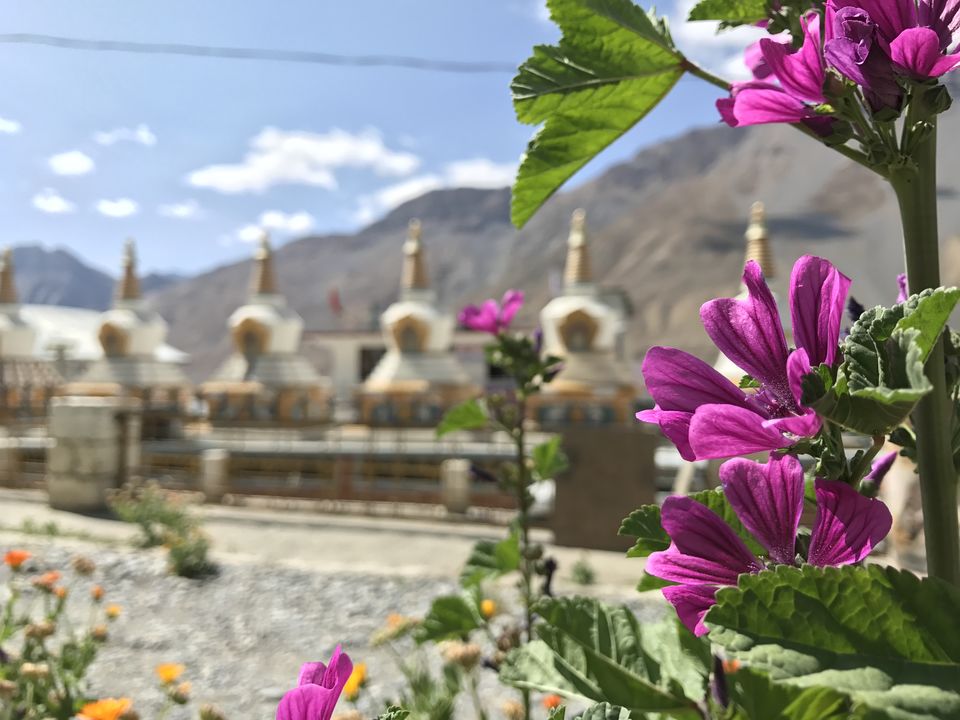 If you are ever in Kaza find this place from where I took this picture. They serve some real good aloo-paranthas.
A few kilometers into the road leading to Langza we stopped to take a stroll. We were standing on a huge patch of flat mountain top flanked by even bigger mountains.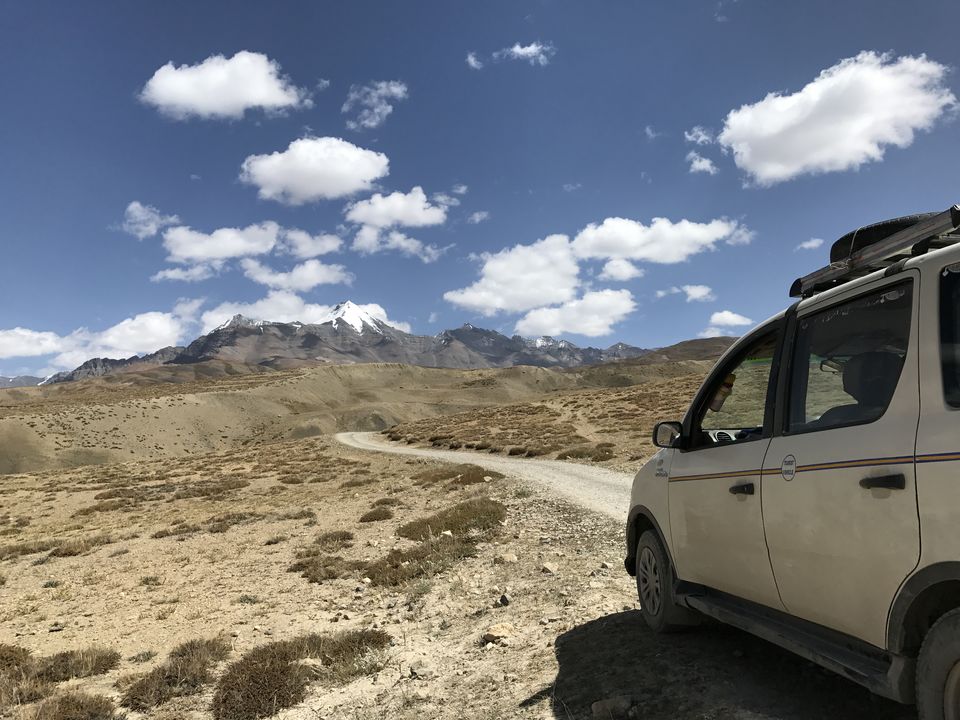 The predominantly Buddhist village is situated at 14,500 ft above sea level and is among the highest villages of the world. The main attraction of this village is the giant statue of Buddha which is believed to be a 1000 years old. It can be spotted easily from a distance sitting comfortably on a hill overseeing the ~150 people strong village.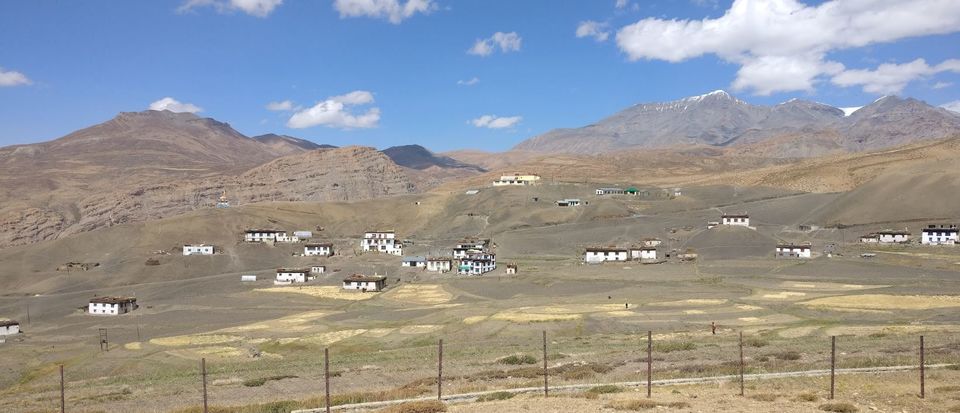 Okay let me move a little closer.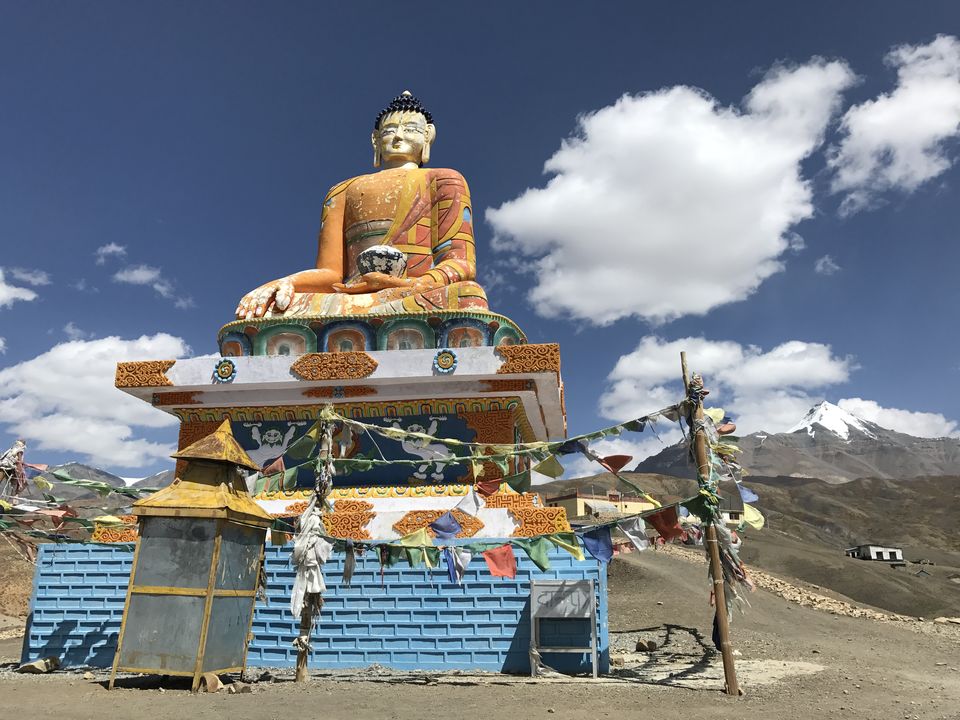 Oh and did I mention it's also known for fossils of marine creatures. Get yourself to higher ground and look under the huge stones.
From Langza we moved towards Komic and a customary picture in-front of this board was only fair.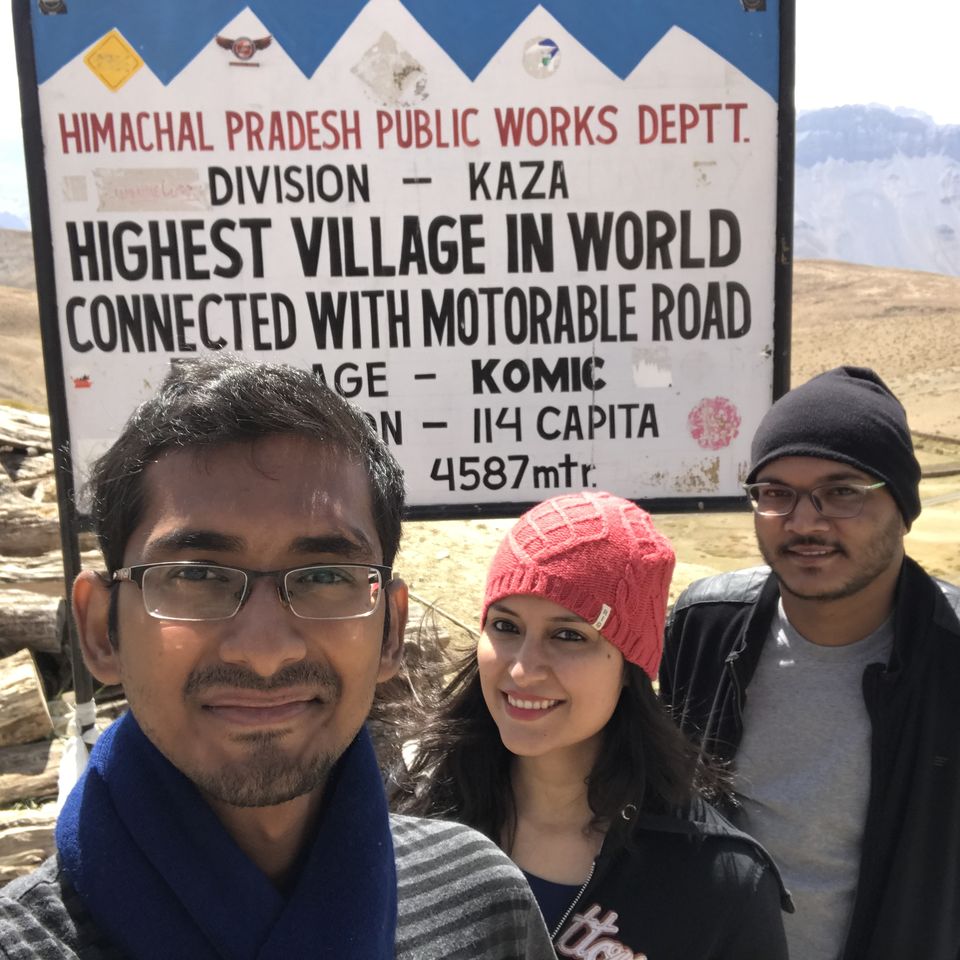 This village is also sparsely populated at an altitude of 5150 m above sea level with a handful of people who call it their home. The landscape at Komic is a mixture of barren lands, naked mountains and discrete patches of greenery. But one thing that stays constant throughout this story is the misery the dogs faced at my hands.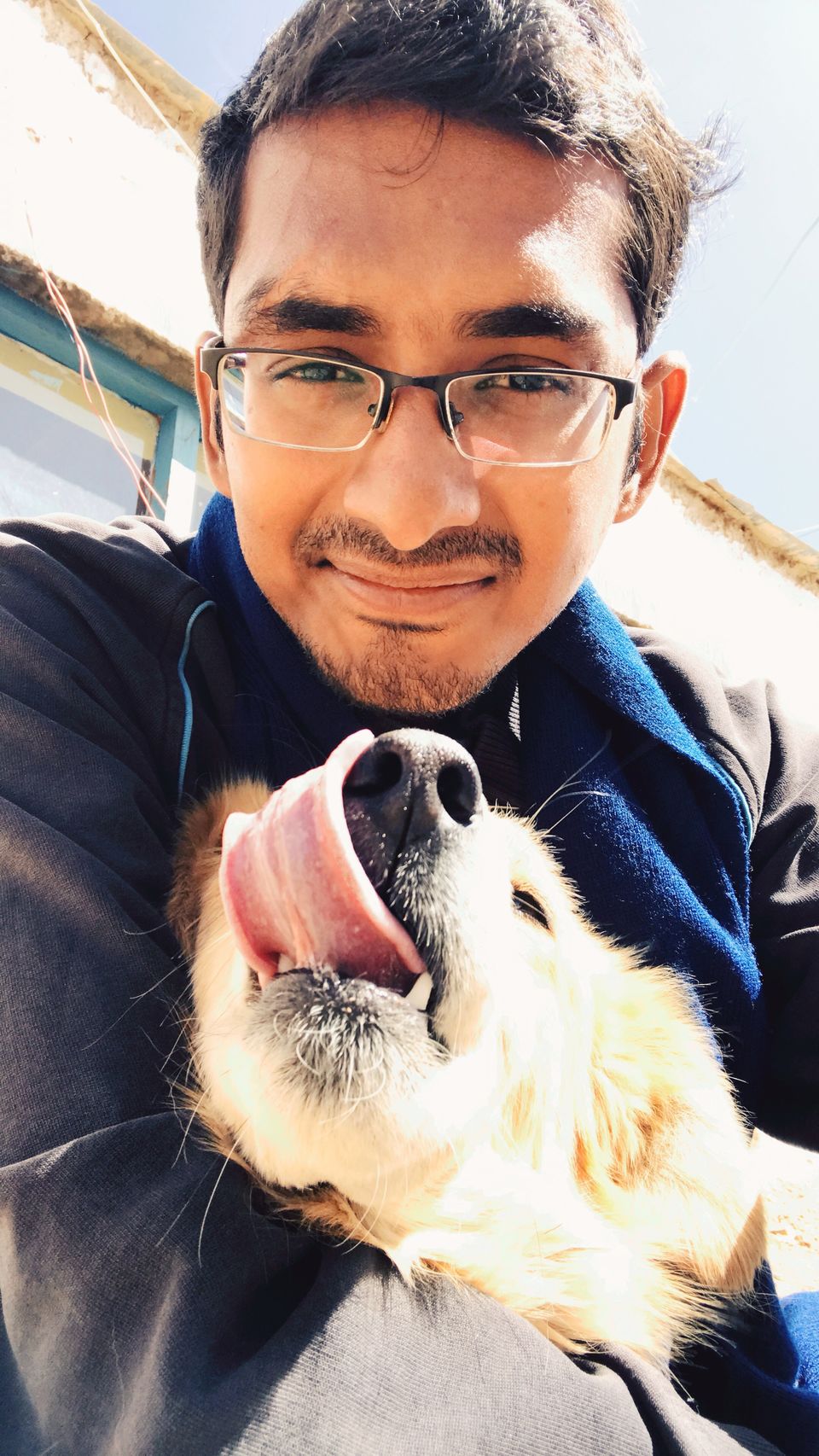 I took a break from chasing dogs to stretch my arms out wide, flashed a long yawn at the innumerable bongs who usually come in masses; for chivalry is not dead. Yet.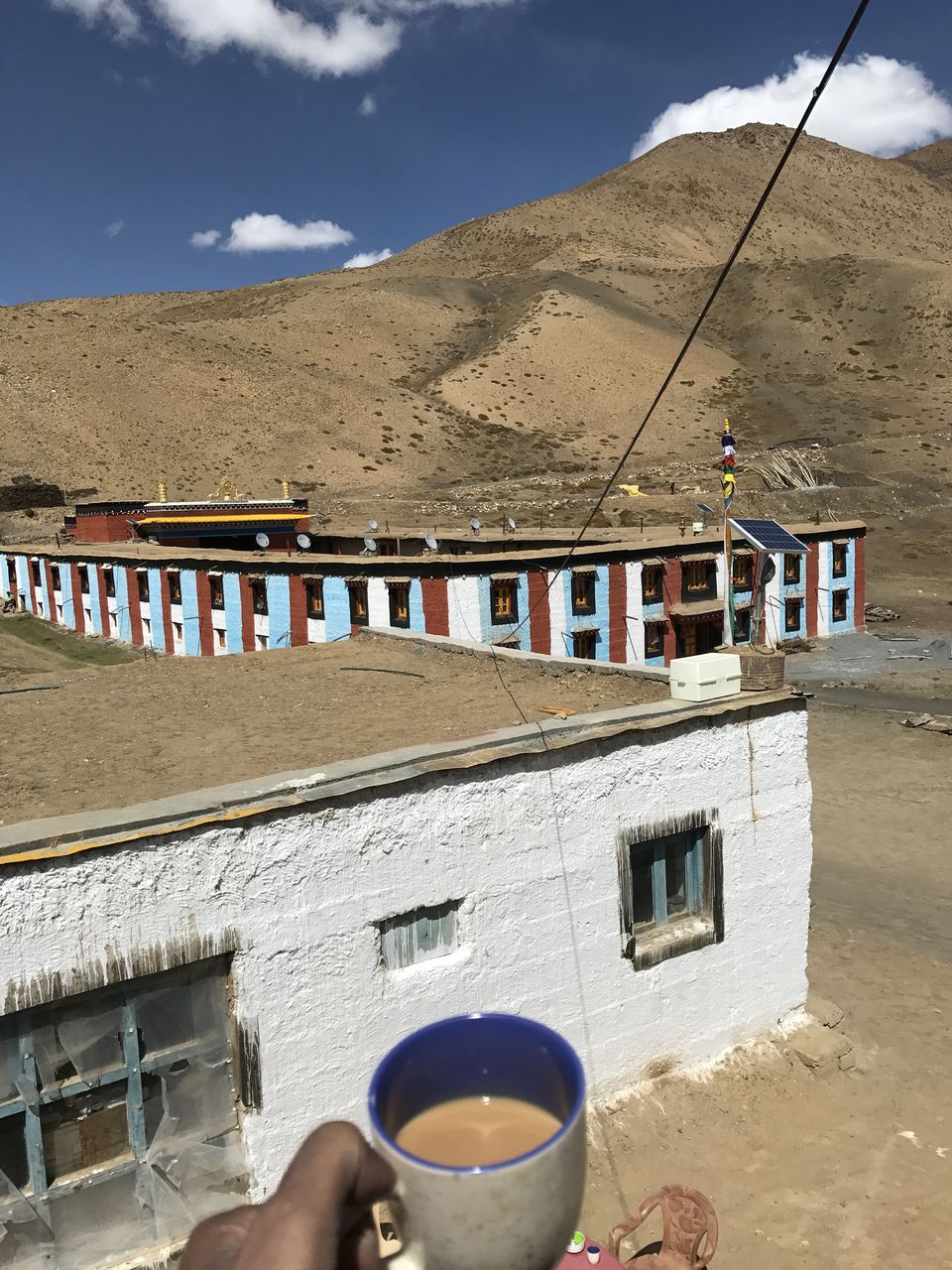 The problem of a good vantage point is that you get a 360 degree view of all moving things you can rush to pet.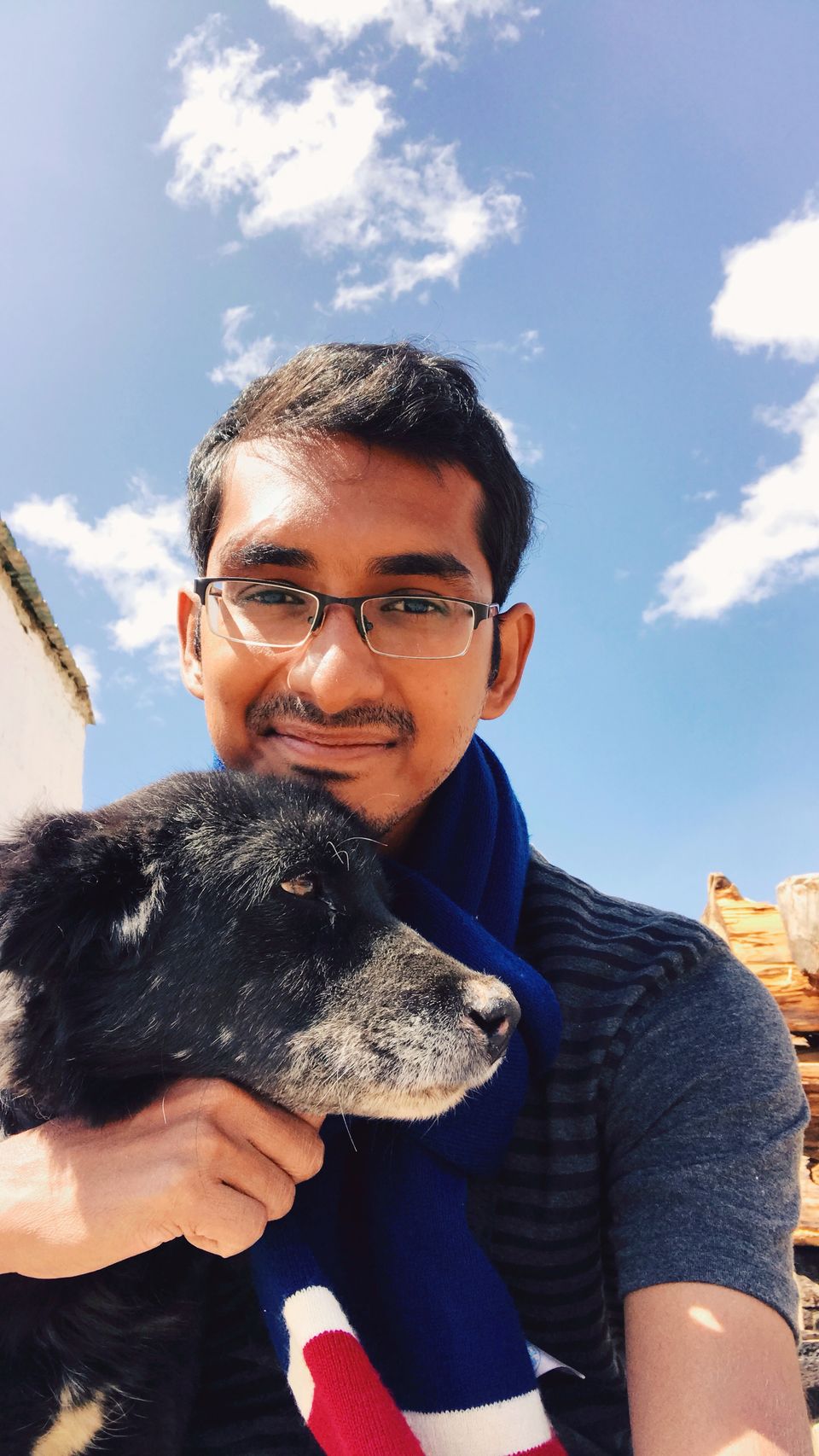 We skipped the Komic Gompa unapologetically. Not because we are a bunch of atheist who don't appreciate neither good architecture nor culture but also because we didn't want to.
My priorities rest with tangible beings who I can prove exist and share some love.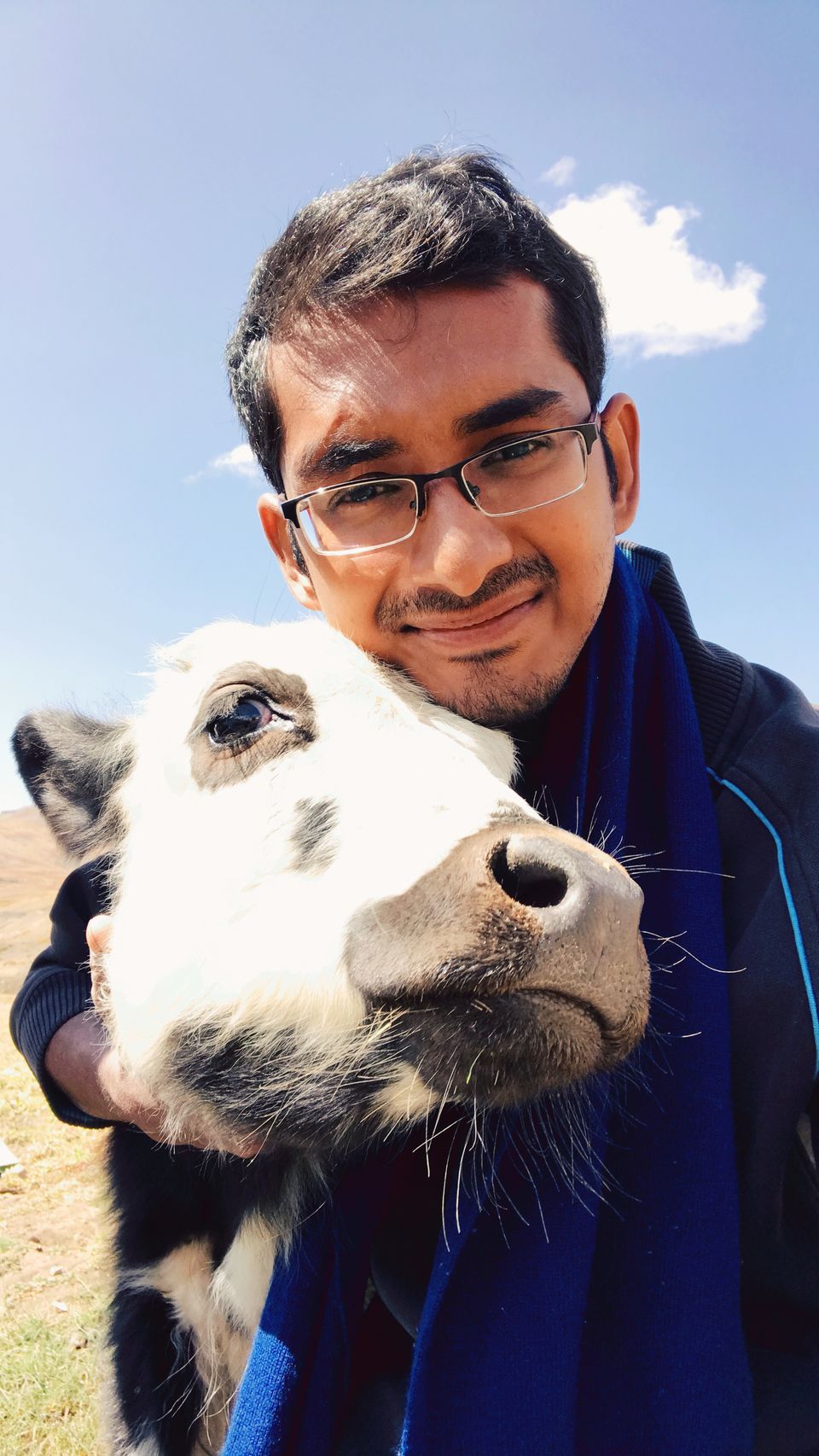 A curious heart craves for new experiences in stranger lands to appreciate every tiny hurdle that comes in the way because we never remember days only moments which end up being a memory. But that shouldn't hold you back from creating your own. Find someone as weird as you and take that shit to a whole different level and when things are down, feel shitty together. A special human with the same shitty taste in music as you hogging the food you both absolutely hate. A safe haven in the arms of someone who hate the same people as you gives you an unimaginable high. To judge people together. Everything. Together.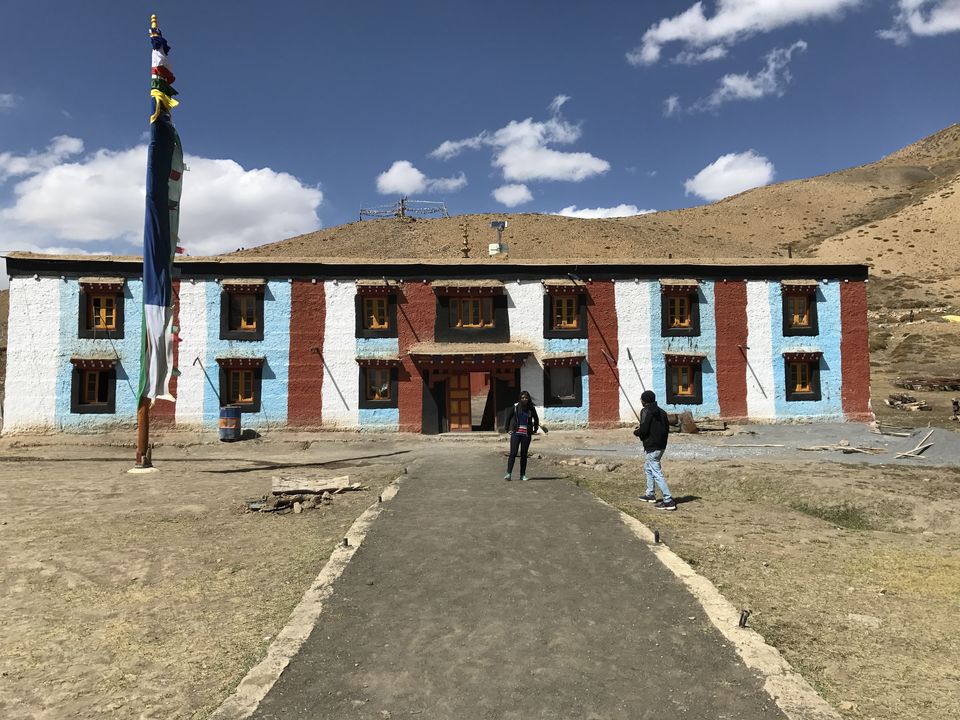 All you need is love..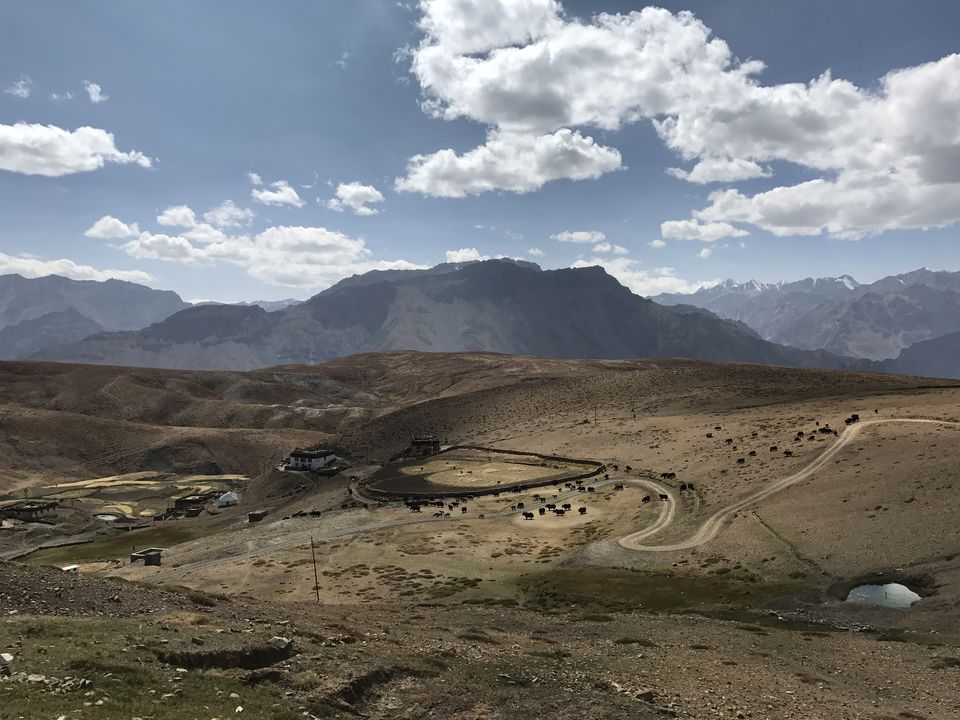 without which we are mere animals humping our way out of extinction.
The landscape was dotted with cattle only to be ruined by motor vehicles cutting their way through the virgin lands. The handful amount of houses only leads you into daydreaming about what life in this valley could offer, and take away.
The bowl shaped village only allows husbandry as cultivation of crops is not possible here given the barren lands only producing enough for cattle to survive. And there's always cheap liquor.
Now let me take to the the highest post-office in the world. Unlike Komic, this title rests with Hikkim undisputedly.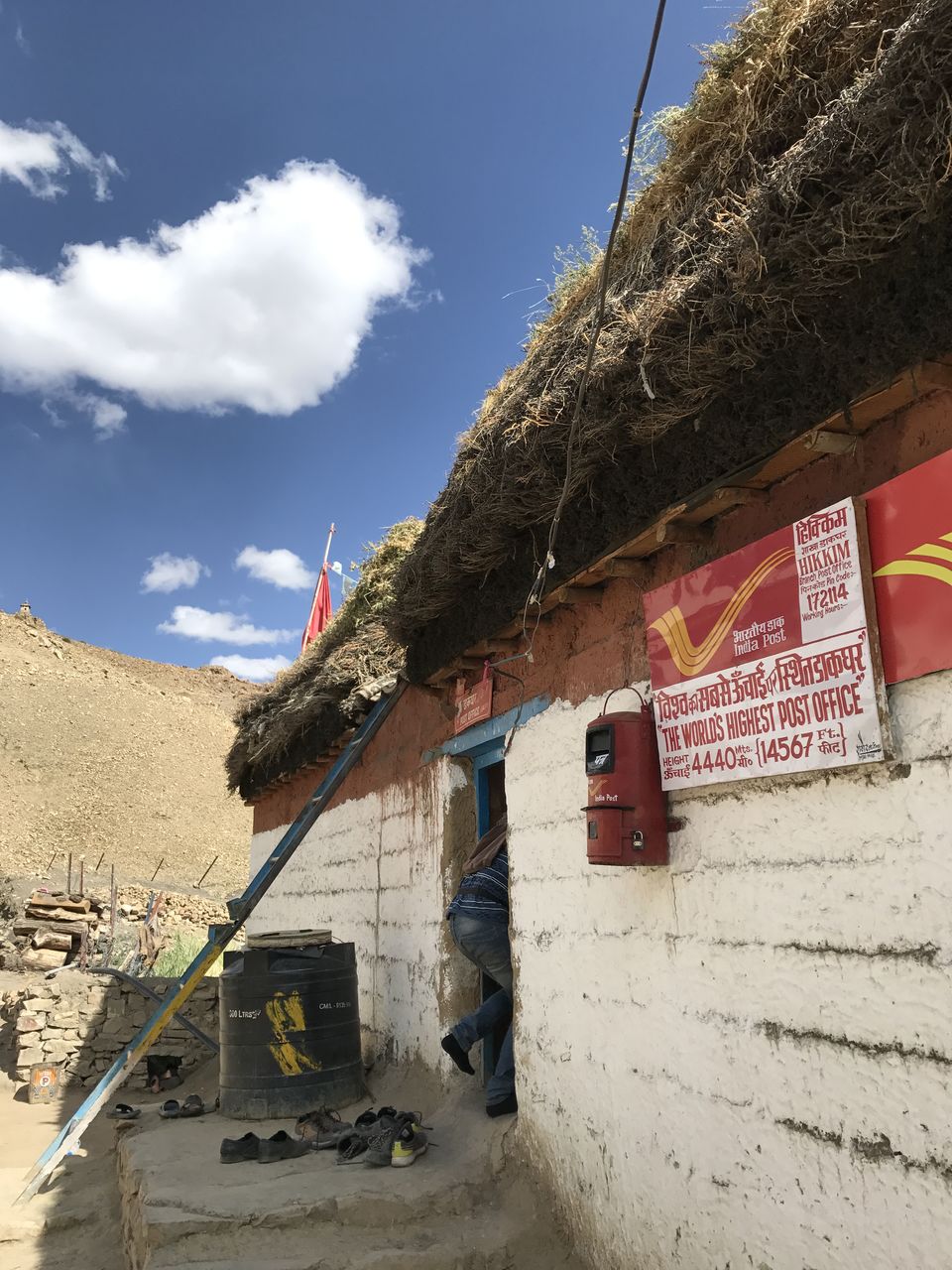 That un-photogenic bum came out of nowhere and is completely unintentional. I had no plans of giving it a place in my story. But hey shit happens, you landed here and you literally had nothing productive to do and reached till here where nothing exciting is happening except..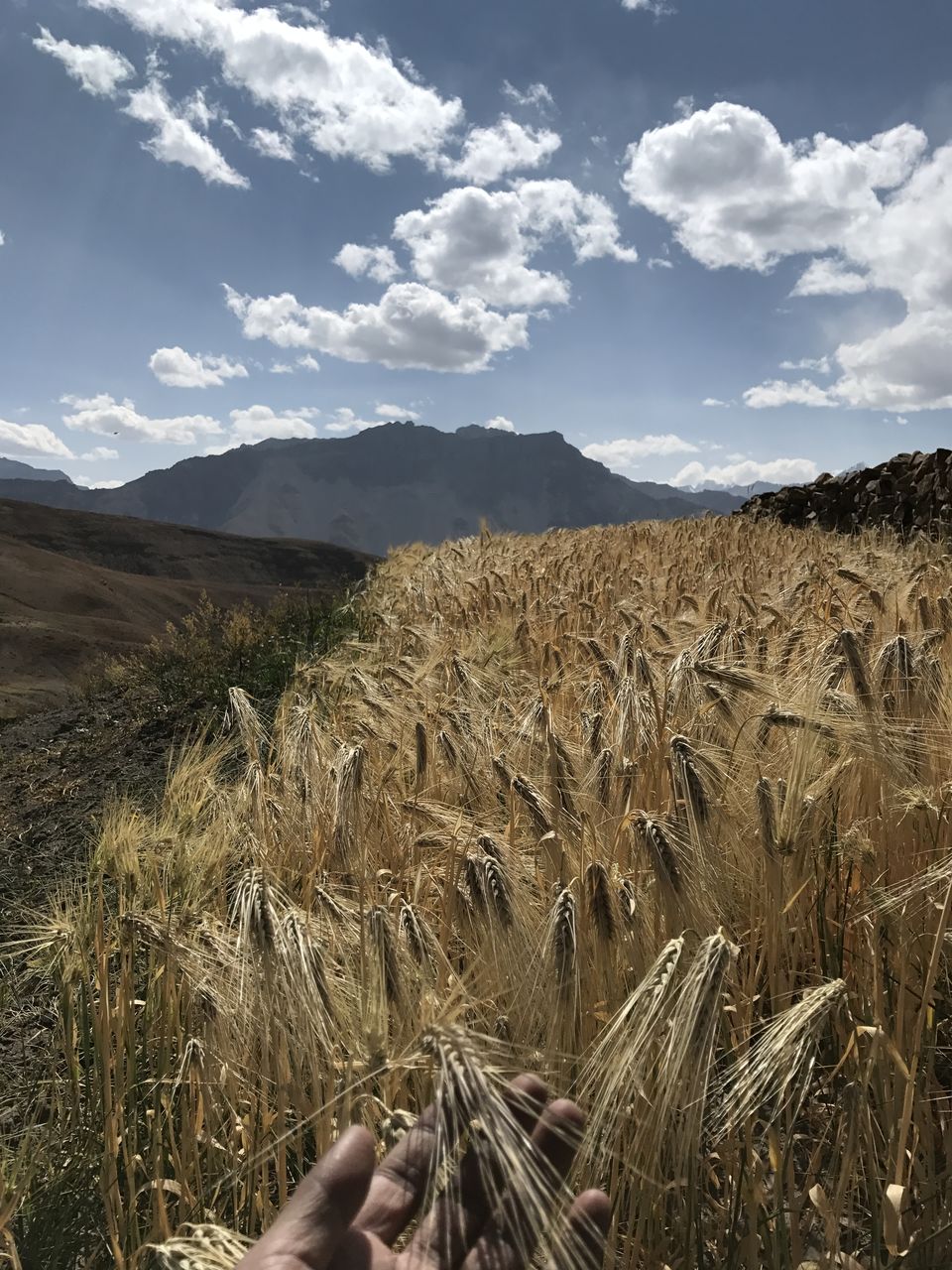 walking past golden barley fields where no touristy things happen. The ripe crops contrast well with the adjacent arid wastelands which are guarded well by mountains on all sides.
Coming back to the post office, you can buy souvenir postcards and drop it in the small postbox hanging outside the home cum office.
TIP: The place easily runs out of stamps so keep INR 5 stamps handy. The only other option is to trust the postman he'll stick one and queue it for delivery.
This is the one I posted to a dear friend of mine which astonishingly reached her in record time.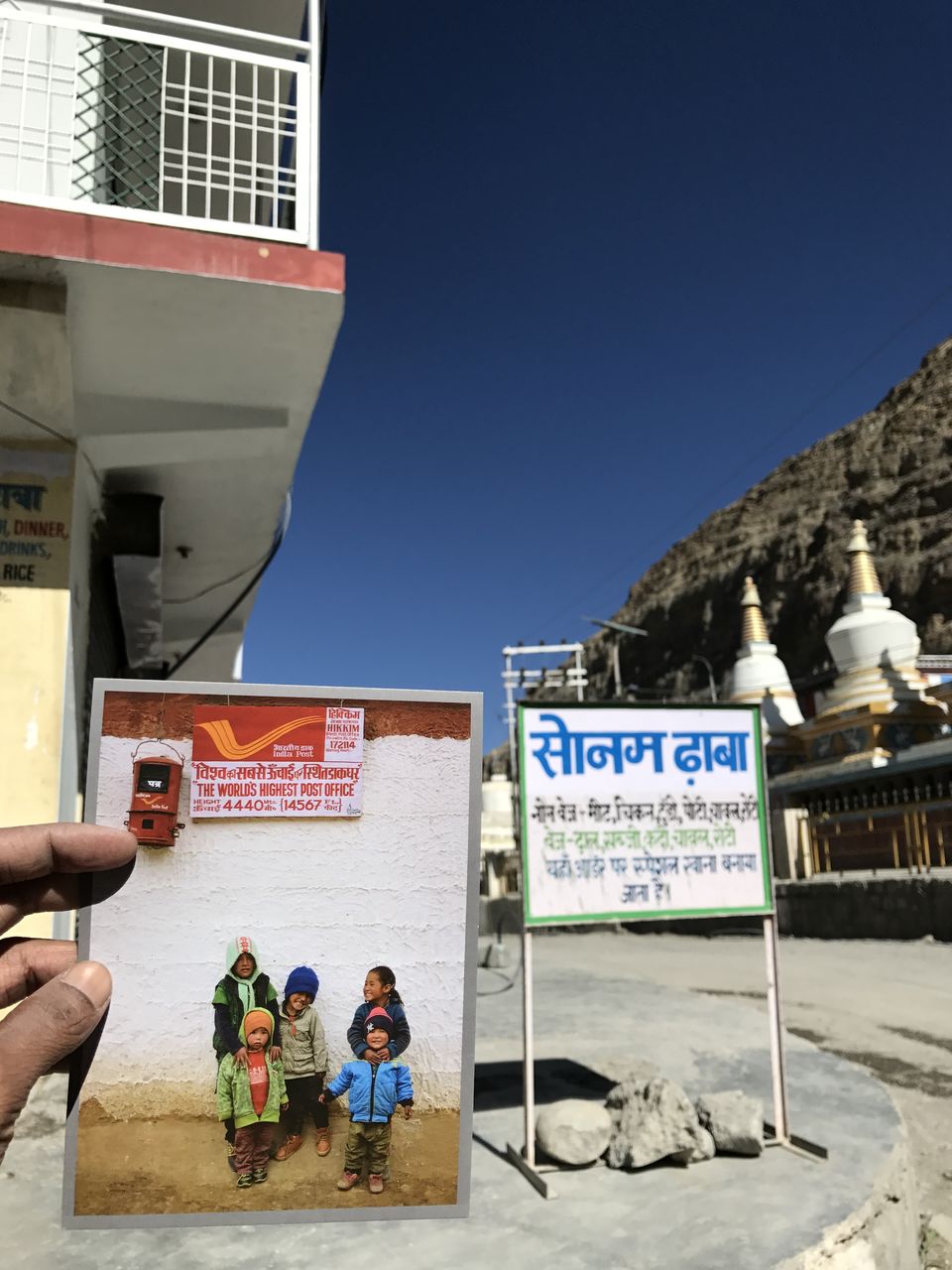 On our way back to Kaza we were lucky to spot a flock of bharal locally known as blue sheep . Their resemblance seemed closer to a goat when we heard them bleat.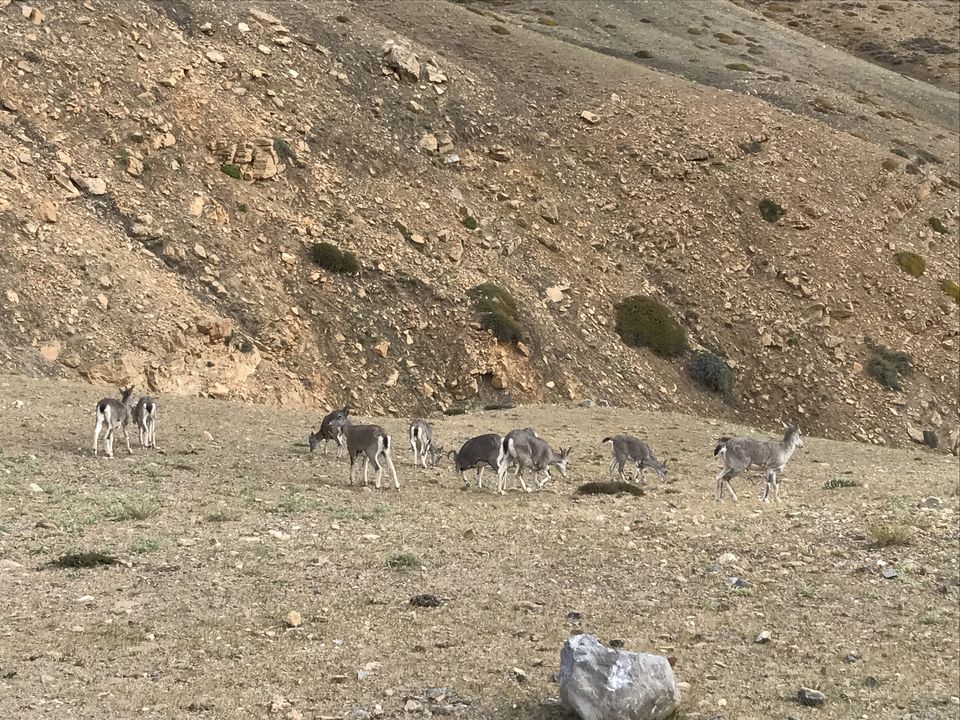 Our driver being a buzz kill repeatedly requested us to keep our distance so as to not scare them away. But we were not there on an 6 month assignment to conserve them cute little f*ckers so we slowly moved forward to get a good view.
As soon as we were to finally leave we saw a baby re unite with his mother only to vigorously suck the life out of her. Literally and metaphorically. I cannot post the video for censorship reasons but I can show you blue sheep jr.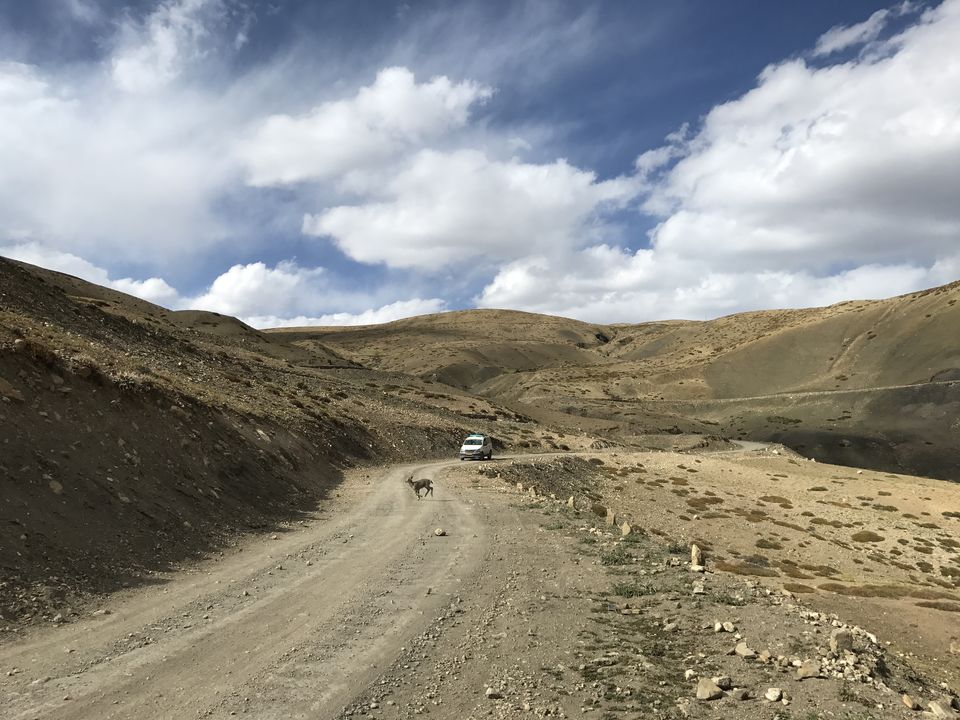 The final approach to Kaza is quite pleasant to the eyes.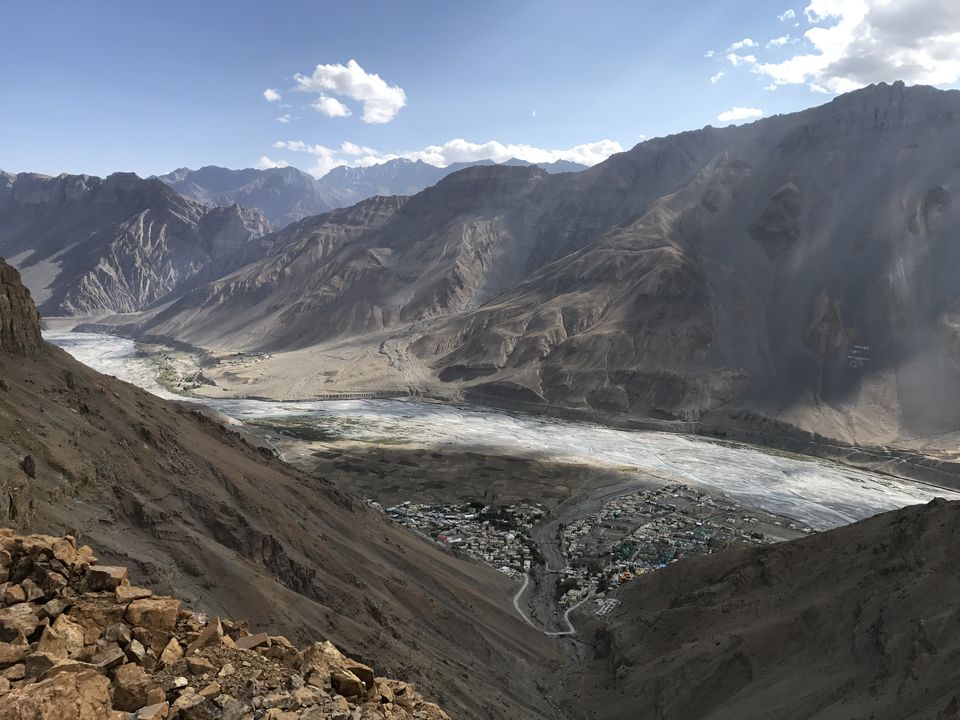 Day 6 - A Key to Losar
We finally departed Kaza to see the crown jewel of Spiti Valley.
We had an ample amount of time today so I let the artist within me loose and all it could come up with this.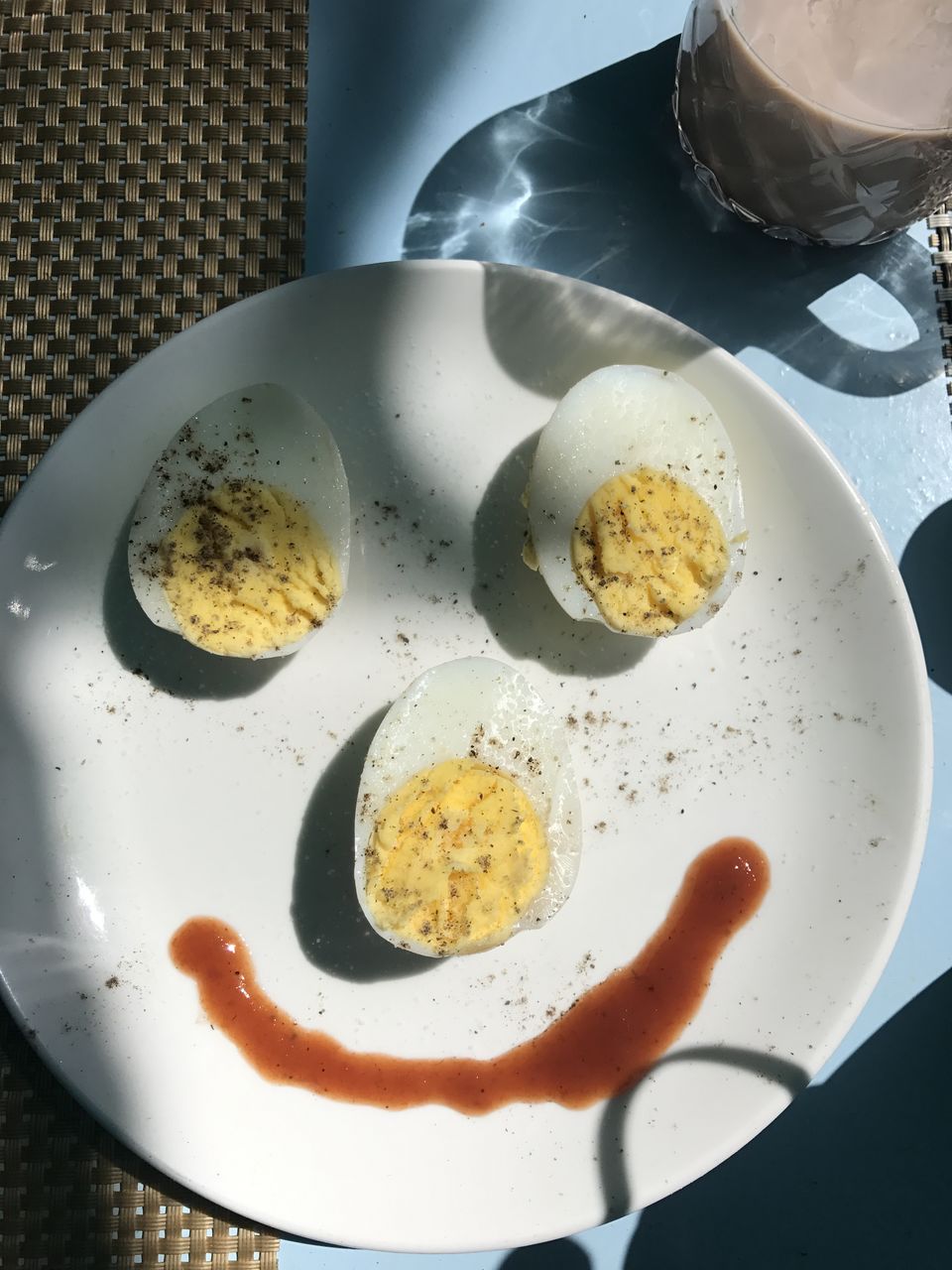 The realization hurts that a low-budget horror movie is all I can direct taking into consideration the enormous amount of talent I possess.
One of the many expendable talents I possess is the ability to whisper with doggos.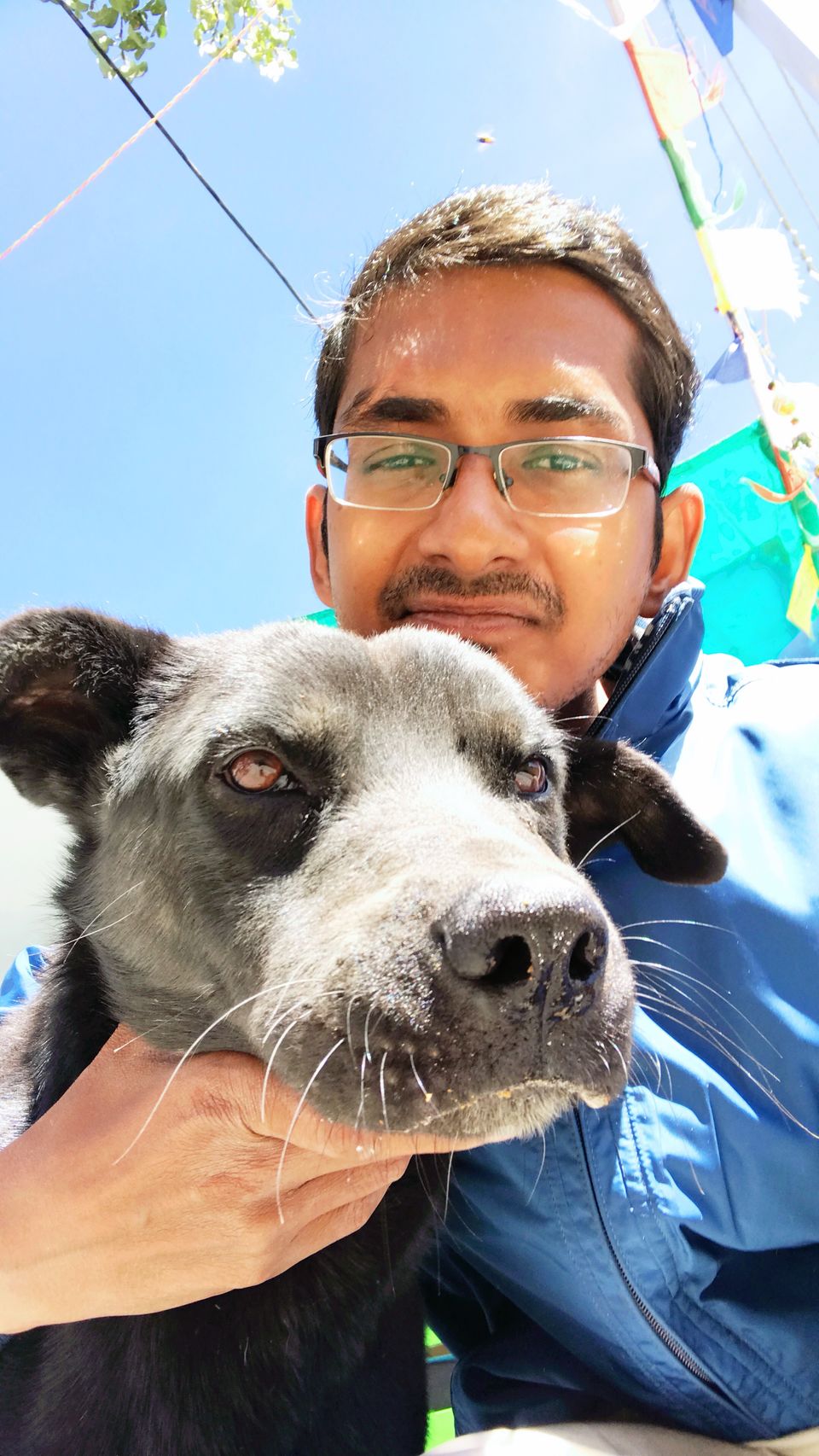 As our car sped towards our destination I immediately requested Lord Ramesh to take a quick halt to embrace this giant sculpture made out of waste. The sculpture is made up of all the plastic bottles we irresponsibly discard. The pristine beauty of this valley is already deteriorating due to the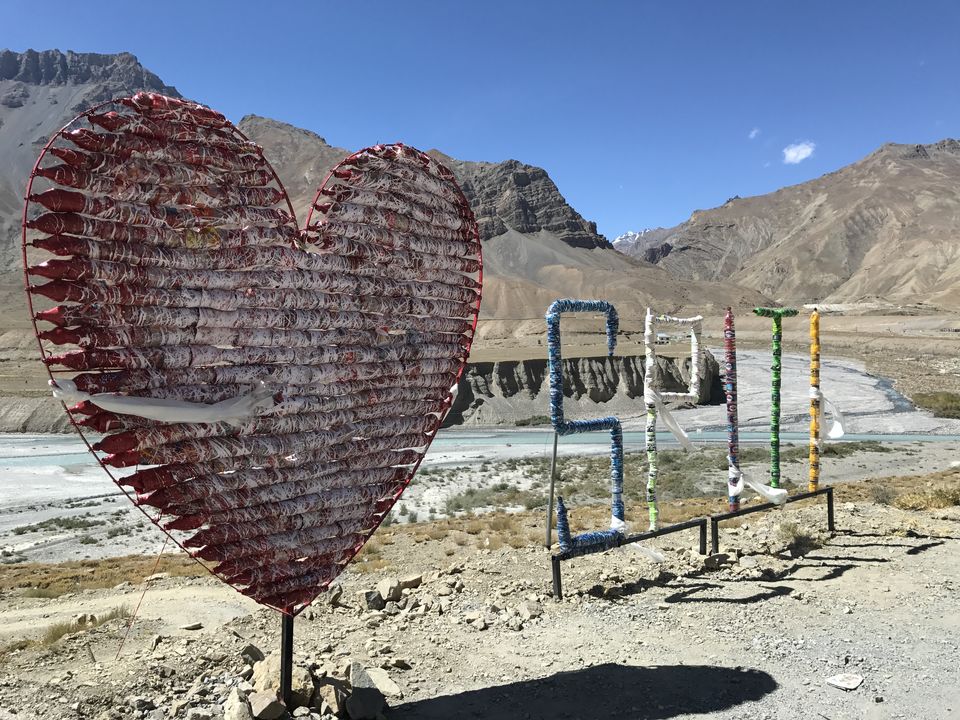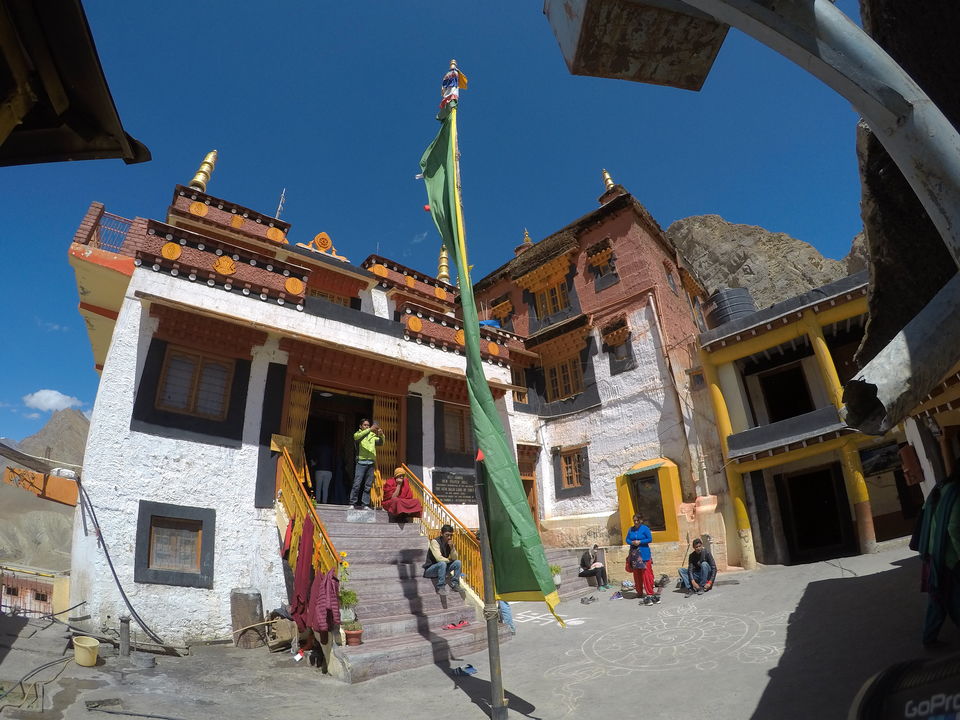 We construct a life around tangible things and get so busy neatly arranging them on our shelves of luxury that necessities fall with a thud. The necessities are new experiences with people who have stood by you through thick and thin; they could be friends, family or a pet who's staring at you from a distance silently passing judgement.
Can you spot the monk on the stair case elbow deep in own thoughts? $799 says he isn't thinking about the latest iPhone X. Or why she's mad this time. Or to spend the new year in Goa or Dubai.
The bell rung shortly which announced the lunch time for monks. The prayers are performed on time like clockwork and their hospitality towards tourists is unmatched.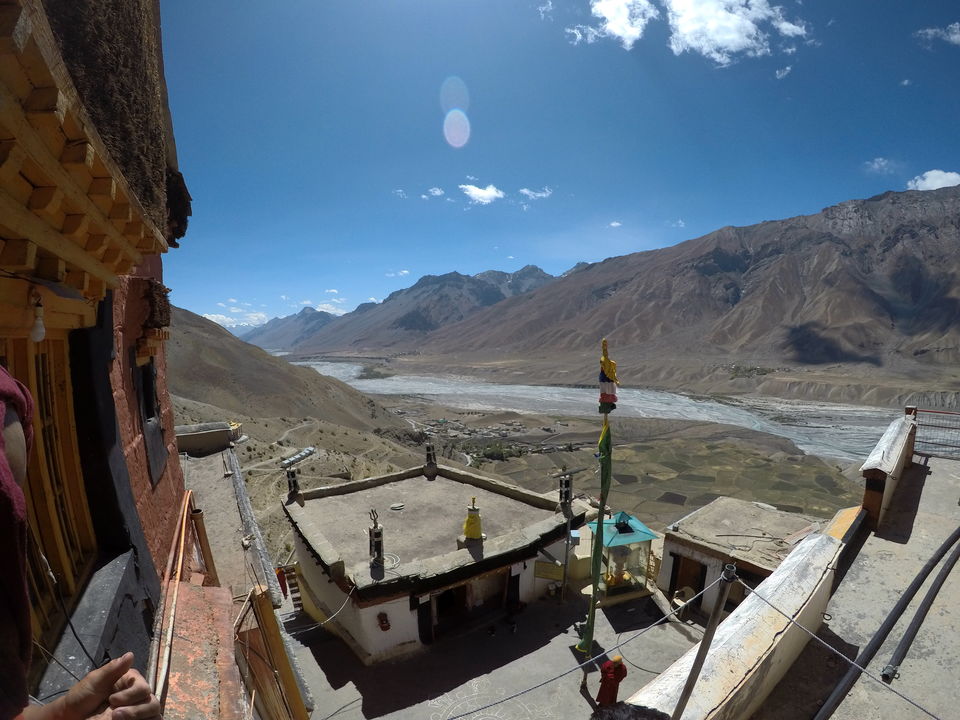 "Let's not rush, darling. Let's just stop right here and freeze this moment in our hearts forever. Let's not ruin the silence with our words and savor each other's emotions through our eyes. Let our fingers do the talking as I hold you in a warm embrace while yours are pressed against my heart. Let's water the shrub of our future to a tree right here in this moment. Let your worries subside like the prayer flag in the absence of wind only to flutter again but this time in my presence for you don't have to face them alone. Let's bail on that big car, kick start the motorcycle you always talked about to take that dusty road towards a school where you always wanted to mingle with the toddlers. Let's drain ourselves making love under the stars for their warmth is only second to yours. Let's not keep Spiti tucked away in a corner of our hearts to reminisce when our hair turns grey but live our entire lives in the brief moment we spent here."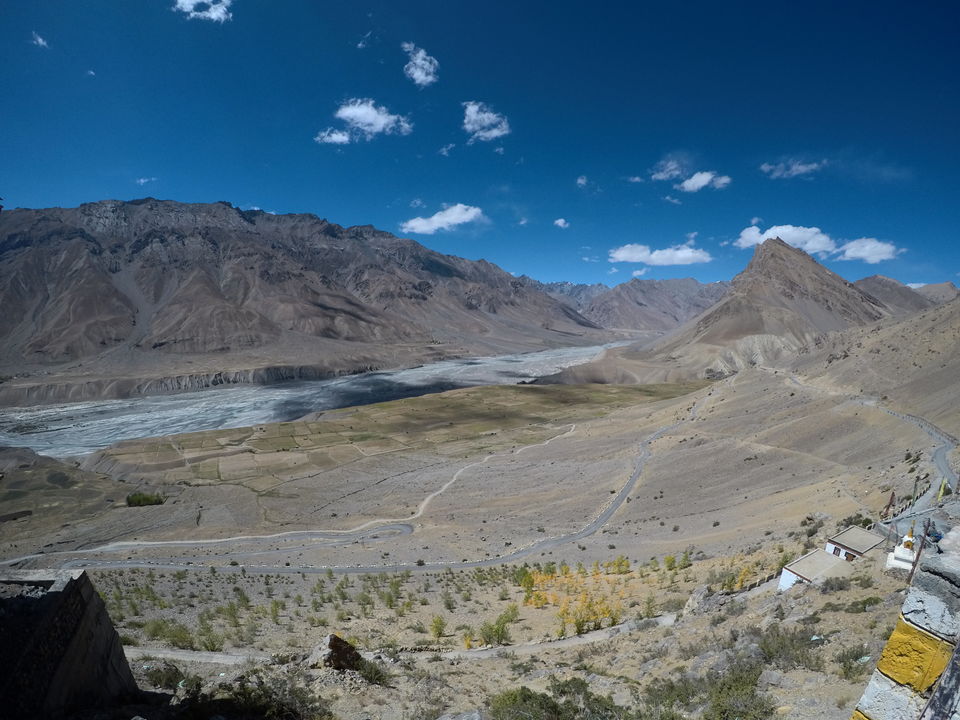 The monastery is at 4,166 m above sea level and hence walking briskly becomes an arduous task. It's quite ironic that given the unfavorable conditions this monastery has been attacked repeatedly throughout the history by sources both human and natural. PWD has done a splendid job restoring this monastery to half its glory and we could spot construction still in high swing.
The ~250 strong monks reside indoors during winters only to pop their head out in summers to farm or indulge in other humble jobs. I could think of some people who would readily hole themselves up for months straight and hibernate and pro-create like rats and.. you get it.
Disclaimer: No offence to the holy shrine. Please don't put me in the No-Spiti List.
Before I could inflict more horrendous ideas I quickly grabbed a cup of tea as soon as we reached Kibber which is 10 km away but an impressive 14,200 ft above sea level. At this point my lungs just gave up - dude your excursion becomes my f**king nightmare. The things I have to bear for you and your godforsaken tea.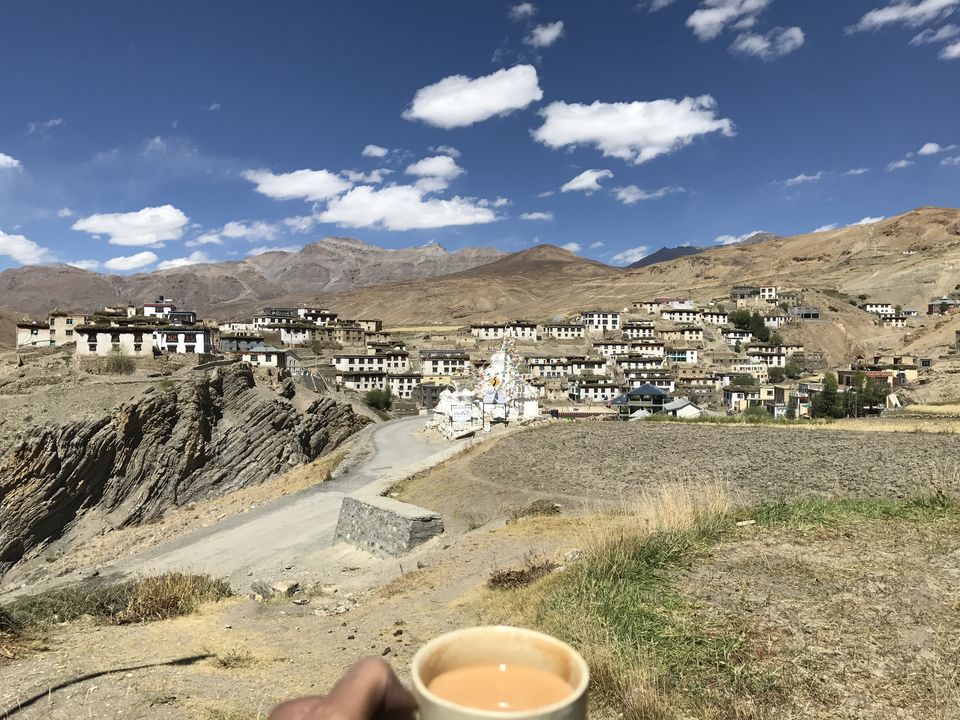 and while your stomach gets abundant food I lay here devoid of ONE thing I need the most. "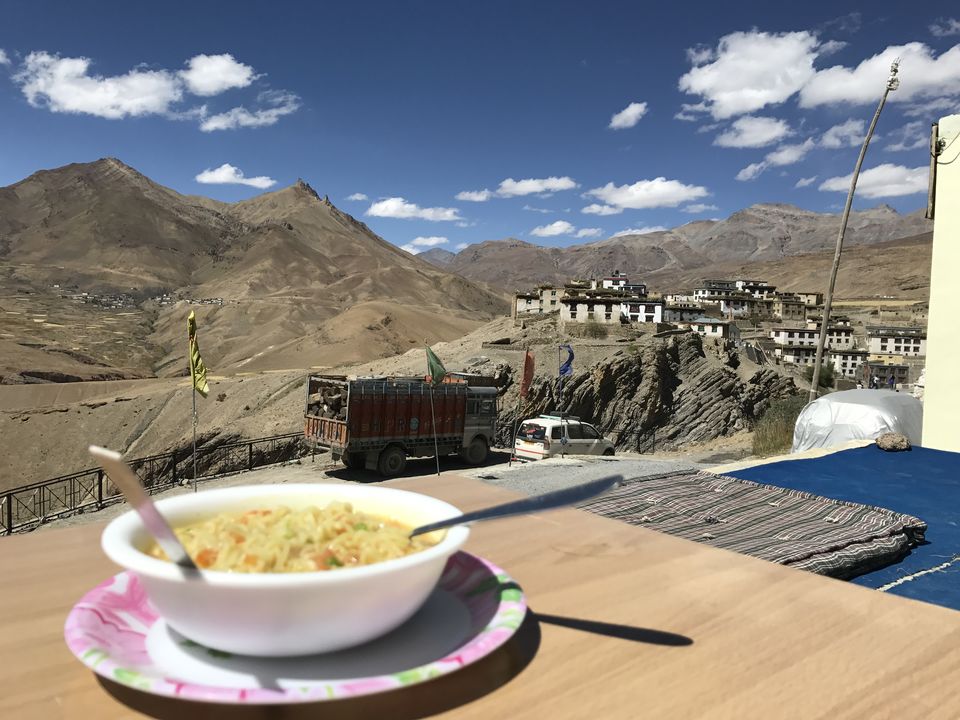 Tashi Zom is the name of the small guest house where my maggi rests comfortably. After slurping it down my throat I strolled towards the truck in the background. I was inquisitive about the truck load of wood and where was it headed to.
"Govt. supplies the wood every year to the villagers to last them throughout the winters."
"Can you notice the construction of each and every house in the distance? "
Yes, they look all the same. Why is that?
"Apart from the fact that it's based on Tibetan architecture and the valley is quite prone to earthquakes, people are not allowed to shape their houses in any other way. "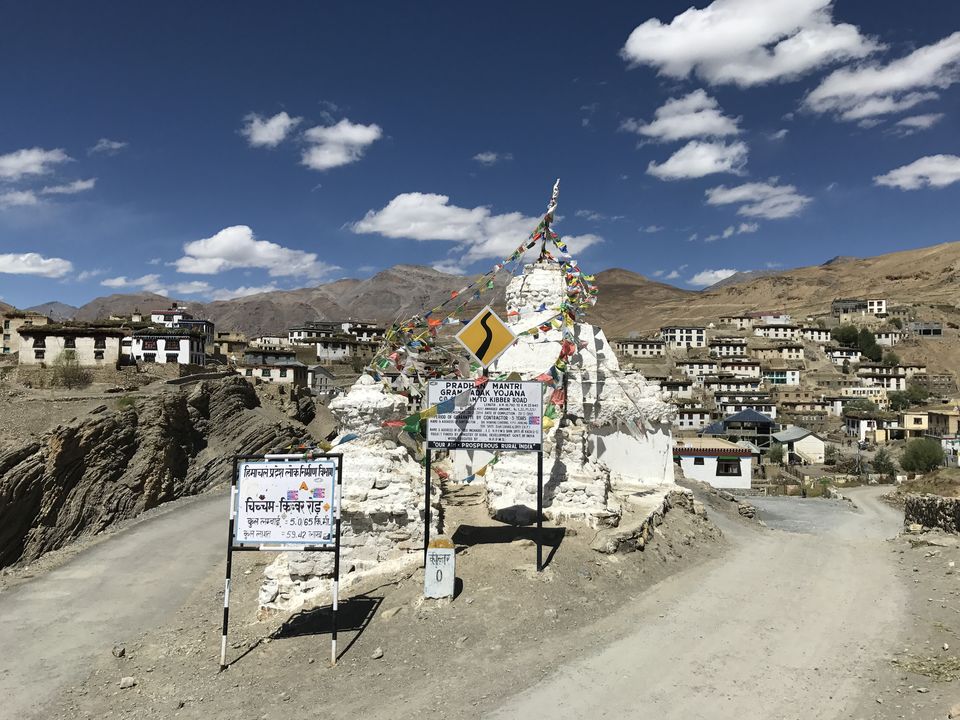 I wouldn't mind a cardboard box shaped home as long as it comes with a good internet connection, a pair of loving hands and a set of paws to seal the deal.
I climbed a few steps on the rocky terrain to appreciate this contrasting vista.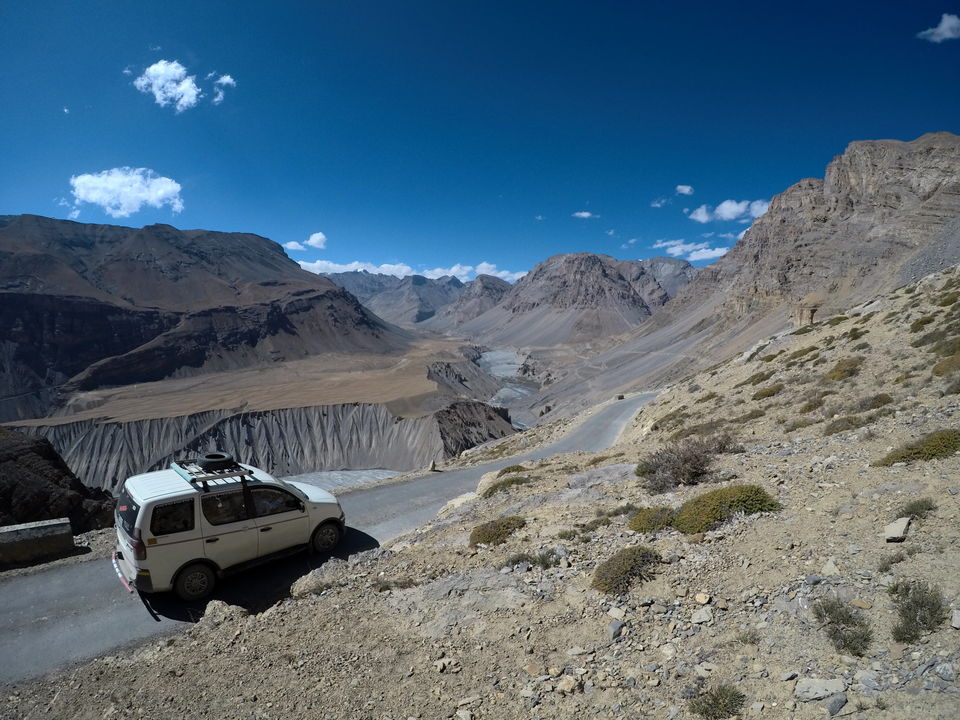 Let me make it worth your while by blasting a few unnecessary pictures of the same place taken a few moments later just because I can.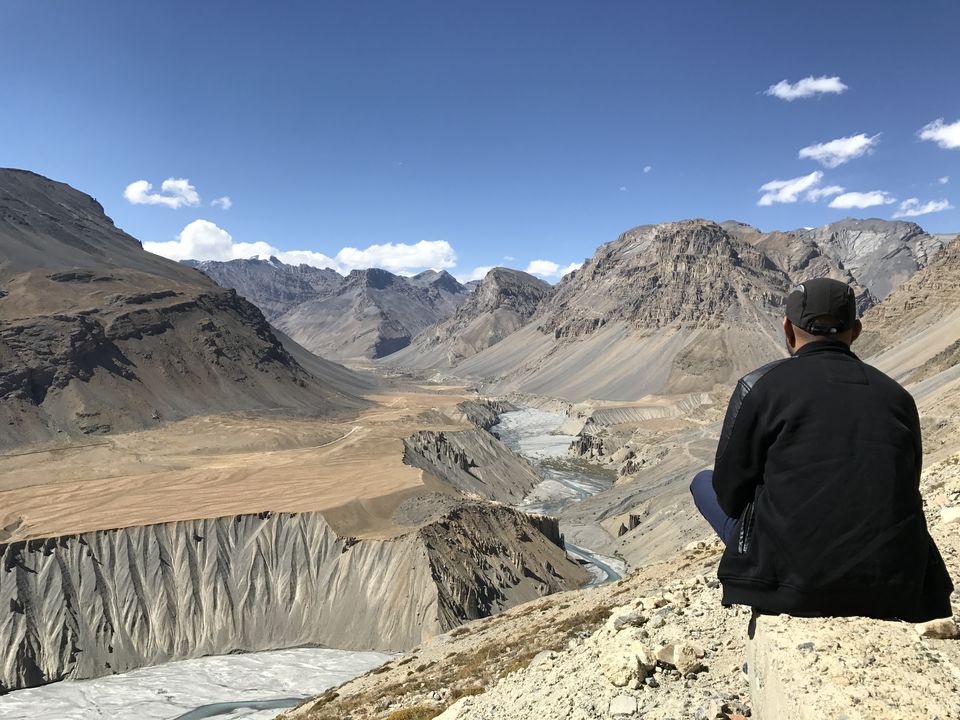 As we descended towards our destination we stopped to take a close look at the formation of stalagmites. These ones are particularly lucky given they are not holed in a cave where they are generally seen.
The naked mountains hold no vegetation yet the river caress them with love and glides through leaving behind trails which recall their journey through barren lands and glaciers from which they were born. The sun shines with all its might and lights up even the darkest corners you can spot with naked eye. Such persistence often never goes unrewarded and the coldest of hearts ends up blossoming..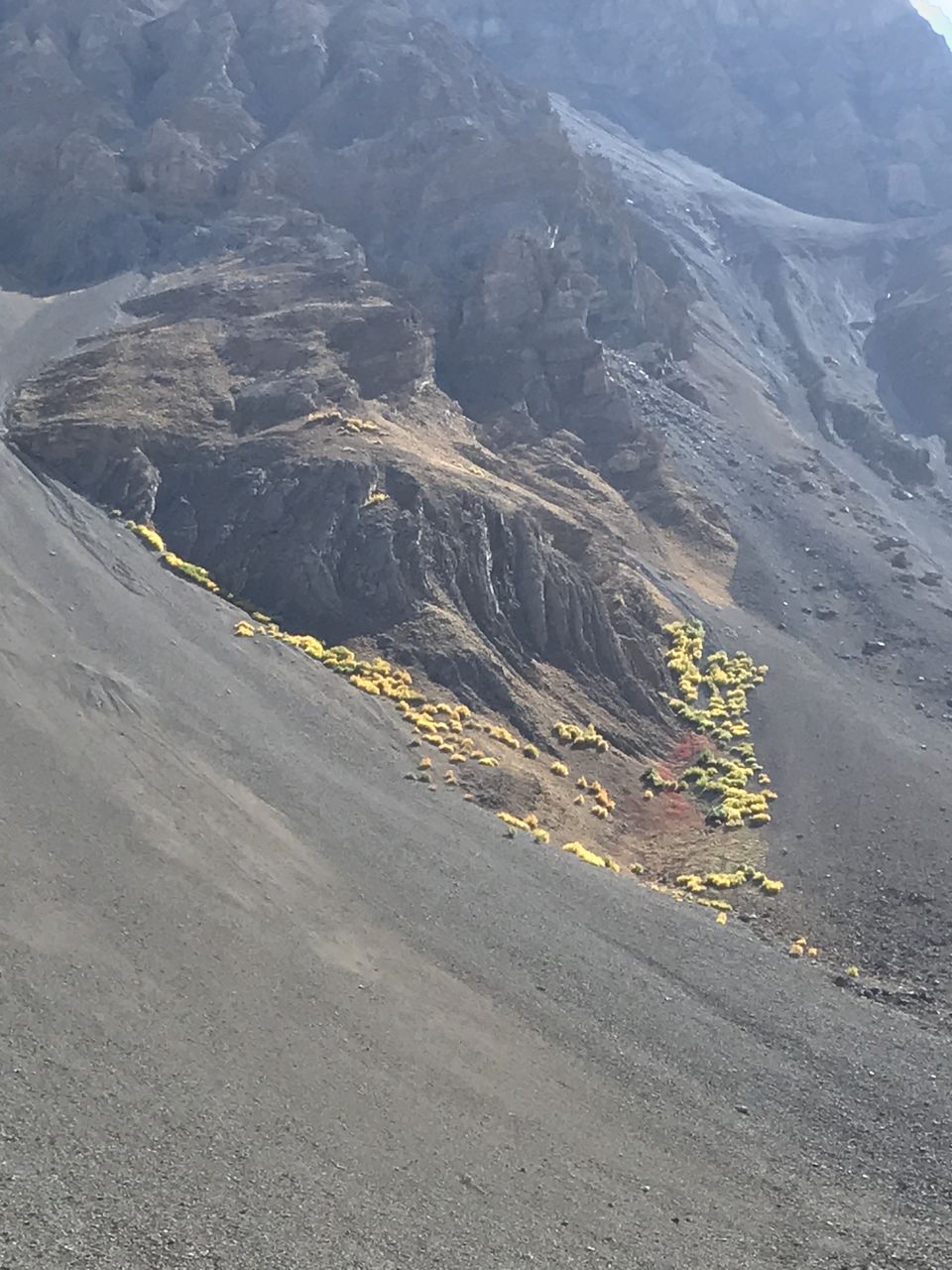 Before we could realize we had reached Losar. The tranquility of this small village stunned me at first and as I let out a heavy sigh. Goosebumps ensued as I didn't blink and soaked in the picturesque hamlet.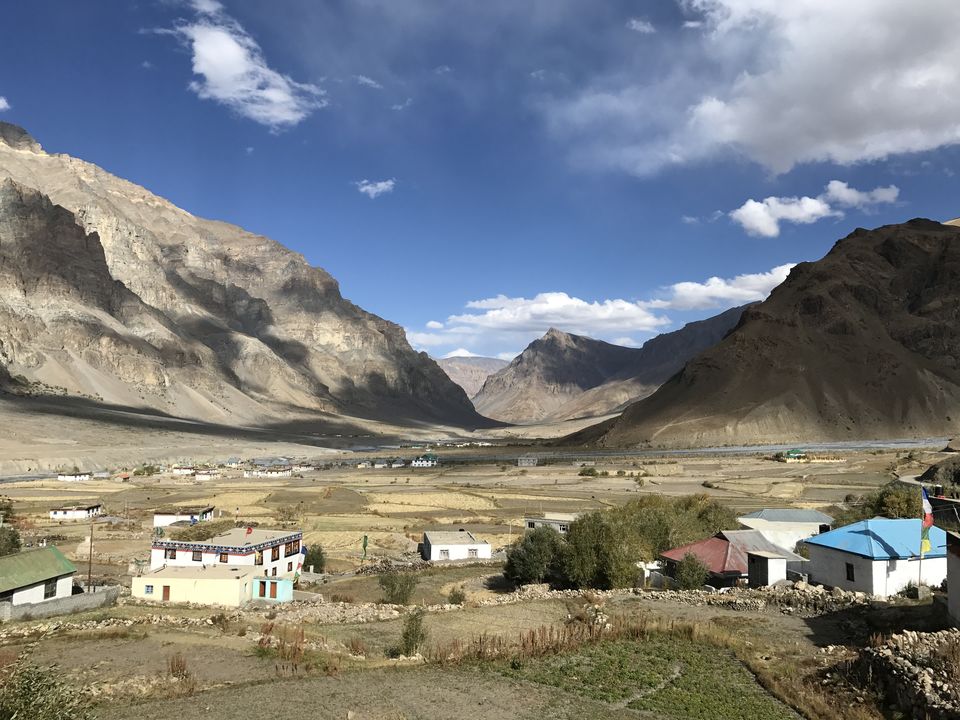 14th September 3:46 PM
I am typing this with stiff hands with a view that beats the one your penthouse can offer.

The lovely and quaint village called Losar made this strenuous journey worthwhile. As I sat on the terrace of a poorly built guesthouse staring at the majestic naked mountains with a cup of surprisingly good tea, traveling made sense.
As I got off our car, I ran towards a step ladder made out of bamboo yelling for a cup of tea en-route. The hospitality that stole my heart was the boy's gesture where he carefully balanced the cup as he climbed it and handed my beloved hot beverage.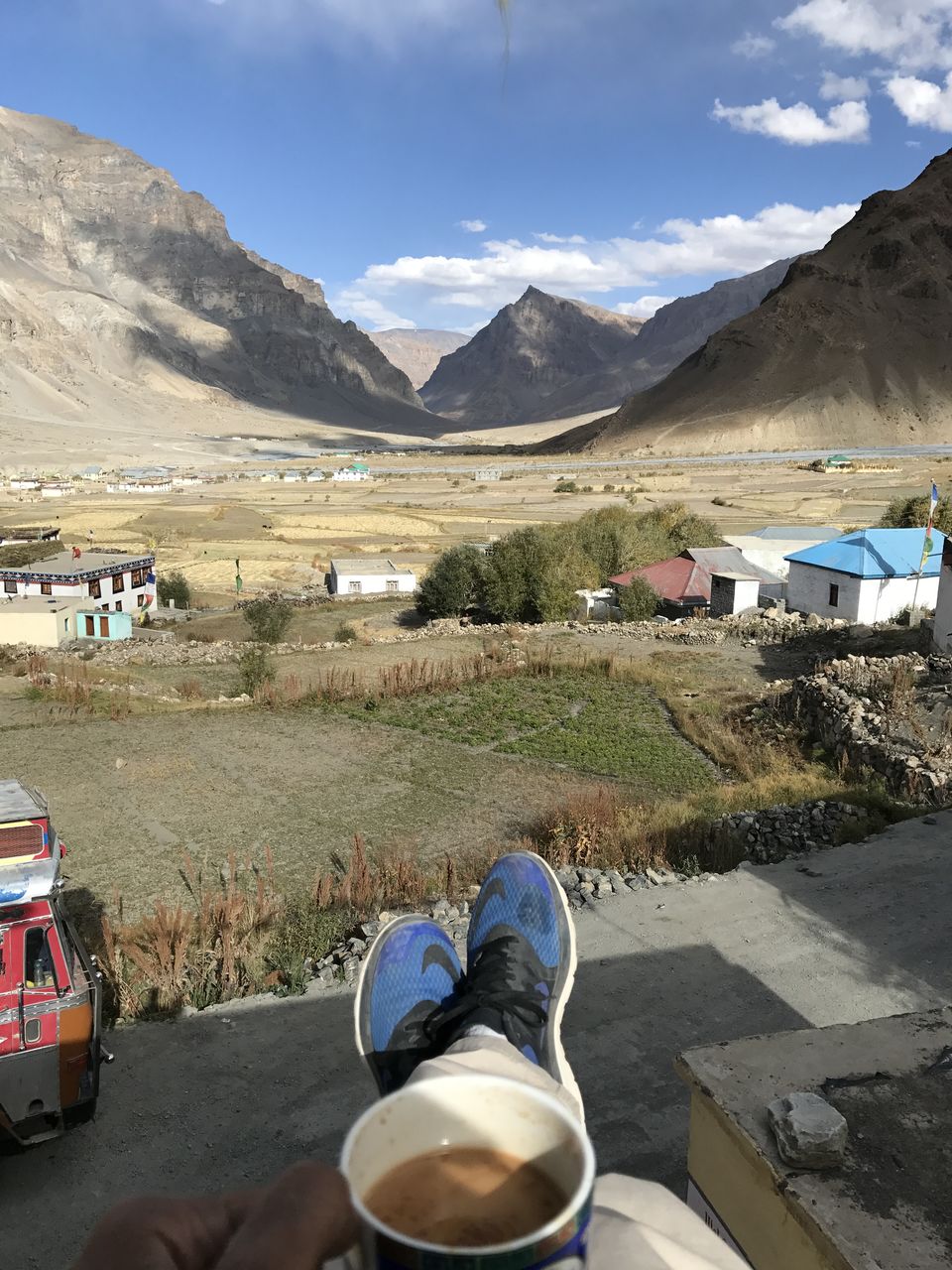 The air is damp and chilly but the urge to get up and pack your bags to the remote areas of our beautiful country is a feeling which will always come naturally if you are determined enough.
The weather was on our side during this entire trip and hence every moment spent awake was gifted with tiny little moments which we will recount till our last breath. The stories we'll tell to our peers when they half-excitedly ask us about our trip or our loved ones with that sparkle in their eyes as they gasp every now and then when we show them the pictures we took and the silly videos we made for them in our horrible voices.
The prayer flags flutter against the wind like your eyelashes trying to break free and land some place beautiful. Some place you can call home.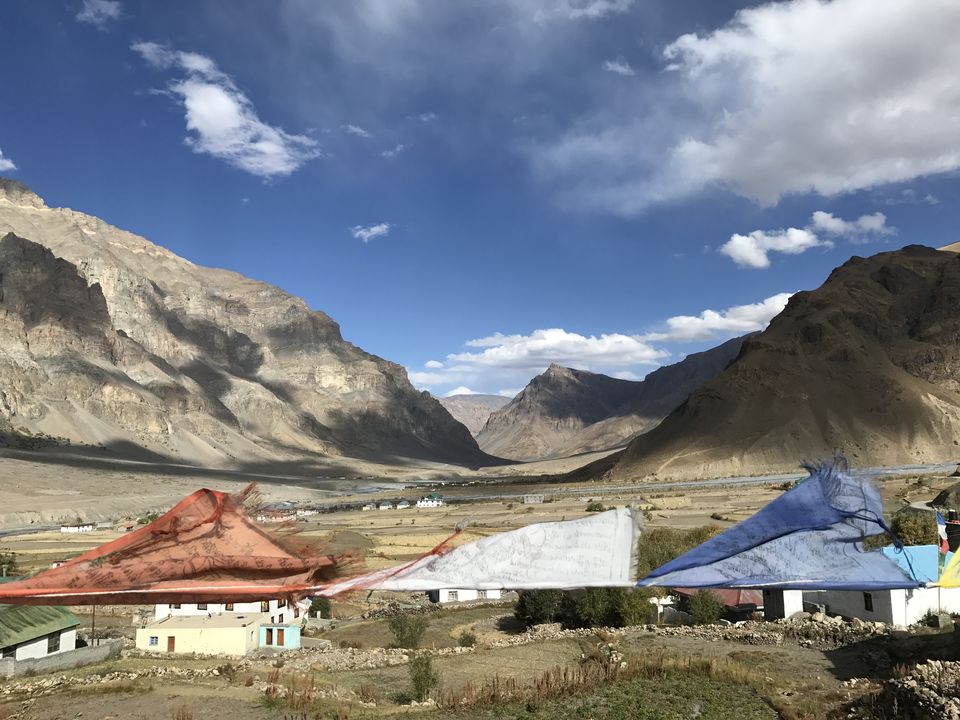 Losar felt like home.
"One last evening for our mortal souls in this valley, darling. Will you hold me close tonight like there's no tomorrow? Can we recount every day, each moment which lead us to this solitude. Would you wrap me in your warmest embrace till the sun rises? Would you fall asleep in my arms while my fingers run through your hair and my lips whispering sweet nothings in your shapely ears as I kiss them."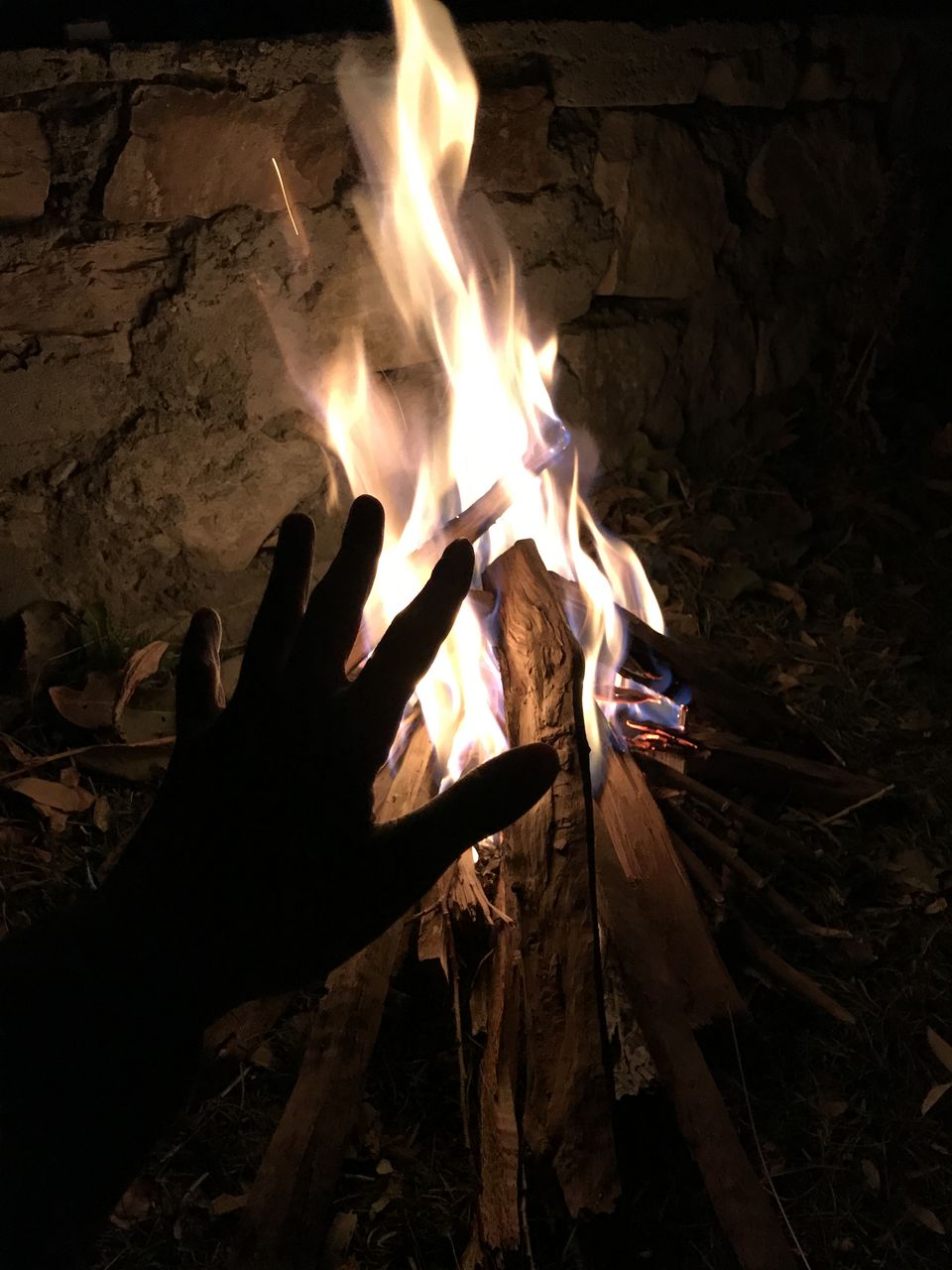 Day 7 - Kunzum Top
The journey to Manali was the longest stretch which we had to cover in a single day and we were not the least ready for it.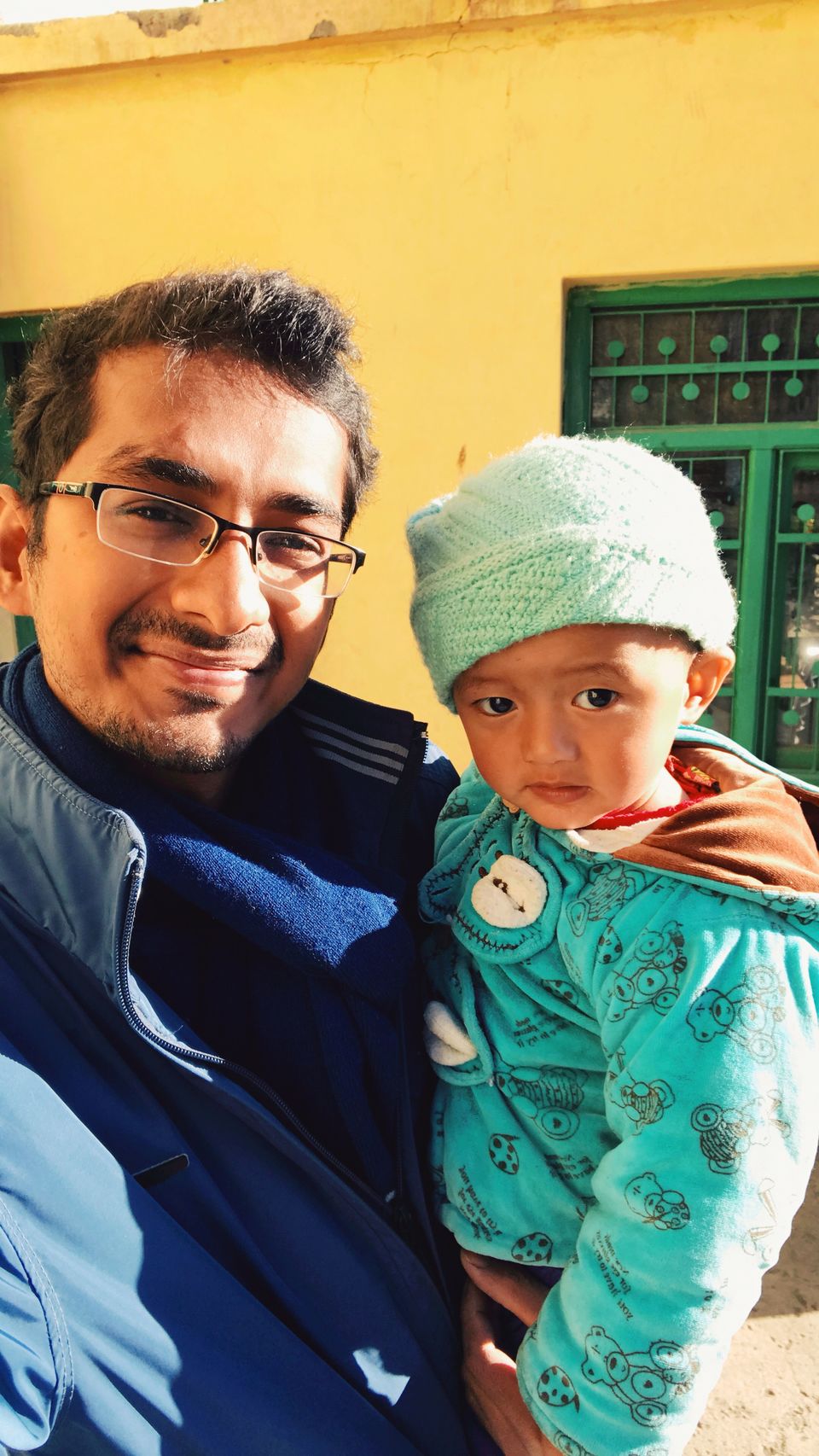 So I ran off to play with this toddler like I usually do from my responsibilities. And then I remember I have important work to do. I immediately take a break from leisure and go play with cats instead.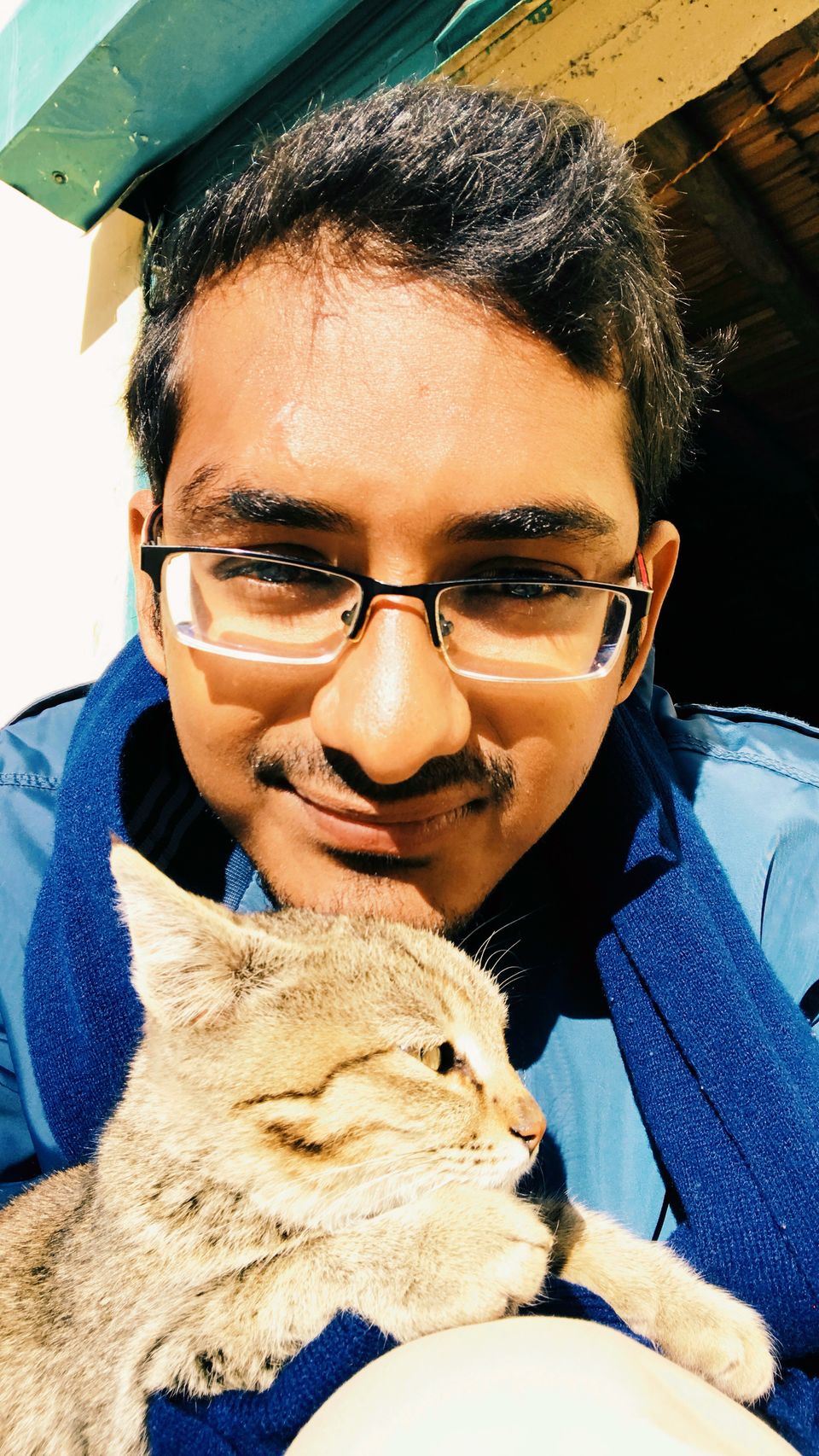 After a light breakfast we settled in our car nicely and proceeded towards Kunzum Top which is the highest point throughout our journey.
The vistas were breathtaking, literally.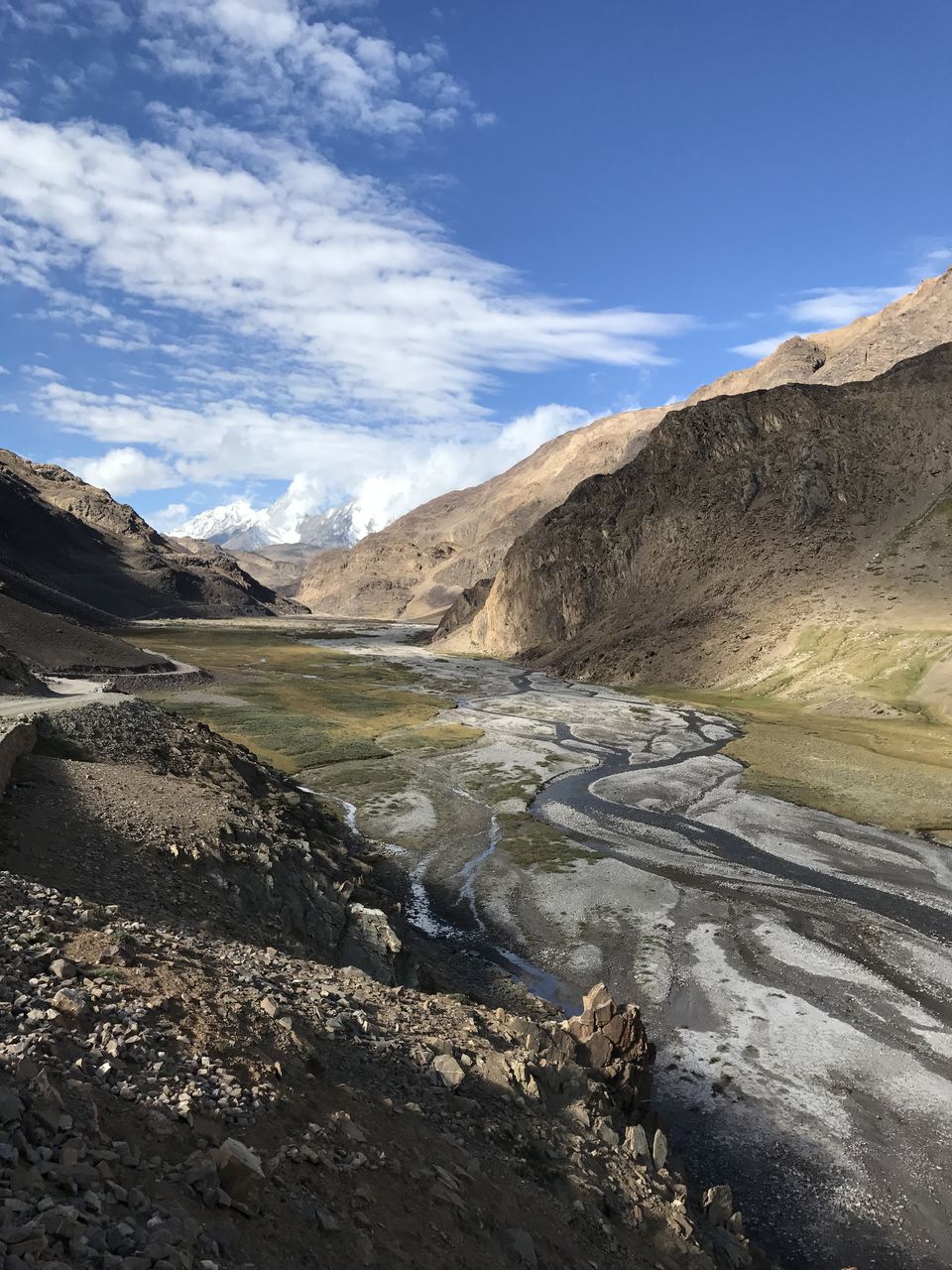 But we survived it all. After all we had to make more money in order to travel to more places which almost kills us.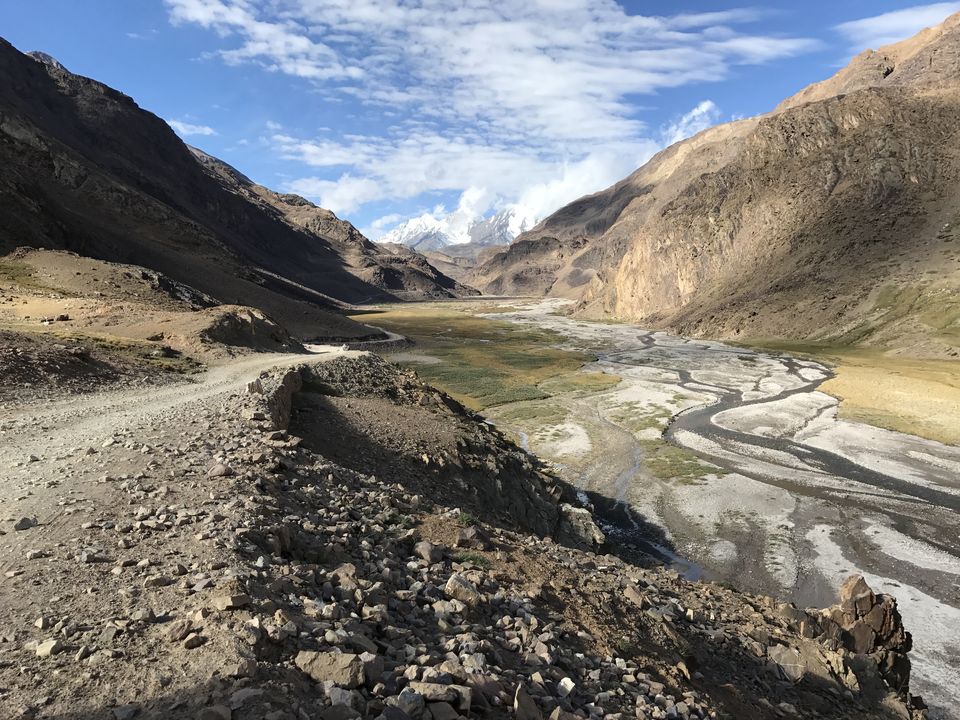 The Kunzum Mata temple is a compulsory stop for every vehicle that passes by to pay respect. I tried to stick a couple of coins on the holy stone and did succeed after numerous tries.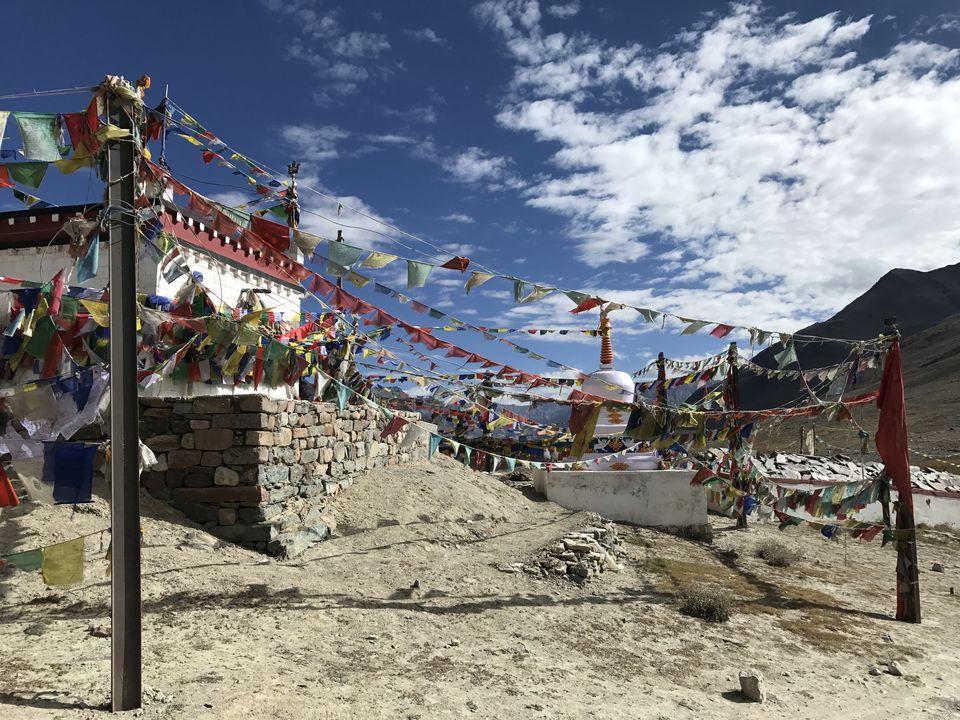 After all I was Lord Ramesh's mentee. This guy had been no less than a superhero throughout our journey. Screw holy shrines and idols, he is a living god of drivers.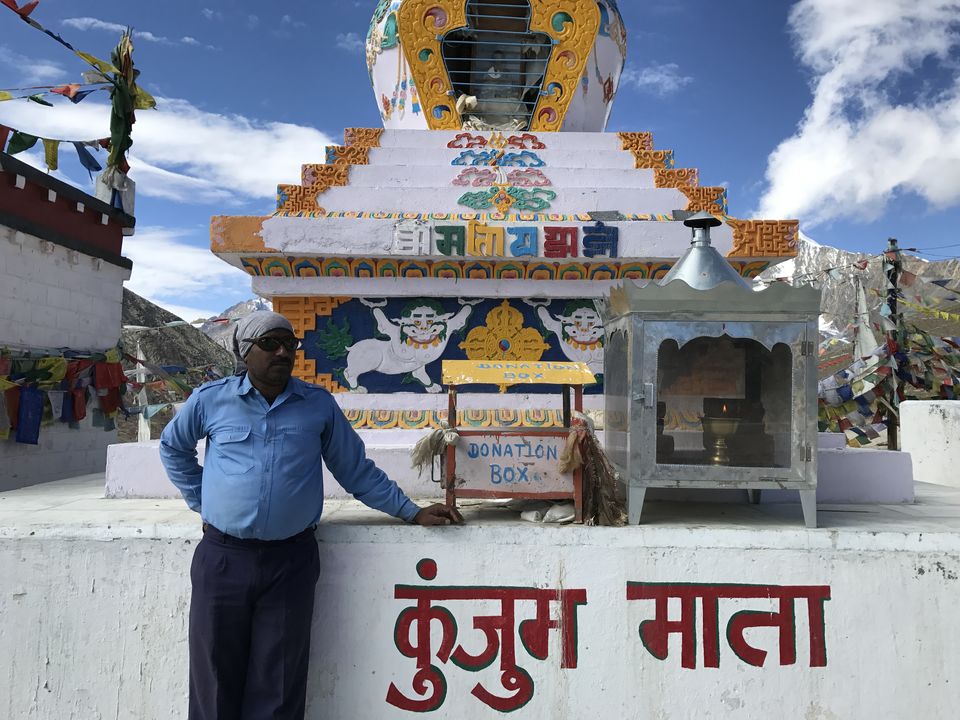 You know what sets Himachal apart? Like really apart? A simple yet easily ignored fact that where else would you get such a view from the most mundane of places - a poorly bit washroom?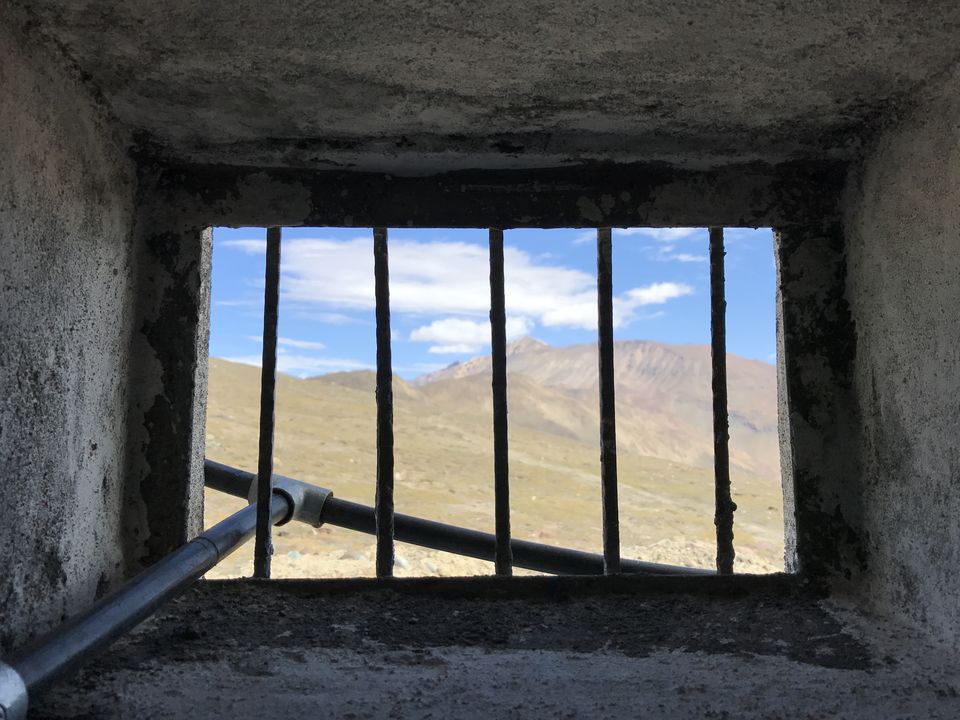 Don't start making plans of picnic-ing around after seeing the picture below as the altitude is enough for your lungs to cry for mercy.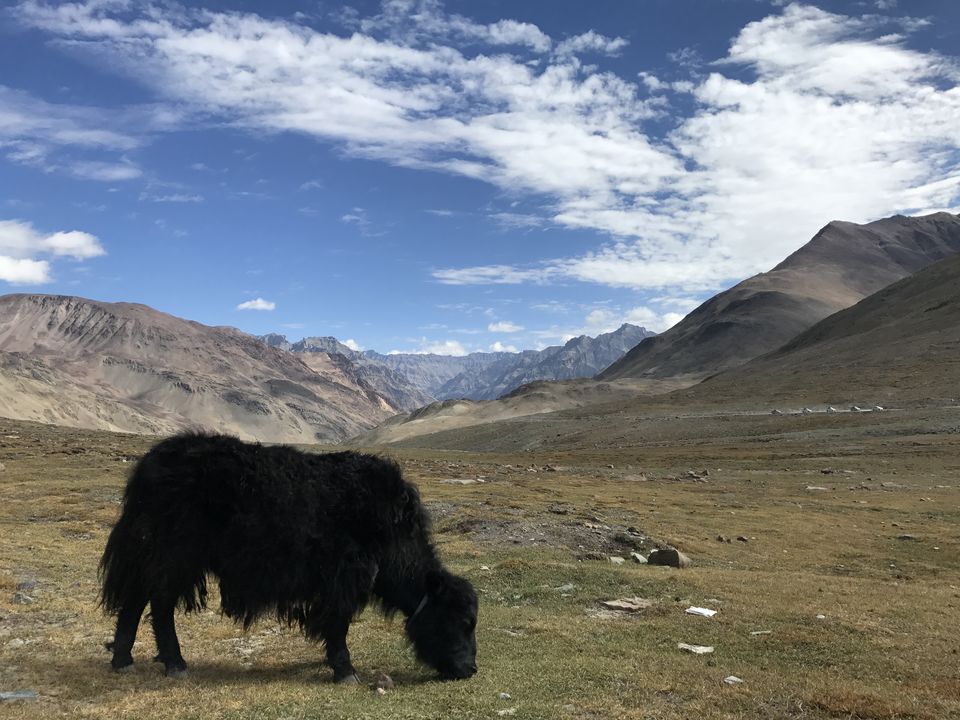 But the hairy buffaloes be high life livin'.
Our next stop was Batal from where you start the trek to Chandratal. Nay we skipped it. Instead I have better incidents to cite.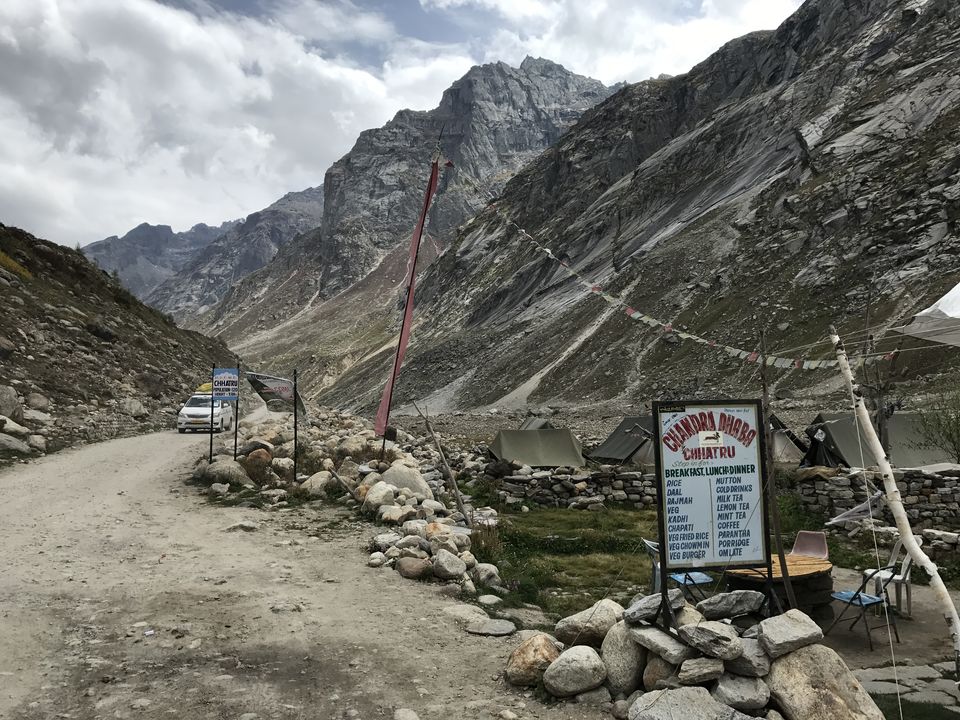 Like the time I overstepped boundaries to socialize with people behind the scenes responsible for finger lickin' paranthas and rajmah chawal.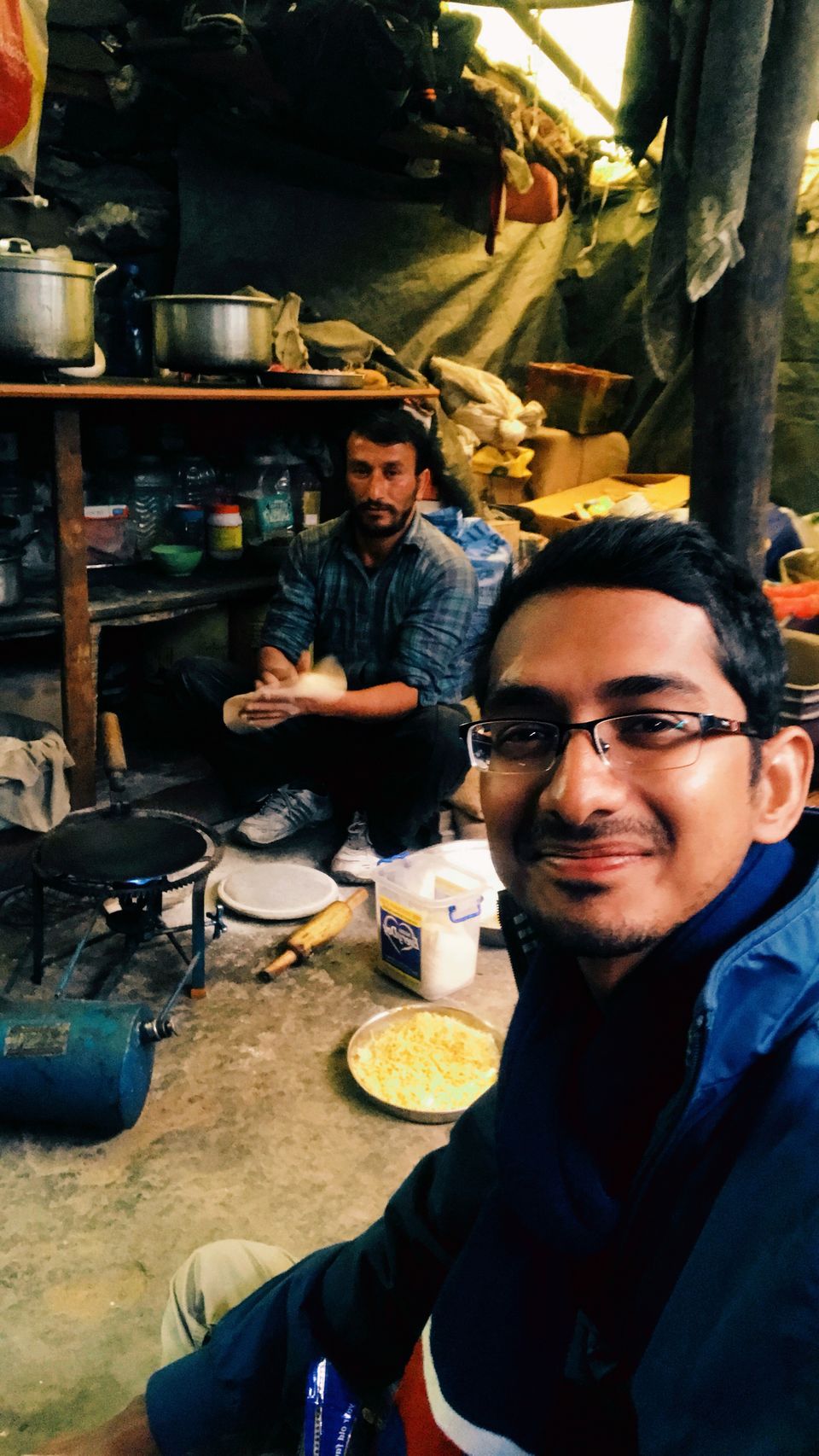 Or the only pupper who didn't give a rat's ass to my love and stood unperturbed unwary of my presence.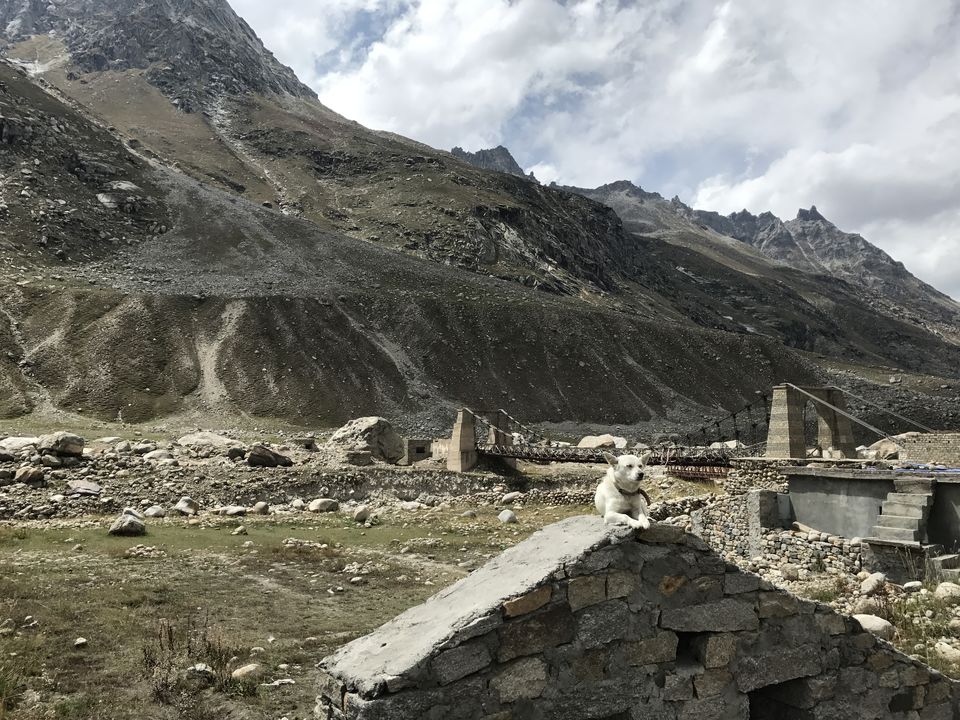 किस बात का इतना गुरूर
Or the INR 200 rooms which only hold a bed and have questionable security measures.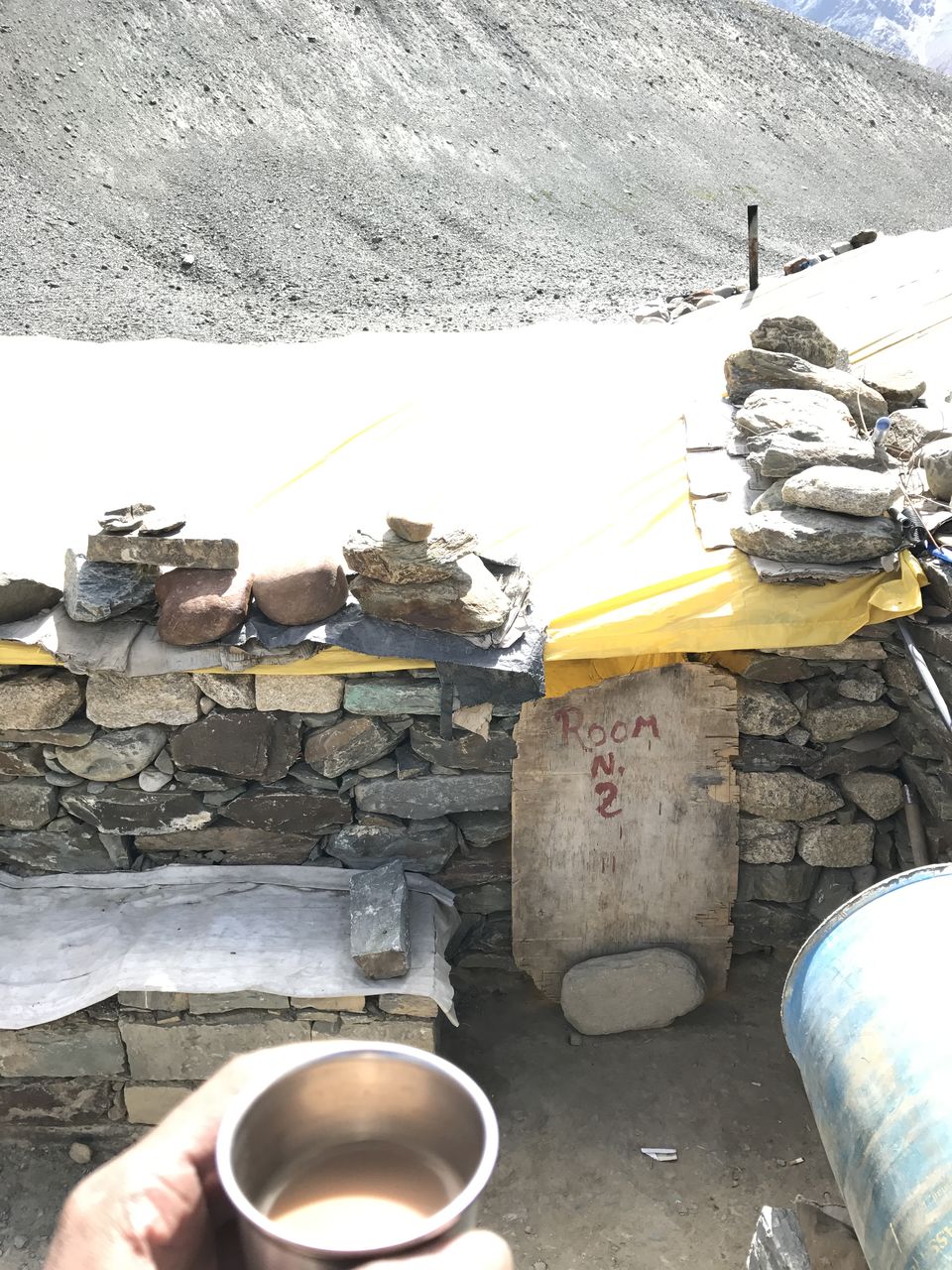 Day 8 - Vacay Manali? Let's go back now.
I hopped across one beverage -
to another -
with some help of course.
We visited Hadimba's Temple and spent rest of our time at Johnson's Lodge. The ambiance of this place is unearthly yet natural, quaint yet lively.
The quality of food is matched well by the warm hospitality of the staff and I recommend a meal here. If you end up here, apologize to his furry monster on my behalf.
Goodbyes are hard only if we let them be. With a solemn promise to return, I came home.
A time-lapse video for you -