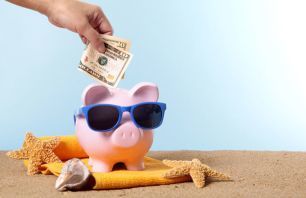 Things tourists overpay for and how to avoid them – Budget travel
Have you overpaid for things while traveling? Do you want to know how to avoid them?
I have compiled a list of potential things a tourist overpays for and ways to avoid them. This budget travel guide will be handy next time you are traveling.
Water
Buying bottled water is expensive, especially in the developed countries and at airports, tourist destinations, parks etc. One can save quite a bit of money on a daily basis by doing the following:
Carry a bottle of water which is squeezable so it does not take too much space in the bag. Refill the bottle at public water dispensers and water coolers. Check out this cool pocket size travel bottle here.
Where you do not have access to potable water, use purifiers to filter the water for consumption. One such example is of purifier is here.
Taxi
Generally, tourists overpay or are cheated by the taxi drivers due to their lack of knowledge and information. The best way to avoid overpaying for taxis, obviously, is to use public transport. However, if you must use a taxi, make sure you do the below:
Ask the hotel staff or a local friend for the approximate fare
Negotiate fare rates
Fix the rate – travelling at a predetermined rate gives you peace of mind
Accommodation
If budget travel is your criteria then chuck the expensive hotels. You need accommodation mostly to sleep and freshen up. If you are interested in real travelling, you would rather spend time exploring the place than the hotel. So choose among the below for budget/free accommodation.
Hostelworld
Couchsurfing
AirBnb
Housesitting
SIM Card for Cell Phone
Most international roaming plans are extremely expensive. The trick here is to buy the cheapest locals SIM with data only. This gives you the flexibility to internet call as well (eg: Whatsapp call). For those who really need to use a calling facility, an international SIM is cheaper than activating roaming on the home country SIM.
Tips
Learn about the tipping customs of the locality. For eg: Tips in North America are higher compared to other countries. You might want to check the average tipping percentage and not overpay.
Souvenirs
Almost all travelers buy souvenirs from the popular destinations. These are most like very cheaply made articles sold at very high markups. Follow the instructions to make sure you don't overpay for souvenirs.
Airport Shopping: Do not shop for souvenirs from the Airports; they usually have the highest prices. Resist the temptation to go window shopping till your boarding starts.
Multiple Shops: Check for the souvenir in multiple shops and do not buy from the very first shop that you come across. Chances are that you are being overcharged for the item.
Negotiate: Give it a try, whether or not you are good at it, there is no downside to trying.
Learn local phrases: Learn some phrases to meet and greet the local vendors. Believe me, this helps in making good connections and reduces the likelihood of being overcharged.
Currencysmart travel
Prepaid cards: Tourists commonly use cash or credit/debit cards for transactions abroad. Carrying cash is risky whereas using credit or debit cards has markup costs of 3-5%. This can be avoided by using Prepaid forex cards. These cards are issued in the local currency of the country of travel and a cheaper to use compared to credit/debit cards.
Currency Exchange: Avoid exchanging currency at airports; they usually are more expensive than the local currency changers. If you are using the local money changers, make sure you ask your hotel for references, compare rates of multiple money changers, check the currency notes before you accept and count them in front of the vendor.
Flights
Flights constitute a major share of the overall travel budget, saving money on flights will save you from being penny wise, pound foolish. Follow this step by step guide to booking cheapest flights.
Layover: Usually a traveler ends up spending a lot of money on layover meals, refreshments and shopping. Avoid window shopping at the layover airports, carry packed meals and empty water bottles (filled at the airport) for layovers. This will save you enough money for some activities/experiences.
Guided Tours
Evaluate the guided tours in advance to check what's included in the package. Look for the fine print for any additional charges. Also, look for free guided tours for the city; they are available in most cities and are completely free of charge.
Hotel Minibar/ In room dining
In-room dining and hotel mini bars are overpriced and a rip off. Don't be lazy to step down and approach a neighboring store/supermarket to buy snack. This could potentially save you some money.
Meals
Overspending can be avoided by choosing smart options for snacks, lunch and dinner. Carry snack bars or food packets to avoid overpaying at tourist attractions like parks etc., eat at local joints outside of tourist areas – they usually have lower prices for the same food and avoid buying meals in the flight or during layovers.
Car rentals
If you choose to travel by renting a car, be smart about it by researching in advance. Some companies have deals available online. Apply for international driving license to ensure acceptability by all rental agencies. Ask for free upgrade on the car – there's no harm in asking.
Laundry
Don't hesitate to wash your own clothes. Laundry is usually quite expensive, especially, in the western countries. Just put some shampoo and was your clothes in it – it will do the job for the time being.
http://desiwanderer.com/budget-travel/