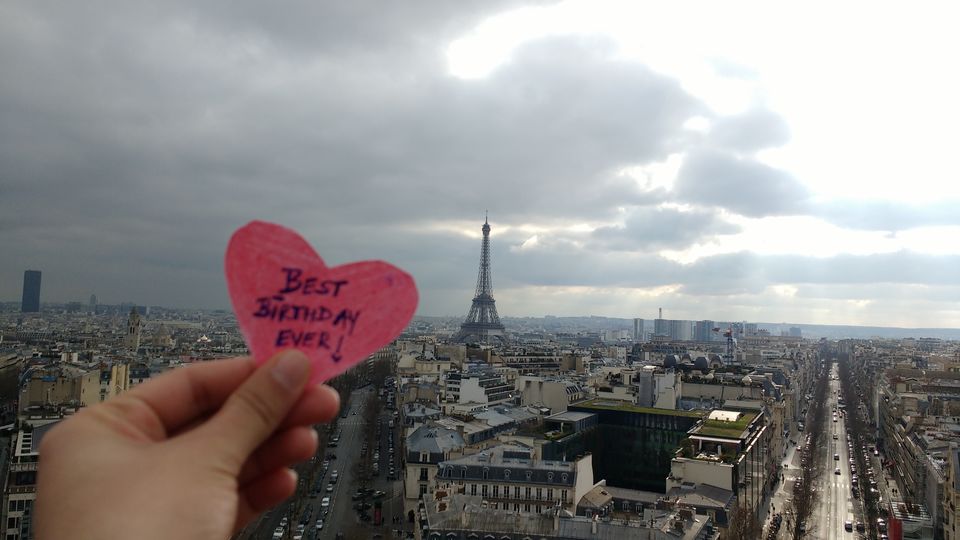 I have always been a very dependent and a reserved child. Not because the people surrounding me offered to help me, but because I let them and if they didn't, I demanded for the same. But since the past few months, I can feel the changes in me. I feel I can dare to stand up for myself, do whatever I WANT to do, and TRY to think practically about every situation. Living alone has been teaching me the art of "self-loving" and "self-pampering".
About three days before my birthday, I was feeling really home-sick and I wished I was with my family just for a day, for we celebrate all the birthdays with a blast. Yeah we're really closely knit. I was in the north of France and obviously very far from my hometown; in India.
Thus, I decided to go to Paris. It was a wild decision as it was going to be my first solo trip; the very first time I was travelling on my own. I was really scared and nervous but I had to prepare myself. In usual cases, I would have just skipped the plan of going there as there was no company. I had two choices: either to sit at home and spend the day like every other, or to brace up, face the fear and do what was on my bucket list since ages. I chose the second. Paris is the most beautiful city I've ever seen, but it is equally dangerous and I've always felt a particular vibe hit me when I am there. You have to be super alert everywhere or else you might get robbed off. But the idea of seeing Eiffel tower on my birthday melted all the fear away, and I decided to go.
I got up early that morning and hurried to the station. I was in Amiens, a pretty li'l city tucked in the north and an hour away from Paris.
In no time, I hopped onto the train. I had started getting very impatient on the ride and hence I chalked out a plan. So the first thing I did as soon as I reached was, catch the metro to Trocadero (Eiffel tower). As I reached the Trocadero station, I literally ran out (I don't know why I always get excited to see the tower even though I have seen it many times now). My heart calmed down as soon as I saw the huge iron lady basking in sunlight! For once, it didn't rain AT ALL and I am so glad for the same! It was raining cats and dogs the previous day, and I was praying to God for the sun! AND GUESS WHAT, IT WAS SUNNY THE WHOLE DAY! It is rather unnatural in the North of France as the weather is dull and gloomy in winters and it rains almost every day.
I took a cup of hot chocolate, and sipped it sitting on the stairs, staring at the tower. This has become a ritual for me now. I asked a few strangers to take some pictures of mine with the tower so that I would have some nice memories.
The next thing I did was to catch another metro to Arc de Triomphe. I went on top of the same so that I could have the full view of the beloved city. The super exhausting climb was worth it for I saw the breath-taking view of the city and this time during the day. I gazed from all the sides with amazement. Before climbing down, I took a few pictures and chilled for a while. Enjoying self-company on my "birthday" was something I did for the first time and I enjoyed every bit of it! This was, naturally, turning out to be the best birthday ever!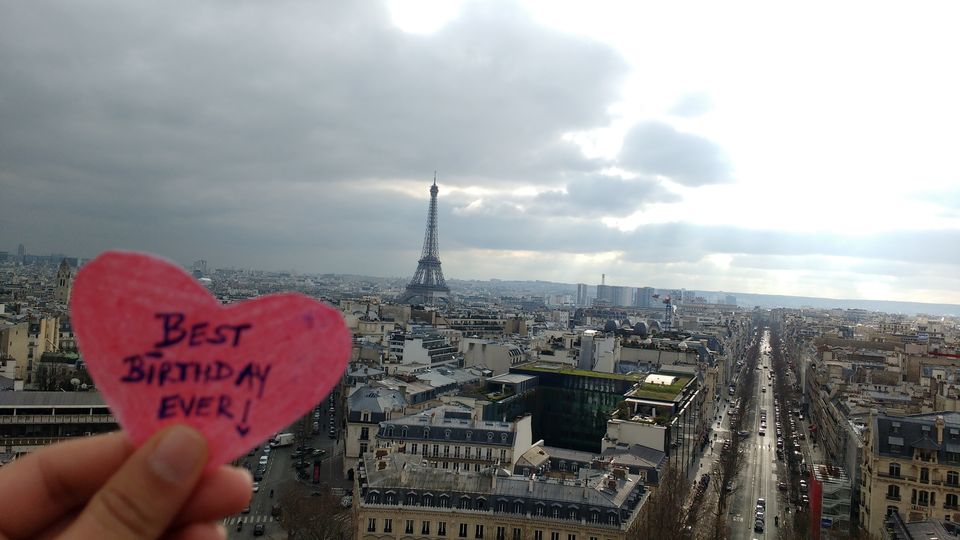 I watched the monument again from below before heading to Champs-Élysées. Walking down this street was something that I WAS going to do, I knew it. The sun above was mild and the weather was pleasant. It was a perfect day and hence I was having a perfect me-time. I stopped for a macaroon at Ladurée on Champs-Élysées, it was another bucket-list moment. I had been treating myself since that morning and I loved every bit of it.
I walked right till the end of the street and reached place de la Concorde, where stands the obelisk. I crossed and reached Jardin de Tuileries, it's one of the beautiful gardens in Paris. I relaxed for a while near the beautiful lake and watched the ducks and the swans play in the water, which was must after the long walk.
At last, I went to a typical exotic French crêperie wherein I had the most delicious crêpe ever! It was topped with chocolate, cream, ice-cream and dry fruits. After the sumptuous lunch, I was fully content, and pleased with myself. I roamed around for a while before catching the train back to Amiens. It was the best way to spend the day, indeed. And I loved every bit of it.