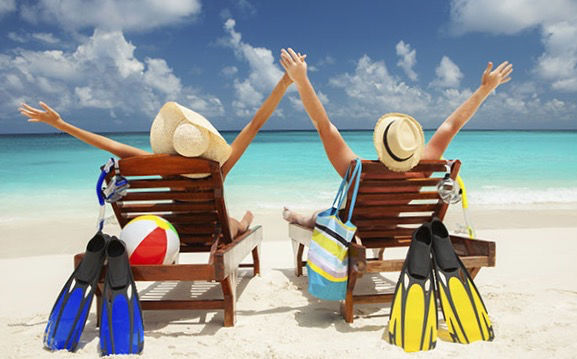 I know you must be laughing by now thinking how a Vacation can prolong your spouse's life right? Well, India is a country where women (primarily) have been fasting since ages for the long life of their husbands! The festival is called "KARVA CHAUTH" in North India also celebrated (by fasting an entire day!) in almost all regions of our country by different names and sometimes in different seasons like "VAT SAVITRI VRAT" etc. but the core motive remains the same "Pati ki lambi Umar". Now, the ONLY proof of this hypothesis (husband's long life) being true (success rate) lies in our mythology, where one women fasted and prayed and wooed our Gods to get back the soul of her husband (to be precise!). So, basically though the success rate is 100%, keeping in mind the extremely low sample size (just one woman) along with outdated data, being a science student I would reject such a hypothesis but hey wait a minute before being a science student I am a "Sanskari Indian Girl" also we Indians are culture bound people here but even if I keep the sanskriti/culture aside isn't it is soo cool to receive those gifts from hubby along with shopping spree for clothes, a chance of getting all dolled up and the beautiful Mehendiiii (who would miss that, certainly not me ;) )! But wait, I have a study that proves (with a good success rate) that travelling helps you to stay healthier which in turn will add a few bonus years to your life. In a nutshell, Travel is an integral part of staying fit and staying healthy!
"Because it challenges the brain with new and different experiences and environments, travel is an important behavior that promotes brain health and builds brain resilience across the lifespan" - Dr. Paul Nussbaum, Ph.D., American Board of Professional Psychology, President and Founder of the Brain Health Center, Inc
The Framingham Heart Study – Brief
Beginning in 1948, researchers recruited 5,209 residents of Framingham, Massachusetts to identify risk factors for cardiovascular disease. Over time, the second and third generations of the original participants have also been enrolled and followed regularly.
Mind blowing results that reemphasize on the fact that all Work and no Vacation will definitely take away a few years from your life
• Women who vacationed every six years or less had a significantly higher risk of developing a heart attack or coronary death compared to women who vacationed at least twice a year
• Men who did not take an annual vacation had a 20% higher risk of death and 30% greater risk of death from heart disease
• After being on vacation for only a day or two, 89% of people are able to leave the stressors of work behind and relax. This has long-term effects, as stress has been shown to play a damaging role in health and can actually speed up the aging process
"Ponce de Leon visited Florida 500 years ago in search of the mythical Fountain of Youth. Though he did not find it, by traveling, he was on the right track. Travel and healthy aging, the process of remaining as vibrant as possible in body and mind, are in fact closely associated"
So, what are you guys waiting for! Show this to your spouse and book that long due getaway tickets right now for the sake of a "happily "and "longer" ever after!
Ciao for now :)
You may connect with me on more of such Travel Info and to read my Travelogues:
Facebook: https://www.facebook.com/earnedleaves/?ref=aymt_homepage_panel
Twitter: @dmehta_elt
Website: http://earnedleaves.com/