The joy of working from a remote location is experienced by few but it's indeed addictive and a sustainable one. India has a growing population of remote workers and digital nomads. They make some of the best destinations in the world their home because that's what you do when you have a location-independent lifestyle.
When most of the working individuals talk about their busy schedule and trouble that travelling involves, some people travel and work simultaneously. Their's certainly an independence of thought and vision, you feel when you step out of the cities and expand your worldview by travelling to remote places and working from there. Fortunately, we have remote co-working spaces coming up in stunning new locations in India.
Here's an article: Inspiring Co-working Spaces In Dream Destinations For Travellers Who Hate Cubicles
WorkationX: India's highest remote workstation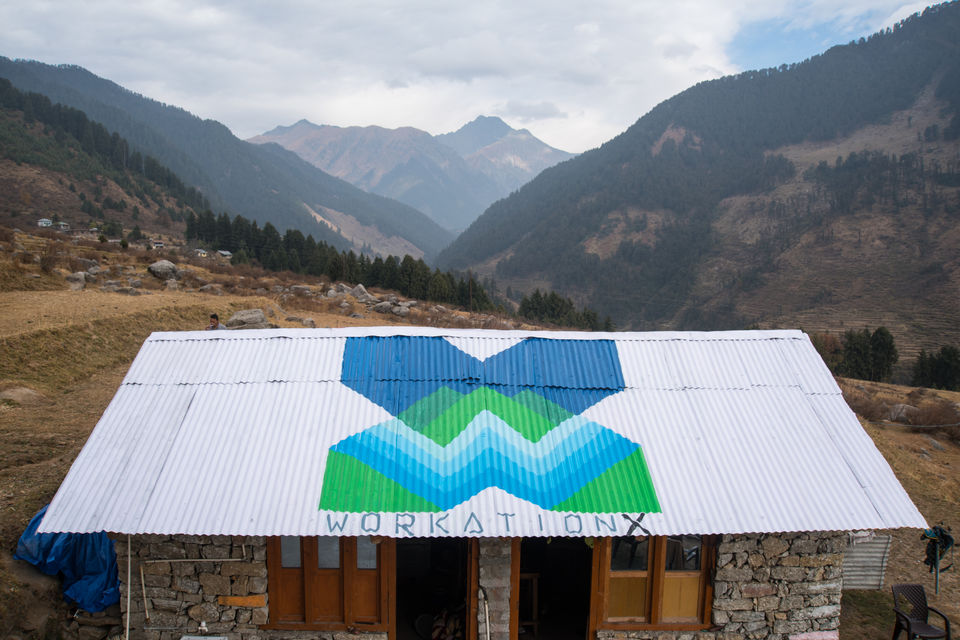 To work remotely for a sustained period, it's the location you travel to that matters. WorkationX sits atop the high hills of Kangra District at Rajgundha. The only means to reach this work station is a 4 hour hike from the nearest village of Badagran. The view of the Palachak mountain and Thamsar Pass at a distance are awe-inspiring and for people who get inspired by the bounty of nature around them, this is the place to be.
WorkationX is dedicated to Elon Musk and aims to be a carbon neutral space. It's a co-living and co-working space that wants to bring together free-thinkers and innovators to work in the field of sustainable development with the locals and other travellers who arrive here for a workation.
Check out this video.
My experience at WorkationX
I've been here twice this year during monsoons and again during the late autumn and it's incredible how the views change throughout the season into something more stunning and overwhelming everytime. This time around the late autumn winter foliage had overtaken the entire valley and it was awe-inspiring to see shades over the tree line change every morning. The harvested corns drying over the roof of the mud houses can be spotted across the valley. One can spend a day gazing at the line of sheep, locally called dhan meaning wealth, since these herds of sheep are the only source of income of the gaddi shepherds living in this region.
The last trip here was interesting in numerous ways. Never before in my life had I met so many interesting people at one time in one place. During my recent visit to WorkationX, I had a chance to attend a talk that involved speakers and entrepreneurs from around the region who talked about their own methods of promoting sustainable living. These talks on the surrounding biodiversity and methods of sustainable living indeed turned this experience into something enriching.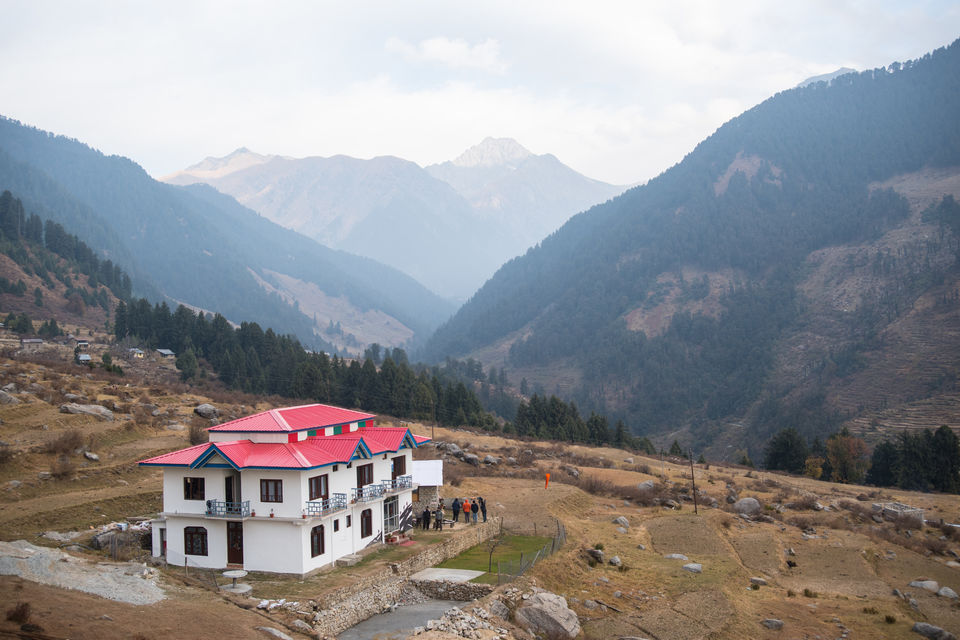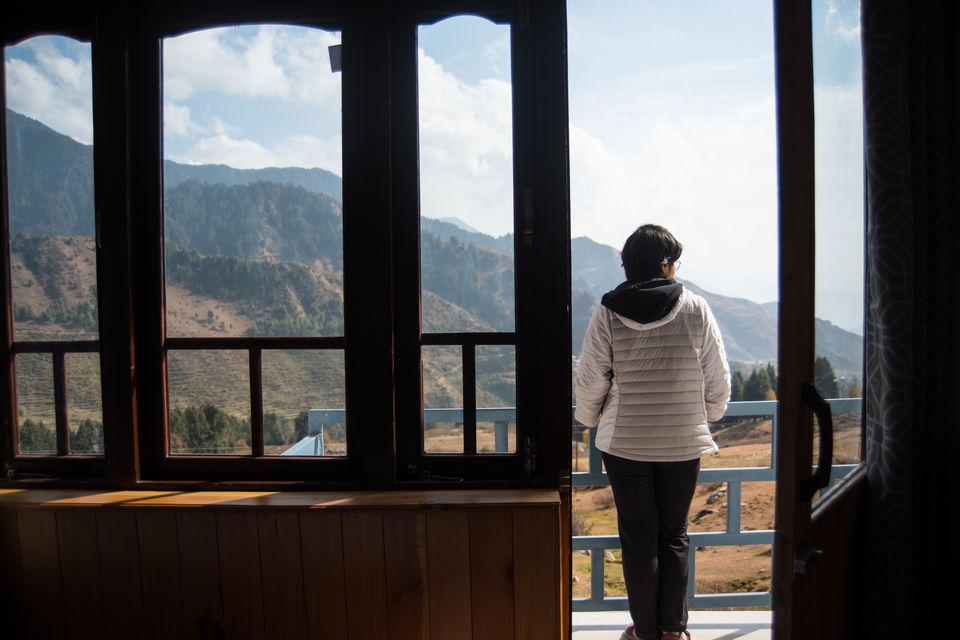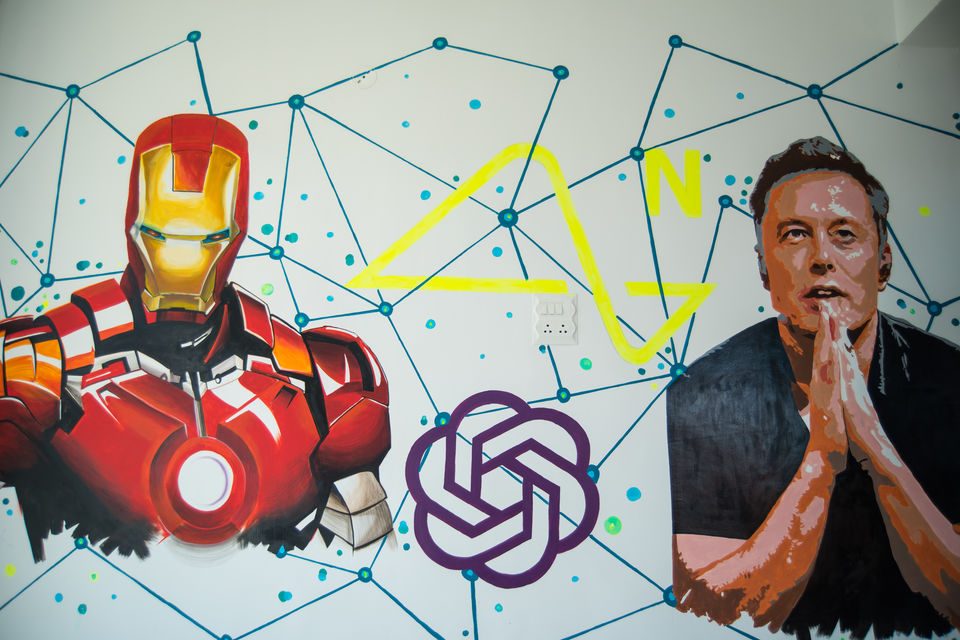 How to reach?
There are direct overnight buses available from New Delhi to Bir. You can choose to spend a day at Bir and take a taxi to Badagran via Barot the next day.
The hike to Rajgunda starts from Badagran. This 1 to 2 hour hiking route takes you across the Uhl river that starts from the Thamsar Glacier peeking through the distant horizon.
The Space
The awe-inspiring location is what makes WorkationX so special. It's a plush and cosy space in one of the most far flung villages of India. Palachak and Thamsar mountain stand tall just ahead of the valley and waking up to this view is overwhelming. The walls of this co-living and co-working space has fantastic murals painted by visiting artists and along the stairway runs a chronology of Elon Musk's work and life.
Co working space: WorkationX has two co-working rooms namely, Focus and CoLab. The rooms are designed to catalyse the ability to deliver, be it through collaboration with others or by focusing on solutions alone. The glass box adjacent to the room, CoLab, gives a 180 degree valley of the Rajgundha village.
Co- living space: WorkationX has 6 suites available on a twin sharing basis. Rooms are comfortable and for people who love to live in hills for n extended period of time, this is a definite recommendation. The living room on the ground floor has a fantastic view of the villages across the valley. At the warm kitchen adjacent the the house, you'd always find an interesting conversation brewing and all meals are warm and delicious.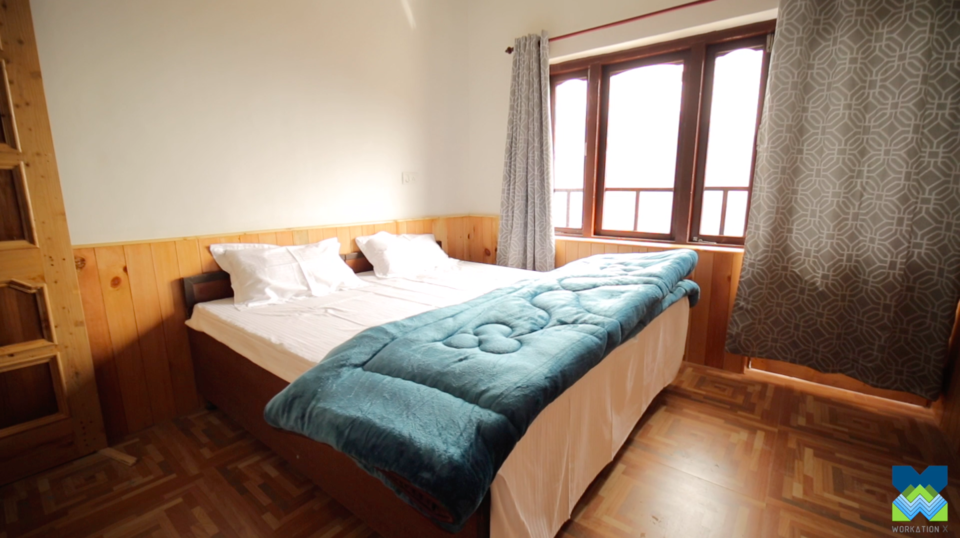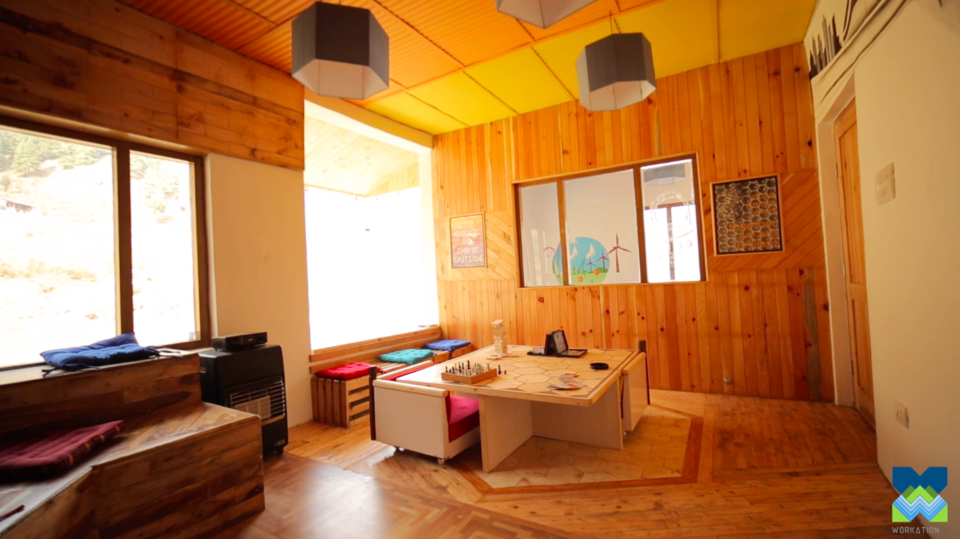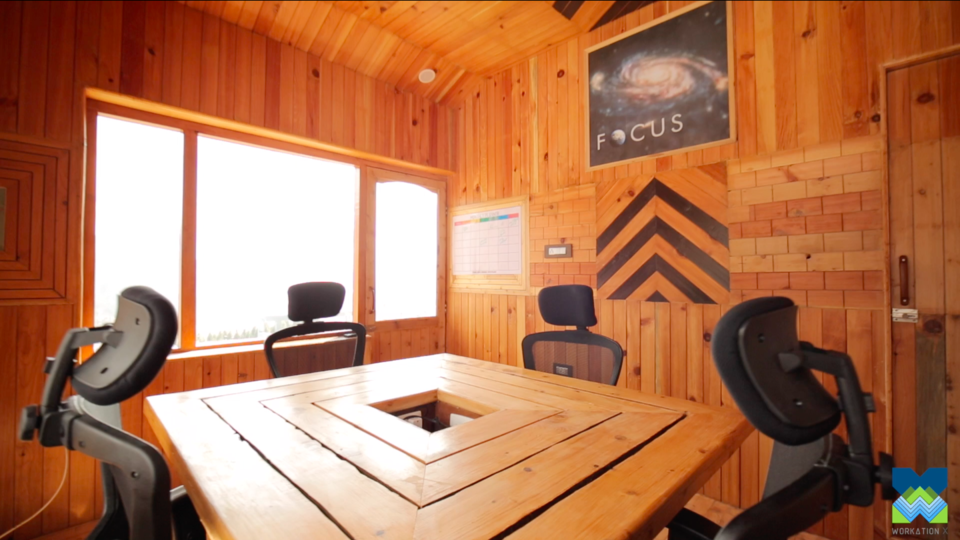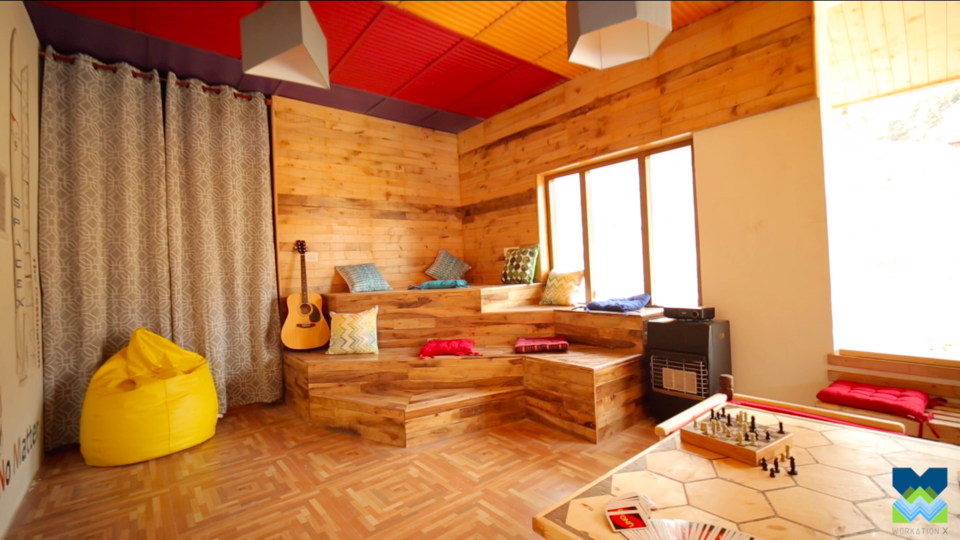 Who is WorkationX for?
• For freelancers: It is for digital nomads who live a location-independent lifestyle and can work from anywhere. The co-working space with high speed internet allows you to deliver efficiently.
• For startups: WorkationX is also a great place for team outings and events for businesses and startups. The space is designed for a team to work in synergy and think out of the box.
• Workshop yoga: It also welcomes artists, yoga trainers, illustrators and photographers to organise workshops for an interested audience. WorkationX will also help businesses and startups to participate in these workshops conducted by visiting trainers.
• Digital Nomads: People who can work from remote locations and whio are interested in learning a new skill are most welcome. You can get a tailor-made itinerary based on your interest on the link below.
Things to do around WorkationX
When you're amidst the bounty of nature, it's hard to not embrace it. Therefore, for all the adventure lovers who wish to explore the Kangra Valley of Himachal Pradesh, this could a dream destination. The valley offers recreational activities like angling in the glacial river, mountain biking, camping next to a waterfall and paragliding at Bir, the world's second best sport for it, at the end of your workation.
Other challenging and rewarding spots for a hike are Hanuman Garh Peak, Palachak, and Barabhangal via Thamsar Glacier.