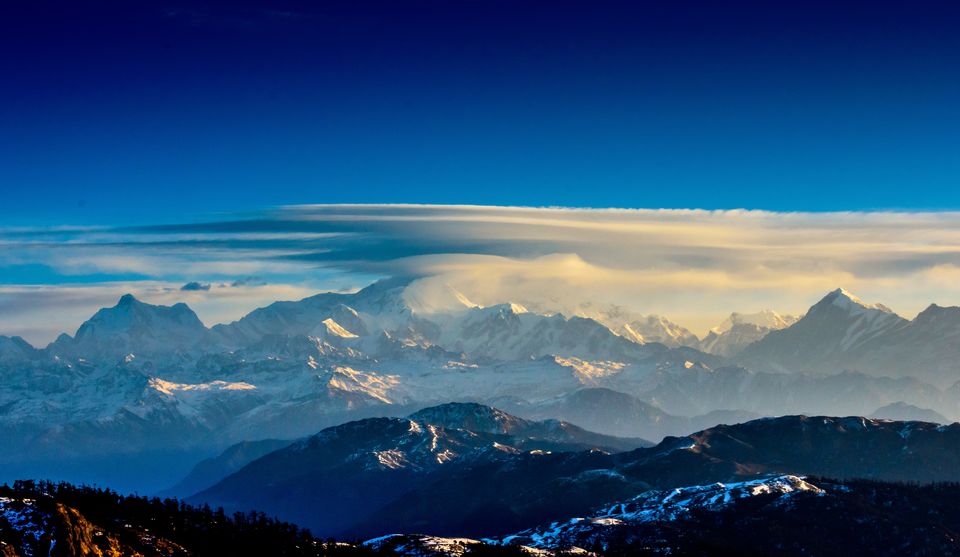 Travel far enough, you meet yourself - Cloud Atlas.

It was the first time I was travelling so far away from home - to an unknown place, to do something which I had never done before! I could not believe myself, that I had willingly signed up for this trek. I was so excited, at the same time nervous and worried!
Cut to the present, few of us trekkers shared a cab from Darjeeling to Jaubari - our base camp. The journey to base camp was exciting! Those vast landscapes, and the curling roads gave the feel of a road trip that wasn't going to happen!
After about an hour journey, we couldn't resist asking the driver to stop for some clicks at this beautiful location. There was a school at the foot of the hills. Imagine going to a school located at such a serene place! I envy the kids who go there to learn!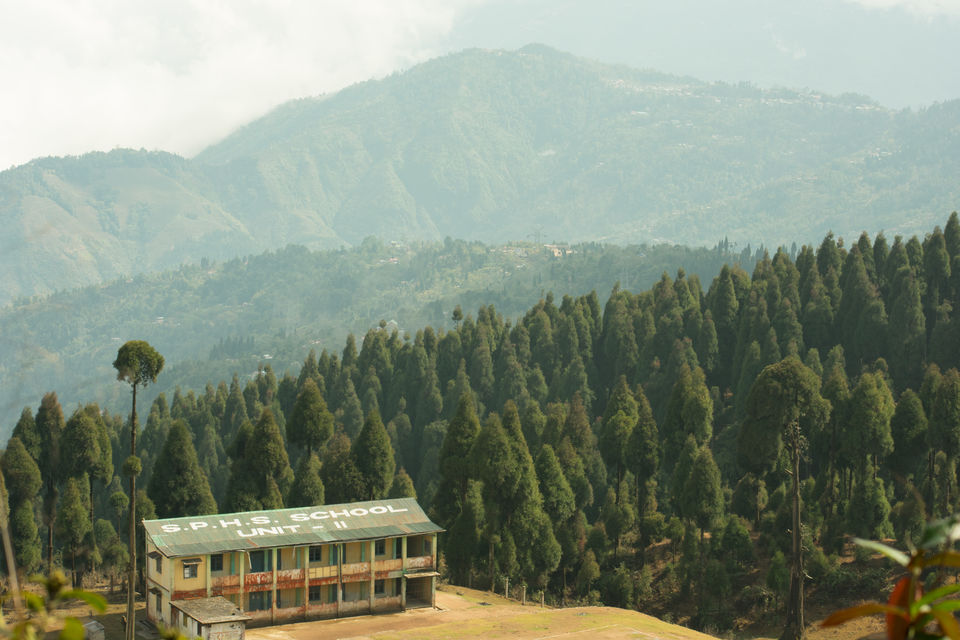 After about 3-4 hours of journey through the hilly mountains, savoring the fresh Nepali music being played in the cab and complimented well by the green surroundings along those lustrous curvy roads, we saw a sign board which read "India Hikes Base Camp - Jow Bari"!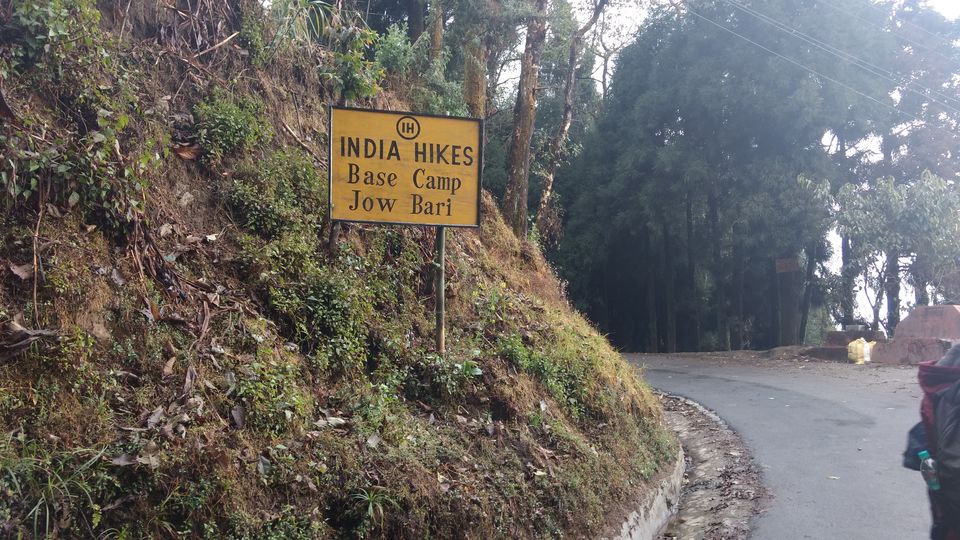 The base camp was a good sturdy- house like - built with wooden sheets for a better insulation from the cold. The day at the base camp was special, with so much running through my heart and mind, the soul waiting for it to happen, I could feel butterflies in my stomach, not just for the hunger of food, but for the hunger of something more exciting yet to come! You would want to absorb everything that's coming your way. An amazing weather, the chilling cold, the clouds moving away from you!
For someone like me, who is on a Himalayan trek for the first time ever, everything was exciting. Those meadows, the mountain ranges, even the smallest patch of snow, those little flowers grown along the bypath and the border lines between India and Nepal was equally exciting. This was the time when I realized that this journey is gonna have a greater impact on me than I ever thought.
While some people chose to take a stroll around, some chose to stay still and enjoy the beauty at a distance. The clouds moving right in front of our eyes, not far away, gave me a feeling of being very close to nature, and we truly were. When you are out in the arms of nature, you forget all your worries, all the pain, and all the worldly things that mattered a couple of days ago seemed to fade away with the moving clouds!
It was good to spot some first timers among others, who had several difficult treks to their bucket. After a briefing session by the trek leader, dinner was served, and believe me, it was yummy! Everything that is lukewarm or better always feels better in the mountains! Always!
One little thing I love about the mountains is that it gets dark pretty soon! The temperatures start dropping as soon as the sun nears the horizon. By 6 pm, it was dark, dinner at 7, and we were back to our cozy beds with a fluffy and warm sheets to doze off for the night.
Day 1 : Trek Begins | Jaubari to Tumling
Altitude gain: 6,400 ft to 9,450 ft
Time : 11Kms, Approx 7 hours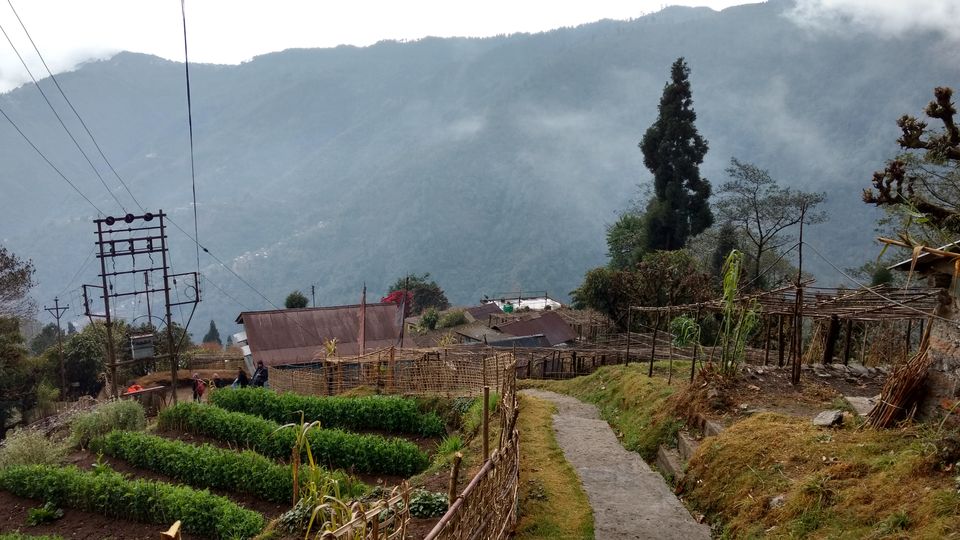 Today, was the first day of my first ever Himalayan trek. It was 8 AM when we were all set to leave the base camp. The routine was simple. Our trek leader laid out the timings 6-7-8 as Tea-Breakfast-Begin!
They say, Magic happens outside the comfort zone! Well, it couldn't have been more truer the way it turned out to be. As I carried my rucksack on both my shoulders from the room to the outside, the feeling was amazing. I could feel my heart pounding in excitement, at the same time a bit of worries, I was getting the same feeling you get when you go unprepared for an exam or a big presentation! I knew that I was nervous, but I had been waiting for it for so long now. It was the time to 'live'!
Our first stop was going to be Chitrey, a village amongst the mountains and the barren landscapes. First day is always challenging, as you leave your comfort zone, and try to adjust or as they say in mountain terms, acclimatize to the conditions.
The first leg of the trek on Day 1 was through the dense forests and it seemed quite steeper than what we were told. I could feel my heart beat for the first time in a while. As we went along the group, I fell off to the last considering the fitness levels I had. My body was acclimatizing, I too was. The comfort zone was far off from where I was.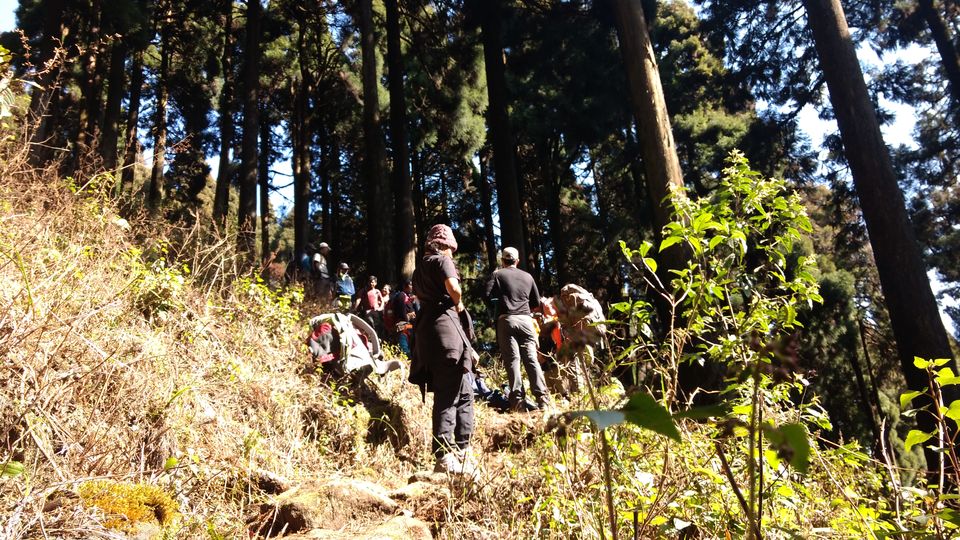 I could only see tall trees, mountains and the clouds, each overlapping the other quite beautifully! While it was a treat to the eyes which hadn't seen such mountains before, the shoulders started to ache, as even they hadn't had that weight on them before!! But the heart was strong! It had to be!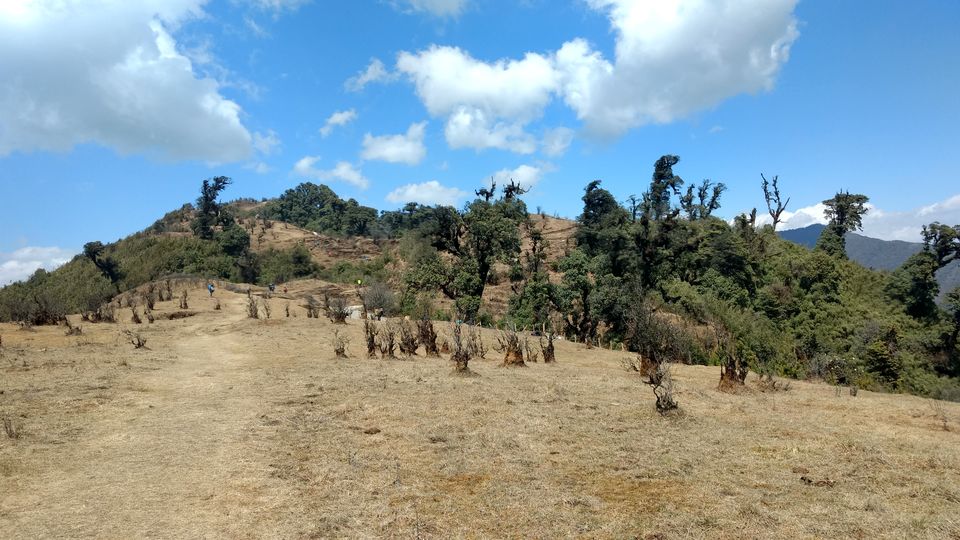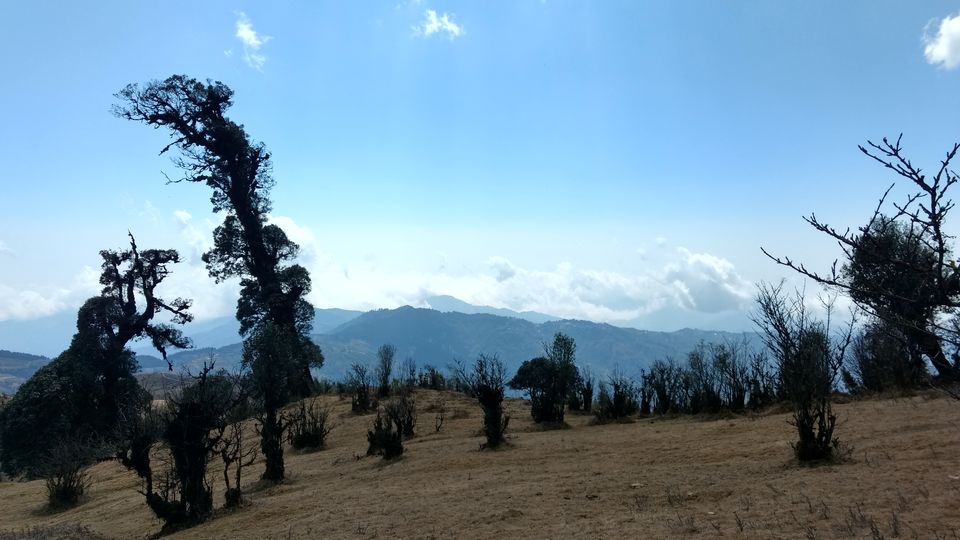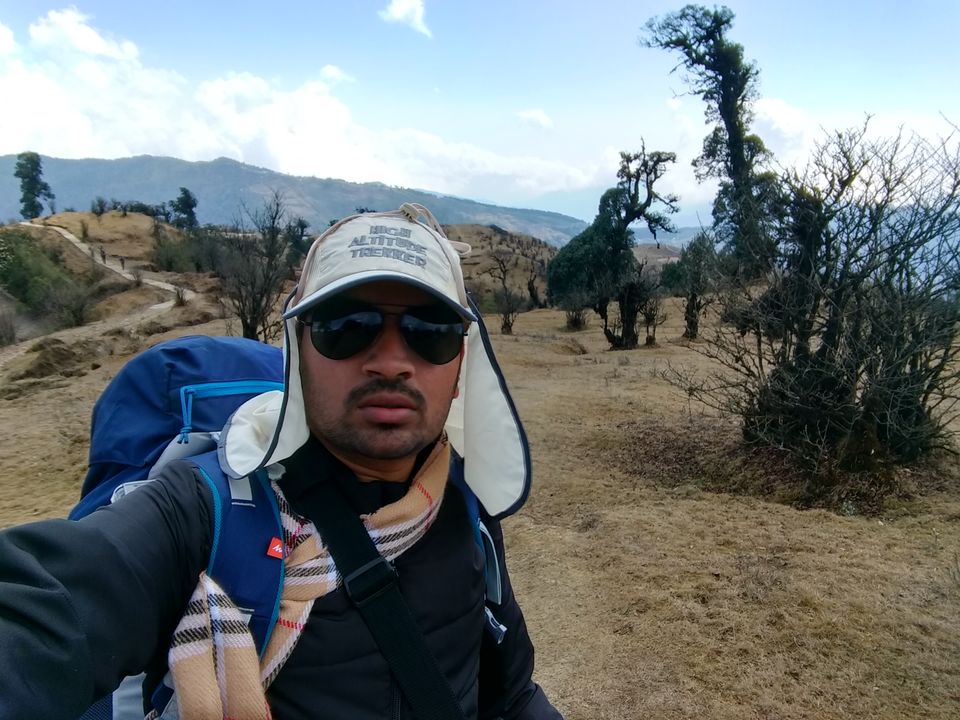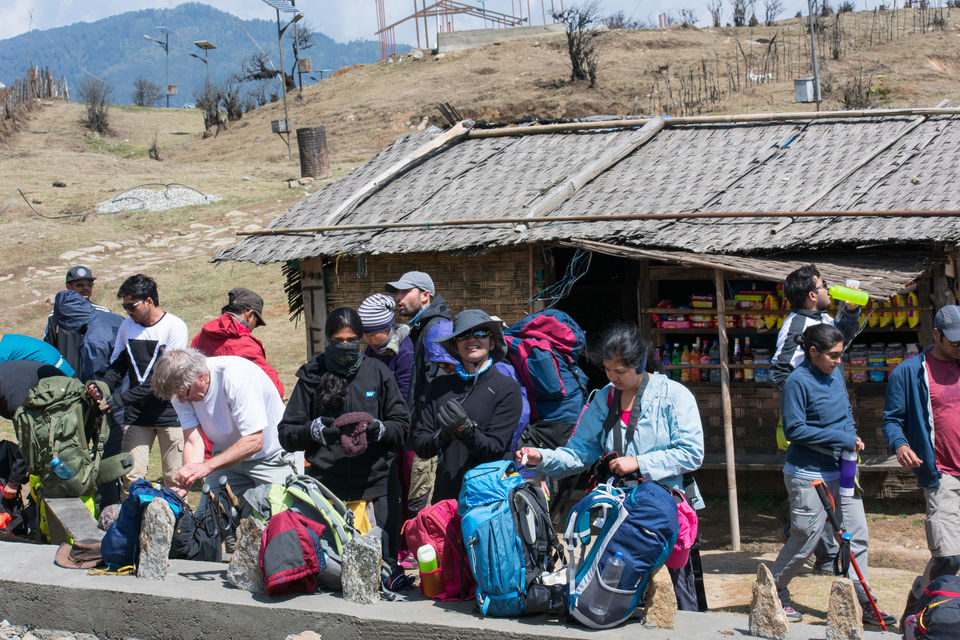 After a good 15 mins stop at Chitrey, we set to resume again. I felt happy that I completed atleast the first part of Day1 without much trouble. The trek from Chitrey to Lamaydura was easy compared to the first part. It was occasionally steep, flat otherwise.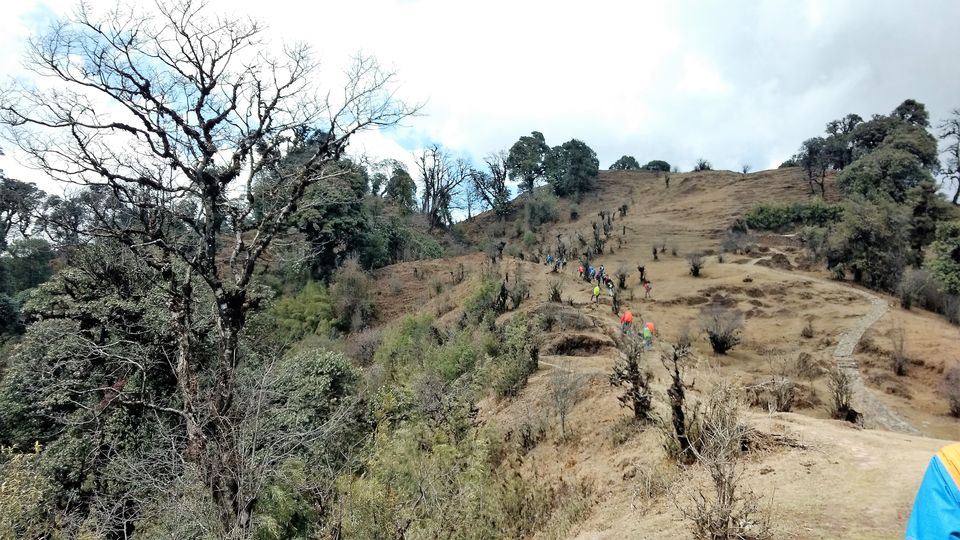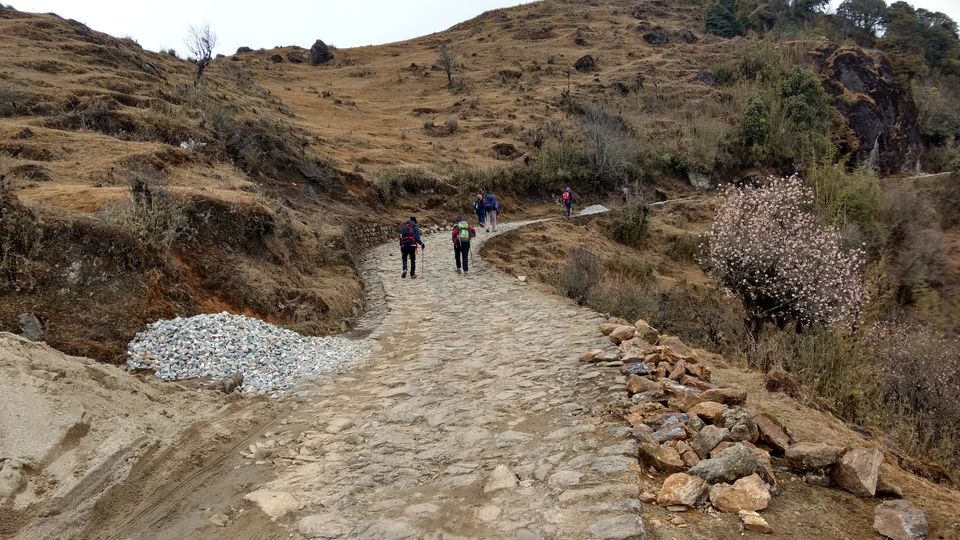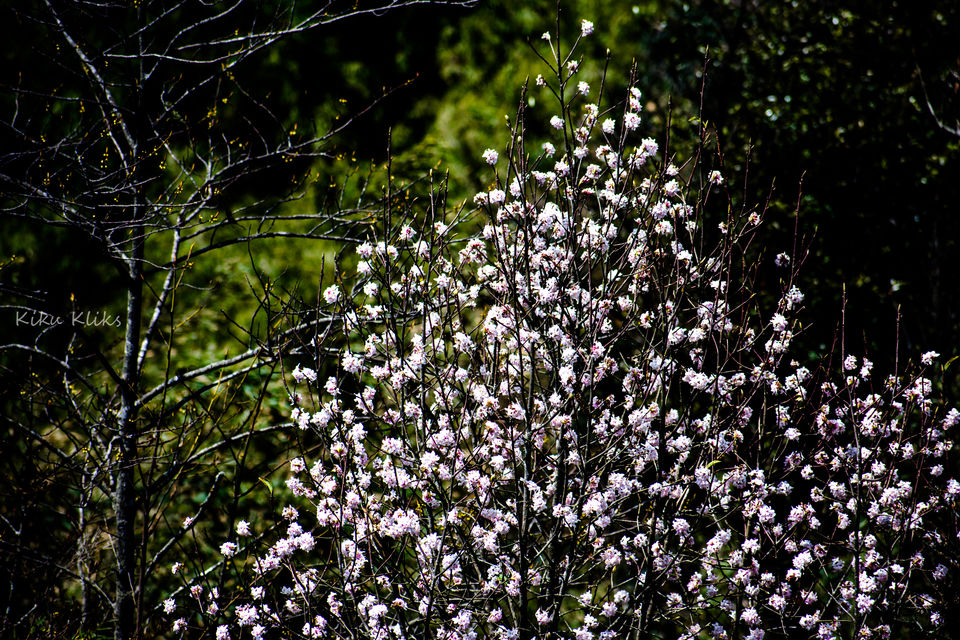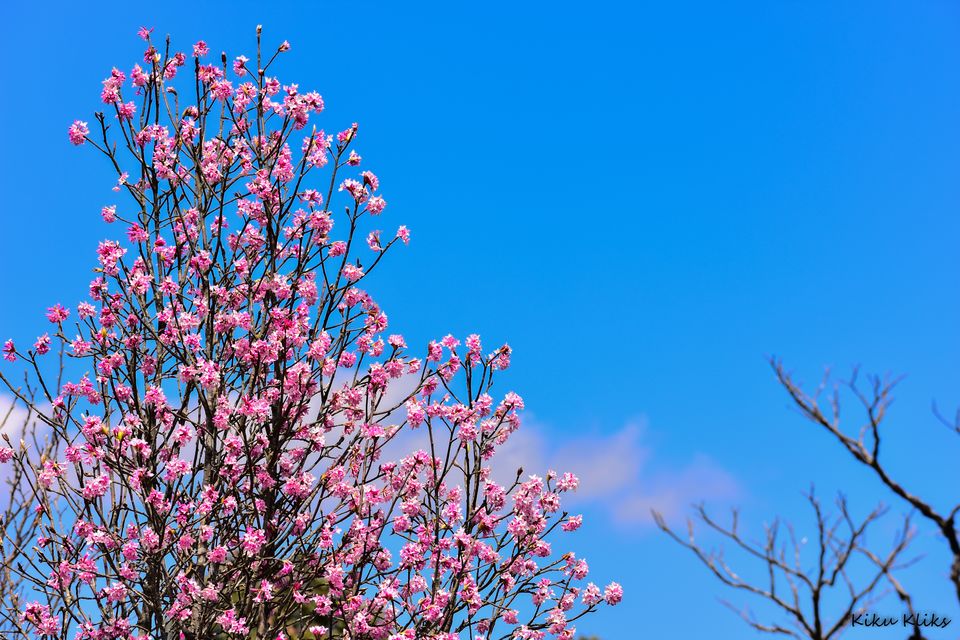 Meghma was our lunch point for the day, which was further 2-3 kms away from Lamaydura. The name Meghma is derived from two Hindi words - Megh meaning Clouds, and Maa is for Mother. Mother of clouds! So this place is always cloudy!! It was just around 2 pm, when the clouds suddenly made the arrival out of nowhere, this dropping the visibility to a a few metres.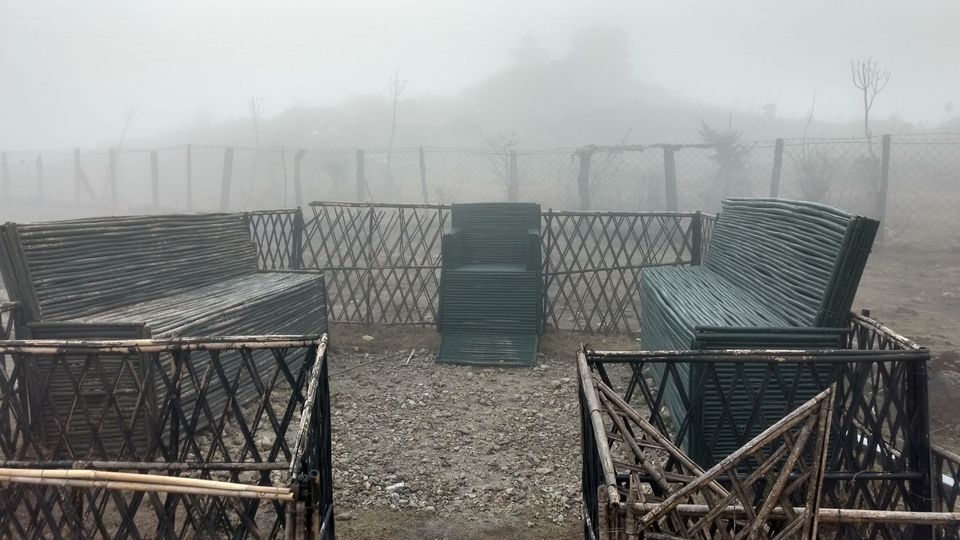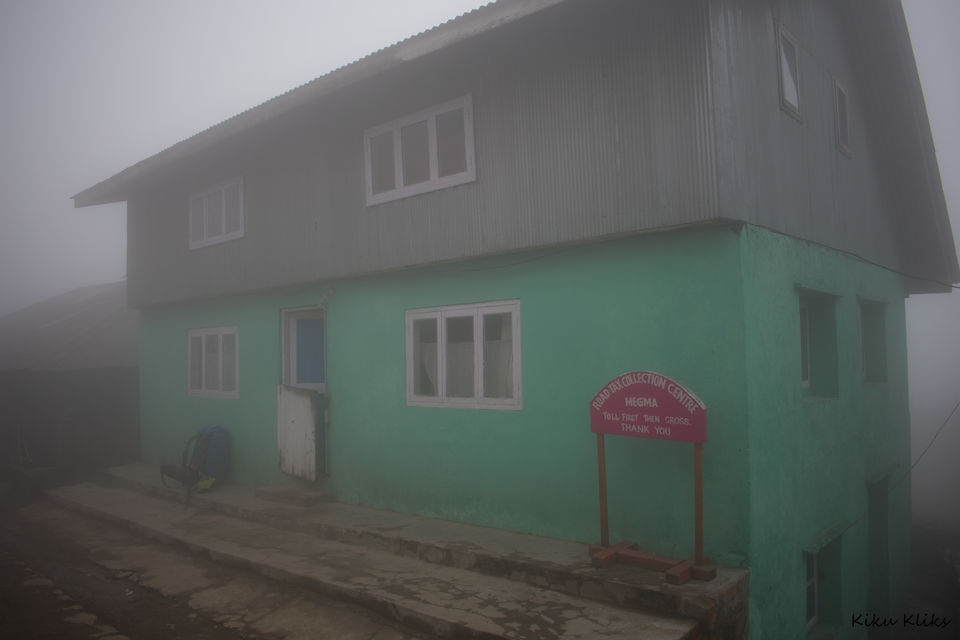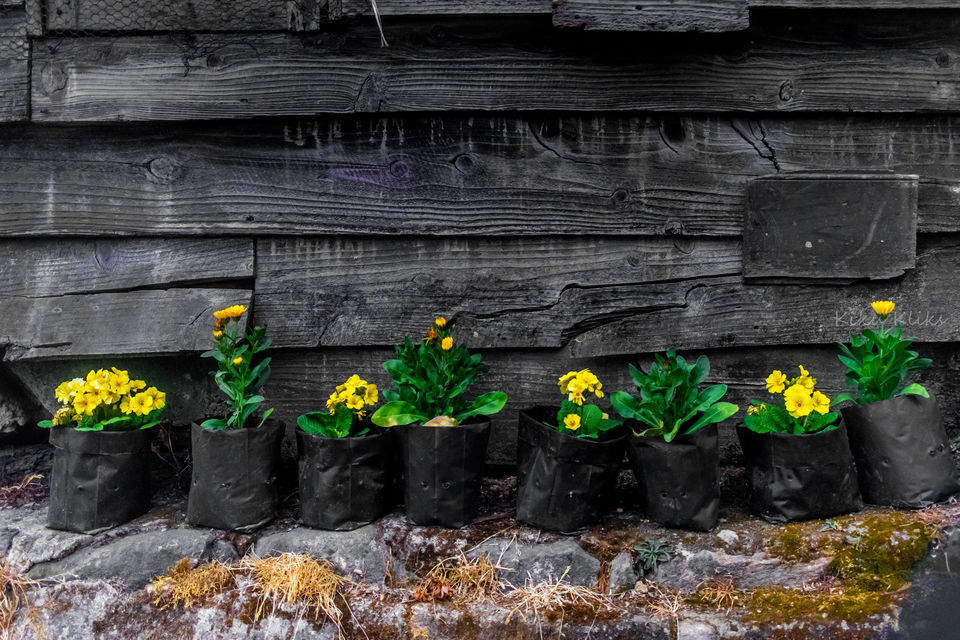 After a delicious and spicy lunch to keep is warm, we set towards the first campsite at Tumling. It's when I saw the first few snowflakes. Since I was seeing all this I for the first time, it got me really excited for the remaining part of first days trek!! Those winding roads seemed never ending and the legs had already given up. So instead of reaching there just tired, I decided to click some pictures, so I was further late!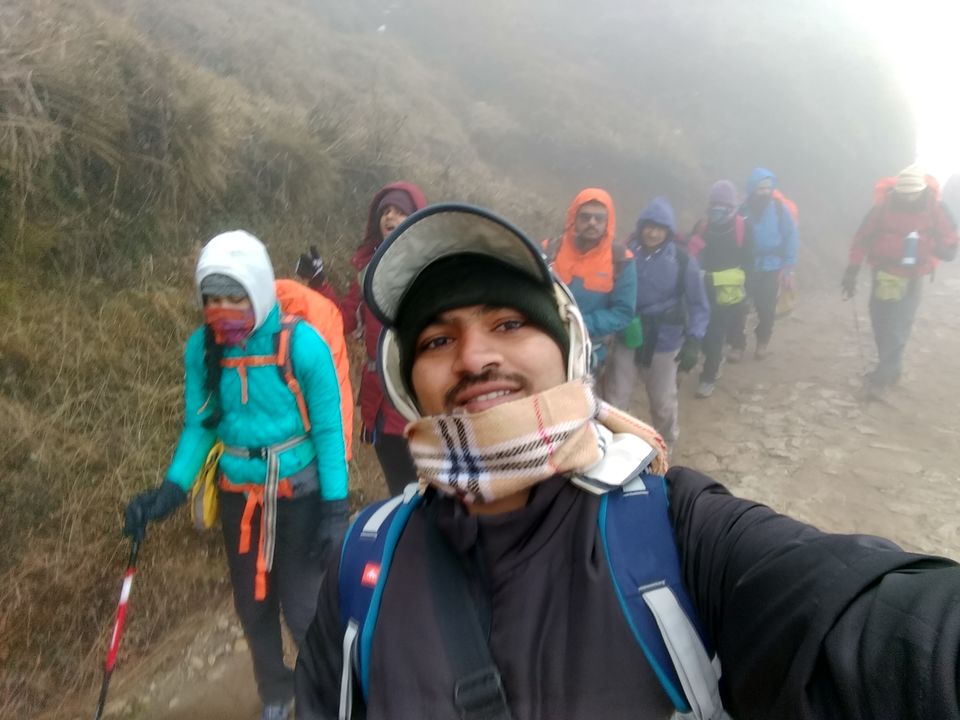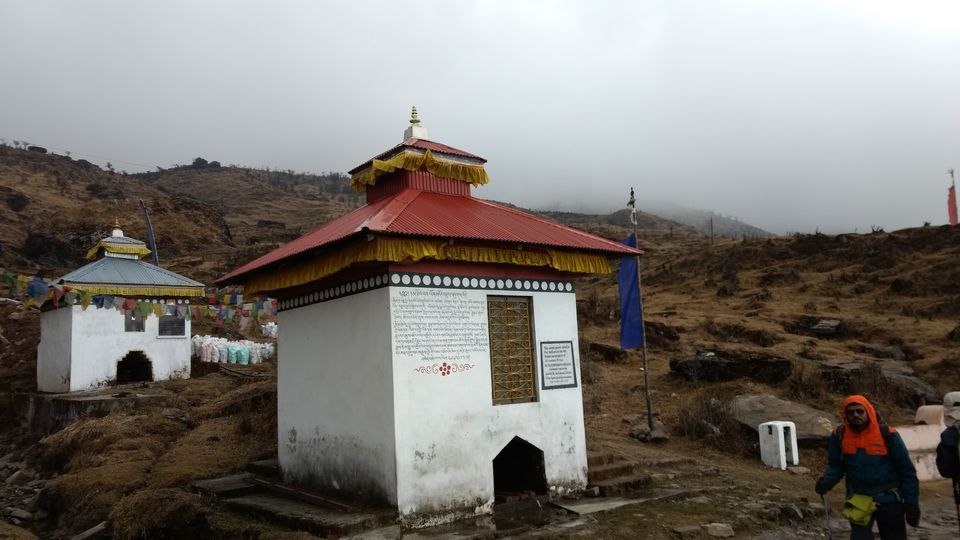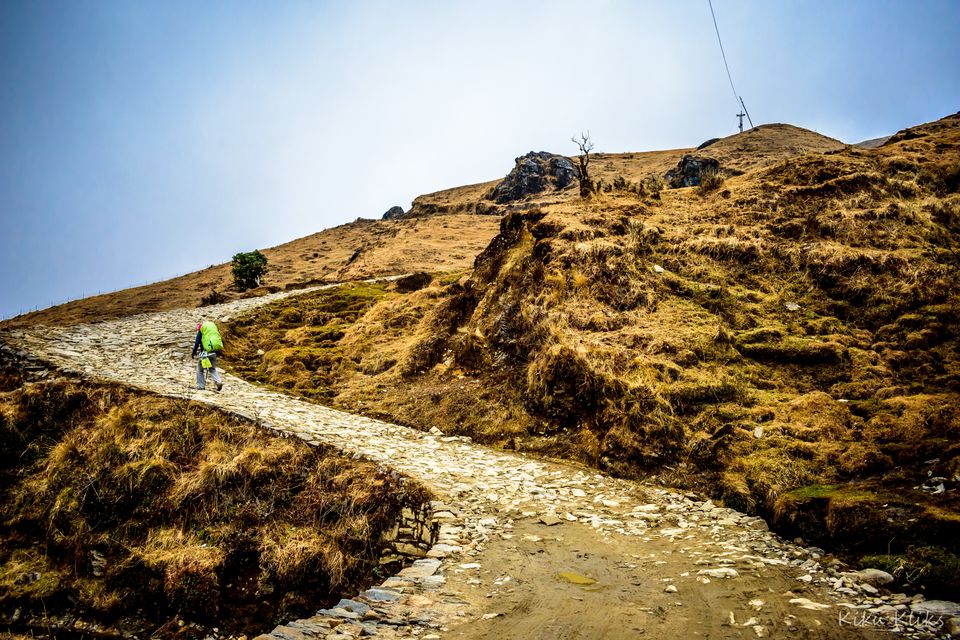 Finally I reached the campsite, which was way far from my comfort zone!! But there was no worries or uneasiness even though it was not my comfort zone. In fact, then I realised, the comfort zone grew around me as I trekked!!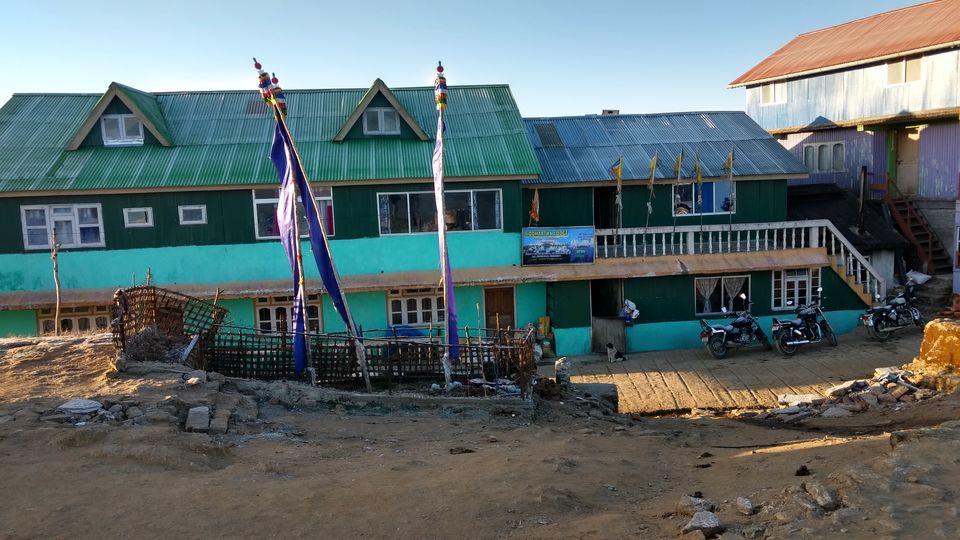 Everyone's oxymeter readings were taken, and all good. The stretching session helped loosen up and relieve the muscles. We were served some delicious pakodas and soup, which kept us warm! It was too cloudy to go out and click some pictures, and as there was no visibility, we slept waiting for the next day to get a view of The Sleeping Buddha view, and The Kanchenjunga Peak!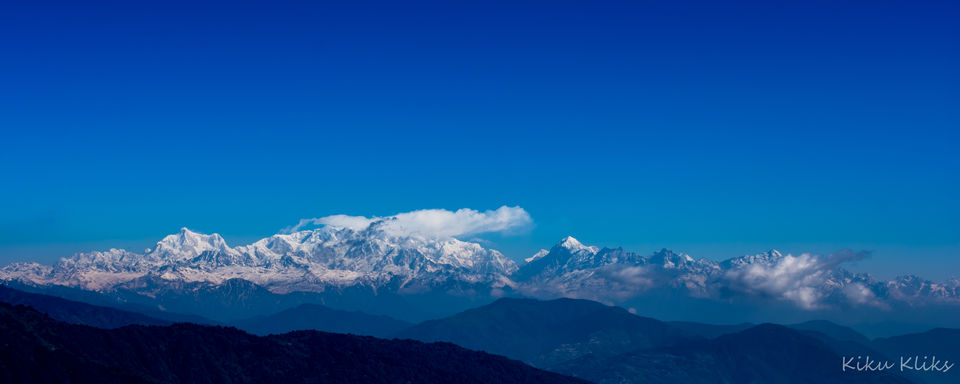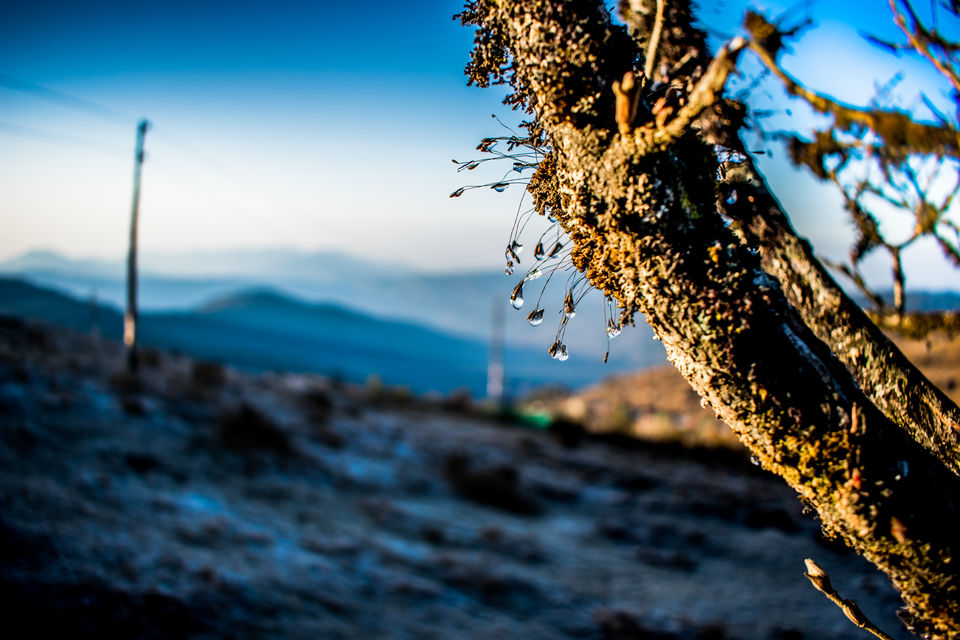 Day 2 : Ascents and descents | Tumling to Kalipokhri
Altitude gain : 9,450 ft to 10,400 ft
Time : Approx 7 hours covering 13Kms
This day entailed some of the difficult ascents and descents. The trek through the Singalila National Park was amazing. 3 hours of trek through the lustrous forests and the observing the forever beautiful landscapes was blissful. Along the way we found some snow along the route and it was like someone made that snow carpet just for us.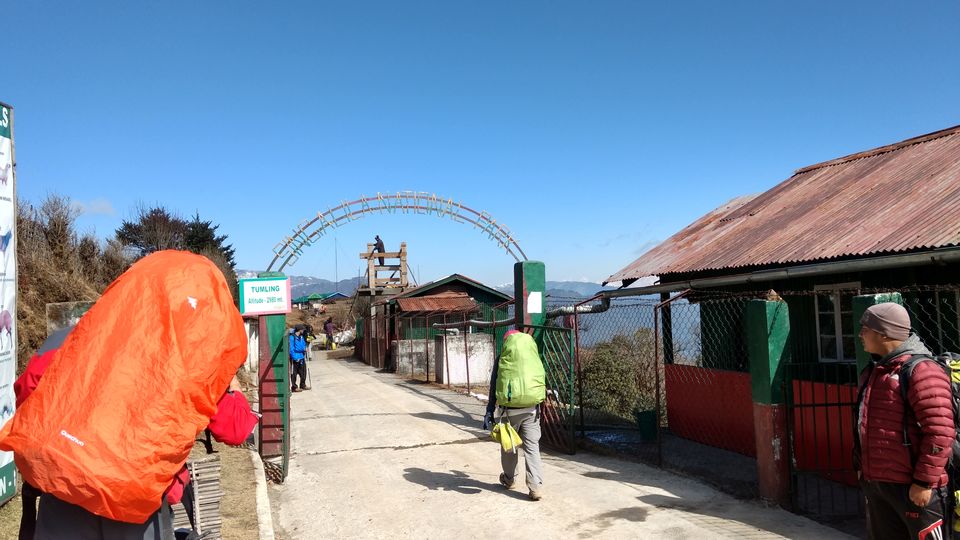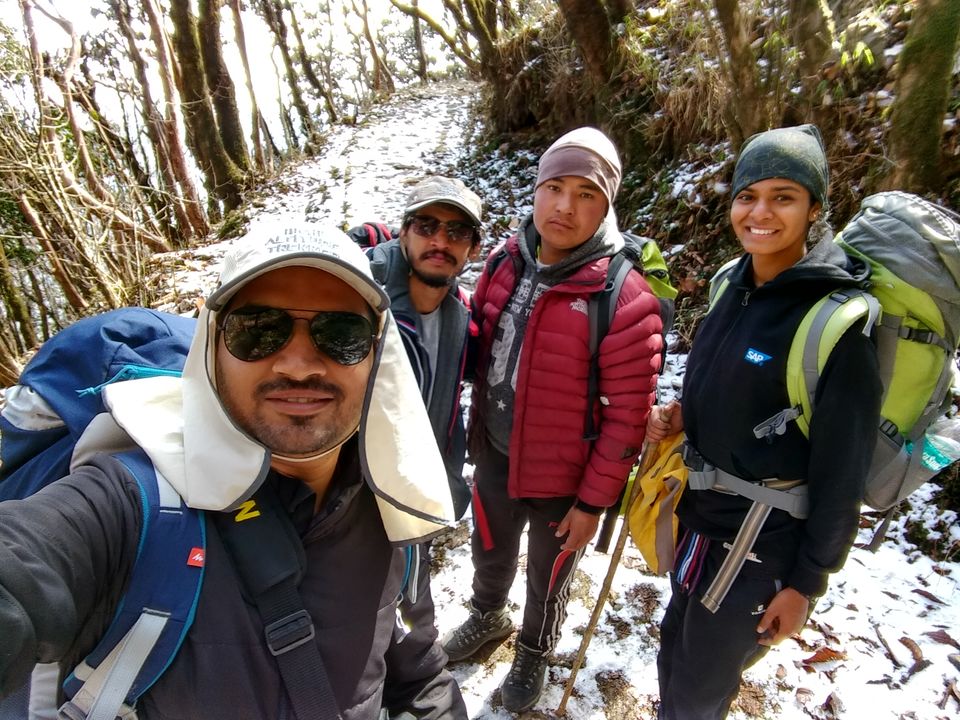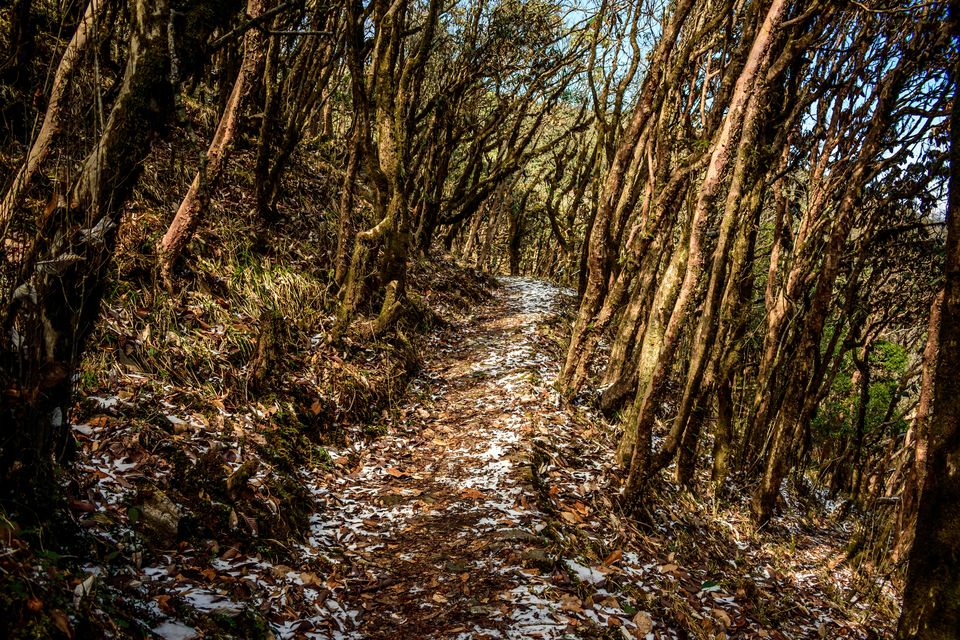 There is a SSB point at Gairibas valley, some eateries, and a few tea houses I guess. We had delicious momos and the black tea to complemented well to the taste.
Kayakatta was our lunch point for the day. The trek to Kayakatta seemed difficult. There were just curvy roads going up the hills and it was very tiring. As I mentioned before, the weather turns cold all of a sudden in the afternoon. The clouds moving across the face led to leaking nose, but I didn't bother. Kept on walking until we reached the lunch point.
We were served Rice - Dal and papad. The simple rice dal never tasted so delicious before. It was hot, it was amazing.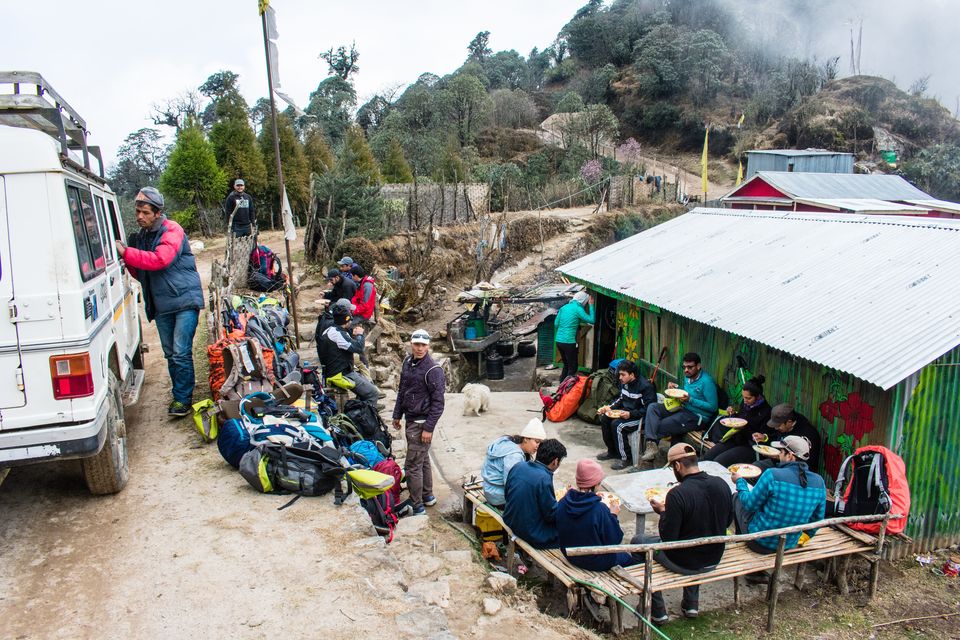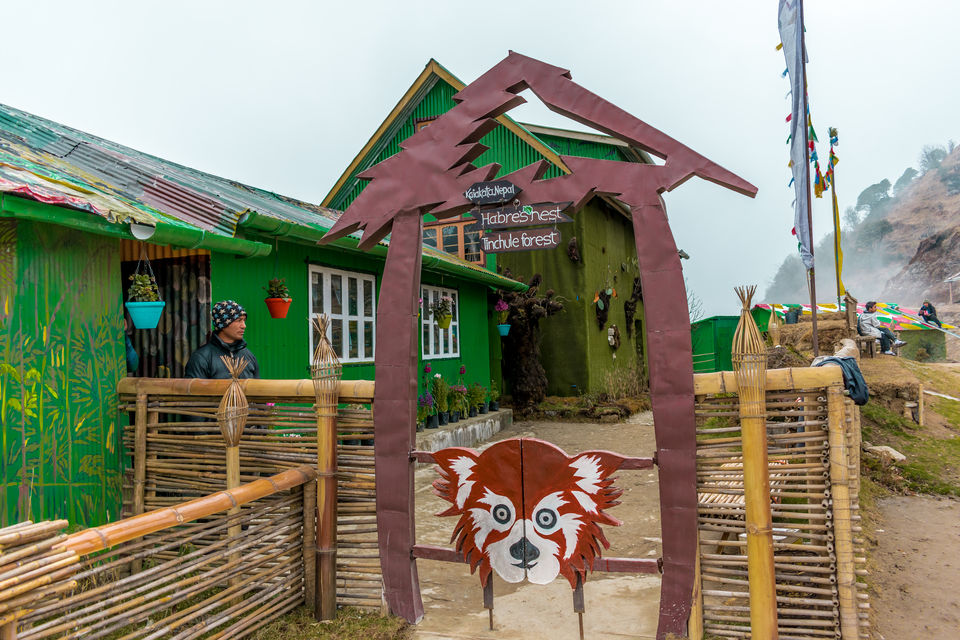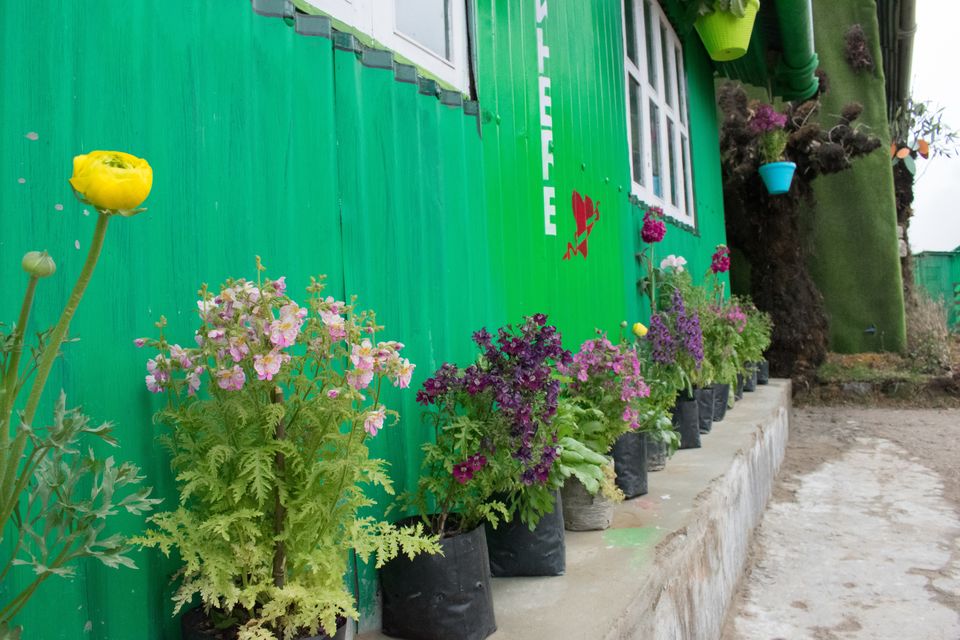 Solitude comes with its own pack of excitement, but there is a flip side to it. I was kinda lost when I saw three ways ahead of me. Luckily found some worker fixing the road and hey guided me where our fellow trekkers went, and another 10 minutes, I was at Kalpokhri. The name is derived from two words Kala and Pokhri. Kala meaning black and Pokhri meaning lake in Nepalese. It is said that the lake has dark water.
I was slow most of the times, spending time to click some photos, to stop and let the moment settle in, and to let the beauty of nature to soothe my soul! It didn't matter to me whether I finished last or first (first? as if it was possible :-p) I just took my time, walked at my own pace, and clicked at my own pace!
There was a time, when the groups started moving too fast or too slow. For about 20-30 minutes I was alone in the middle of nowhere! With fast moving guys too far ahead and one or two slow trekkers far behind, it was a perfect time of solitude! I felt so lucky and happy alone. I had never thought I would get that chance even for the briefest moment. Not sure if I had clear thoughts or I had no thoughts running in my mind! It was the best 30 minutes of my life I would say! An absolute bliss.
After a fun filled stretching exercises, it was the time to relax. We played mafia, our trek leader showed his card tricks and after so much fun, it was time to get some good sleep, as the next day was The Summit Day, and the most difficult part of the trek!
Day 3 : Summit Day | Kalipokhri to Sandakphu
Altitude gain : 10,400 ft to 11,950 ft
Time : 6 Kms, Approx. 3 hours
The crunching sound of the virgin snow as I step my foot and walked over it, seemed like a melody! It was just the beginning of all the snowy trails ahead.
Today was the shortest day of the trek yet the most tiring day! It was a regular 6-7-8 tea-brekfast-depart routine we followed today as well. We had to cover just 6kms to reach Sandakphu. But it was not the usual 6kms that we had covered on the previous days. The first 2 kms were easy until the shoulders started speaking!! This time around, I was kind of used to it. I knew that I had to keep walking that's all.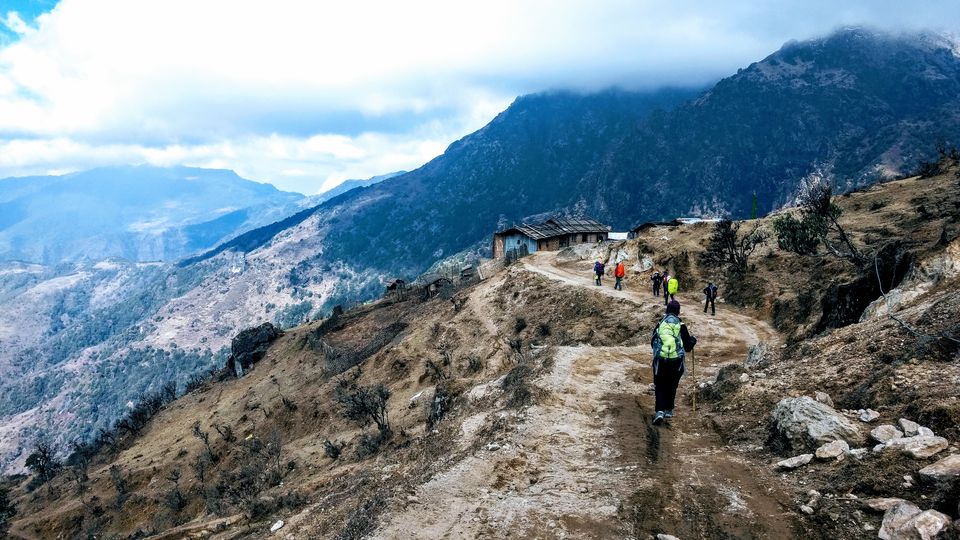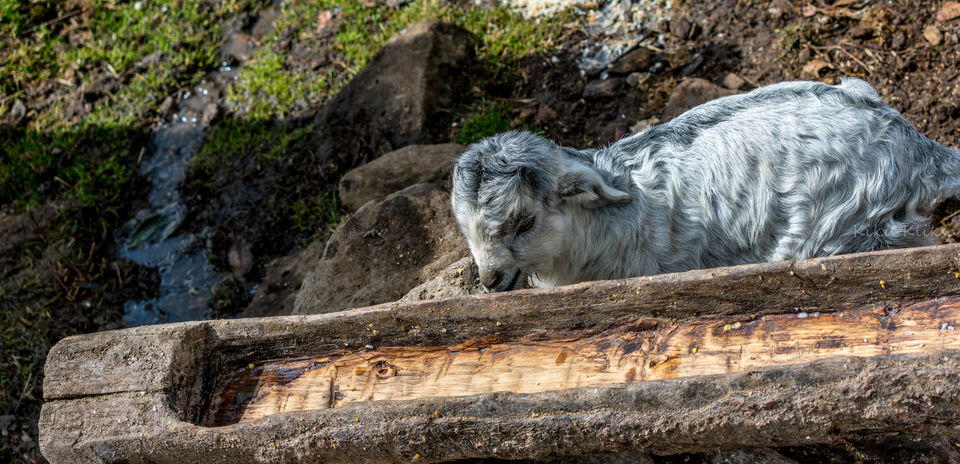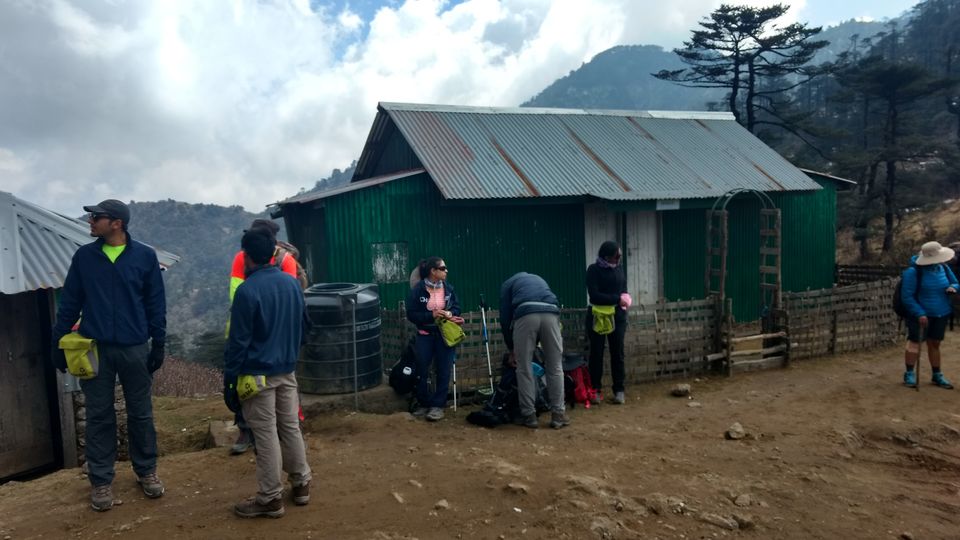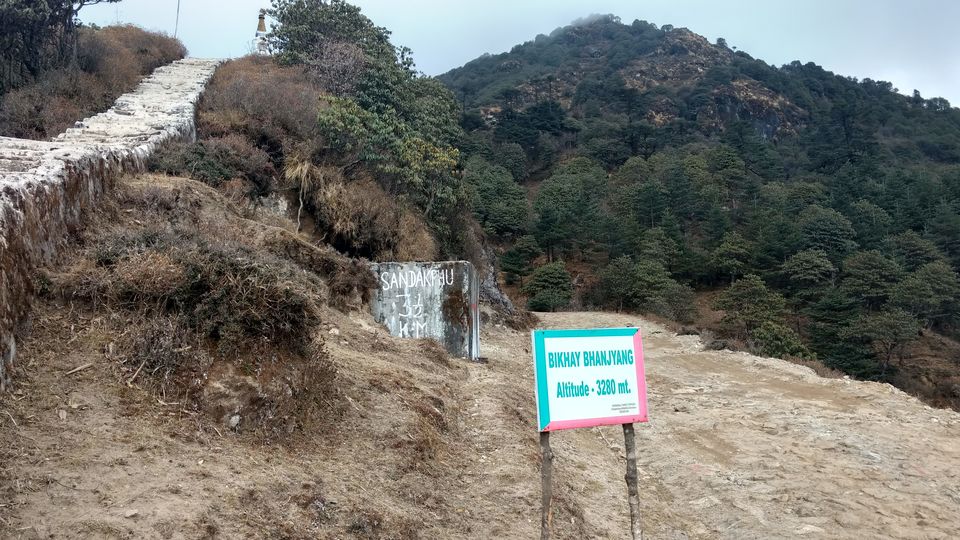 Another an hour into the trek, what I saw was the most beautiful thing I had ever seen!! The snow! I was seeing such snow covered mountains, and the first time I was gonna walk on it! I couldn't have been more excited!
The crunching sound of the virgin snow as I step my foot and walked over it, seemed like melody! It was just the beginning of all the snowy trails. I absolutely loved it. :)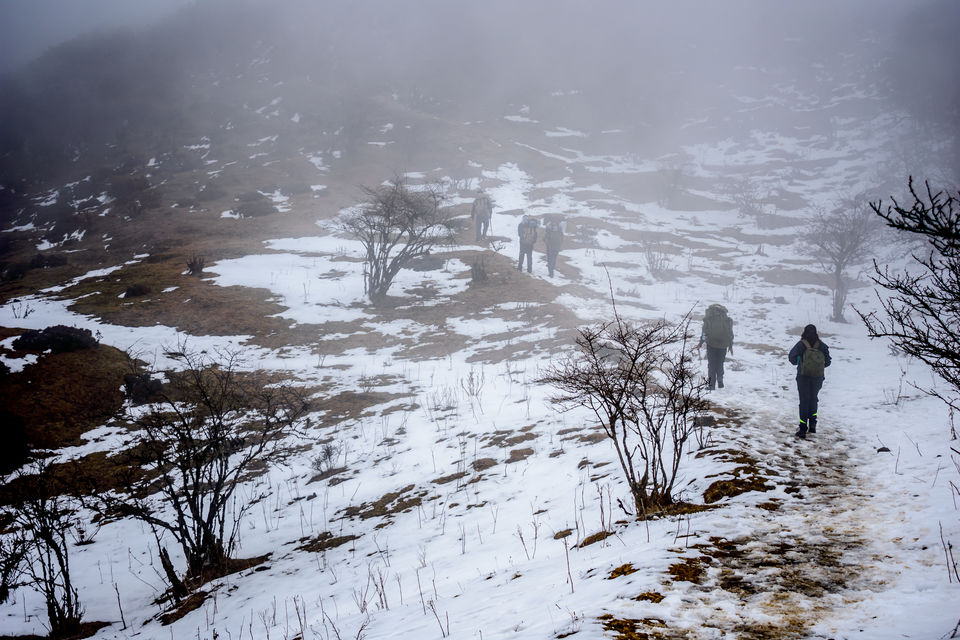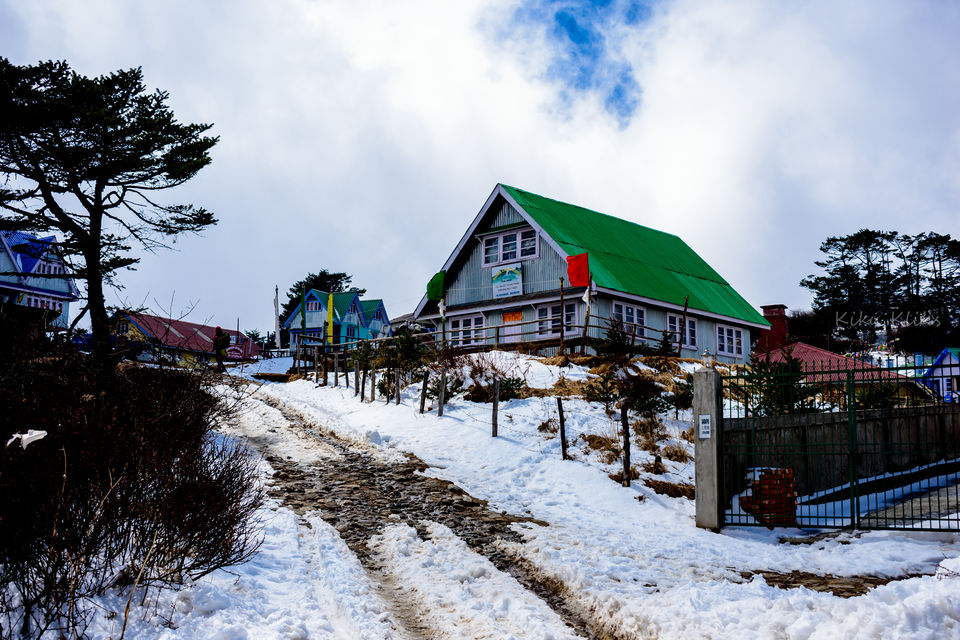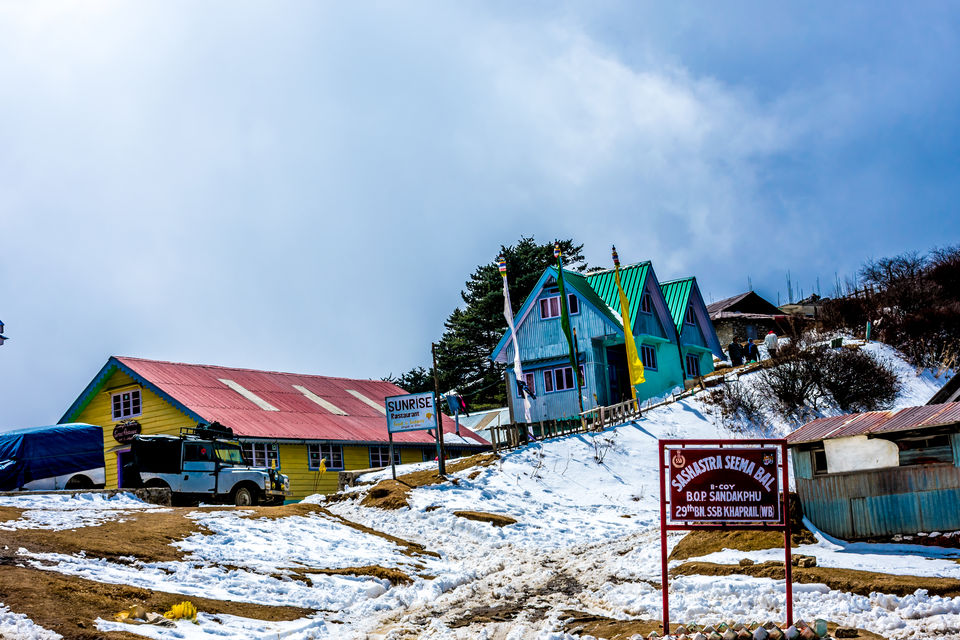 We hogged almost everything that crossed our sight. From Thukpa, to wai wai noodes, to omlettles and maggi, bisciuts, choclates, you name it. It was that exhausting.
The Sandakphu base camp was just another half a kilometer away and I had regained some energy, and in the mood for some recordings. This half kilometers was the best of the trek. See the video below.
When I reached the peak, I was very happy that I finally did it. From a person, who once had no idea if he could complete the trek, was now at the peak. By now, I had learnt a lot of lessons, that life had in store for me! It felt really inspiring. I felt really strong. That inner sense of happyness you get when you know you did something which you never thought you would, is truly one of a kind!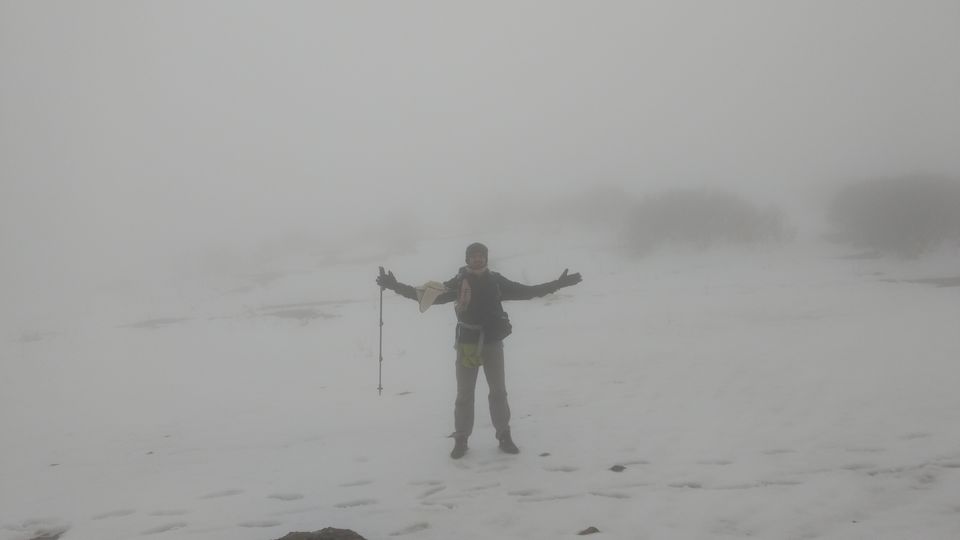 We sat inside the tea house for a good two hours warming our feet, warming ourselves, sharing the experiences, while having hot pakoras! After the hunger was satisfied, I went out to explore and get some clicks. It was really windy then, and clicking even with the gloves on, seemed like a hassle.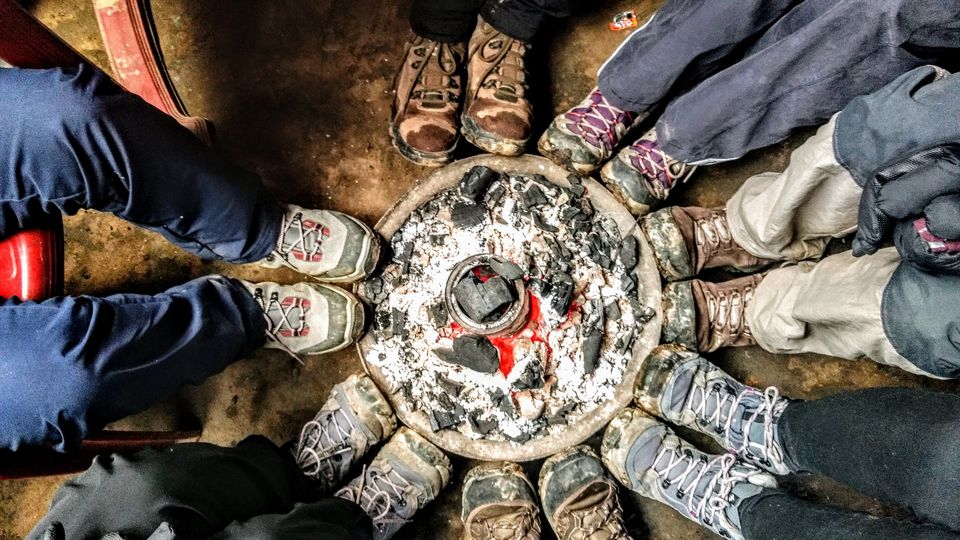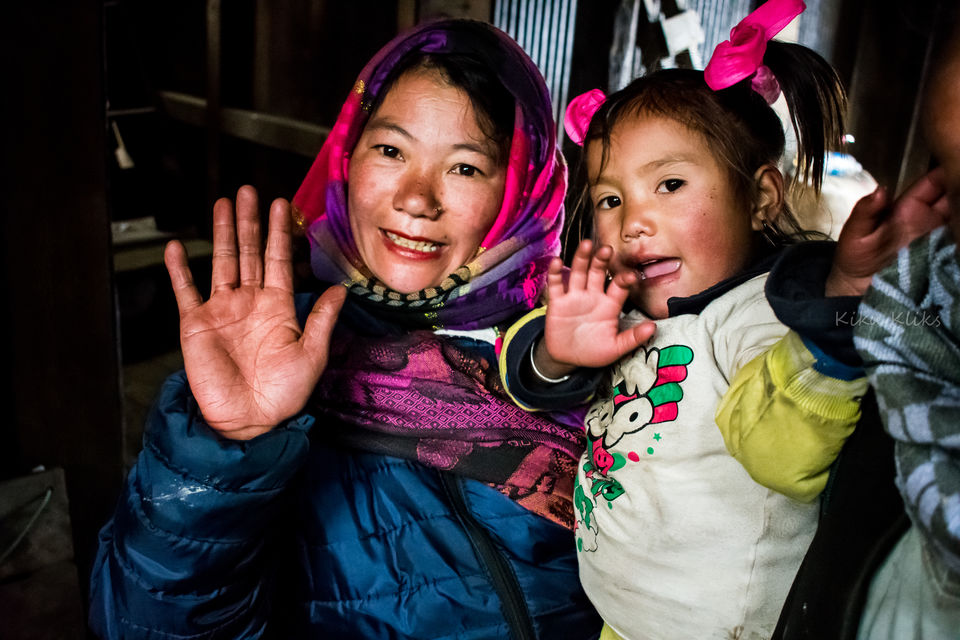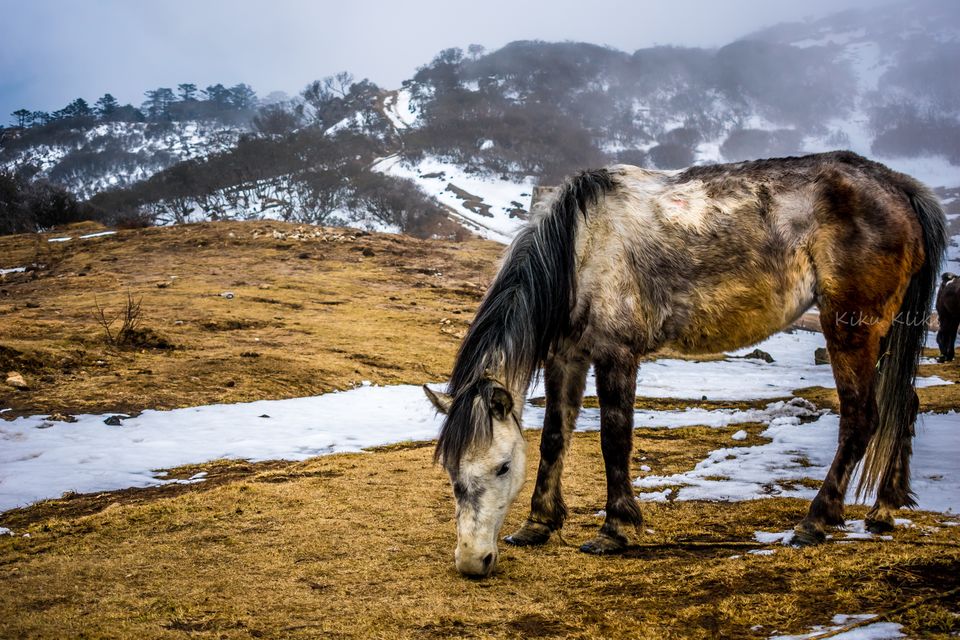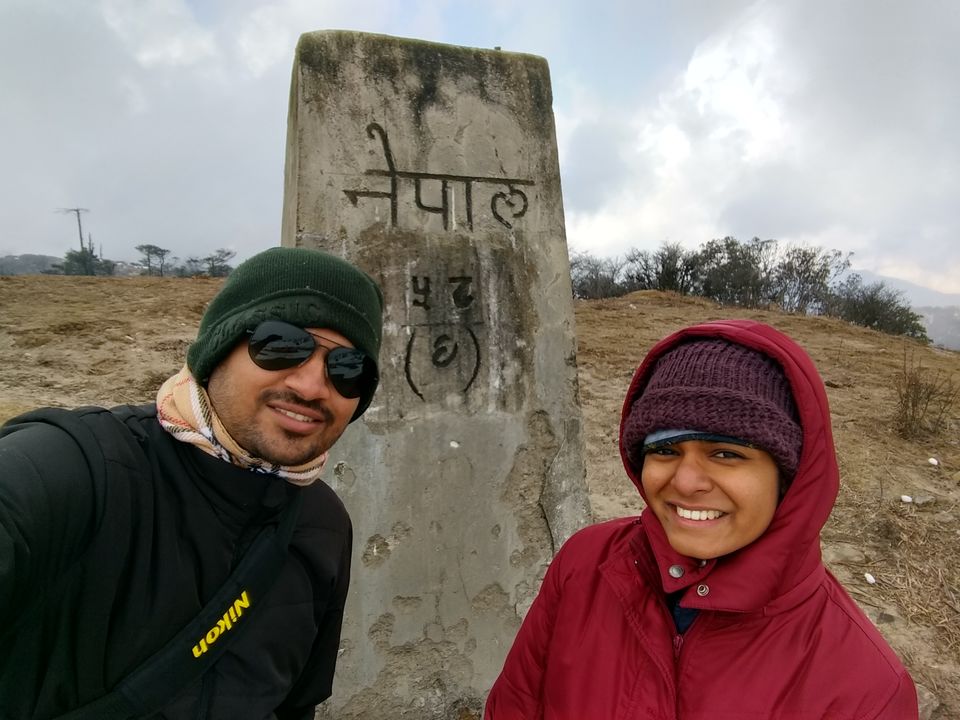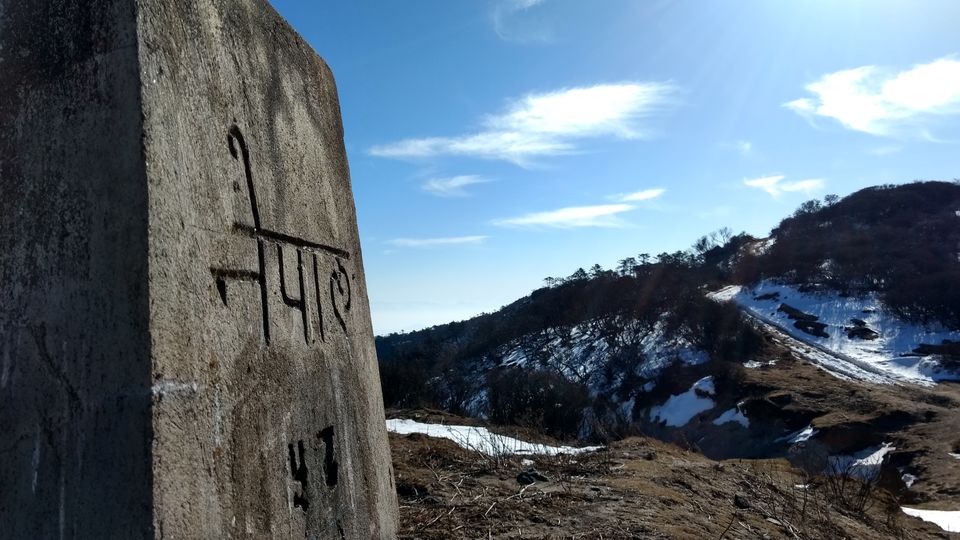 After an early dinner, I along with few others opted for the tent, while some opted to stay in the tea house. Again, my first time in a tent, and the sleeping bag. I could hardly sleep. Every now and then, I would wake up and feel out of oxygen, open up the tent a bit, take fresh air, sit awake for the next ten minutes, and repeat. This continued until the morning!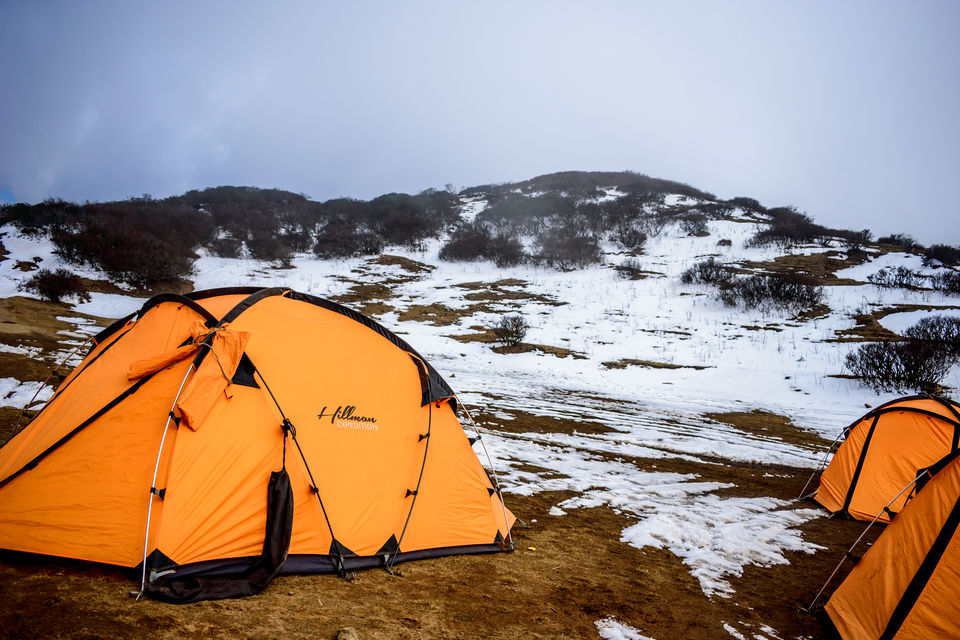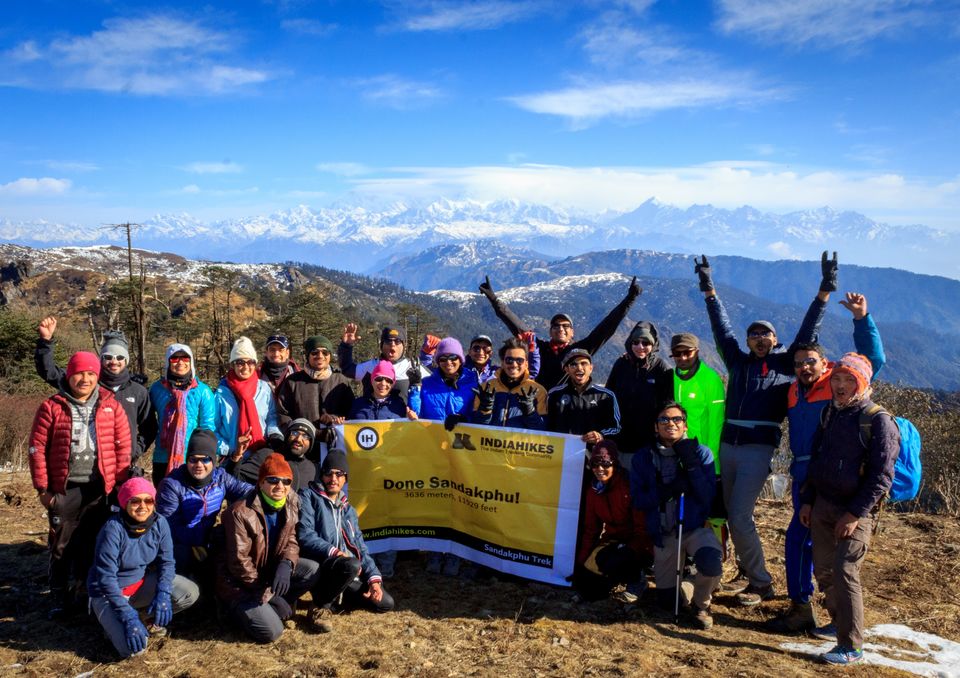 Day 4: Meadows and Ridges | Sandakphu to Sabagram
We set sail for our next camp at Sabagram. Again, it was a 12-13 km trek. Sabagram is almost the same height as Sandakphu. The trail was awesome, as we had to go through the snow covered regions for most part of the day! There wasn't any steep ascents or descents compared to other days, but the trek after the lunch looked a little difficult mainly due to weather.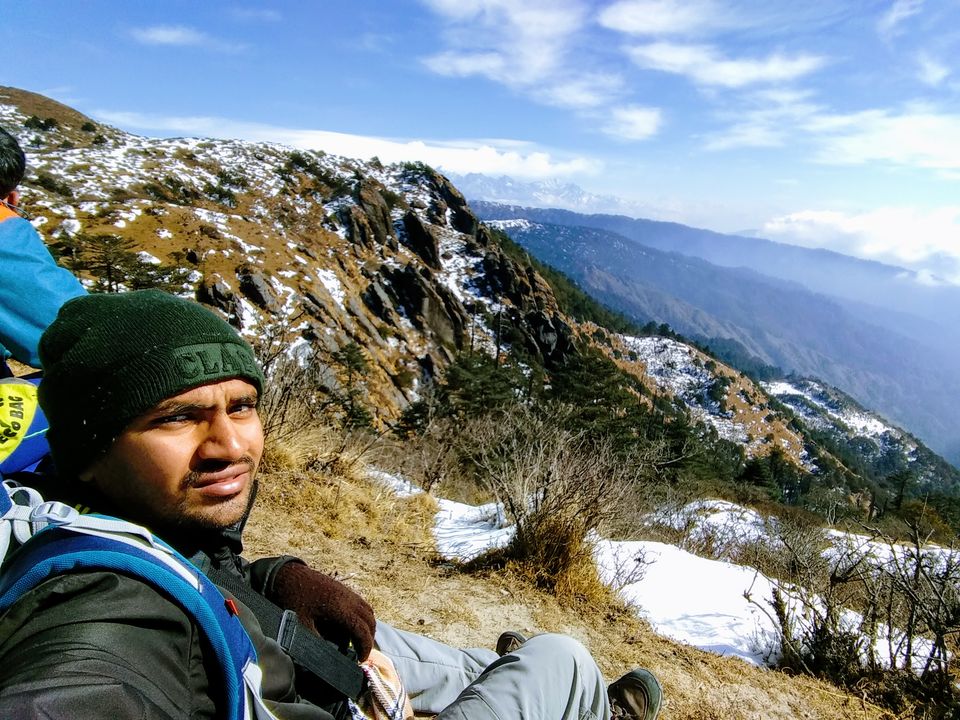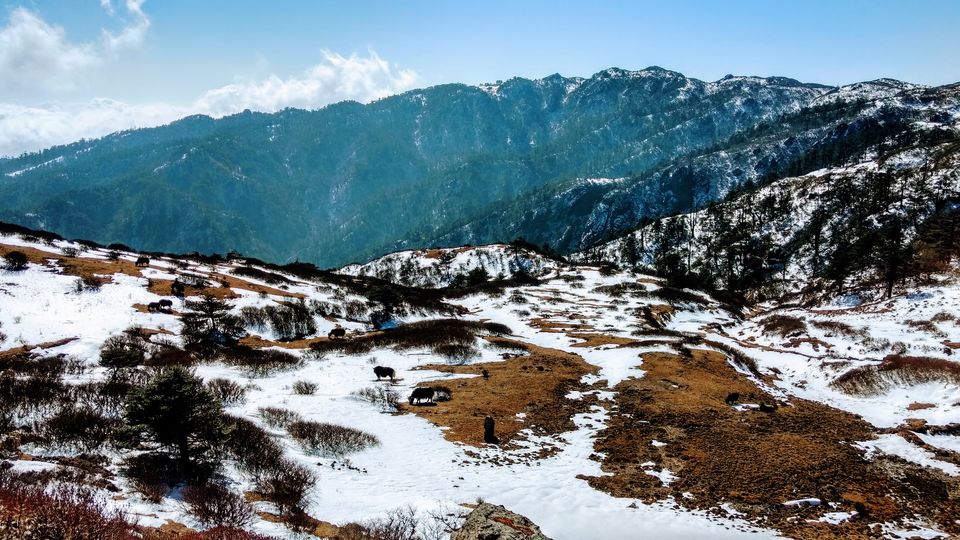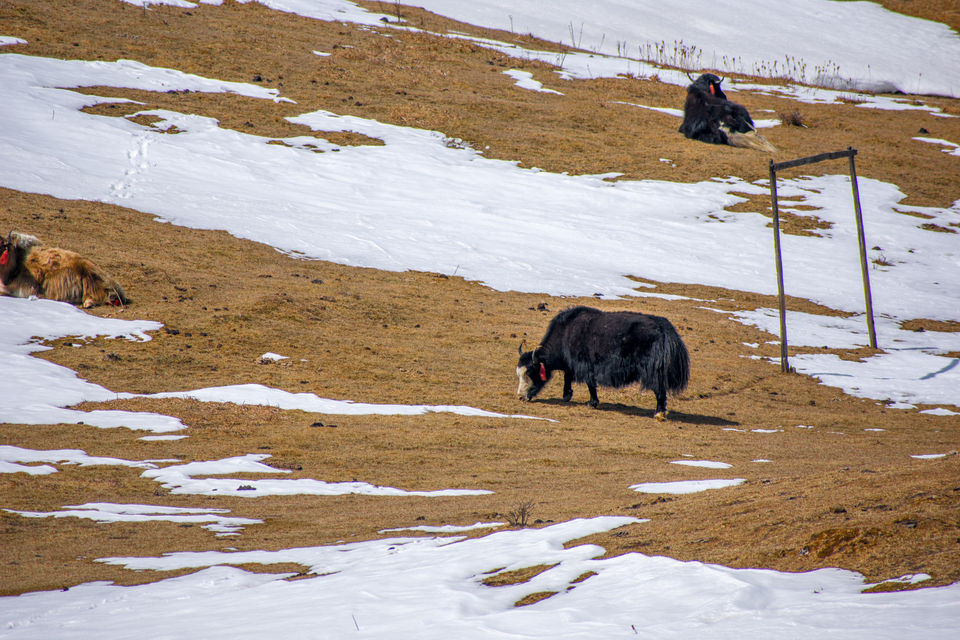 On this trek, I also met this guy Barry, who even at 60 loved to trek and carried his backpack on his own without opting for porters. I was motivated!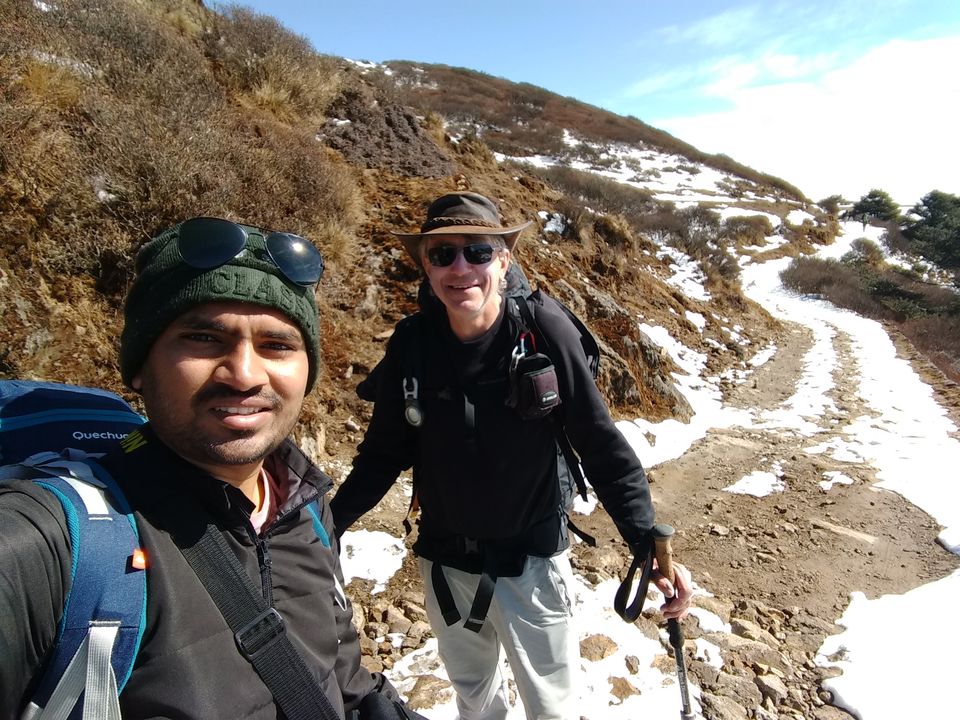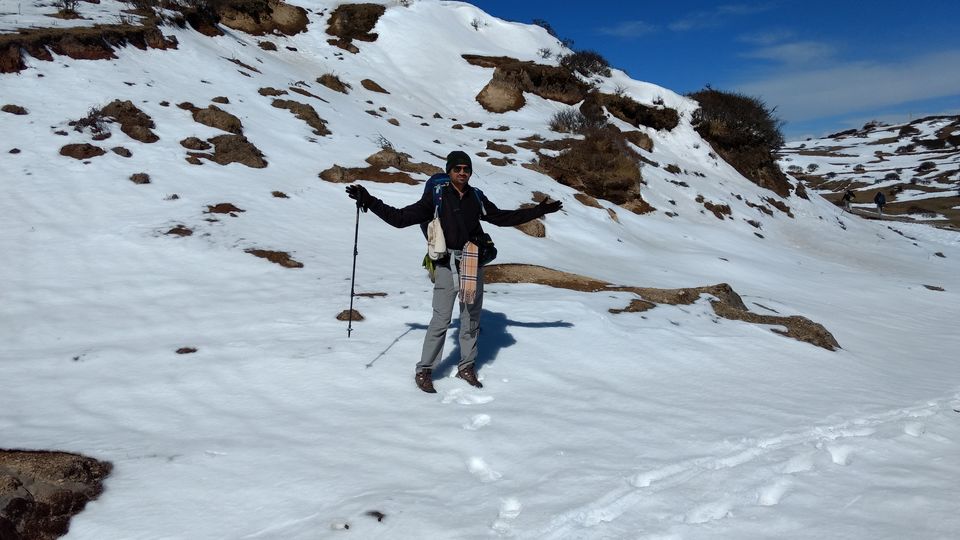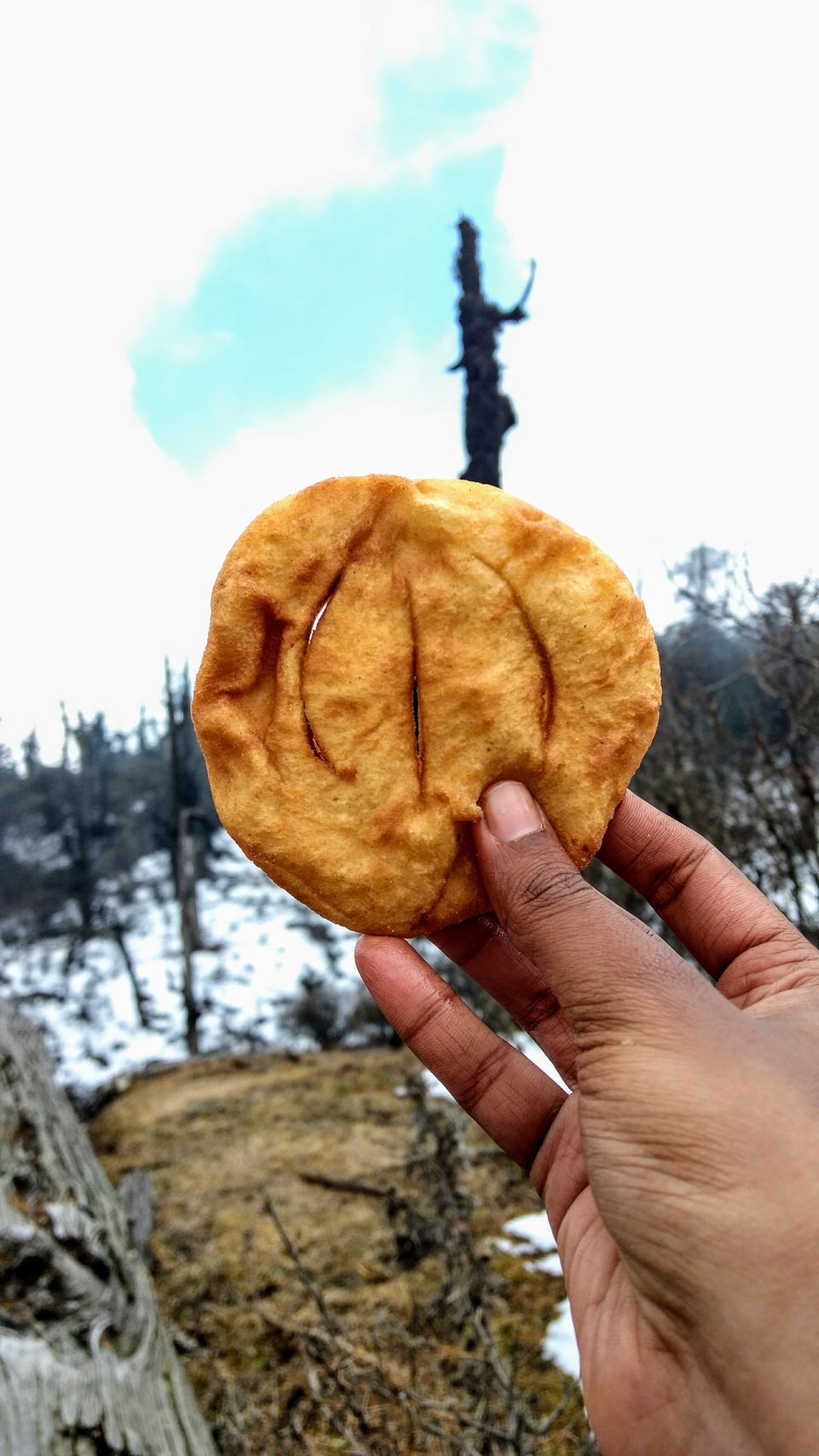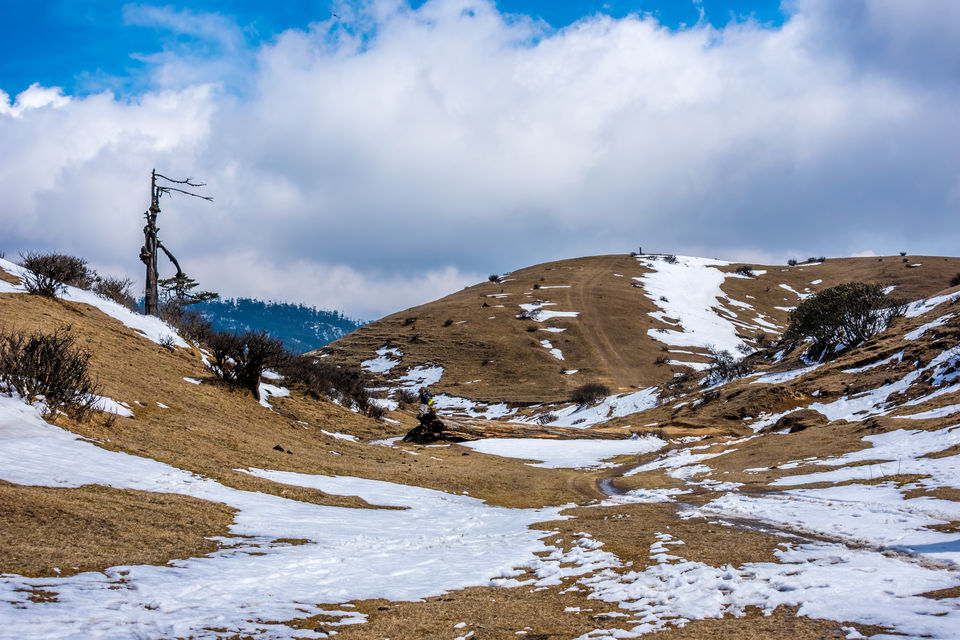 It was getting cold, and the clouds moved through my face every second, and the running nose never seemed to stop. The last 200 meters, we witnessed a lot of snow. It was pretty clear that the weather was growing bad. We all were gathered in a circular wooden shelter, until the tents were pitched.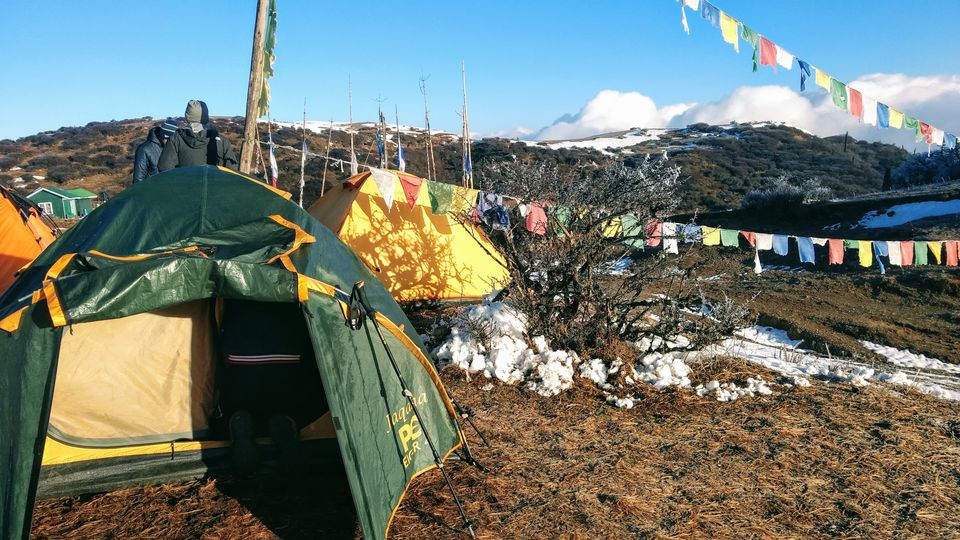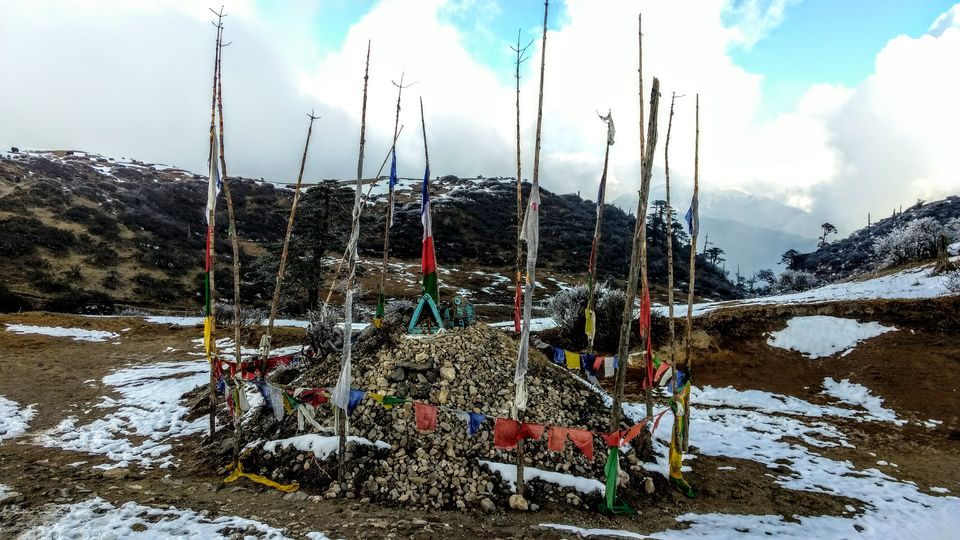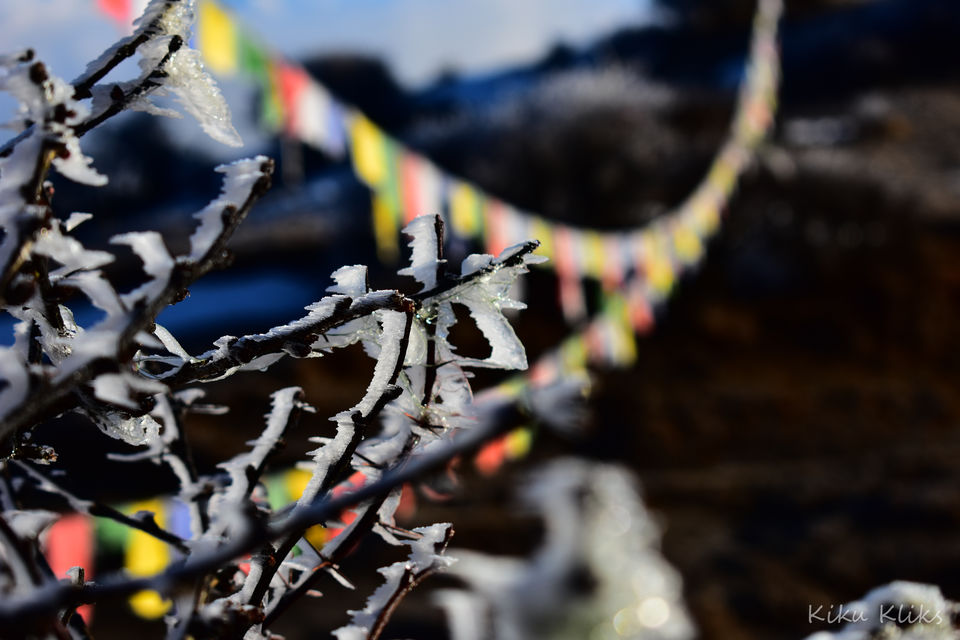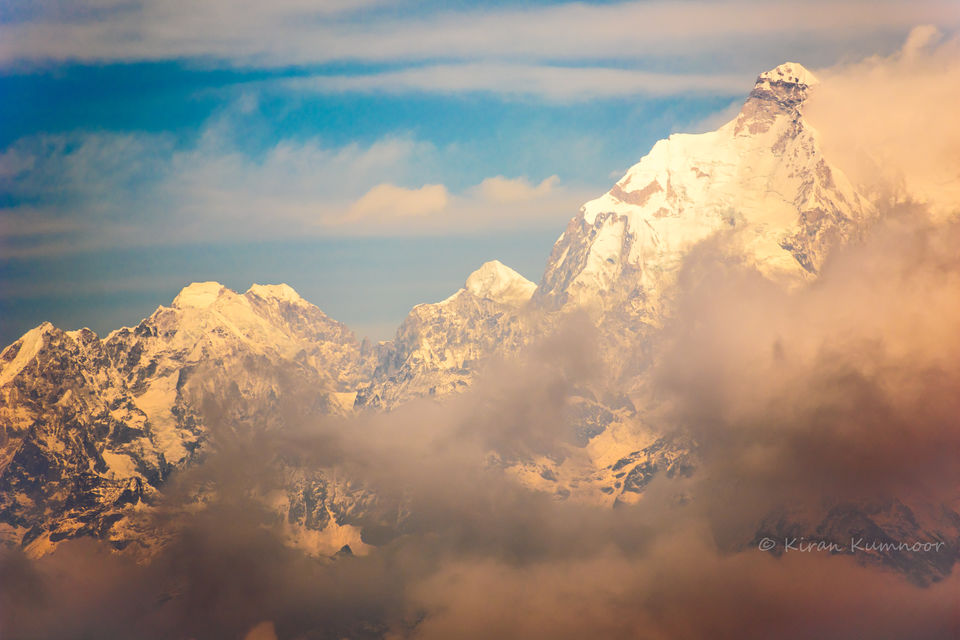 This day we were supposed to trek to Phalut where we would get very near to Kanchenjunga and get the clear view of the Sleeping Buddha. Due to bad weather we headed to Gorkhey, the most serene village I had ever seen.
Day 5 : The Descent | Sabagram to Gorkhey
Altitude drop : 11,800 ft to 7,550 ft
Time : 11 Kms, Approx. 6 hours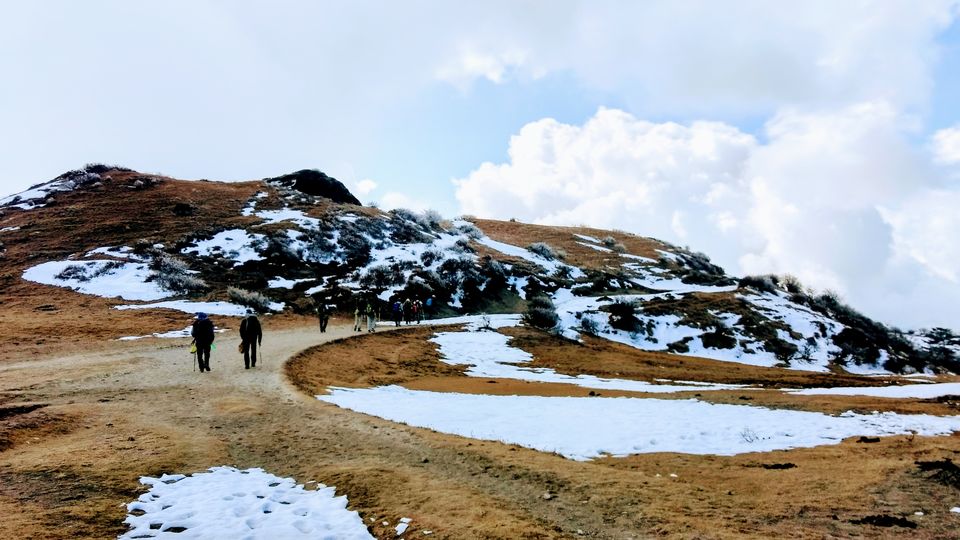 This was a trek through one of the dense regions of Singalila National Park. The 11 kms trek downhill with steep descents took a toll on my legs and shoulders. We could see the blooming Rhododendrons all along the trail today!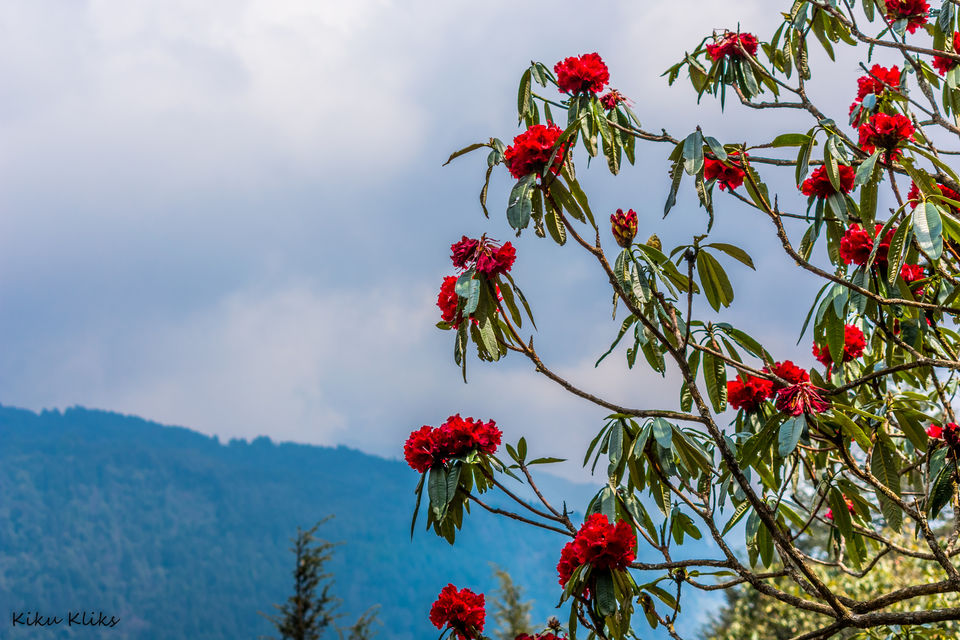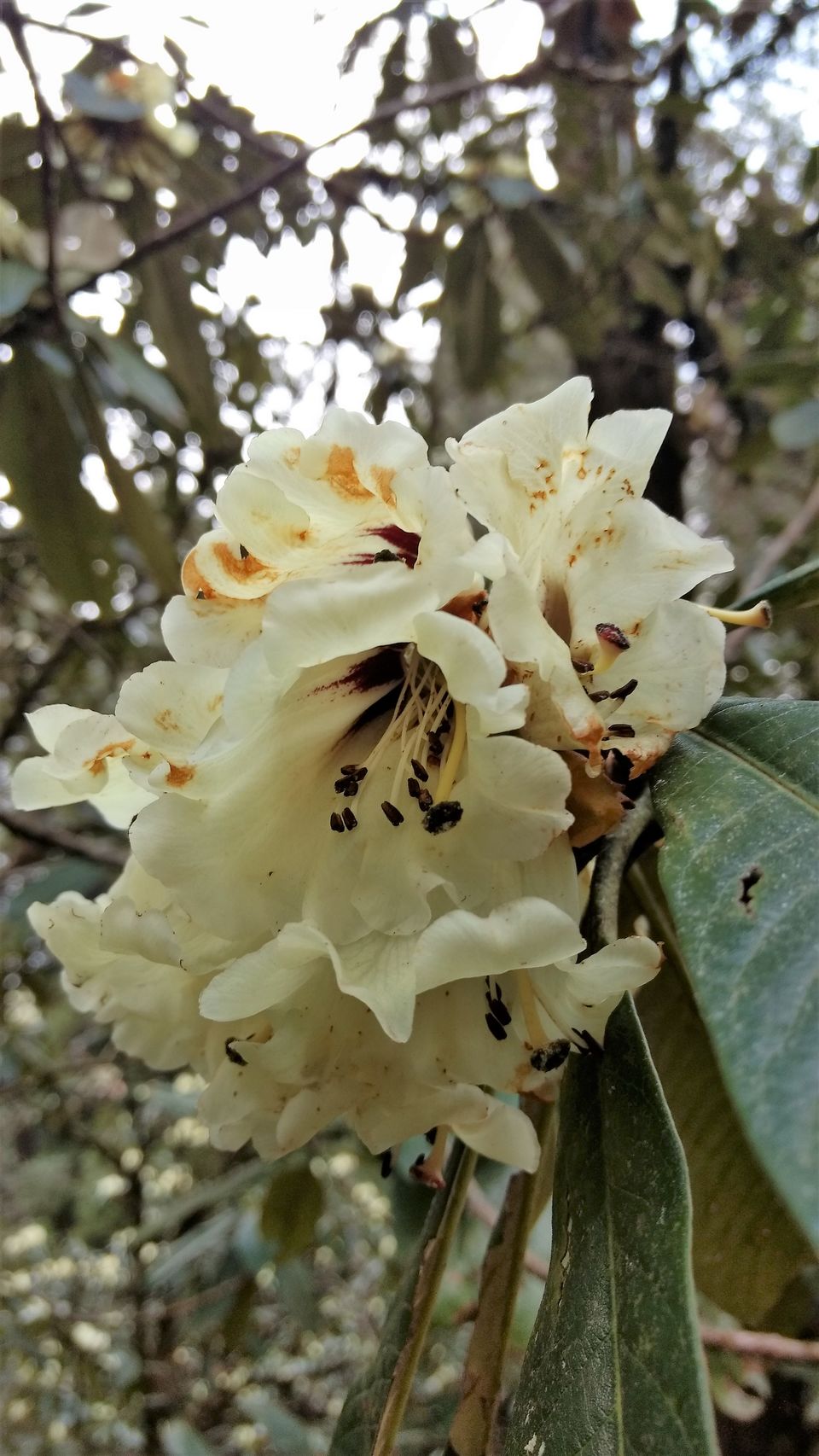 We stopped for lunch at this picturesque village called Samandhen. It was a flat flat region with forest all around. Also, it had the most beautiful houses. A perfect spot to click some pictures.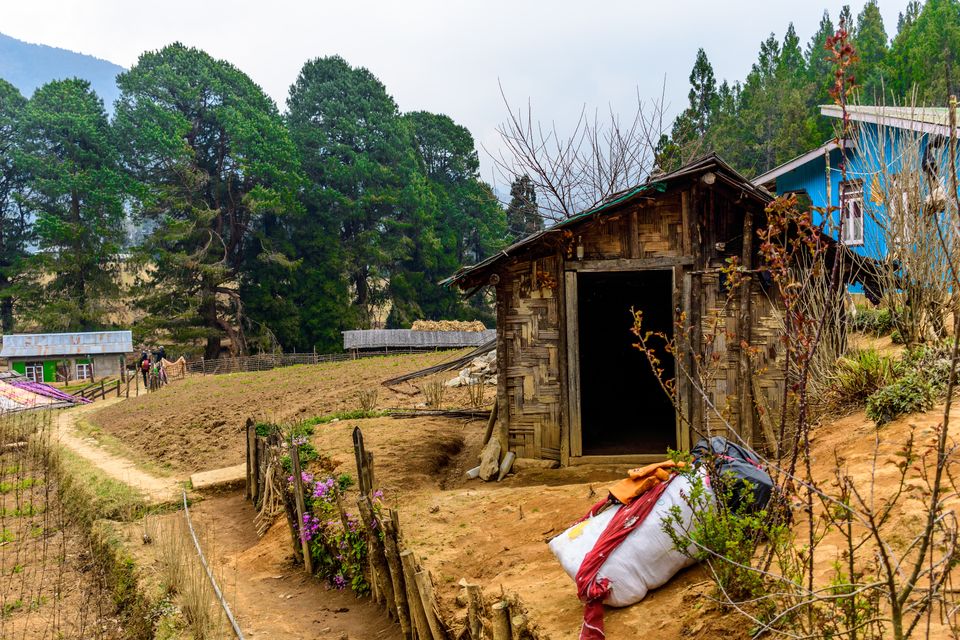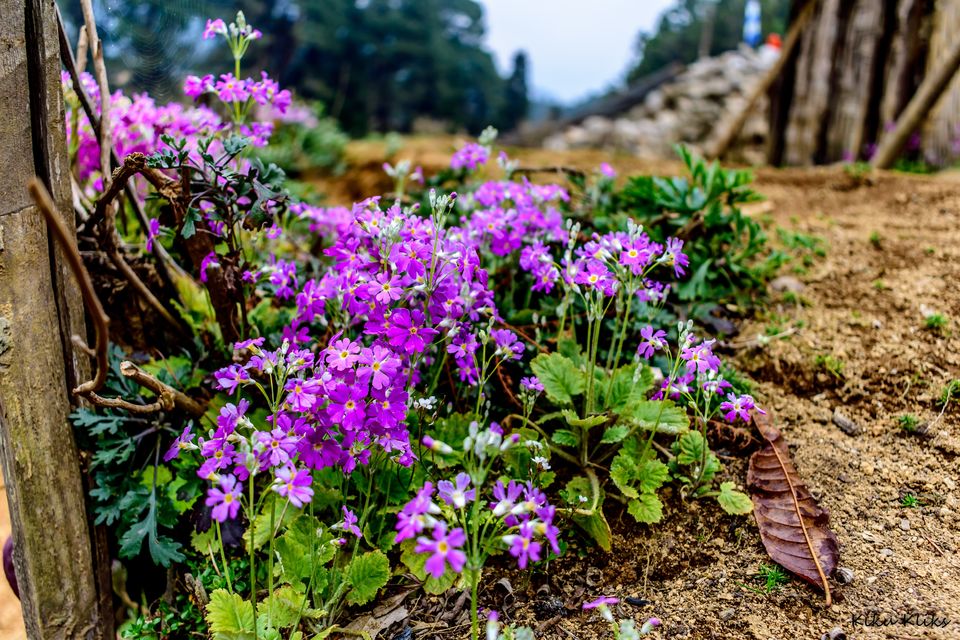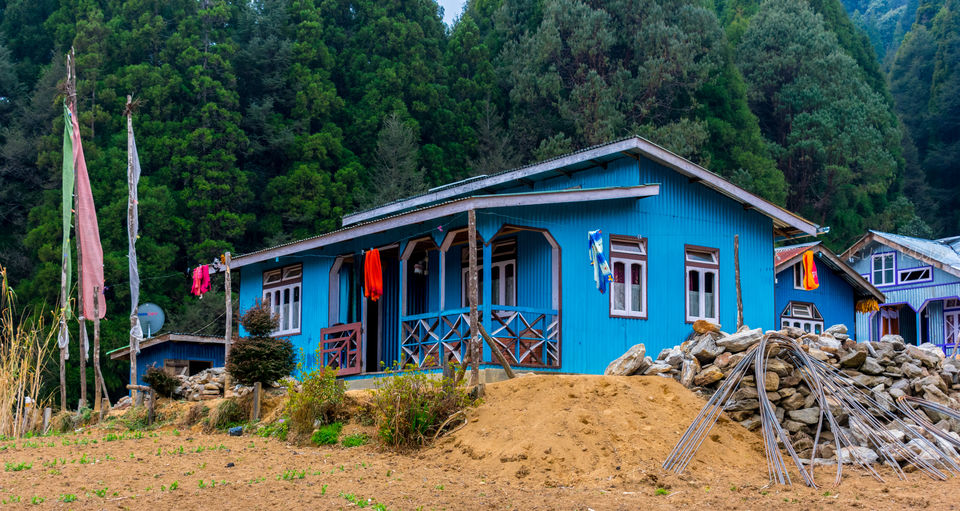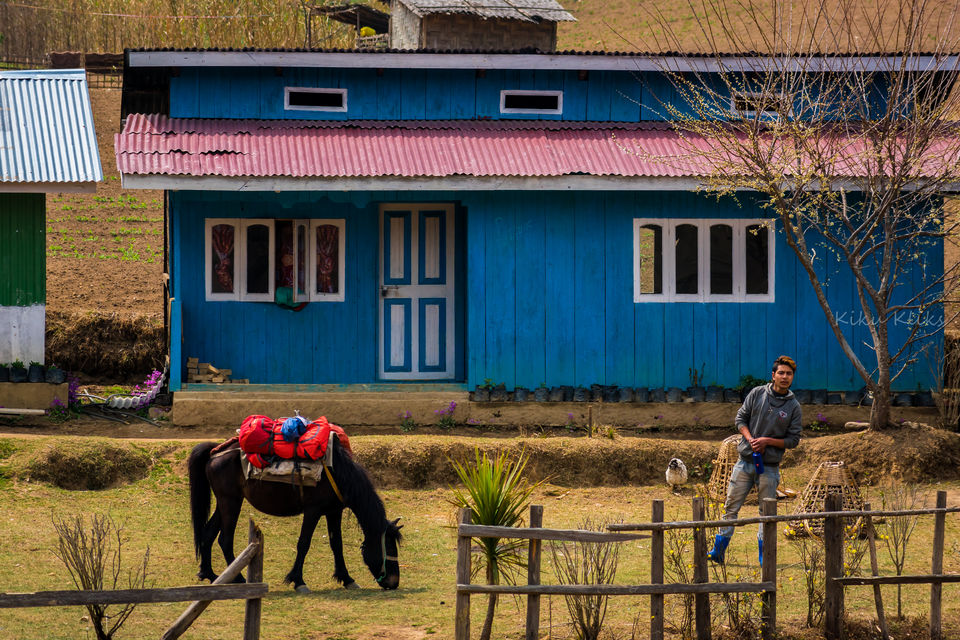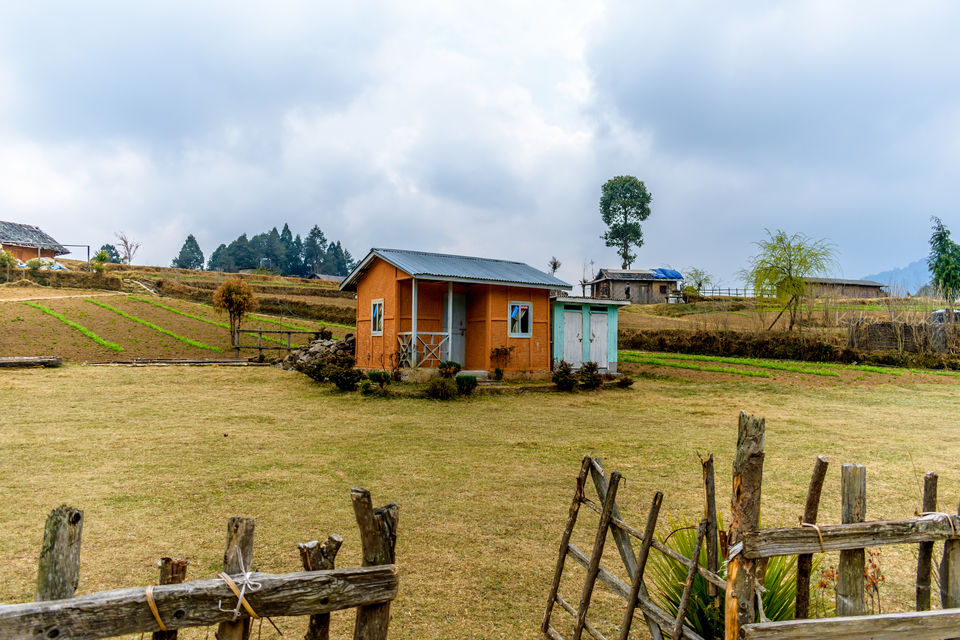 After the lunch, in no time we were at Gorkhey, our last camp! It was the time to relax finally!! Some of us visited the Ramam river bed which demarcated Sikkim and West Bengal, while some of us visited the near by Shiva temple.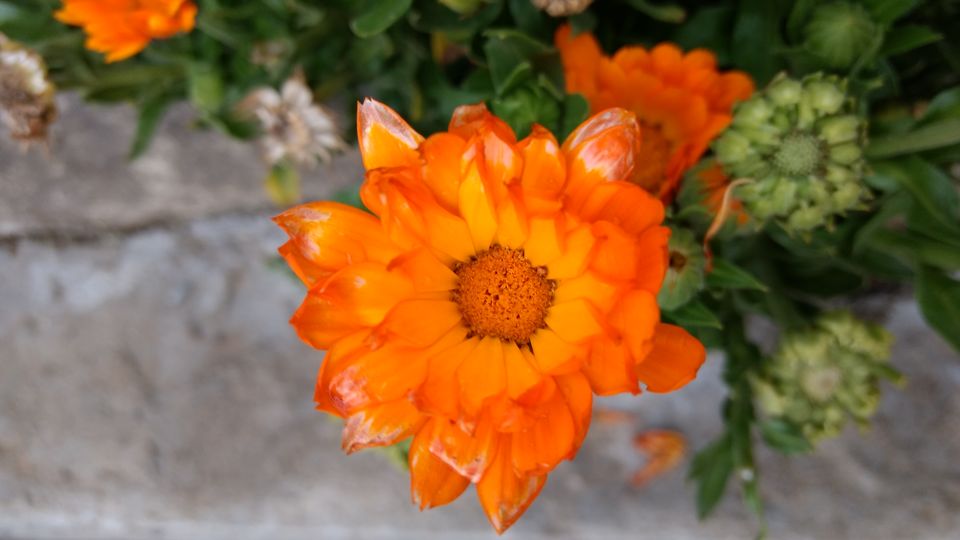 We sang songs, while our co guided matched our tune with his Guitar in flawless fingerstyle. So quickly, it was time to hit the bed again, and I went through all the photos I clicked along, and I had come a long way from where I started !!
Day 6 : The End | Gorkhey to Sepi
The last day trek from Gorkhey to Sepi was just a formality. It was the easiest of trails, yet it was very difficult to step foot further, as we knew the trek had come to end!! I felt a kind of silence as we continued towards the last point. Everyone knew this was it. Goodbyes and farewells were in order.
I was a changed person for sure after the trek. Physically (coz of aches ) and mentally! One experience, that surely changed my perspective about life. A new life had begun!