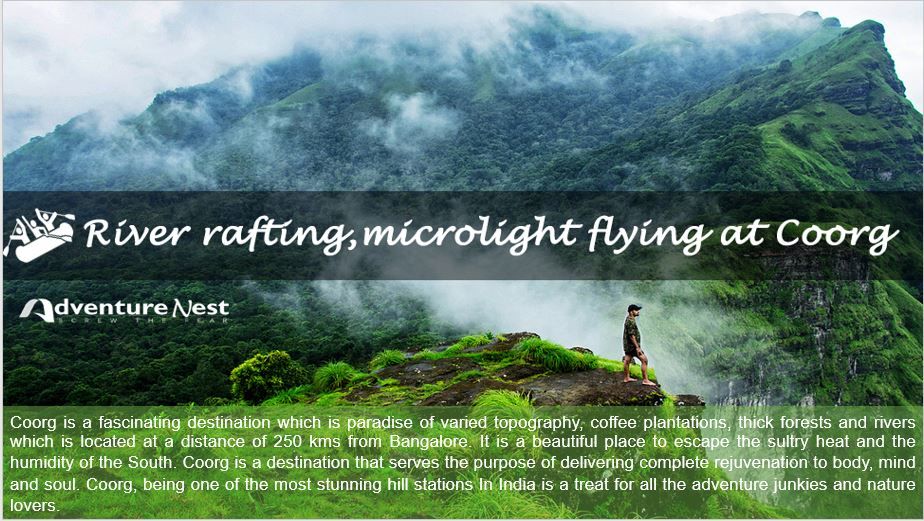 Coorg, an ideal weekend getaway from Bangalore, is the paradise for the trekkers and nature lovers. Whether travelling in a small group or larger, Coorg offers a bountiful list of activities and things to do for everyone. The visitors can either travel around Coorg to explore its scenic beauty, or can enjoy the different trails and terrains of the heavenly abode; pleasant climate being persistent in both the cases.
Coorg Trek is one of the weekend treks around Bangalore where you can experience the bliss of the Coorg lifestyle and the endless tropical trails of the Western Ghats in the Coorg district of Karnataka. There are jeep trails, dense jungles, water streams and outspread meadow to experience for a trekking passionate person. A fantastic view of Erulli Vana Forests (which are considered sacred by Coorg Community) is seen from the top of Kopatty Hill.
Get into the tribal zone with props of sticks and leaves. There are several adventurous tasks at hand. Provide for your tribe with the theme of collecting water. The catch is that you and your team will be given a basket with many holes and will have to use leaves to cover it up. Manage the whole thing in such a way that the water does not leak. Either that or you would have to collect water with a bamboo stick. Other activities include starting a fire using old techniques and hunting for food with a game of archery. You will also have to find shelter and build it with the materials that are provided.
Event Details
Coorg is one the most enchanting destination filled with lush green vegetation. This picturesque place is perfect for spending your weekend.
Day 1 : 10:00 PM: Leave from Bangalore.
07:00 Am:Reach Madikeri.
08:00 AM: Have breakfast.
Start the adventure activities
Activities conducted:
Zipline, Jumaring and Trekking.
01:30 PM: Have lunch.
After lunch Adventure activities resume: Commando Walk, Archery and Gun Shooting.
Snacks :
5:00 PM : Enjoy the Tea, Coffee & Snacks (Pakoda/Bajji).
05:30 to 7:30 PM: Visit coffee plantation.
07:30 to 08:30 PM: Bonfire and Dinner (Coorg Special - Veg & Non Veg).
Accommodation : Room/Dormitory/Tented/Home Stay.
*Accommodation will be selected based on the place & also price may vary accordingly.
Day 2:
07:00 Am:Tea and Coffee will be provided.
08:30 AM: Have breakfast.
09:00 to 01:00 PMTrekking and Water fall visit.
01:00 PM: Coorg Special Lunch (Veg).
02:00 to 05:00 PM Sight Seeing.
Snacks :
5:00 PM : Enjoy the Tea, Coffee & Snacks (Pakoda/Bajji).
06:00 Pm: Head back to Bangalore and reach next day morning.
Need more information before providing the quotation.
1. No of People
2. Departure Location
No of Days
3. Age group of team members
4. Email ID
or you can send the details to our
mail id - info@adventurenest.com
Mobile Number : 9901474929
Website : http://www.adventurenest.com/trekking-in-coorg.php